Turkey Lentil Cabbage Rolls covered with Tomato Sauce and Grated Cheese is my lighter take on the classic beef and rice version.
It's been a busy week for me (my Star Wars party took up a whole day) so I was looking to make something that didn't take much effort, could feed me for more than a day, was enjoyable to make and delicious to eat. This is far from a brain-dead-simple sheet pan dinner but once you get things going it's hard to screw up. And even more delicious than it looks. I never knew cabbage could be so sweet!
You'll have a few cooking vessels going on at once so I'll lay it out this way. You'll need: a large pot of boiling salty water to blanche the cabbage leaves, a small pot for a cup of lentils and two cups of water, and a large skillet for the mirepoix and turkey. I like to get the big pot of water boiling on the back of the stove first just so it's out of the way and I don't have to lift a heavy pot of water over the hot stove and pans. The lentils don't really need any attention so I let them get lentilling on the other back burner. On the front burner I set up my large skillet.
Prep the mirepoix by finely dicing the onions, garlic, and celery and grating the carrots. Sauté the onions and garlic in some olive oil until tender then add the celery and carrots. Cook them for about 5 minutes then move them to the back of the pan (or a separate plate). Take your ground turkey and start pinching off small pieces in the skillet. The smaller the bits of turkey are before the get in the pan the finer the texture will be for the filling. Add some salt and pepper and sauté the turkey, mashing in to smaller bits with a wooden spoon, until the pink is gone. Bring the mirepoix back in the mix and set aside until the lentils are done.
At some point while you're standing around waiting for the filling to cook, you can make some tomato sauce. In the recipe I just said 'tomato sauce' but here I'm telling you how I make it. Open a can of whole Roma tomatoes and add a tablespoon of garlic and some freshly chopped parsley. Get an immersion blender and plop it right in the can of tomatoes. This whole process takes 3 minutes. If you want it to taste more like the premade stuff found in a jar you can add a tablespoon of sugar.
Once the lentils are done you can add them and a half cup of tomato sauce to the skillet and cook with the turkey and mirepoix for 5 minutes. Set this aside to cool while you start blanching the cabbage leaves. The cabbage leaves were kind of the hardest part here – they were quite reluctant to come off their head. If you're not planning on taking pictures for your food blog though, this might not be an issue for you. I half considered making this a cabbage lasagna but it turns out that once you blanch the cabbage leaves they're quite forgiving and easy to work with. More surprisingly, they were SWEET. I could have eaten an entire head of blanched cabbage leaves. Cook them in batches for about five minutes flipping half way.
You'll have to judge how much filling to add to your leaves based on how big they are. I'd say I was able to use 3-4 tablespoons of filling. Place the filling in the center of the cabbage leaf with some grated parmesan cheese and tightly fold over the left and right sides. Then fold the top over and roll it down so it all folds over itself. I found the cabbage to be rather forgiving. Just be sure the roll is nice and tight once complete. Transfer your Turkey Lentil Cabbage Rolls to a tomato sauce covered baking dish and repeat. Cover the Cabbage Rolls with grated parmesan and provolone cheeses. Bake your Turkey Lentil Cabbage Rolls in a preheated 375°F oven for about 30 minutes or until the cheese has just started to brown.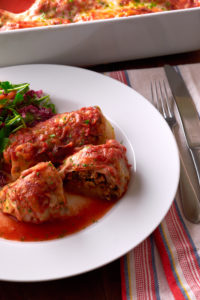 Turkey Lentil Cabbage Rolls
Turkey Lentil Cabbage Rolls covered with Tomato Sauce and Grated Cheese is my lighter take on the classic beef and rice version.
Print
Pin
Ingredients
1

lbs.

ground turkey breast

1

cup

French green lentils

2

cups

tomato sauce

1

medium head green cabbage

1

cup

carrot

grated

1

cup

onion

finely chopped

1

cup

celery

finely chopped

3

tbs.

minced garlic

divided

1/4

cup

parsley

divided

1/2

cup

grated parmesan reggiano

1/2

cup

grated provolone

olive oil

salt

pepper
Instructions
Bring a slightly salty large pot of water to boil. Remove any ugly outer leaves of the cabbage and discard. Blanch a dozen cabbage leaves in batches until they're pliable. Transfer to paper towels to drain.

Add 1 cup lentils and two cups water to a medium pot. Bring to a boil and reduce to a low simmer for about 40 minutes.

Incorporate 1 tablespoon of minced garlic and half the parsley with the tomato sauce.

Sauté the onions with a tablespoon of olive oil in a large skillet over medium heat. Once the onions become tender add the celery, carrots, and 2 tablespoons minced garlic. Sauté for 4-5 minutes until vegetables are tender. Transfer the cooked vegetables to a plate.

Add 1 tablespoon olive oil to the skillet. Break the ground turkey in to tiny pieces as its added to the skillet. Season with 1 teaspoon each of salt and pepper. Work the turkey with a wooden spoon to cook thoroughly and to break in to small pieces. Add a 1/2 cup of the tomato sauce, the sautéed vegetables, drained lentils, and half the chopped parsley. Stir to combine and cook for 5 minutes. Transfer to a bowl and set aside and allow to cool.

Preheat oven to 375°F. Prepare a cabbage rolling station with a stack of blanched cabbage leaves, a bowl of the turkey lentil filling, grated parmesan, tomato sauce, and baking dish. Add a few tablespoons of tomato sauce to a baking dish.

Spoon some of the turkey lentil filling on to a cabbage leaf and top with some grated parmesan cheese. Fold the left and right sides over the filling then the top. Roll it down to complete the 'roll'. Transfer the cabbage roll to the baking dish and repeat with the remaining cabbage leaves.

Spoon tomato sauce over cabbage rolls then cover with grated parmesan and provolone cheese.

Bake for 30 minutes or until the cheese has melted completely. Garnish with chopped parsley.