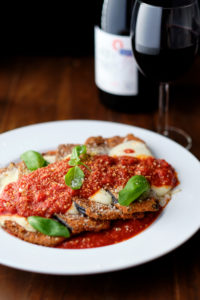 PRINT
Eggplant Parm
Fried planks of breaded Eggplant, fanned with melted mozzarella, and topped with homemade tomato sauce. This is my favorite Eggplant Parm recipe.
Tomato Sauce
1/2

Cup

Olive Oil

4

Garlic Cloves

Minced

1

tsp

Red Pepper Flakes

28 oz

Crushed Tomatoes

28 oz

Tomato Puree

14

oz

Water

10

Basil Leaves

1

tsp

Fine Sea Salt
Breading
1/2

Cup

AP Flour

3

Egg Whites

Lightly beaten

1

pinch

Fine Sea Salt

1

Cup

Coarse Bread Crumbs

1 1/2

oz

Grated Pecorino Romano Cheese

about 1/2 Cup

1

tsp

Freshly Ground Black Pepper

2

tsp

Dried Oregano
Eggplant Parm
1

Eggplant

2

TBS

Kosher Salt

2

Cups

Vegetable Oil

2

oz

Low Moisture Mozzarella Cheese

1/2

oz

Grated Pecorino Romano Cheese
Tomato Sauce
Add Olive Oil, Garlic, Red Pepper Flakes to a cold stock pot. Slowly bring up to a low simmer until garlic is fragrant.

Add Tomatoes, Basil, and Water. Stir well to comnbined with oil.

Simmer over low heat until sauce has reduced by half - about 2 hours.

Season with salt. About 1 tsp.
Salt the Eggplant
Place a wire rack in a sheet pan and set aside.

Trim the top and bottoms of the eggplant. Stand it up on end and slice in to 1/4 to 3/8 inch planks.

Place planks of eggplant on wire rack. Sprinkle about 1 tablespoon of kosher salt over one sice of the eggplant slices. Rest for 20-30 minutes for water to extract then flip and repeat.

Rinse salt off the eggplant under cool water. Blot eggplant dry with plenty of paper towels.
Breading the Eggplant
Prep three individual contaiuners for Flour, Eggs, and Bread Crumbs. Add Flour to one container. In another container add the Egg Whites and Salt. Whisk Egg Whites just until frothy. On the third container add Breadcrumbs, Pecorino Romano, Black Pepper, and Oregano.

Dredge each piece of eggplant in flour, egg, breading.

Place on the wire rack and transfer to freezer for 30 minutes or the refrigerator overnight.
Frying the Eggplant
Heat 1-2 inches of oil in a large skillet over medium high heat. Eggplant should sizzle as it's placed in the oil.

Fry in batches about 1-2 minutes per side or until breading is golden brown. Return fried eggplant to the wire rack and season lightly with Fine Sea Salt.
Bake the Eggplant
Preheat Oven to 450°F. Lightly oil a baking sheet.

Place one eggplant plank on baking sheet. Place a slice of Mozzarella in the center. Offset another plank of eggplant on top so half the mozzarella is visible. Add another slice of mozz on top. Repeat with enough for each serving or however you'd like to present the final dish.

Lightly dust with Romano cheese. Bake for 5-10 minutes or until mozz is melted.
Serving
Place a half cup of warm tomato sauce on a plate. Transfer a serving of the baked eggplant and melted cheese to the plate. Add more tomato sauce down the center of the eggplant.

Dress with grated cheese and fresh basil leaves.