How many ways can you cut an onion? Recipes can call for slices or dices or onions that are chopped or minced. There are specific reasons for each of these cuts and there's more than one way to accomplish them. Let's look at ten ways to cut an onion.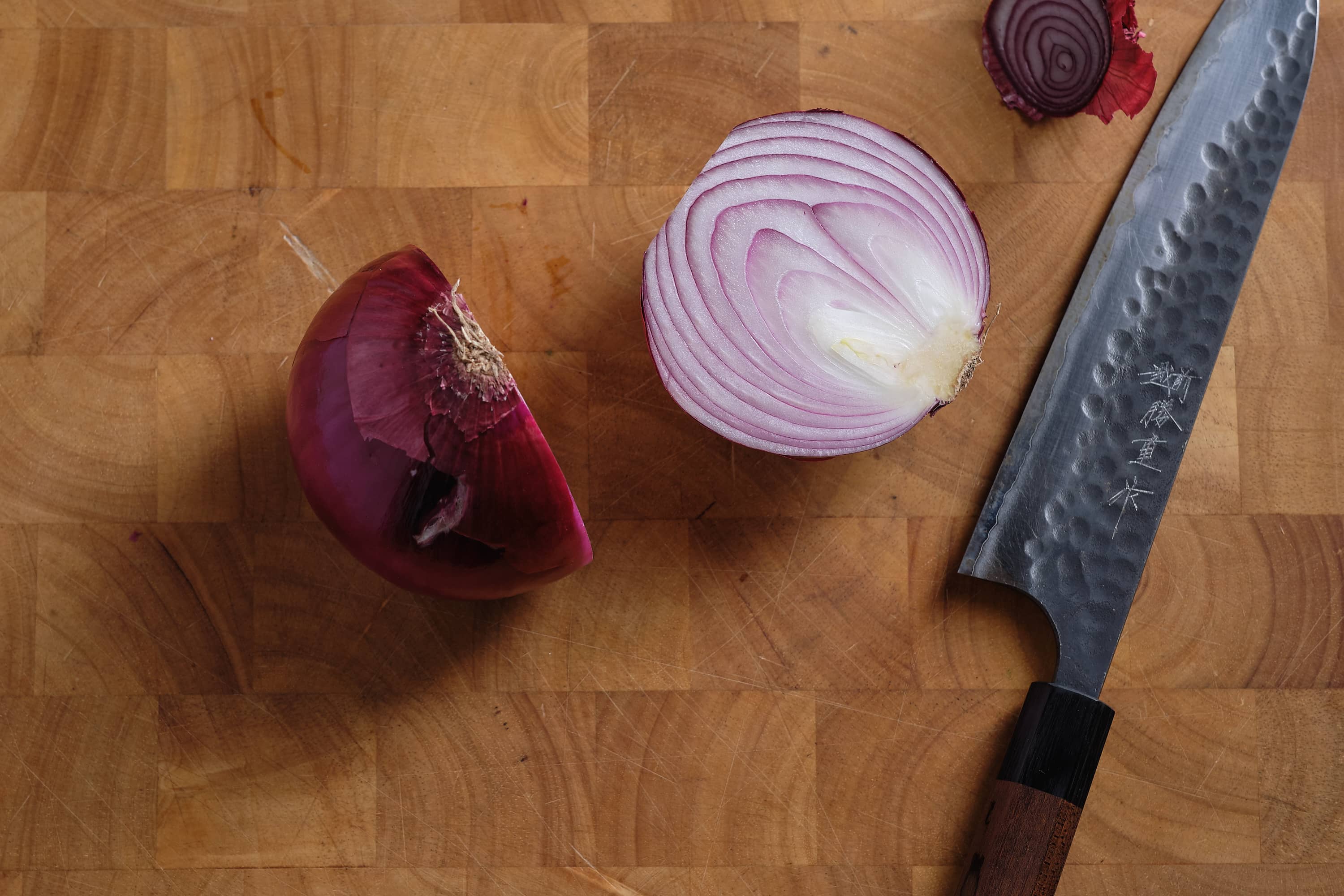 Skip the words. Show me the pics!
Cutting an onion is arguably the number one cooking technique to learn and master. Because there's so many different ways to cut an onion, you'll be able to apply these knife skills to many other ingredients. Position the food in a stable and comfortable position. Envision your finished product before you make your first cut. These concepts will work with garlic, carrots, potatoes, apples, etc. Onions have the neat advantage of built-in layers so they're a little more interesting for practicing your knife skills. Unfortunately, I don't know any other food that'll make you cry as much (so long as you don't get emotionally attached) and I don't have a trick to avoid that. But more on that in a bit.
The most important part of cutting an onion isn't the type of onion or how it's to be used in a recipe, it's knife safety. If you're new to cooking or uncomfortable around knifes, take your time. Work in a clean, distraction free, and uncluttered space. Your cutting surface should be clear and stable. A damp paper towel under your cutting board will keep it secure. You should feel comfortable holding your knife and it should be very sharp. A six to eight inch knife with a narrow tip is ideal. Keep your trash bin or a discard bowl nearby to clear waste as you're going. I like to keep one damp towel and one dry towel handy for clearing surfaces, and my knife, and my hands. Maybe consider keeping some bandaids around and wearing steel toe shoes.
Download this informative PDF! How To Cut An Onion



Ten Ways to Cut an Onion
• Radial Slice – Pickled, Caramelized, Salads
• Rough Chop – Roasted, Kabobs, Prep
• 3 Way Dice – Soups, Stews, Sauces, Sautéed
• 2 Way Dice – Soups, Stews, Sauces, Sautéed
• Radial Dice – Soups, Stews, Sauces, Sautéed
• Fine Dice – Tacos, Nachos, Soups, Fillings
• Thinly Sliced – Salads, Sandwiches
• Mandolin – Salads, Sandwiches
• Grater – Stews, Casseroles, Sauces
• Full Slice – Burgers, Onion Rings
Diced Onions
Let's talk about the most common cut – The Dice. This was actually what inspired me to write this article. There's an argument online about whether or not you need a third cut on the Z Axis when dicing an onion. Because the onion is already comprised of layered segments, the theory goes, this negates the need for a third cut. Meanwhile, every tv chef is instructing to cut on this third axis. I wanted to test this all for myself and, perhaps more importantly, see if there was a method to avoid the lateral 'Z Axis' cut in the direction of your bare hand.
What I found is that there's a less common cut that we all need to start practicing – The Radial Dice.
2 Way and 3 Way Dice
The 2 Way Dice, touted by some as all that's needed to achieve a uniform dice, is a cut-down-only approach that leaves some outer segments of onion uncut. This is a quick and sufficient method for an average home cook. The 3 Way Dice, touted by tv chefs, can yield a finer more uniform dice but requires slightly more coordination and effort.
Radial Dice
Imagine slicing out the center of a rainbow then separating the colors. The red pieces from the top are going to be a little longer than the blue pieces on the bottom. As you repeat this on other sections of the rainbow, each color will be the same size. Not perfectly uniform but, compared to both the 2 and 3 way dice, the radial dice is an easier and safer method to achieve uniform-ish pieces. With some practice and a sharp knife, this should be the new go-to method for your daily onion dicing.
Fine Dice
But what if you want even more control of your dice? Or a mince? This is nearly impossible to achieve without first breaking the onion down into smaller parts. By taking the onion apart and reducing the amount of segments you're working with, you can cut just a few layers as easily as cutting any other flat ingredient. By working with something like a sixteenth or thirty-second of the onion at a time, this adds more time to the process but provides the most control to yield a fine uniform dice – as shown here by Marco Pierre White. Minced raw onion is perfect on tacos and nachos.
Quit Your Crying
I'd be remiss if I didn't address your poor weeping onion tearing eyes. There's too many unproven 'hacks' for me to discuss here but I can tell you why you're crying.
There's a pretty complicated chemical process going on when you cut onions. When you rupture the cells of an onion, enzymes break down sulfoxides to create an acid which is then rearranged by a second enzyme to create a gas. From what I understand, you're less likely to rupture these cells by cutting from pole-to-pole as opposed to across the onion.
So, not only does the Radial Dice appear to be an easier and safer way to cut an onion, it should also produce the least amount of tears. But, you go ahead and keep using your candles and fans and goggles while cutting your cold, wet onions.
DO Properly Cut Your Onions
Properly prepared food is (in part) the difference between an average home cook and a great home cook. Finely diced white onion on top of your tacos. Sweet onions sliced radially before they're caramelized. Full slices of red onion cut the perfect thickness to top a burger. Dicing your onion, celery, and carrot all the same size for soup. With all other things being equal, these seemingly finicky details become noticeable and impressive. And they can actually make a huge difference in your cooking times.
As with all new skills, practice makes perfect. I encourage you to try these different onion-cutting techniques and make food with your sweet new skills. Maybe one day you'll enjoy cutting onions as much as I do. It's such satisfying moment of zen.. which you can eat. Eat Your Zen!
---
How To Cut an Onion – A Visual Guide
Select an image to open the slideshow.
Download this informative PDF! How To Cut An Onion
Cut In Half and Peel
Step 1 for most ways to cut an onion.
Radial Slice
Pickled, Caramelized, Salads
Rough Chop
Roasted, Kabobs, Prep
3 Way Dice
Soups, Stews, Sauces, Sautéed
2 Way Dice
Soups, Stews, Sauces, Sautéed
Radial Dice
Soups, Stews, Sauces, Sautéed
Fine Dice
Tacos, Nachos, Fillings
Thinly Sliced
Salads, Sandwiches
Mandolin
Salads, Sandwiches
Grated
Stews, Casseroles, Sauces
Full Slice
Burgers, Onion Rings