Raw Oysters are so great all on their own but sometimes a little extra kick isn't uncalled for. Try some of these Toppings for Oysters the next time you pick up a few dozen for a shuckin' party!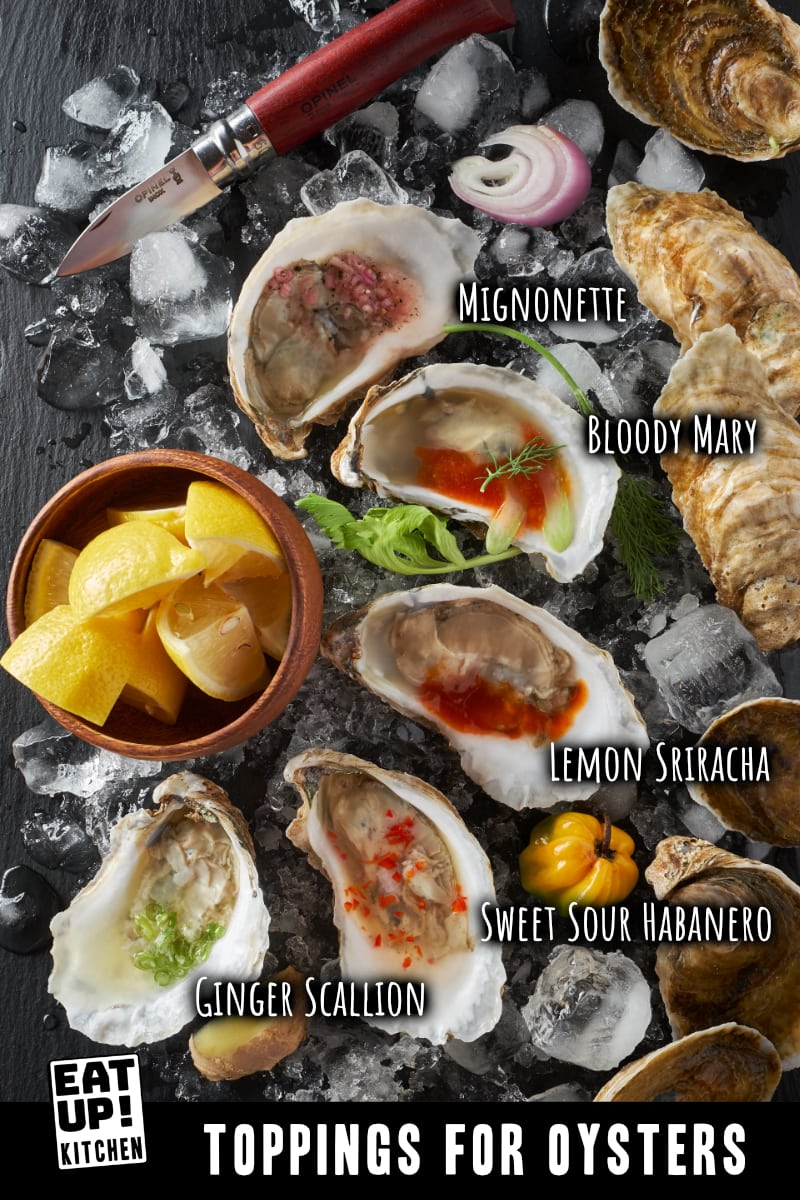 This past week Riverwards Produce in Fishtown Philadelphia hooked up with Brigantine Oyster Company to bring out some of the best oysters I've ever had. I placed my order on Wednesday and picked them up at the shop on Sunday morning. Everyone involved is incredibly genuine and awesome. Thanks for staying out in the cold weather all morning guys! Stay tuned on instagram @RiverwardsProduce @BrigantineOysterCo for future announcements.
These oysters from Brigantine Oyster Company are some of the best I've ever had. I've had oysters that 'taste like the ocean' before but that was before I had these big boys. If you like a big brine oyster you're going to love these from Brigantine. Also, just look how gorgeous these oysters are!! Whereas a more subtle flavor oyster might not take too well to some toppings these guys can take it. I came up with handful of toppings that play with acidic and spicy flavors that I think well here.
Mignonette: 1/4 C Red Vinegar, 1 Tbs finely diced Shallot, 1/2 tsp coarse ground pepper.
Bloody Mary: 1/4 C Tomato Juice, 1 Tbs Tabasco Sauce, 1 tbs Horseradish, 1 tsp minced Dill, thinly sliced Celery.
Lemon Sriracha: 1 Tbs Lemon Juice, 1 Tbs Sriracha, 1 Tbs Honey.
Sweet Sour Habanero: 1/4 C Rice Vinegar, 1 tsp Palm Sugar, 1/4 tsp Habanero, 1/4 tsp Salt.
Ginger Scallion: 1/4 C Rice Vinegar, 1 Tbs Minced Scallion, 1 tsp grated Ginger, 1/4 tsp grated Garlic.
Before you get to enjoy all these great toppings for oysters (for your next shucking' party) you're going to have to crack these shuckers open. I'm quite an amateur oyster shucker but I recored a video so you can see how I do it. Please send me any tips you have!
Okay… maybe don't do what I do. I just found this video on Opinel's site https://www.opinel-usa.com/products/opinel-oyster-folding-knife.
You can get a shucking knife for under ten bucks but this Opinel is something special. Opinel has been an iconic French knife maker since the 1890s. As a lover of quality craftsmanship, I'm thankfully Riverwards had some for sale.