Traditional Shepherd's Pie is such a classic comfort food. Saucy minced lamb and veggies covered with a blanket of buttery mashed potatoes. How come we're only eating this in March??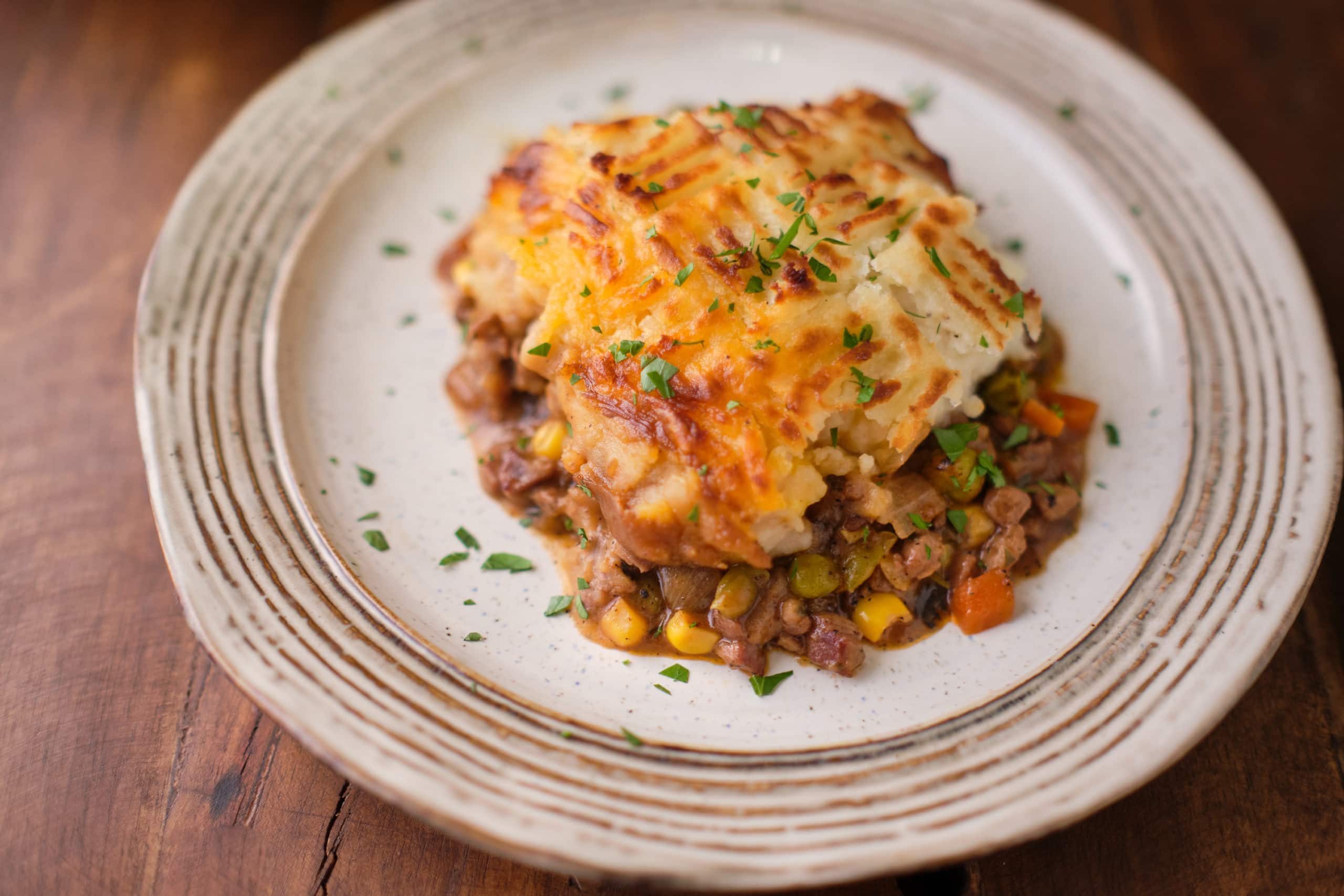 I made this Traditional Shepherd's Pie with freshly minced lamb because we're a little 'extra' around here at Eat Up! Kitchen. I'll go over this process in this post but the recipe is written for either store bought or home minced lamb.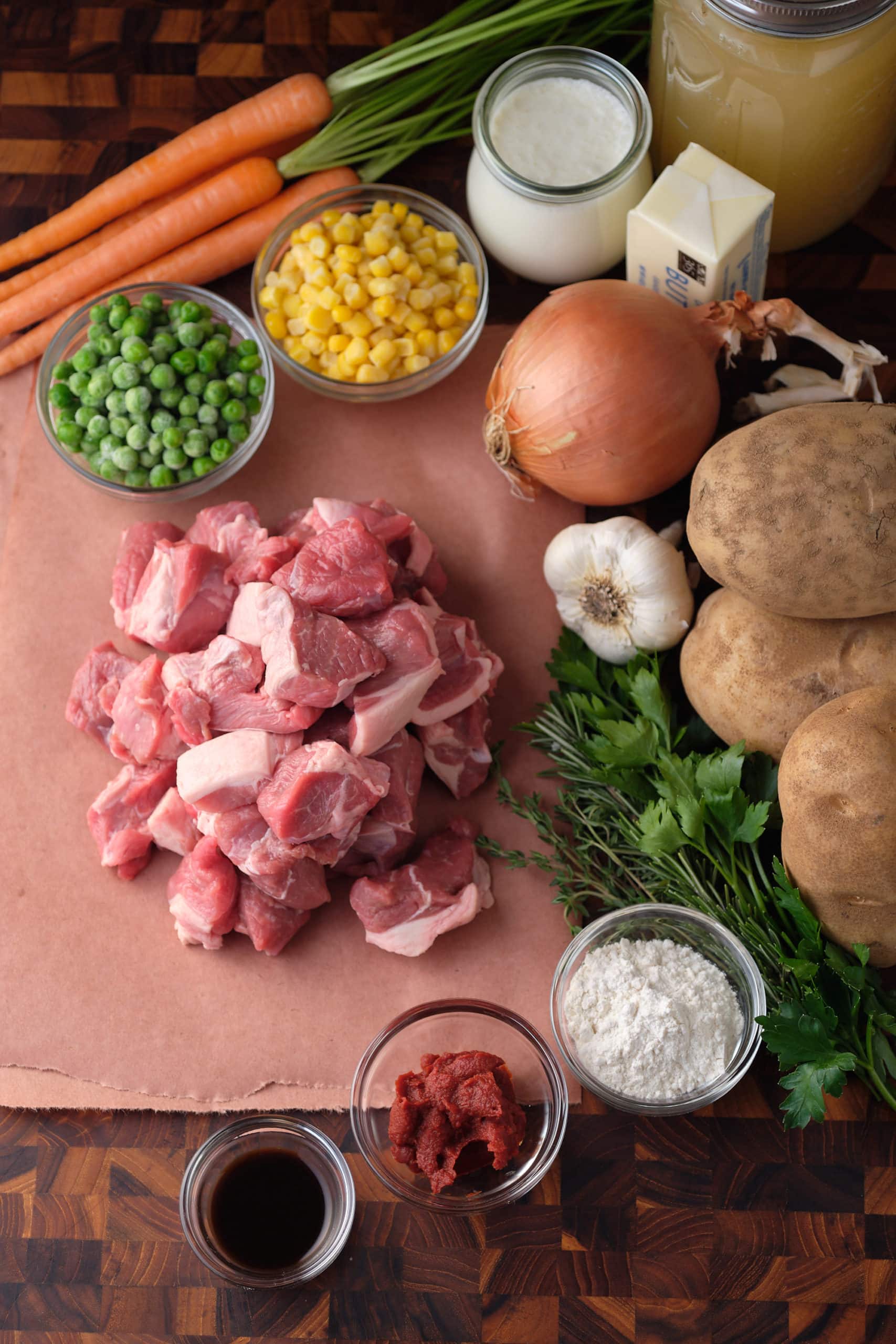 Minced Lamb
Store bought ground meat is perfectly fine for a dish like this; it's certainly a time saver! But I didn't really want store-bought ground lamb in my Shepherd's Pie. I wanted to control the fat content and the texture of the minced meat. The fat contains a lot of that gaminess lamb sometimes has. By mincing my own meat I can adjust how much fat I want in the dish. Ground meat has a particular texture that I wasn't looking for in this dish. I wanted the minced meat to be about the same size as the vegetables.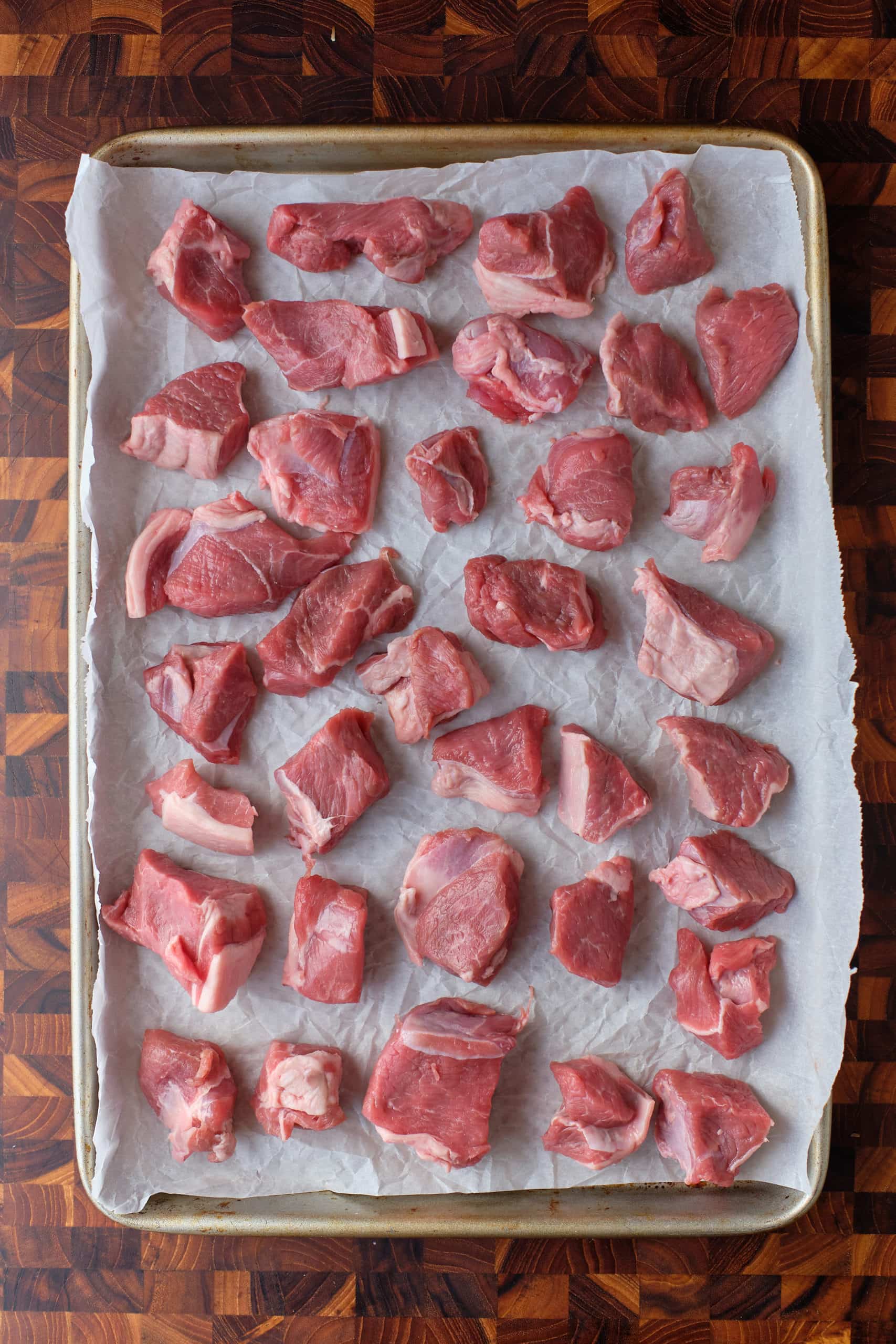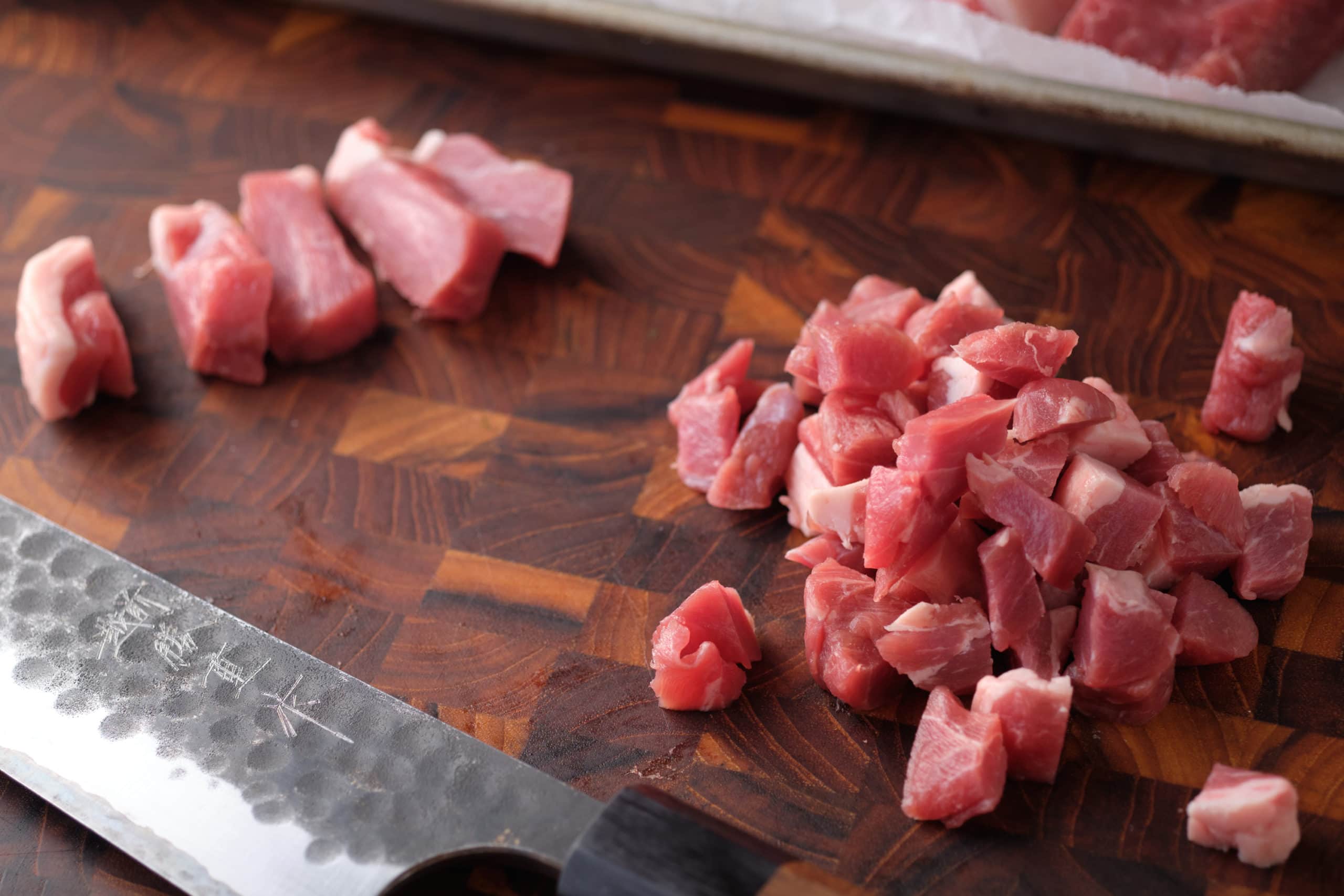 If you use ground meat and you're fast, you could probably get this dish on the table in under an hour. If you want to join me by going the extra mile, add another 90 minutes to your prep time. Half of that is freezer time for the lamb.
Line a sheet pan with parchment or wax paper. Place lamb stew meat on the paper and transfer to the freezer. The lamb should take 45 to 60 minutes to harden. This will make it much easier to cut through the lamb – especially the fat. It also makes the tiny bits of meat easier to work with as they're less prone to sticking to your fingers.
Working with one piece at a time, slice the lamb into planks and then slice the planks into strips. Turn the strips 90 degrees and cut into tiny pieces. You're looking for something about the size of a pea. Transfer the minced lamb back to the sheet pan and keep refrigerated until needed.
You could also process your lamb by using a food processor or a meat grinder. Again, both these methods will give you more control over your minced meat. They're both much faster than hand cutting the meat but then you have more things to wash. Keep practicing those knife skills!!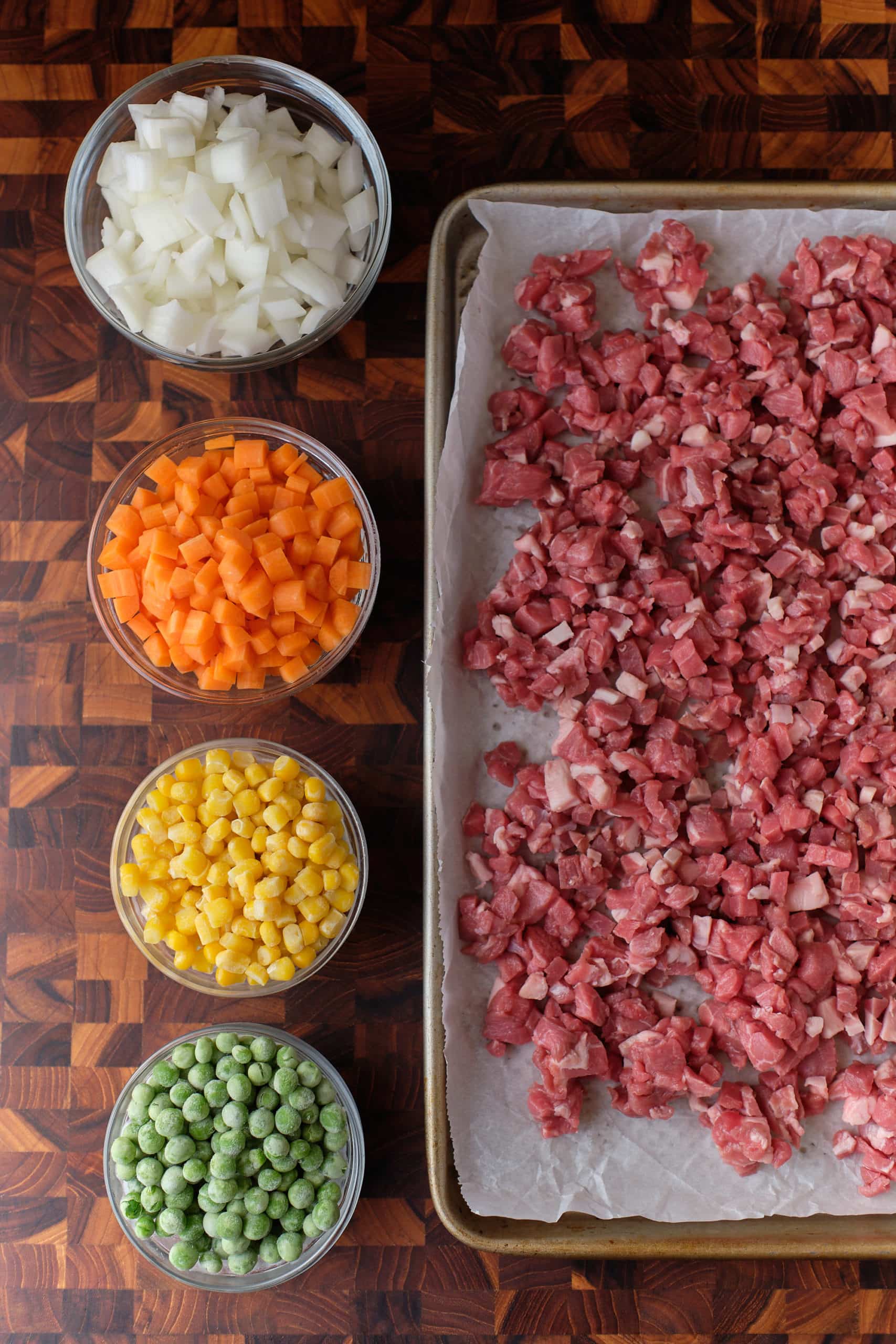 Filling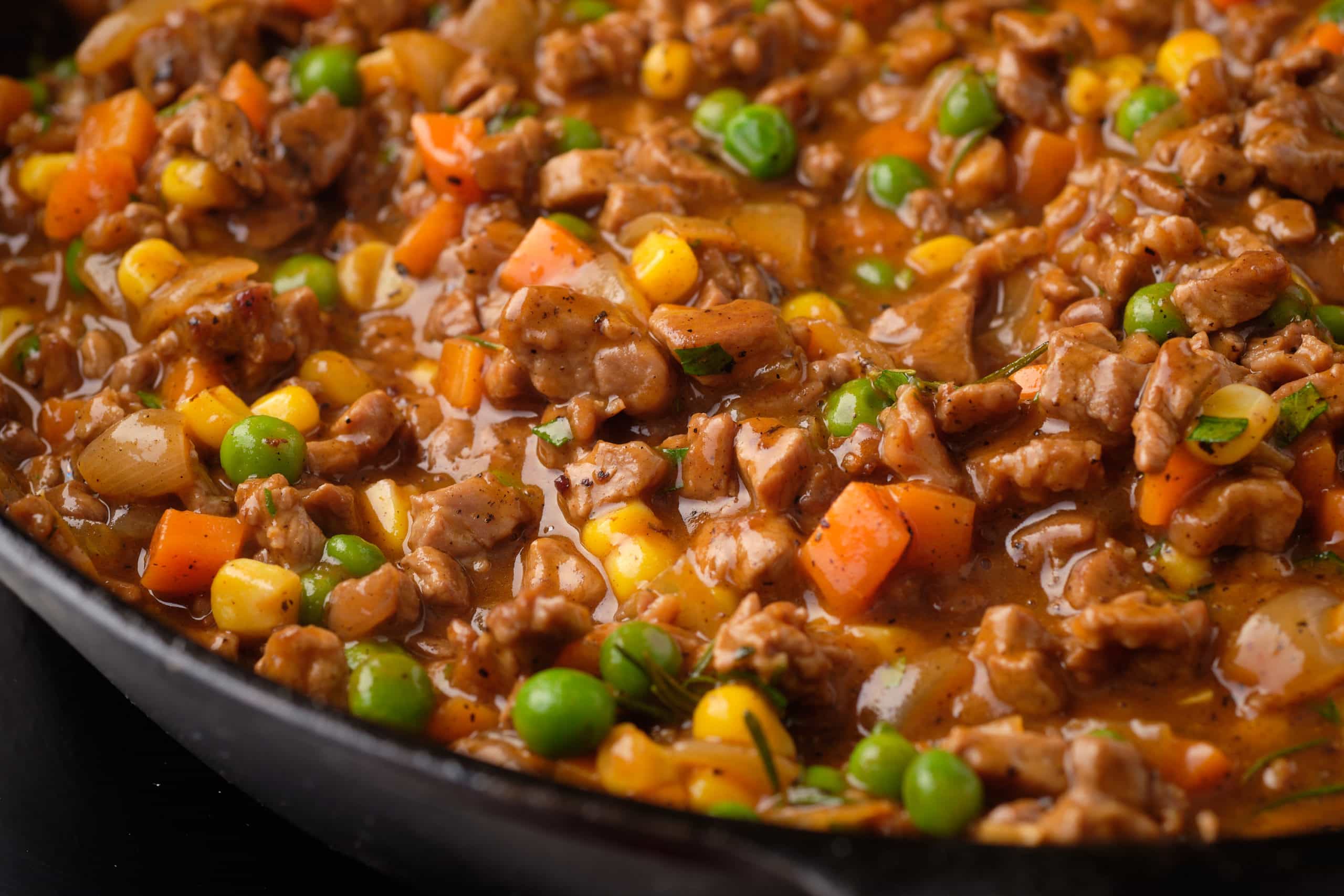 Mashed Potatoes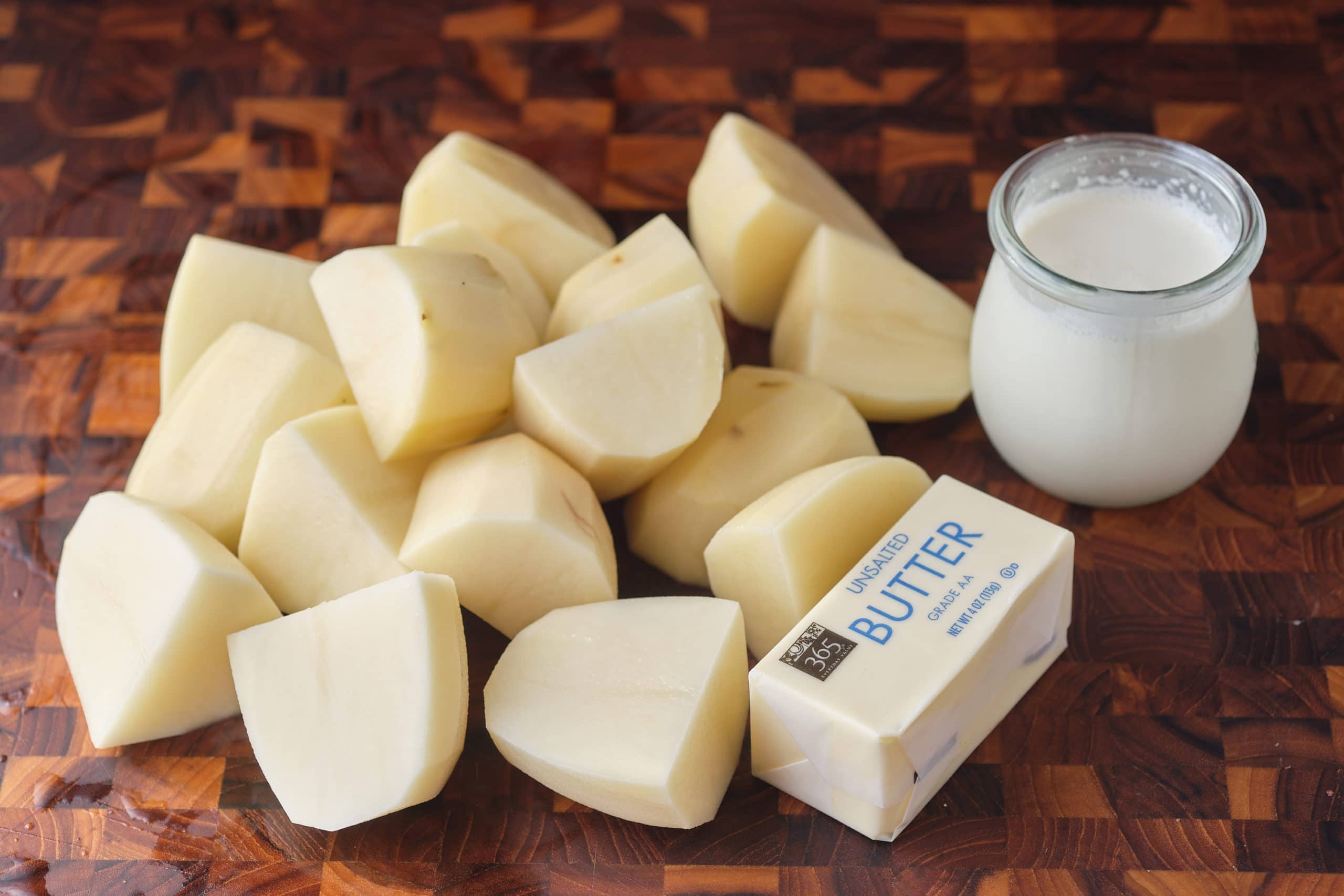 Assembly
Alternatives
Can you make shepherd's pie with something other than lamb? Well, you could but then it wouldn't be shepherd's pie. If you make it with beef then it's cottage pie. If you make it with venison then it's Bambi pie.
This recipe calls for chicken stock because it's what I prefer to cook with. You could use beef stock or (ideally) veal stock for a richer flavor. You could also use Guinness Beer. I haven't made it this way so I'm not sure how much to use or if it should be diluted. Red or white wine would also work. Miller Lite or Pepsi would not work.
If you have an aversion to carb-heavy potatoes, you could certainly use mashed cauliflower instead. If you're avoiding dairy, you could make these garlic and olive oil (vegan) mashed potatoes . If you've somehow gotten this far into the recipe only to find out Shepherd's Pie is not vegan and would like a vegan alternative, use lentils!