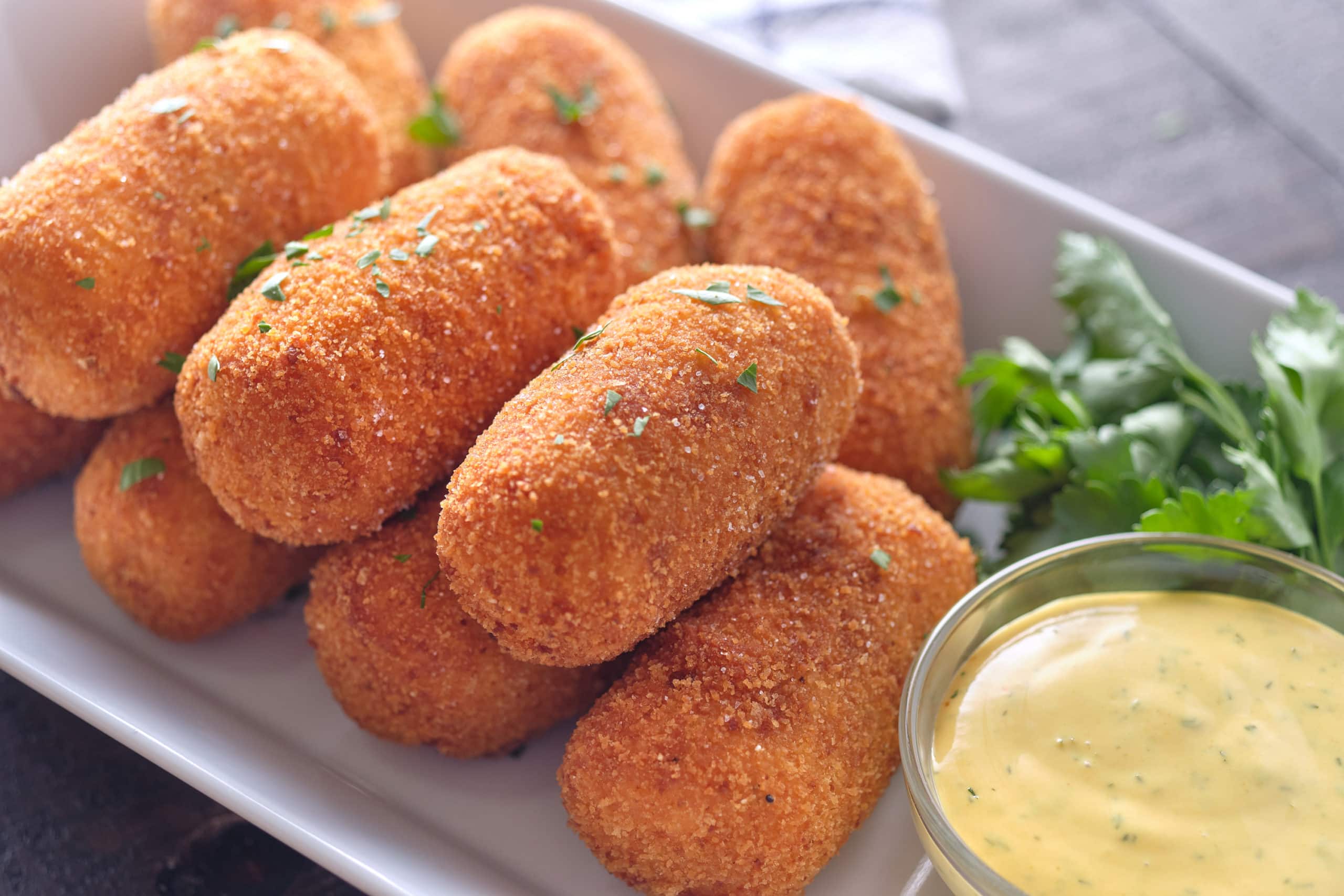 These Potato Croquettes are essentially breaded and deep-fried mashed potatoes; like fancy, adult tater tots! Serve these as snacks with a mustard sauce or as sides with a meat and gravy dish.
You can find Croquettes all around the world filled with a variety of different ingredients. Some are made with potato, some are made with meat, some are made from a béchamel. Nearly all of them are mixed with other ingredients like meats, cheese, and herbs. The version I've prepared here is similar to the German croquette called Kartoffelkroketten. (kartoffel = potato / kroketten = croquette)
The recipe is quite simple but requires a bit of technique when it comes to forming the croquettes. If you have a hard time shaping them into cylinders you can just make them into balls.
For the best results and ease of molding, you really want to get your potatoes as dry as possible. Smash your cooked potatoes onto a sheet pan and bake them in a low oven until they stop steaming. A wet mixture is going to be harder to form and may stick to your hands.
Recipe Overview
• Start making your croquettes by boiling two pounds of peeled and quartered potatoes in salty water.
• While the potatoes are boiling, make garlic butter by heating minced garlic and melted butter in a small sauce pan.
• Dry the potatoes. Drain the potatoes well and smash them out on a sheet pan. Bake the smashed potatoes until they stop steaming.
• Use a potato ricer or a food mill to purée the potatoes into a large mixing bowl. Incorporate egg yolks, salt, pepper, nutmeg, and garlic butter. Cover and chill for an hour.
• Prep a breading station with seasoned flour, beaten eggs, and seasoned bread crumbs (*seasoned with salt and pepper to taste).
• Portion out the potato mixture to make one and a half inch balls then form into one inch by three inch cylinders.
• Bread each croquette then place on a parchment lined sheet pan and freeze for 20 minutes.
• Fry in 375°F oil until golden brown. Transfer to paper towel and sprinkle with fine sea salt.
Serve these Potato Croquettes as Hors d'oeuvres with the Mayo/Mustard Sauce recipe found below or alongside something like a nice Pot Roast with lots of brown gravy. They're also really good tossed in buffalo sauce 😉
Mayo/Mustard Sauce
2 Tbs Mayonnaise, 2 Tbs Yellow Mustard, 2 tsp minced fresh Dill, 1 tsp Honey, 1 tsp Rice Vinegar, 1 tsp Hot Sauce, pinch of Fine Sea Salt.