This Avocado Corn Salsa is a quick make-ahead salsa that's great for tacos or dip for tortillas.
There's certainly nothing wrong with a dinner table over-flowing with little bowls of taco toppings – tomatoes, pickled onion, cilantro, cheese, avocado, white onion, jalapeño, etc. Yay! Slimy kids fingers in the bowl of tomatoes! Are we out of cheese? More dishes to clean! Then sometimes you already know what you want or what you'd like your guests to experience. Or maybe you just want to make a simple dip for a cook out or tailgate party. Well you've come to the right place my friend! Let's take a few classic taco toppings and make an Avocado Corn Salsa.
Personally, I just really like all these foods so I've been eating the left overs with a spoon.
This salsa is more of a guideline than a recipe. Please taste your ingredients before mixing them all together. For instance, my limes were super bitter and my corn wasn't the freshest. To compensate I added a squeeze of agave for added sweetness and an extra punch of salt to brighten up the flavors. Also, last week I had the hottest jalapeño I've ever had in my life – hiccup hot! Glad I didn't add that one to the salsa my nephews were eating. I like serrano chiles if I can find them but you can sub jalapeños or poblanos or habaneros if you'd like.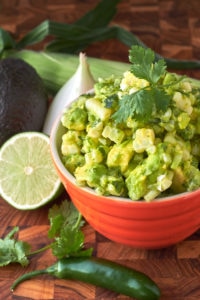 Avocado Corn Salsa
This Avocado Corn Salsa is a quick make-ahead salsa that's great for tacos or dip for tortillas.
Print
Pin
Ingredients
2

ears of Corn

2

Avocados

1/2

medium white Onion

finely chopped

3

Tbs

chopped Cilantro

Juice of 1 Lime

Serrano or Jalapeno chiles to your taste

Salt to taste
Instructions
Prep fresh corn on the cob by removing the husk and silk. Place in boiling water for no more than 5 minutes. When cool enough to handle, remove the kernels by cutting off with a sharp knife, place kernels in mixing bowl to cool completely.

Halve each avocado and remove the pit. Use a knife to carefully score the inside of the avocado about 5-7 times in each direction to end up with 1/4 inch to 1/2 inch squares. Use a spoon to scoop out avocado to mixing bowl.

Add finely chopped onion, the juice of one lime, chopped cilantro, and finely chopped chiles to the mixing bowel. Fold together to combine while trying not to mush the avocado. Season with salt.