It's time for BACON WRAPPED MEATLOAF! We're taking your standard meatloaf up a notch by wrapping the meatloaf in bacon and glazing it with apple cider vinegar and brown sugar.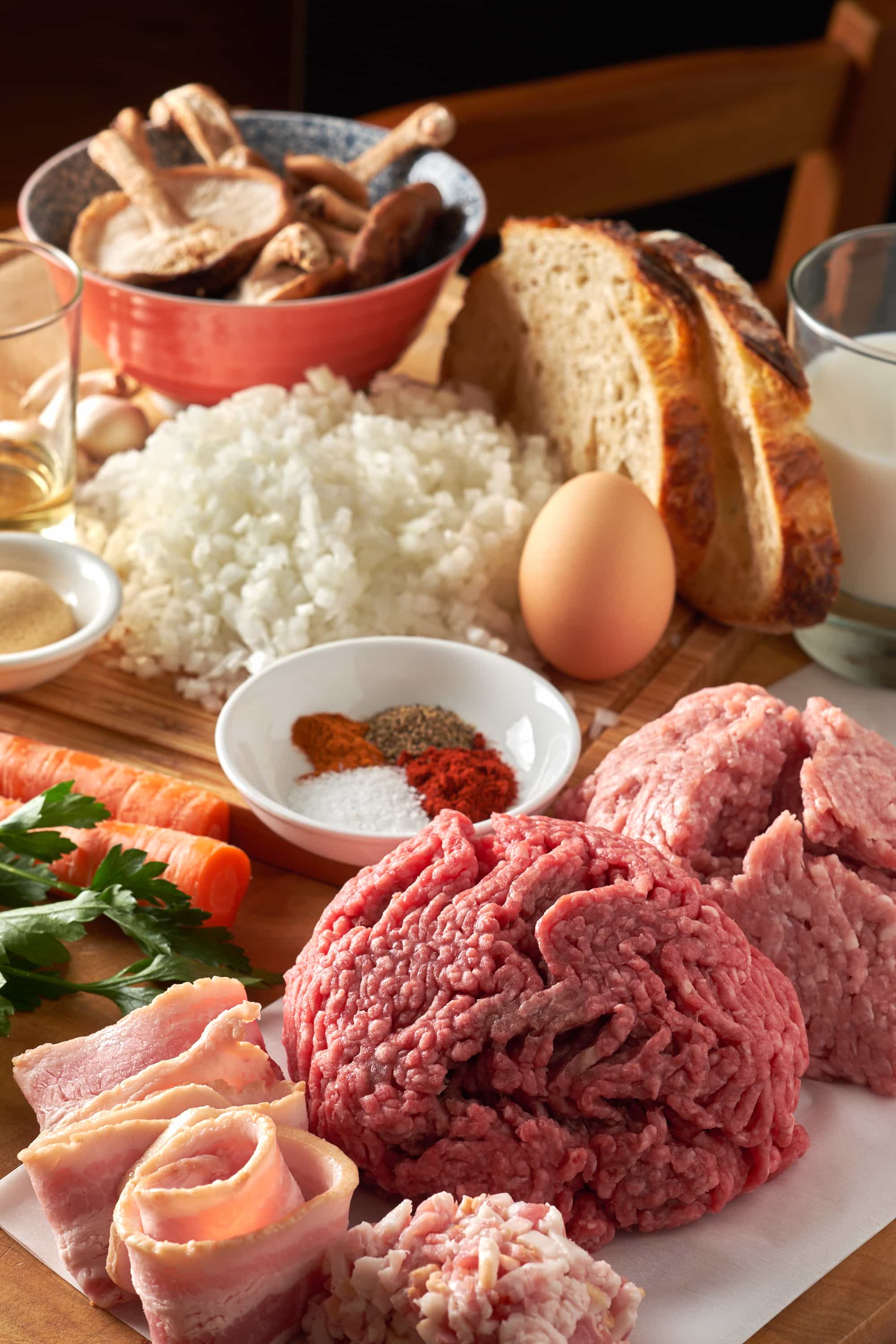 Yup. We're throwing ketchup to the wind and going straight for the good stuff. Make sure to get yourself a nice smokey bacon for this meatloaf. It'll go great with the smokey paprika we'll add to the meatloaf mixture. That mixture of 85% lean ground beef, ground pork and chopped bacon also gets some hot paprika, black pepper, and salt. Vegetables include grated carrots, minced parsley, and finely chopped then sautéed onions. If you're wondering why there's mushrooms and garlic in the photo, I thought I was going to do a mushroom gravy for this before I determined that would be a dumb idea.
You can use store bought bread crumbs but I'm going to walk you through making your own. I think it's silly to pay for stale bread when they're easy enough to make with the bread your going to use for Meatloaf Sandwiches anyway. Take a couple slices of a hearty bread like farmhouse white or sourdough and toss them in a 250°F oven for 30 minutes. Once they've cooled you can tear them up and pulse them in a food processor for about a minute. Once you've done that you can transfer the breadcrumbs to a small bowl and add 3/4 cup whole milk. The bread and milk mixture will make the meatloaf a little less dense and help tenderize the meat.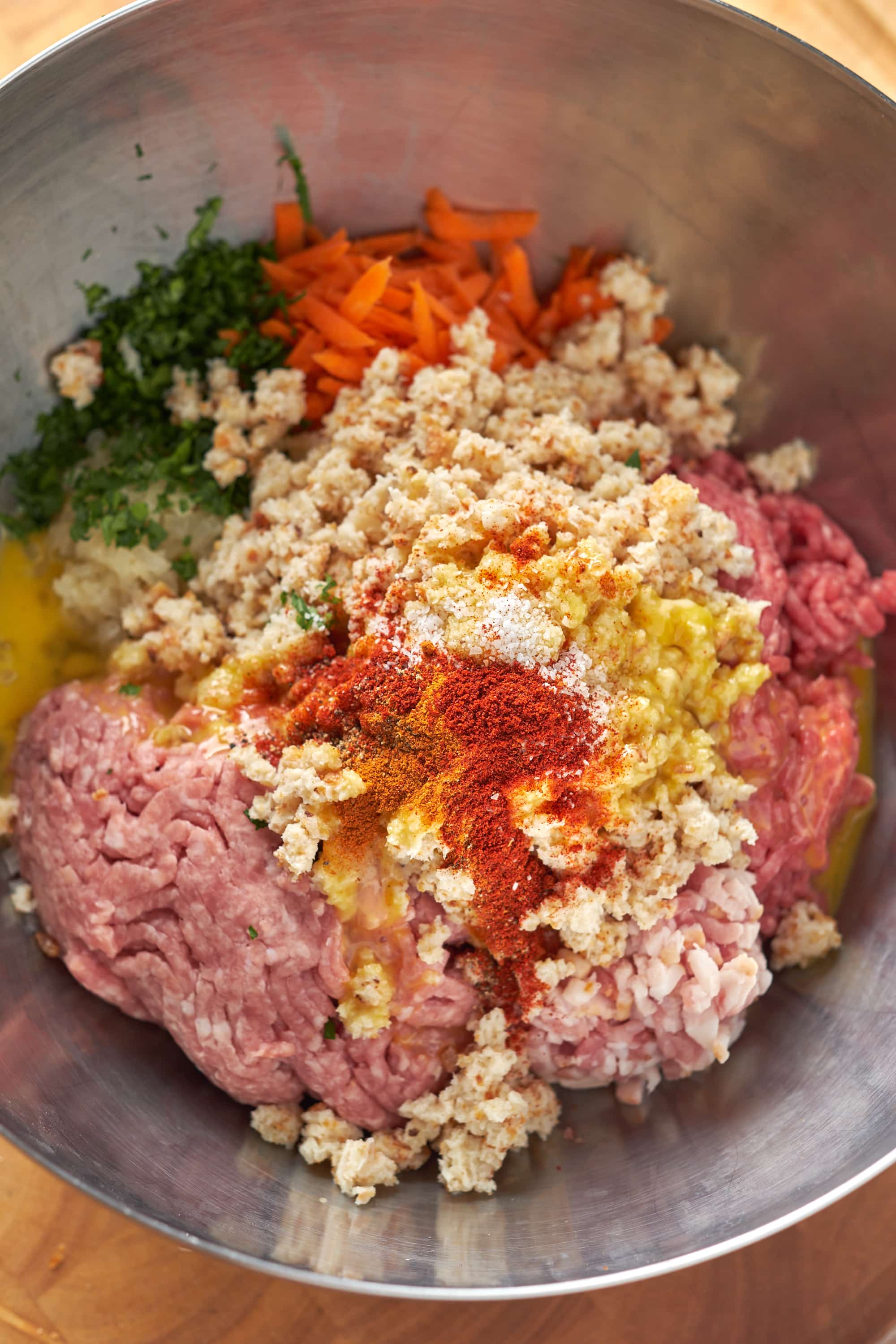 There's a few more prep items to do before we start mixing our meat. First the vegetables. Nope, first turn your oven on to 350°F, then… Grate two carrots, mince a small handful of parsley, then finely dice one onion and sauté in a bit of oil and a pinch of salt until it's tender. If you're one of those people who's opposed to carrots and parsley in your meatloaf then just leave it out (eat your veggies, Mikey!). Make the glaze in a small glass or bowl by combining one tablespoon of light brown sugar with two tablespoons of apple cider vinegar. We can start prepping our bacon wrap at this point too. I used 6 strips of bacon to seat on the bottom and up the edges of my loaf pan. Avoid going too heavy on the bacon as it may cause too much grease and become a problem. Finally, line a sheet pan with parchment paper or aluminum foil. I find parchment paper works best for oily or greasy baking.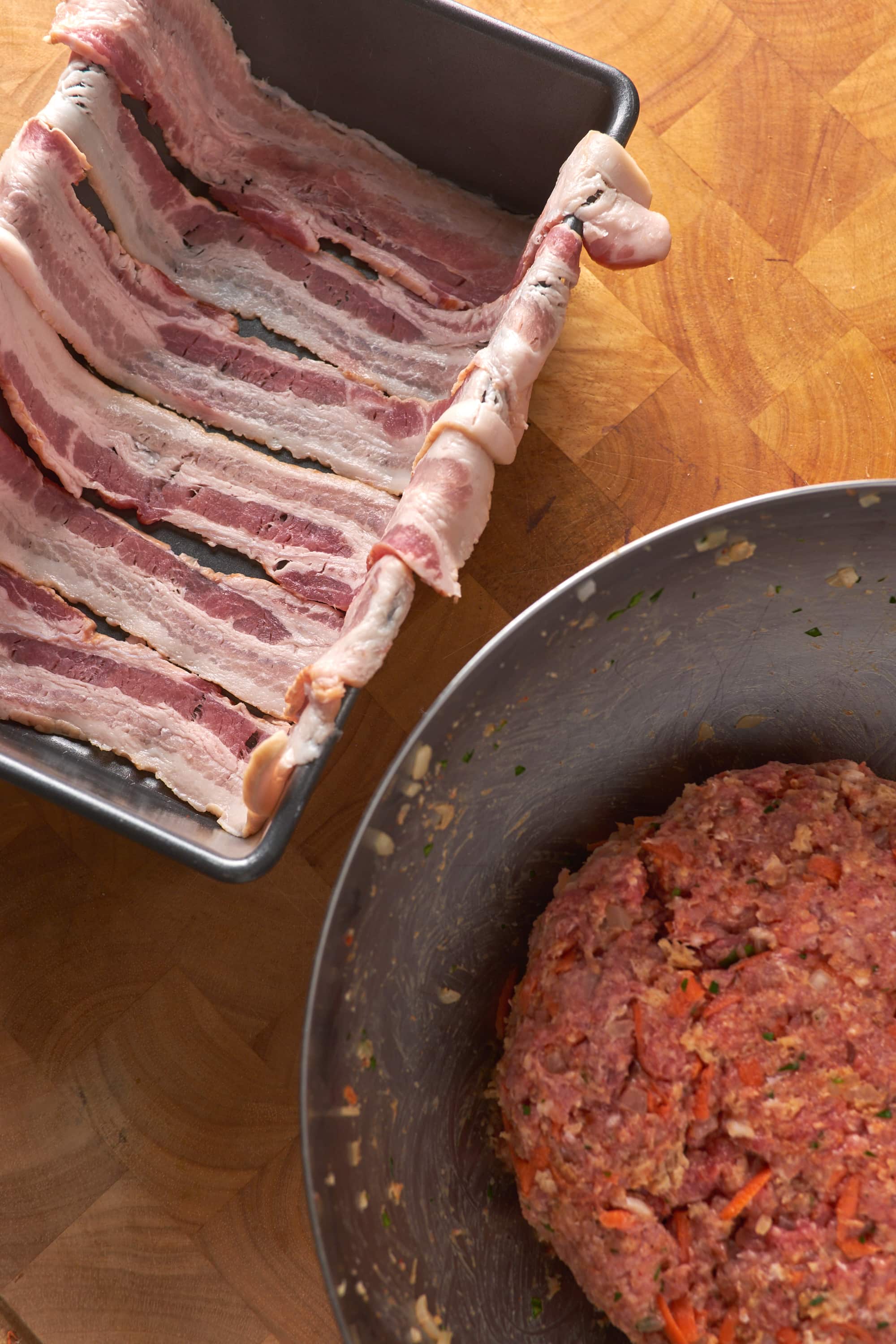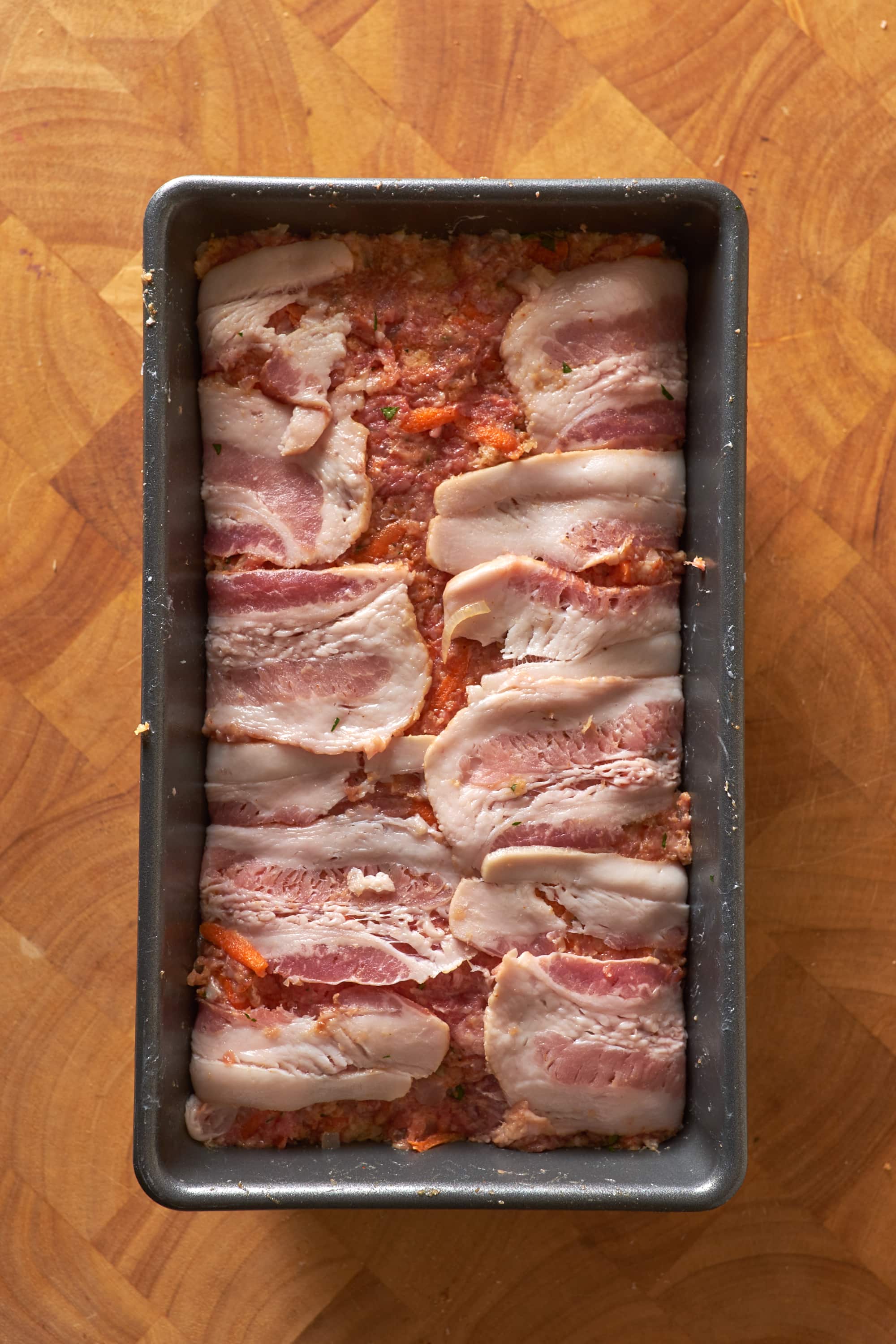 Add everything but the vinegar and sugar to a large mixing bowl and gently fold together to combine. Over-mixing the meat tends to make it dense. Try to use a light hand to combine the ingredients as thoroughly as possible. Add one handful of the meatloaf mixture to the bottom of your bacon pan. Press the meat in to the bottom so the bacon and meat fill in any air gaps around the pan. Gently press the rest of the mixture in to the loaf pan. Grab your lined sheet pan and place it upside down on the loaf pan. Grab both pans and flip them upside down – your sheet pan should be on the bottom now. Give the load pan a few taps, life the pan and voilà! – a beautiful, yet still raw and inedible, bacon wrapped meatloaf!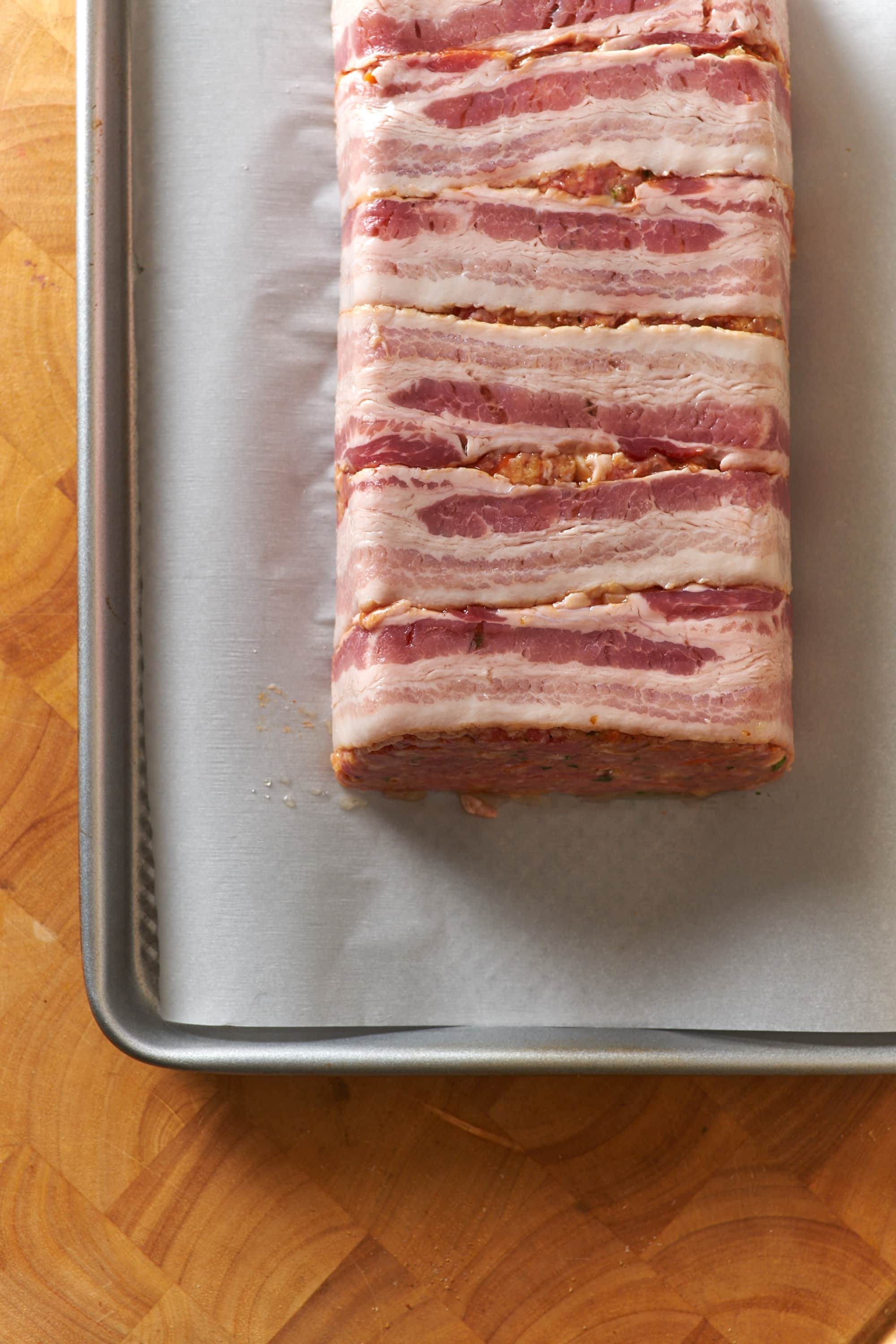 Use a brush to apply a thin layer of the apple cider vinegar and brown sugar glaze. Repeat the glazing every 20 minutes. Bake your Bacon Wrapped Meatloaf for an hour at 350°F, turning halfway. For an extra crispy exterior, crank your oven up to it's highest setting and bake for another 5-10 minutes. Allow the meatloaf to cool for 10 minutes before cutting. Just like a piece of steak or chicken you want to let it relax and reabsorb the juices.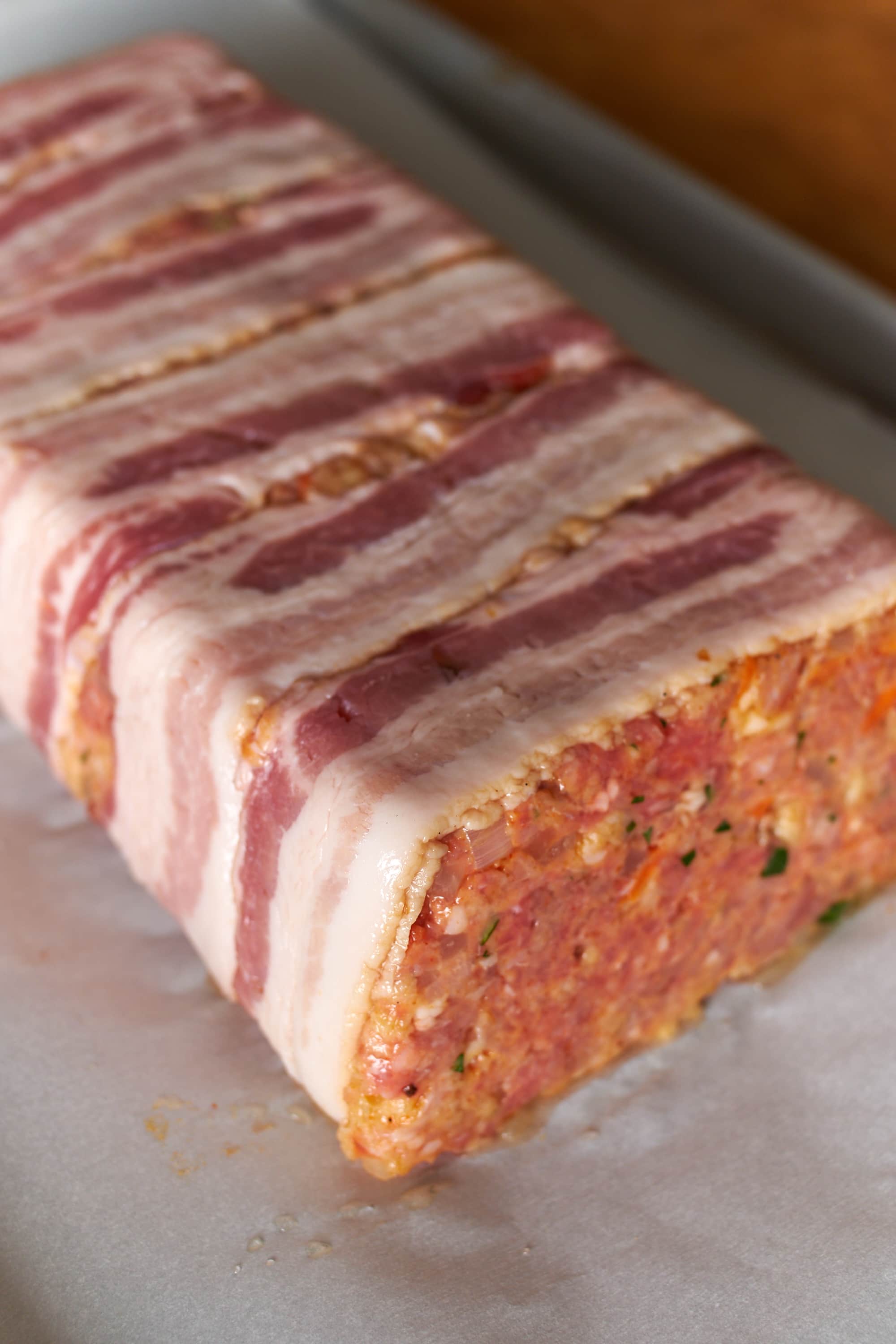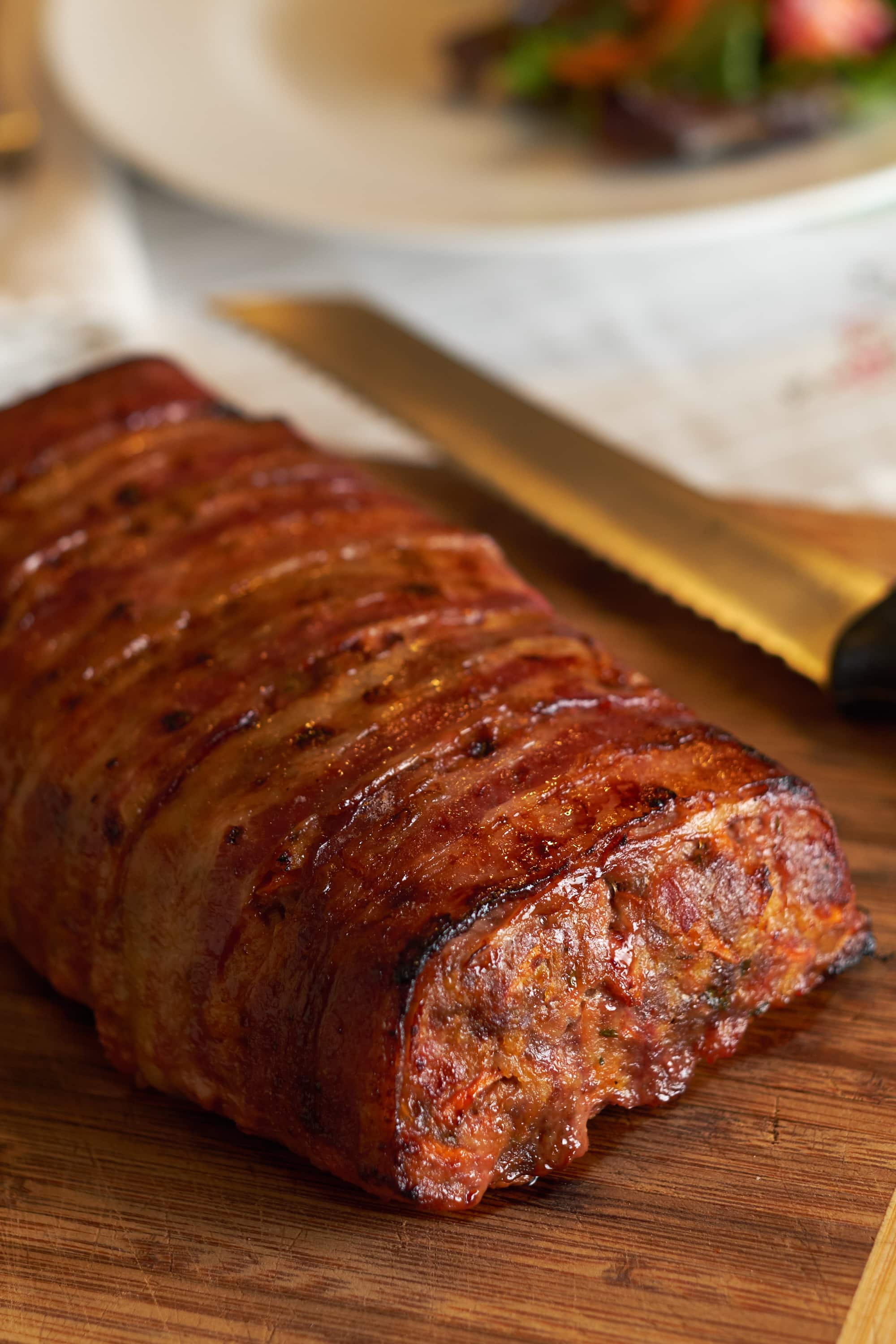 This was a delicious meatloaf. I know people are weird about their meatloafs – some demand a ketchup glaze. That's just too sweet and icky for me. I tried to compromise by using the key flavors of ketchup – sugar and vinegar. The smokey bacon, cider glaze, and spices in this meatloaf make it little more refined. As refined as a block of baked ground meat can be, I guess. It's nearly winter as I write this but I'm thinking this would be great to bake the day before a barbecue then crisp up some slices on the gill for sandwiches. Topped with ketchup.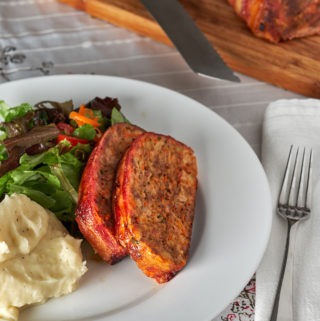 Bacon Wrapped Meatloaf
We're taking your standard meatloaf up a notch by wrapping the meatloaf in bacon and glazing it with apple cider vinegar and brown sugar. Plus, there's bacon INSIDE the meatloaf :-O
Ingredients
6

strips bacon

whole

1

tbs.

light brown sugar

2

tbs.

apple cider vinegar

2

slices

stale bread

3/4

cup

whole milk

1

lbs.

85/15 lean ground beef

1

lbs.

ground pork

2

strips of bacon

chopped

1

cup

finely diced onions

1/2

cup

grated organic carrots

2

tbs.

minced parsley

1

egg lightly beaten

1/2

tsp.

smoked paprika

1/2

tsp.

hot paprika

1/2

tsp.

kosher salt

1/2

tsp.

black pepper
Instructions
Place an oven rack near the top third of the oven and preheat to 350F.

Line a baking sheet with parchment paper or foil.

Line a loaf pan with strips of bacon and set aside to mold the meatloaf.

Combine vinegar and brown sugar and set aside for glazing with a brush.

Prep the bread crumbs by tearing up two slices of day old bread and pulsing them in a food processor for about a minute. If using fresh bread, place them in a 250°F oven for 30 minutes the pulse after they've cooled. Transfer the breadcrumbs to a small bowl. Add 3/4 cup of milk one tablespoon at a time so the bread can easily absorb it.

Gently fold the remaining ingredients along with the bread crumbs in a large mixing bowl. Add one handful to the loaf pan and press to fill in any air gaps. Add the remaining mixture without pressing too hard then fold the bacon strips over top. Place the lined sheet pan upside down, centered on top of the loaf pan then grab hold of both to flip them upside down. Give the loaf pan a few strong taps to loosen it then remove the loaf pan leaving the meatloaf on the sheet pan. 

Glaze the meatloaf with the cider and sugar mixture and bake on the top rack for 1 hour. Glaze every 20 minutes and flip the pan halfway through for even cooking. Set the oven temp to it's highest setting and cook for an additional 5-10 minutes for the glaze to caramelize. 

Allow to cool for at least 10 minutes before serving.