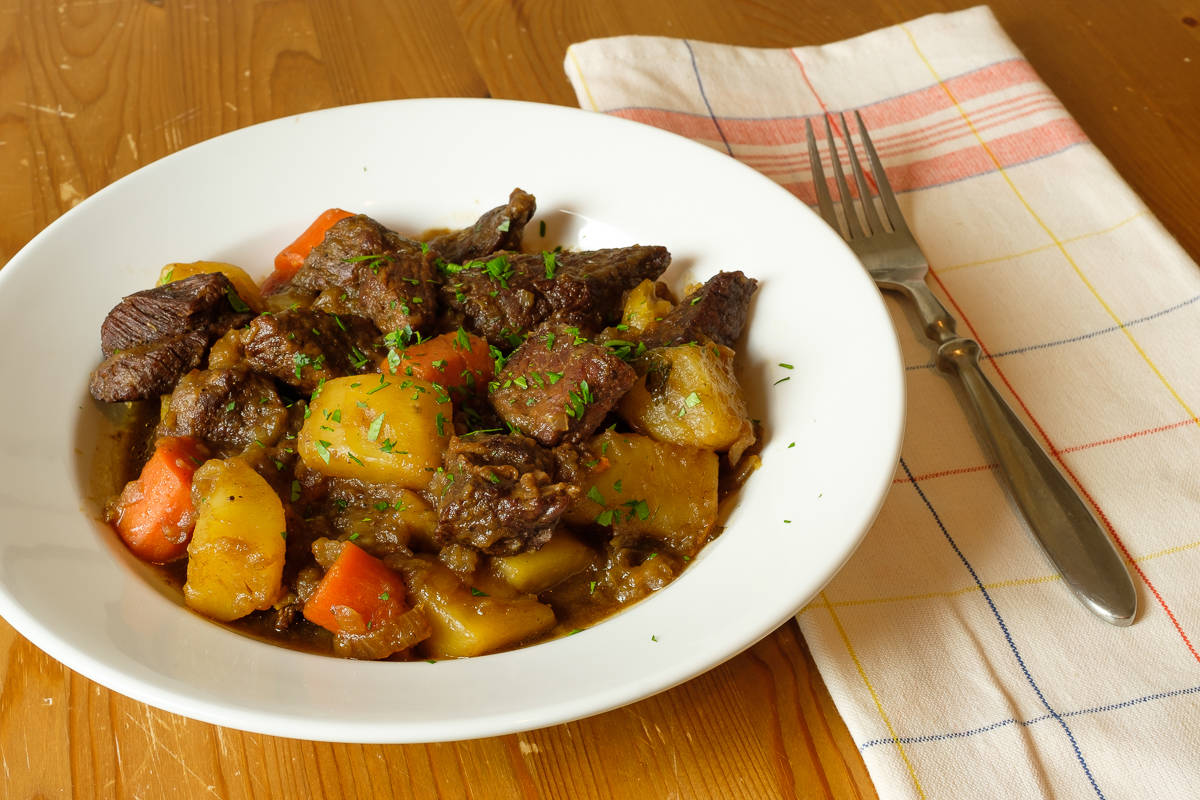 This beef stew with Guinness recipe focuses on developing flavor by using different cooking techniques. The beef is first broiled, the onions are fried in olive oil and butter, and the potatoes are pre-cooked in salty water.
Usually I make a beef stew a couple of times a year once the weather drops below 50 degrees. For whatever reason, that didn't happen and here I am, a week before April and a week after St. Patricks day making stew with Irish beer. I overheard a friend of mine commenting how hard it is to take a really good, food porn quality, photo of beef stew. Pft! Challenge accepted!
So, what would make a beef stew not photogenic? A mushy brown gravy of overcooked carrots and potatoes and monotone grey-brown beef. Yeah, that wouldn't be very appetizing. Brown beef, orange carrots, and white potatoes aren't exactly a rainbow of ingredients but there are ways to bring out the color. First, let's get the edges of the beef nice and dark by coating them in olive oil and broiling them. Second, Yukon gold potatoes, as evident by the name, add a little color. Third, I find organic carrots stand up to longer cooking times than regular carrots – they also taste like actual carrots. Finally, cooking everything separately then adding them together later in the cooking process means they won't all break down and muddy up the gravy.
That covers the looks. Let's talk about flavor. Stews and braises are all about slow cooking to transform your ingredients in to something entirely different. We want to avoid throwing everything in a pot at the same time to keep the gravy photogenic, err, can we just say appetizing? Forcing us to cook things in different pots means we can experiment with cooking techniques and bolder flavor development. There are relatively few ingredients in this stew so building complexity means knowing how to bring out the flavors we want in the ingredients. Fried onions are one of my favorite flavors. If you overcook them, they get a super deep dark sweet flavor, but we don't want them to caramelize. Precooking the Yukon potatoes separately in sea-salt water elevates the already tastiest potato. By controlling the cooking time with a precook, we can prevent them from getting mushy. A tablespoon of Worcestershire sauce and Guinness, used here more as a "requirement" than a preference, bring out the deep umami flavors we want to highlight in a beef stew.
Even though we're cooking most of these ingredients separately, we still want hearty bite size pieces. Keep things consistent. The onions, on the other hand, we want to disintegrate in the stew to become a flavor element. Slicing them thinly means they'll just melt away in to the gravy.
Notice that we haven't added any extra salt or pepper. There's salt and pepper on the steak from the broil and there's salt from the potatoes. Otherwise, the Worcestershire also add a bit of flavoring but we're relying on building flavor by how we cook the food.
I really hope you give this a shot and let me know how it works for you. There's just a little something better about this stew thanks to layering cooking techniques on top of each other. The end results looks damn pretty too! Take that, Larry!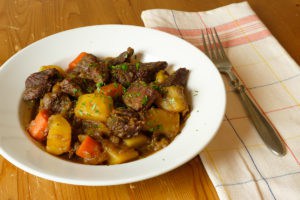 Beef Stew with Guinness
This Beef Stew with Guinness recipe focuses on developing flavor by using different cooking techniques. The beef is first broiled, the onions are fried in olive oil and butter, and the potatoes are precooked in salty water.
Print
Pin
Ingredients
1.5

lbs

grass-fed stew meat

5

medium organic carrots

one inch pieces

6

medium Yukon gold potatoes

peeled and cubed in bite size pieces

1

large yellow onion

sliced

1

can Guinness Draft

2

cups

water

1

tbsp

Worcestershire sauce

salt

pepper

butter

olive oil

parsley

finely chopped
Instructions
In a medium bowl, coat beef with olive oil, salt, and pepper.

On a lined sheet pan, broil beef until well browned on both sides.

Add 1 tbsp olive oil and 1 tbsp butter to a large dutch oven and heat over medium-low heat.

Add sliced onions to dutch oven and heat, stirring occasionally, for 15 minutes until well browned, not caramelized.

Add the carrots and the steak and all juices from sheet pan to the onions. Cook for 5 minutes.

Add Gunniess, 1 cup water, 1 tbsp Worcestershire sauce.

Cover and simmer over low heat for 1 hour.

Cover cubed potatoes with water and kosher salt in a pan and bring to hard boil.

After potatoes come to a boil, turn off heat and set aside for 10 minutes.

When potatoes are tender, drain water and set aside.

Add 1 cup water, parsley, and potatoes.

Cover and simmer over low heat for 1 hour.