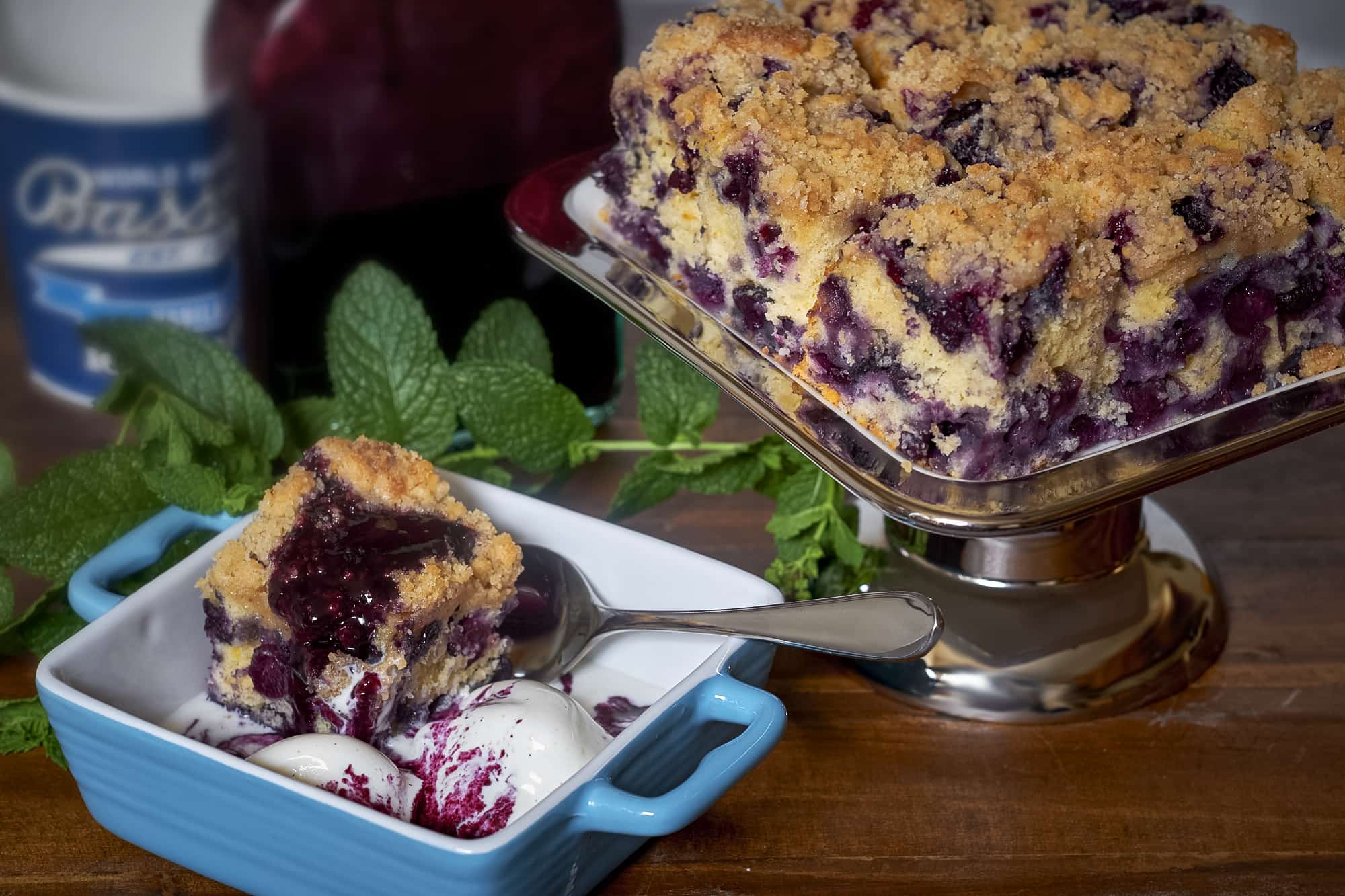 On it's own, this blueberry crumb cake makes a great dessert or a decadent pairing with your morning coffee. Discontent with leaving good enough alone, I'm serving this with Philadelphia's Bassetts Ice Cream (America's oldest ice cream) and some homemade blueberry and bourbon syrup.
Whole Foods has had a ton of New Jersey Blueberries on sale for a couple weeks now. I've been buying these two pound containers to snack on whenever I stop in. I'll eat them right out of the container or add them to yogurt or granola. Meanwhile, I've had this craving for something sweet; which is a rarity for me. When I started rummaging around my cookbook library, I was a little surprised to find so few recipes for either blueberry desserts or crumb cakes. Good thing I've got The Internet for my research!
I decided to give Smitten Kitchen's recipe a try. As much as I honor and admire the New York Times and Serious Eats, I felt like Deb put the most thought in her adaptation of a Maida Heatter recipe. Plus, I've been a fan since 2006 and I trust her. I reduced some sugar, left out the walnuts, added an egg white, etc. to make it my own. I couldn't be happier with the results.
To top it all off, and use up some unattractive wrinkle-berries, I thought I'd make a little blueberry bourbon syrup! This wasn't something I planned or had ever attempted before. Although, it's not all that far off from barbecue sauce. Just toss any ugly berries you have with a bit of water, some sugar and a healthy shot (or three) of bourbon and simmer until thickened. Delish!! I recommend Maker's Mark for the bourbon as it's the most well rounded and sweetest that I'm aware of.
This might actually be the first cake I've ever made! I'm more of a griller, a bread baker, and a pan roasted veggie maker. As a first time cake maker, I can attest that it's awfully easy. I have my doubts about that whole "baking is science" stuff. For my next cake, I have to see about reducing the amount of dishes to clean.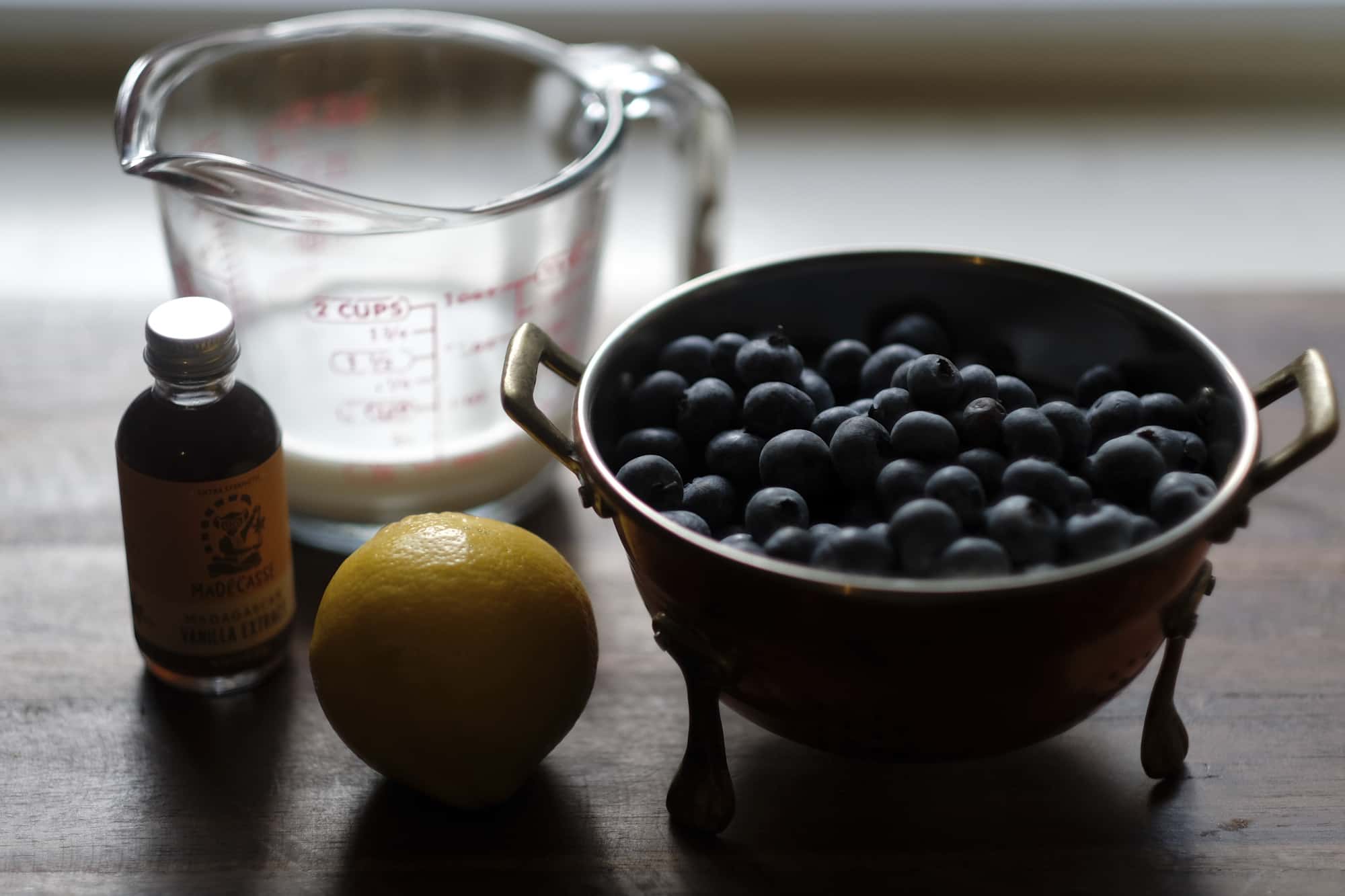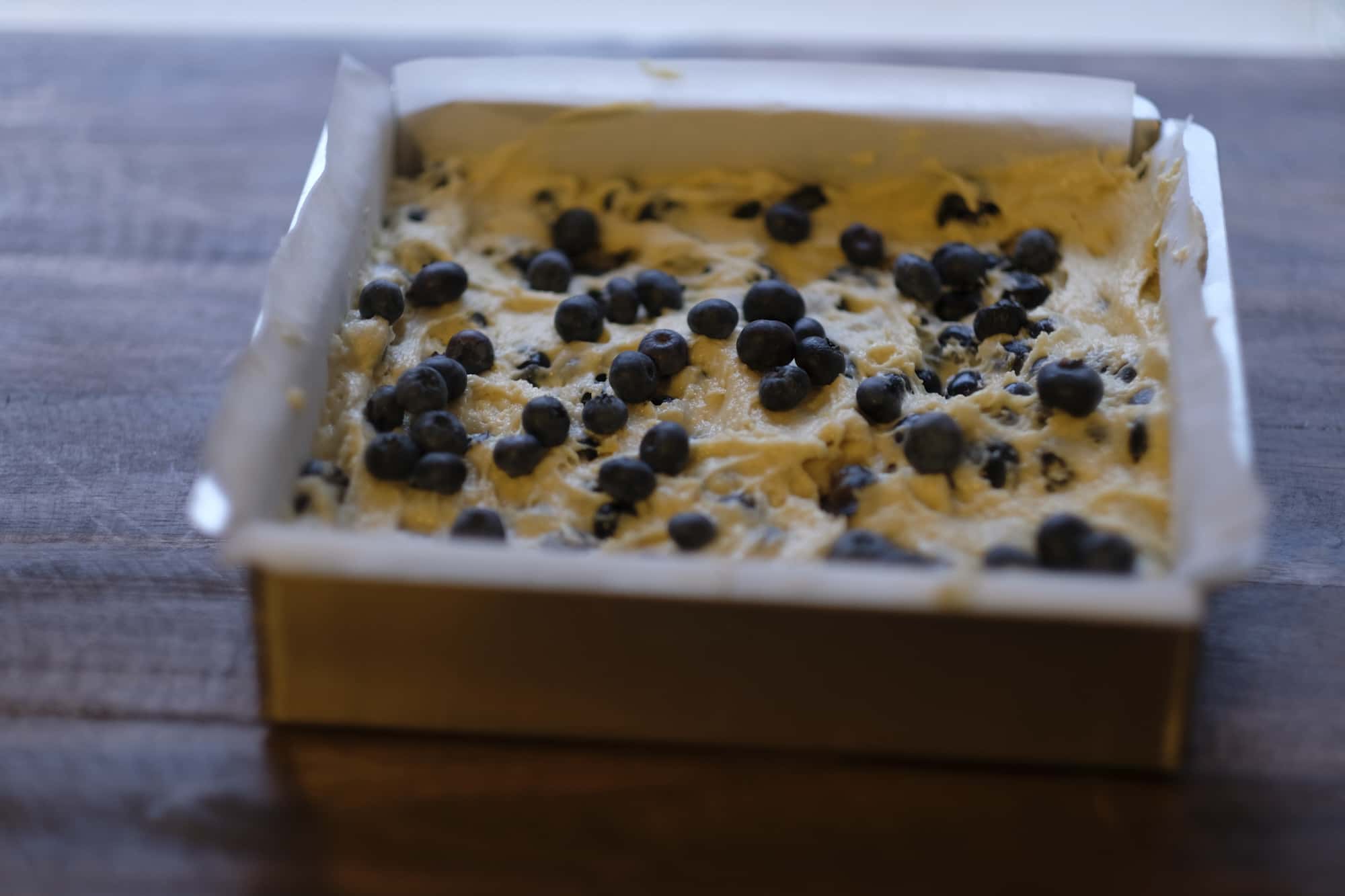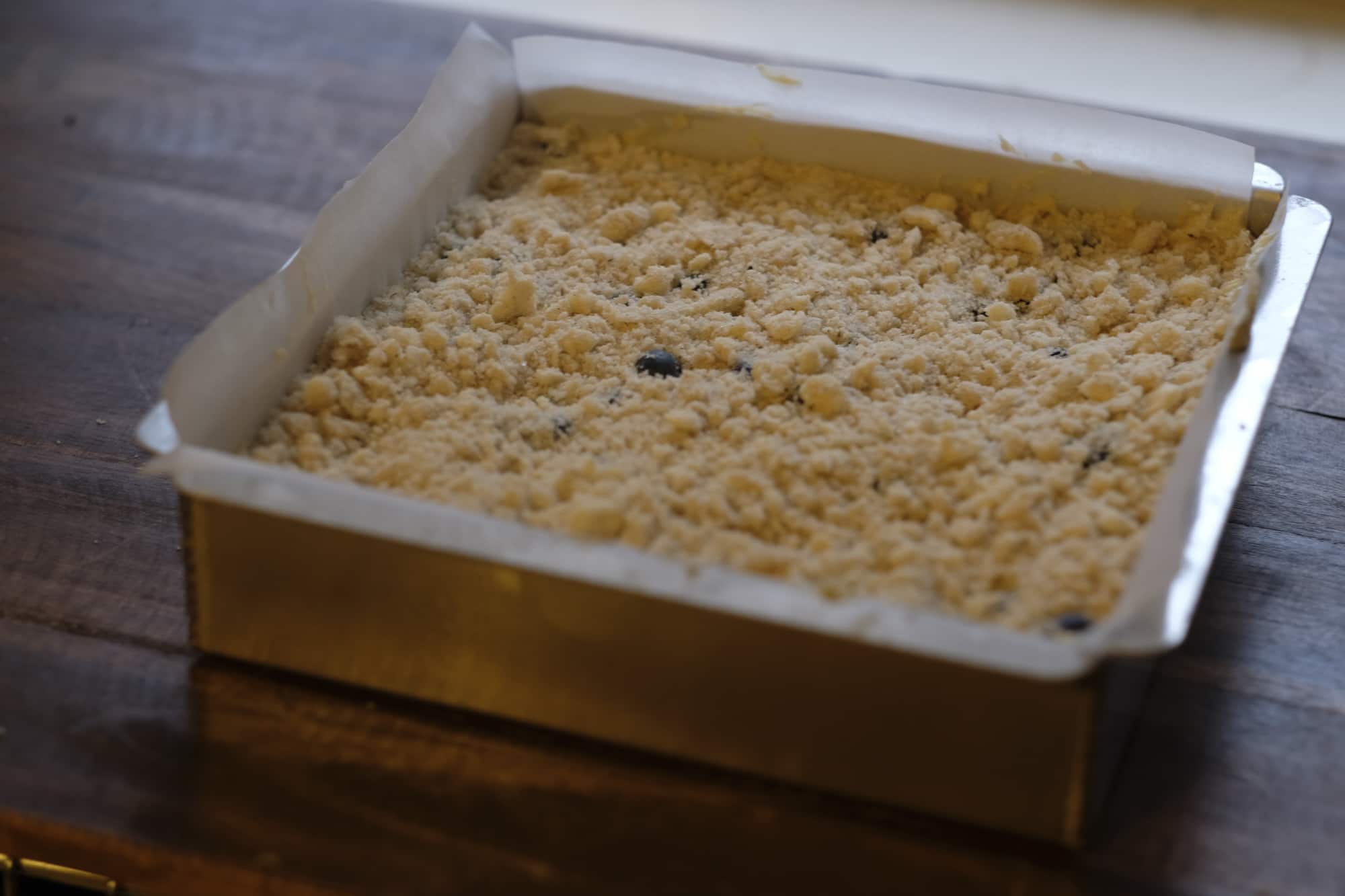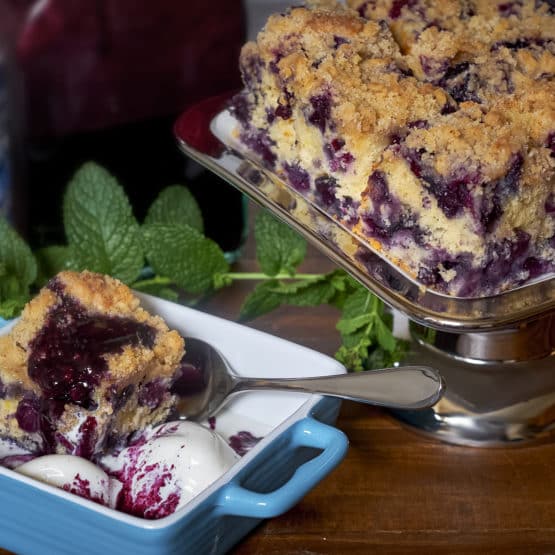 Blueberry Crumb Cake with Blueberry Bourbon Syrup
This blueberry crumb cake makes a great dessert or decadent pairing with your morning coffee. For left over wrinkle-berries, I've included a recipe for Blueberry Bourbon Syrup.
Ingredients
Crumble
1/3

cup

all-purpose flour

1/3

cup

sugar

1/2

tsp

freshly grated cinnamon

1/4

tsp

salt

4

tbs

unsalted butter

diced and chilled
Cake
2

cups

all-purpose flour

2

tsp

baking powder

1/2

tsp

salt

3/4

cup

sugar

Zest of 1 lemon

1

large egg

1

egg white

1

tsp

vanilla extract

4

tbs

unsalted butter

softened

1/2

cup

whole milk

2 1/2

cups

fresh blueberries
Blueberry Bourbon Syrup
1

cup

blueberries

1/4

cup

sugar

1/4

cup

water

3

tbs

bourbon
Instructions
Crumble
Dice half a stick of ice cold butter in to small pieces. 

Combine flour, sugar, cinnamon and salt in a medium bowl. 

Work butter in to flour with a fork or your hands until the mixture resembled course sand. Toss the whole bowl in to the freezer for a few minutes if the butter starts melting. When done, place bowl in freezer while you prepare the cake.
Cake
Preheat oven to 375°F.

Using an electric mixer in a medium bowl, beat sugar and lemon zest for a minute then add the softened butter. Beat until butter is well incorporated.

Add one whole egg, one egg white, and vanilla and beat until mixture gets thick and increases in size - a few minutes. 

Combine the flour, baking soda and salt in a separate bowl.

Slowly add the flour mixture then milk while beating at medium low speed. The batter should be thick and heavy. Clean off any batter stuck to the beaters and add back to the bowl. 

Using a silicone spatula or wooden spoon, carefully fold the blueberries in to the batter.

Transfer and even out batter to an 8x8 cake pan.

Layer the cold crumb mixture on the top of the cake pressing down gently to fill in any air gaps.  Use a fork to prick the crumb and give back some texture. 

Bake for 45 minutes until toothpick comes out clean.

Allow to cool completely before serving. Up to 2 hours.
Blueberry Bourbon Syrup
Add all ingredients to a medium pot and simmer over a low flame for about 15 minutes.

Stir occasionally to break up the berries.

The syrup should thicken and the heat of the bourbon should subside.

Strain syrup in to a pourable container and allow to chill before serving.