Oh yeah. Bourbon Bacon Jam is 100% my new jam! Bacon Jam, Egg, and Brie anyone?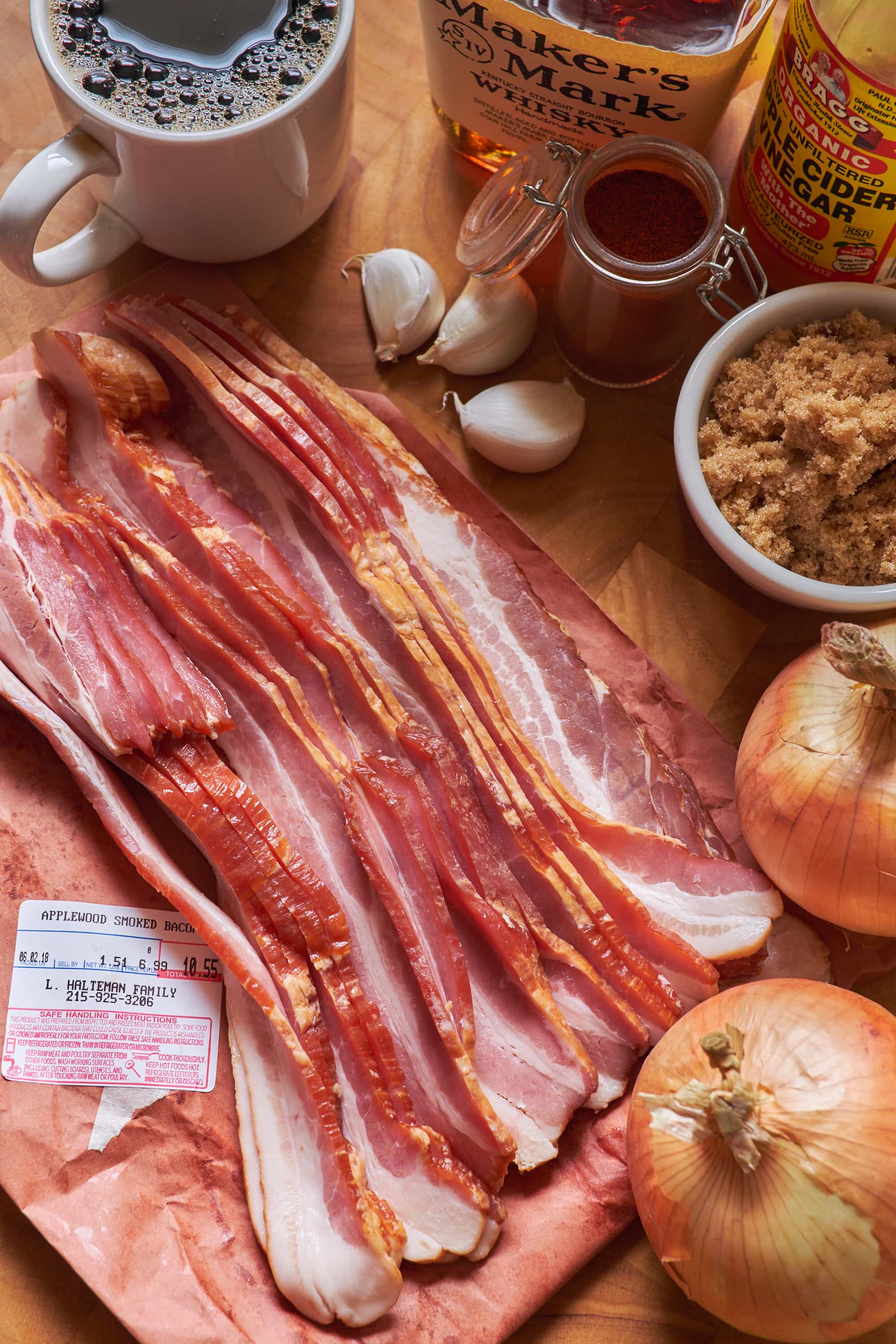 The first time I ever had or even heard of Bacon Jam was at one of my favorite local Restaurants in Philly, The Blind Pig. Chef and Co-Owner David Hentz uses Bacon Jam on his burger "Against Doctor's Orders". This beast was first introduced at the 2013 Philly Burger Battle held in the Piazza in Northern Liberties. David serves the burger with Pepper Jack Cheese, Pulled Pork, Bacon Jam, BBQ Sauce, Cole Slaw, and Fried Onion Frizzles. One time I actually managed to eat half of one! Blind Pig has all sorts of great snacks like Poutine, Cubano Sandwich, Gator Sausage Sandwich, and their trademarked Thanksgiving Balls®. They also make some of the best Wings in Philly.
Bourbon Bacon Jam needs to be part of your summer cookout condiment tray. I mean, it's Bacon – in jam form. Need I say more? It's not just for cookouts of course. I made some little crostini that would be great for party snacks. Try some Bacon Jam Avocado Toast or Bacon Jam, Egg and Brie! Let me know in the comments below if you have any other ideas.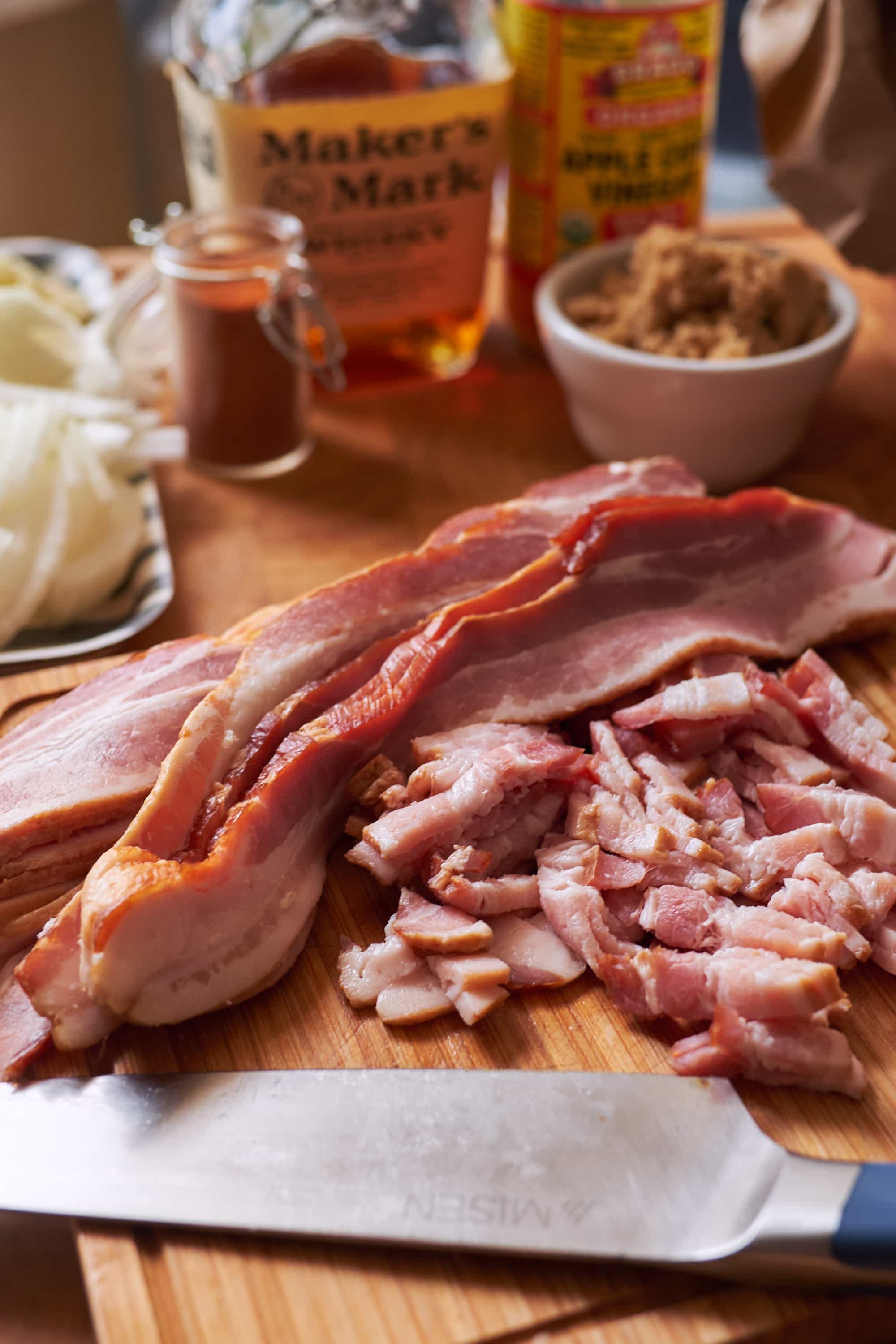 To start off with Bourbon Bacon Jam you'll need one and a half pounds of Bacon. I highly recommend you get the good stuff here. Bacon with added sugars and preservatives could throw off the recipe. I went with my favorite farm fresh purveyor of meats, L Halteman in Reading Terminal Market. I've been there a lot since grilling season started. Hi Sam!
Grab a handful of bacon and slice in to about 1/4 inch slices. Set it aside and move on to the onions. We'll caramelize the onions to bring out their natural sweetness. To speed up that process, and so all our jammy food bits are about the same size, we'll chop the onions about the same size as the bacon. Set the onions aside and start measuring out all your other ingredients shown in the recipe below.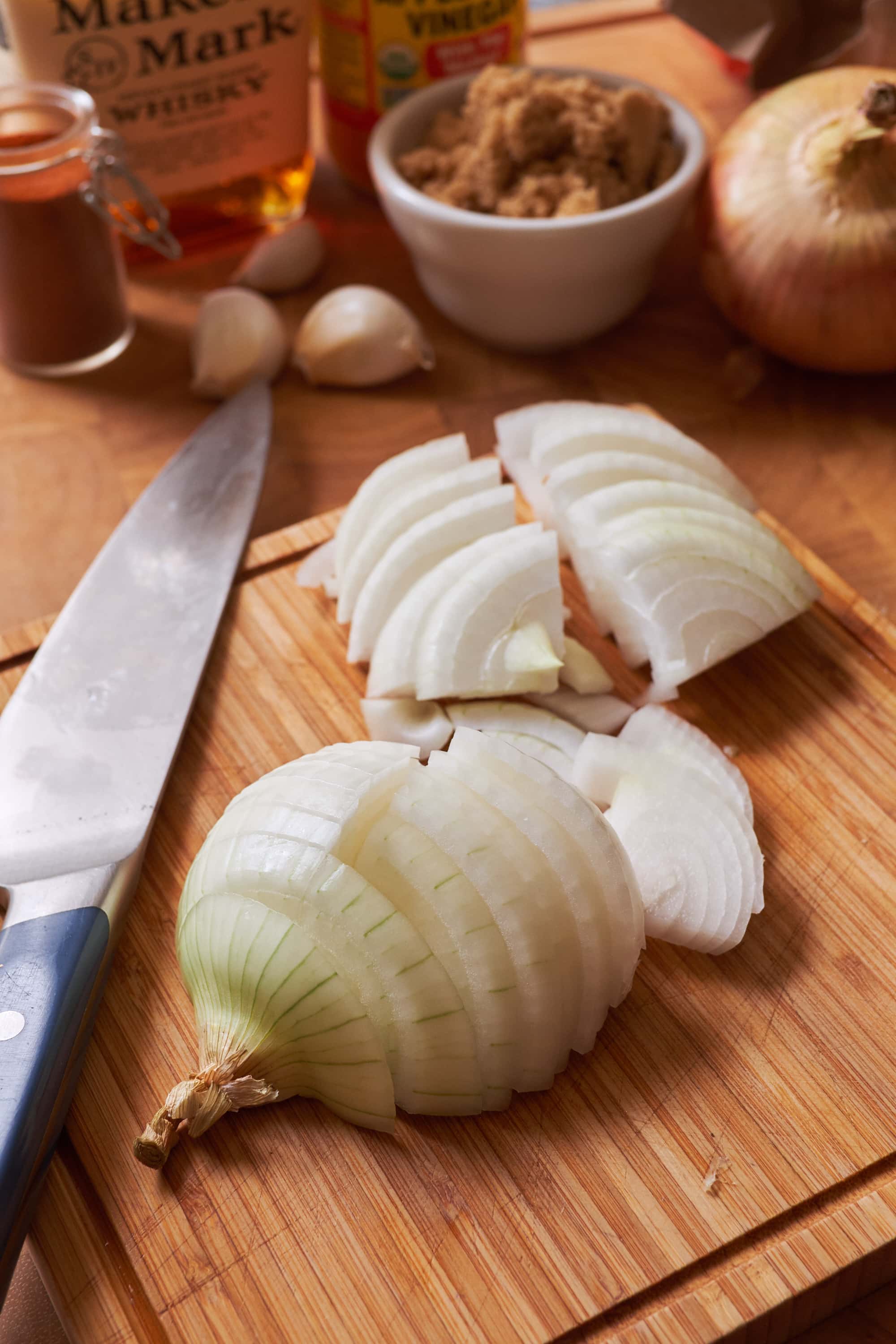 Throw all the bacon in to a large skillet then turn the heat on to medium. Keep an eye on it and stir occasionally. We want to render the fat from the bacon so this is going to take a little time. Once the bacon fat starts to fill the pan with foam we know we're in good shape. Place a strainer over a bowl and strain the bacon. Reserve the bacon fat. Oh yes we are putting that in the jam.
Add 2 tablespoons of the bacon fat back in to the pan and slowly sweat the onions over low heat. Do not clean out the pan first. We want every speck of flavor. Just as the onions start to turn translucent add the sliced garlic. Caramelized onions take some patience. Like, at least 20 minutes of patience. Over 40 minutes for really good French Onion Soup onions. Fortunately we're not going that far. The onions are done just as they start to brown on the edges. Here comes the fun part!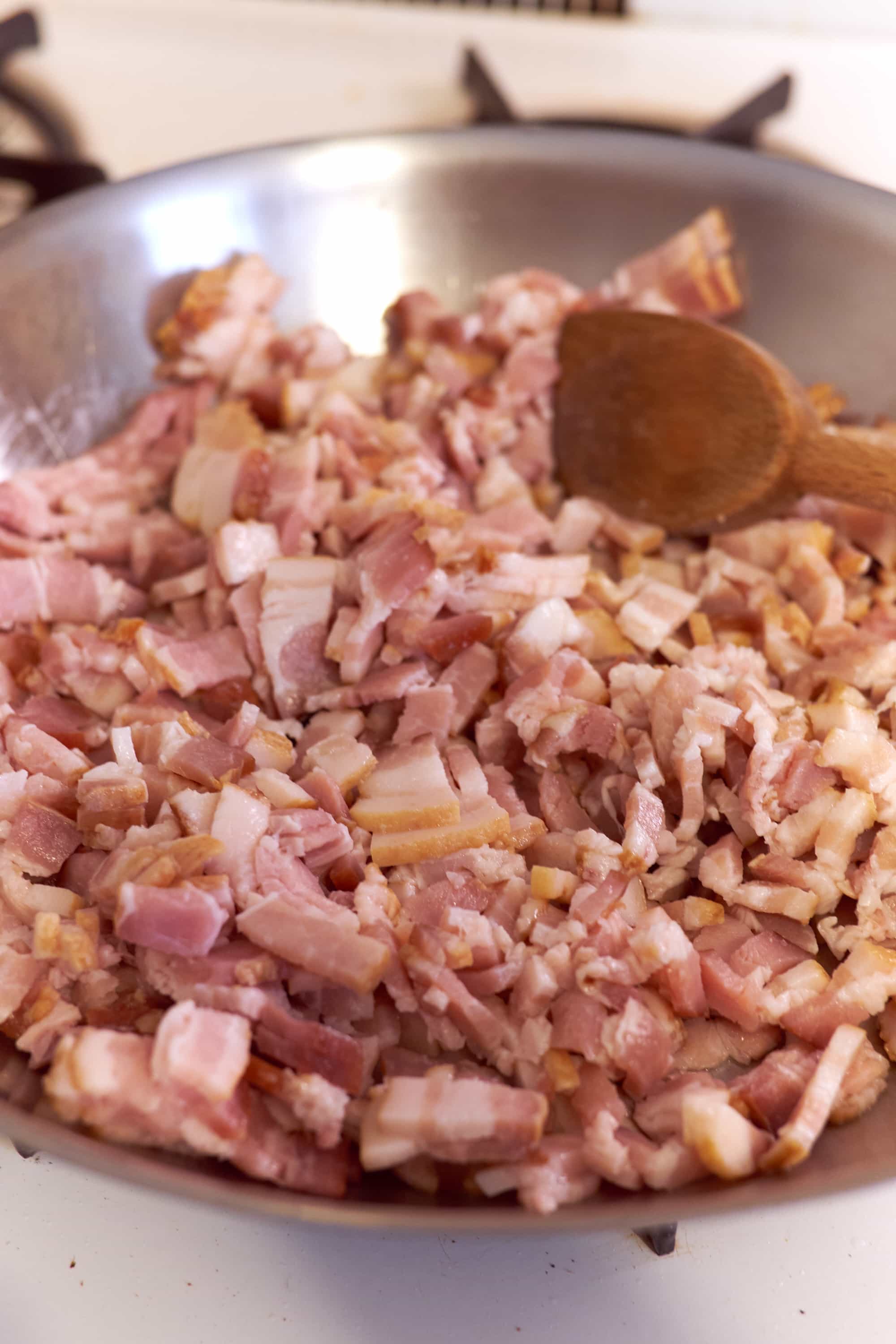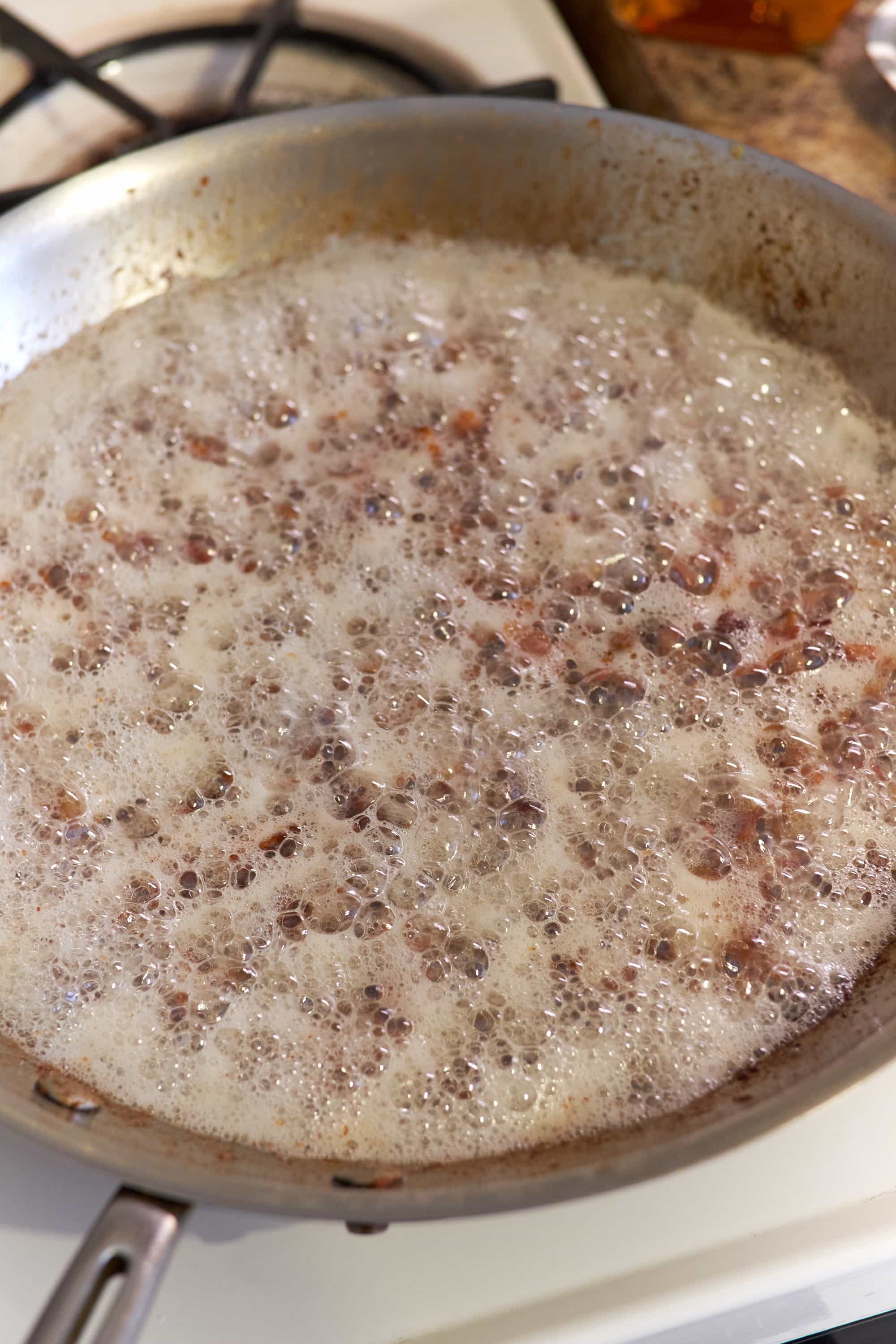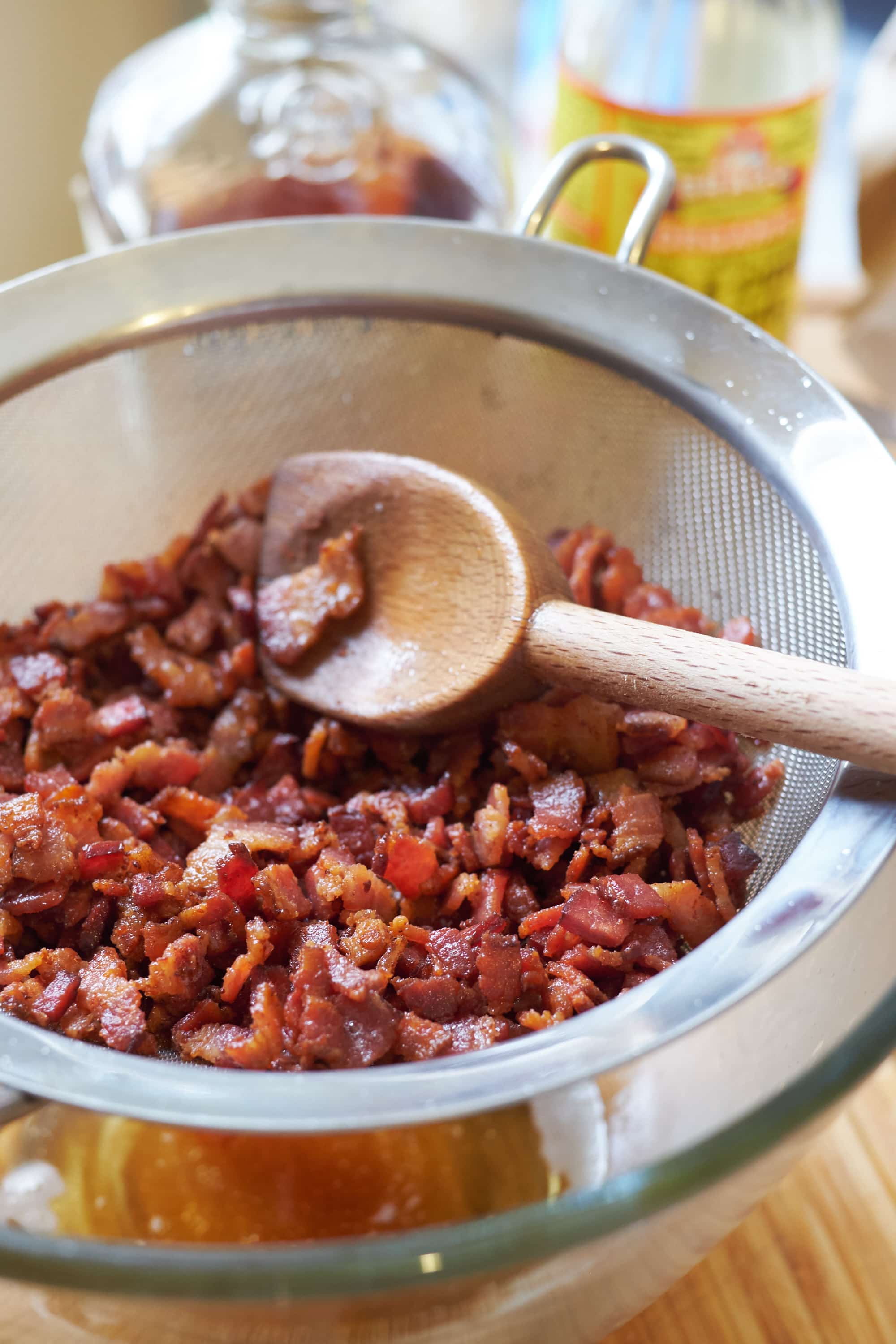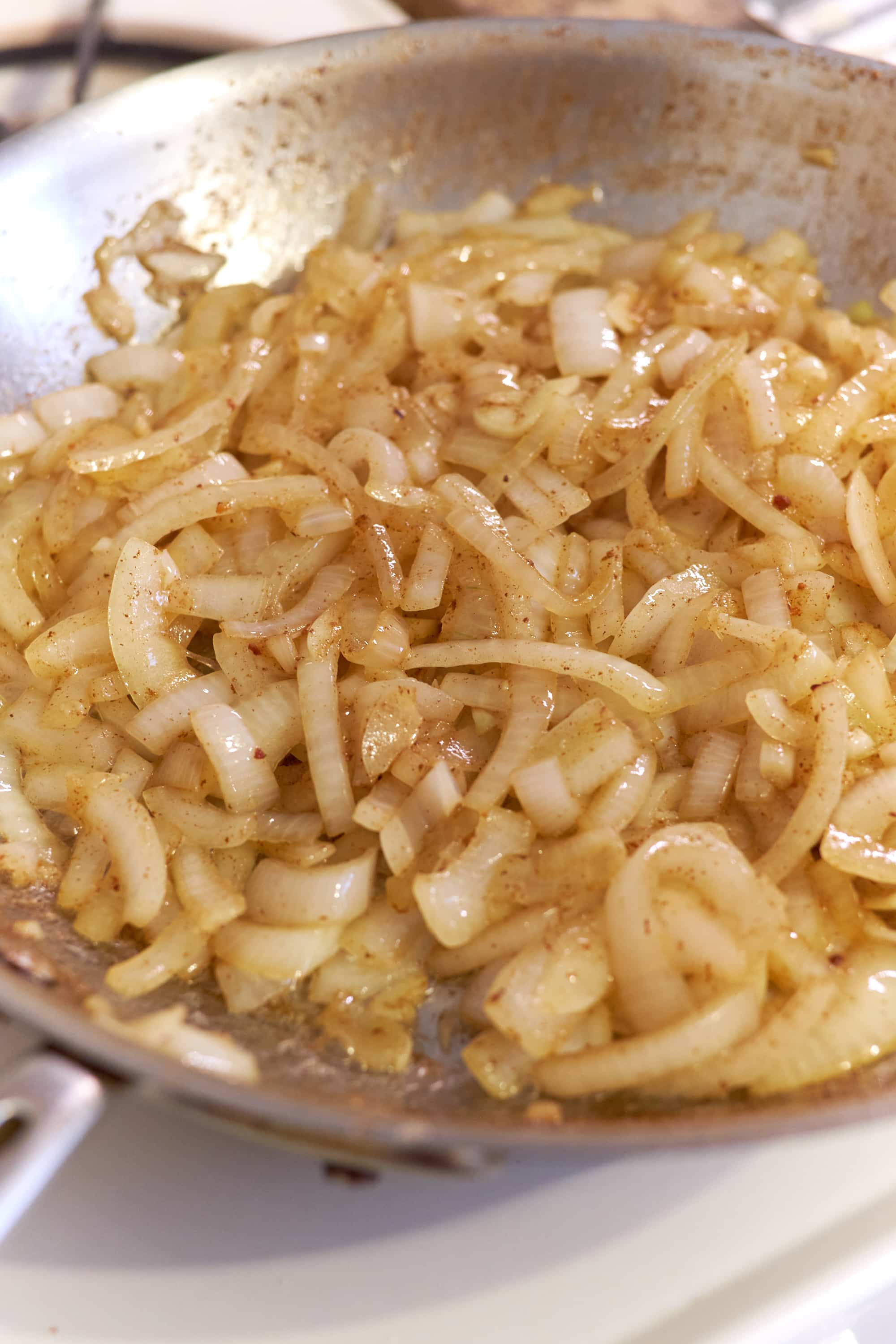 At this point you have some reserved bacon fat, some not-too-crispy bacon, nearly caramelized onions with garlic, and a whole bunch of other ingredients ready to add to the pan. Combine the Coffee, Bourbon, Apple Cider Vinegar, Brown Sugar, and Cayenne Pepper in a pourable measuring cup and whisk to combine. Add 1 tablespoon of bacon fat and all the bacon to the pan. Stir to combine then turn the heat up to high for about 30 seconds or until it starts to sizzle. Carefully pour in the coffee bourbon mixture to deglaze the pan. Stir the pan vigorously to get all the bits off the bottom then reduce the heat to medium low.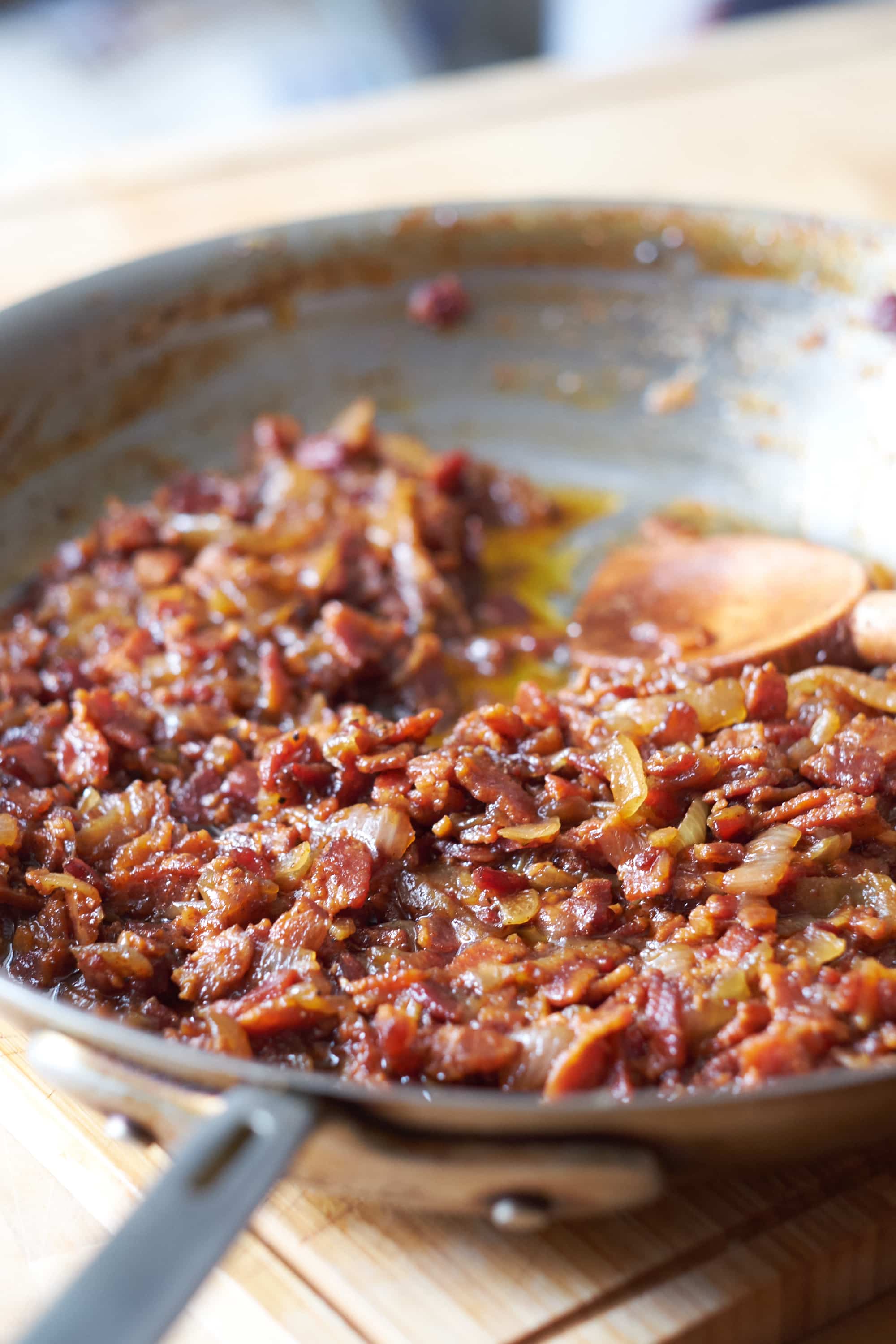 Your bacon jam should be coming together. Add the water and allow the jam to continue cooking until it's nearly reached your desired consistency. If you want it a little more runny you might only cook it for a few minutes. If you want less liquid you can cook off the water for about 10 minutes. The addition of the water allows all the flavors to combine and the onions to melt in to the jam. I cooked mine for about 5-6 minutes. I also added an extra splash of bourbon for a little more bourbon forward taste.
You should get about 2 cups of Bourbon Bacon Jam from this recipe. That should be enough for a cookout and maybe enough for a cocktail hour and a really solid brunch the next morning. Bourbon Bacon Jam, Avocado, Egg, and Cheddar Breakfast Quesadillas have happened more than once this week at Eat Up! Kitchen.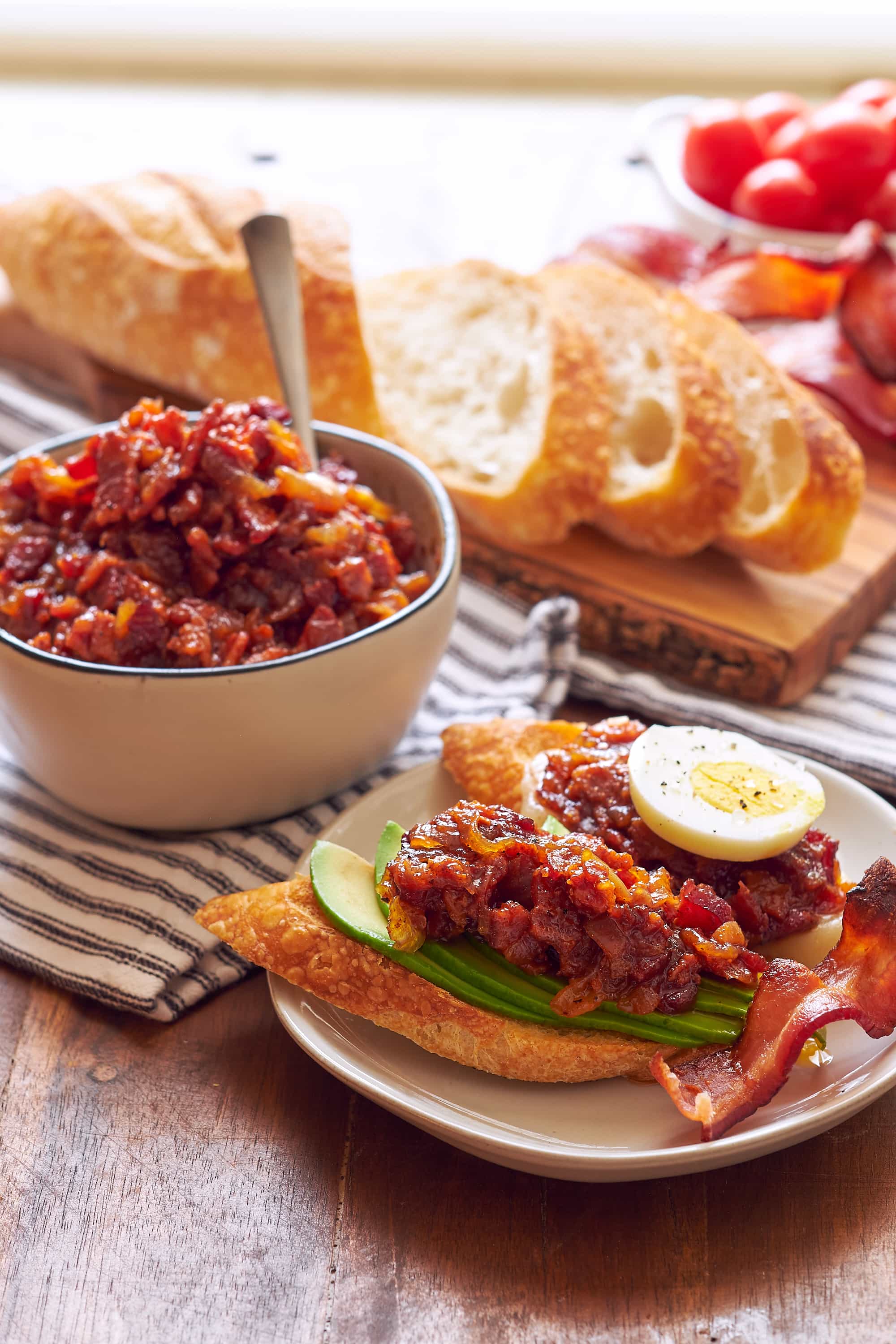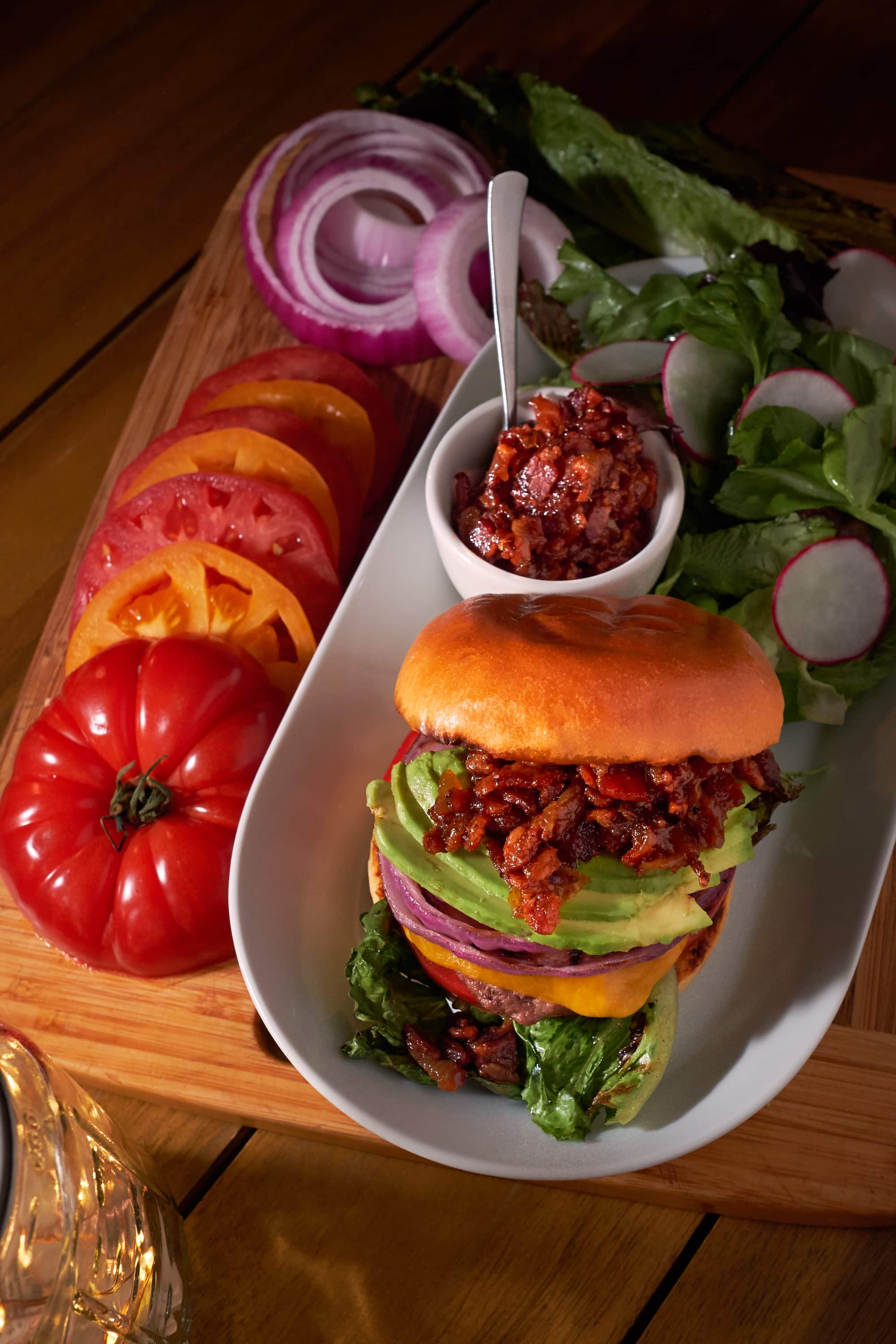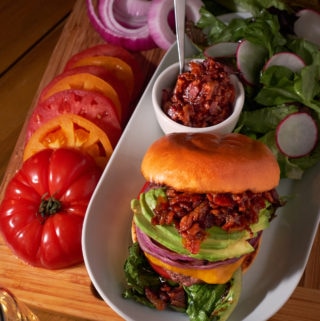 Bourbon Bacon Jam
Bourbon Bacon Jam needs to be part of your summer cookout condiment tray. I mean, it's Bacon - in jam form. Need I say more? Aside from burgers, try some Bacon Jam Avocado Toast or Bacon Jam, Egg and Brie!
Ingredients
1 1/2

lbs.

Bacon

2

Sweet Onions

3

Garlic Cloves

thinly sliced

1/3

cup

Bourbon

1/3

cup

Black Coffee

2

Tbs

Brown Sugar

2

Tsp

Cayenne

2

Tsp

Apple Cider Vinegar

1/2

C

Water

Salt and Pepper to taste
Instructions
Chop the bacon and the onions in to 1/4 inch slices. Set aside separately from each other.

Prep a small bowl with a strainer to strain the hot bacon fat.

Whisk together Bourbon, Coffee, Brown Sugar, Cayenne, and Apple Cider Vinegar in a pourable measuring cup. Prep a 1/2 cup water.

Cook the bacon in a large skillet over medium heat. Stir occasionally to prevent burning. Bacon is done once the fat has rendered and the pan filled with foam - about 12-15 minutes.

Transfer the bacon to a strainer placed over a bowl. Reserve the bacon and the fat.

Add 2 tablespoons of bacon fat in to the pan. Add onions and sweat over low heat until they turn translucent. Add garlic and continue stirring occasionally. Onions are done when edges just start to turn brown.

Increase heat to high, add 1 tablespoon bacon fat and all the cooked bacon. Stir for about 30 seconds then add the bourbon mixture to deglaze the pan. Scrape any bits off the bottom of the pan. Reduce heat to medium low and add the water. Cook jam to desired constancy - 3-10 minutes. Add salt and pepper to taste.