This Braised Bone-In Pork Shoulder took me a few days to prep but it was oh so worth it! This was wet brined for two days, air dried for two more, then braised in White Wine and Garlic for over four hours.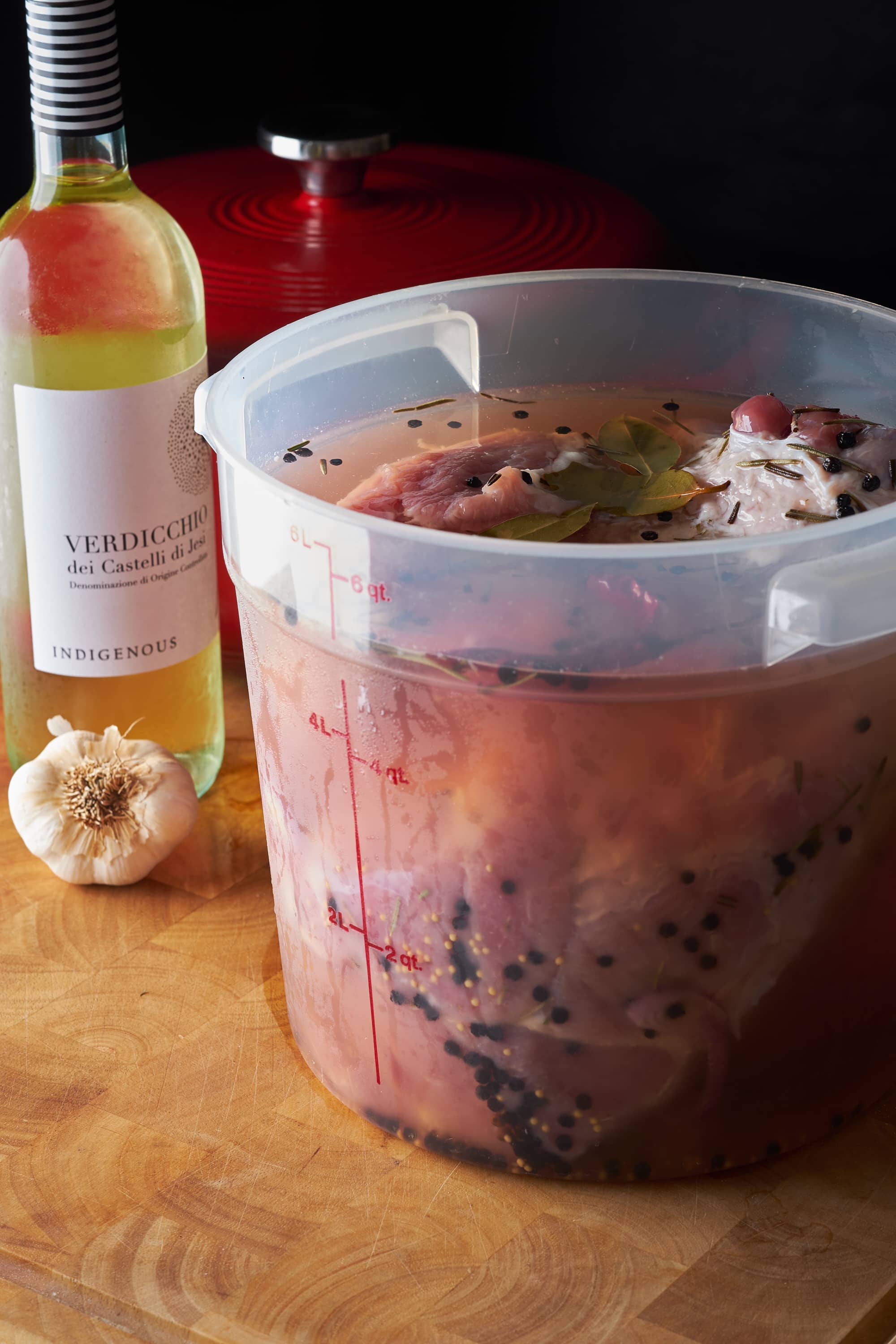 The point of sharing this recipe is simply that you can have an amazing meal for not very much money. I picked up this bone-in pork shoulder for two dollars a pound at Halteman Family Meats in Reading Terminal Market. Yeah – this eight pound shoulder was only sixteen bucks. A quick salt and herb rub before a 450 degree roast in the oven would have been just fine. I was more interested in a deeply flavorful, fall off the bone, dripping in au jus, low and slow braise. I'm looking forward to making sandwiches with this pork.
To infuse the pork shoulder with as much flavor as possible I started with a wet brine. I used 5 percent salt to water and 3.5 percent sugar to water by weight. Depending on the size of your pork and the container you put it in you might need to recalibrate with this formula . For me it came out to 2 quarts cool water, 45 grams kosher salt, and 30 grams sugar. Combine all the ingredients for the brine in a pot and bring it to a simmer just so everything can dissolve. Remove it from the heat and allow it to come to room temp. Submerge the pork with the brine and refrigerate overnight or up to 2 days.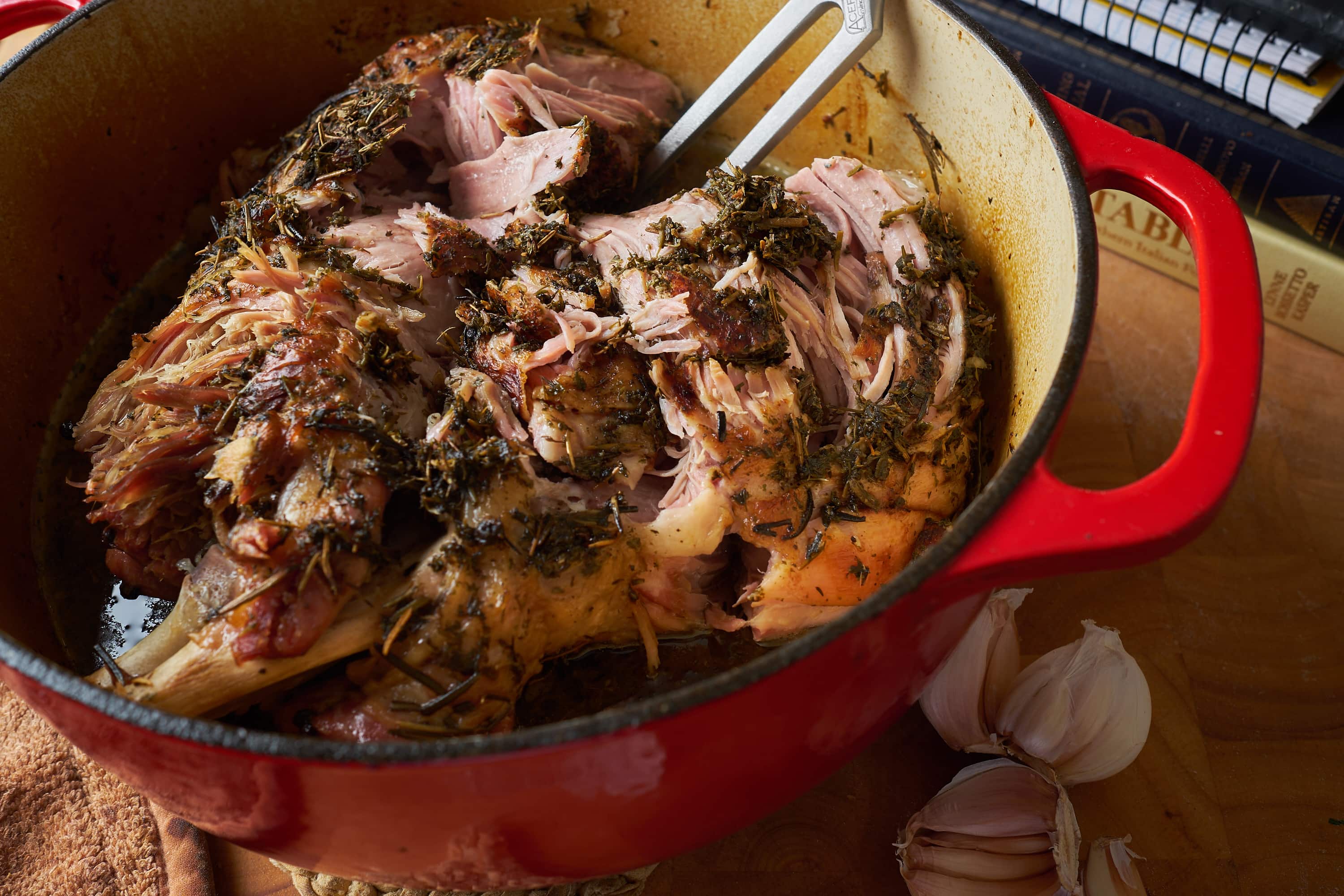 This next step was probably excessive but to be honest I didn't have the time to cook the pork so… I let it air dry in the fridge for 48 hours. Any time you sear a piece of meat you want it to be as dry as possible. Moisture on the meat is going to do two things when it hits a hot pan. (1) Evaporate and create steam. (2) Cool the heating surface. This means you end up steaming your meat at a lower temperature which is no bueno for tasty yum yums. I recommend removing the pork from the brine, patting it dry with paper towel, and letting it air dry in the fridge for at least 6 hours. You'll also want to let the pork get as close to room temp as you can so it doesn't cause the hot pot to cool too abruptly. Let it sit on the counter for a half hour before you sear the meat.
The main ingredients (aside from the pork) are garlic, white wine, and dried herbs. The dry herb mix I used for this was described as a bouquet garni at The Head Nut in Reading Terminal Market. I assume this blend contains thyme, parsley, and bay leaf. You can use any mix of Italian or French herbs – or both! If I were roasting this I would create a garlic and herb paste to coat the pork before roasting. If this were a boneless shoulder I might even butterfly the pork and spread the paste inside before rolling and tying it up. In this case I just threw the dried herbs on top of the pork before I covered the pot and put it in the oven. Because the pork is going to fall apart and soak up all the juices after cooking, it doesn't really matter were you put the herbs.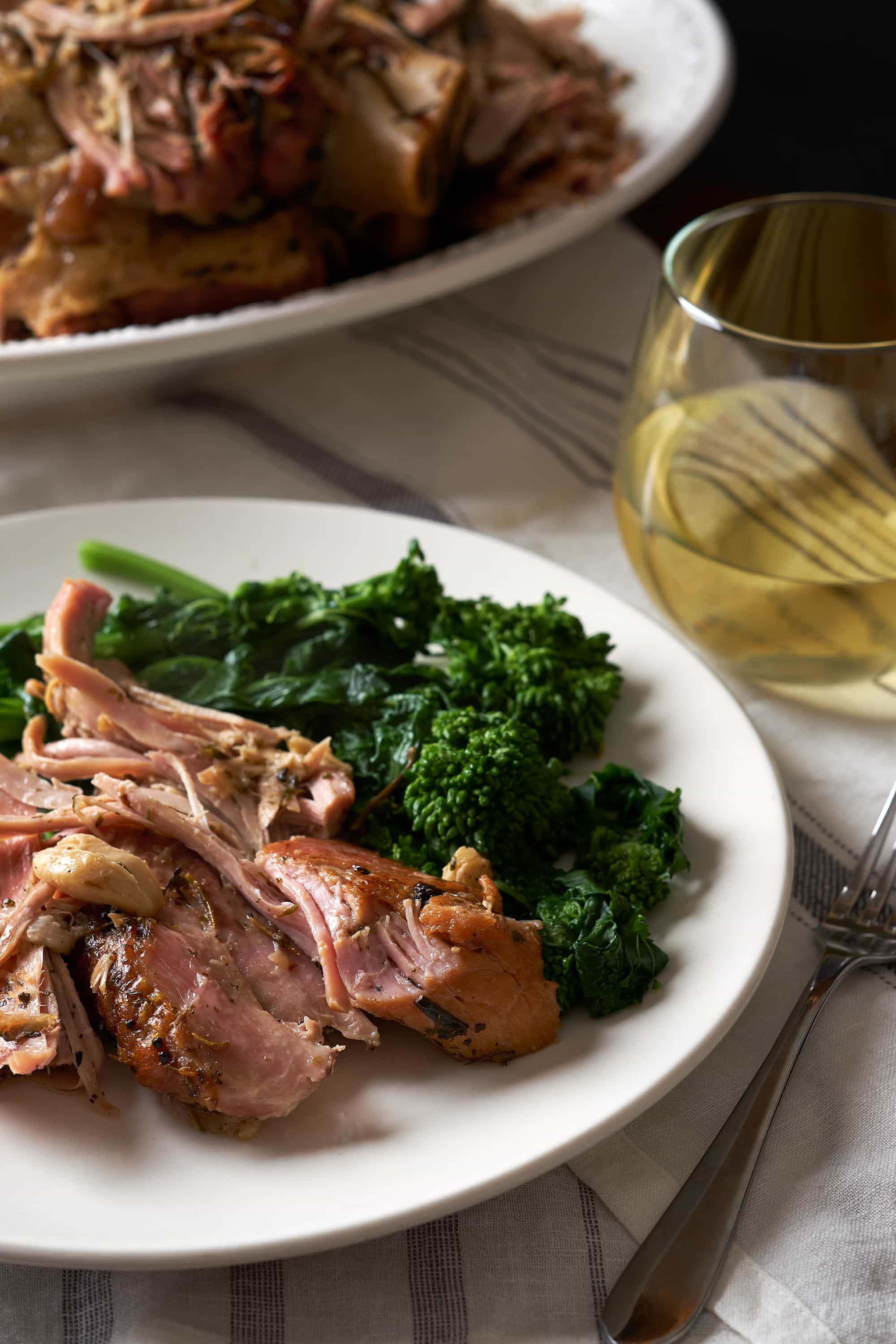 Heat 1 tablespoon of canola oil in a dutch oven over high heat. Drop the pork should in and let it sear for five minutes. Turn the pork over and let it sear for another three minutes. At that point you can toss in garlic, bay leaves, dried herbs and two cups of white wine. Cover the pot and transfer to a 280° oven for four and half hours. When the pork is done transfer it to a serving plate and tent with foil. You should have a couple cups of au jus left over in the pot which you can freshen up before serving. Reheat on the stove top and add a glug of wine, freshly crushed garlic, and fresh thyme. Simmer on low for 15 minutes then serve over the pork.
As far as hands-on time for this recipe there's only about 30 minutes. And those thirty minutes aren't much more than heating some water and moving things between containers and spaces. You can probably find a decent bottle of wine for ten bucks so that brings the total cost of this 8 pound bone-in pork shoulder to under $30. You'll get about 6 services from this pork shoulder so that's about $5 a serving. Plus you'll have one glass of wine left over! I served mine with broccoli rabe blanched in salted water for 5 minutes. I plan on making a killer leftovers sandwich with the braised pork, broccoli rabe, and aged provolone topped with au jus. Honestly, the sandwich was the whole point of all this. Cause, that's how I Eat Up.