This is my basic forty five minute+ Weeknight Chili recipe that serves as the base for all other chili recipes. All the flavor comes from whole ingredients like onions, tomato, beef, bacon and chili peppers. None of that powdered stuff.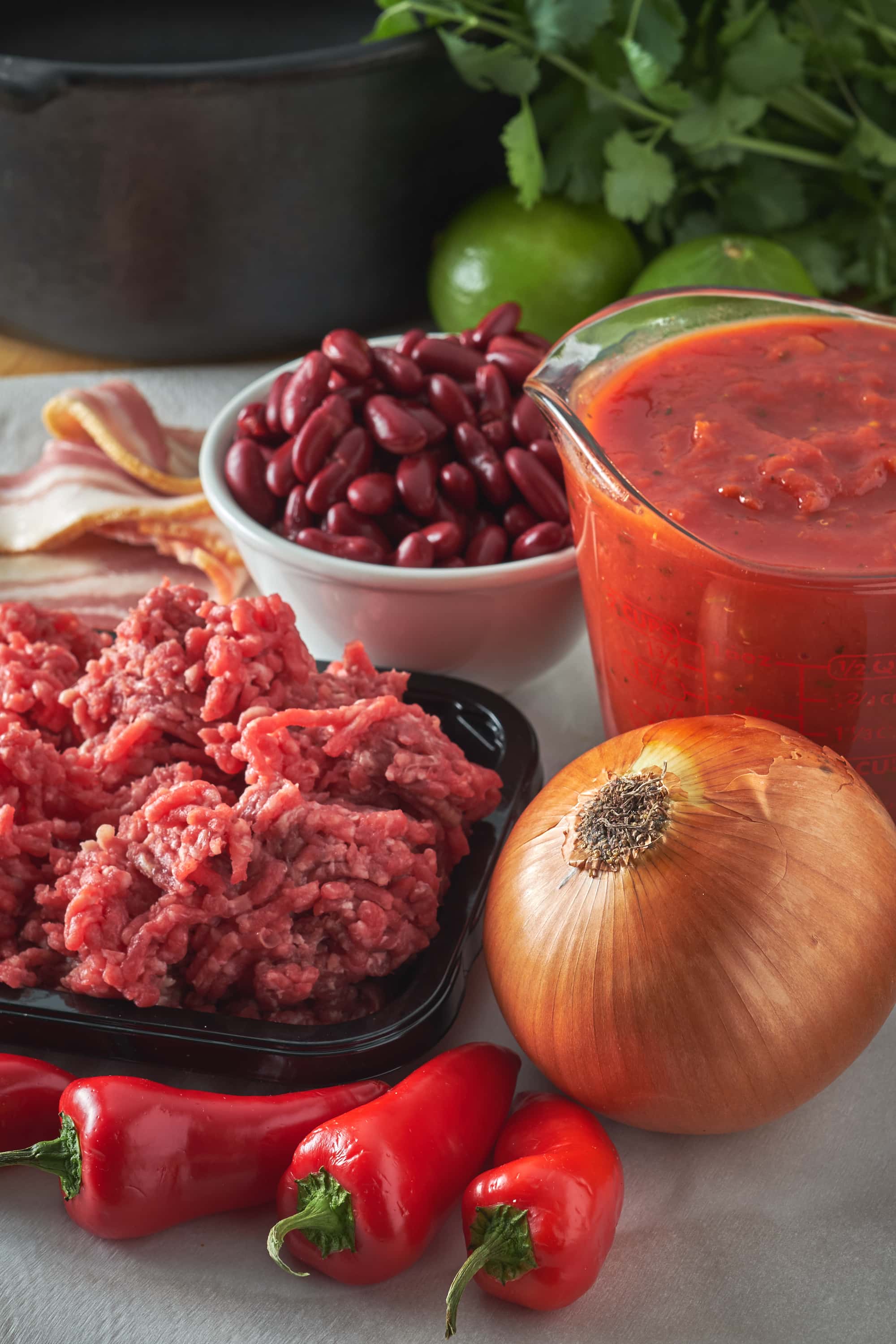 The nearly infinite ways to prepare chili makes it one of my favorite things to experiment with in the kitchen. I think my all-time favorite so far has been the Three Chili Short Rib Chili. That one was all short rib beef with rehydrated chilis, Mexican chocolate and no beans. I've gone a little more traditional with this chili con carne recipe which is why I'm just calling it 'Chili'.
I have a love / hate relationship with the spices. When I first started to cook for myself I would throw the whole spice rack in a pot of tomato sauce or chili. I soon learned that was a really great way to hide the flavor of the actual food I was preparing. More recently I've learned that, depending on the kind of spice, they have a half life of about 6-18 months. I trashed my older spices, purchased fresh herbs and spices online (shipped in little baggies), and stored them in little 2.5 oz air tight glass containers. These are significantly better at keeping your spices fresher longer – plus they look cool. So now I just buy smaller amounts more frequently. Not only are they fresher and add more oomph to my dishes, it's a huge money saver and I'm not wasting ingredients or trashing stupid plastic bottles. With that said, I almost always prefer fresh herbs and spices and natural flavoring.
Most of your regular chili con carne is loaded with 'chili' powder, cumin, and maybe some paprika or cayenne. I'm not a big fan of using generic spice blends like 'chili' powder. When you use spice blends you're leaving your recipe up to someone else to determine what it tastes like. If you switch from one brand to another brand, how could you expect any consistency in your final dish? I thought maybe I'd heat up my chili, not with 'chili' powder but, with actual chilis. Call me crazy. I firmly believe any and all chilis should include some sort of chili pepper – be it bell, poblano, jalapeño, fresno, serrano, tabasco, or habanero.
Chilis, Onions, Beef, Tomatoes, and Beans are your standard Chili Con Carne ingredients. Today I'm throwing Bacon in the mix. Not just any bacon – 'double smoked bacon'. This is the only flavor enhancer I'm using in this dish and it's all it needs. This would be a very good chili without the smokey bacon but I'm not about to take two hours of my life writing a 'very good' recipe when it could be a 'holy moly that's bonkers' recipe. If you're not doing so already, the one thing I want you to take away from this easy weeknight chili recipe is that you should be adding bacon to your chili. Smokey bacon.
I think most of the recipes I've posted so far would qualify as easy recipes. This one is no exception. I know plenty of people who just want something easy to make when they get home from work while they deal with two or three kids climbing or falling or screaming. The fresno chilis in this particular recipe are a little hot so you could use bell peppers or pablanos for family night. The only prep here is dicing up your onions, peppers, and bacon prior to throwing everything in the dutch oven. After that, it's only about 45 minutes of a slow simmer for all the flavors to release and make one of the best chilis you've ever had. If you want to cut down on some time, add less water and simmer for less time. Once you get the tomatoes and water in the pot you really only need to bring it up to temp before you eat it. Let me know how this turns out for you in the comments below or tag me on instagram with a photo!
Shout out to my mom for gifting me the Corkcicle Whiskey Wedge! It's a pretty nifty whiskey glass.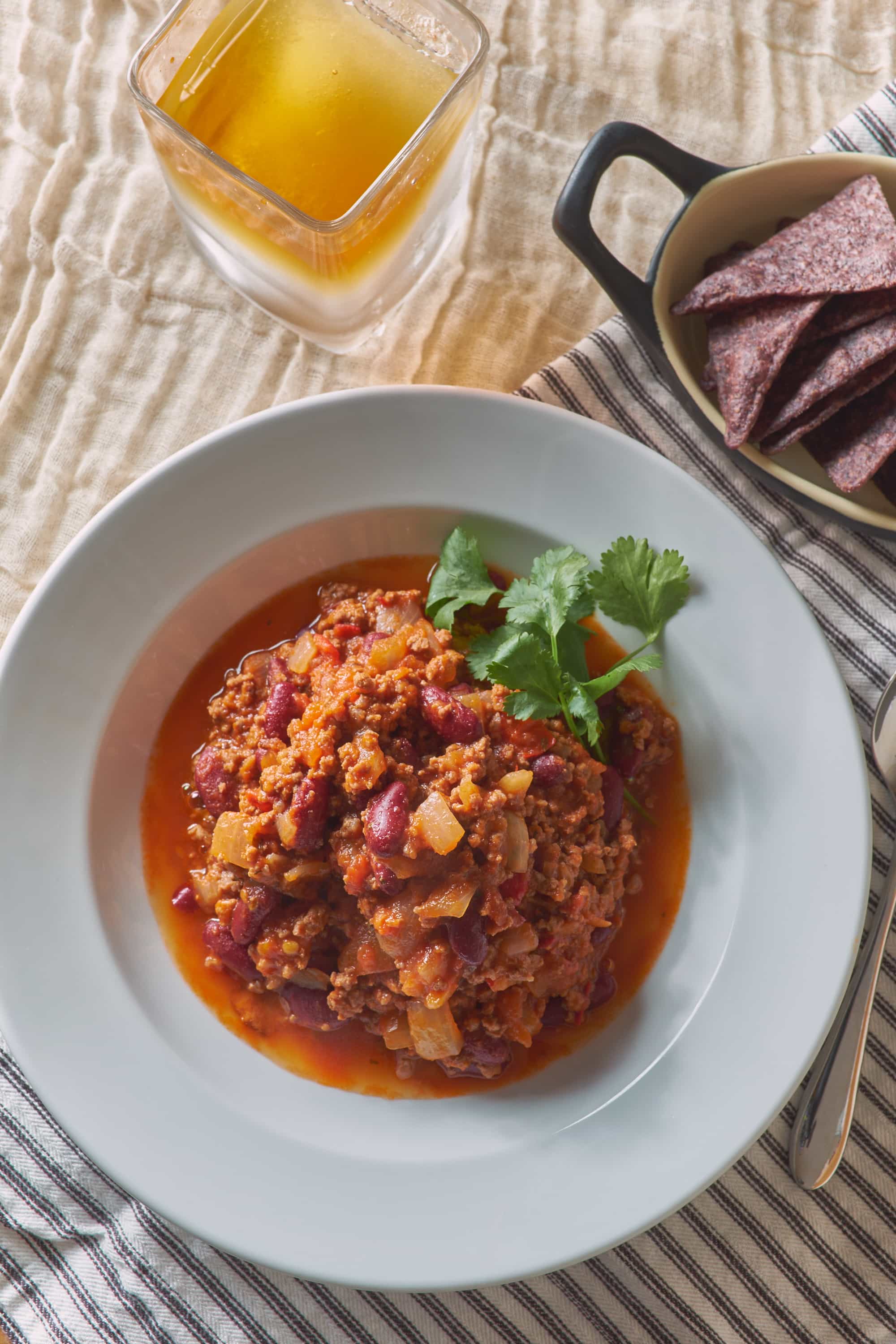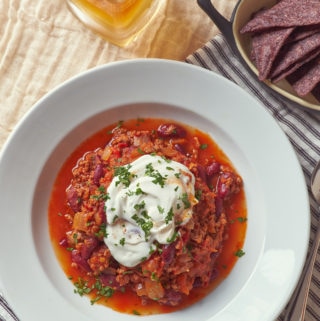 Chili
This is my basic forty five minute+ Chili recipe that serves as the base for all other chili recipes. All the flavor comes from whole ingredients like onions, tomato, beef, bacon and chili peppers. None of that powdered stuff.
Ingredients
2

tbs

vegetable oil

2

strips smokey bacon

chopped

1

large onion

diced

3-4

fresno chilis

finely chopped

1.25

lbs

85% lean ground beef

16

oz

kidney beans

28

oz

crushed tomatoes

2

cups

water
Instructions
Prep bacon, onions, and chilis by chopping and setting aside on a platter.

Heat vegetable oil in a large dutch oven over medium-low heat. Sauté bacon for 3 minutes until edges begin to crisp. Add onions and chilis and cook through for 8-10 minutes until tender and onions begin to brown.

Add lean beef to the dutch oven and stir for several minutes until all the meat is thoroughly incorporated.

Once beef is cooked through taste for salt and pepper is desired. Add crushed tomatoes and water and stir to combine. Simmer over low heat for 35-45 minutes and the chili has begun to thicken.