This Citrus Walnut Broccoli Salad with Orange Blossom Honey and Pickled Red Onions is so delicious and easy, I've already made it twice this week!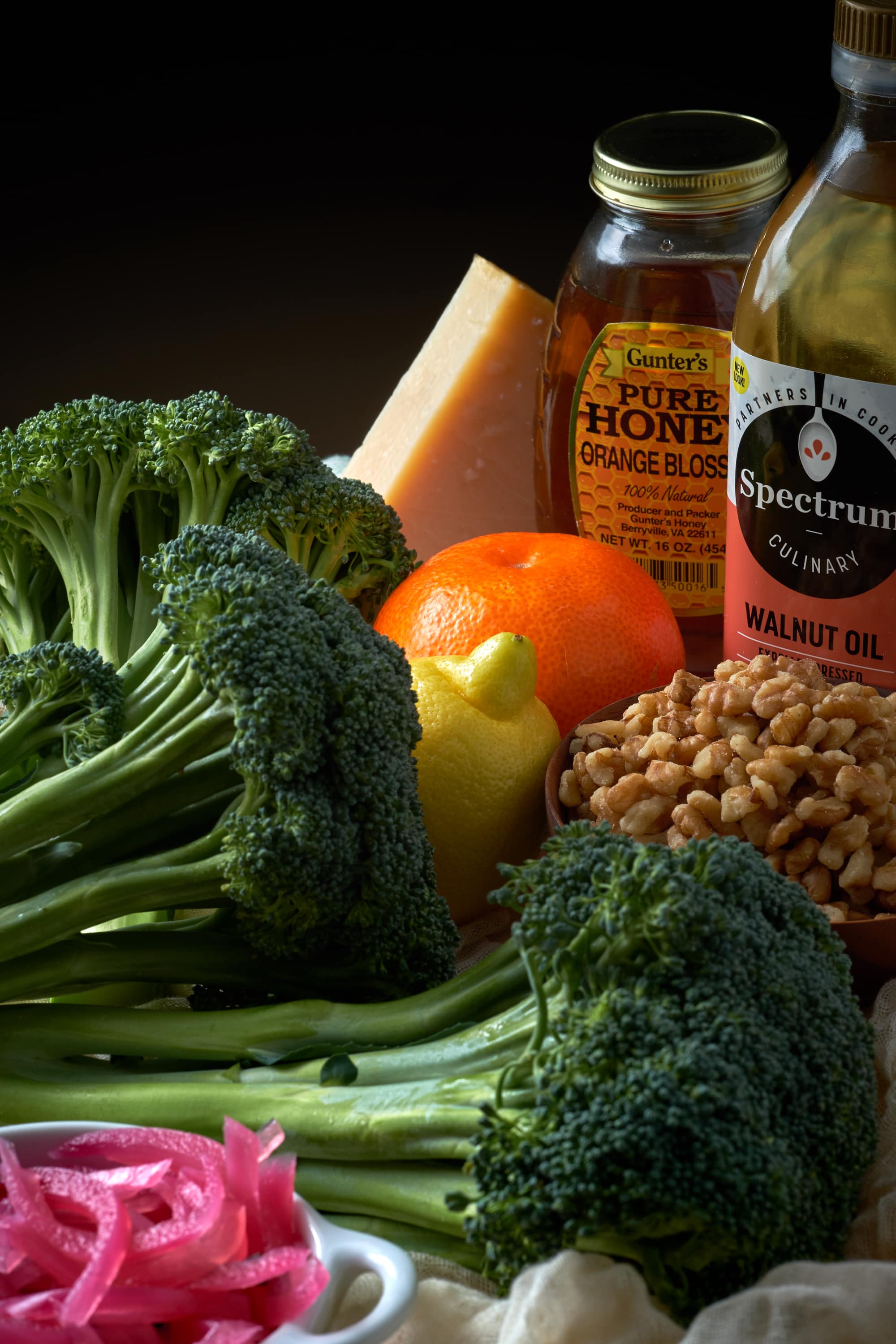 This is one of those recipes I just came up with on the fly looking at the ingredients I had around the kitchen. You can do a lot of things with broccoli but my favorite has always been a simple quick roast with olive oil, salt, and a squeeze of lemon. I thought I'd switch up that recipe.
Instead of olive oil I used a more neutral and slightly nutty walnut oil. I also had some walnut pieces laying around that I knew would be great toasted with broccoli as a tasty crunchy element. It tastes a bit like popcorn with you toast it!
I doubled down on the citrus by using lemon juice in the dressing and orange pieces in the salad itself. It just so happens that the honey I had was Orange Blossom honey. So that worked out nicely. I use honey in everything from yogurt, tea, salad dressing, and even sriracha chicken wings.
Pickled Red Onions are one of my favorite condiments to make ahead and leave in the fridge. Sometimes I'll just put them on a baguette for a snack. The last time I posted a recipe for them was for the Beer Battered Fish Sandwich. If you don't have pickled red onions… umm, I don't know. Let me know in the comments below if you know of a good substitute! They add a great little vinegary snap and of course add a smack of color to your dish.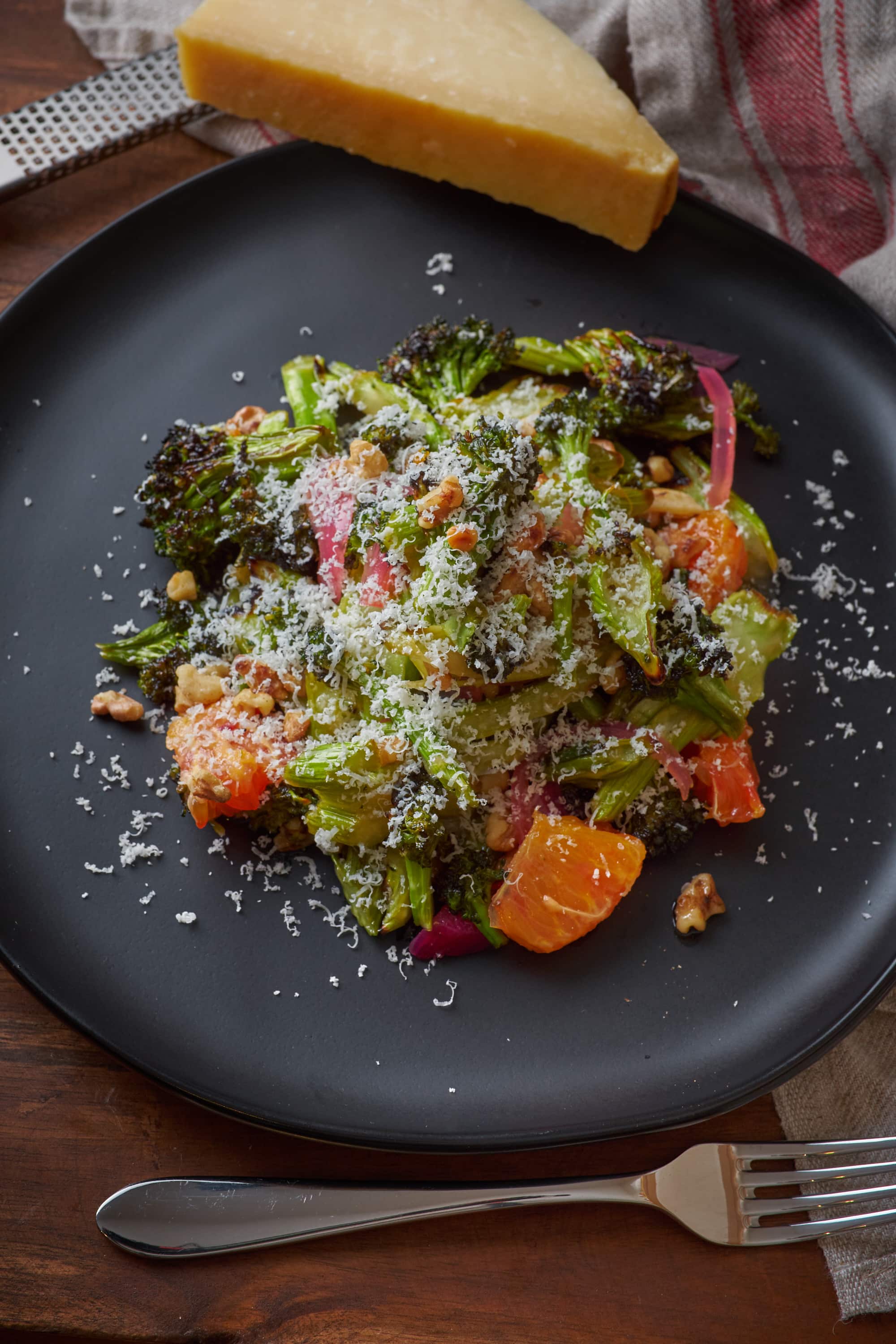 I think that brings us to the parmesan reggiano. The parm balances the sweet honey, bitter vinegar, and bright citrus flavors with a little bit of funk and creaminess. I was hesitant to add dairy to citrus but it totally works perfectly.
When it comes to preparing and assembling the best salad you'll have all month, it couldn't be easier. Mix the dressing in a bowl and toss with chopped broccoli. Roast the broccoli for about 12-13 minutes so its nice and charred on the tips. Quickly toast some walnuts in a small pan for five minutes over medium high heat. Transfer the roasted broccoli back to the bowl with and reserved dressing and mix with walnuts, orange pieces, and pickled red onions. Serve Citrus Walnut Broccoli Salad warm or room temp with freshly grated parmesan reggiano.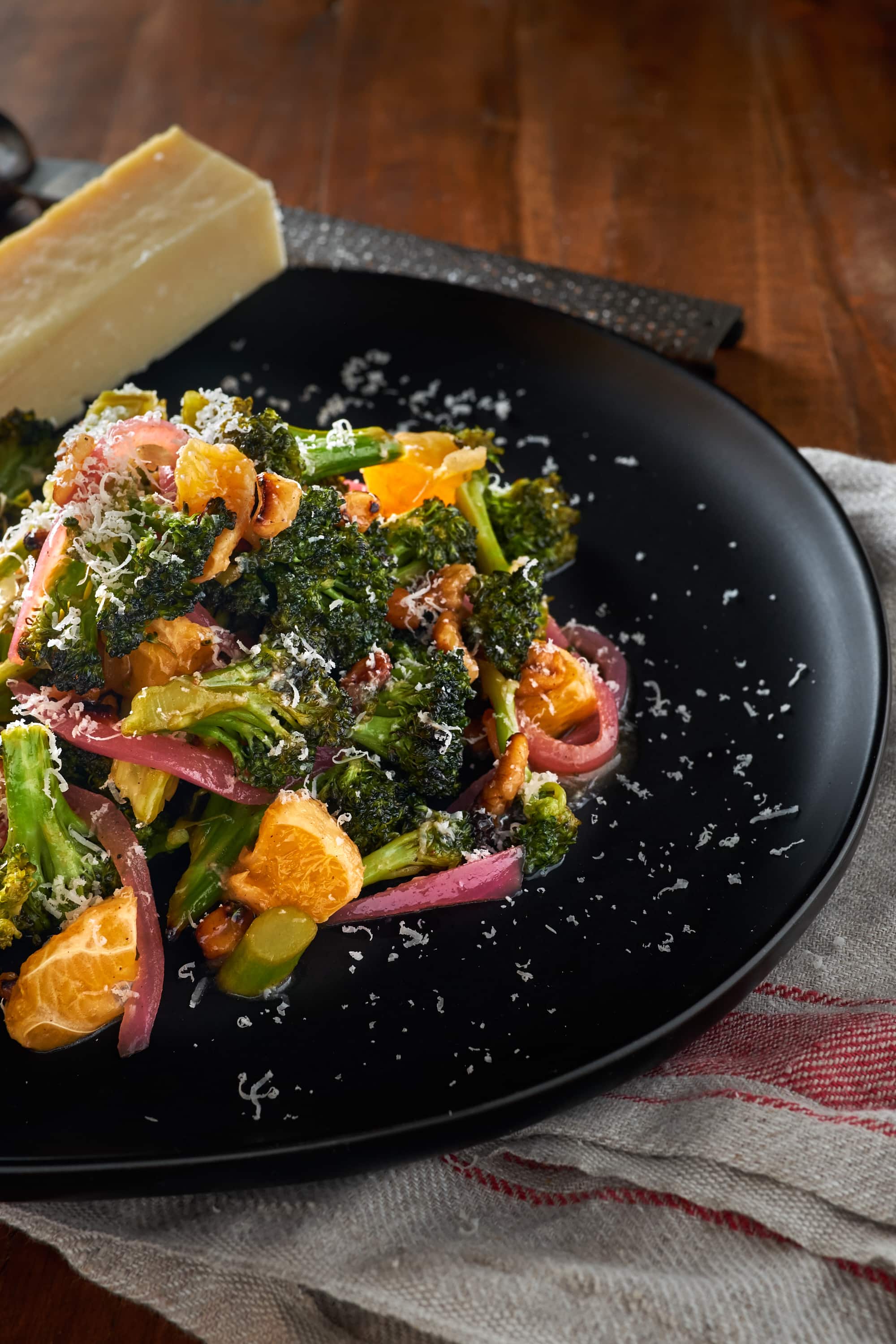 I truly loved this salad and hope you get a chance to make it. If you'd like, you could easily sub out the broccoli with some brussel sprouts. Either way, I think you could double or triple this recipe with some minor tweaks to prep a nice big bowl of it for your next pot luck dinner or cook out.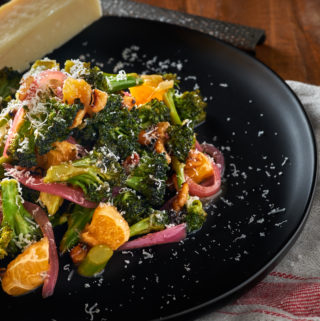 Citrus Walnut Broccoli Salad
This Citrus Walnut Broccoli Salad with Orange Blossom Honey and Pickled Red Onions is so delicious and easy, I've already made it twice this week!
Ingredients
3

Broccoli Stalks

1

lemon

juiced

1/3

cup

honey

1/3

cup

walnut oil

1/2

pickled red onions

1/2

cup

toasted walnuts

parmesan reggiano

kosher salt
Instructions
Preheat your oven to 500 degrees. Line a sheet pan with foil.

In a large bowl whisk the lemon juice, honey, walnut oil, and a pinch of salt.

Thinly slice three broccoli stalks and roughly chop the heads. Toss in the bowl with dressing and spread out on sheet pan. Roast for 6 minutes then remove to pour off any excess liquid on the sheet pan to the bowl. Mix broccoli on sheet pan and broil for another 5-7 minutes or until tips are brown and stalks are still bright green.

While the broccoli is broiling, toast a half cup of walnuts in a small pan over medium high heat, tossing often – about 5 minutes.

Peel and divide an orange and cut in to bite size pieces.

Transfer charred broccoli to the bowl with reserved dressing and toss with pickled red onions, toasted walnuts and orange pieces.

Serve with grated parmesan reggiano.