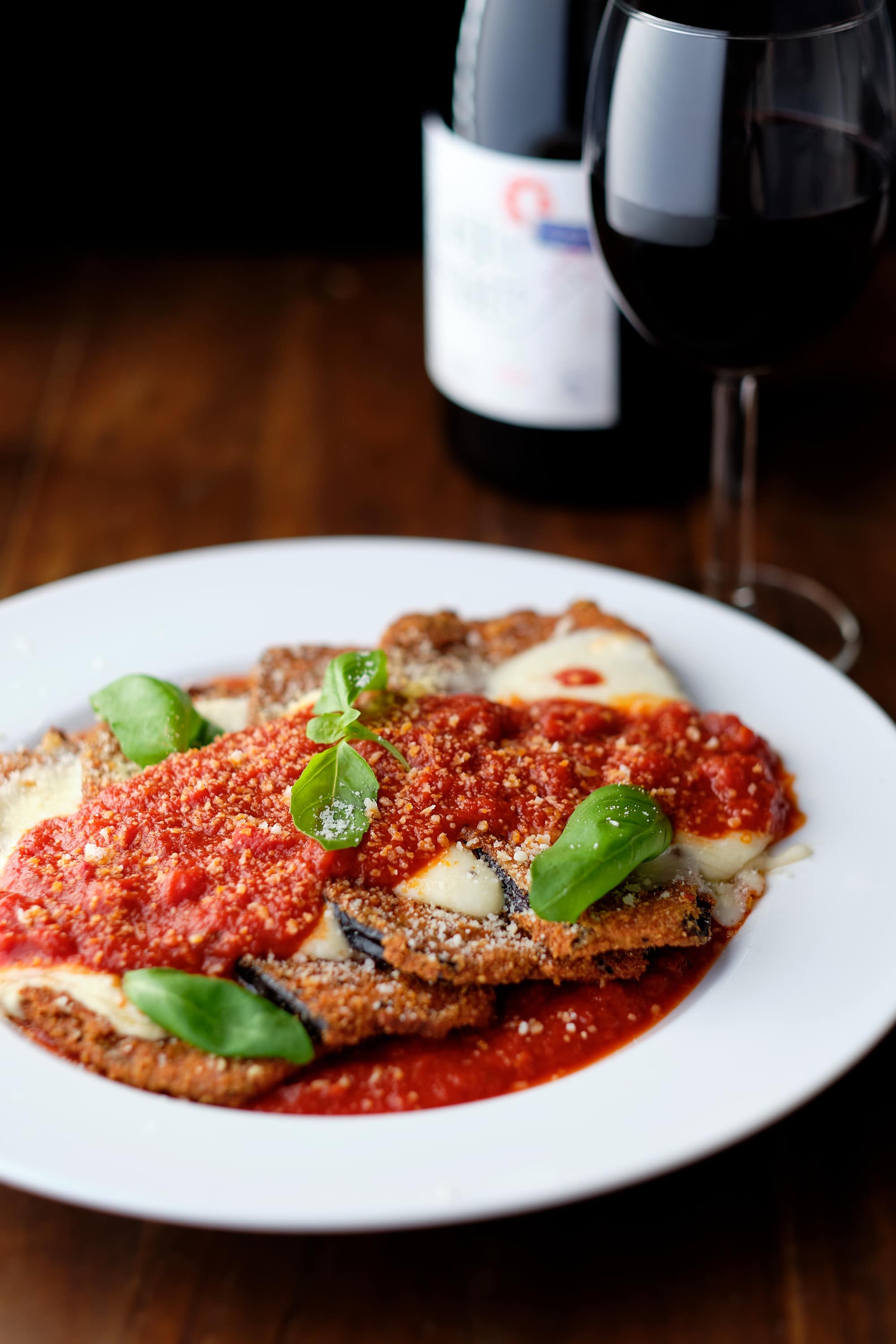 Fried planks of breaded Eggplant, fanned with melted mozzarella and topped with homemade tomato sauce. This is my favorite Eggplant Parm recipe.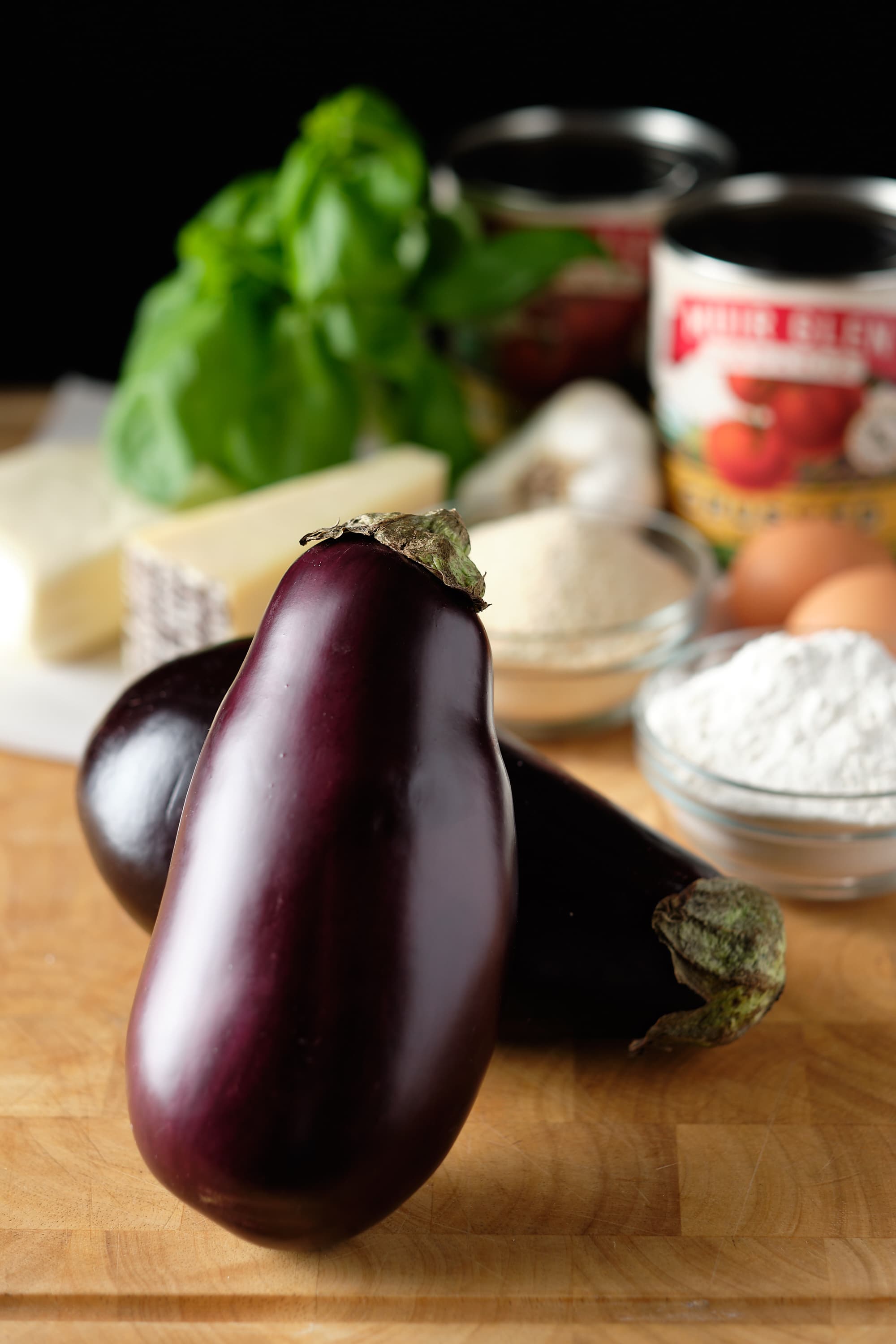 Fun fact – Eggplant is the original parm. Melanzane alla parmigiana or just parmigiana is what it's called in Italy. Chicken and veal are American creations.
From what I've found, there's basically three versions of Eggplant Parm. There's what I would call 'the classic' recipe which is similar to lasagna made with eggplant instead of noodles in a baking dish. There's an impressive looking version that stacks alternating layers of fried eggplant and mozzarella. And then there's crispy eggplant cutlet style which I prefer.
There's a number of variables to making your own eggplant parm recipe so I wanted to review some of those choices and why I made them. Consider some of these options as you make your own recipe.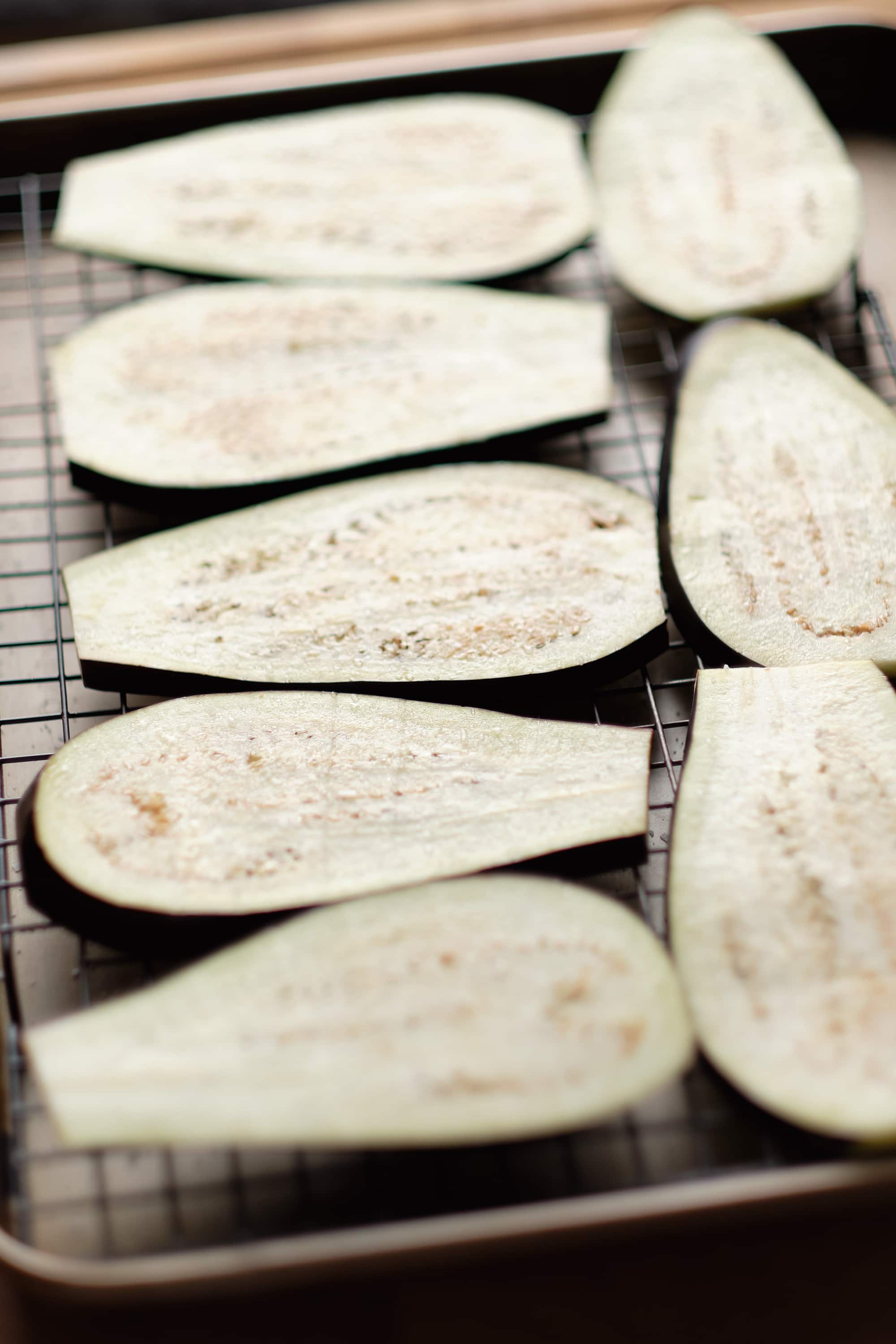 Style
The first decision to make is if you want classic layered lasagne style eggplant parm or not. Personally, I'm not going through the effort of breading and frying something, then dousing it in sauce and baking it. That's how you get soggy eggplant parm. Not to say it's not delicious or that I wouldn't eat it!
I love crispy eggplant cutlet style parm. This means thinly sliced eggplant in really good breading and adding the sauce just before serving. This method is also faster and healthier because it doesn't involve baking a whole casserole and two pounds of melted cheese.
I found a bunch of photos of stacked eggplant parm. This style is usually found in Italian-American restaurants that want to create a fancy Insta-worthy presentation. Logistically, this is annoying to eat. Please don't stack your eggplant like this.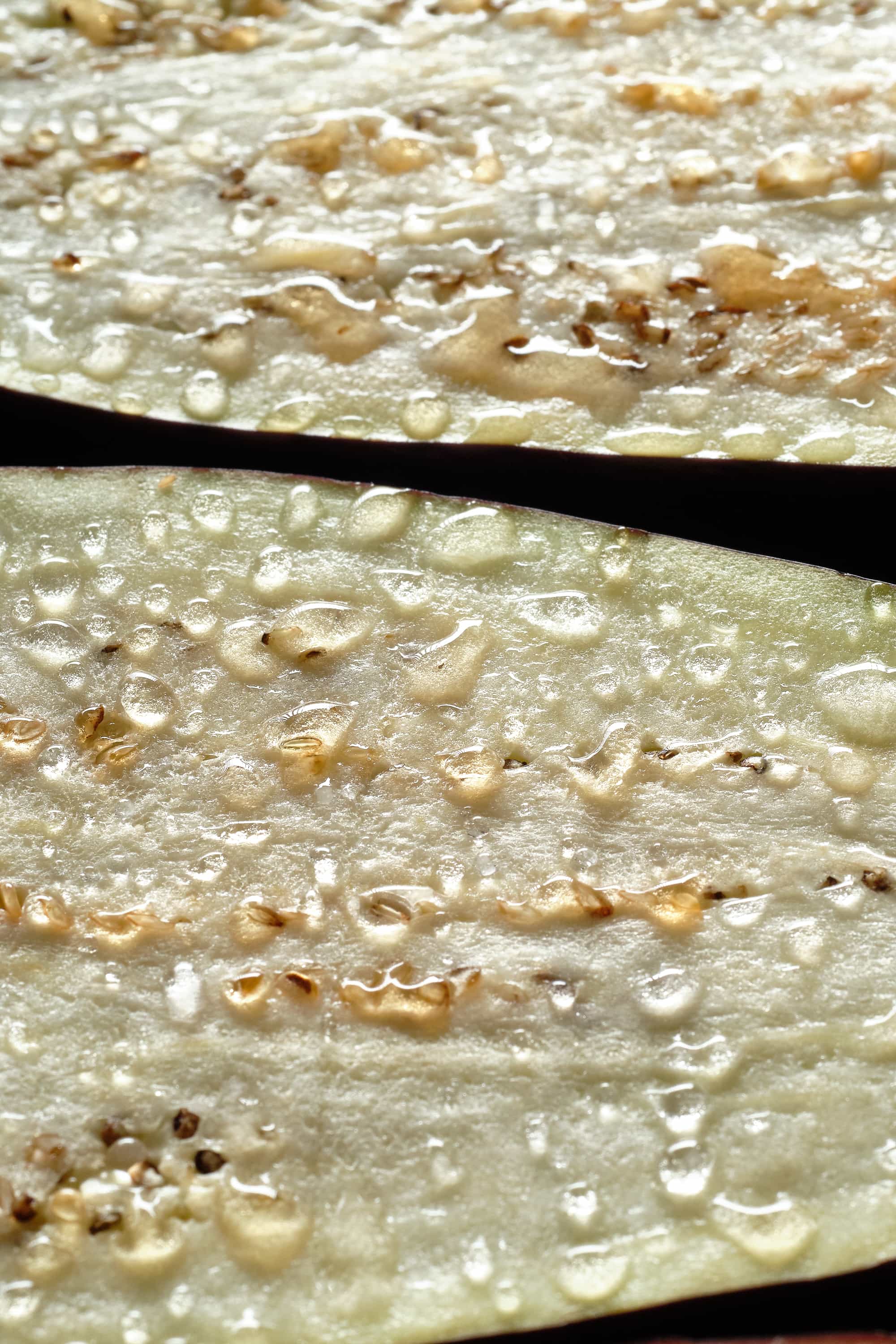 Shape
Should your eggplant be cut in to rounds or planks? Rounds are easier to cut. Planks are more pleasing on the plate and give you more surface area for the breading and cheese. To cut planks, slice off the top and bottom of the eggplant, stand it up on it's bottom, and slice down. You should get 6-8 1/4" – 3/8" planks per eggplant.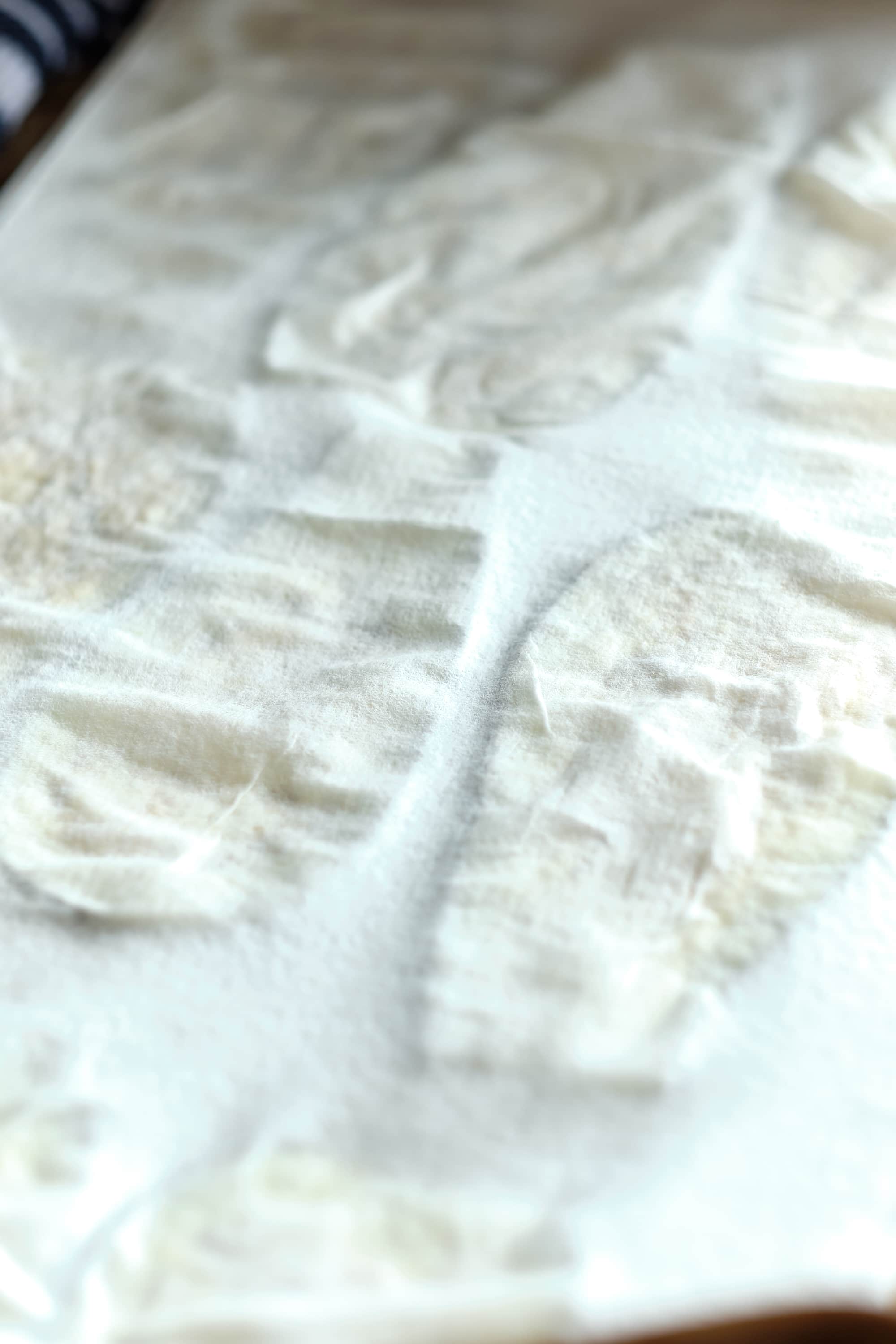 Salt
Should you salt your eggplant? YES. I recently came across an article that says the bitterness we salt eggplant to remove has been bred out of the eggplant. True or not, I find eggplant is still a little bitter and the salting helps (maybe it's a regional thing). More importantly though, we salt eggplant to extract excess moisture. Extracting moisture means the eggplant is going to fry better; resulting in better cooking and a more pleasing mouth feel. You really want to reduce the amount of water in your ingredients any time you're cooking with oil.
Salting the eggplant requires a couple tablespoons of salt which will get rinsed off but there's otherwise little salt in this recipe.
– Use a pinch of salt in the egg whites just to help break them down a bit.
– Lightly season the eggplant when it's done frying.
– Wait until the sauce has reduced to your preferred thickness before adding (about 1 tsp) salt.
– Use good cheese and you won't need to add much salt.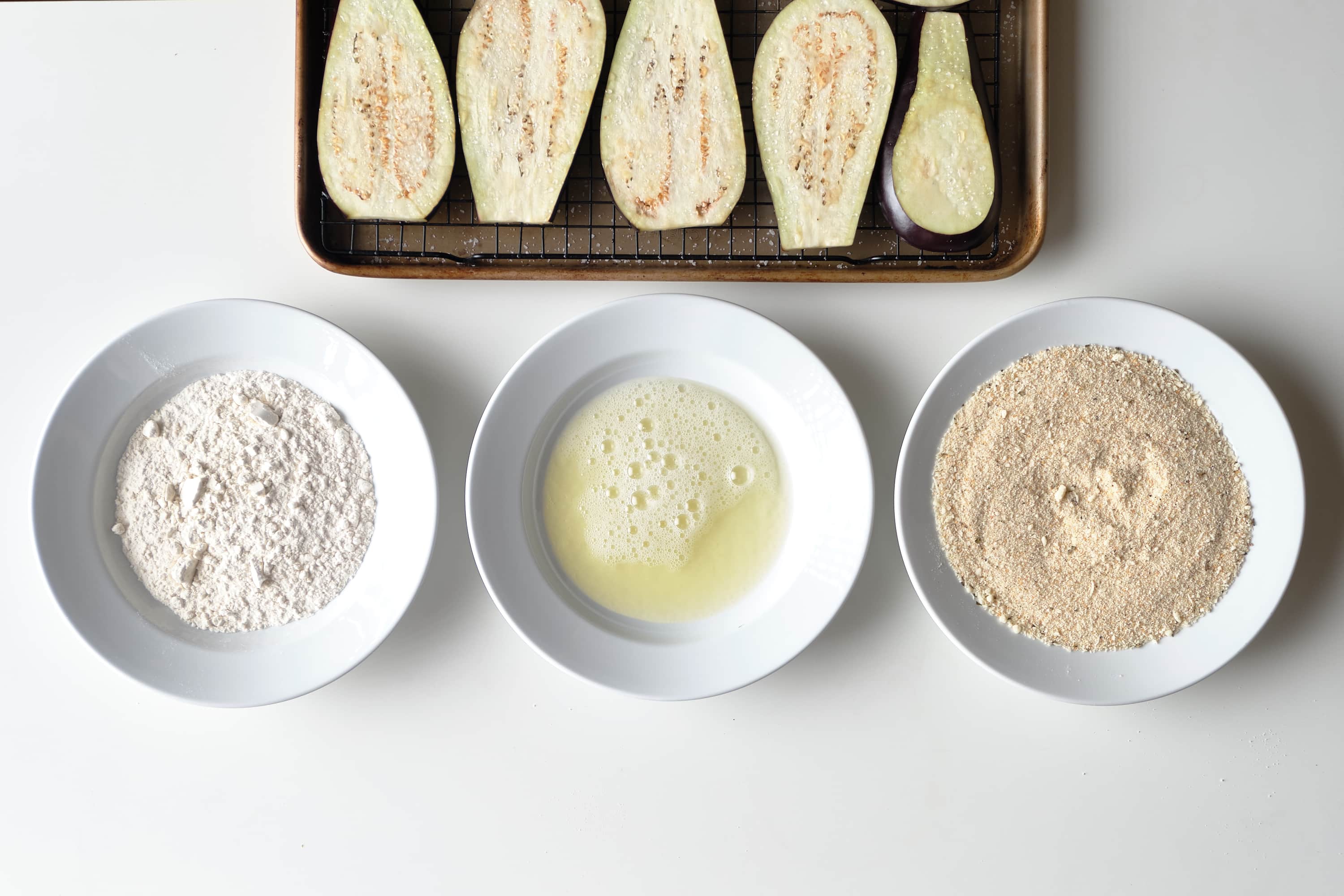 Cheese
I decided that I wanted to use Pecorino Romano instead of Parmesan Reggiano for my Eggplant Parm. It's probably against the rules but I did a comparison and I prefer the tangy salty flavor of the Romano. I suggest you use whichever you prefer as long as you buy the good stuff to grate for yourself.
Fun fact 2 – Parmegano Reggiano is a legally protected name in Italy for cheese made in certain regions that meet very strict guidelines. *Parmesan* is used to denote other similar kinds of cheeses.
I used low moisture mozzarella instead of the fresh balls of mozz. The low moisture stuff has more tang to it which I think is nicer for a parm dish.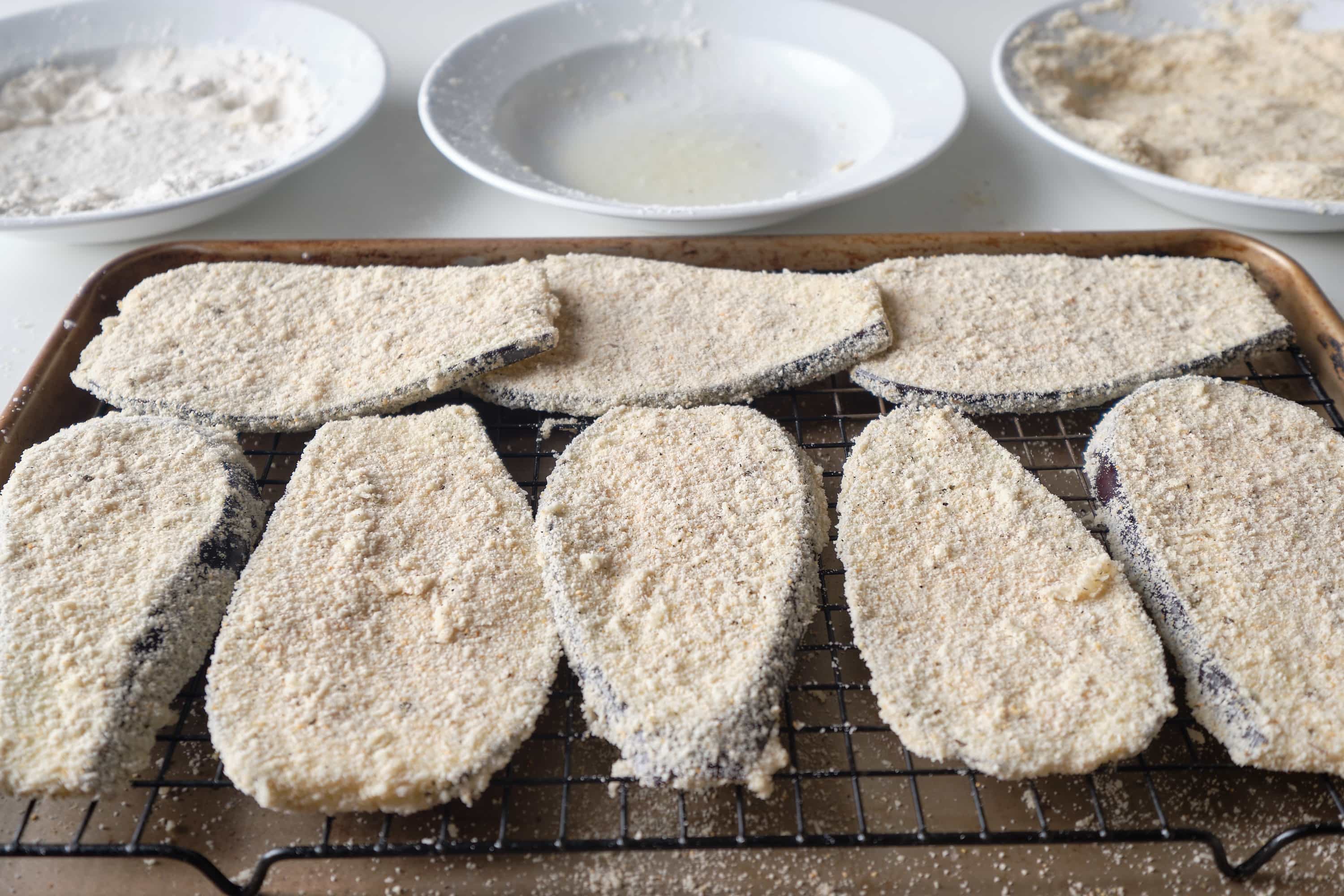 Sauce
There are two things I considered for the sauce. Chunky or Smooth? Quick or Slow? I was looking for a simple Italian-American restaurant style – but better. I used one can of tomato puree and one can of crushed tomatoes to create a sauce that was just slightly chunky. I cooked the tomatoes with water, olive oil, garlic, red pepper flakes, and basil for about two hours. Use about a half a can of water in your sauce to extend the cooking time. This will stew the tomatoes longer so they develop a richer, sweeter flavor.
If you're looking for something a little more complex, check out my recipe for Grandpop's Sunday Sauce.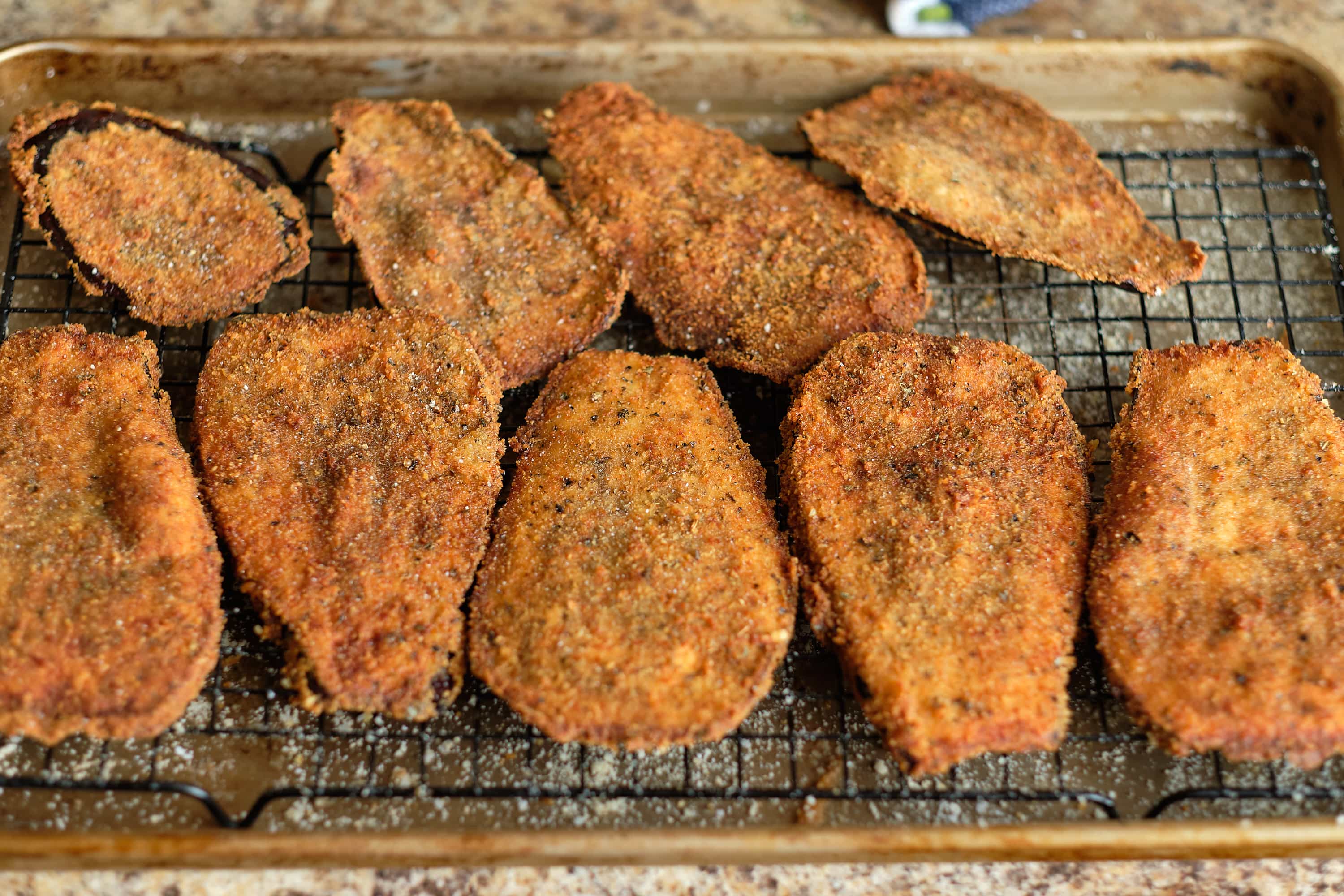 Breading
I experimented the most with the breading. I usually just wing it but I wanted to give you accurate, reproducible measurements. I found that I really like Whole Foods Original Bread Crumbs. They seem to be a hybrid of panko and regular bread crumbs – absolutely perfect for breading. To the breadcrumbs I added Pecorino Romano cheese, dried oregano, and black pepper.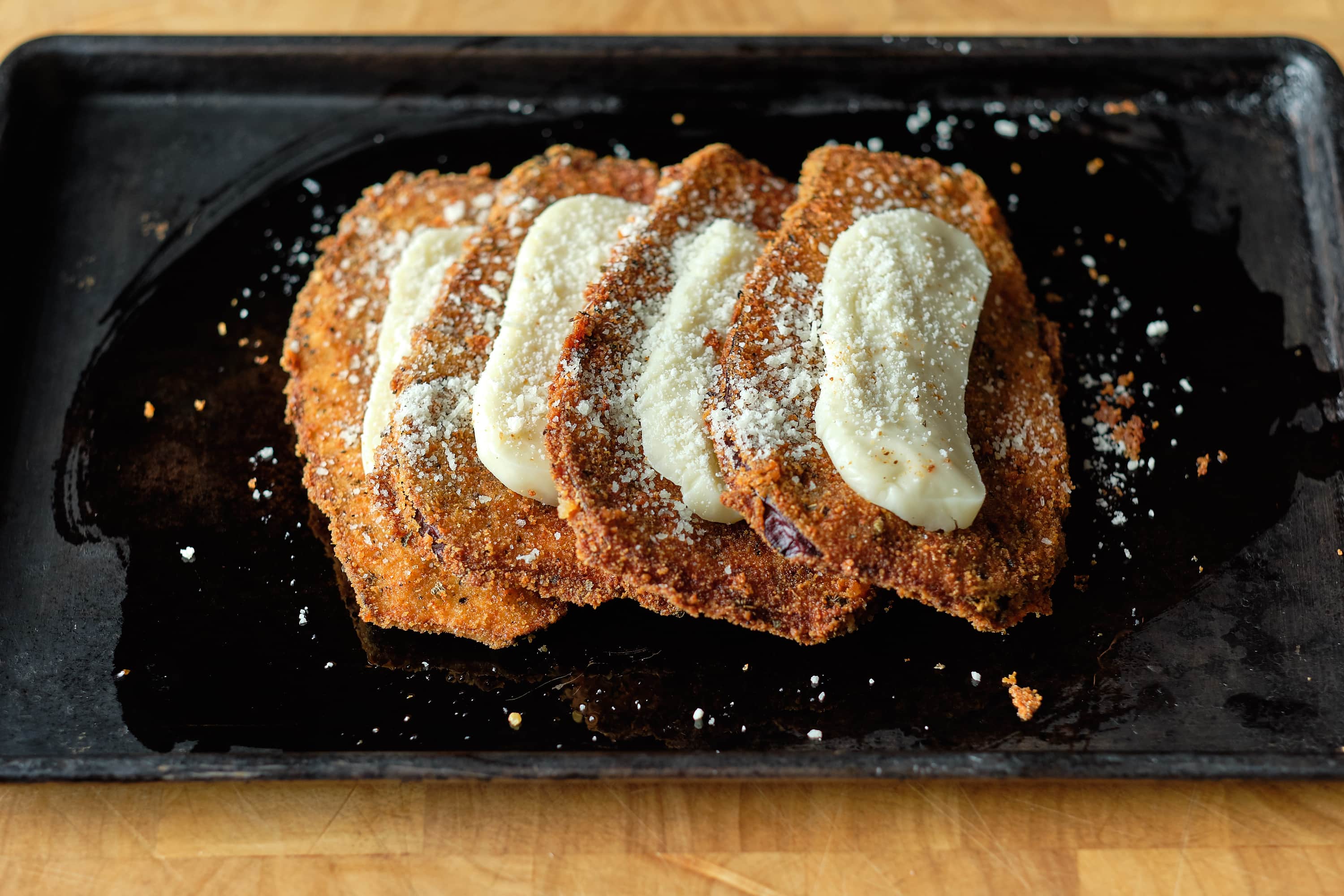 Making Eggplant Parm
There's a bunch of steps in this recipe but I promise you that they're easy steps.
Sauce – This takes the longest so you've gotta start here. Oil, Garlic, Red Pepper Flakes go in to a cold stock pot. Heat slowly then add Tomatoes, Water, and Basil.
Salting the Eggplant – This will take up to 45 minutes. Cut the eggplant in to planks, place on a wire rack, sprinkle kosher salt on one side, rest for 15-20 minutes. Flip and repeat. Rinse the salt off under cool water and blot dry with a lot of paper towels.
Breading – Prep Flour, Egg Whites, and Bread Crumbs in individual containers. Dredge eggplant in each then place back on wire rack. Rest in freezer uncovered for 30 minutes or in the fridge overnight.
Break – This is one of two points where you can pause if you want to prep the food ahead of time. Leave the eggplant to chill in the fridge until you're ready to fry. Reserve the cooked tomato sauce in a container to chill then reheat when you're ready to serve.
Frying the Eggplant – Fry eggplant in batches in a large skillet with an inch of vegetable oil. Use tongs to transfer golden brown eggplant back to the wire rack. Season with some fine sea salt.
Break Two – Allow the fried eggplant to cool then cover with aluminum foil. If serving within a couple hours, rest at room temp. If serving tomorrow, refrigerate then allow to come to room temp before serving. Note that you'll reduce your crispness by resting or refrigerating for too long.
Baking – Preheat oven to 450°F. Place one eggplant plank on a lightly oiled baking sheet. Place a slice of mozzarella in the center. Offset another plank of eggplant on top so half the mozzarella is visible. Add another slice of mozz on top. Repeat with enough for each serving or however you'd like to present the final dish. Lightly dust with choice of Reggiano or Romano cheese. Bake for 5-10 minutes or until mozz is melted.
Plating – Add a large spoonful of warm tomato sauce to your serving plate. Place the heated eggplant on top of the sauce. Add another spoonful of sauce over the center of the eggplant. Dress with more cheese and some basil or parsley.