As a gesture to help more people find and cook with this book, I'm doing a Cookbook Giveaway!! Check it out at The Frog Commissary Cookbook Giveaway.
If memory serves me correctly, I was first introduced to the Frog Commissary cookbook as a kid by my uncle. He was a pretty big inspiration on me for a lot of things; music, astronomy, science, art, and especially cooking. Although my dad's side of the family has had a few restaurants under their belts, it was cooking family dinners with my mom's brother that forged my emotional bond with the culinary arts. I liked this cookbook because it had drawings of frogs and Kermit was pretty huge back then 🙂
Fast forward about thirty years and a chef friend of mine had the Frog Commissary sitting on the bar at his restaurant in Philly. I looked at the book, then I looked at him, then I looked at the book, etc. I'd love to say there was a flood of emotion recalling fond memories cooking with the family – didn't happen. I just wanted to read what was inside and figure out why my friend had this book I hadn't seen in decades. As he's giving me the scoop on this cookbook from a Philadelphia restaurateur, I'm finding that I want to prepare every recipe in this book. For me, it's easily the most inspiring cookbook I've ever come across.
In the late sixties, Steven Poses started out working as a bus boy, and later a chef, at La Panetiére. Around the same time, George Perrier was running the back of the house at La Panetiére. Perrier went on to open Le Bec-Fin, "one of the chief glories of French cooking not only in Philadelphia but in all of America as well" – Craig Claiborne, 1985 the New York Times.
In 1973, Steven Poses opened The Frog at the corner of Spruce and 16th Streets in Philadelphia. Along with first tasting chef and general manager Anne Clark, and editor and illustrator Becky Roller, Poses first published The Frog Commissary Cookbook in 1985. At the time, he was running several restaurants and what would come to be the exclusive events catering company for the Franklin Institute.
Poses doesn't claim great culinary inspiration from one of, if not the, city's most acclaimed chefs. He's pulled inspiration from the people he's worked with. People with parents from Italy, China, Ireland, Thailand, Japan, and Iran. This is what drew me in when I started reading these recipes. What I love about this book is the creativity, international inspiration, and accessibility Poses pulls from his life. Every recipe is begging to be made at home if not featured on a restaurant's menu.
Steve Poses has a new(er 2009) book out that I have yet to read. He has a site, At Home by Steve Poses, promoting the book and his recipes with a statement I have to endorse.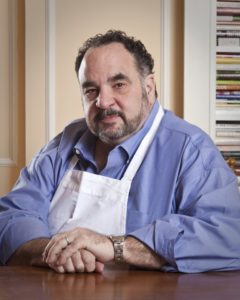 I am on a mission to increase home entertaining nationally. We need to have more parties at home. In fact, not just more parties, but better and easier parties. And we can have them!
This past week, I've prepared a handful of recipes from this cookbook. I've read and bookmarked dozens more. These are recipes that lean on traditional family meals with not so subtle nods and winks towards international cuisines. Some recipes I'm working my way towards for the blog are The Commissary Carrot Cake, Tomatoes Stuffed with Spinach Rice, and Pine Nuts, Apple Coconut Muffins, Crab Gumbo, Curried Chicken Breast with Tomatoes and Yogurt Sauce, Veal Scallops with Lillet Cream Sauce, Mexican Lasagne with Chicken and Pork Tostados, and Chocolate Chip Fudge Cake.