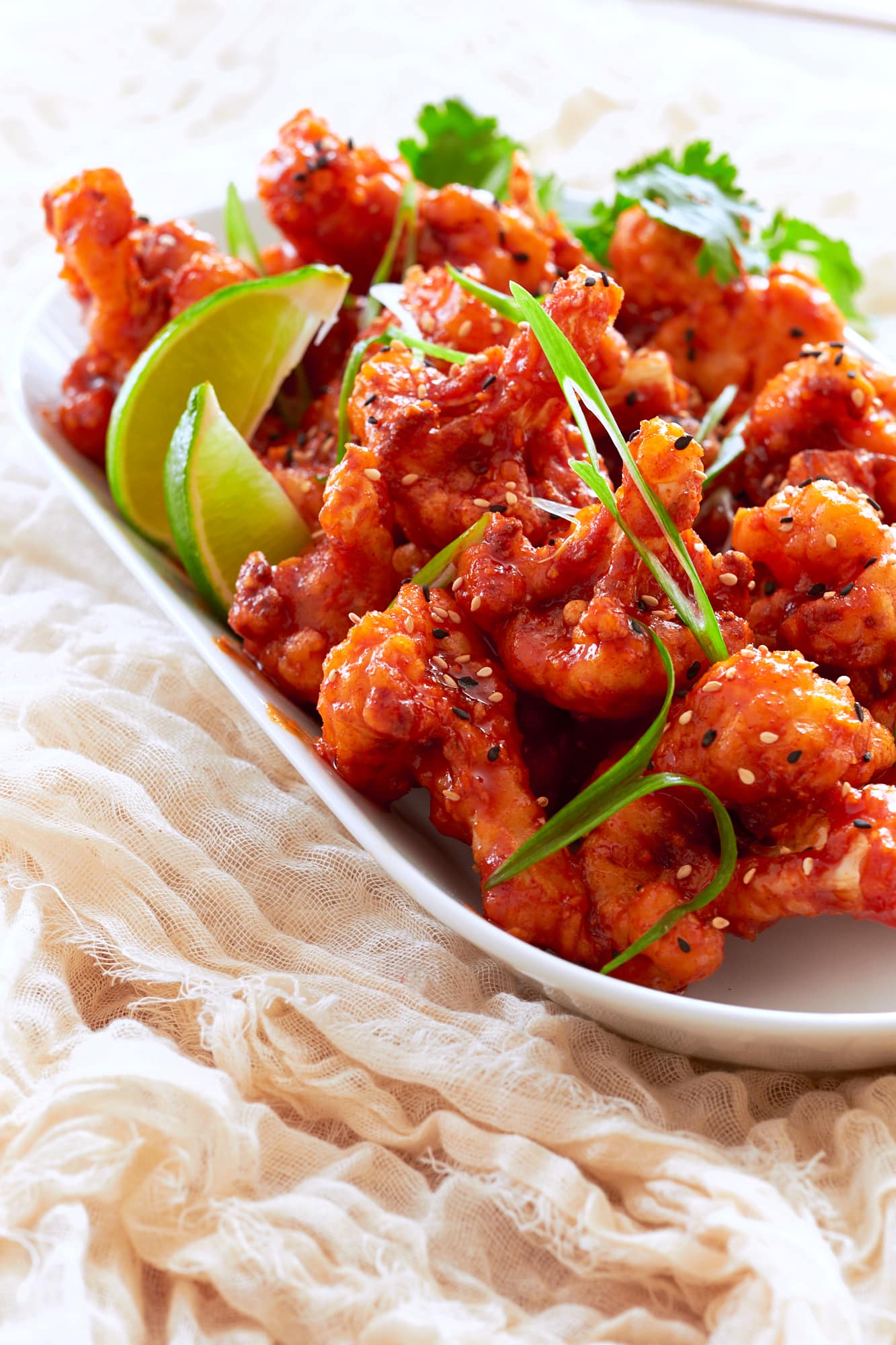 I've been working on this Korean Fried Cauliflower recipe for a few months now. Fricken Nailed it! They've got a crisp, crunchy exterior, a slightly chewy interior, are just sweet and spicy enough with some bright acidic notes.
This is a deceivingly simple recipe. You mix some things up for the batter, you mix some things up for the sauce. You fry the battered cauliflower, you toss it in sauce. The tricky part is deciding what ingredients to put in the batter and sauce.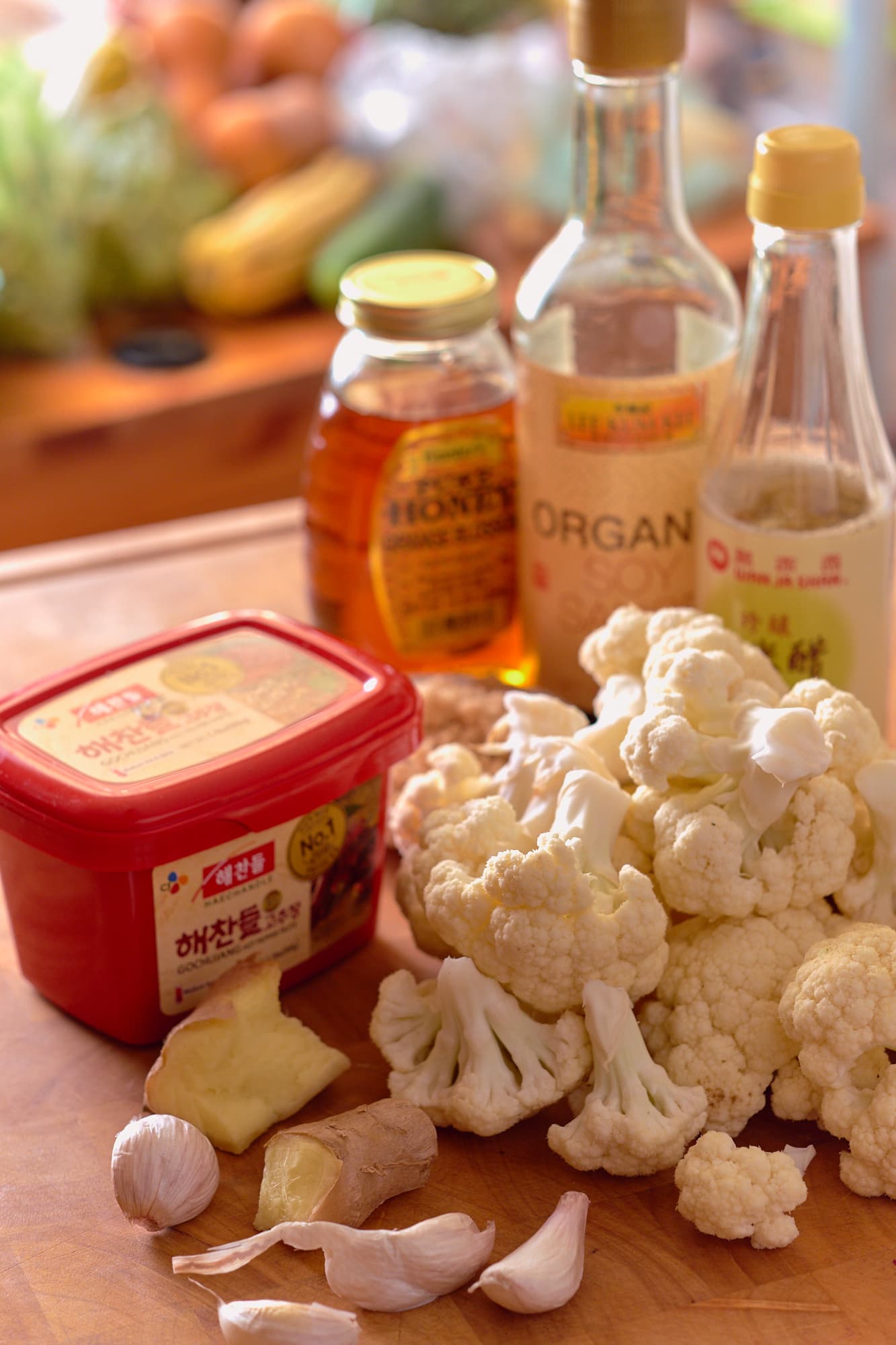 I've found that there's a dozen or more vastly different recipes for Korean Fried Cauliflower. Some have vodka or ice cold water in their batter. Some have a whole cup of chili paste while others only have 2 tablespoons. One has some difficult to find ingredients like Asian Whole Wheat Flour and Potato Starch. It's all over the place. KFC should be easy to make at home with common ingredients and consistent results. You might have to search for some gochujang at an Asian grocery store or buy some online.
For the batter, I took notes from this HuffPost Tempura Batter Recipe. A one to one ratio of flour and cornstarch, some bubbly water, and an egg white. Kenji over at Serious Eats uses vodka. He says that alcohol prevents the development of gluten in the flour. I was looking for a crunchy exterior and a chewy interior. I'll have a little gluten with my KFC, please. Combine the flour and cornstarch in a large mixing bow, add the seltzer and a shirred egg white. Whisk until there's no more dry flour.
The sauce for Korean Fried Cauliflower is composed of some basic ingredients. The gochujang chili paste is the base of the sauce which provides some heat and sweetness. The soy sauce adds salt and umami. The Rice Vinegar and Lime Juice bring some brightness and acidity. The Honey and Light Brown Sugar provide some added sweetness. Finally, the Garlic and Ginger add lots of awesomeness – the ginger is a critical component in this dish. Simply put these ingredients in a mixing bowl and whisk to combine.
Aside from the batter and the sauce, the third element of this recipe is the preparation and your workstation. Whenever you're working with a pot of hot oil, you want to be sure you're in a clean, obstruction free environment. Mix up your batter and sauce then set them aside while you clean up and put things away. You want to prep your workstation so you're moving in an assembly line fashion starting with the raw cauliflower pieces and ending with a serving plate. It should look something like this; Tongs > Cauliflower > Batter > Pot of Frying Oil > Slotted Spoon> Paper Towels > Sauce > Serving Plate. I'd also recommend wearing an apron and not suede sneakers (lesson learned). You never know when a little splatter of oil may jump out at ya or you drop something on your toes.
Use tongs to coat the cauliflower in batter then fry them in oil. Add one piece of cauliflower to test the temp of your oil first; it should be around 350°F. It should take 5-6 minutes for the battered cauliflower to get a crunchy, golden brown exterior. Longer than that means your oil isn't hot enough and the cauliflower will be soggy. Less than five minutes and your cauliflower may be a little undercooked inside – which is better than soggy.
Move your fried cauliflower to drain on some paper towels while you fry the rest in small batches. Turn off your stove when you're done. Using tongs, quickly toss the cauliflower in the sauce, just enough to coat, and shake off any excess. You can spoon more on top or serve a side of extra sauce for dipping. Transfer to a serving platter and garnish with sesame seeds, green onions, and lime wedges.