My basic go-to Margarita Recipe. No added fillers or seasonings or sweeteners. Just Tequila, Lime, and Cointreau.
Someone just asked me last week what I drink. I looked at them curiously and asked what they meant. Someone interjected and said, "Anthony's a beer drinker". Uh, okay? I mean, yes I drink beer but I also drink wine and bourbon and amaros and tequila and drinks made of all of these spirits. Are there people who drink just one thing? Yikes!
We're in the midst of an actual heat wave in Philly right now. High 90's for at least another week. If it's ninety degrees outside you'll be hard pressed to find me drinking any beer stronger than a session IPA. More than likely I'll start getting that WTF look from my bartenders when I change it up and order classic margaritas for the night. I mean, Allison didn't exactly give me a WTF look – more like, oh you just stared at the beer menu for 2 minutes. I didn't expect I'd be making cocktails.
Side note – no matter how bad you really want a mixed drink, if your bartender's slammed be courteous and order something easy. And always tip more than you think you should.
So yeah. It's summertime and I want margaritas. Not that frozen slushy salty crap that's 70% sugar. I want a sippin' cocktail to wipe the sweat from my brow. Something tart and light to smack me in the pucker and make me dream of beach towels, ocean waves, and bikinis. After two or three of these big boys you'll be all set to pass out on your nearest beach towel to wake up to a nice lobster tan. Maybe make some Salsa Roja or some Guacamole with a bag of tortillas to go with your Margarita.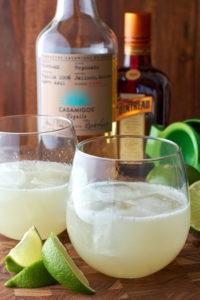 Classic Margarita
My basic go-to Margarita Recipe. No added fillers or seasonings or sweeteners. Just Tequila, Lime, and Cointreau.
Print
Pin
Ingredients
2

oz.

Tequila Resposado Tequila

2

oz.

Freshly Squeezed Lime Juice

1 1/2

oz.

Cointreau
Instructions
Combine ingredients with ice in a cocktail shaker. Shake until shaker becomes ice cold. 

Strain margarita over 3 cubes of clear ice in a rocks glass.

Please enjoy responsibly - without salt or Jimmy Buffett.
Notes
Options: To sweeten - add 1 tsp. Cane Sugar or 2 tsp. Organic Agave Nectar. To lighten - dilute with equal amount of Seltzer. 
For reference, the IBA calls for 2 1/2 oz. Tequila, 1 1/4 oz. Cointreau, and 1 oz. Lime.
I'm Anthony from Philadelphia. I started Eat Up! Kitchen because I love food. Not just that stuff you eat in the car or have GrubHubbed before you watch Game of Thrones, but the stuff that our history, culture, and tradition are built around.