Salad Niçoise is best in Spring using fresh Farmers' Market ingredients with the help of some high quality pantry items.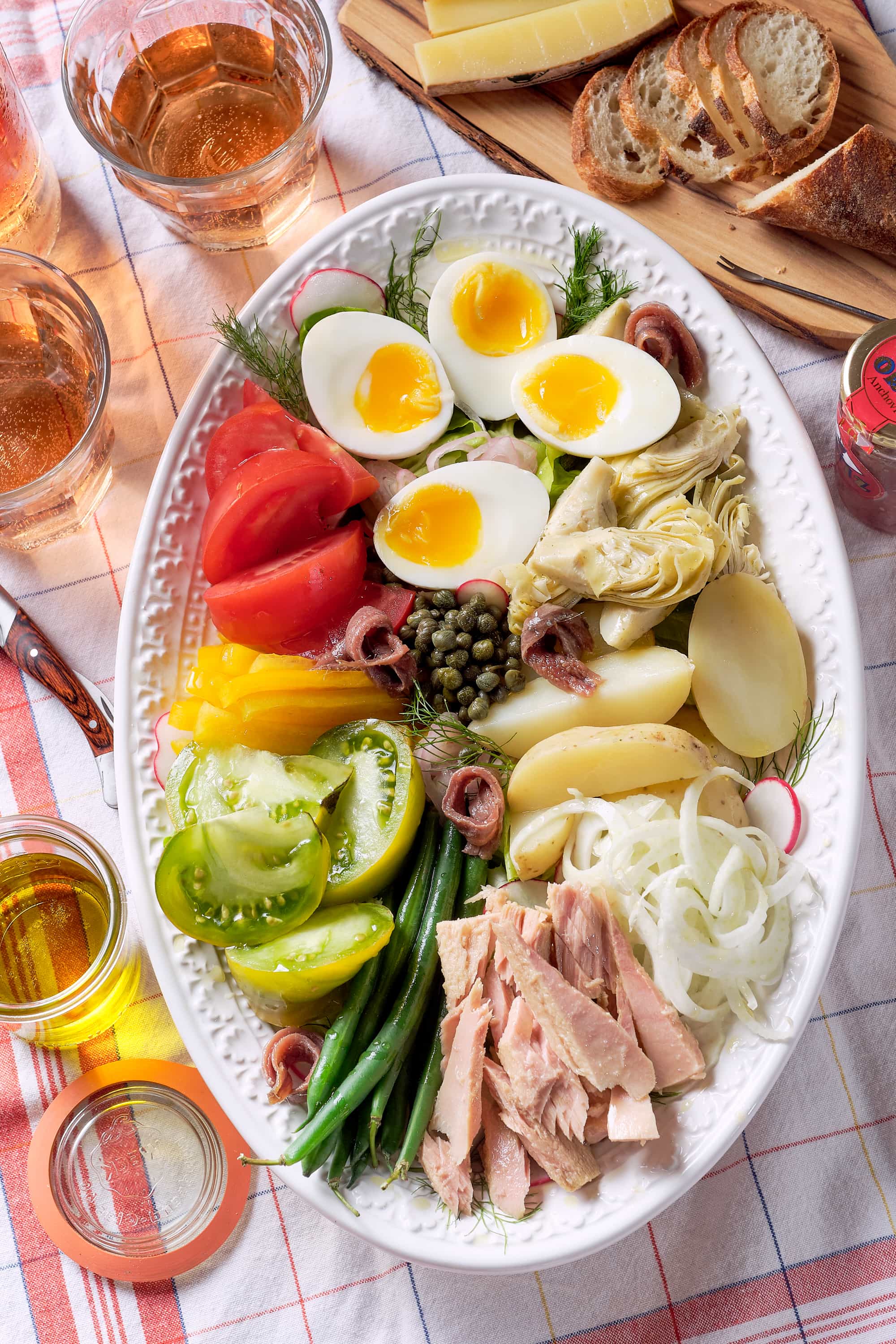 This started as a recipe for an easy to prepare seasonal salad you can bring to a picnic, the beach, or even to the office. It's evolved, though, into a story about using high quality ingredients. So I've broken this post into three sections; Salad Niçoise, Quality Ingredients, and Pantry Items. As always, you can click on the Jump to Recipe link to get right to the recipe.
Salad Niçoise
Salad Niçoise should include, at minimum, fresh tomatoes, canned fish, and olive oil. It's evolved over the years to include other seasonal veggies and pantry items to reflect what's available to home and professional kitchens. You can follow this recipe or add / subtract anything you find interesting.
My Salad Niçoise includes;
Fresh Veggies: Red and Green Heirloom Tomatoes, Fennel, Yellow Bell Pepper, Bibb Lettuce, Radish.
Steamed: Eggs, Potatoes, Green Beans.
Pantry: Tuna, Anchovies, Capers, Artichoke Hearts, Olive Oil.
Served with: Fine Sea Salt, Kettle Black Baguette, Comte Cheese, Rosé Wine.
Wash your fresh tomatoes, potatoes, green beans, pepper, and radish under warm water and pat them dry. Cut tomatoes in to bite size chunks and the peppers into thin strips. Peel off the outer layer of fennel bulb and discard. Use a sharp chef's knife or a mandolin to slice fennel and radish very thinly. Rinse off any dirt from Bibb lettuce and pat dry.
Prepare a large bowl with ice water and set aside. Prepare and large skillet, pot, or wok with a couple inches of water and bring to a simmer. Place a bamboo steamer on top of the water. Steam eggs for 7 minutes for a slightly runny yolk or 9 minutes for a yolk that has set. Cut potatoes into bite size pieces and steam for 15-20 minutes depending on their size. Steam green beans for 60 seconds. Place each ingredient in ice water as you remove them from the steamer to stop the cooking.
Assemble salad by lining a serving platter with the lettuce and topping with prepared ingredients. Drizzle with plenty of good olive oil for the dressing and maybe a light squeeze of lemon. Niçoise Salad can be served composed or tossed.
Quality Ingredients
It's not hard to toss a few vegetables with some iceberg lettuce and douse it with ranch dressing. And I get that that can be satisfying in a 'I really want a cheeseburger but I should be eating more vegetables' kind of way. I also understand that many people don't have access to, or have never had the pleasure of eating, a super juicy ripe tomato. I promise you though, fresh seasonal vegetables taste better and are more satisfying than iceberg and ranch. The best salads, the best meals, are made with with seasonal veggies and other quality ingredients.
Alas, you're probably not going to find the best produce at your grocery store. The majority of grocery store vegetables are picked at the wrong time. They're transported from around the world / country and often refrigerated for several months before they make it to your store. The carbon footprint of your apples and bananas is mind boggling. They're bred for longterm storage, not for Niçoise salads (not that I endorse putting bananas in your Niçoise salad).
The goods new is that some grocery stores now have special sections for local seasonal produce. I love seeing local farmers promoted in the produce section. I usually plan my lunch or dinner around what's available in this section before I shop for anything else.
Another great way to acquire seasonal produce is by subscribing to a farm share or CSA. They'll usually drop off a box of fruits and veggies to your door on a regular basis. I was subscribed to Philly Food Works for a while and loved it. Check out Local Harvest to see what's available in your area.
Pantry Items
I had just received the June issue of Philadelphia Magazine when I started writing this recipe. I opened to page 93 to find an article titled "Tin City – Philadelphia's next big food trend isn't fresh or local" by Ashely Primis. It goes on to describe restaurants and stores selling high quality canned sardines, anchovies, and tuna imported from Spain and Portugal. It mentions how you can buy 'upmarket white tuna' at Riverwards Produce – which is exactly where I bought everything you see in this recipe!
Ortiz brand from Spain sells 'upmarket' tuna and anchovies packaged in glass jars and submerged in oil. I first heard about their quality from watching America's Test Kitchen – Our Taste Test of Anchovies, the Best Ingredient to Add Umami – YouTube. When I came by them at Riverwards I just had to give them a try. My review? The anchovies were mild and not too fishy. The tuna tasted fresh and clean and came in large chunks. I think the anchovies are great for eating on their own but too pricey as an ingredient in a sauce. The tuna was spectacular but I think I'd sooner cook a fresh piece of fish to use in a salad.
If you can't find quality canned seafood in your area, Ashely Primis suggests getting some from the Food52 website. Canned Goods & Condiments – Food52 Shop
The other really good ingredients I picked up at Riverwards were the marinated Artichoke Hearts and Capers. These marinated artichoke hearts were the best I've ever had. I was eating them right out the jar – spreading them on a baguette with their oil and vinegar marinade.
You Get What You Pay For
Does high quality mean high price tag? Well, when it comes to seasonal vegetables, not necessarily. Your local farmers' market will likely have seasonal produce at a cost lower than your grocery store.
On the other hand, high quality pantry items are definitely going to cost more. Products like sustainably sourced tuna packed in oil cost more to make. Other pantry items might cost more because they're made by a artisanal producer rather than in a huge factory. In a lot cases, these higher cost items are going to taste better.
I suggest always buying the best seasonal produce you can find and one other high quality ingredient. In the case of a nicoise salad, splurge on the anchovies or tuna. If you're making something like tacos, use handmade tortillas. If you're making a cheese board, buy two cheaper cheeses and one that costs a little more.
You can easily elevate your cooking simply by spending a little more money on quality ingredients. That's not to say I think you should be spending more money on everything you eat. On the contrary, I think we should be spending less money overall by not purchasing processed, packaged foods. Learning how to prepare foods at home is a path to saving tons of cash in the kitchen. Buy good food for yourself and Eat Up!
– Eat Up!