I had a lot of fun making Pad Thai at home. In fact, I've been making this recipe about once a week for the past month. I screwed it up the first couple times so keep reading for my tips and tricks.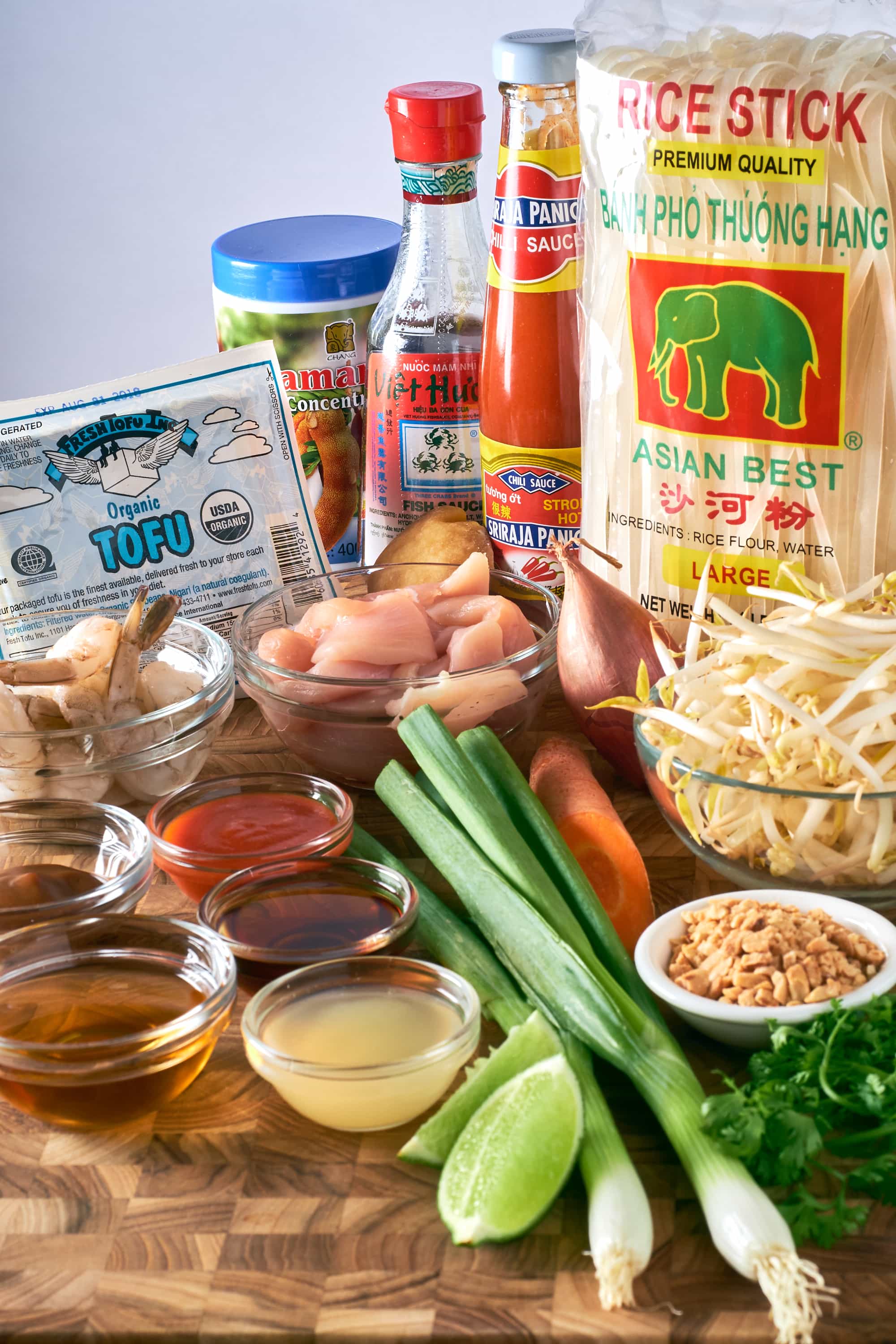 This is a great recipe and it's pretty easy to make at home. The first thing to keep in mind is that this cooks really fast. You want to have all your ingredients prepped and ready to add to your non-stick wok. I've found the most important thing to have for this recipe is a non-stick wok. Otherwise I was ruining the tofu and eggs because they were sticking to the pan. Surprisingly I've never bought a wok before. I got a pretty cheap one for under $10 online and it saved this Pad Thai recipe.
The other thing I learned making this Pad Thai was that not all tofu is created equal. I've never been a fan of tofu. Even when people keep telling me that you need to get the extra firm stuff, it just wasn't good tasting. Thankfully Riverwards Produce carries Fresh Tofu Inc. organic tofu out of Allentown, PA. It's delicious! I could totally make this pad thai entirely with tofu in place of the traditional trio of tofu, chicken, and shrimp. Oh yeah – if you only have one or two of the three main proteins that completely fine.
Pad Thai is traditionally made with wide rice noodles. You can probably find them in the international aisle of your grocery store or at an Asian food market. To cook the rice noodles I just put them in a pot and run hot water over them. Let them sit for about five minutes to get tender. Do not over cook the noodles. If you overcook them they may break down as you cook them with everything else. Not the end of the world but they should retain their shape and be al dente.
IMO, the most important part of Pad Thai is the Pad Thai sauce. I think they sell Pad Thai sauce in the stores but its easy enough to make if you can get the ingredients. You'll need 3 Tbs of Tamarind Paste, 3 Tbs Palm Sugar Syrup, 2 Tbs Sriraja Panich, 1 Tbs Fish Sauce, and 1 Tbs Lime Juice.
Tamarind is a fruit that grows in pods used in Asian and Mexican cooking. It's the definition of tart. You could use vinegar in place of tamarind if you're unable to find it.
If you can't find palm sugar you can use regular sugar. Palm sugar is a little sweeter and has an almost honey -like flavor.
I picked up this Sriraja Panich at my local asian market. After some quick research I've found out that this is actually the original sriracha sauce. There's a pretty good read about it over at www.bonappetit.com from 2013. It's slightly sweeter and less garlicy than the other stuff and it doesn't have any vinegar or preservatives.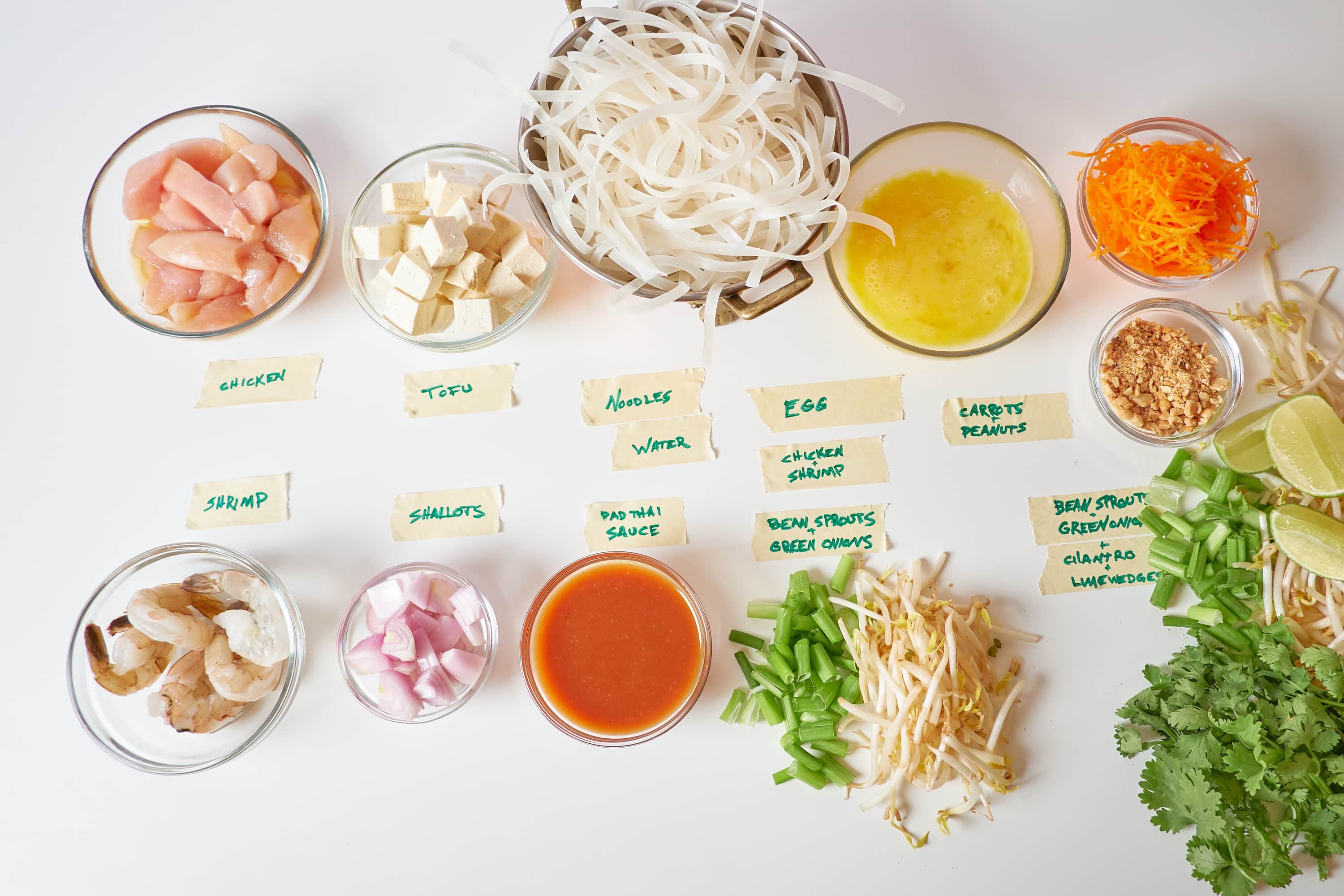 To cook the Pad Thai you absolutely need to have everything ready to cook before hand. Check out the photo I have with all the ingredients laid out. Set everything up on your counter in the order that you'll be cooking them. The chicken and shrimp take about 60 seconds each. After they're cooked you can set them aside to add back later. Make sure to bring the wok back up to temperature after you remove one item and add the other. Here's how the cooking process goes down.
Chicken – 60 seconds then set aside.
Shrimp – 60 seconds then set aside.
Tofu – 90 seconds.
Shallots – 30 seconds.
Stir in prepared Rice Noodles + 1 Tbs water – 10 seconds.
Add in Pad Thai Sauce then Chicken and Shrimp.
Push everything to the side of the wok, add 1 tsp oil then whisked Eggs – 30 seconds.
Add Bean Sprouts and Green Onions and toss – 45 seconds.
Before plating add in Shredded Carrots and Crushed Peanuts.
Top with Cilantro, Bean Sprouts, and Green Onions.
Yep, this is one of those recipes that takes more time to get everything prepared than it does to cook it. Total cooking time is just about 5 minutes. Prep time is closer to 20 minutes. Still, in under 30 minutes you've got homemade Pad Thai! How cool is that? It's certainly faster than delivery. This recipe makes two healthy servings or could be stretched out to 3-4 smaller servings.