Roasted Long Hot Peppers are one of the best sandwich toppings EVER. If you like a bit of spice on your sandwich, nothing can beat 'em. Nothing except; Roasted Long Hot Peppers shallow fried with Garlic in Olive Oil. Not only are the peppers super tender and extra tasty, you also get this garlic and long hot infused olive oil to use as a sandwich dressing.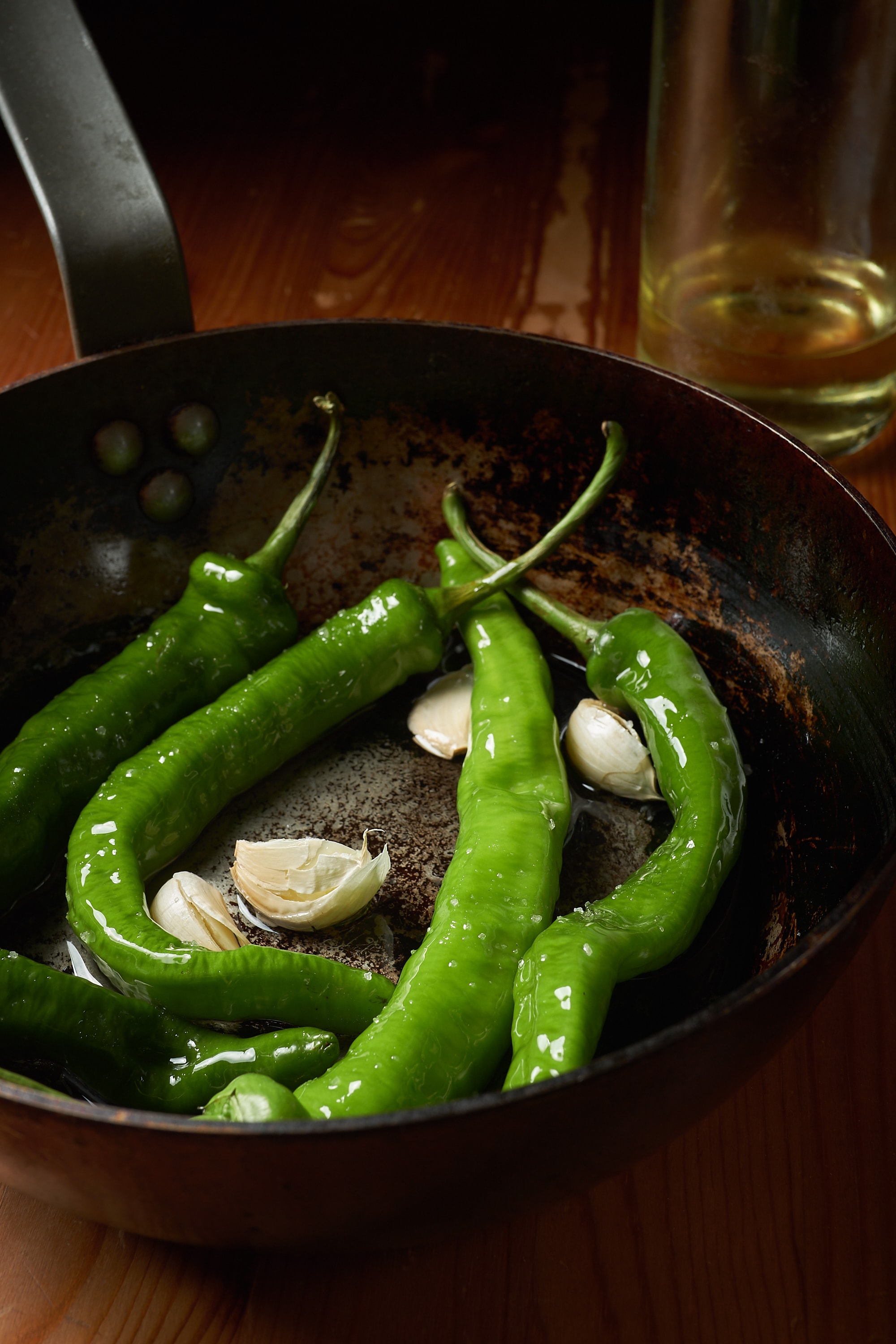 When I first started roasting long hots at home I would hold them over my stove's burner with tongs. Cooking food over an open stovetop flame seems a little unnecessary – plus they had a hint of gas to them. After trying this method a few times I thought the oven night be a smarter choice.
I'd toss the long hots with olive oil and a bit of salt then put them on a sheet pan under the broiler. This is okay if you want charred long hots and (like roasted red peppers) want to remove the skins. But that's not exactly what I'm looking to put on my sandwich.
I want the mild bite of chili pepper that's been sauna-ing in hot olive oil with a hint of garlic. Although, when it's all said and done, I think my favorite part is the olive oil infused with garlic and long hots. Brush this oil over a whole French baguette along with the long hots and you're in a good place. Maybe bring a little aged stinky provolone to the party, too!
–
To shallow fry Roasted Italian Long Hots in Garlic Oil, start by preheating your oven to 400°F. Find an oven-safe pan or skillet to hold your long hots and add about a half inch of quality olive oil. For four chilis, I used a quarter cup of oil. Throw in 4-12 cloves of garlic (with or without paper). Add the chilis to the pan, brush the tops with oil and sprinkle with a bit of coarse sea salt. Place the pan in the oven for about 4-6 minutes, flip long hots with tongs, then return to the over to cook for another 4 minutes.
Roasted Italian Long Hots are awesome as sandwich toppings along with homemade Garlic Aioli. If you want to go the extra mile you can make a killer sandwich spread by mixing 1TBS Long Hot Garlic Oil with 2 TBS Garlic Aioli. Can't wait to see how you all enjoy your Roasted Long Hots in Garlic Oil!
For another serving suggestion, check out this Pork Schnitzel Sandwich.