Spanakopita is a traditional Greek Spinach and Cheese pie. Of course I had to put my updated twist on it with some pine nuts and lemon. Because, why doesn't Spanakopita already have pine nuts and lemon in it?! Oh, hey – coincidentally, March 26th happens to be #NationalSpinachDay.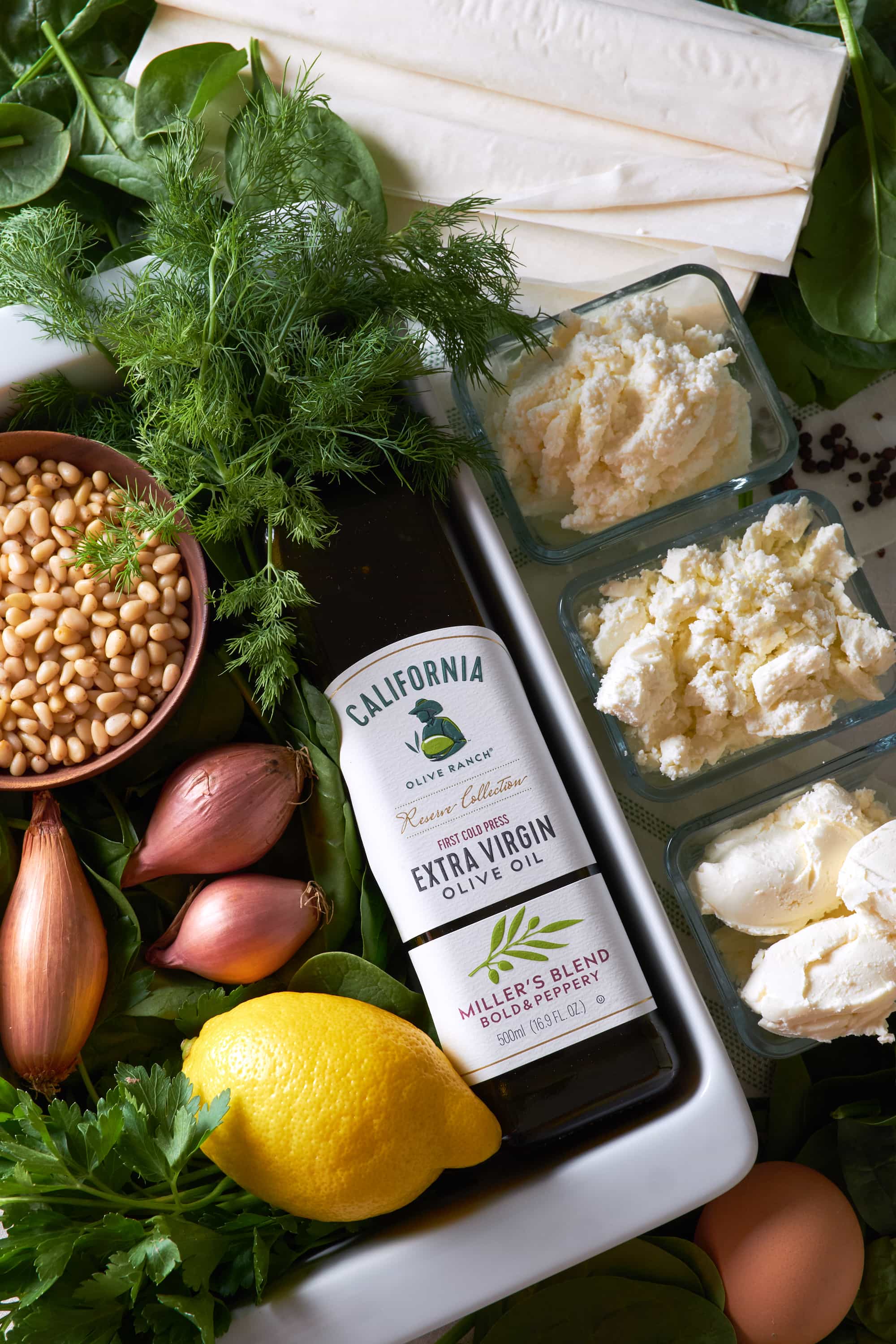 While doing my research for Spanakopita, I have to say I was surprised to find a lack of lemon. Spinach and Cheese Pie wrapped in a flaky olive oil brushed phyllo dough could certainly stand to have a nice pop of zesty citrus in there to brighten the load. I added lemon juice with the spinach as it steamed in the pot and the zest along with the cheese mixture.
In addition to adding some lemon juice and zest to this Spanakopita, I thought some shallots would be a pleasant alternative to the traditional onion or scallions and garlic. Shallots are a little lighter and have a more mellow flavor profile. Love me some caramelized shallots with mushrooms in an omelet! In this case I lightly  sautéed a few small shallots in a quarter cup of olive oil. Once they were cooked I added some freshly minced herbs with two big containers of baby spinach. I added the fresh lemon juice on top then put a cover over the pot. This took about 8 minutes to reduce to almost two cups of sautéed spinach.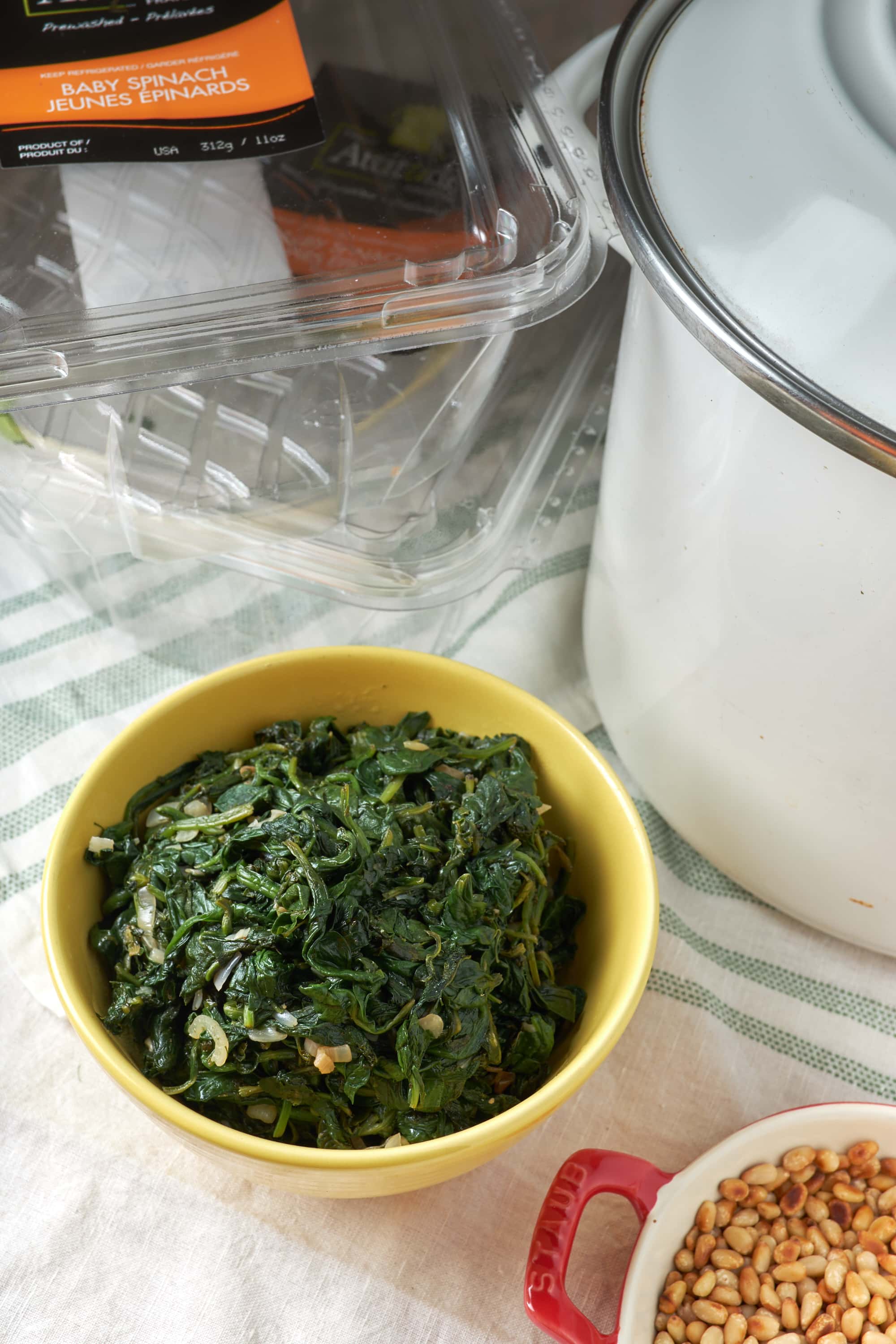 While the shallots were cooking I had a small fry pan over low heat toasting some pine nuts. Half the pine nuts get mashed with the flat side of a kitchen knife on the cutting board. Both the smashed and whole toasted pine nuts go in to a bowl along with a teaspoon of fresh parsley and dill, lemon zest, and three types of cheese. I used eight ounces of feta, four ounces of ricotta, and two ounces of cream cheese. Make sure to get the block of feta and crumble it yourself. I found that the precrumbled stuff isn't as flavorful as the packaged block in brine. I really like the textural mix of different cheeses – especially the cream cheese.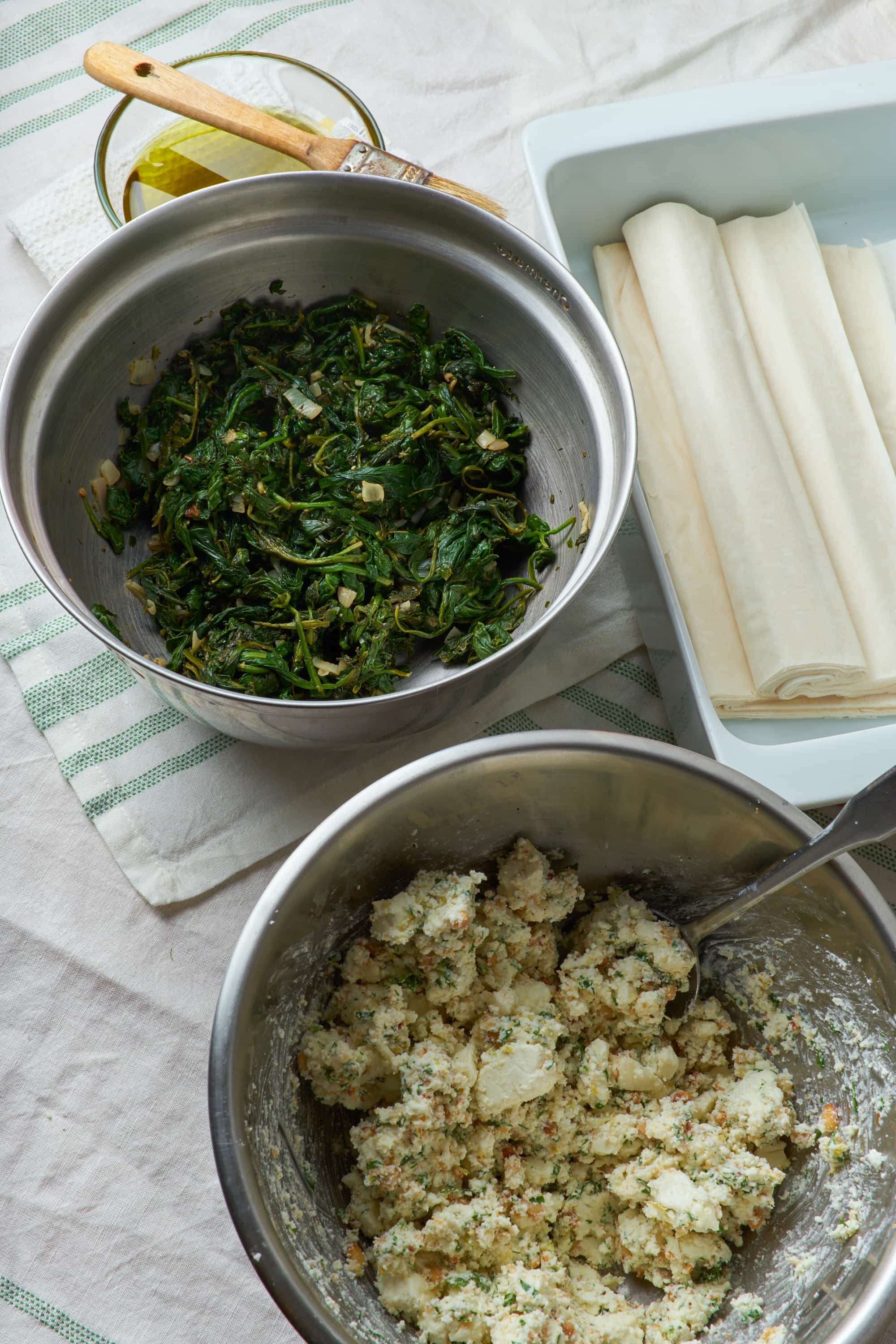 Once the spinach has cooled (speed up the process by putting it in the fridge for ten minutes) add it to a kitchen towel over a bowl. Grab up all the corners and sides of the towel so the spinach collects as a ball in the center. Twist the ball in the towel over the bowl and get as much of that liquid out as possible – use those mussels! This should take a little while as there's a lot of liquid. Add the spinach and a scrambled egg to the cheese mixture in a large bowl and gently combine them with a wooden spoon then set aside.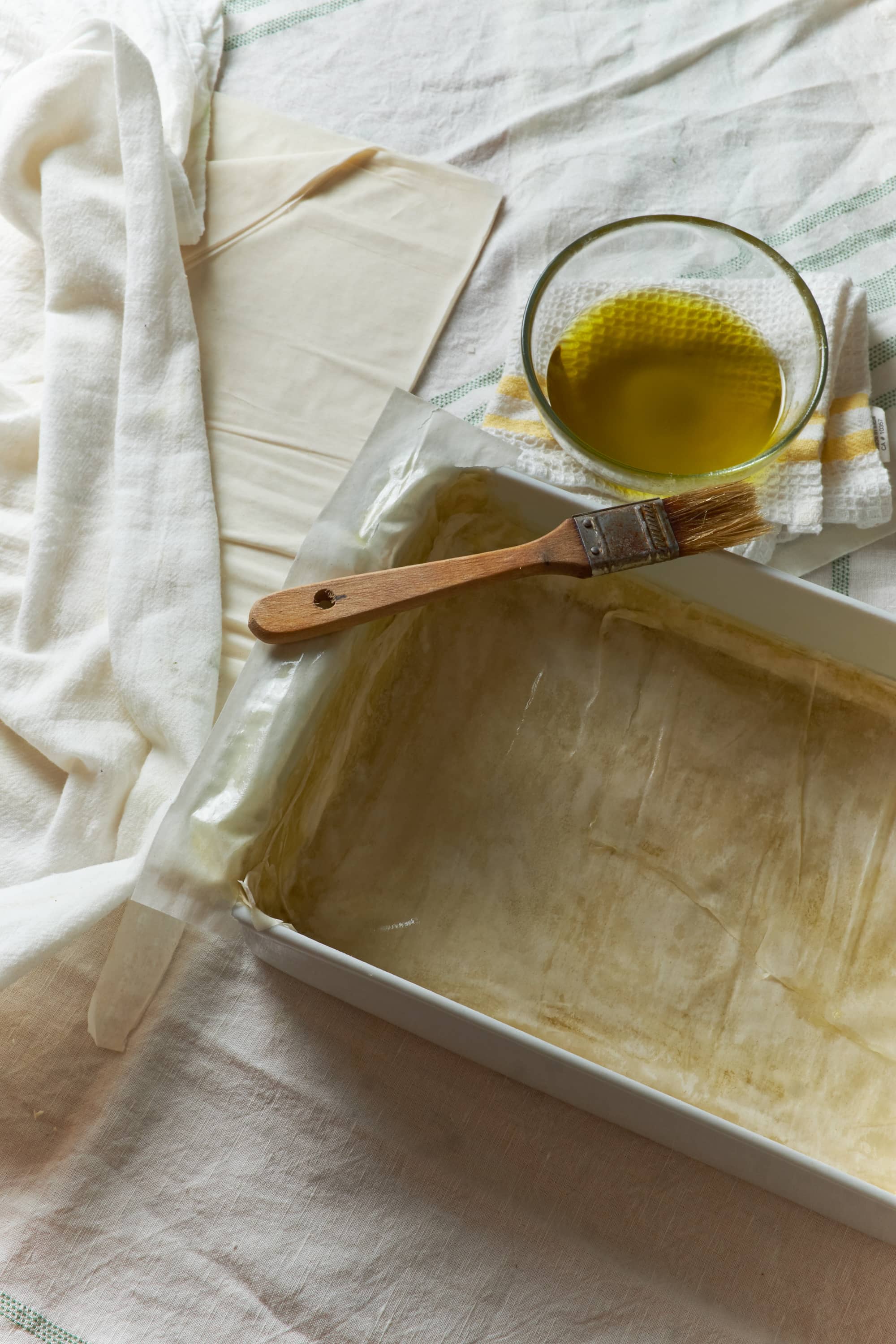 I'm using twenty sheets of Phyllo dough for this spanakopita. That's ten for the bottom and ten for the top. Make sure your dough is fully defrosted and keep it covered with a damp towel as you add each sheet to the pan. Dry phyllo is not fun. My weird Ikea baking pan is something like 7 1/2 inches by 10 1/4 inches. You can use an 8×8 pan or something similar.
As you lay the bottom sheets of phyllo they should rise up the sides of the pan so they'll wrap around the spinach and cheese filling. Use a brush to lightly coat each sheet with a small amount of quality first cold press olive oil – Greek oil would be awesome but I like this stuff from California.
Transfer the spinach and cheese mixture to the phyllo lined pan. Evenly spread it out then gently bring the phyllo up and over the top of the filling. That phyllo going up the sides is like your pie's outer crust.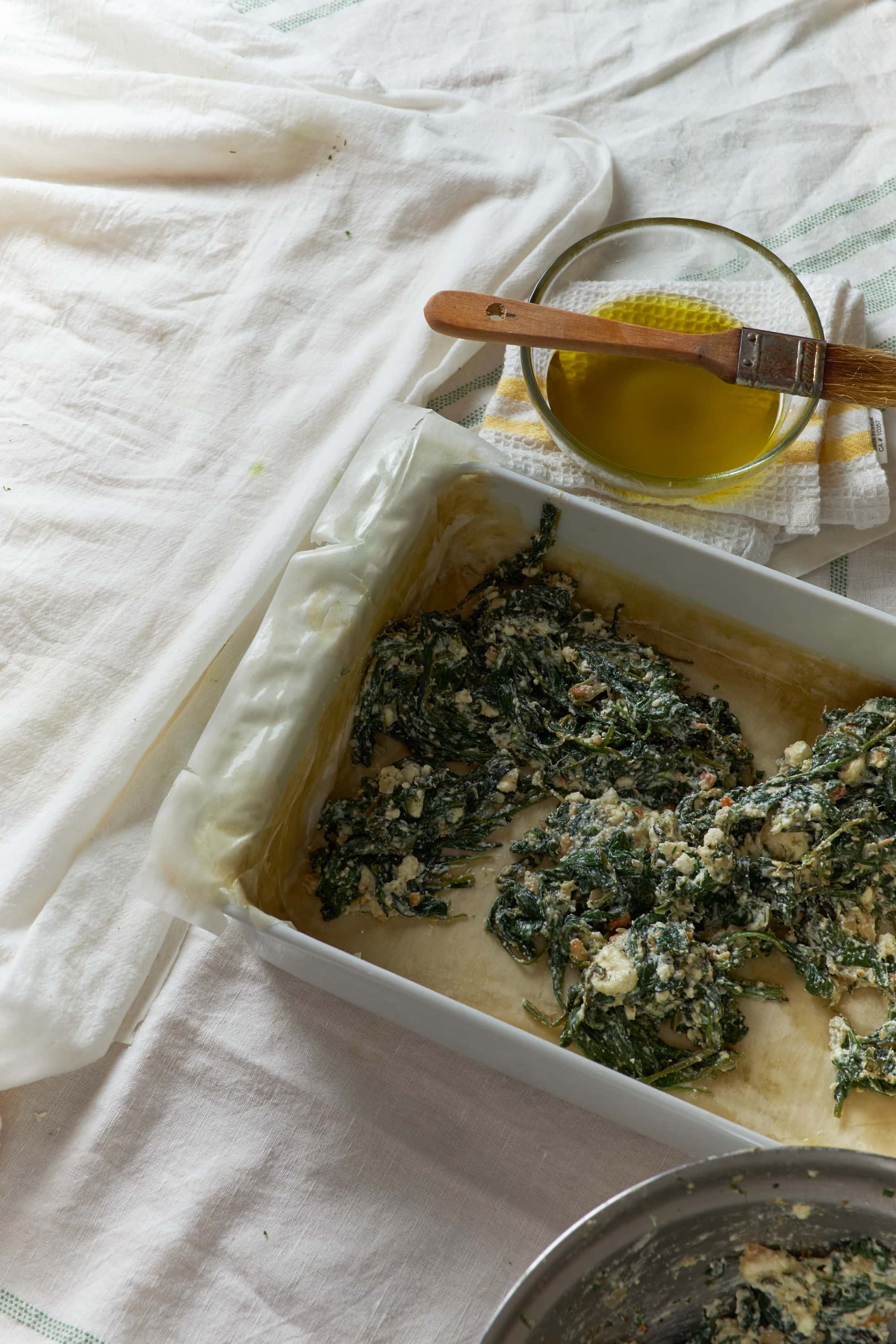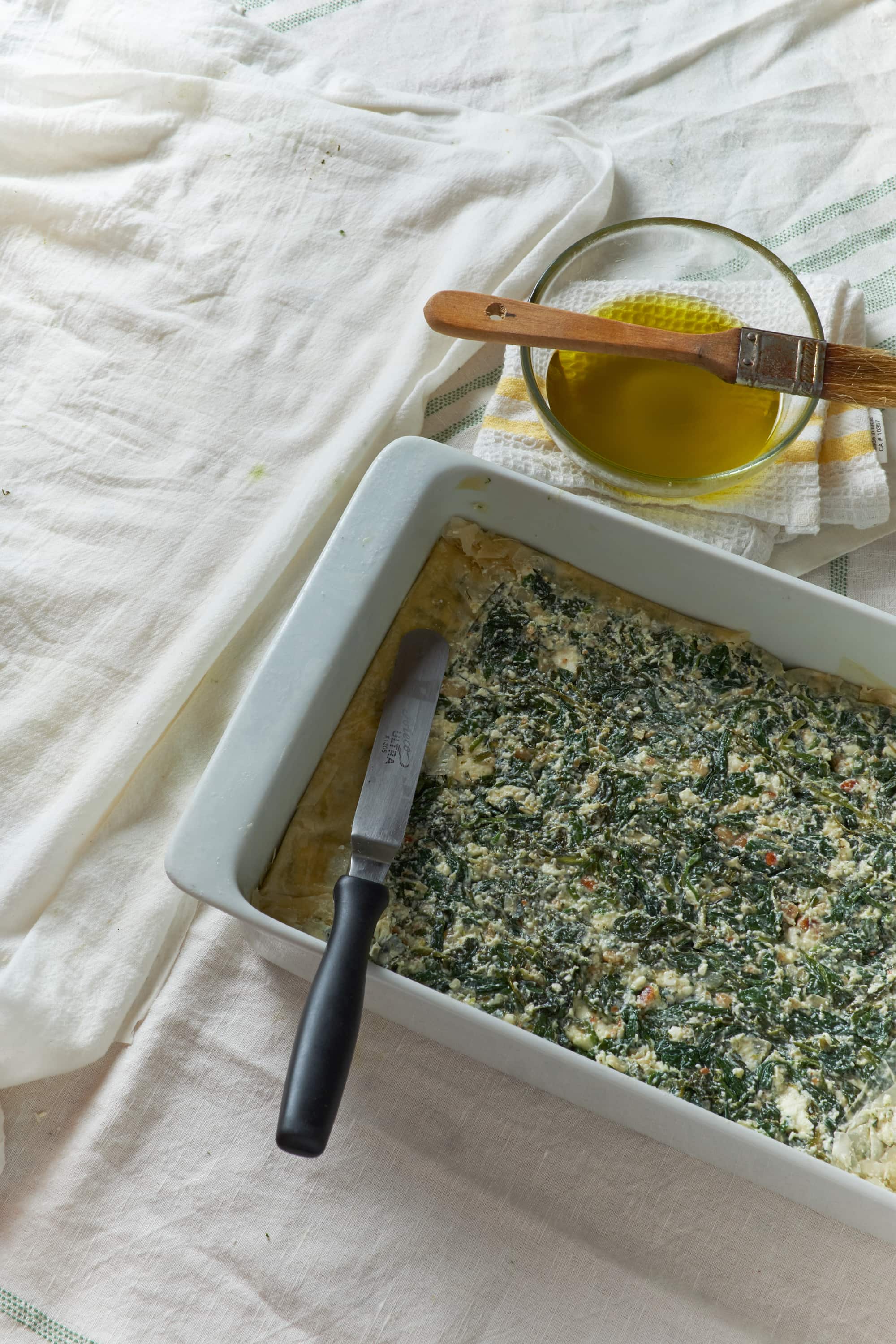 I had to trim my top ten sheets of phyllo so they'd fit nicely on top. Again, as each sheet is laid down brush it lightly with some of that fruity delicious olive oil. Slide the tip of your brush down the sides of the pan so there's a bit of separation and a light coating of oil on the sides.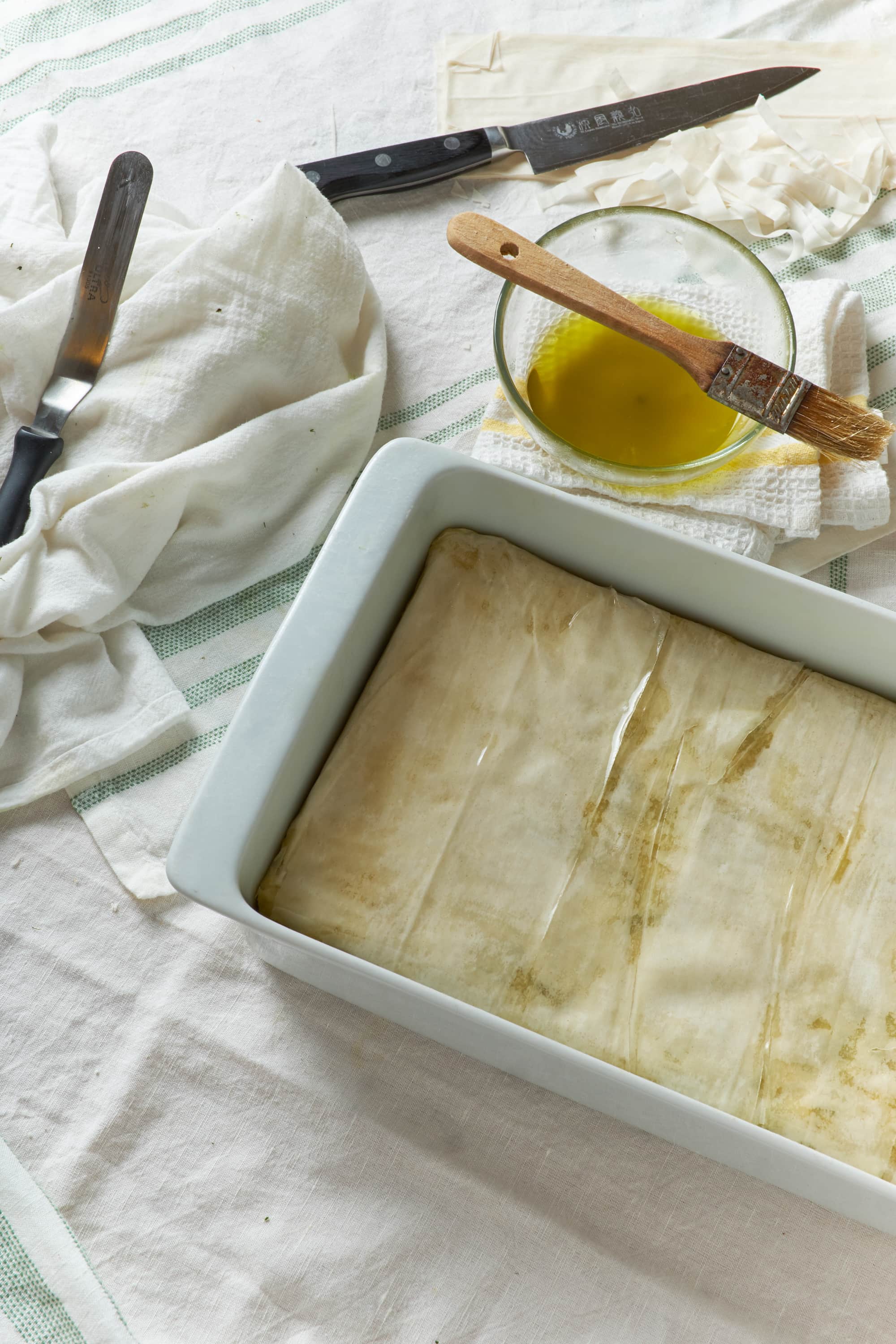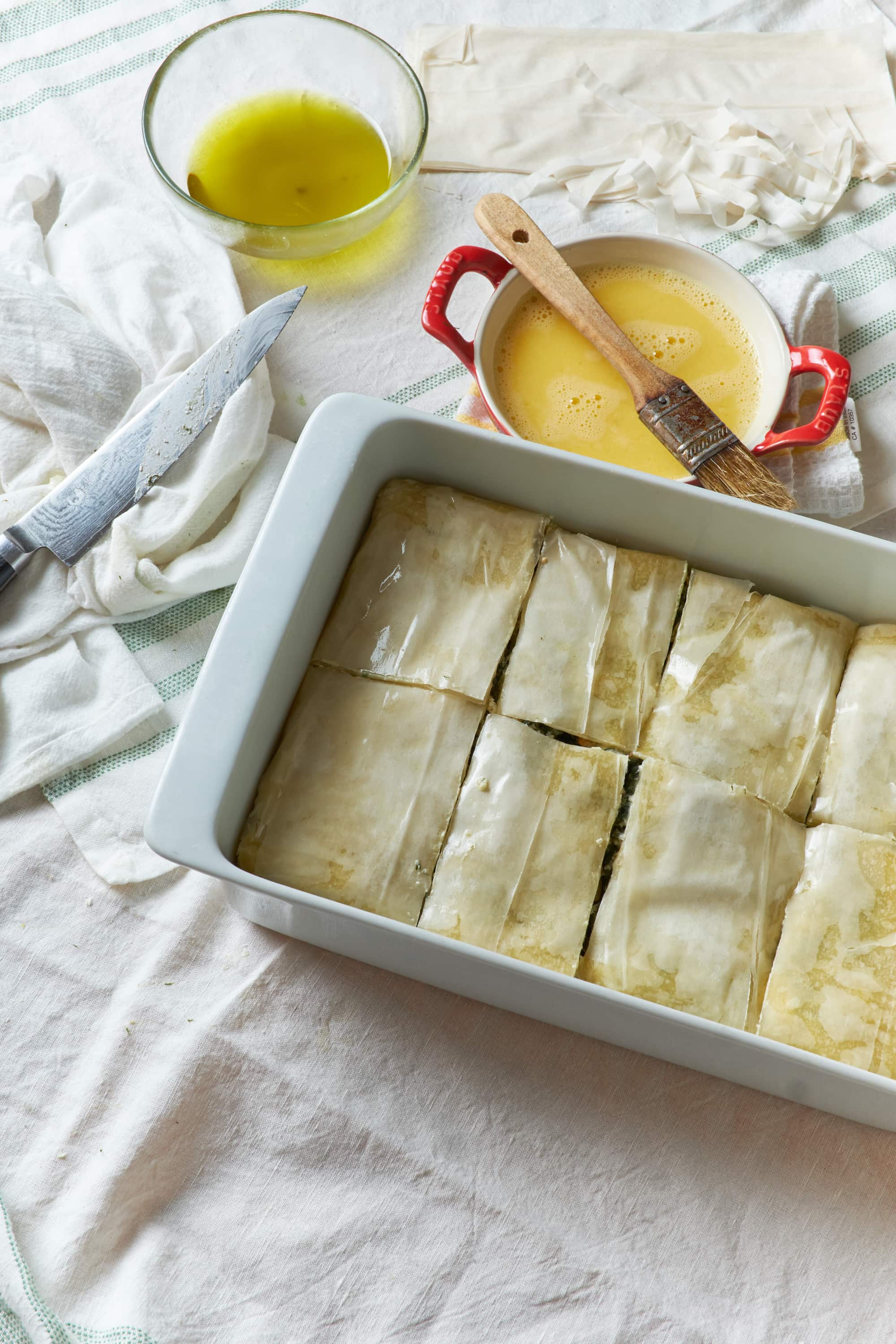 The phyllo dough might seem tedious but it's actually kinda fun and nearly impossible to screw up. Trust me, this whole deal is 100% worth it. Now that your spanakopita is looking like a comfy little spinach bug in a rug it's time to give it a twenty minute nap in the fridge. This will firm it up a bit and make pre-cutting the squares easier to do without crushing it. A nice sharp knife is helpful too. You'll want to cut this now before it's baked because the top is going to be super flaky and delicate when it comes right out of the oven. Carve up in to as many pieces as you think you'll require for serving – bigger pieces for lunch or dinner portions and smaller pieces for snacks and apps.
Add a few drops of water to a scrambled egg and evenly distribute over the spanakopita. Use your brush to evenly spread it out. The egg gives the phyllo dough it's golden coloring and a bit of a lift as it bakes. Don't skip this step.
I added a little sprinkle of left over pine nuts after the egg. It's not too sexy but if you're bringing this to a dinner party it's a good way to give a heads up to people with allergies.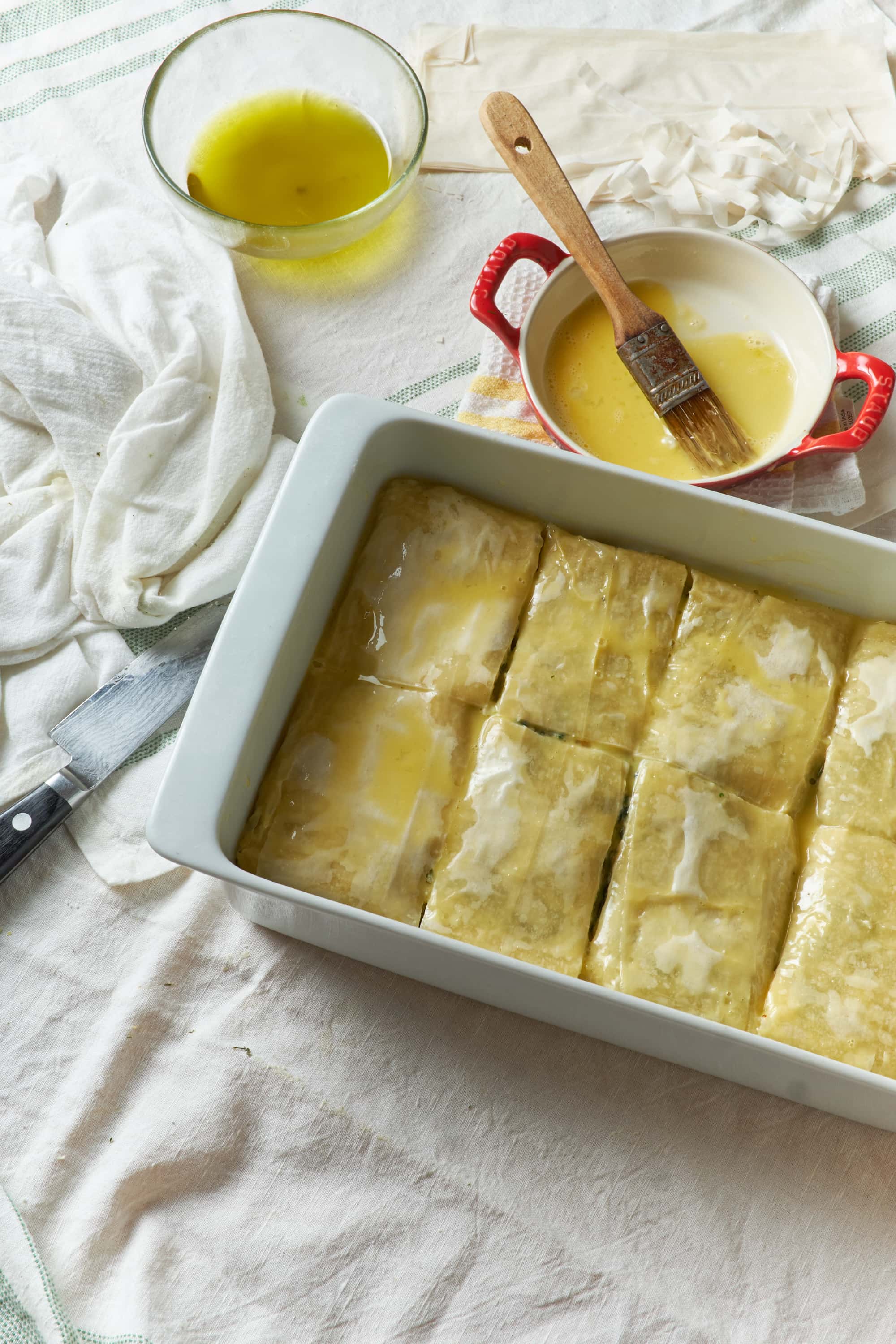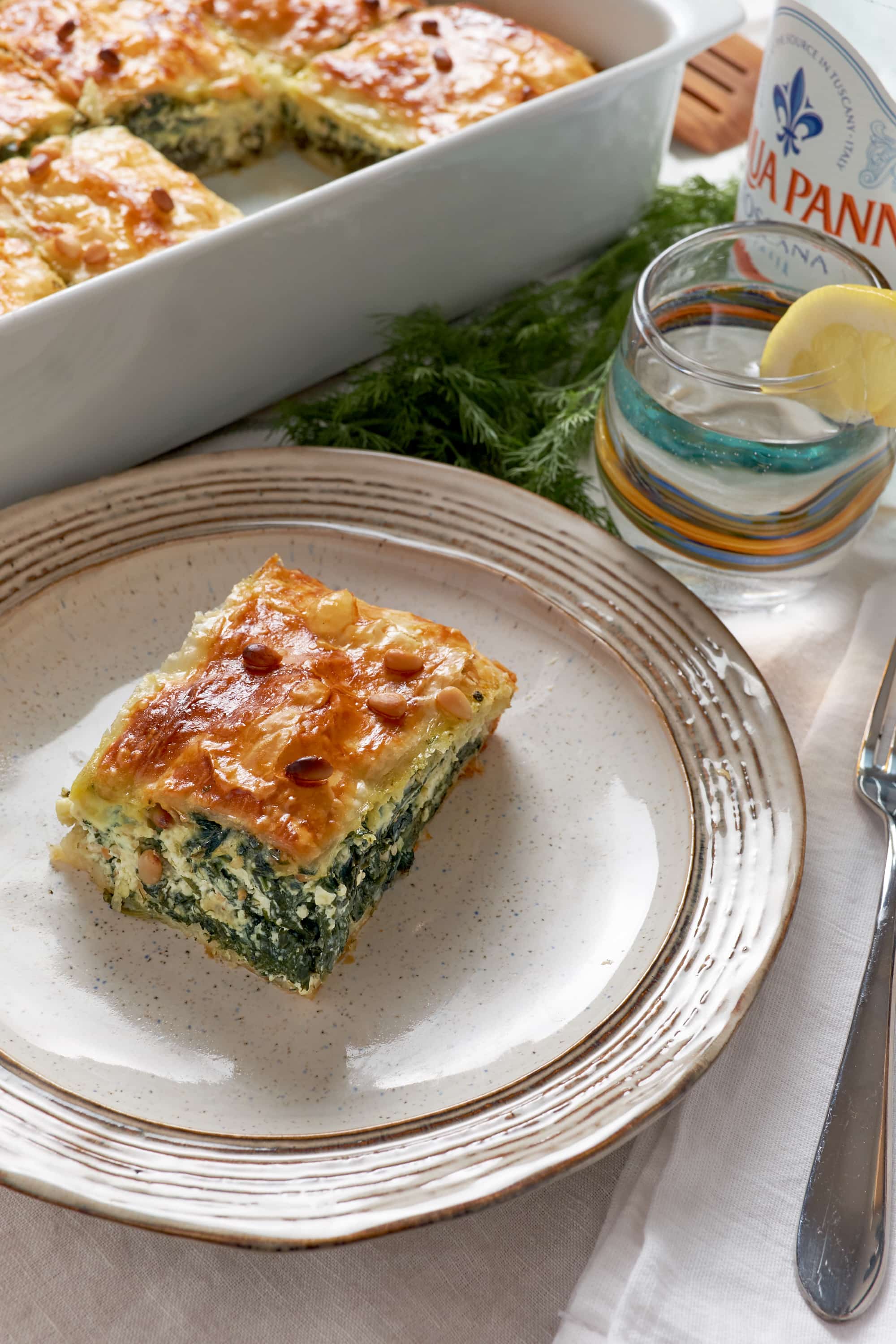 Preheat your oven to 350°F and bake for about 40 minutes. Serve hot, room temp, or even cold.
I hope you'll give this updated Spanakopita recipe a shot! The combination of lemon and dill mixed up with the spinach and cheese is quite refreshing and seemingly appropriate for the spring weather.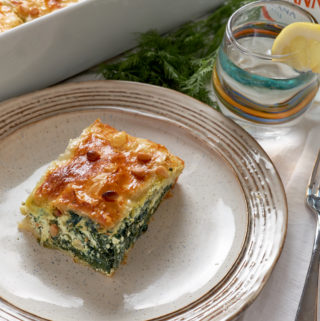 Spanakopita
Spanakopita is a traditional Greek Spinach and Cheese pie. Of course I had to put my updated twist on it with some pine nuts and lemon. Because, why doesn't Spanakopita already have pine nuts and lemon in it?! Oh, hey - coincidentally, March 26th happens to be #NationalSpinachDay.
Ingredients
20

sheets Phyllo Dough

2

lbs.

Baby Spinach

1/4

cup

diced Shallots

1

Tbs

+ 1 tsp minced Dill

1/4

cup

+ 1 tsp minced Parsley

8

oz

Feta

crumbled

4

oz

Ricotta

2

oz

Cream Cheese

1

Lemon

zest

1

Lemon

juice

1/3

cup

Pine Nuts

toasted, half smashed

1/2

cup

first cold press Olive Oil

1

tsp

black pepper

salt to taste

2

Eggs

scrambled separately 
Instructions
Add 1/4 cup olive oil to a large stock pot over low heat. Lightly sauté shallots for a few minutes then add a 1 tbs of dill and 1/4 cup parsley. Add baby spinach, black pepper, and lemon juice then cover pot with lid. Stir occasionally until spinach is wilted to about 2 cups. Transfer spinach to a strainer placed over a bowl and cool in refrigerator for about 10 minutes.

Lightly toast pine nuts in a pan for about 4 minutes shaking the pan frequently. Once cooled, transfer the pine nuts to a cutting board and smash about half with the flat side of a knife. Place all pine nuts in a mixing bowl reserving a few to sprinkle on top of the spanakopita if desired. 

To the pine nuts add 1 teaspoon minced dill, 1 teaspoon minded parsley, lemon zest, and cheese. Fold all ingredients until well incorporated. 

Transfer the spinach to a kitchen towel. Take up the corners and sides and twist the spinach in to a ball until all liquid is removed. 

Scramble one egg and add to the cheese mixture then add the spinach. Fold to incorporate.

Prep a deep rectangular or square baking pan with a bit of olive oil brushed along the bottom and sides of the pan. 

Roll out phyllo dough and cover with a damp kitchen towel while you're working with it. Place one sheet at a time and line the bottom of the pan. Lightly brush each of the 10 bottom sheets with remaining olive oil. Any excess dough should go up the sides of the pan with a light brushing of oil. 

Add the spinach and cheese mixture to the pan and evenly spread it out. Bring any dough on the side of your pan down over top of your spinach filling. Brush with oil.

Trim remaining 10 sheets of phyllo dough to slightly larger than the size of your pan. Place each of the sheets on top and brush with oil. Use the tip of the brush to push excess dough down the sides of the pan.

Place pan in the refrigerator to chill for about 20 minutes.

Preheat oven to 350°F.

Once chilled, use a sharp knife to pre-portion each piece of spanakopita. Scramble egg with a few drops of water and spread it out over top of the pie. If desired, sprinkle some toasted pine nuts over top the spanakopita.

Bake in the upper half of your oven for about 40 minutes or until top is golden.