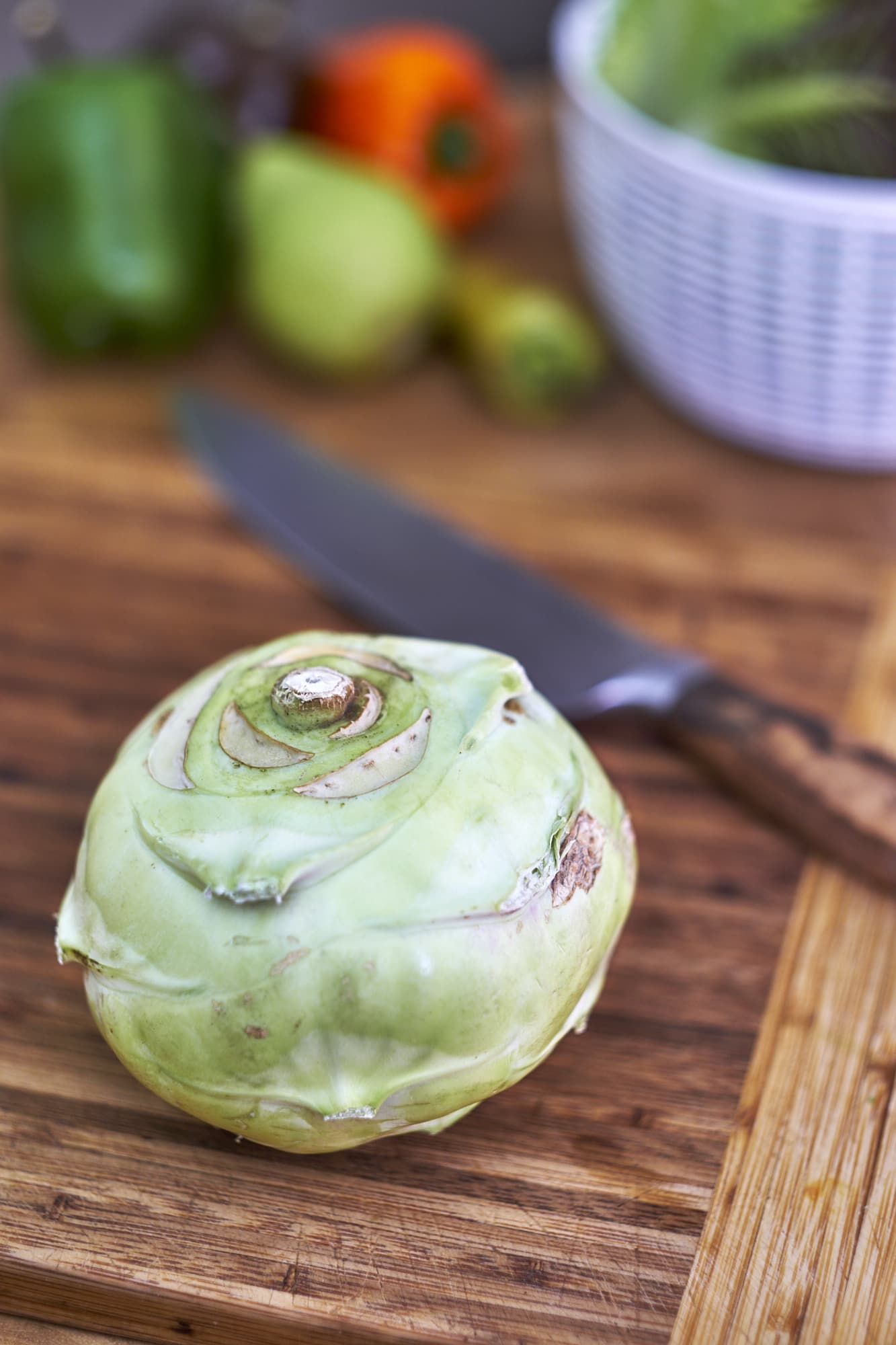 What the heck is Kohlrabi and how can you cook with it?
I finally signed up for a farm share this past month! I signed up with Philly Foodworks primarily because they have a drop off location about 50 yards from my front door – this is key when living in a city. My weekly "Local Share" subscription includes about 6-7 vegetables and 1-3 fruits. So far, they've included at least one atypical item in the box. For someone writing a food blog, this is pretty great. It gives me something interesting to work with that I otherwise wouldn't pick up at a grocery store. It's like my very own Chopped Basket every week! Anyway, I'll write more about Philly Food Works in another post – on to the Kohlrabi.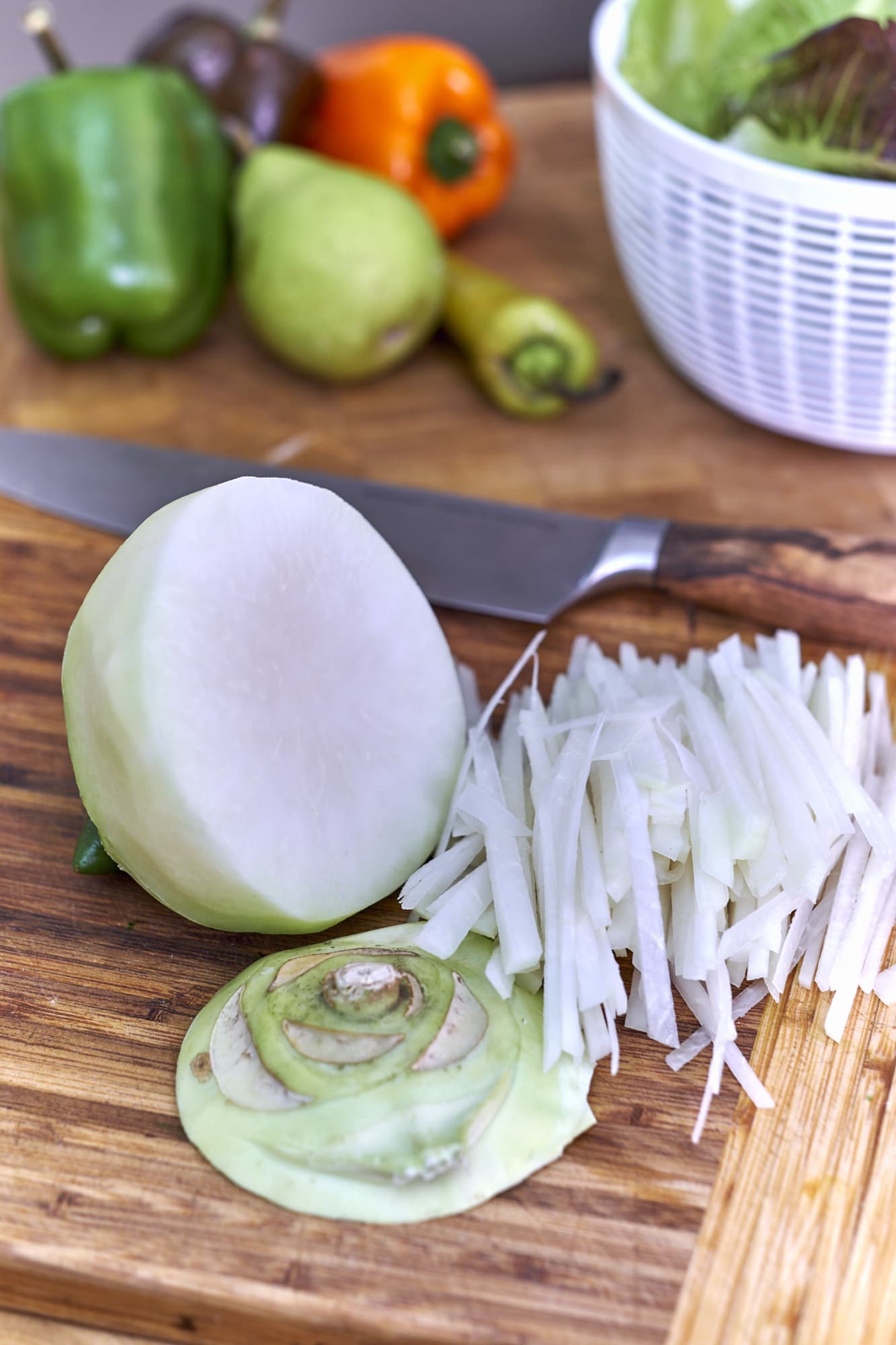 Kohlrabi is a round root vegetable related to brussels sprouts and broccoli. It tastes something like a cross between broccoli stems, cabbage, and Jicama. It's similar to a big radish but juicy, sweet and delicious. I'm fairly confident this would be a kid friendly vegetable. I had never had it before so I had to do some research. What I was a little surprised to find was that there are a million and one ways to prepare Kohlrabi.
Kohlrabi is a German word that means 'cabbage turnip'. Kohlrabi also means 'little cabbage' in the Middle East and 'ugly root' in Africa. It's eaten everywhere from Germany to Kashmir to Vietnam. This tells me I could (at least) use Kohlrabi in German, North Indian, South East Asian, and North African dishes. Thanks for putting this in my box, Philly Foodworks, and thanks to D & V Organics in Swedesboro NJ for growing it!
Kohlrabi can be roasted, steamed, fried, pureed, diced, slice, pickled, and stir fried. I've found recipes for Kohlrabi Risotto, Kohlrabi and Celery Root Puree, Kohlrabi Chips, even Kohlrabi Schnitzel! For all preparations, you'll first want to use a vegetable peeler to remove the outer skin from the bulb. Then you can chop, dice, slice, grate, etc. depending on your dish. I cut a bit of the kohlrabi off to taste-test and was quite pleased with the taste of it raw. I'll have to buy more to cook with but I really just wanted to eat this as a slaw in a salad. For what didn't fit in the salad I just ate it raw with a few dashes of rice wine vinegar and salt.
I made a salad (shown below) with some other vegetables found in my Philly Foodworks box. In addition to julienned Kohlrabi, this salad was comprised of Purple, Orange, and Green Peppers, Sweet Gem Pears, and Red Buttercrunch Lettuce. I dressed it with some rice wine vinegar, toasted sesame oil, and sesame seeds.
I'm looking forward to sharing more farm share surprises with you. This week I have to figure out what to do with Delicata Squashes and Watermelon Radishes!