I made a heavenly light Angel Food Cake covered in Homemade Strawberry Whipped Cream and Shredded Coconut! Perfect for all your angelic holiday feasts.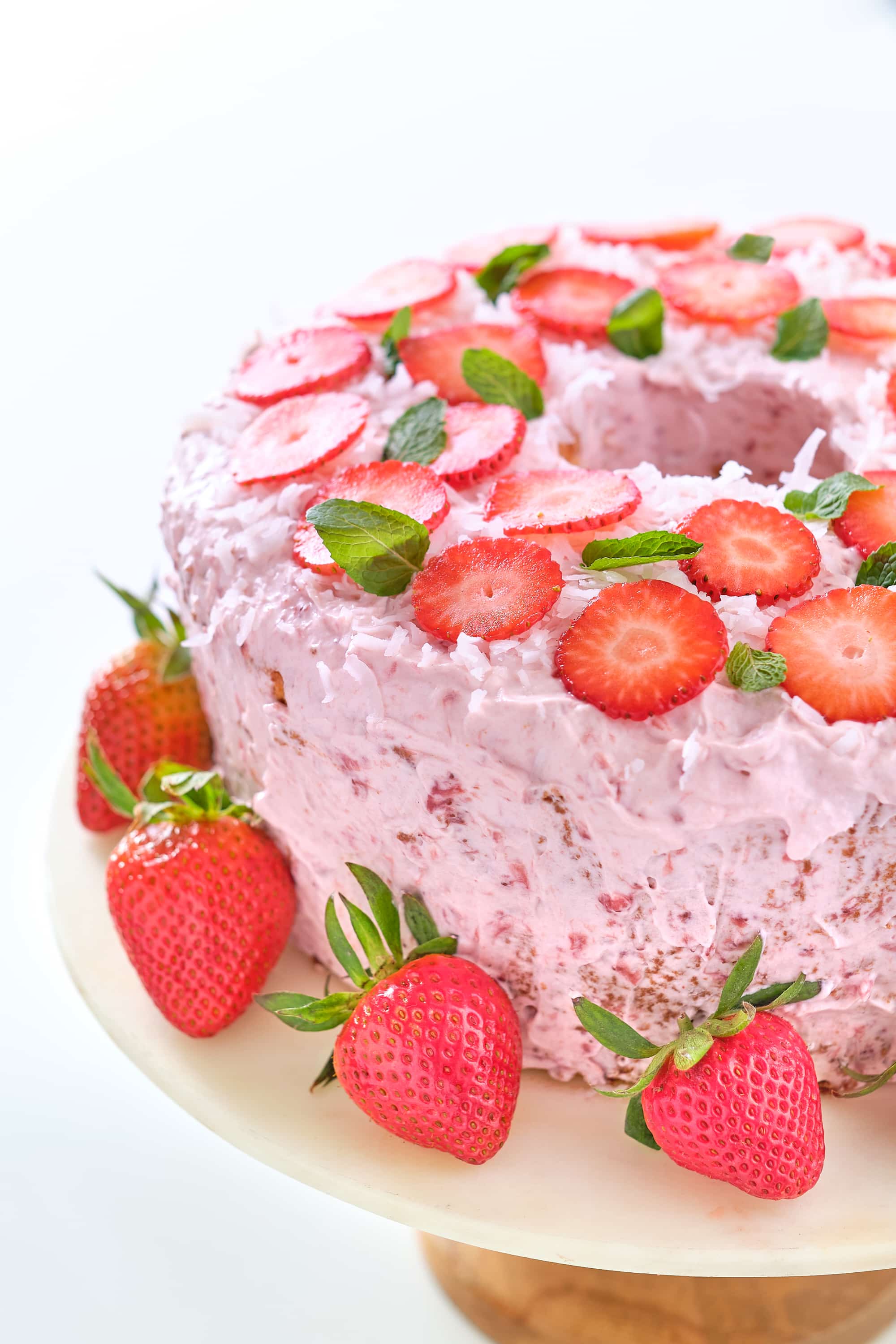 Angel Food Cake is essentially an egg white meringue with a little bit of cake flour to keep it stable. There's really not too many ingredients but there is a little care and attention required to make this come together. You'll need Room Temp Egg Whites, Cake Flour, Fine White Sugar, Fine Sea Salt, Cream of Tartar, Vanilla and Almond Extracts. And an Angel Food Cake Pan.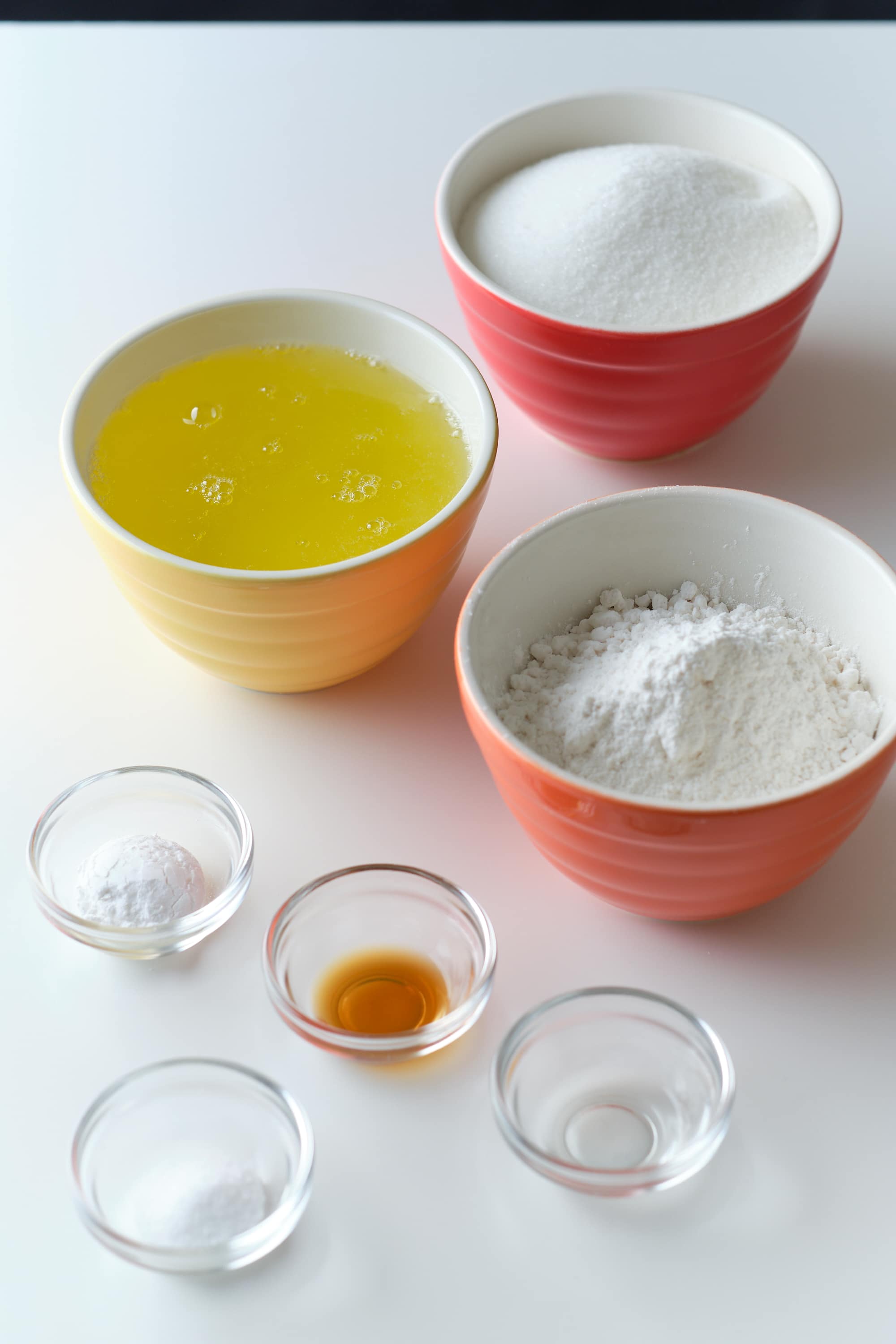 The Eggs
This recipe calls for 12 ounces of room temp egg whites. Depending on your eggs, that's going to be 10-12 eggs. I separate my whites from yolks just by cracking the egg in half and allowing the white to drop into a clean bowl as I transfer the yolk from one half of the shell to the other. If any yolk at all falls in with the white you've gotta toss it out. No yolks allowed! I use one small bowl to discard the yolks and another on a scale to weigh out 12 oz. Dump each egg white into the weighed bowl. Reserve the yolks for another recipe.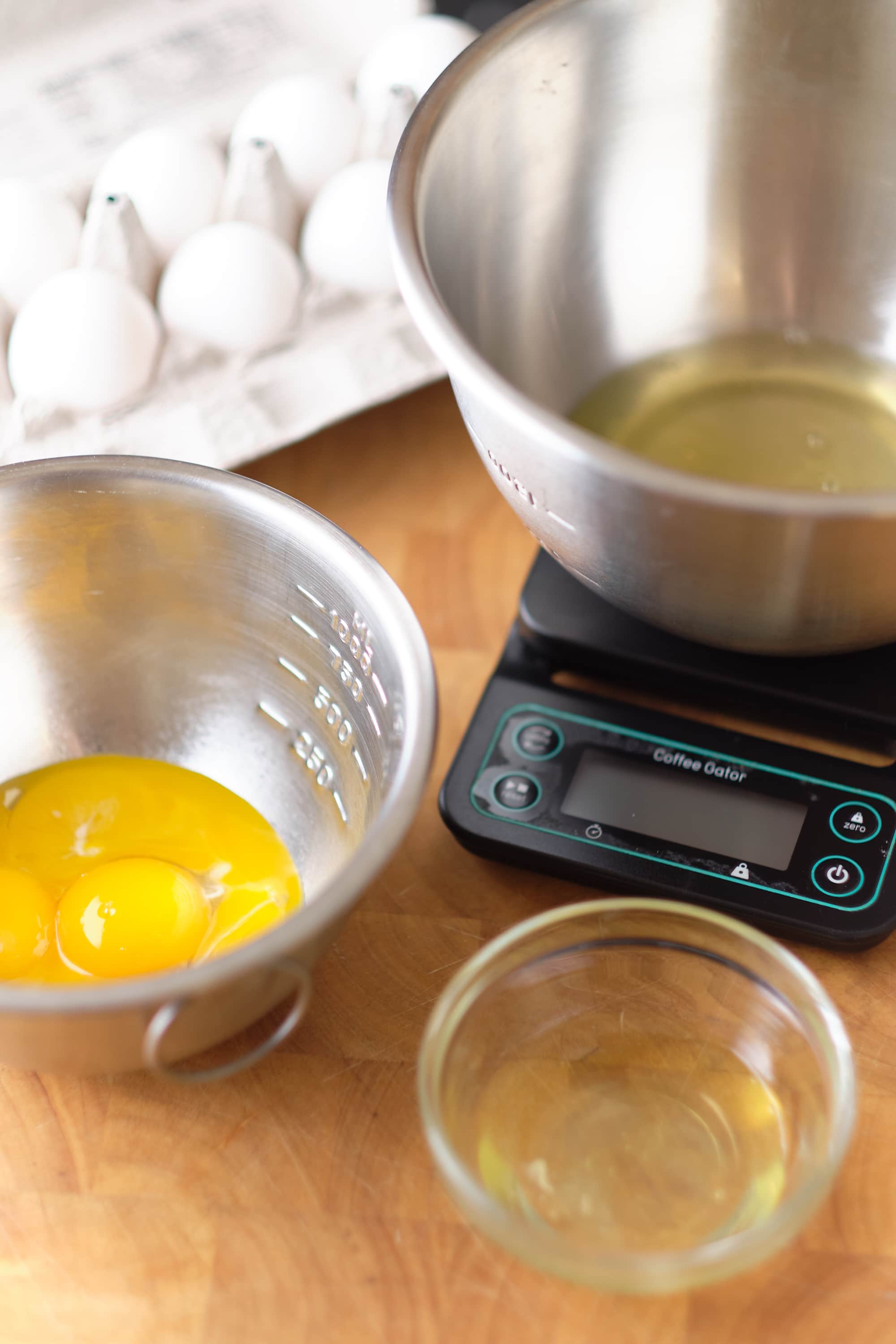 The Sugar
I tried this recipe with Demerara sugar. While that's great for the Strawberry Jam I made for the whipped cream, it's a no go for Angel Food Cake – it's too coarse and too sweet. Just use plain white sugar. For best results process the sugar in a food processor for two minutes. This fine sugar is going to dissolve much better in the egg whites. It's recommended that you sift the cake flour and sugar to reduce clumping and coarse particles. I didn't find that to be necessary.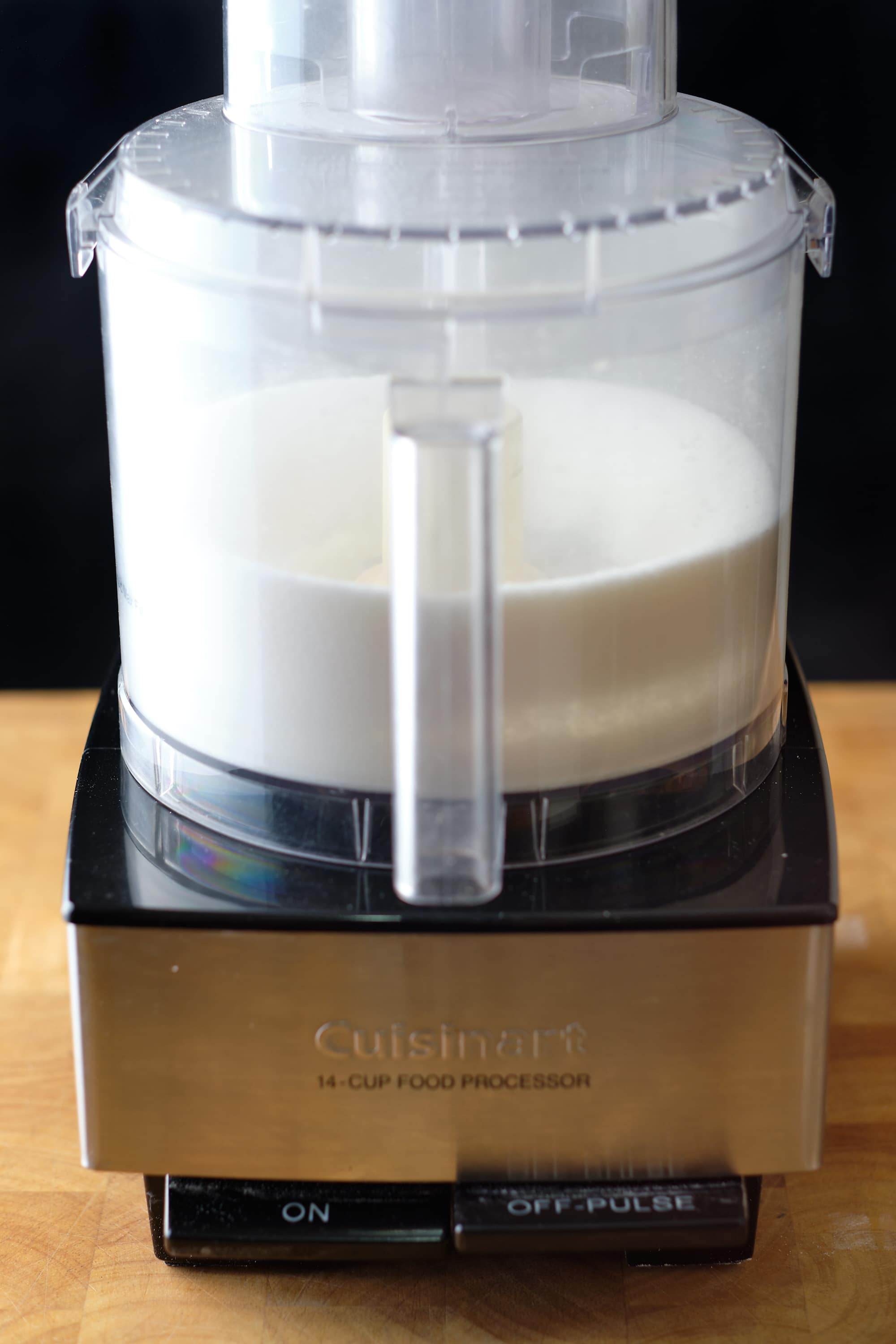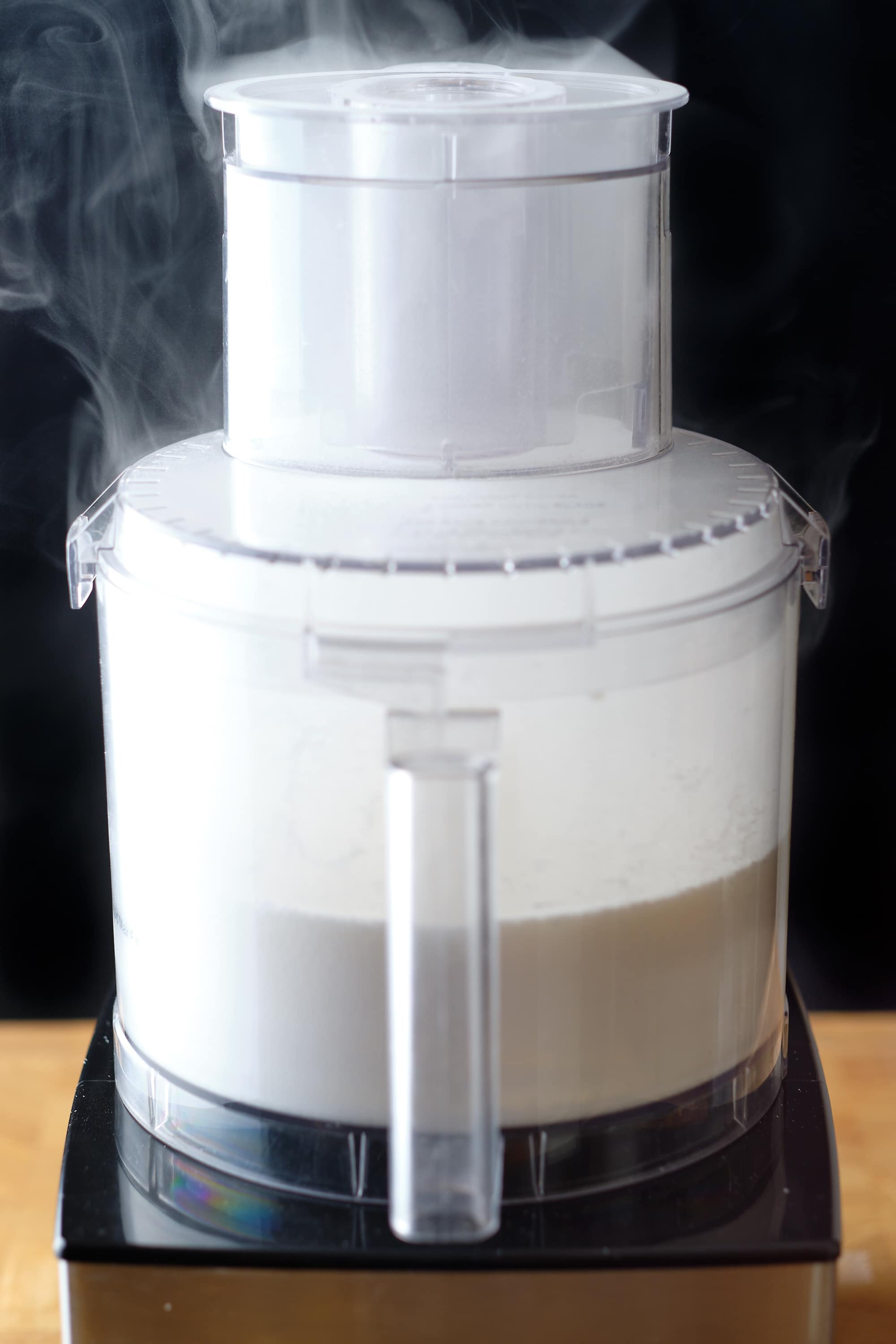 Whipping The Meringue
Once you've got your eggs separated and your sugar and flour processed the rest goes pretty easy. (1) Add the eggs to a stand mixer and whip just until foamy. (2) Toss in the cream of tartar, salt, and vanilla and almond extracts. Continue to whip on medium speed until the batter becomes opaque. (3) Gradually add in the sugar a couple tablespoons at a time. Allow the sugar to dissolve into the batter. Once you have some glossy soft peaks you can remove the bowl from the stand mixer. (4) Gradually fold in the sugar and cake flour mixture about one third at a time just until incorporated. While there's not too much flour in this recipe, you want to avoid risking any gluten formation by over-working the flour.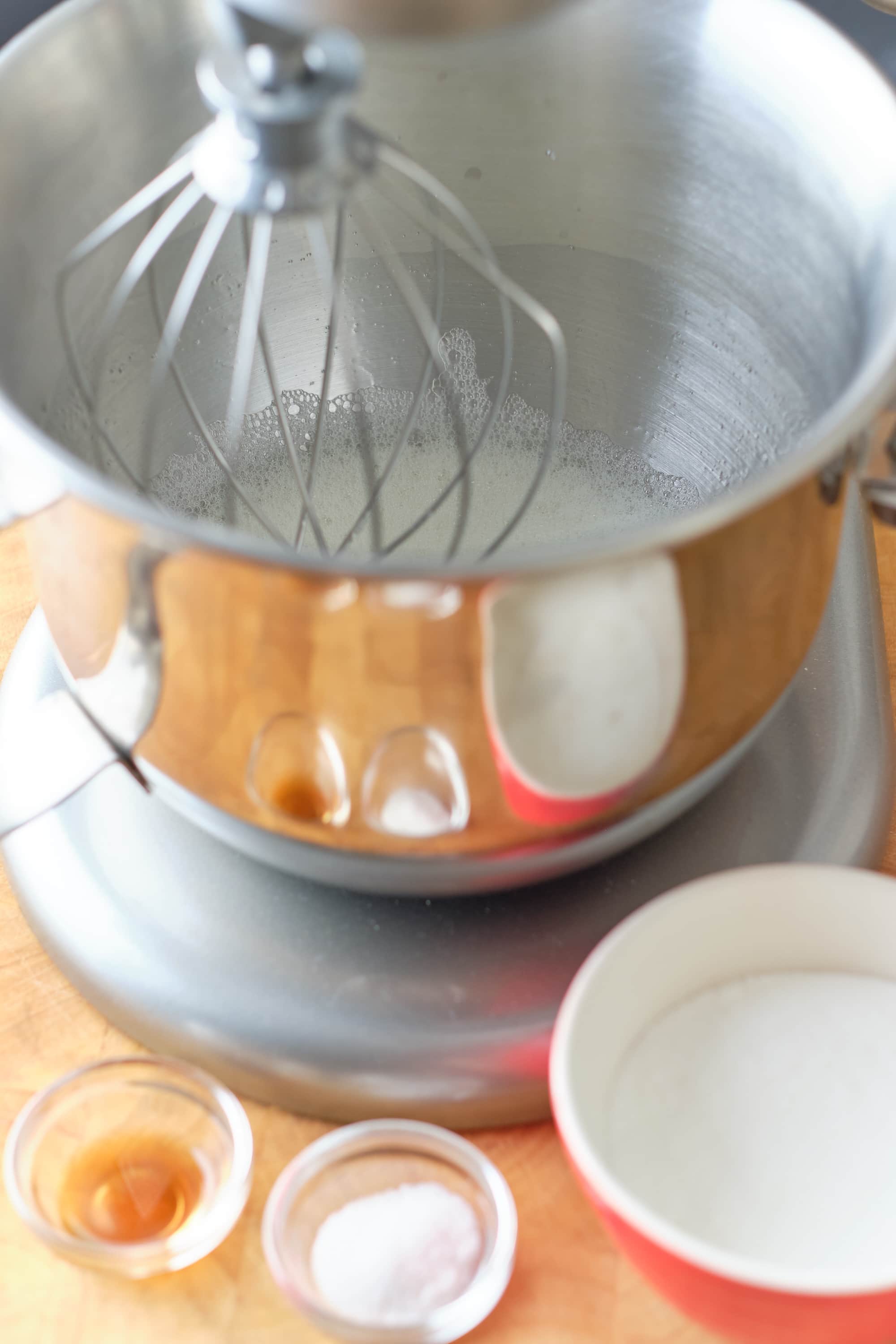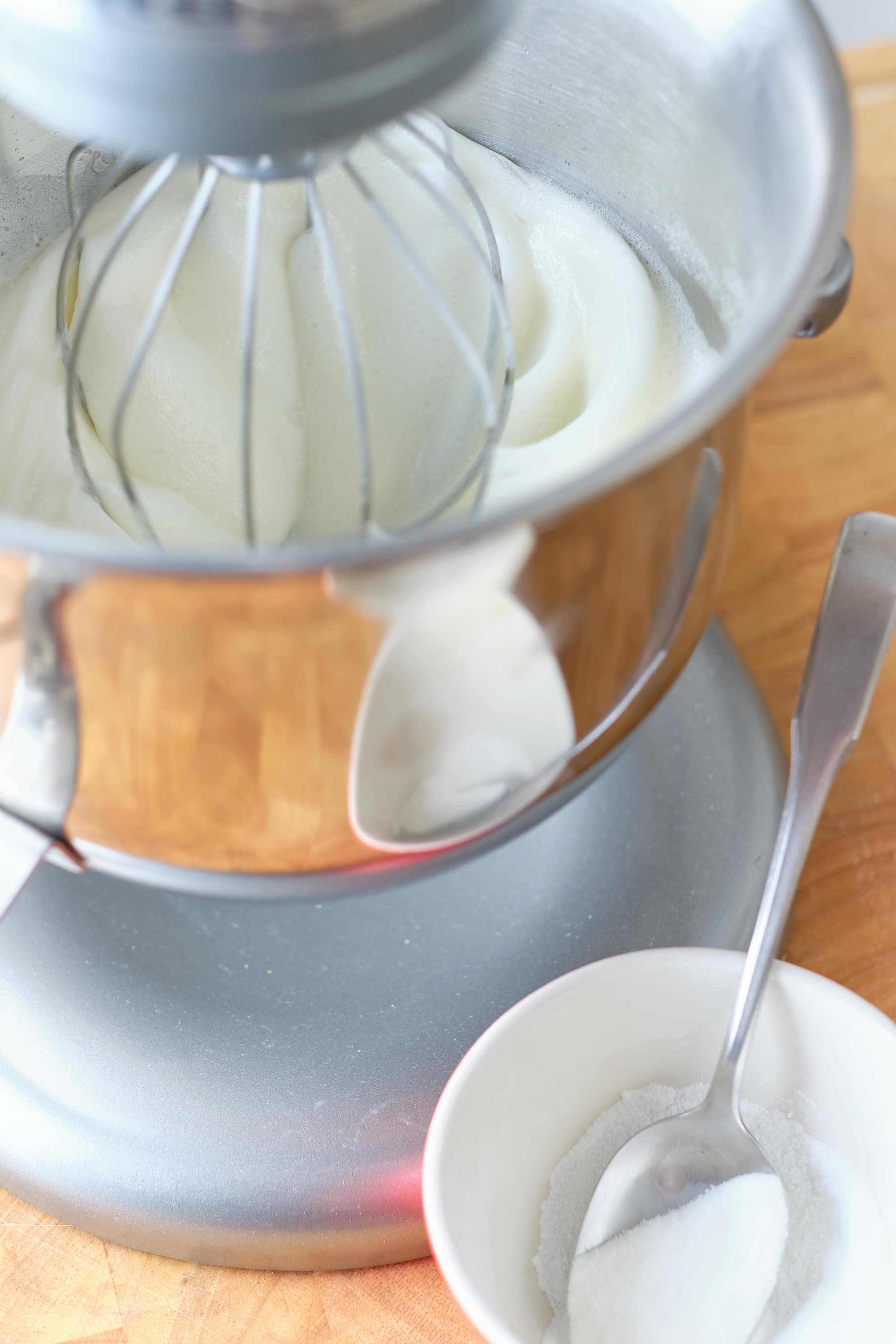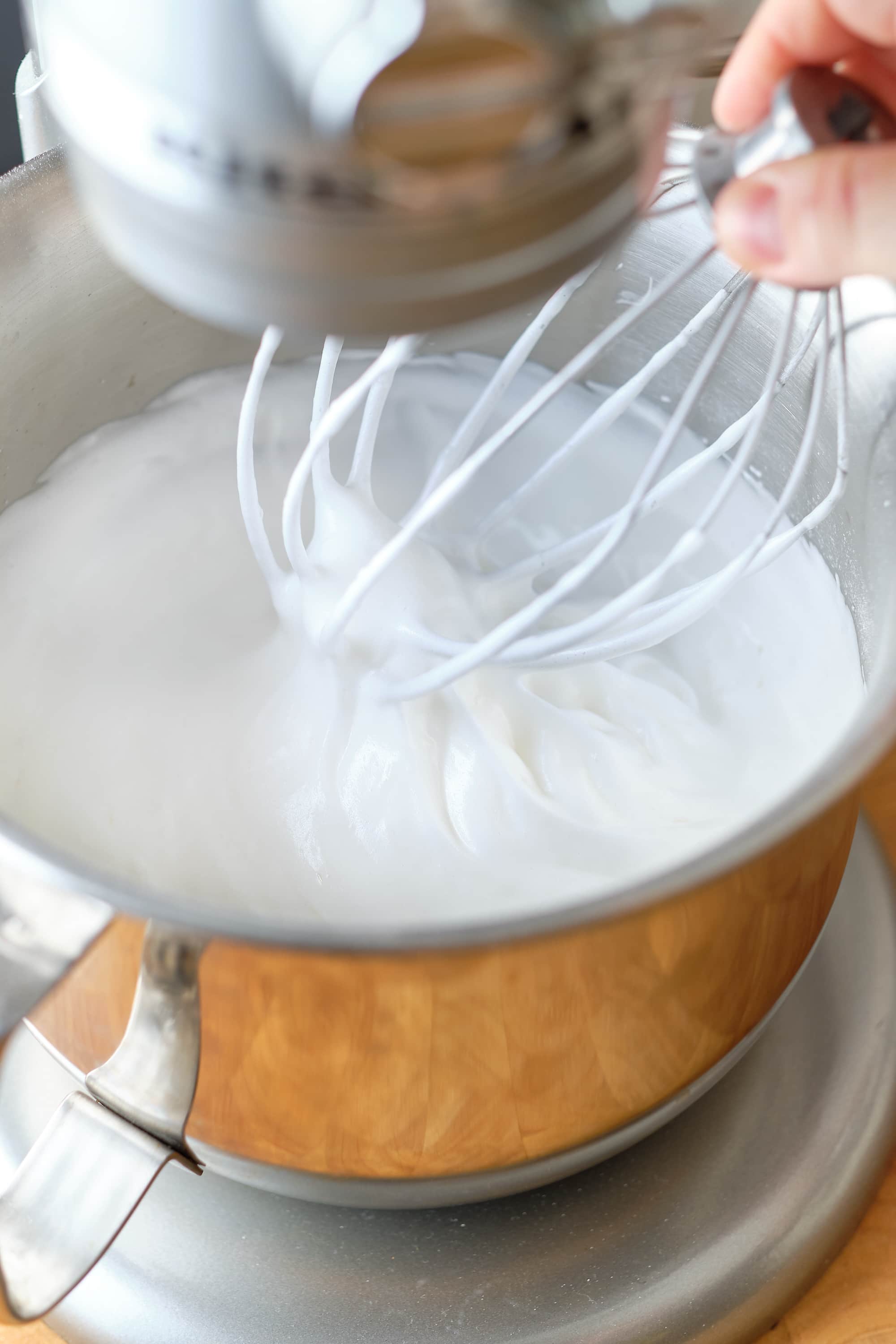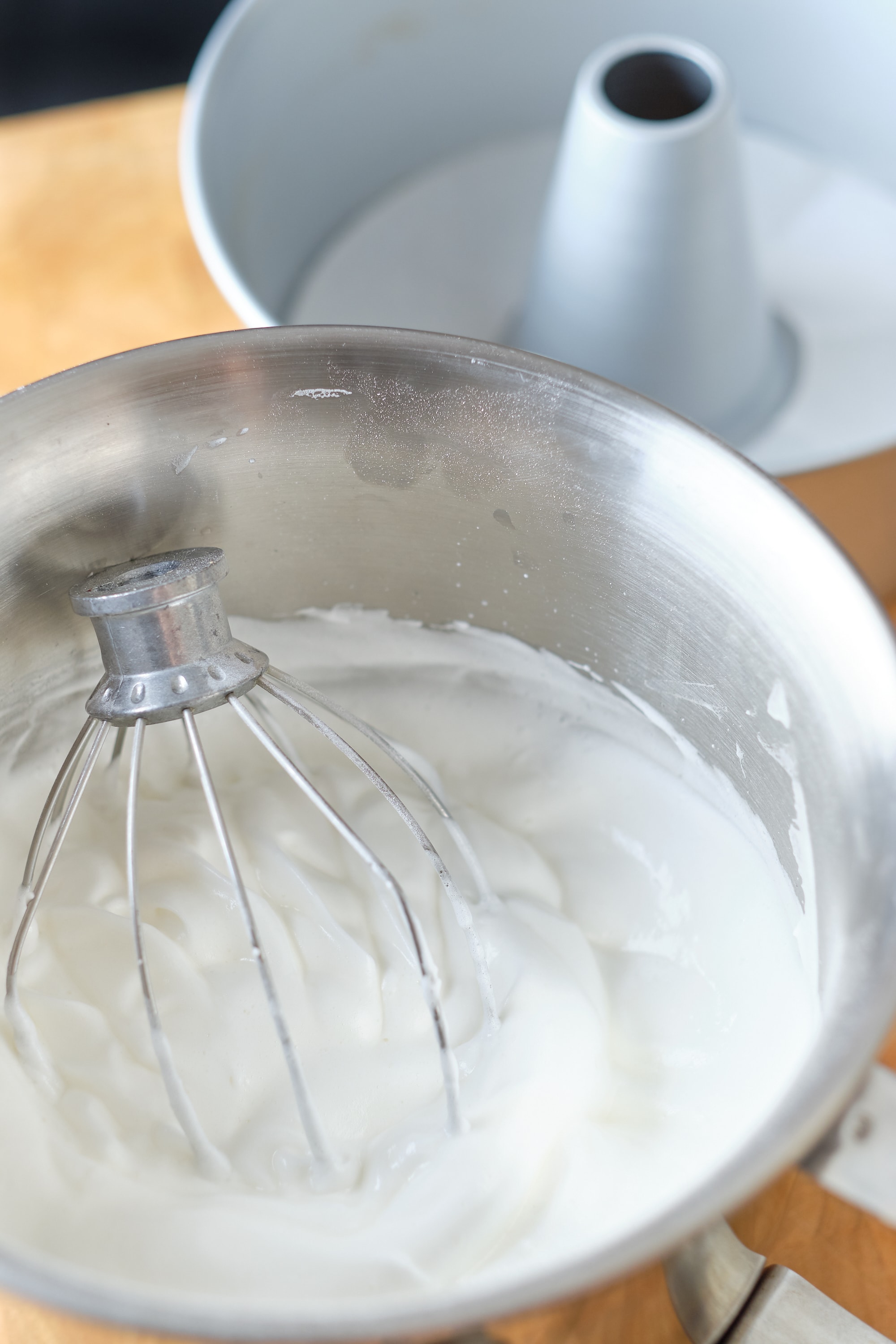 The Pan
One of a few critical points about making Angel Food Cake is that you mustn't add any fat at all. If you were to coat the pan with nonstick spray the meringue wouldn't rise. In fact, part of the reason you need a specific pan for Angel Food Cake is so the meringue can climb up the outer wall and the inner tube. The central airflow also aids in baking the cake more evenly.
There's a few different versions of the pan you can use to make Angel Food Cake. I bought a super basic one-piece nonstick tube pan at Target for this recipe. There's also two piece pans that come apart to make it easier to remove the cake. And there's pans that have little standoffs around the rim so you can invert it on the counter for cooling. Be sure to turn your pan upside down immediately after removing it from the oven. This ensures it doesn't collapse on itself. I didn't have any issue with my basic pan but those standoffs would be nicer than trusting my balancing skills on an inverted glass.
To prep my pan I cut out a donut of parchment paper to place on the bottom. This ensures that the bottom of the cake doesn't stick to the pan. Once the cake has cooled you'll need to run a knife or offset spatula around the outside of the cake to separate it from the pan. The cake should plop right out, if all goes well, then you can peel off the parchment from the bottom. Piece of (Angel Food) cake!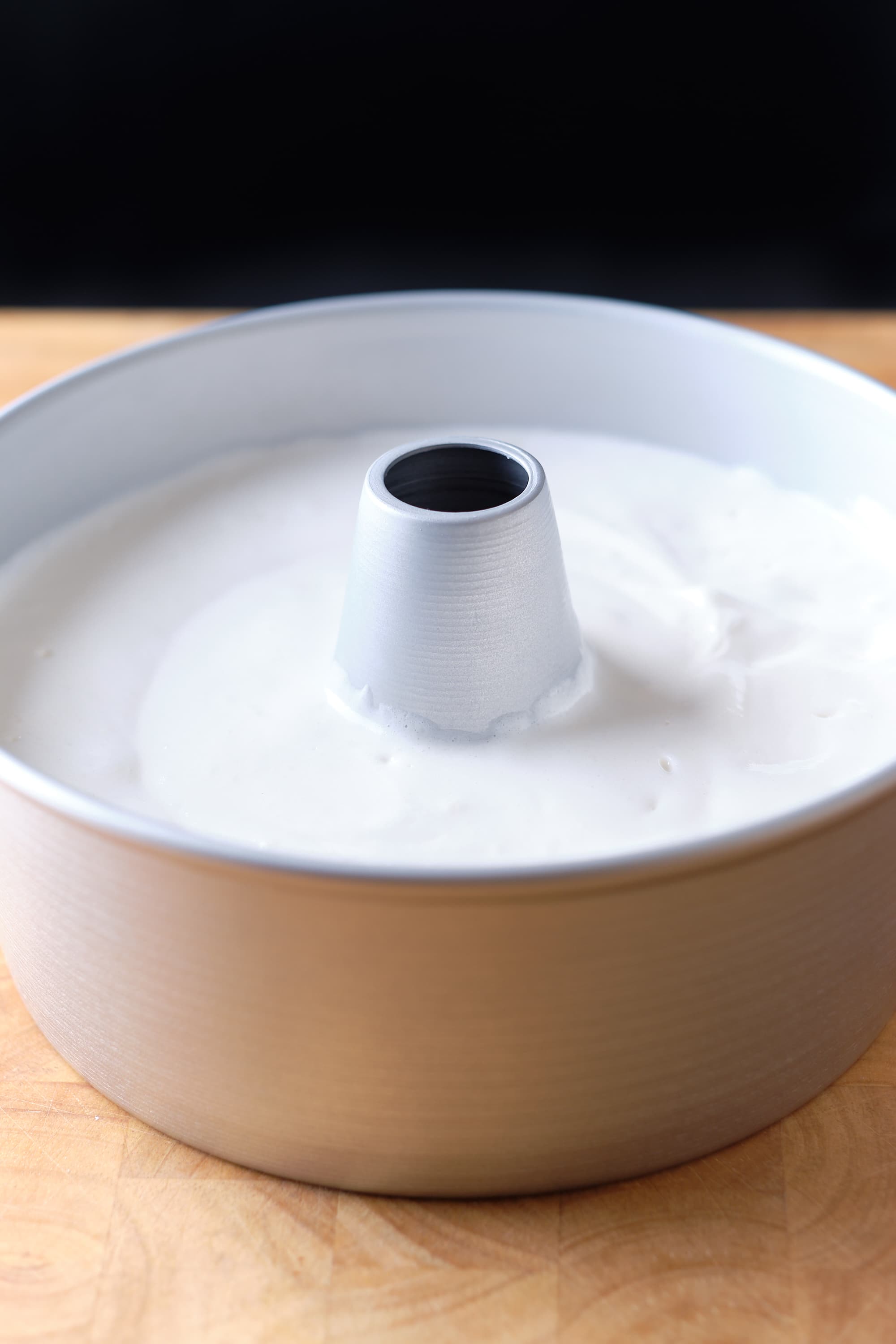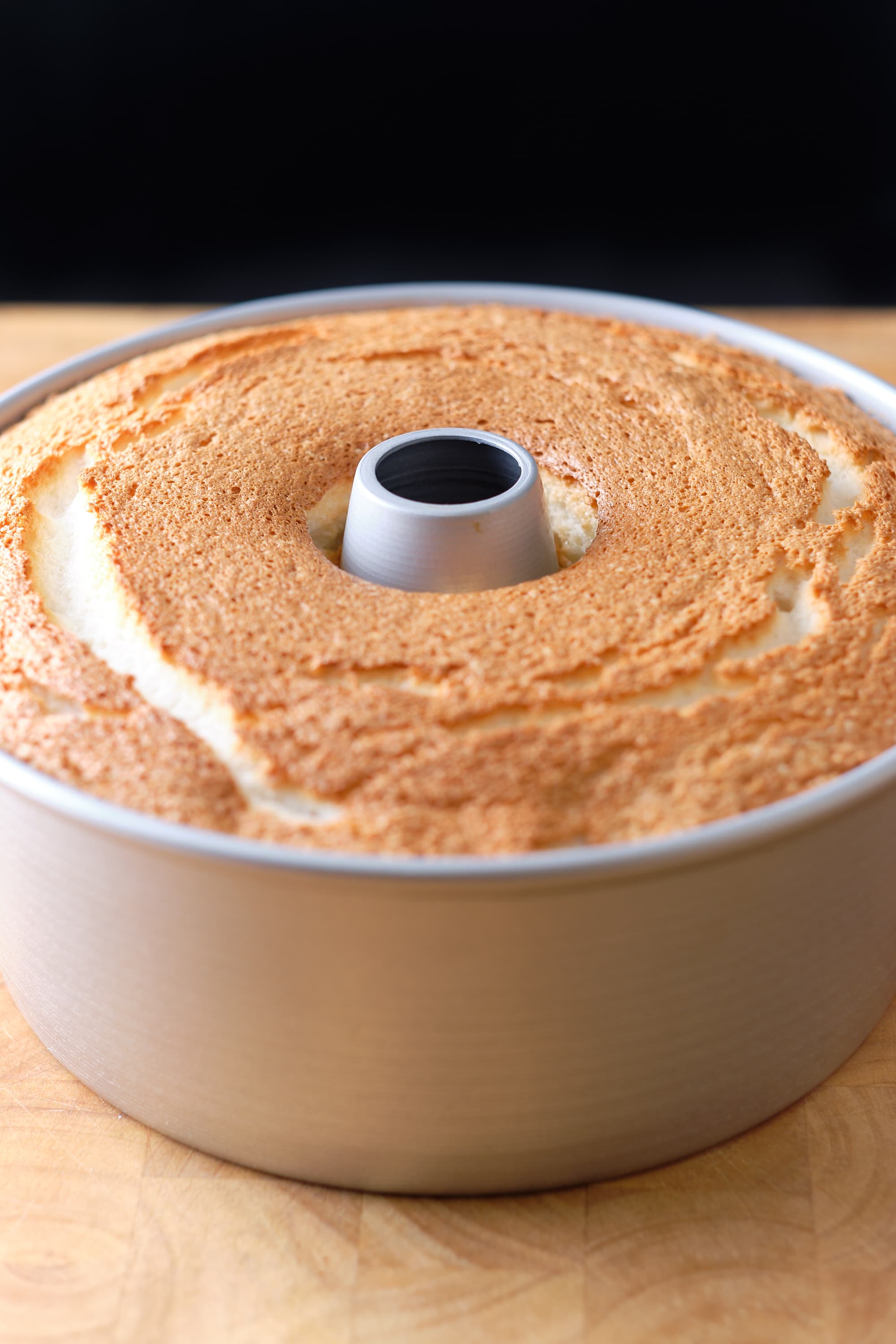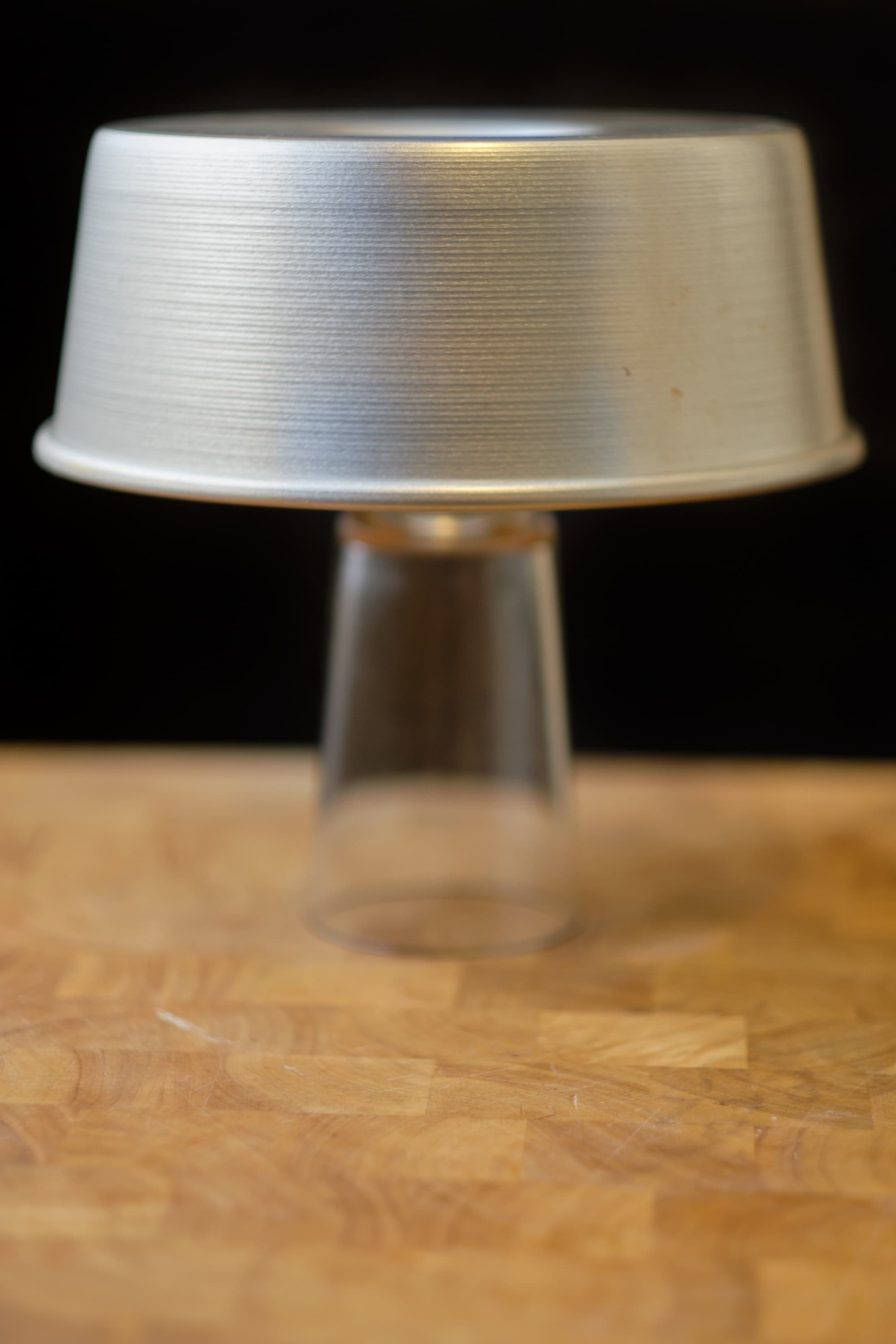 Cake Toppings
This cake is really, really good all on it's own. And, by itself, it's entirely fat and dairy free. On the other hand, who doesn't like whipped cream and strawberries and coconut on their Angle Food Cake?
You could easily make strawberry whipped cream mixing strawberry preserves and a tub of store-bought whipped cream. But, if you're going through the trouble banging out this gorgeous Angel Food Cake, wouldn't you want to make the whipped cream from scratch? Check out my recipe for Homemade Strawberry Whipped Cream.