This Asparagus Soup (cream optional) is light and loaded with spring time freshness. Instead of grilled, broiled, fried, or even worse, boiled Asparagus, how about a nice clean cup of soup!
There's no doubting that Spring is Asparagus season. It's also pea season and there's radishes, fiddlehead ferns, and stinging nettles. But Asparagus is also and arguably mostly spring's favorite vegetable. There's a lot of things you can do with Asparagus but it seems most people stick with broiled and grilled. I like broiled and grilled Asparagus. It's super great with lemon zest and garlic and olive oil. Yum! But I just got done with winter where the four or five things that were coming out of the ground all season where either boiled, broiled, or roasted – yes, I'm looking at you tubers! How about something a little more refreshing and light as the weather starts to warm up and we try to fit in to last year's t-shirts.
I like to think that most soups are pretty easy. You have a pot where you heat up some vegetables then you simmer some liquid and add some seasoning and you're done. Anyone and everyone should be able to make a basic vegetable soup. This soup isn't all that special other than it has a ton of asparagus and we're going to use an immersion blender. Make sure you get some locally farmed spring-fresh asparagus. It's good for your local economy, the environment, your tummy and most importantly your taste buds. If you buy less than stellar vegetables you'll find you need to over compensate with fats, sugars, and/or salts.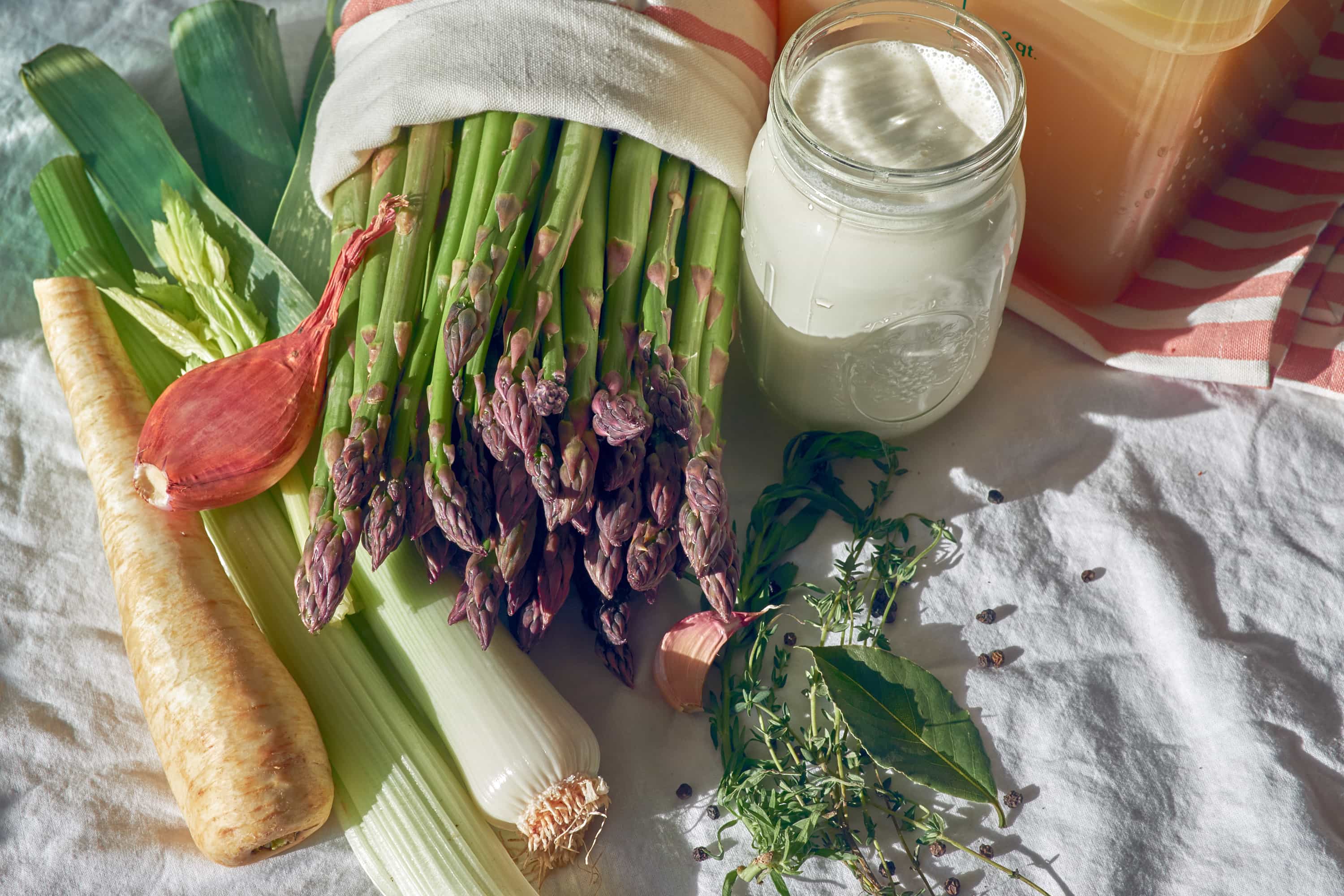 There's a fair bit of chopping for this recipe. Find yourself a nice playlist and take a half hour to do some chopping. I've been listening to Rob Swift – Who Sampled This? and Pink Martini – Je dis oui! (youtube links). Hey – what music service do you guys like the most? I use Apple Music mostly. Anyway, let's get chopping!
This recipe calls for about a half cup each of leeks, celery (or celeriac), parsnips, and shallots. This is a riff on a white mirepoix which is used for light colored soups. I used celery but if you can find celeriac / celery root, that would be best as it adds more body to the soup.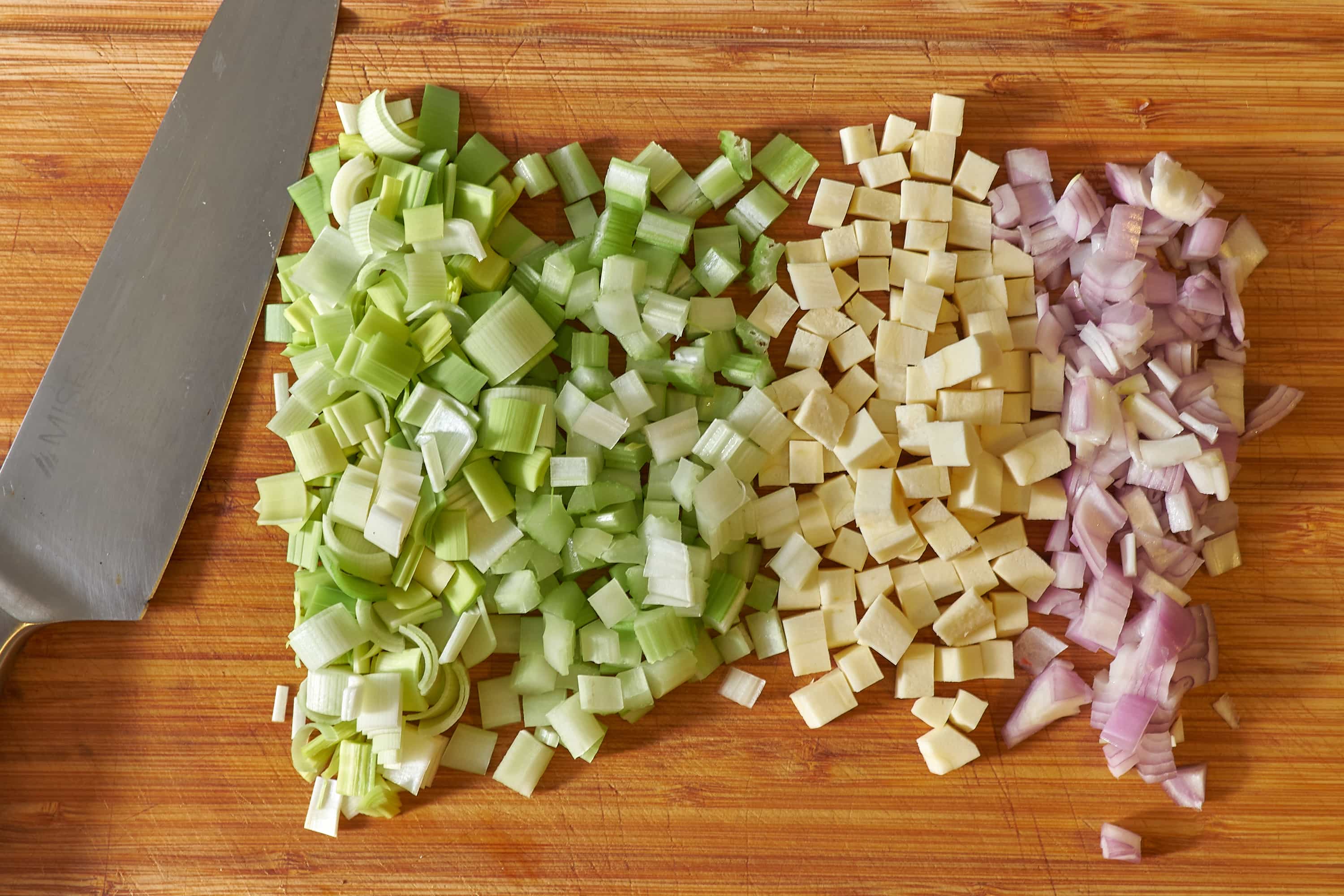 Make sure to wash your asparagus really well. Fill a big bucket with fresh cold water and give the asparagus a ruffin up. We have about 3 pounds of asparagus to clean and chop in to one inch lengths. Remove the tips and reserve for later. Trim the bottom of the asparagus to remove the woody parts. I find it pretty easy to just look at the stalk and see where the woody part (white) stops and the tender part (green) starts.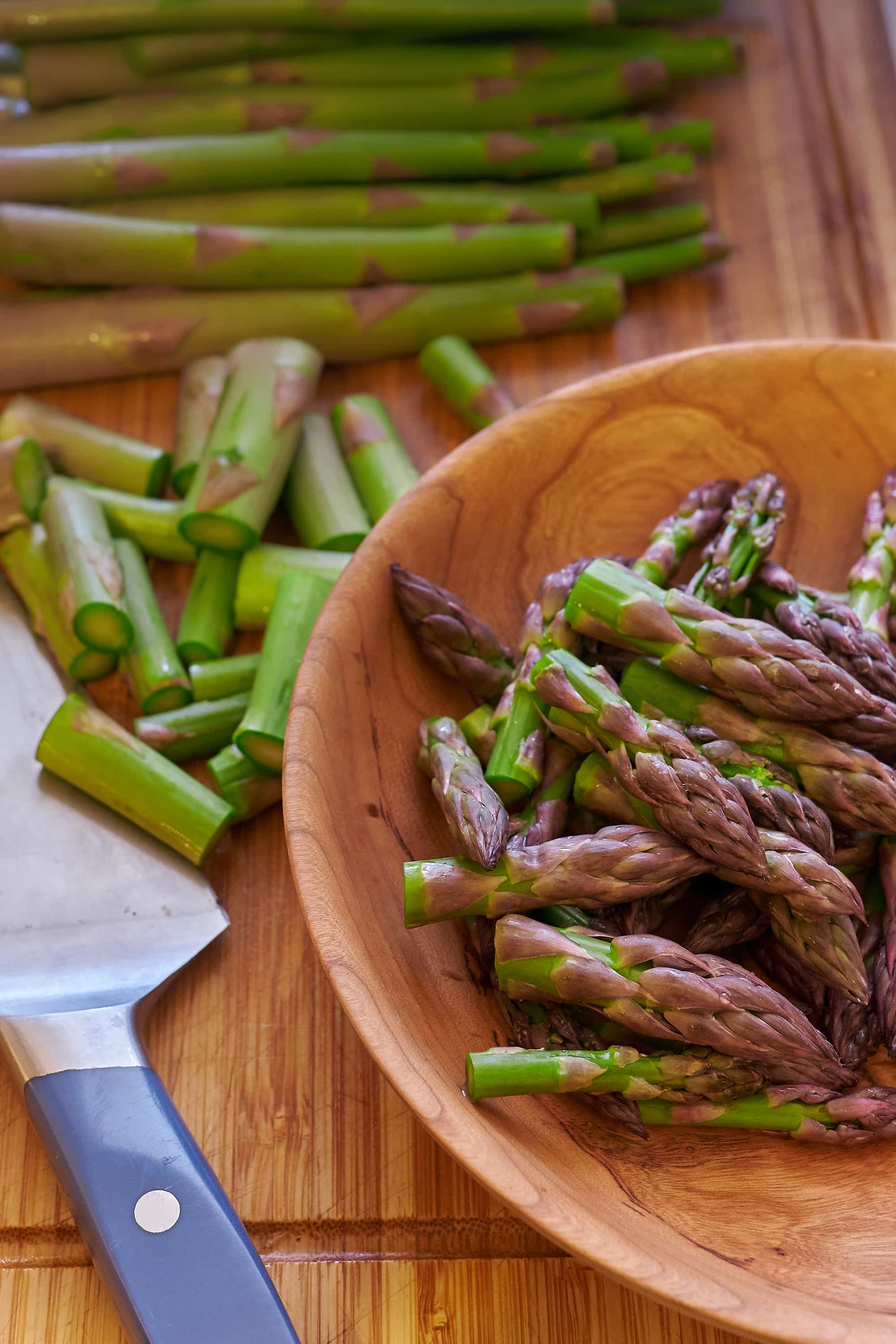 Finally, we can prep a little satchel of herbs to go for a soup swim. I just tore off some cheese cloth to wrap up some parsley stems, black pepper corns, tarragon, thyme, and garlic. Be careful with the garlic and tarragon as they could easily over power your light and spring time refreshing asparagus soup.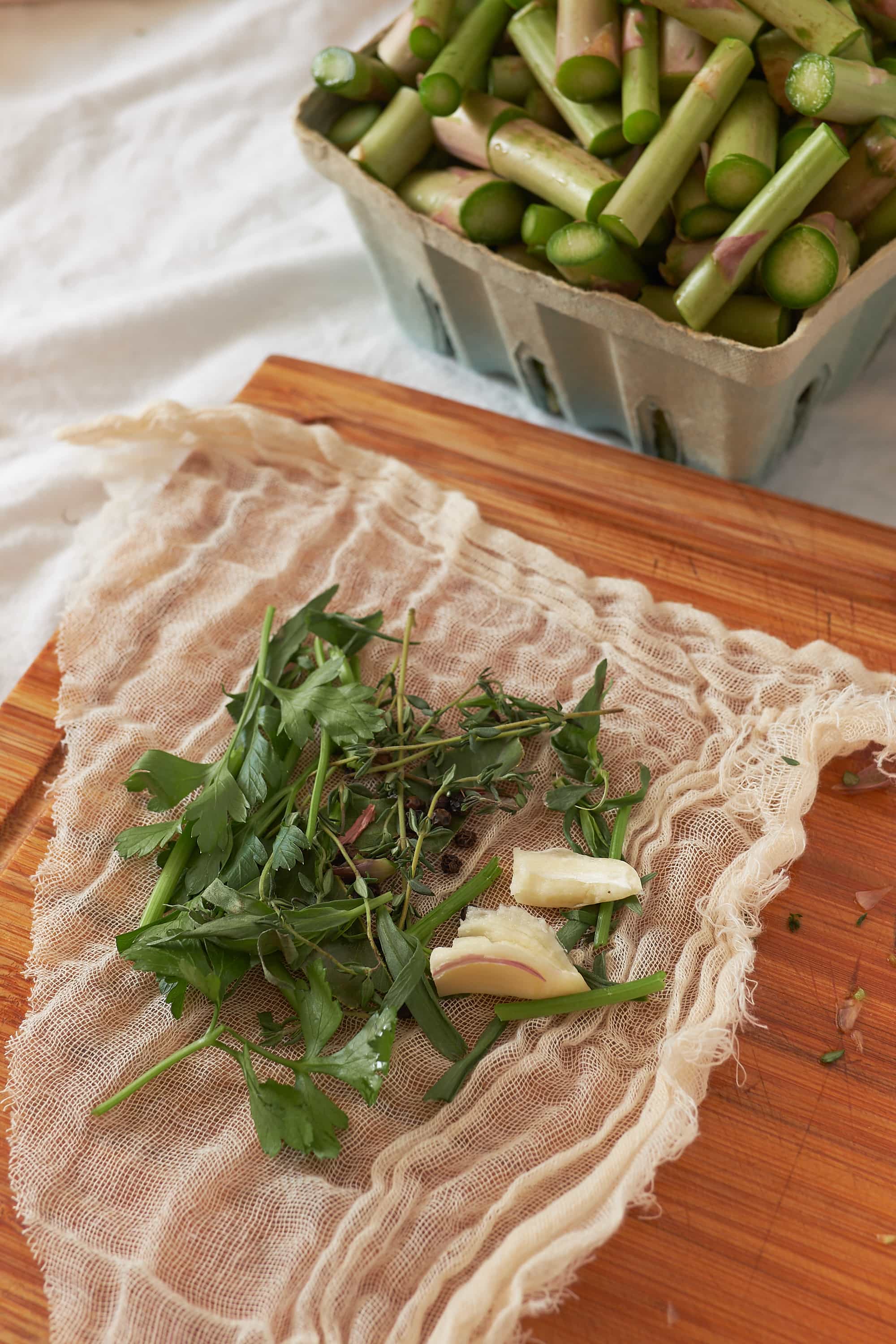 Once all the veggies are chopped we can get to the stove top. Heat some vegetable oil or clarified butter in a large stock pot over medium heat. Add the mirepoix, cover the pot and allow to sweat for about 5-6 minutes stirring occasionally. Do the same with the asparagus and sweat until tender – about 15 minutes. Stir in 3 quarts of chicken stock and the herbs then simmer over low heat for about 30 minutes or until the asparagus is very tender.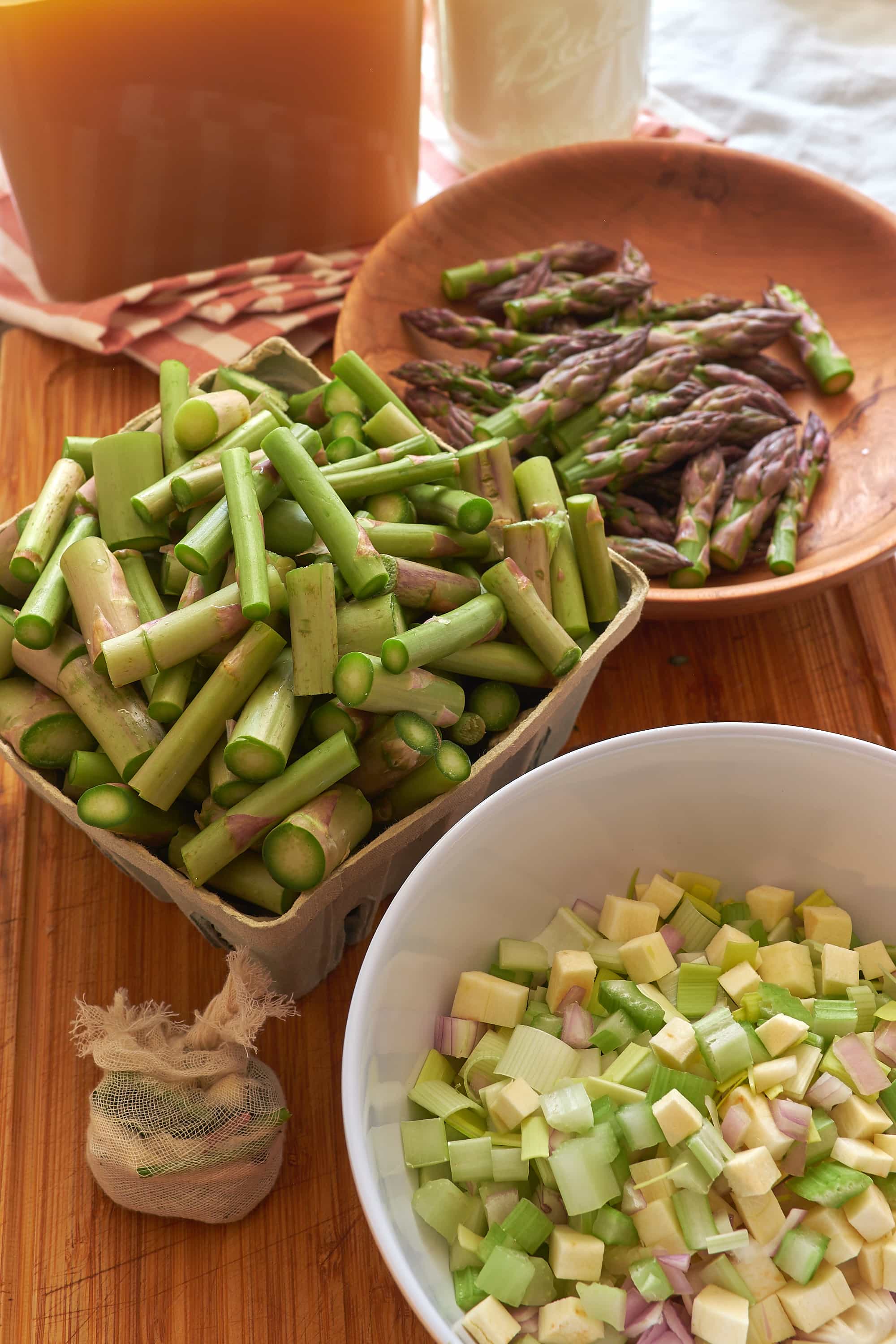 While the soup os cooking you can prep the asparagus tips. Bring a small pot of salted water to boil and blanch the tips for 30 seconds. Transfer to ice water to stop the cooking. Keep the small pot handy as well use this to reheat the tips just before serving.
Almost done! Remove the herbs. Insert immersion blender. Blend until smooth. Asparagus can be quite fibrous and woody. No matter how well you blend it it's going to have some left over gunk that would just ruin your beautiful spring afternoon. Get another stock pot or otherwise large vessel along with a fine mesh strainer. Strain the soup to remove all the pulp. Use a ladle in the strainer to push the soup through.
At this point your soup is ready to go. If you'd like you can add some cream just before serving. For every 2 cups of simmering soup whisk in 1/4 cup of heavy cream. Season with salt to taste. Maybe serve with a little bits of fried prosciutto!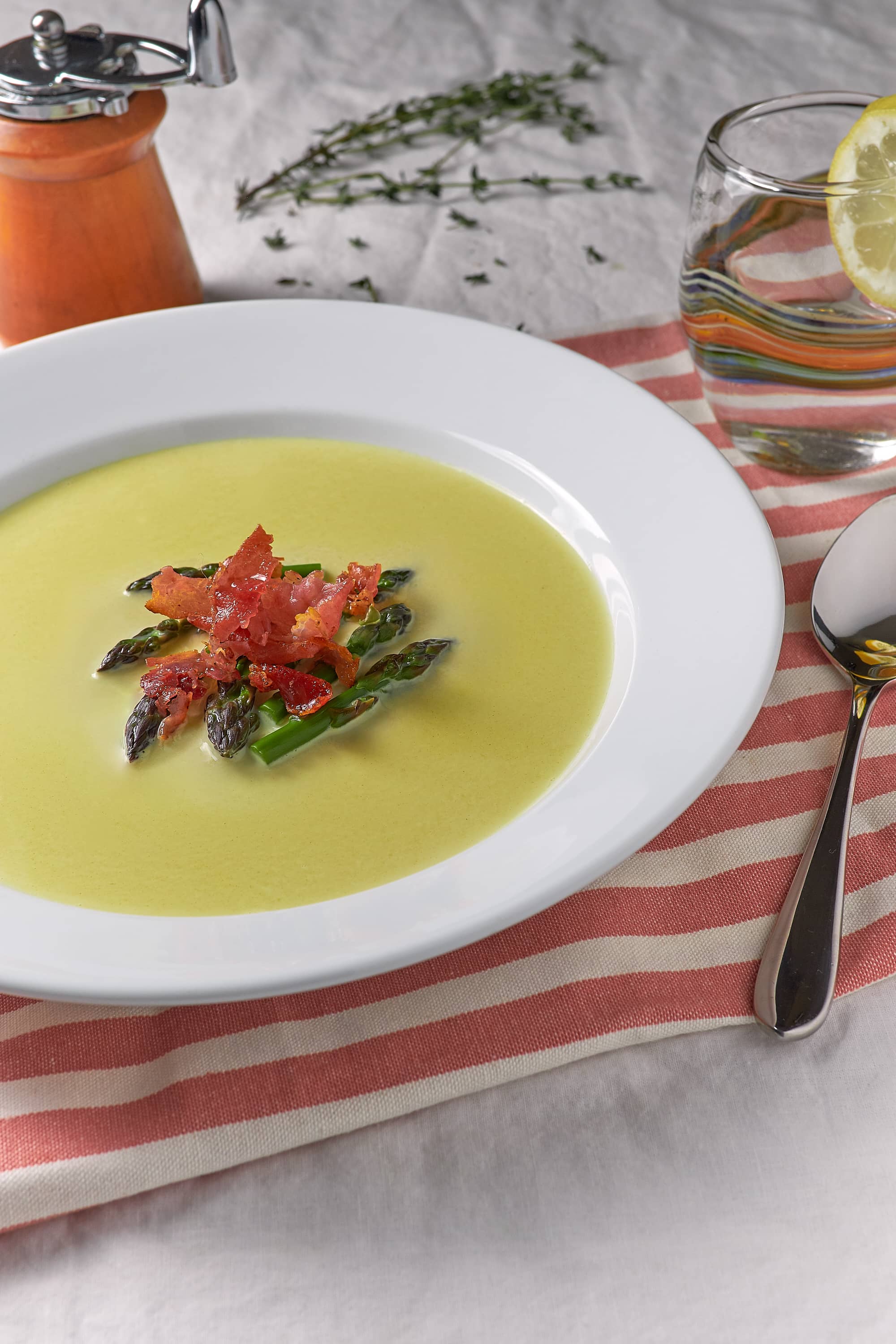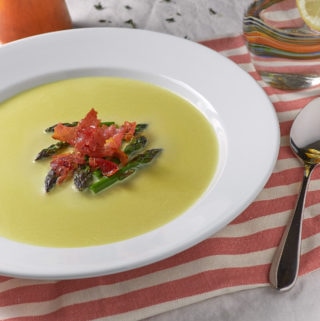 Asparagus Soup
This Asparagus Soup (cream optional) is light and loaded with spring time freshness. Instead of grilled, broiled, fried, or even worse, boiled Asparagus, how about a nice clean cup of soup!
Ingredients
1/4

cup

vegetable oil

1/2

cup

finely chopped leeks

1/2

cup

finely chopped celery or celeriac

1/2

cup

finely chopped parsnips

1/2

cup

finely chopped shallots

3

lbs.

spring asparagus

3

parsley stems

1

clove

garlic

smashed

3

springs thyme 

1

spring tarragon

1

tsp

pepper corns

3

quarts

chicken stock

1

pint

or 1/4 cup per 2 cups heavy cream

optional
Instructions
Prep vegetables. Finely chop leeks, celeriac, parsnips, and shallots. Thoroughly wash asparagus, trim and reserve tips, trim woody bottoms and cut remaining stalk in to 1 inch pieces.

Heat 1/4 cup vegetable oil in a stock pot over medium low heat. Add leeks, celeriac, parsnips, and shallots and sweat in a covered pot for about 15 minutes until almost tender, stirring occasionally. Do not allow vegetables to brown.

Add asparagus and cover pot to sweat for about 30 minutes, stirring occasionally.

Securely bundle herbs in a cloth satchel and toss in to pot with vegetables. Add chicken broth and bring to a simmer. Reduce heat to maintain low simmer. 

Once asparagus is very tender, remove the herbs and taste for salt. Use an immersion blender to make smooth very smooth without any lumps. 

Transfer soup to another large container using a fine mesh strainer to remove all pulp. 

If serving right away, return soup to heat and whisk in cream if desired, about 1/4 cup per serving, and serve hot. 

If reserving to serve later, transfer to soup to refrigerator. Bring up to temp on stove top and whisk in cream, about 1/4 per serving, prior to serving.
Notes
Serving suggestions: Serve with pan fried prosciutto crumbled on top. Serve with fresh springs of thyme. Serve with freshly shaved manchego cheese.