There's nothing fancy about Cheesy Mac and Beef. It's an inexpensive one-pot comfort dish to make any night of the week. I like to have a small bowl for dinner then snack on the rest straight from the fridge.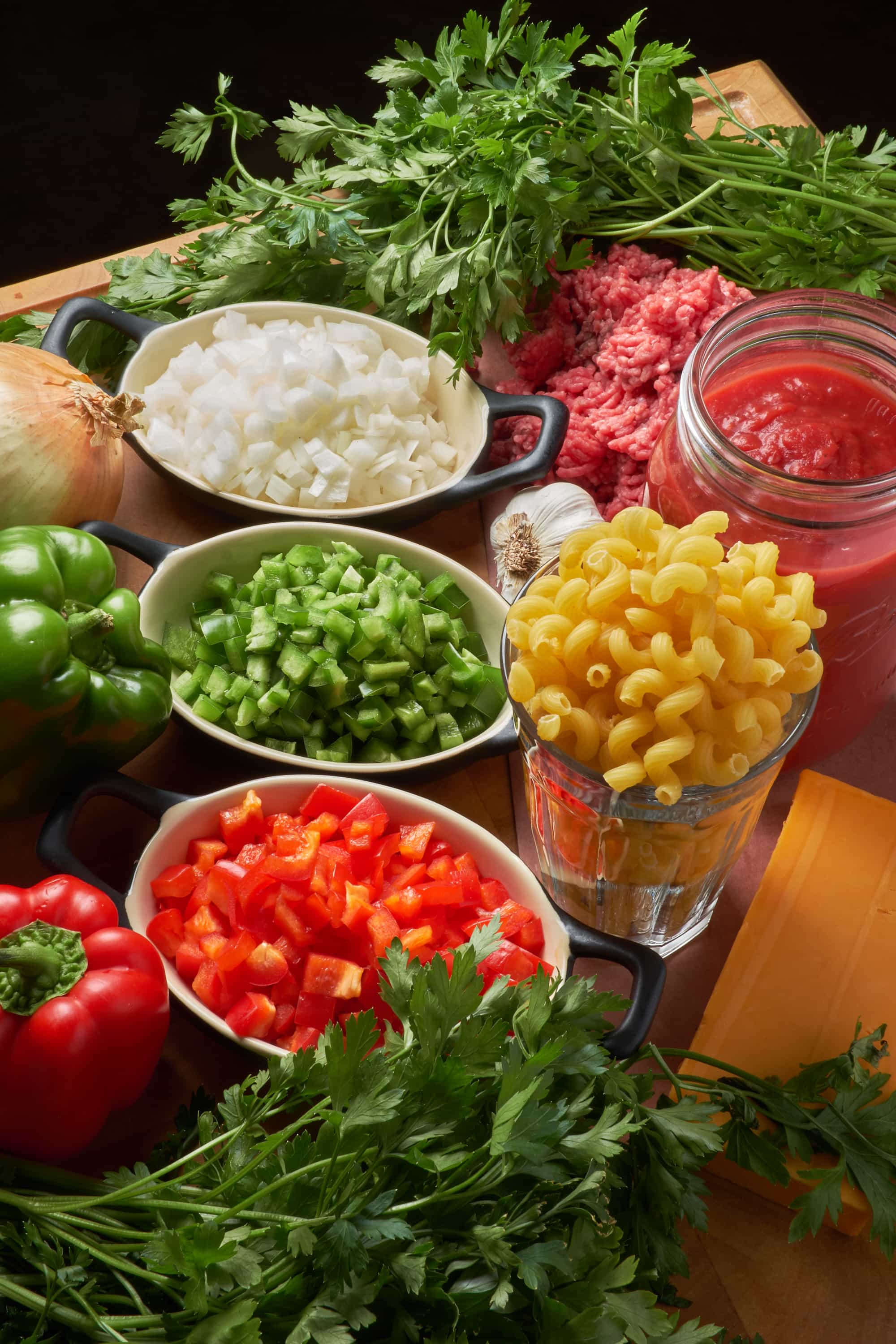 Let's talk about pasta. You may think your standard elbow macaroni is the way to go here. Meh. Let me introduce you to Cavatappi and Cellentani. These two pastas are actually the same thing – ridged double spiral tubular pasta. Different regions of Italy and different pasta brands will call them something different. I'll be using Cavatappi because the brand I used calls them that. I always try to use Cavatappi in place of elbow macaroni. They're so much better at wrapping around what ever sauce, or vegetable, or meaty ragu you've submerged them in.
Not only do Cavatappi wrap themselves around your food like little pythons strangling their prey ?, they have rigati. Rigati are those ridges going down the length of the pasta. They're there for your sauce to cling to. Keep an eye out for rigati/ridges when you're shopping for pasta to put in a sauce. If sauce-cling is your thing, you should also keep an eye out for pastas that use bronze extruders. Contrary to teflon-coated extruders designed for fast throughput, bronze extruded pasta is pushed out a little slower giving the pasta micro texture for ultra sauce-cling.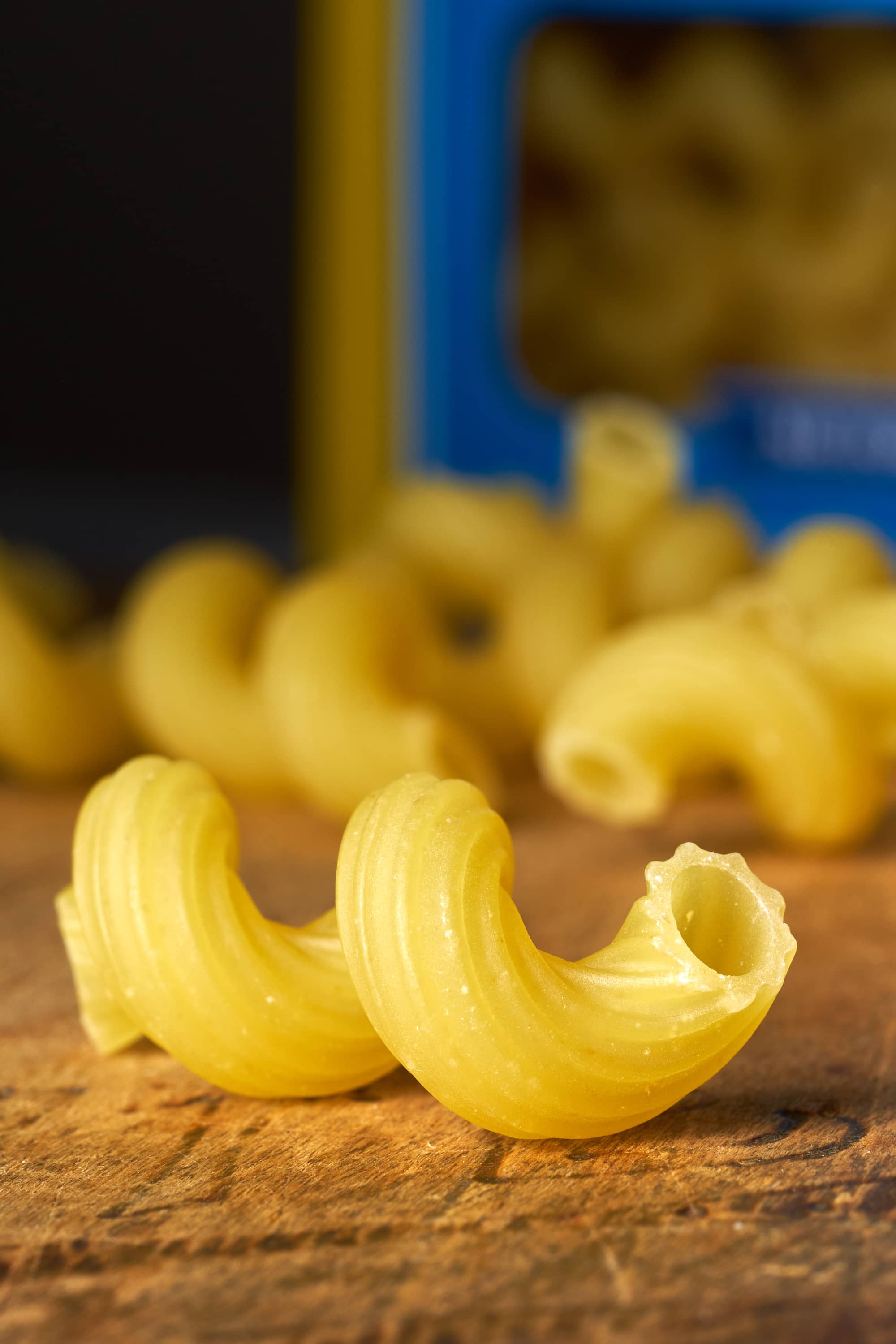 I like this recipe because it's a one-pot deal that takes less than 30 minutes. Get yourself a nice size sauté pan and start sweating the garlic, onions, and peppers. When they're about halfway done, just nudge them to the side of the pan and add a pound of ground beef. Use a wooden spoon to break the beef in to small bits. As they beef starts to brown you can mix it up with the peppers and onions and taste for salt and pepper – add some chili flakes if you like it spicy. Now take your dried Cavatappi pasta and mix it right in the pot. Cover everything with 28 ounces of crushed tomatoes and 12 ounces of water. Get it all mixed and stirred up then cover the pot with a lid. Let the pasta cook for about 15 minutes and check to see if it's al dente. Leave the lid off, add some freshly chopped parsley and let it cook a couple more minutes for the sauce to reduce. Turn the stove off and add cheese. You know what's up. Freshly grate as much cheddar as you'd like (4 ounces is good) and stir to melt in with all that mac and beef.
Don't you dare use any of that fancy cheese! This four serving dinner should cost less than $15 total. Top with more cheese, finely chopped parsley, hot sauce, sour cream, scallions, chives, and/or sriracha. Some butter fried panko would be awesome too! Melt a couple tablespoons of butter in a pan and lightly brown some panko with salt and pepper. Sprinkle on top of Cheesy Mac and Beef. I wish I thought of panko when I made this the first time.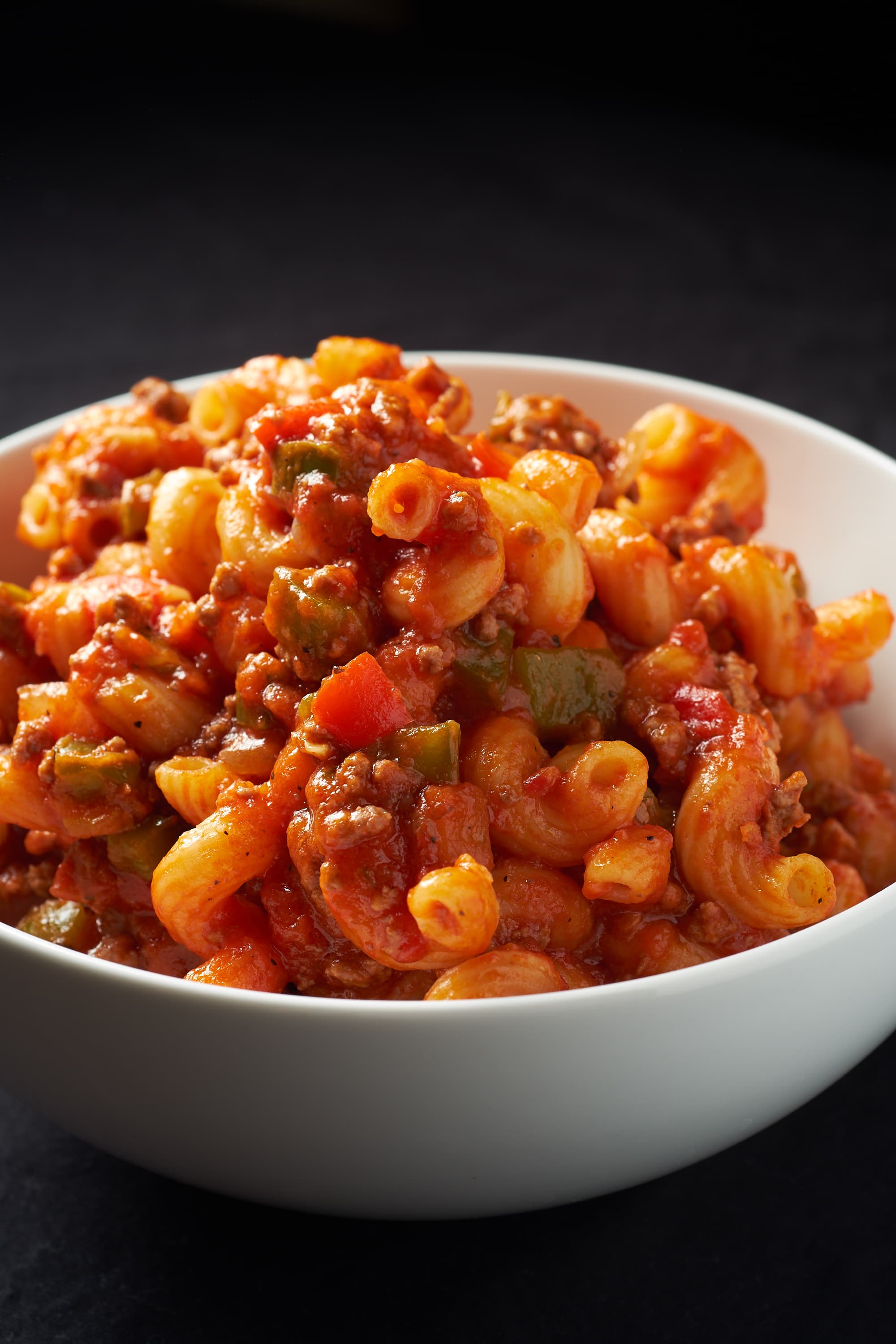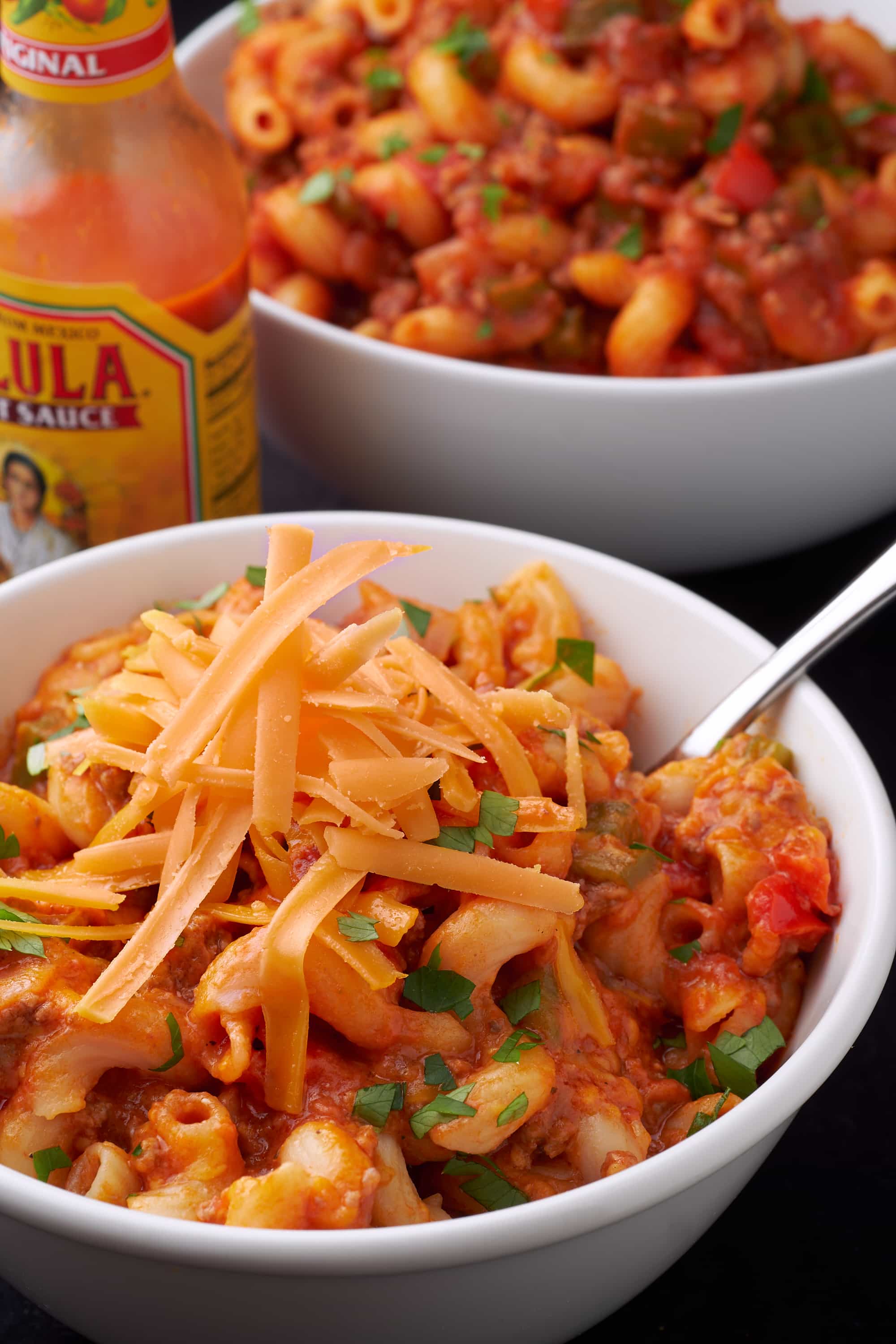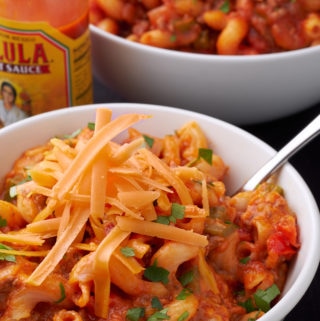 Cheesy Mac and Beef
There's nothing fancy about Cheesy Mac and Beef. It's an inexpensive one-pot comfort dish to make any night of the week. I like to have a small bowl for dinner then snack on the rest straight from the fridge.
Ingredients
2

Tbs.

Olive Oil

1

medium Onion

finely diced

1

Green Bell Pepper

finely diced

1

Red Bell Pepper

finely diced

3

cloves

Garlic

finely diced

1

lb.

Ground Beef

1/2

lb.

Cavatappi pasta

28

oz.

Crushed Tomatoes

12

oz.

Water 

6

oz.

Cheddar Cheese

freshly grated and divided

salt and pepper

4

Tbs.

Parsley

minced
Instructions
Heat olive oil in a large sauté pan or dutch oven over medium heat. Sauté onions, peppers, and garlic under nearly translucent. 

Move the vegetables to the back side of the pan then tilt the pan towards you to coat the cleared area with oil. Add oil if needed. Add the beef to the cleared area and break in to small bits with a wooden spoon. When beef has nearly all browned, mix with vegetables and season with salt and pepper. 

Stir in dried pasta, crushed tomatoes, and water with the beef and vegetables. Cover and simmer over medium low heat for about 15 minutes or until pasta is nearly al dente. 

Remove lid, add 2 tablespoons parsley and continue to cook for a few minutes until the sauce has reduced and the pasta is cooked. 

Remove pan from heat and stir in 4 ounces of the grated cheese. Taste for seasoning. 

Serve topped with more freshly grated cheese and fresh parsley.