Chicken Pot Pie Soup is a perfect easy winter soup for anyone tired of the same old chicken noodle, butternut squash, and tomato bisque soups. What's your favorite part of Chicken Pot Pie? The Crust or the Filling?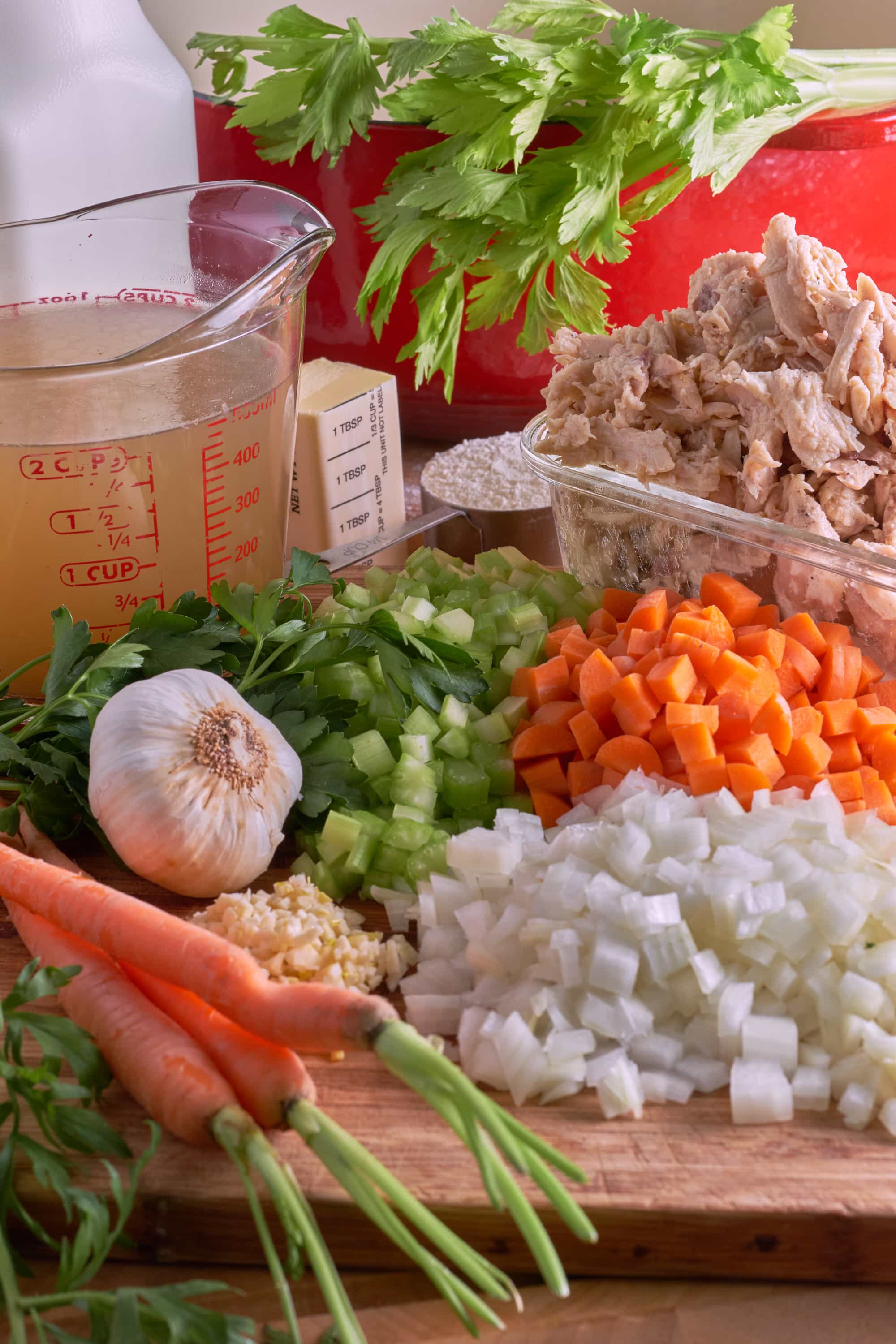 On top of the all the Christmas festivities and the New Year celebrations I've also enjoyed celebrating another passing birthday. I have not enjoyed a bit of a cold and general exhaustion on top of a stressful work schedule. So, I'm sorry I haven't posted in a while. Judging by my traffic though, I'm happy to see some of you are still finding Eat Up! Kitchen a valuable resource for recipes. Let's make some soup!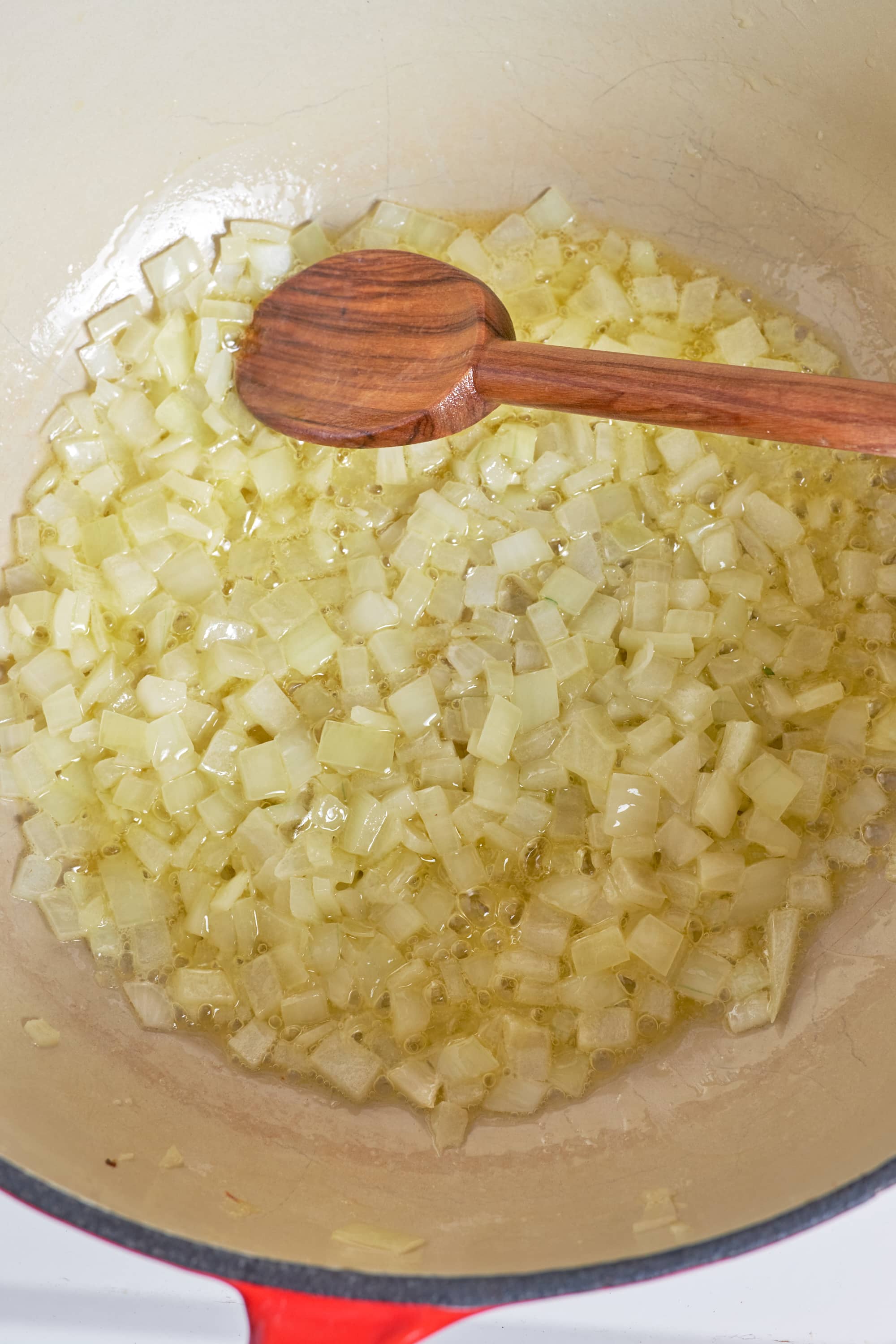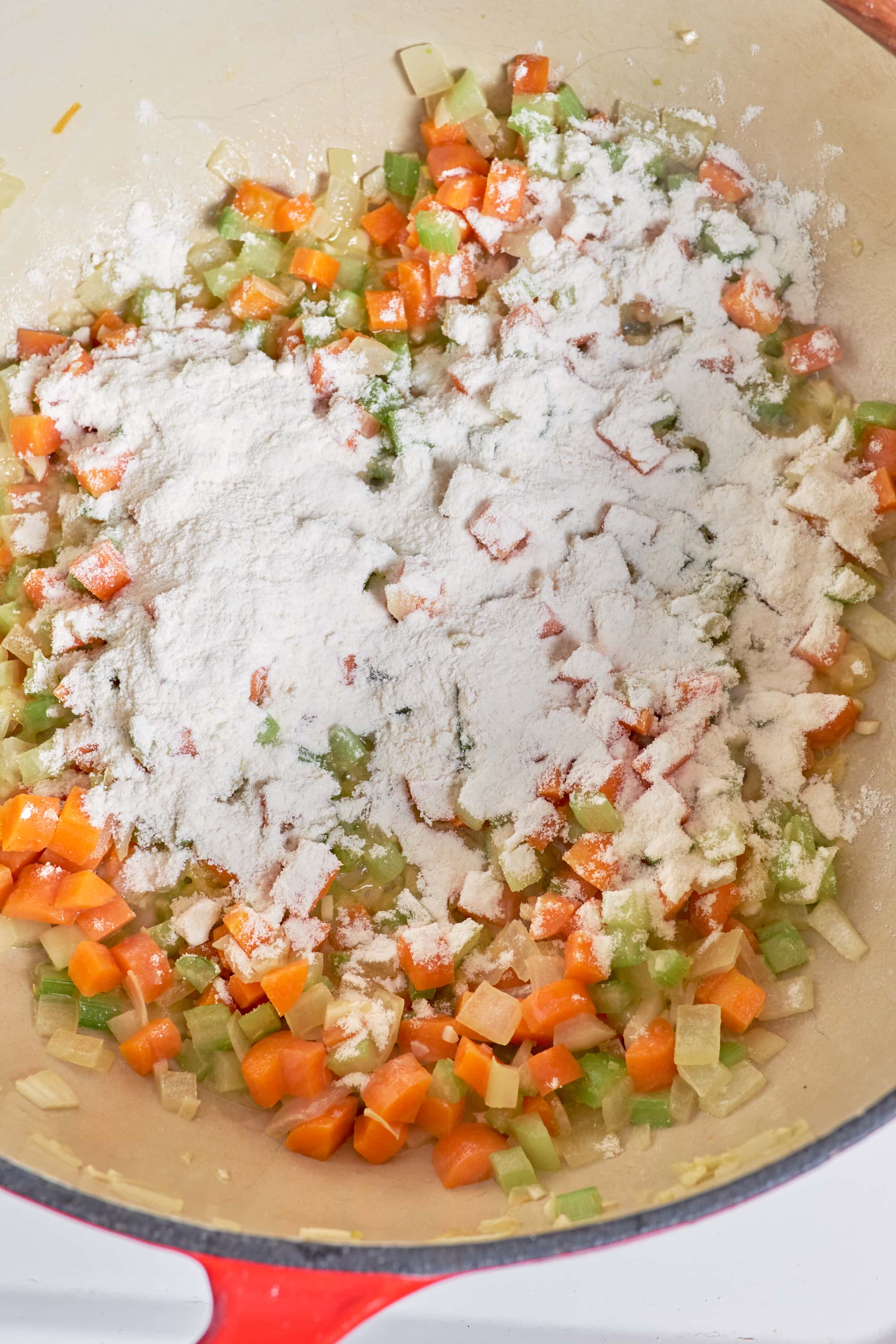 I've been thinking I should start a section called '5 Star Recipes' or 'Eat Up's Best' or 'Doggone Delicious'. One reason I haven't done so is that I actually don't post recipes that I'm not 100% happy with. Believe me, there have been many failures. This Chicken Pot Pie Soup – this is some 5 Star Hot Diggity Dog Delicious soup. Not only does it taste exactly how I wanted it to taste, It's relatively fast to make and doesn't take much prep work. Moreover, I'll tell you how to save even more time by using prepared grocery store items.
You could practically memorize this recipe and make yourself Chicken Pot Pie Soup any time, any place.
2 cups chicken stock | 2 cups milk | 2 cups shredded chicken.
1 cup each of finely diced carrots | celery | onions | peas | corn.
1/4 cup butter | 1/4 cup flour.
1 tablespoon minced garlic.
2 teaspoons freshly minced parsley.
Salt and pepper to taste.
BOOM!
I have a special fondness for wholesome easy to remember recipes which could easily become part of your standard rotation.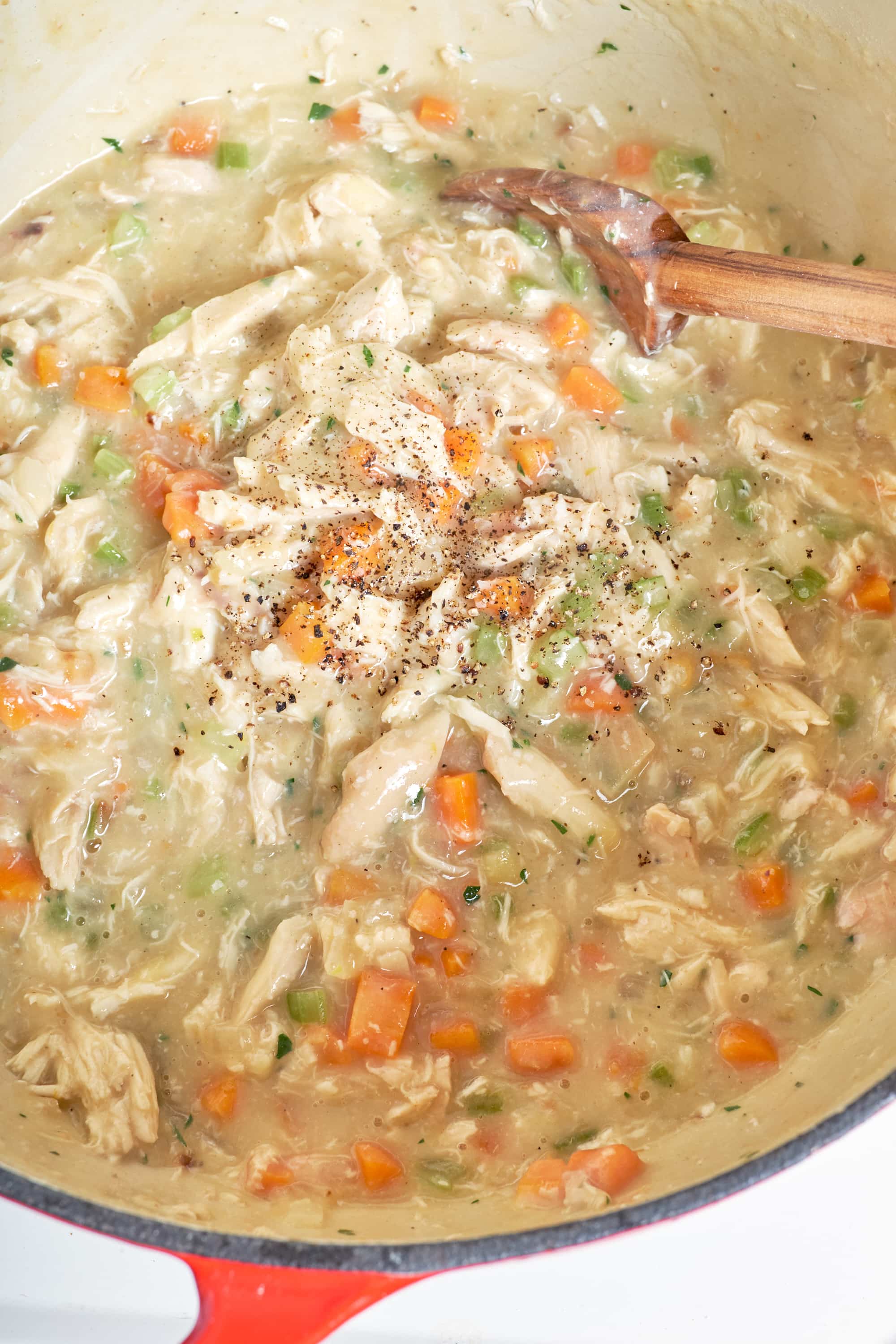 I took the long road to make this recipe and it took me about an hour and a half over the course of two days. That's only because I oven roasted a whole chicken for 40 minutes the day before and allowed it to cool. Take a shortcut and buy yourself one of those in-store rotisserie chickens. I won't tell anyone. Either way, shred the bird to pieces with your hands or some forks. You want about 2 cups. P.S. Turkey would be a pretty fantastic substitution.
Have you been working on your knife skills? Here's your chance to brush up. Big chunky bits of carrot or potato are great for stews or gumbos but smaller spoon sized bits are best for soups. Take your time and finely dice your carrots, celery, and onions in to quarter inch bits. Not only is it nicer on your spoon and in your mouth, it makes the ingredients cook and release their natural sugars faster. If you're not confident with your knife skills you might want to use a food processor to chop up your veggies. I'll have to work on some instructional videos – I've got a nice trick for finely diced onions.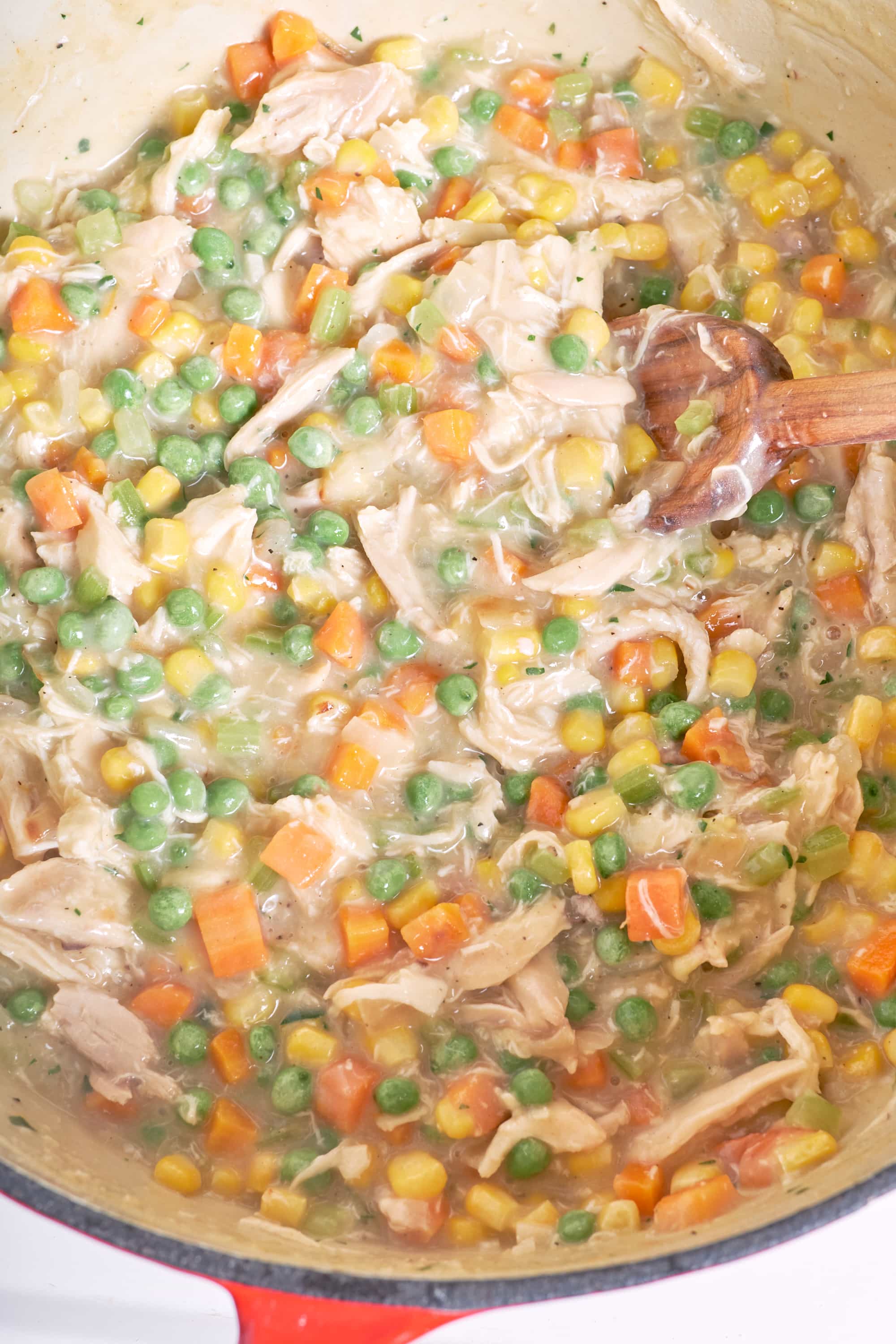 So here's the run down once you get all your ingredients prepped. Heat some butter in a dutch oven then sweat your onions. Cook the celery and carrots until tender then add the garlic. Add the flour and stir to cook through for about 5 minutes. Add the chicken stock and chicken. Adjust for seasoning with salt, pepper, and fresh parsley. Dump in frozen peas and corn then the milk. Bring up to temp and cook for about 20 minutes and taste for seasoning again. Kinda easy. Right?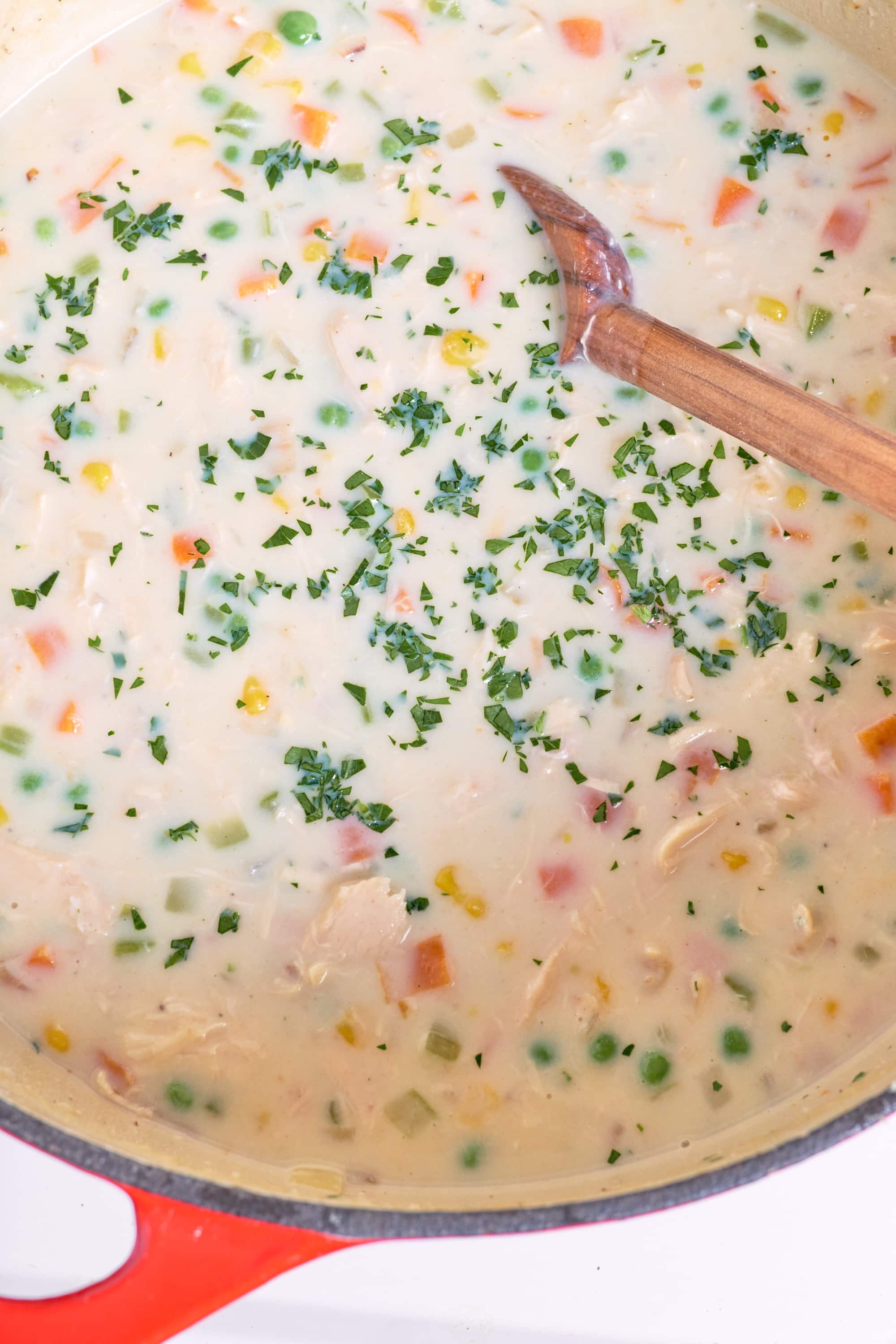 Now that I'm writing this down I think I'm going to make some more tonight. I think I'll try the super fast recipe this time. That would be store bought chicken stock, store bought rotisserie chicken, and store bought pie crust.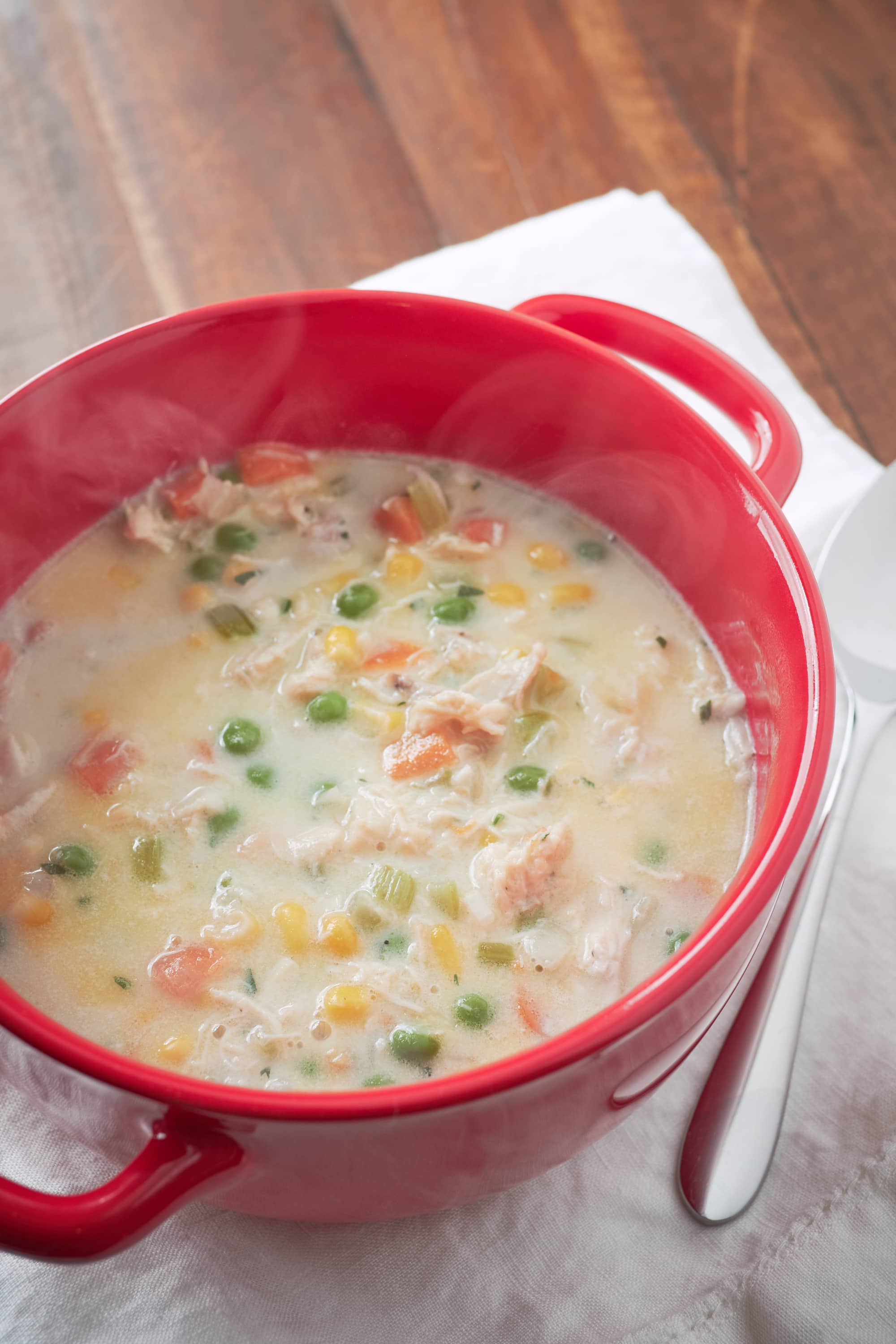 If you'd like to take the long road here's how to use a whole chicken for the meat and stock for the soup.
Buy a whole chicken, about 5 pounds, and split it in half. Cut the backbone out with scissors and remove the wings. Save these parts for the stock. Season the chicken with salt and pepper, place it skin side down in a cast iron skillet or sheet pan, then toss it in a preheated 375°F oven. Roast for 30-40 minutes (flip it half way) or until it's internal temp is about 155°F (don't over cook it!). Remove the chicken from the oven and allow it to completely cool. Shred in to bite size pieces.
While the chicken's roasting, place the backbone and wings in a large pot along with a tablespoon of salt, freshly ground black pepper, half an onion with skin, 2 smashed garlic cloves, 2 roughly chopped carrots and stalks of celery. Add 2 quarts of water and slowly simmer for about an hour and a half or until the chicken wings start to fall apart. Pour the stock through a strainer into a large bowl and discard the solids. Cover with plastic wrap and chill overnight. Remove any fats that have solidified on the top.
I'd love to tell you how to make the pie crust crackers but I'm still looking for the best recipe. I can tell you I made this with a stick of butter, 2/3 cup AP flour, 1/3 cup whole wheat flour, and 2 tablespoons of cold water. I may have overcooked them but they were delicious non-the-less.