This recipe for Chipotle Chicken Salad with Mango Salsa is totally not a salad. But there's Romaine Lettuce, so… Let me know if you have a better name. You can use this Chipotle Chicken Salad recipe (sans lettuce) for any sort of tex-mex sort of dish. This is great with some shredded jack cheese and rolled up in a tortilla like a burrito. It's great to serve with fried eggs and tortilla chips. Personally I like it best served as cold left overs in the middle of the night with a big spoon and a bottle of habanero hot sauce.
This is a pretty good recipe for taking an hour to chill out, put on some tunes, crack open a cold one and get down to chopping some veggies. I know that's not for everyone but chopping vegetables is the most relaxing thing in the world for me. I can totally zone out. The cool thing here is like 95% of the recipe is just chopping food. After that the chicken comes together in about 20 minutes in a single large skillet and the salsa just gets tossed in a bowl. When you're using powerful ingredients like chilis, chipotles, mangos, and lime, you don't have to do a lot of work to make it taste delicious.
Let's start with the Mango Salsa so it has time to relax while we're cooking the Chipotle Chicken.
In this photo below I'm trying to illustrate the best way to finely dice an onion. A lot of times you'll see people doing this 3-D cross cut thing. That's okay for a larger dice but I like this way for a fine dice you'd use for salsas. If you quarter the onion and separate the layers, you can get some thin slices without much effort. Then you can turn them and slice again for a fine dice. Repeat as needed. It's a little slower but it's much more precise.
Have you seen this trick to cutting a mango? First you have to slice off the cheeks by slicing around the big pit in the middle. Then you grab one piece and you use a glass or small bowl to guide the flesh down the curved opening. You should end up with a perfectly peeled piece of mango in your glass.
So this is our deconstructed Mango Salsa. Er, I guess its pre-constructed? Let's construct it. Toss your diced Onions, Mango, Tomato, Jalapeño, some Cilantro and some fresh Lime Juice in to a bowl. Give it a pinch of salt too! Cover and refrigerate until we're ready to eat. An hour should be enough time for all the flavors mind meld with each other as the salt slowly extracts some of the juices.
Practice your knife skills.
You could use a number of different ingredients for this Chipotle Chicken Salad recipe. I used what looked fresh and delicious to me. I chose a yellow bell pepper mostly for color. I knew I was going to have some green jalapeños in a red sauce. Green bell would have hidden the jalapeños and red bell would have been lost. I used local red and yellow tomatoes just because they looked good. Roma tomatoes would be the next best choice if local tomatoes aren't available. Tomatoes are important as they'll create a thick sauce once they cook down and release their juices. Sweet corn is crucial to balance out the smokey and spicy chipotle chilis. In fact, it wouldn't be so bad if you added a bit of brown sugar or honey to this as it cooks. Aside from some salt and the black beans I forgot to prep, there's really not much else to making this happen. I was an over-seasoner when I first started to cook. I've learned it's best just to keep it simple and use the right ingredients.
Grab the biggest skillet you can find and start the Chipotle Chicken by frying some fresh corn off the cob in a couple tablespoons of oil. You'll know to add the onions next once the corn starts popping. Give them a little toss and let them sit for a couple minutes for the onions to sweat. Once they start to get translucent you can add the bell peppers (and jalapeño if you're using that). Add a pinch of salt and give the skillet a toss. As the bell peppers start to soften move everything to one side of the skillet. Add in the tomatoes and chipotle chilis and sauce to the empty side. Stir the tomato side as it cooks and slowly incorporate with the peppers and onions. Add black beans and allow the ingredients to stew for a few minutes so the tomatoes start to break down. Add the cubed chicken and allow that to cook for 10 minutes or until the center of the chicken is opaque. Total cooking time about 25 minutes.
While the Chipotle Chicken is coming together you can prep the salad. We've worked hard enough today so the salad is very simple. Wash and rinse some romaine lettuce. Chop the lettuce in to half inch pieces and toss it in a bowl with some lime juice. Done. This is actually the most critical part of the recipe. The romaine and lime add a fresh crunch and zesty citrus pop. When you combine the Chipotle Chicken with Mango Salsa and Lettuce with Lime Juice, it's all the best things.
I hope you'll take some time to zone out and practice your knife skills with this Chipotle Chicken Salad and Mango Salsa. The ingredients are basic while the meal is outstanding. You've got little gems of sweet corn and jalapeño hiding in the smokey chipotle sauce. The bright sweetness and sharp bite from the mangos and red onions. Finally there's the big crunch and zest from he lettuce in lime juice. This is one exciting (and addicting) mouthful of food!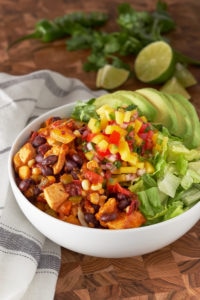 Chipotle Chicken Salad with Mango Salsa
You can use this Chipotle Chicken Salad recipe (sans lettuce) for any sort of tex-mex sort of dish. This is great with some shredded jack cheese and rolled up in a tortilla like a burrito. It's great to serve with fried eggs and tortilla chips. Personally I like it best served as cold left overs in the middle of the night with a big spoon and a bottle of habanero hot sauce.
Print
Pin
Ingredients
Mango Salsa

1

Mango

finely diced

1/4

Cup

Red Onion

finely diced

1

Jalapeno

finely diced

2

Tbs

Cilantro

minced

1/2

Cup

Roma Tomato

finely diced

Juice of 1 Lime

Salt to taste

Chipotle Chicken

2

Tbs

Vegetable Oil

1

Cob Corn

1

Medium Onion

Diced

1

Yellow Bell Pepper

Diced

1-2

Jalapeno

Diced (optional)

1

Small Can Chipotle

Peppers Diced

2-3

Roma Tomatoes

Diced

1/2

Can Black Beans

Rinsed

1

Chicken Breast

1/2 inch cubes

Salad

1

Head Romain Lettuce

washed and chopped

Juice of 1 Lime
Instructions
Mango Salsa

Prep all ingredients and combine in a small mixing owl. Toss with lime juice and salt to taste. Refrigerate for an hour or more before serving.

Chipotle Chicken

Heat oil in a 12 inch skillet over medium heat. Add corn kernels and fry, tossing often, until they begin to pop. Toss in Onions and sweat for a couple minutes until they begin to soften.

Add Bell and Jalapeño Peppers and a pinch of salt. Toss and heat for a few minutes until softened.

Move Peppers and Onions to one side of the pan and add Chipotle Peppers, Tomatoes, and Black Beans. Slowly incorporate with peppers and onions. Simmer over medium to medium-low heat stirring occasionally while the tomatoes break down.

As the sauce begins to form clear a space for the chicken on one side of the pan. Distribute chicken on empty side of pan and allow to cook untouched for a few minutes. Once the chicken is easily moved start to stir everything together. Allow to finish cooking until the centers of the chicken are opaque - about 10 minutes.

Salad

Rinse and dry one head of Romaine lettuce. Chop in to small half inch piece and toss with Lime Juice.

Assemble

Serve Chipotle Chicken along side Romaine Lettuce topped with Mango Salsa and lime wedges.

Optionally top with shredded Jack Cheese, Diced Avocado, or Sour Cream.