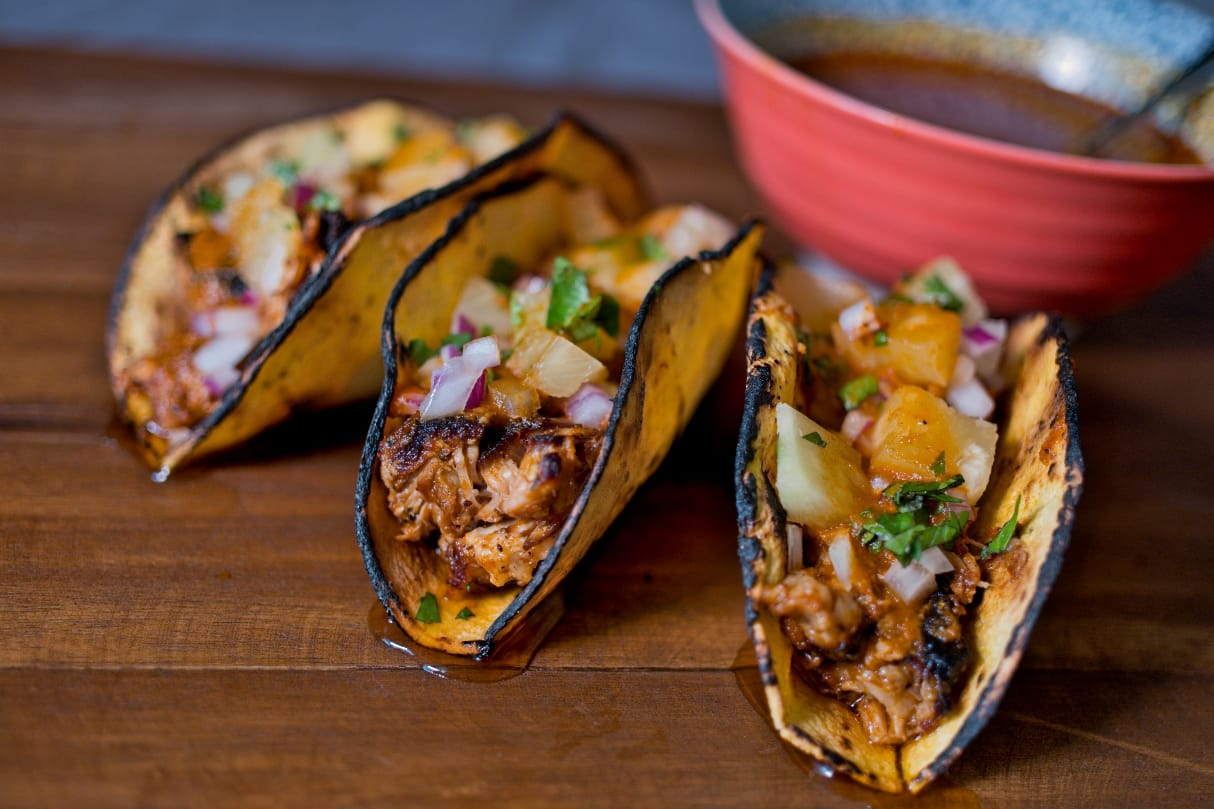 Slow cooked pork shoulder makes for some easy weeknight tacos. There's a thousand ingredients you could smother over crockpot pork but we're only using a handful to braise the pork and render in to a homemade hot sauce. 
I've been crazy busy traveling for work lately so I wanted to develop an easy crockpot recipe. Ugh, I hate crockpot recipes. I think they're lazy and contradict what Eat Up! Kitchen stands for. That doesn't mean I'm not up for a challenge though!
To make these Crockpot Pork Tacos with Homemade Hot Sauce, we have about five different steps to work through. The benefit of the slow cooker is that you have 6 hours of hands off time. You can prep the ingredients in about 30 minutes before work, set the cooker for 6 hours, then come home and spend another half hour finishing it up. If you did this in a dutch oven, it would take about 3.5 hours to cook, you'd have less dishes to clean and one of the steps is built in to another.  I'll get back to that one.
Depending on how much coffee you've had this morning, you may be able to pull off two to three steps at once.  Here's what we have before we get to the slow cooker; (1) Divide and brown the pork, (2) boil water and rehydrate the ancho chilis, (3) sauté onions and garlic, (4) chop tomatoes and peppers, (5 – finally) blend vegetables in blender. I know, it seems like a lot but on their own they're all stupid easy. Get an offspring to help!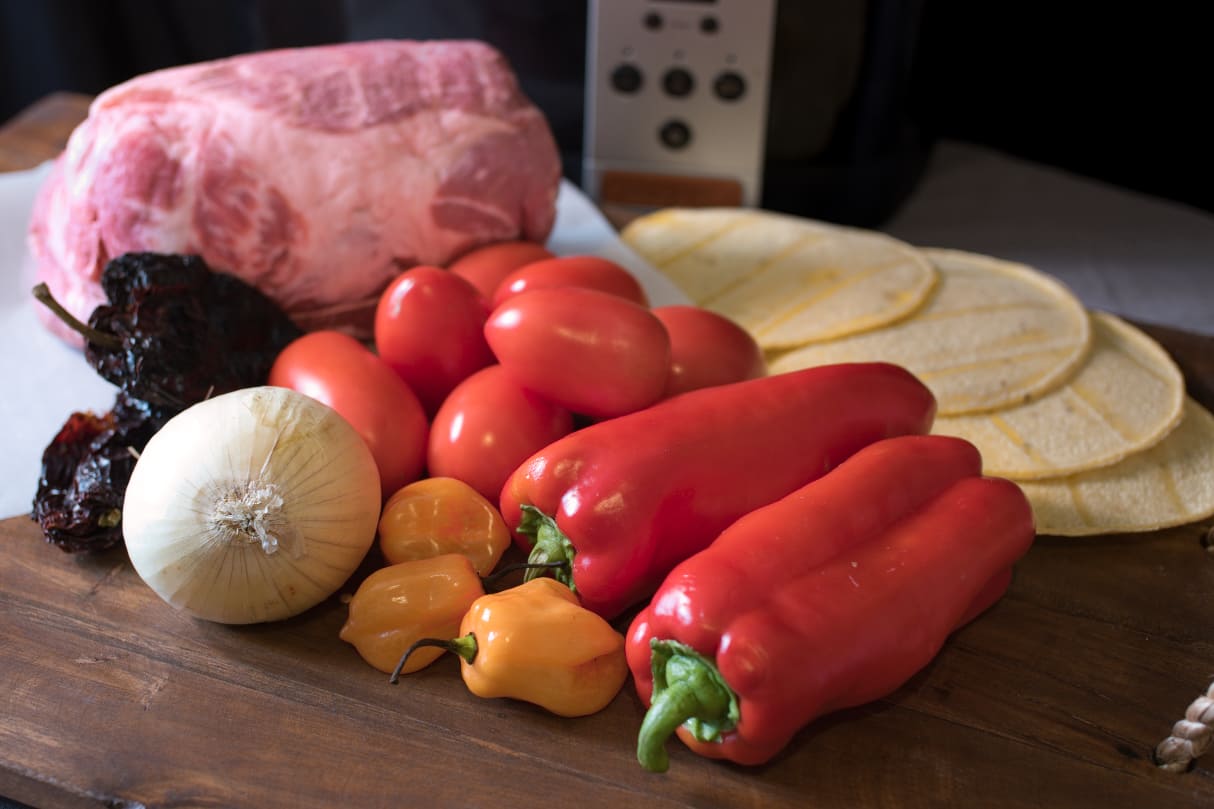 Divide the pork shoulder in to smaller chunks to increase surface area for browning and to speed up the overall cooking time. Remove any excessive fat. You should have chunks of pork that are two to three inches.  While you have a few batches browning for a couple minutes on each side, you can start the braising liquid.
What will eventually become our hot sauce only has a half dozen ingredients that all go in to the blender. First, start boiling some water, I use an electric kettle, and put your dried chilis in a container – a mason jar works great. Chop up some onions and garlic and sauce in oil for a few minutes until translucent and brown on the edges. Pour your hot water in the container with the chilis and allow to hydrate for at least ten minutes. Roughly chop the tomatoes, roasted red peppers, and habaneros. Transfer the tomatoes, peppers, habaneros, onions, and garlic to a blender. How's the pork coming along? Transfer each piece to the crockpot as they finish browning. Carefully remove the anchos from the hot water reserving a half cup of the liquid. Remove the stems and seeds from the chilis and toss in to the blender with the 1/2 cup liquid and 1 cup of water.  Blendify for a few minutes until smooth. Pour over pork until just covered and cook on low for 6 hours.
When you return home, you should be greeted by the smell of delicious slow cooked pork in your own homemade hot sauce! We're almost done. I can hardly wait!! Get some help to prep your tacos and garnish. Cilantro, pineapple (canned is fine), and white and/or red onions are perfect. Transfer the pork to a plate and shred with a couple forks. For added flavor, and if you have the inclination, you can caramelize the pork in a pan with a little oil. Pour the sauce in to a pot on the stove and heat until reduced and thickened. Add 2 teaspoons apple cider or white vinegar, taste for salt and maybe a pinch of sugar.  Remove any excess fat from the top and stir occasionally.  Strain the sauce if there are any large bits. The bits that remain in the strainer make for a killer tortilla dip 😉
Alternatively, you could do this in a dutch oven instead of the slow cooker.  It should take three to four hours to cook the pork and braising liquid in a covered pot on the stove top.  With about an hour left, remove the lid to allow the sauce to reduce. There's two huge advantages here. Most obviously, you shouldn't have to spend extra time reducing the sauce as we did after the six hours of slow cooking.  Also, cooking on the stove top makes a concentrated point of heat on the bottom of the pot. You should get some good caramelization from this method. So, overall, you're going to save two to three hours of cooking time and I bet it just tastes a little bit better. Oh! And by my count there's least two less dishes to clean.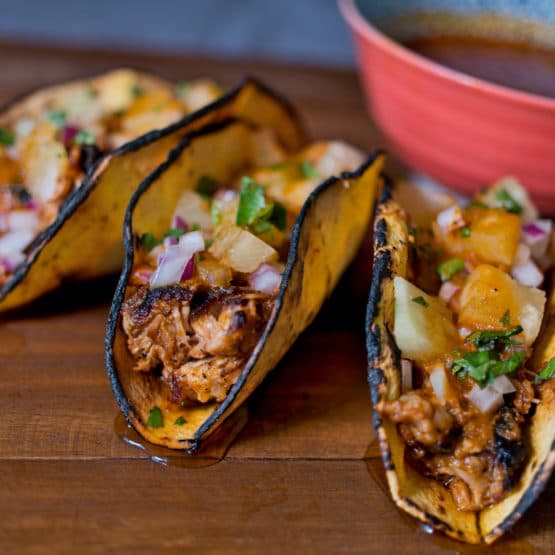 Crockpot Pork Tacos and Homemade Hot Sauce
Slow cooked pork shoulder makes for some easy weeknight tacos. There's a thousand ingredients you could smother over crockpot pork but we're only using a handful to braise the pork and render in to a homemade hot sauce.
Ingredients
3

lb

pork shoulder

1

medium onion

chopped

3

cloves

garlic

chopped

1

lb.

roma tomatoes

2

large red peppers

roasted

3

habanero chilis or 5-6 jalapeños 

3

rehydrated ancho chili peppers

1/2

cup

reserved chili water

1

cup

water

Salt

2

tsp

Apple Cider or White Vinegar
Instructions
Cut pork should into large chunks and salt well. Brown on all sides in a large skillet over medium high heat. Transfer to slow cooker.

Sauté the onions and garlic with a pinch of salt over medium high heat until edges are brown. Set aside.

Rehydrate 3 ancho chilis in boiling water for 10 minutes. Remove from hot water and set aside to cool. 

Once cool to work with, remove stem and seeds and roughly chop.

Chop up tomatoes, roasted peppers, habaneros and add to a blender with onions, garlic, ancho chilis, water and reserved ancho chili water. Blend until smooth.

Add enough sauce to the slow cooker to cover the pork. 

Heat on low for 6 hours.

Transfer the pork to a serving platter reserving as much of the sauce in the slow cooker. Shred the pork and add 1/2 to 1 cup of sauce. 

Transfer the remaining sauce to a medium sauce pan. Add 2 teaspoons apple cider vinegar. 

Simmer to reduce until thickened. Taste for salt. 

Assemble corn tacos with pork, cilantro, white onion, pineapple and finish with hot sauce.
Notes
Alternatively, prepare pinto beans and yellow rice and add to a large flour tortilla. Add pork and chopped white onion. Fold in to a burrito. Smother burrito in sauce and garnish with cilantro.