Semolina Flour, Water, Salt, Parmesan Reggiano, and Butter are the only ingredients you need for Authentic Fettuccine Alfredo From Scratch. There's no need for eggs in your pasta or cream in your Alfredo sauce.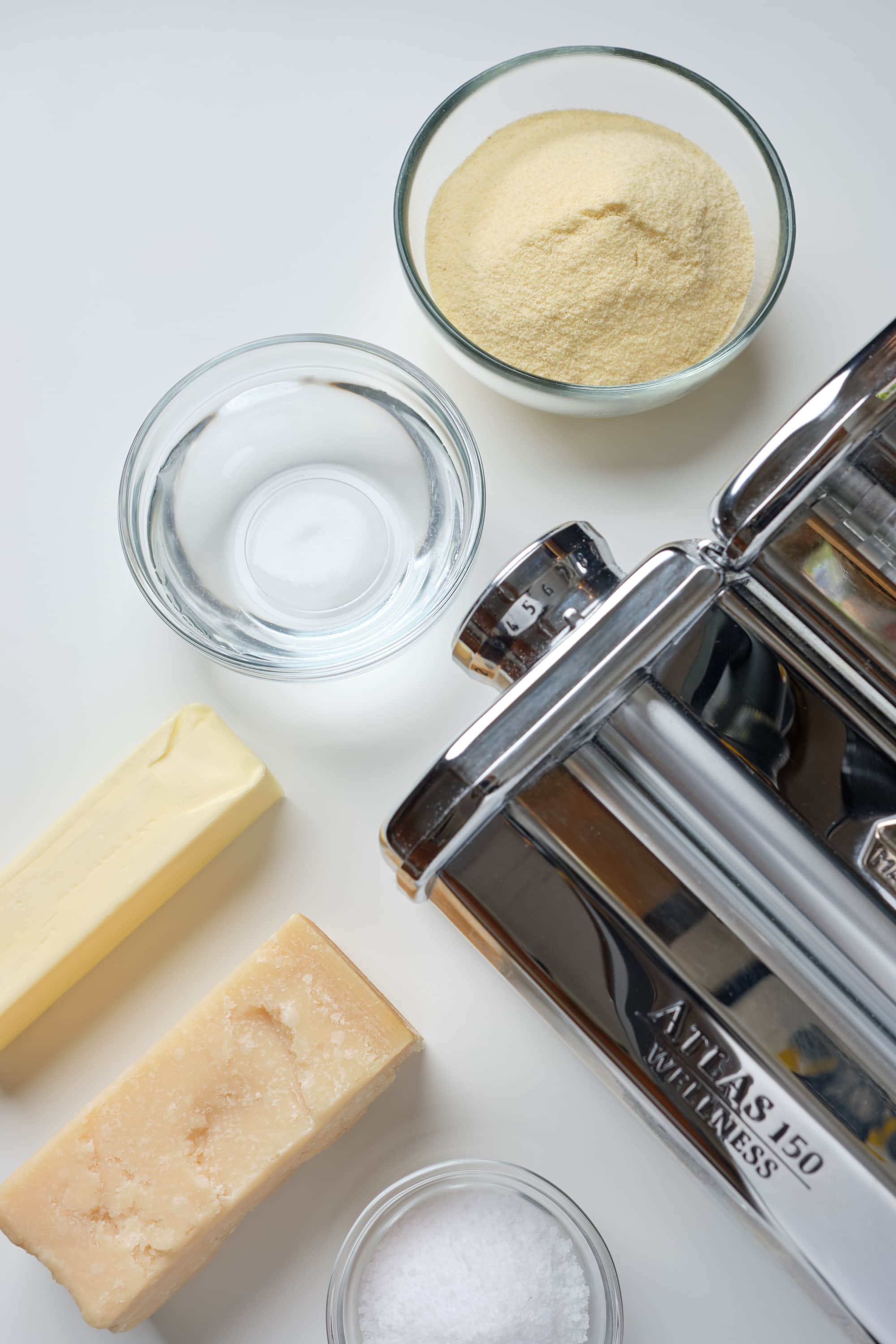 Whether it's for bread, pasta, or pizza, there's nothing I enjoy more in the kitchen than working with dough. I've been working on this recipe for a few days along with a round loaf bread recipe. I'm totally carbed out.
I think it's safe to say that most Americans think of Alfredo as a rich cream sauce served with pasta and chicken. That's not actually the traditional type of Alfredo sauce. Alfredo sauce is made simply with butter and parmesan reggiano. I know – it's surprising that Italian food is actual made with simple ingredients. Just because something is packaged and sold on a grocery store shelf doesn't mean you can't make it at home. In most cases, you're probably better off making it at home for the cost and health benefits. You could open a cardboard box of dry pasta and crack open a jar of white goop and call that "Fettuccine Alfredo" but I promise you it won't taste as good as making everything from scratch. And honestly it doesn't take much more time at all.
This fettuccine recipe is now one of my favs. I've made fettuccine for Homemade Fettuccine and Clams before but that was with eggs. I've never been 100% on board with using eggs in pasta though. They taste a bit too much like 'egg noodles' – which is great for serving a beef ragu over but doesn't taste like Italian pasta to me. Happily, this is way easier pasta to make than anything with all purpose flour and eggs. The recipe is 2 parts semolina to 1 part water. That's it!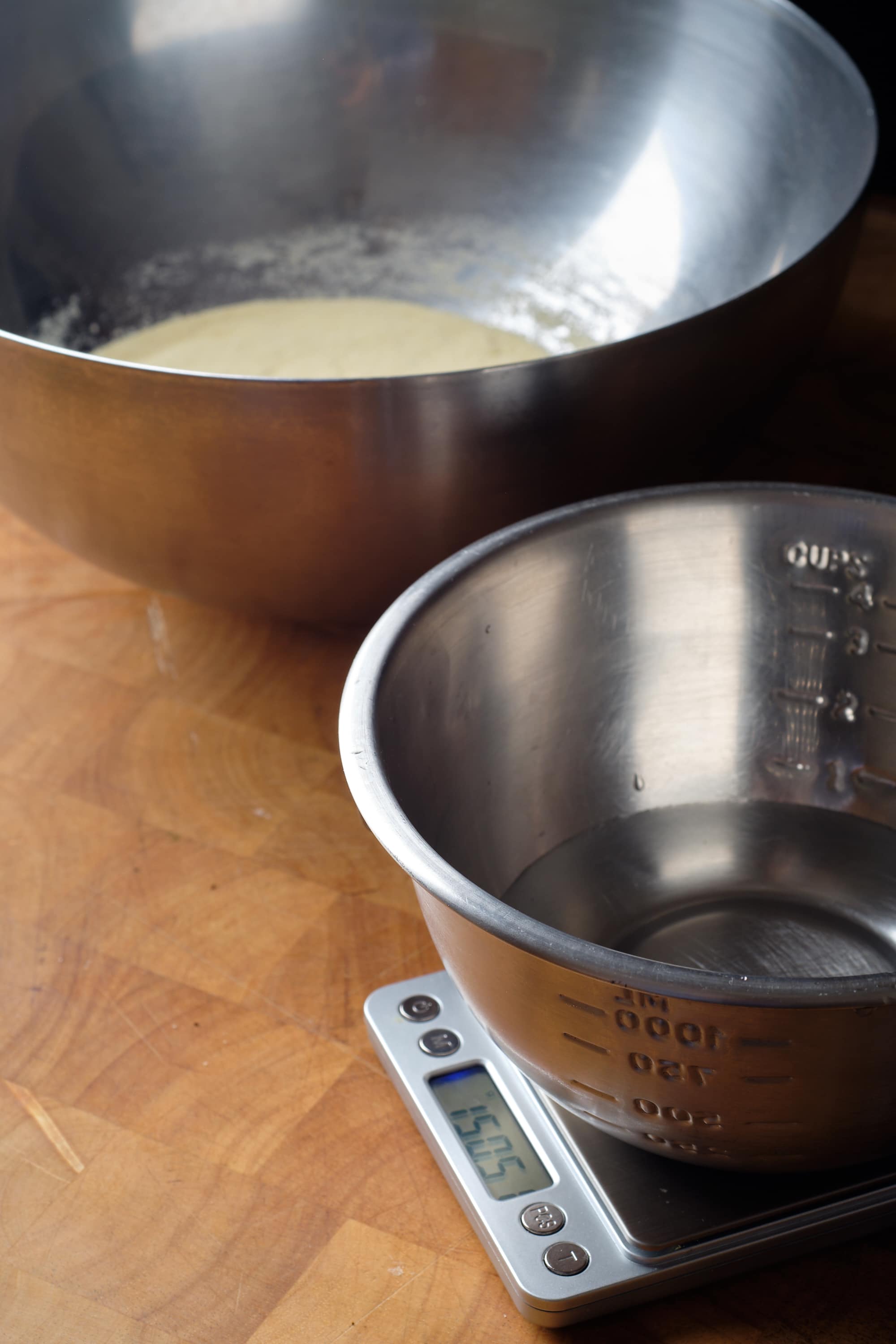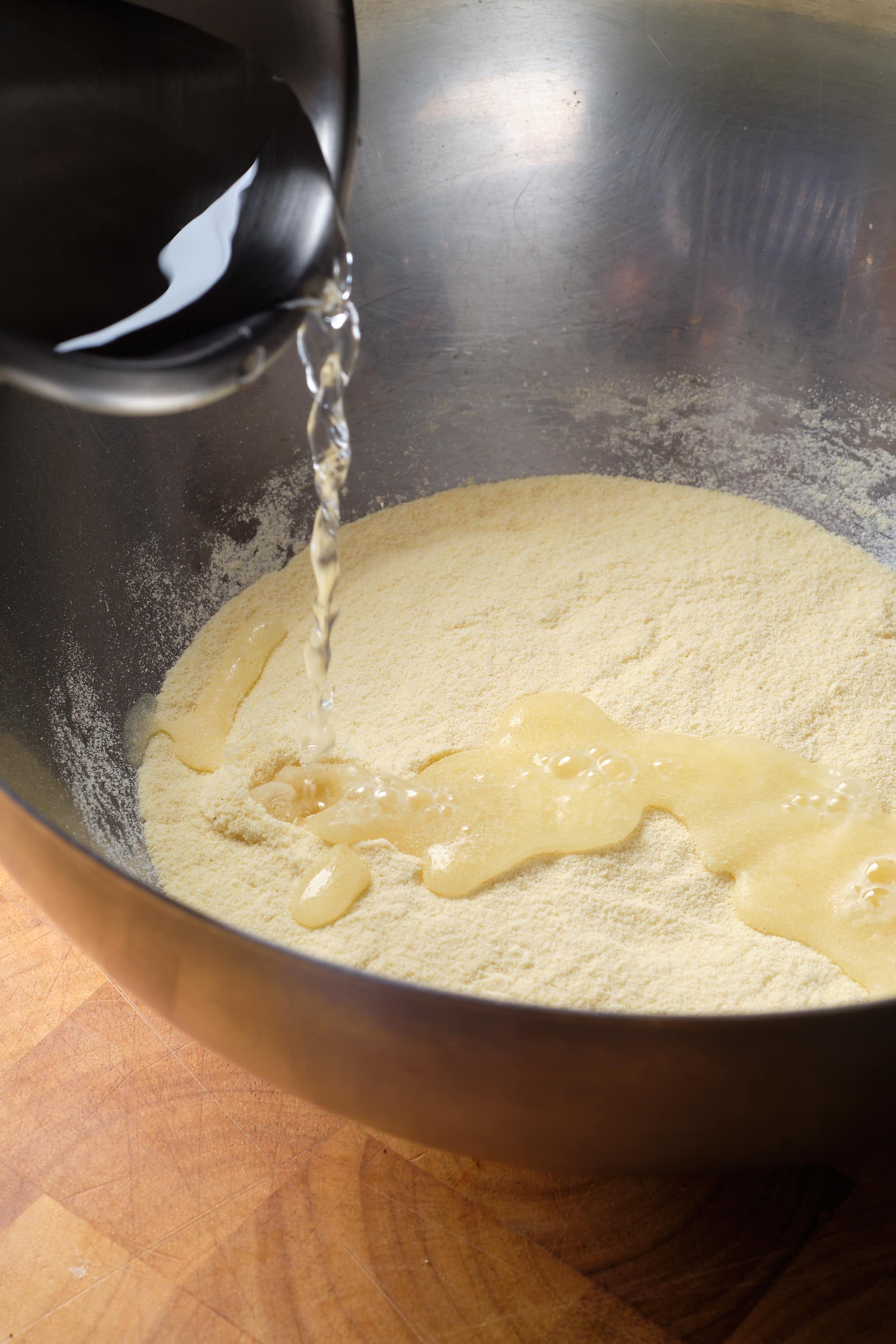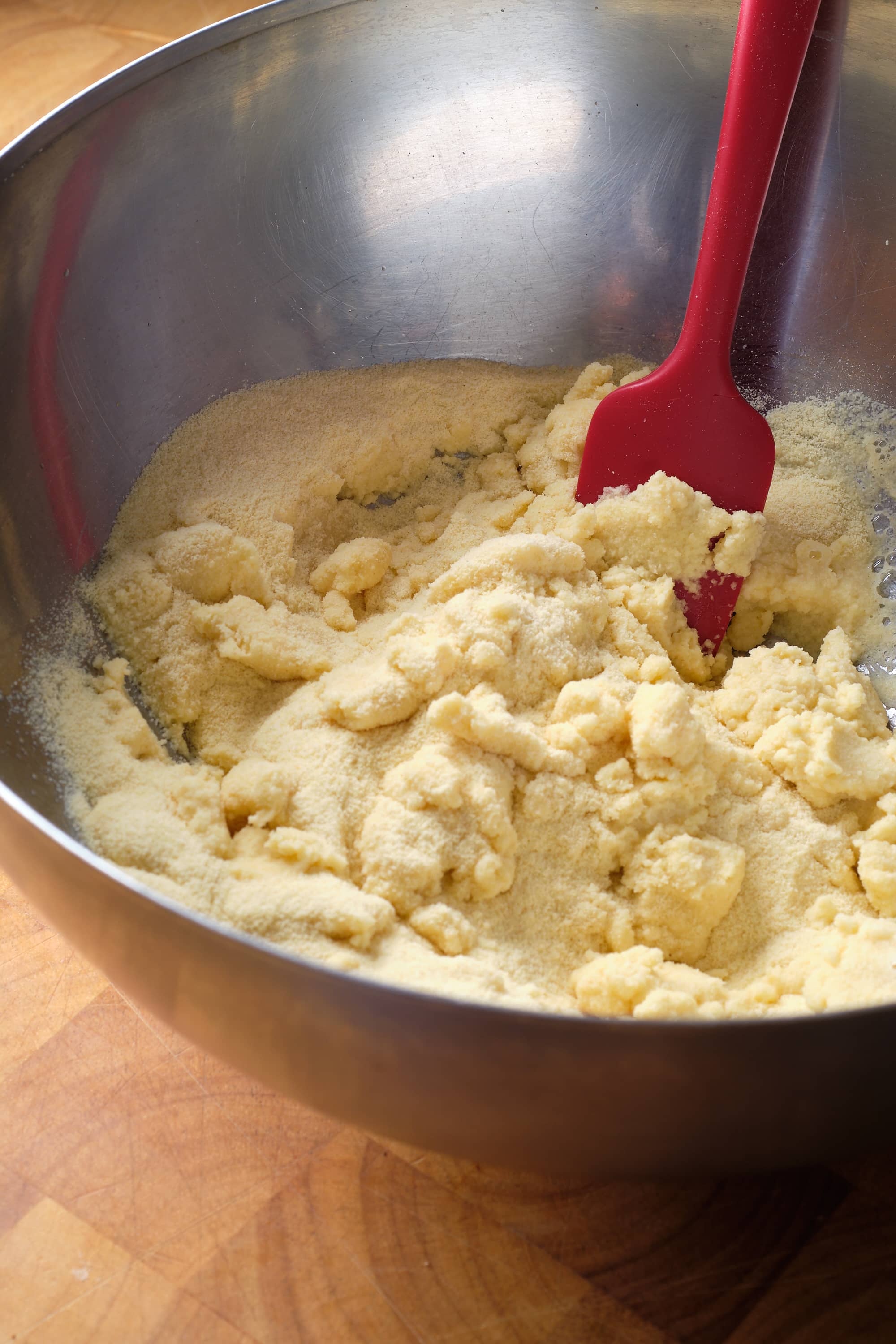 If you've been making your pasta with white flour and eggs I hope the one thing you take away from this post is the 2:1 semolina / water recipe. It's easier to make, easier to remember, tastes better, and lasts longer. Semolina is just flour made from a Durum Wheat. This wheat is harder and has less workable gluten than regular wheat so you end up with pasta that tastes more like pasta and less like noodles.
When you add the water to the semolina you might think this isn't going to work. The water seems to bead off of the flour. Trust me, it won't take long for the flour to become hydrated once you start to work it with a spoon or spatula. As it comes tighter you can turn it out to a clean work surface and start kneading it. This only takes about 5-6 minutes of kneading. Really, this dough is a lot of fun to work with. It turns from rough and sandy to smooth and tacky in such a short period of time. Dust the dough ball with a bit more semolina and wrap it in plastic. Chill for 30 minutes at least for it to fully hydrate and relax. The colder dough is much easier to work with too.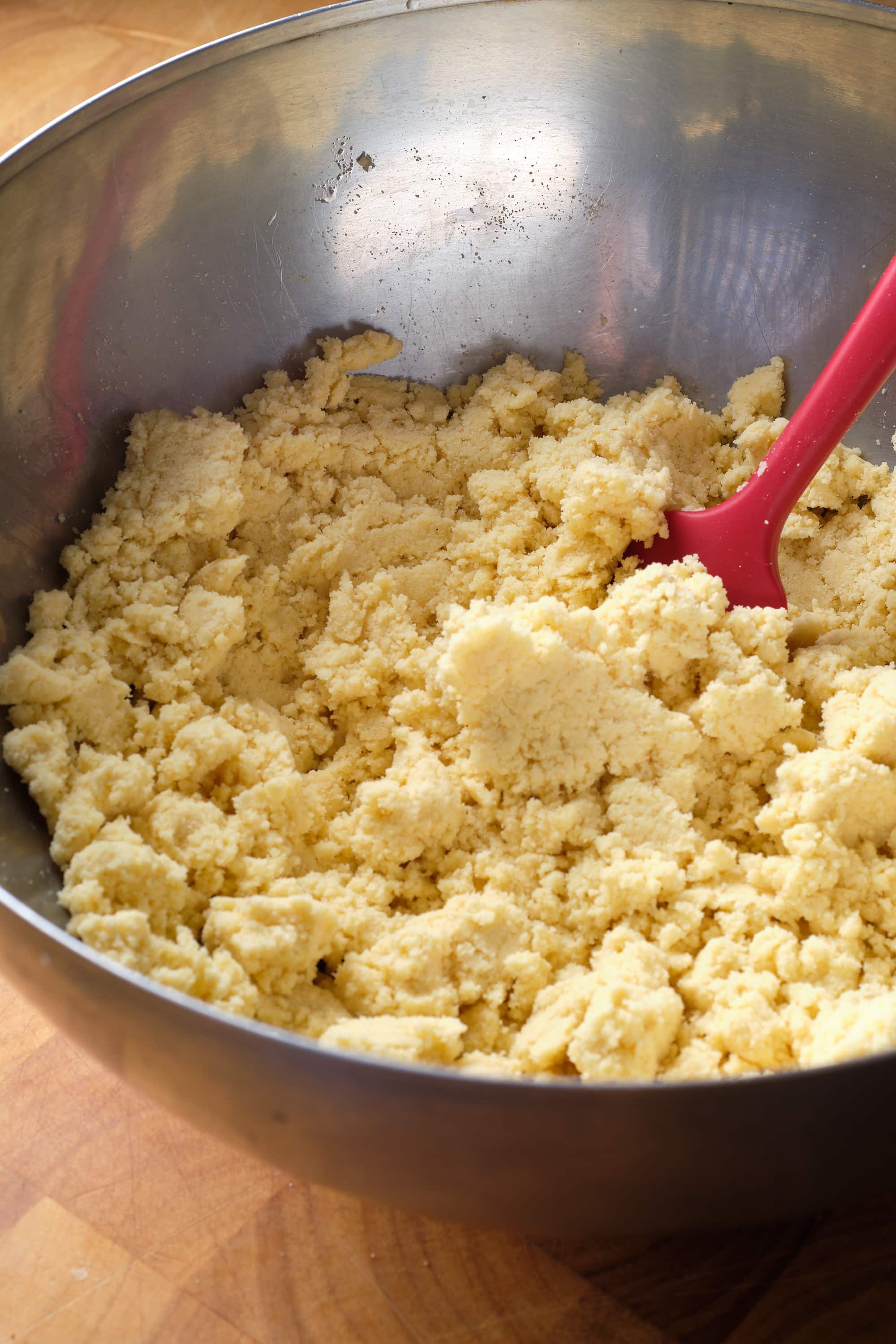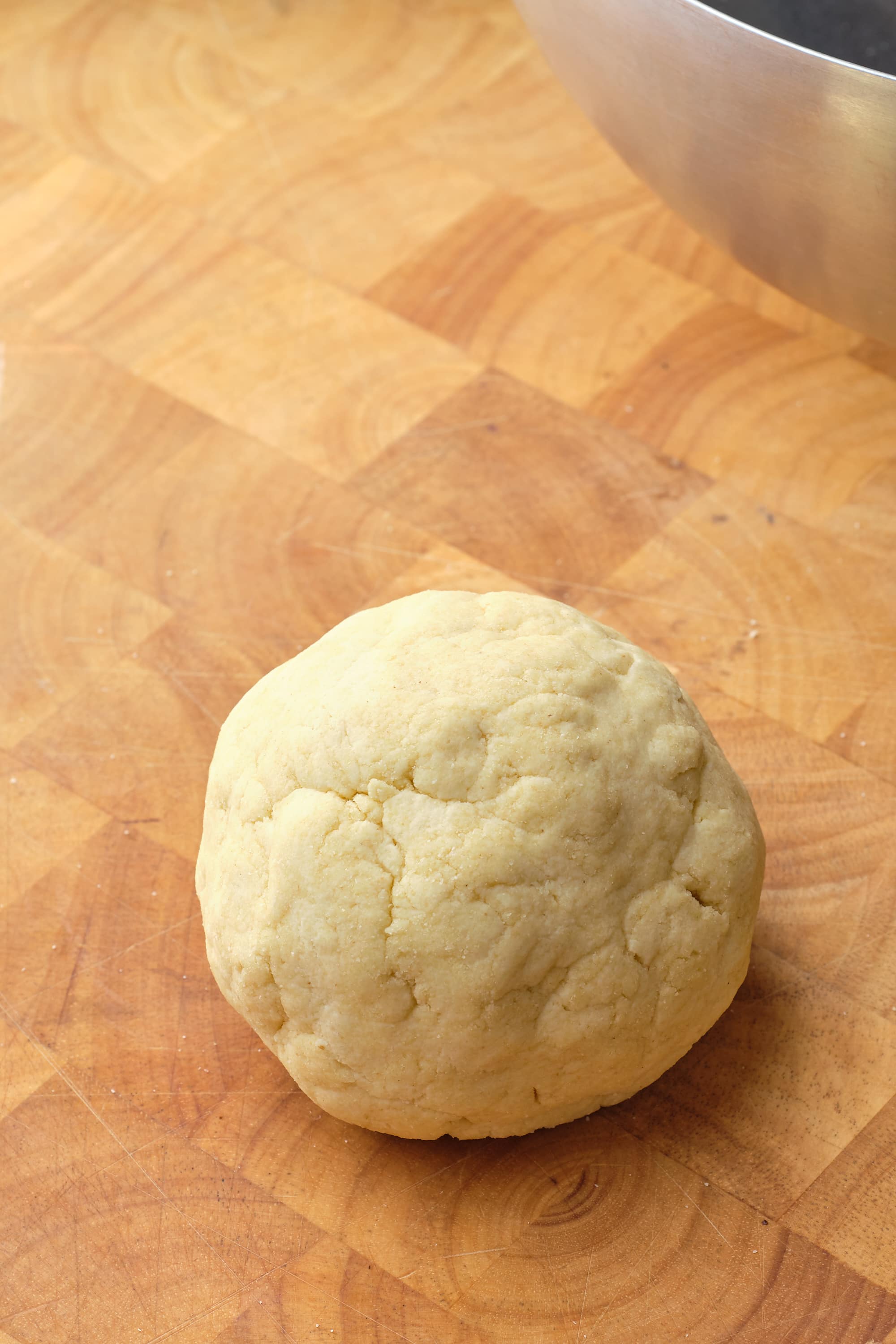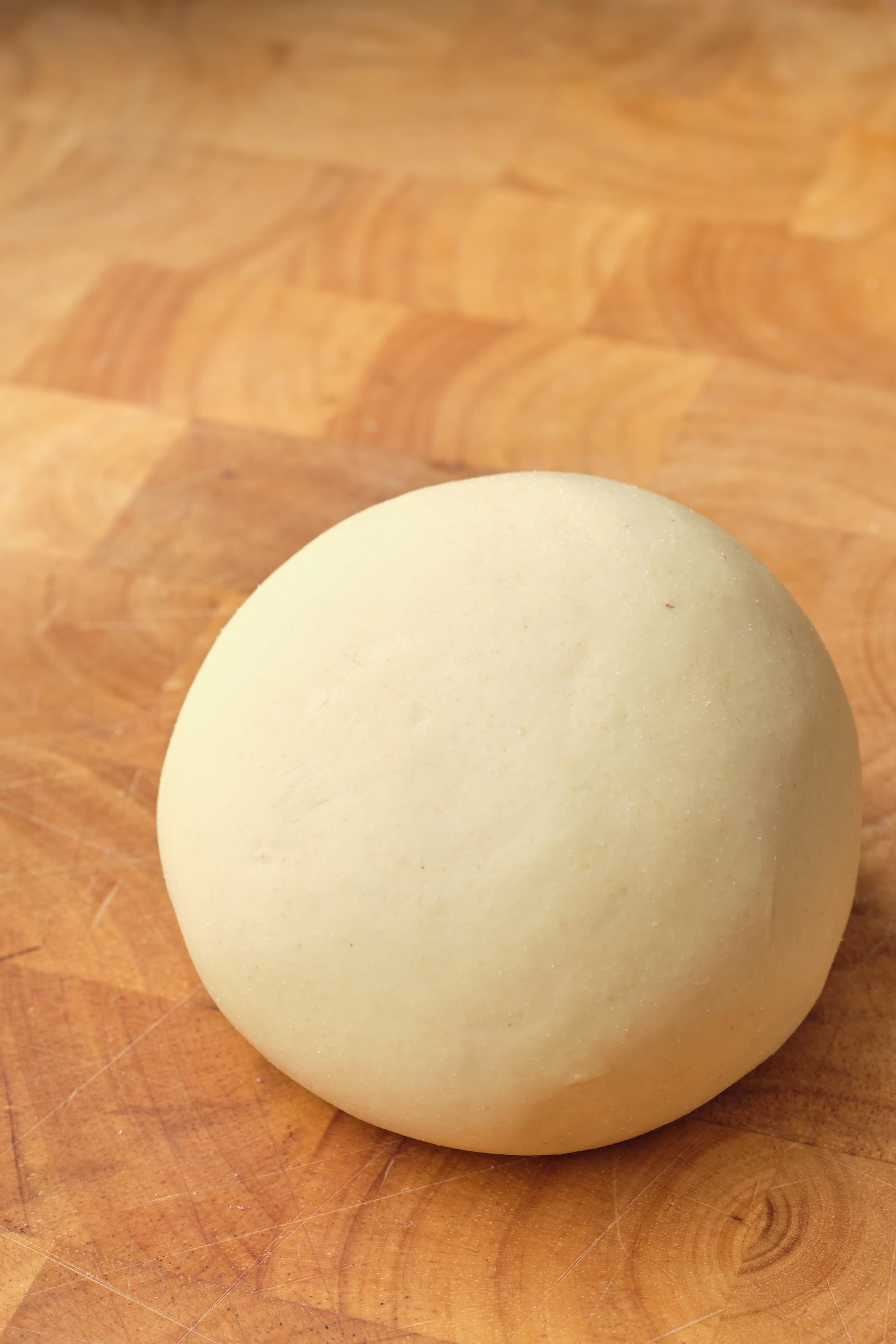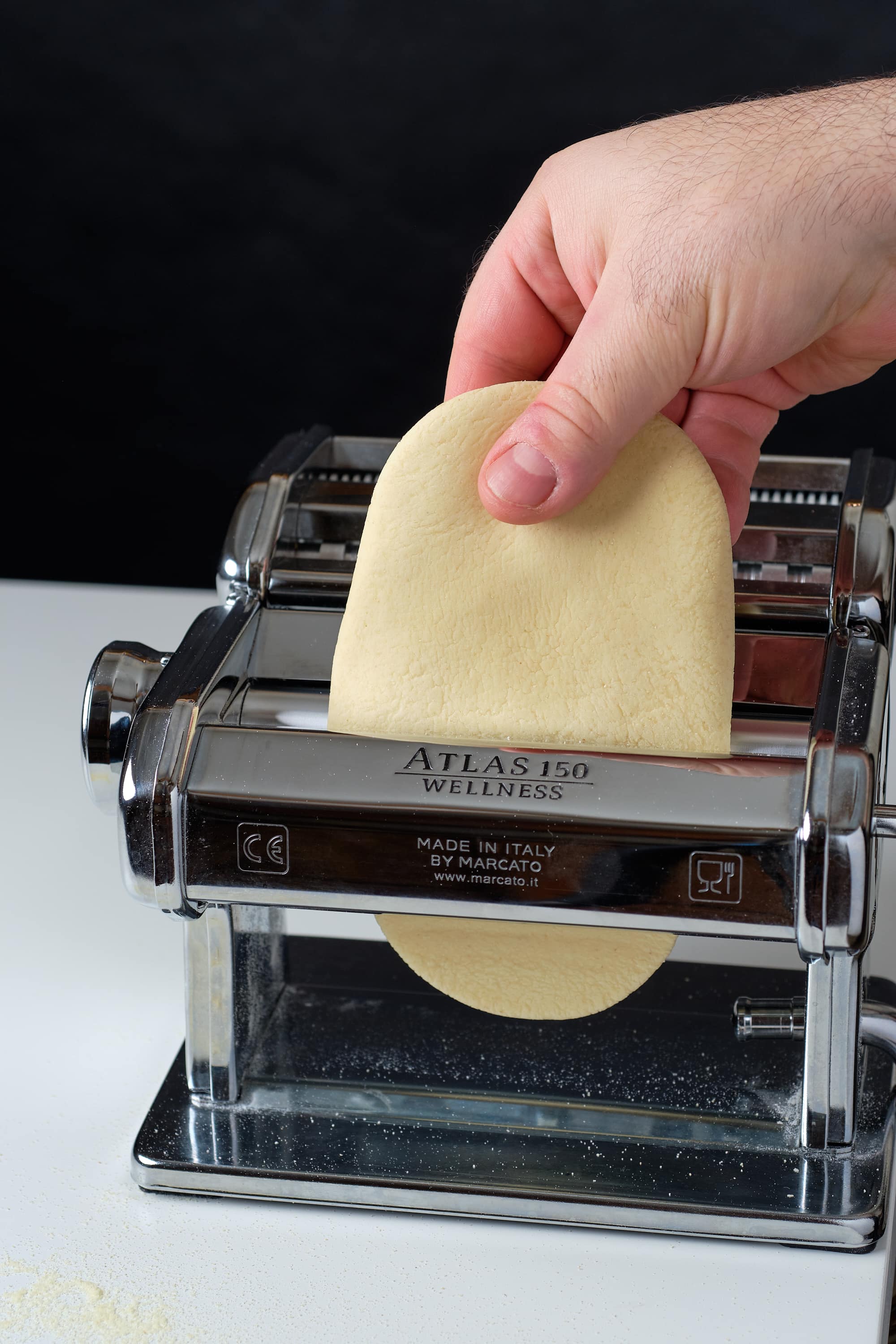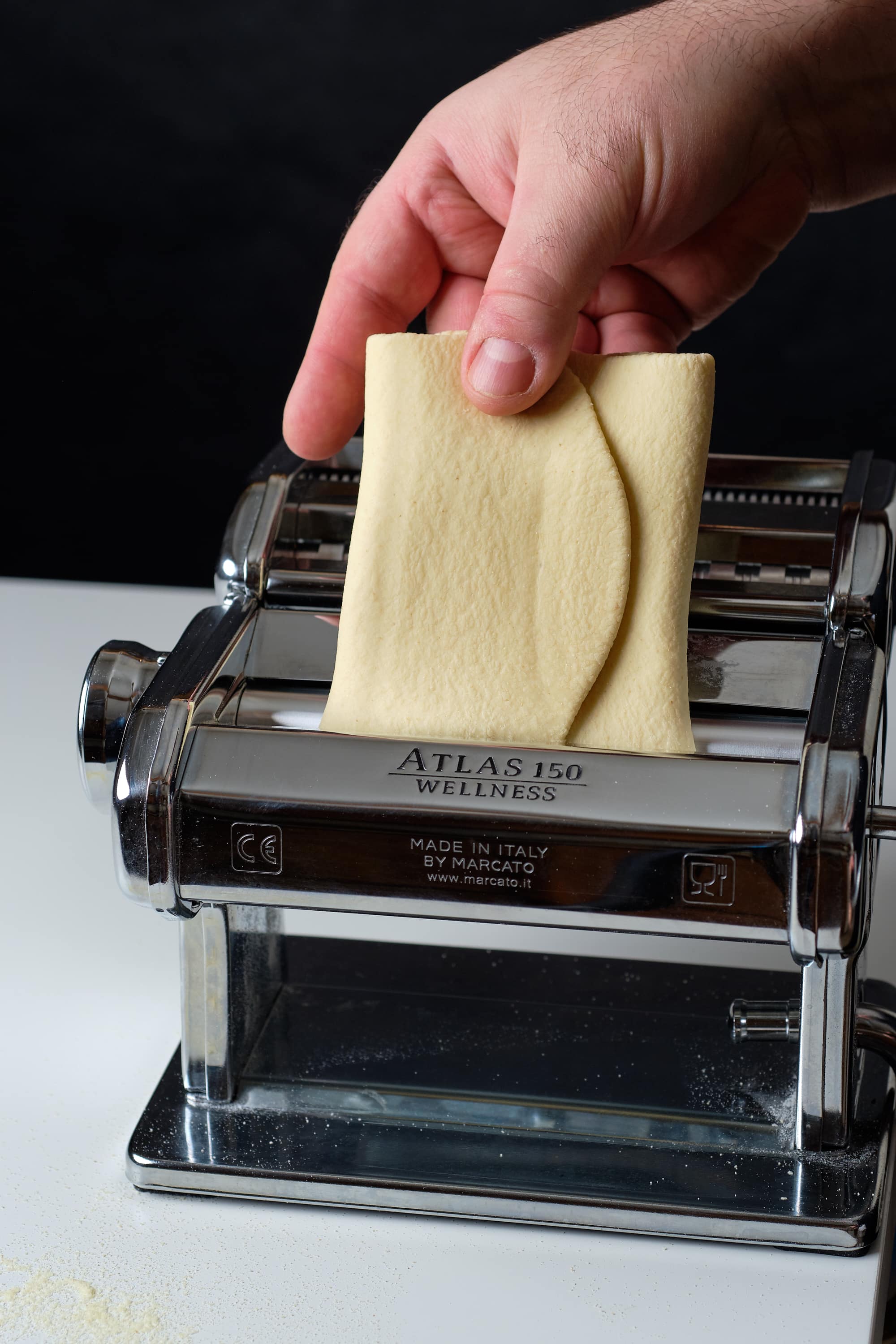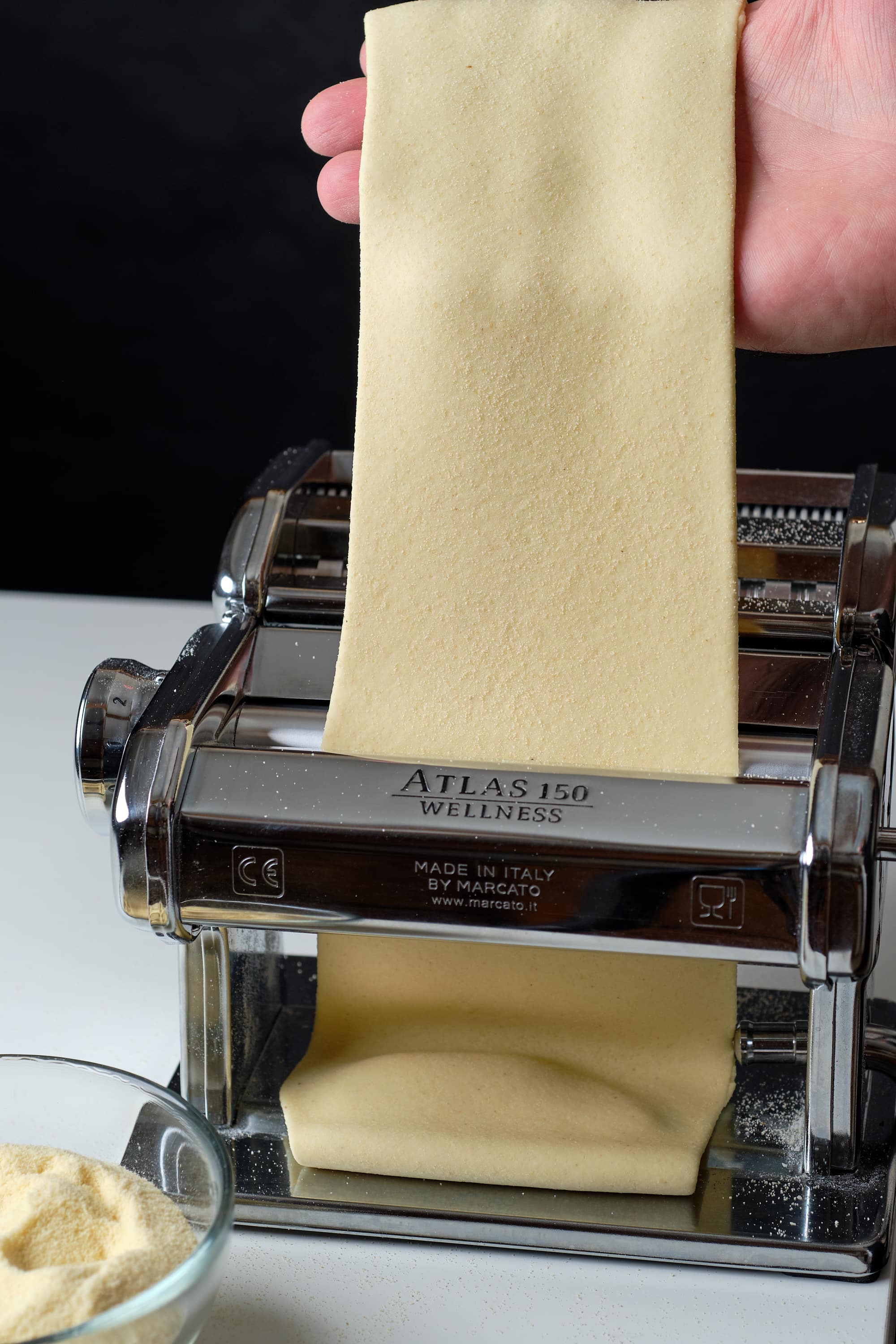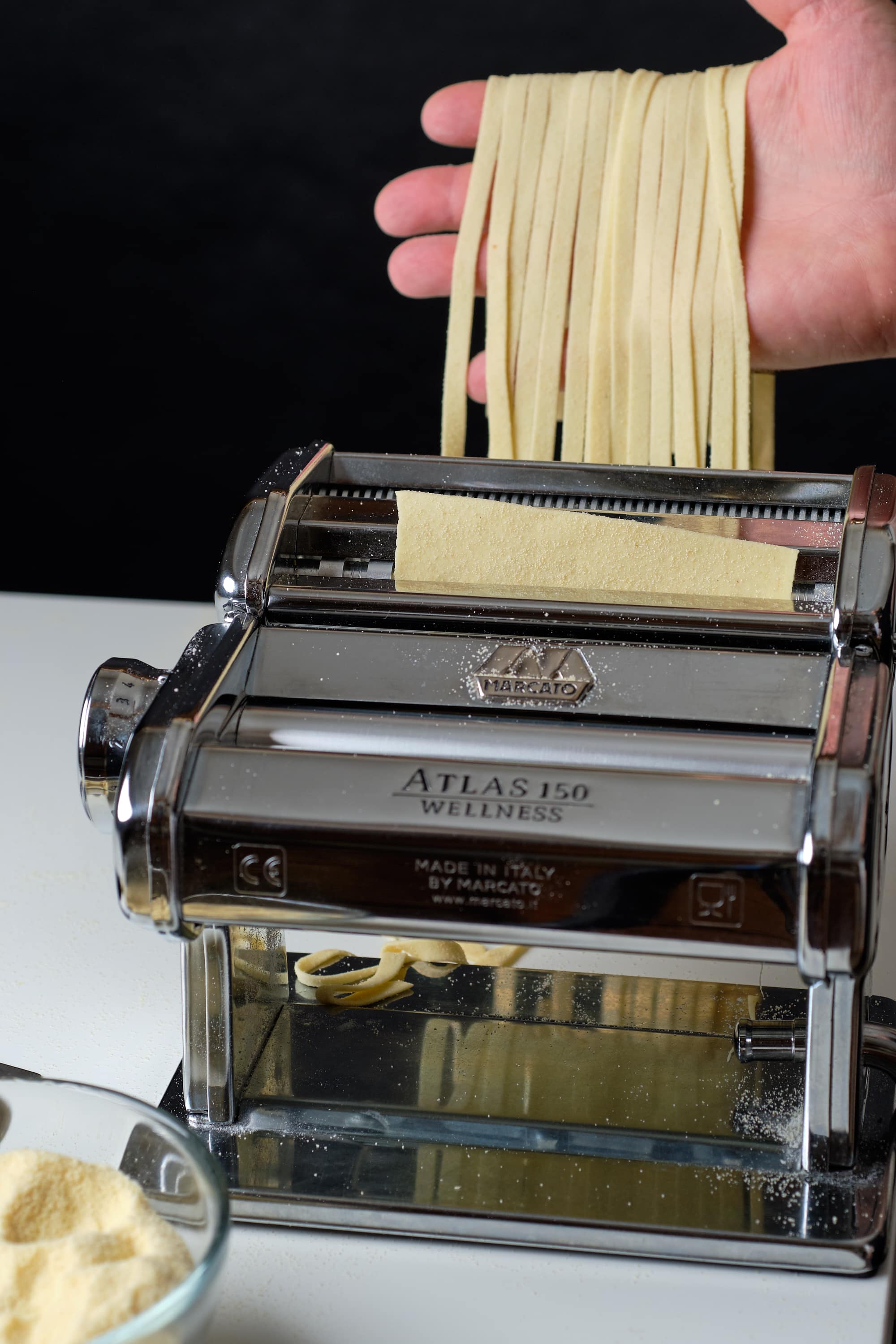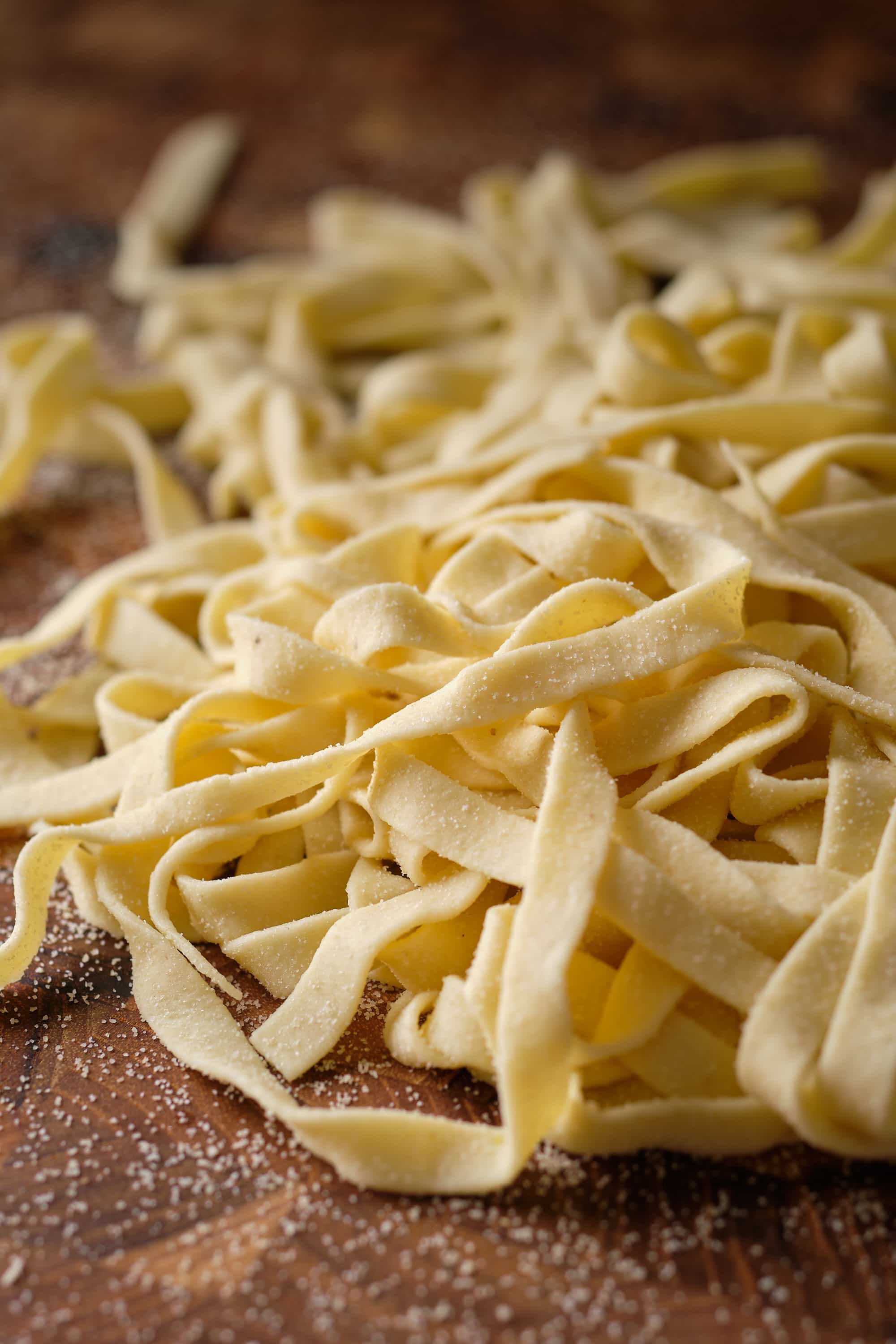 As you work with the dough in the pasta machine you'll want to keep it dusted with semolina. Keep a half cup or so on the side as you roll the pasta through the machine. My dough was a little warm which means it was a little extra sticky – especially when it came out of the machine. This meant I had to dust with semolina with each pass through the machine. When the fettuccine was finally cut I also gave the nest of pasta a final tossing in semolina.
The "Alfredo sauce" is comprised of butter and reggiano plus one more 'secret' ingredient – pasta water. The pasta water works as an emulsifier and as seasoning. This is an important part of the recipe so I tested a few different ratios of water to salt to boil your pasta in. My first test with about 1/4 cup salt to 6 cups of water, which is perfect for pasta alone, was too salty when added to the sauce. I settled on 2 tablespoons of Morton Kosher Salt to 6 cups of water. Once the pasta starts to foam in the pasta water you're going to take out two cups of the water and add it to a pan with butter. Keep this pan on the back burner over low heat and whisk the butter and water together.
As the pasta reaches al dente you can use tongs to transfer it directly to the pan with butter and water. Give it a shake to coat the pasta in butter water and add a handful of grated reggiano. Use tongs to toss the pasta as you shake the pan with the other hand. Add another handful of cheese and repeat. You'll find the watered down sauce soon becomes a beautiful rich creamy sauce – without any cream!