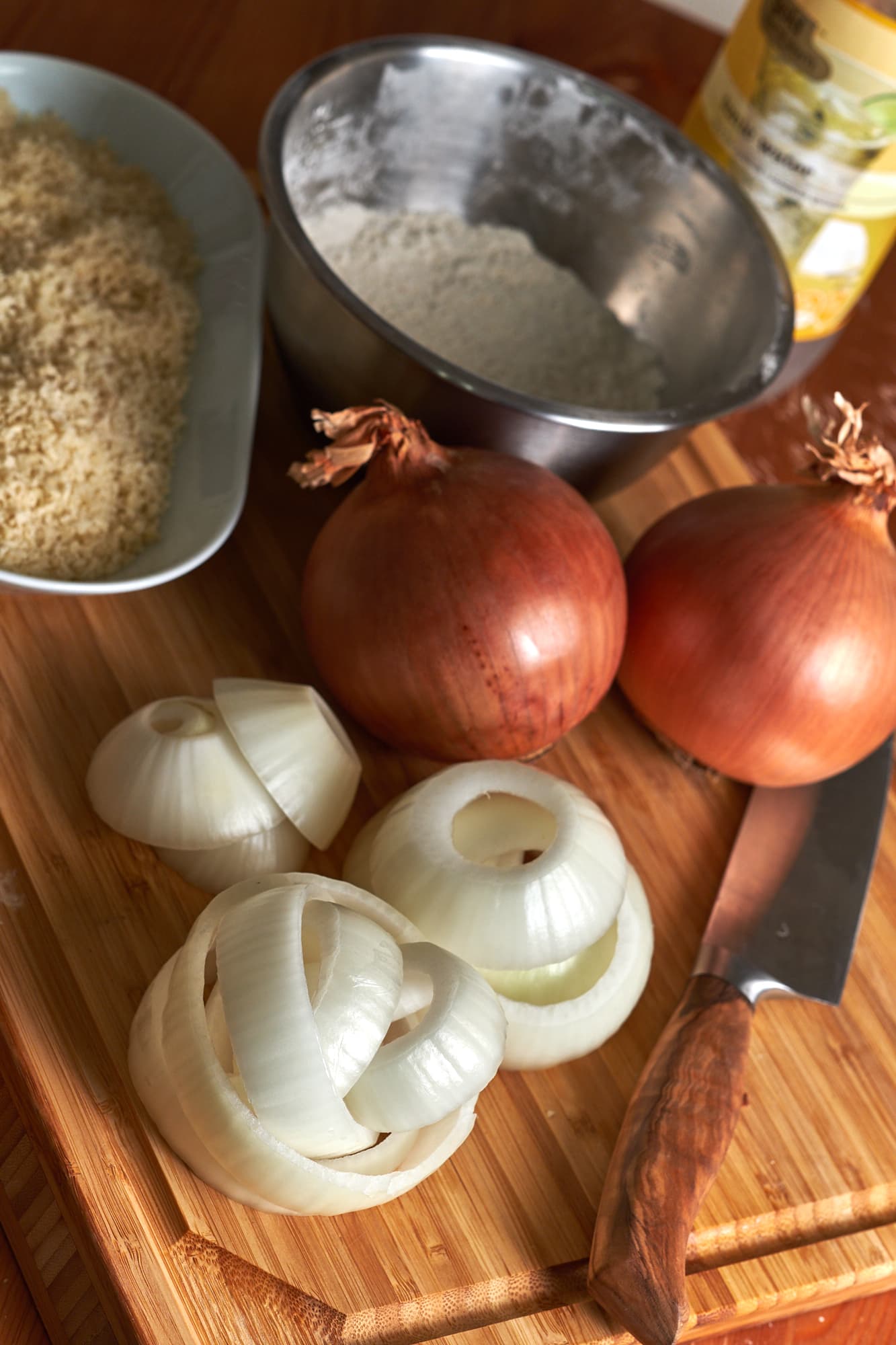 Today's recipe for Onion Rings is dedicated to Mike T. and Erica. Sorry guys, I don't think these will make it til Wednesday!
Being that I still had a pot of frying oil from the Korean Fred Cauliflower, I figured it was a good time to make these Onion Rings Mike and Erica requested. I'm happy to report these are some ridiculously crunchy onion rings. Like with the KFC the other day, I did some research in to batters and found a wide variety of ingredients. I may add this recipe to my list of continued research but for now I'm pleased with the results.
To start off, chop the tops and bottoms off two onions. Peel the outer skin and chop in to thirds. Dredge the dry onion rings in a mix of flour, cornstarch, and salt. I added two teaspoons of habanero chili powder to my dredge so these were some spicy onion rings. Set your floured rings aside and slowly whisk in about a cup of bubbly water (seltzer, tonic, or beer will work) in to the flour mixture. The batter should be fairly thick. Dredge the onions in the batter then coat them with panko breadcrumbs. Set the rings aside as you heat up your oil. If you're not going to fry them right away, you can set them in the refrigerator.
Heat a large heavy pot or dutch oven with 4 cups of frying oil over medium high heat. Test with one onion ring to make sure it's the proper temp. It should be about 375°F and boil rapidly when the onion ring is added. Working in batches, fry each ring for about a minute per side flipping occasionally. I found that more frequent flipping resulted in a more evenly coated ring. Depending on how big your pot is, it should take about 20 minutes to fry up the rings of two large onions.
I prepared some sriracha lime mayo for dipping these spicy onion rings. About 2 tablespoons sriracha to 2 tablespoons mayo plus 2 teaspoons of lime juice.
Add these to your Game Day Snacks menu!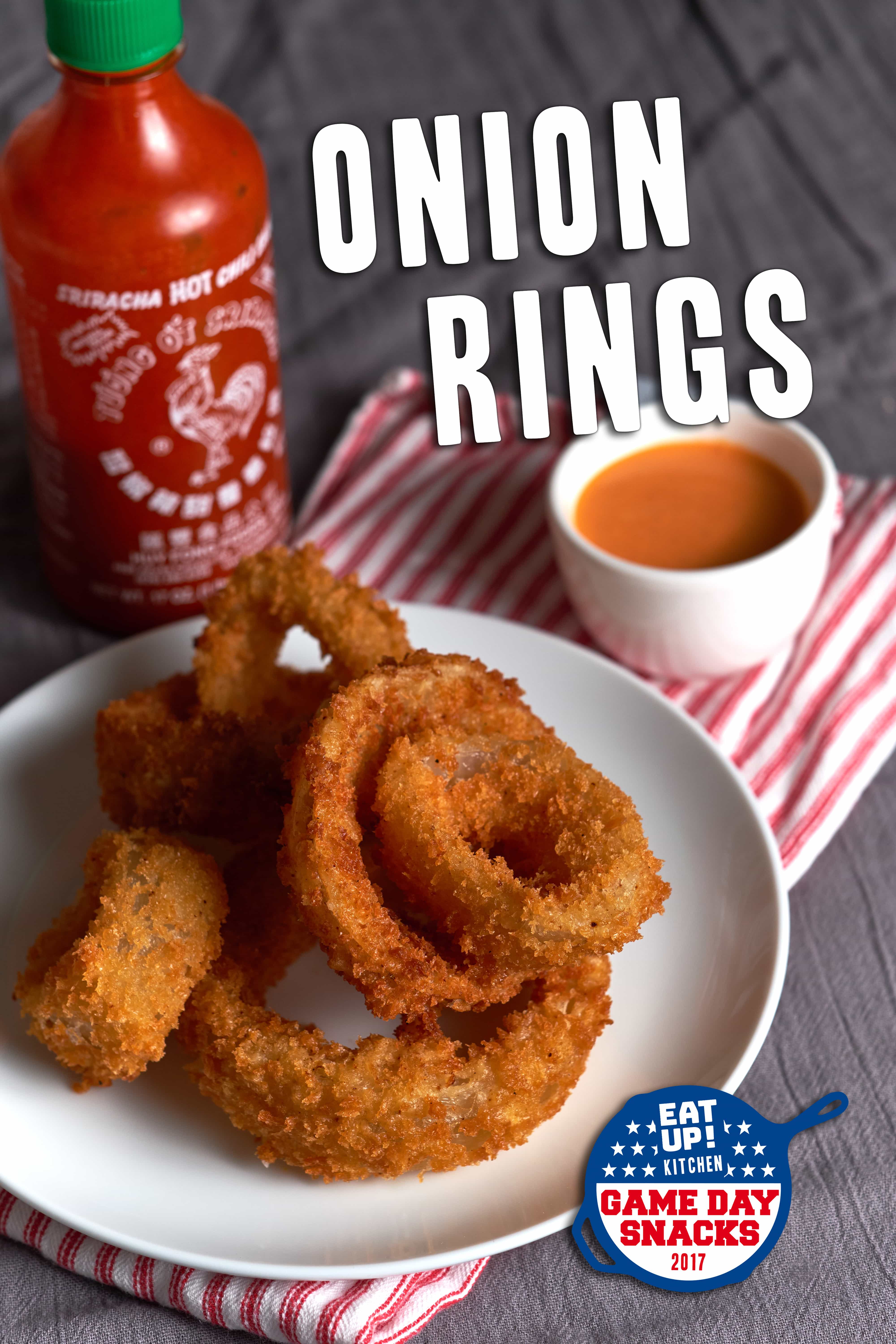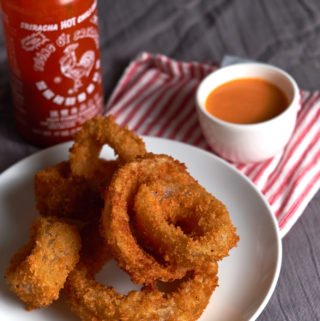 Onion Rings
The simple batter for these onion rings results in a ridiculously crunchy ring. I added some habanero powder to the batter as well as the panko breadcrumbs. Frequent flipping in the frying oil resulted in a ring with a more even crunchy coating.
Ingredients
2

large Yellow Onions

1

cup

Flour

1/2

cup

Corn Starch

1

tsp

salt

1

cup

Sparkling Water

2

cups

Panko Breadcrumbs

4

cups

Frying Oil

Additional Seasoning
Instructions
Chop the top and bottom off the onion and remove the outer layer. Slice in to thirds and separate in to rings.

Combine salt, corn starch, flour and any additional seasoning, I used habanero powder, in a mixing bowl. Dredge onions in flour and set aside.

Whisk in 1 cup of any bubbling liquid like seltzer or tonic (or beer) until a batter forms. Small lumps are fine. Dredge onion rings in batter and set aside. If not frying immediately, rest in refrigerator. 

Heat 4 cups frying oil in a large heavy pot or dutch oven to 375°F. Test one onion ring for proper temperature. Onion should begin frying rapidly. Fry for one minute per side flipping occasionally until dark golden brown. 

Dust with a pinch of fine sea salt as they're removed from the hot oil.
Notes
I prepared these with some habanero chili powder in the batter and the panko bread crumbs. You can add any sort of additional spices you'd like such as black pepper, cayenne, nutmeg, or sumac.
The dipping sauce shown is sriracha lime mayo. Mix equal parts sriracha and mayo and add 1 tsp lime juice.