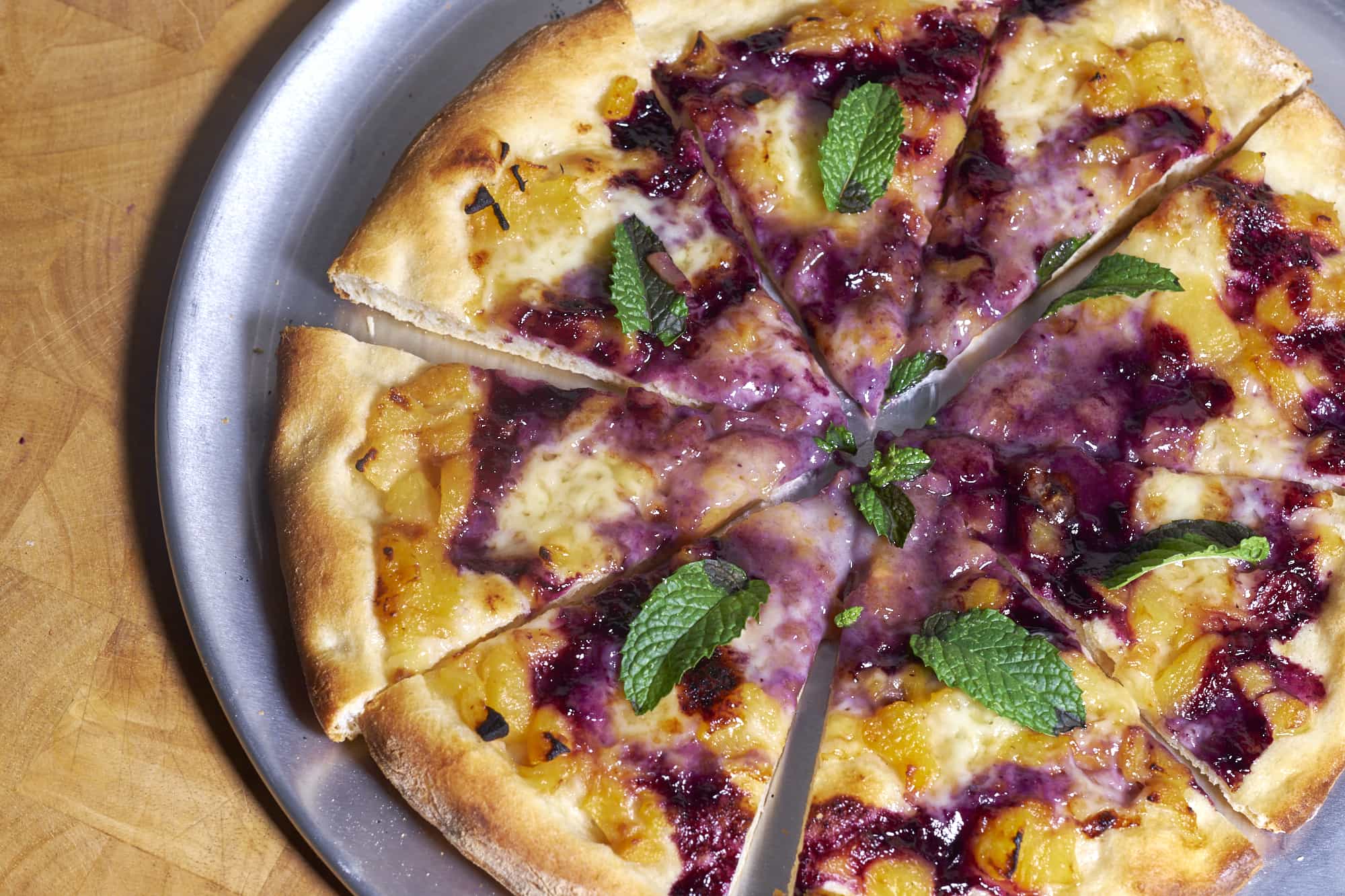 Pizza, it's not just for dinner.. or lunch… or breakfast. This Brandy Peach and Bourbon Blueberry Syrup Pizza could be served for dessert at your next pizza party! 
This pizza story really starts with my mom and her cousin coming to visit me this past weekend. I've been a little lazy this past week (partially thanks to allergies kicking my butt) so I planned on hosting a little Eat Up! cooking demo in my tiny kitchen so I had something to write about. I had a list of a four or five dishes I wanted to prepare but when I heard hand picked chanterelles were on their way I knew I had to make some changes. I started to plan Butter Sautéed Chanterelle Pizza with Caramelized Onions and Fontina Cheese. With only a few hours to prep though, I was anxious to develop a fast, flavorful, and forgiving dough. I knew I wanted to keep the dough in the fridge for a while because (1) I wasn't sure when I'd be making it and (2) I had no room to keep a bowl of dough in a hot cramped kitchen. If you haven't worked with chilled pizza dough before I'll tell you there's two major advantages. First, you can basically keep it in there for days and it will only develop more flavor. Second, chilled dough is a million times easier to work with both on your counter top and in the oven.
With the chanterelle pizza on the works, I had to come up with a second recipe to utilize the remaining dough. I was going to do a basic tomato sauce and ricotta but I wasn't crazy with the tomato sauce I made (all canned tomatoes are NOT the same). As I looked around my kitchen, I was having a hard time finding something not only Pizza worthy but Eat Up! Kitchen worthy. Then, in a brown bag that was gifted along with the chanterelles, there sat some very ripe yellow and white sweet peaches. The three of us all agreed a peach pizza would be something fun to make. I was hesitant though. I really wanted peaches with arugula and brie, a classic combo, but had none of those things. I had to work with what we had and came up with something interesting. I made a simple jammy sauce with butter, peaches, nutmeg, salt and brandy for the base of the pizza. Then I threw down some chunks of taleggio cheese and swirled the pizza with the bourbon blueberry syrup I made for the Blueberry Crumb Cake last week. This baked on a pizza stone for about 25 minutes and came out just as thin and tender-crunchy as I like it. This dough recipe is a winner! To cut through the sweetness of the fruit and the creaminess of the cheese, I topped the baked pizza with thinly sliced raw red onion and a sparse sprinkle of Maldon Sea Salt.
I wasn't as excited about the photos I took this weekend as I was about the pizzas we ate. It's tough hosting, chatting, drinking, cooking four things, and taking pictures all at the same time. Sooo.. I made the pizza again two days later. There were a few differences this time. For one, I was able to keep the dough in the refrigerator much longer so the pizza was even easier to work with. You can clearly see the difference in the photos. The peaches, already ripe and delicious days earlier, weren't as pretty but they made for an even sweeter jammy jam. Finally, I forgot the red onion and I hated myself for it.
I was still full from the weekend so I only had a bite of both the do-over peach pizza and the new three cheese and garlic pizza. Rather than stuffing my already expanding face, I brought them out to to my local pub to share with friends and strangers and we chatted about having my family over the day before.
Which brings me back to the point of all of this. I don't care to preach about where you get your food, what your food ethics should be, or how over or under processed your ingredients are. I do hope my passion for these things inspires you and elevates your cooking abilities. As you become more confident in the kitchen you'll develop your own passions. You might develop your own recipes and you're going to want to share those foods with people. Those moments of connection and togetherness brought on by your ability to feed people with your own two hands – I want you to feel how that feels.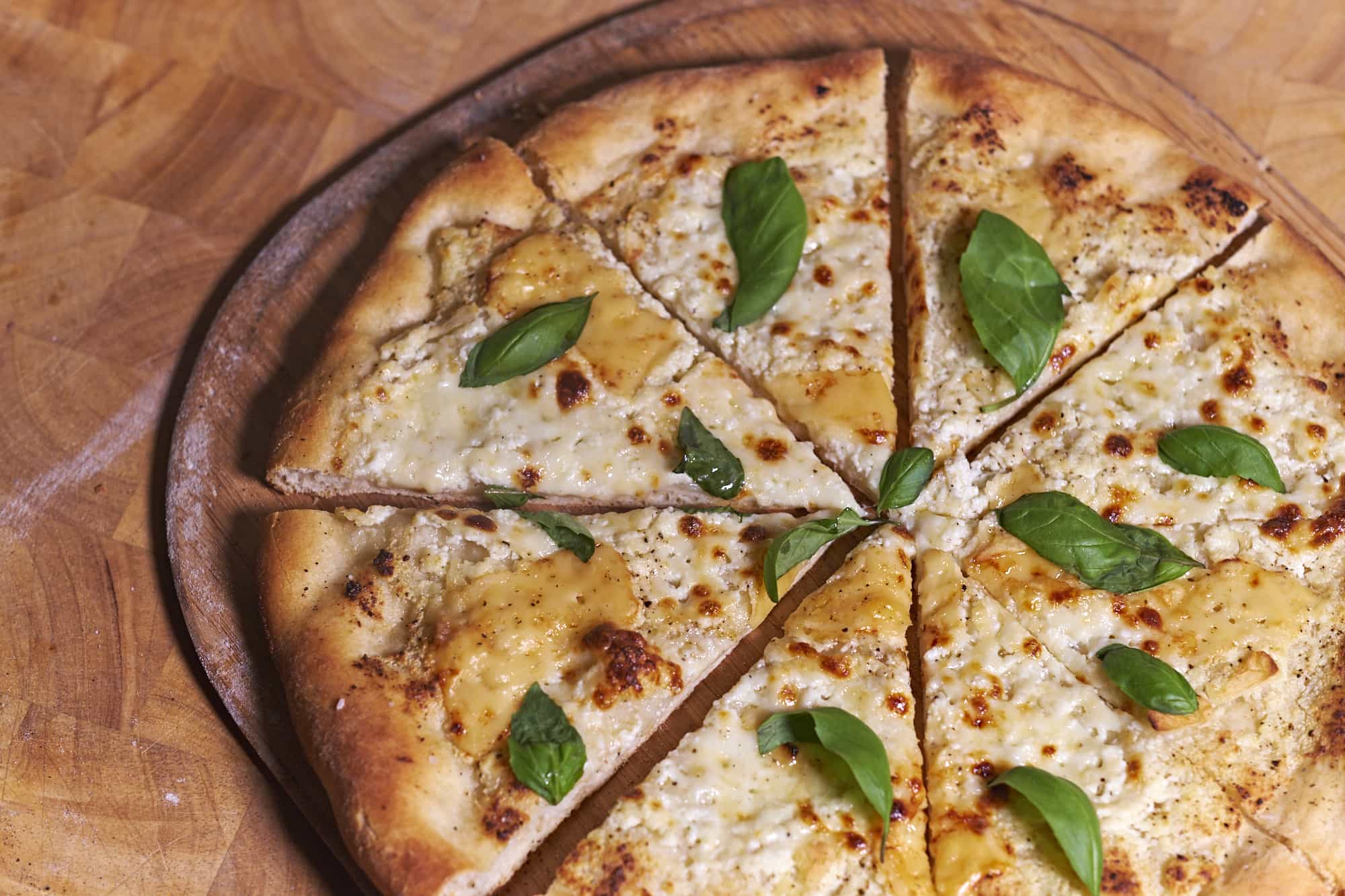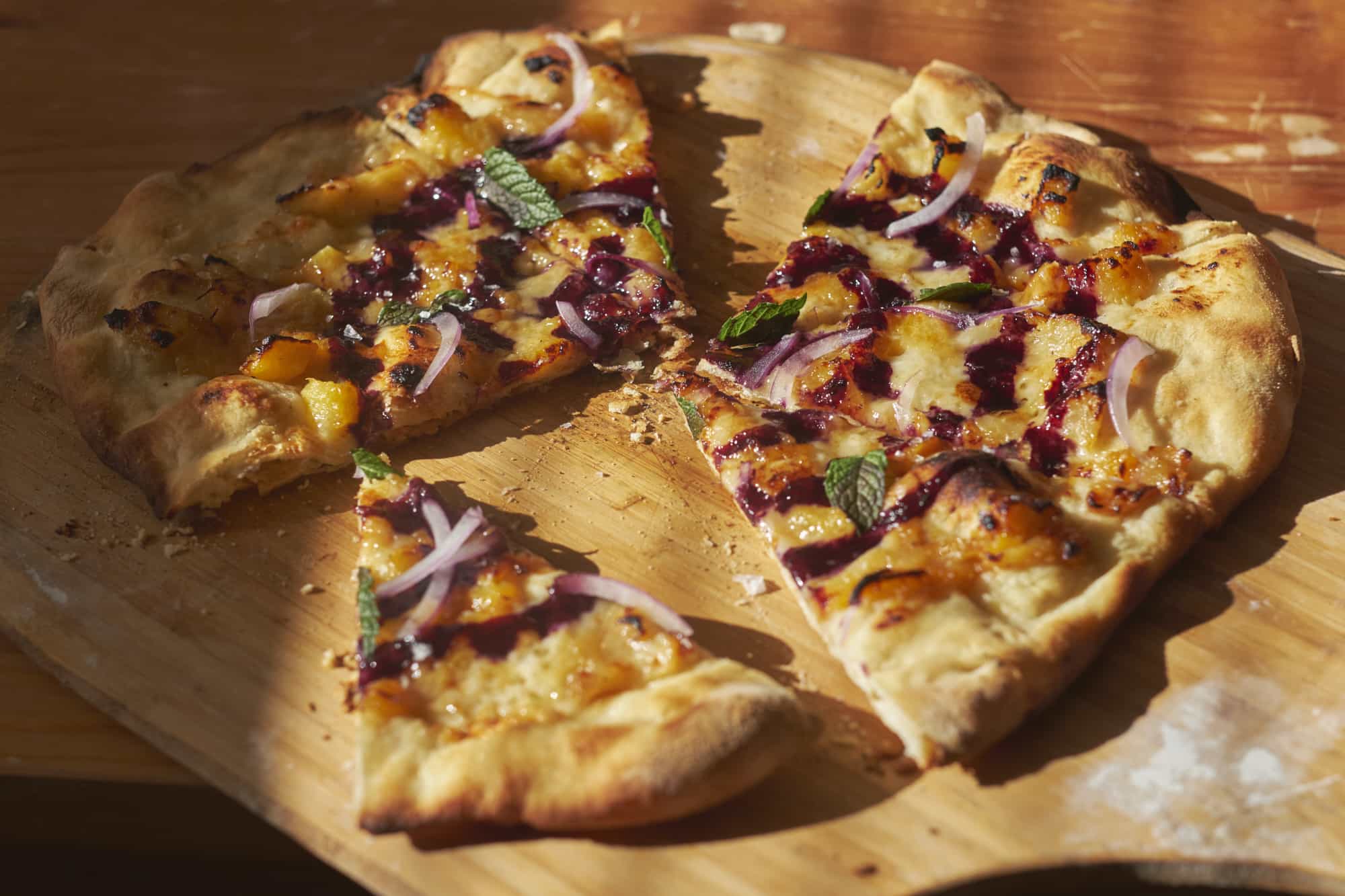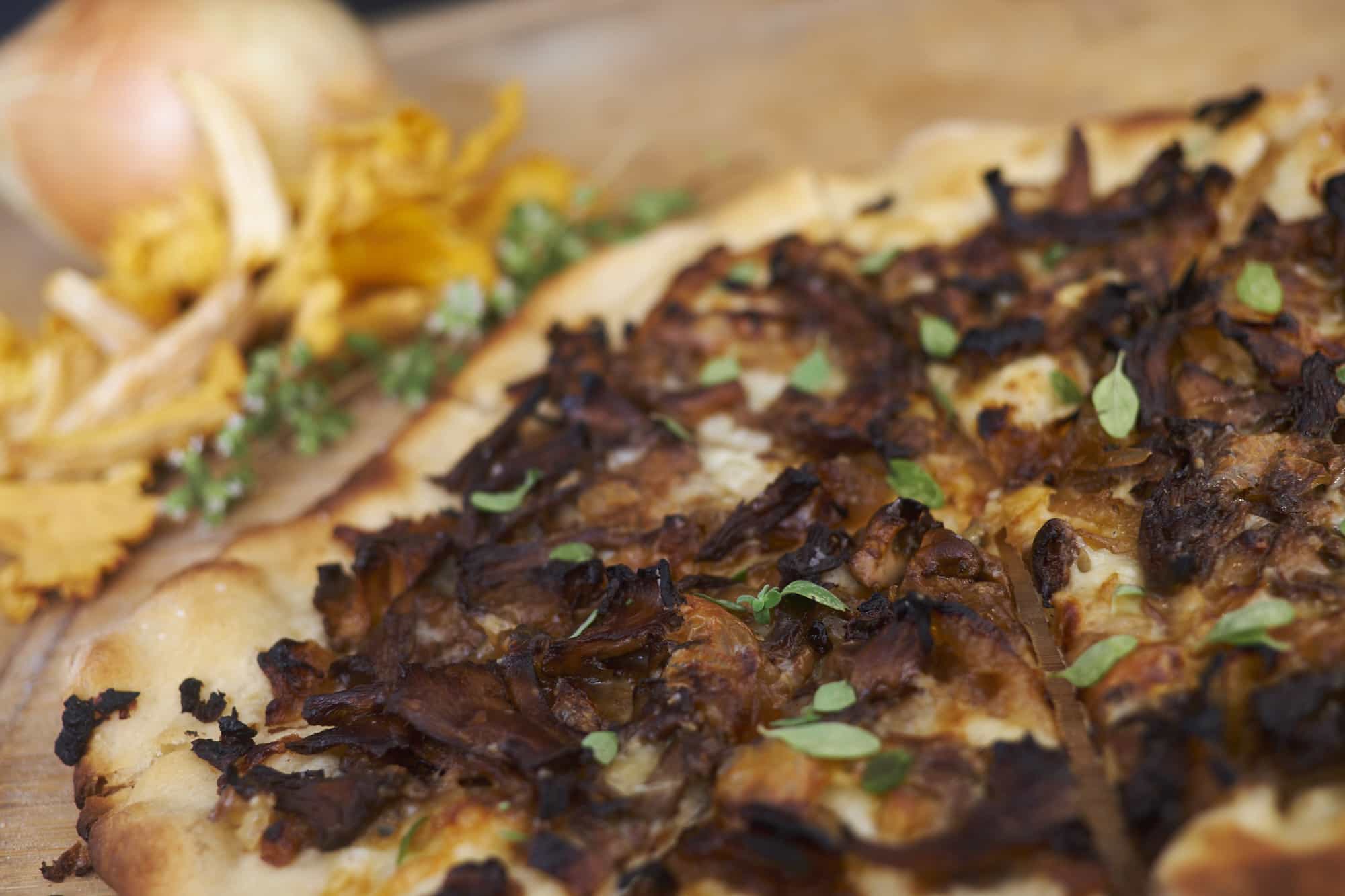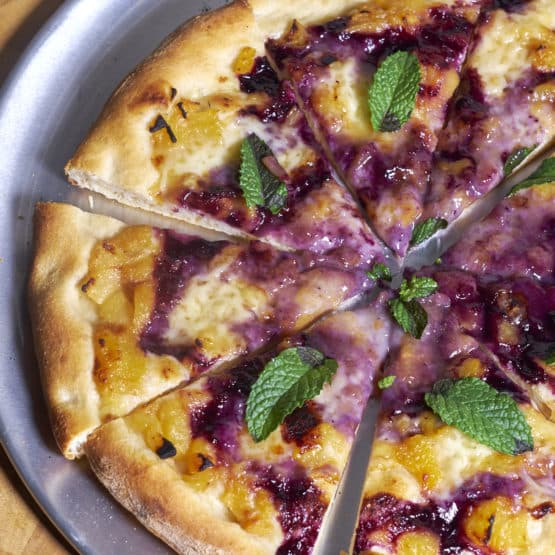 Pizza Dough
I've found this pizza dough recipe to be the easiest and most consistent so far. It starts with a sponge which is utilized for more flavor and improved texture. Once the dough is transferred to the refrigerator, leave it there for at least one hour or up to one day ahead of time. Chilling the dough is a great way to slow the rise time and increase the flavor of your pizza crust. Chilled dough is also much easier to work with when forming your pizza.
I used this dough for Peaches and Blueberry Syrup Pizza and Three Cheese Pizza.
Ingredients
Sponge
100

g

warm water

1

package dry yeast

1/4

tsp

brown sugar

50

g

ap flour
Dough
Sponge

100

g

warm water

250

g

ap flour

1

tsp

salt

Flour for dusting and kneading
Instructions
Sponge
In a medium bowl, combine all ingredients and mix until all four is absorbed. Cover and set aside in a cool oven for 30 minutes.
Dough
Mix warm water in with the sponge. Add one fourth of the flour and mix until absorbed. Repeat with remaining flour.

Dough should be tacky but manageable. Turn on to a well floured work surface and knead for 5 minutes. Add a small amount of flour as required to knead without sticking to counter. Cover and rest for 10 minutes. Dust once more with flour and knead for one minute. Dough should be smooth and subtle.

Transfer to rise in a lightly oiled bowl and cover with plastic wrap. Set aside in cool oven for one hour.After one hour, the dough should have doubled in size. Move bowl from oven to refrigerator for at least one more hour. 

Turn the oven on to it's highest setting 45 minutes before you plan to bake pizza on pizza stone.

Take bowl from refrigerator and transfer dough to a lightly floured work surface. Divide dough in half and gently form in to two balls. Dust lightly with flour and cover with plastic wrap to rest for 15 to 60 minutes.