This is my go-to low-effort recipe when I want a homemade Pulled Pork Sandwich in a hurry. The pork shoulder is seasoned with salt and pepper then placed in a slow cooker for about 5 hours. After it's done cooking I combine it with a homemade barbecue sauce before making the sandwich. Oh, Don't forget the slaw!!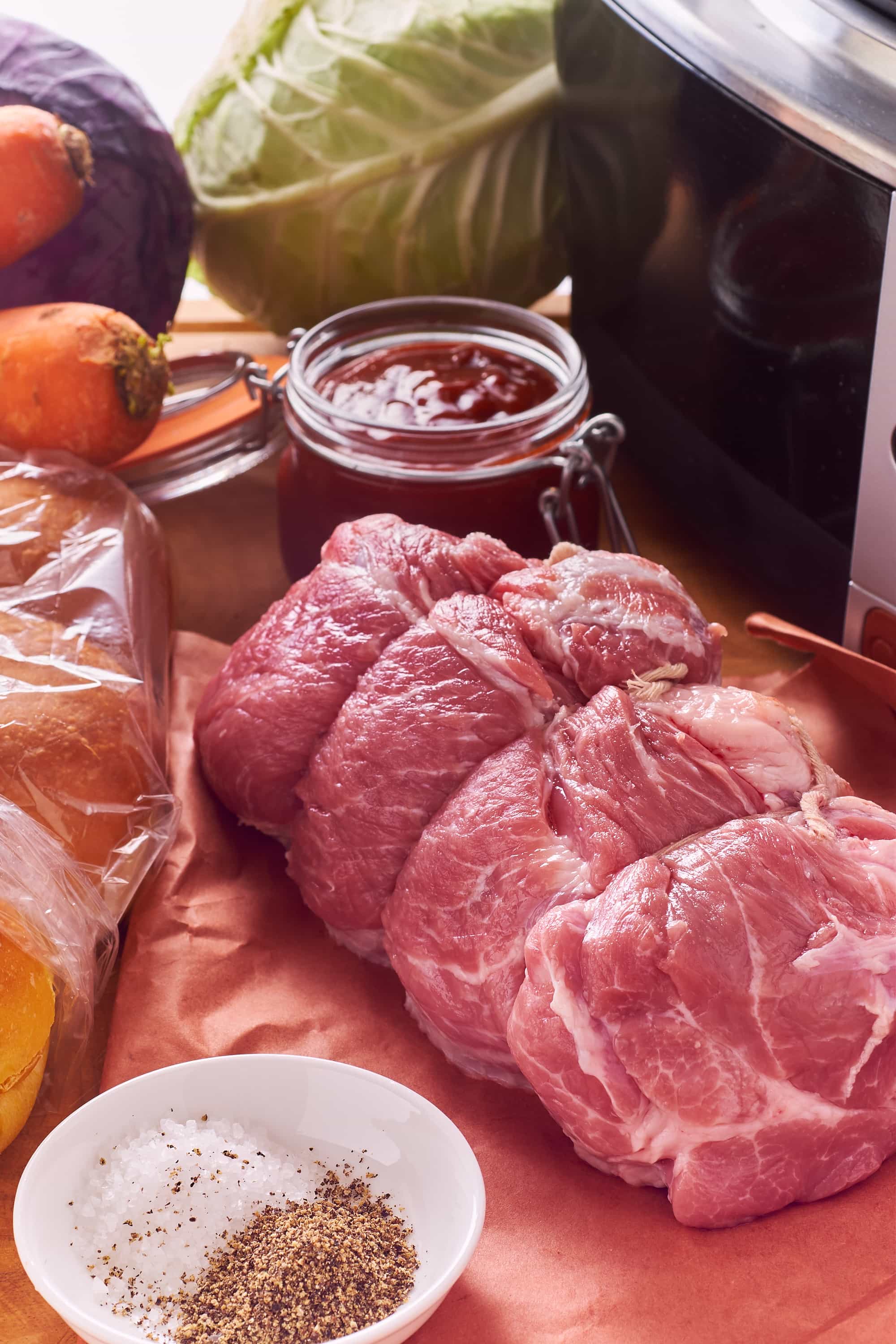 There's nothing very traditional about this Pulled Pork Sandwich with Coleslaw. If you're not smoking / barbecuing your pulled pork you're sort of cheating. So I guess this is my pulled pork cheat recipe. I'm not really even flavoring the pork. The pork gets heavily seasoned with salt and pepper then gets placed in a slow cooker over some sliced onions and apples with a cup of water. You could definitely add more seasoning to the pork at this point if you'd like. This recipe though is more about the sauce and using the pork as a vehicle to get the sauce on your bun. It's not going to win any barbecue competitions but it should put a very satisfied smile on your face.
I'll put the amounts in the recipe card below but here's what's in the barbecue sauce; Brown Sugar, Ketchup, Vinegar, Bread and Butter Pickle Juice, Mustard Powder, Cayenne, Smoked Paprika, Onion Powder. I think this is a perfect general use sauce – tangy, smokey, and sweet with a touch of heat. The reason I prefer to sauce the pork after I cook it isn't just about simplicity or laziness. If you're cooking your pork in a slow cooker for several hours you're going to find the vessel full of extra liquid and fat when its done. All this liquid would dilute the sauce if you added it before cooking the pork. I'd rather not waste this sauce by flavoring the liquid I'm just going to discard. I'd sooner flavor the sauce with the pork fat. Right? Right! That would substantially decrease the sauces shelf life though so I'm no going to do that. As it is, this sauce should keep in the fridge for many months.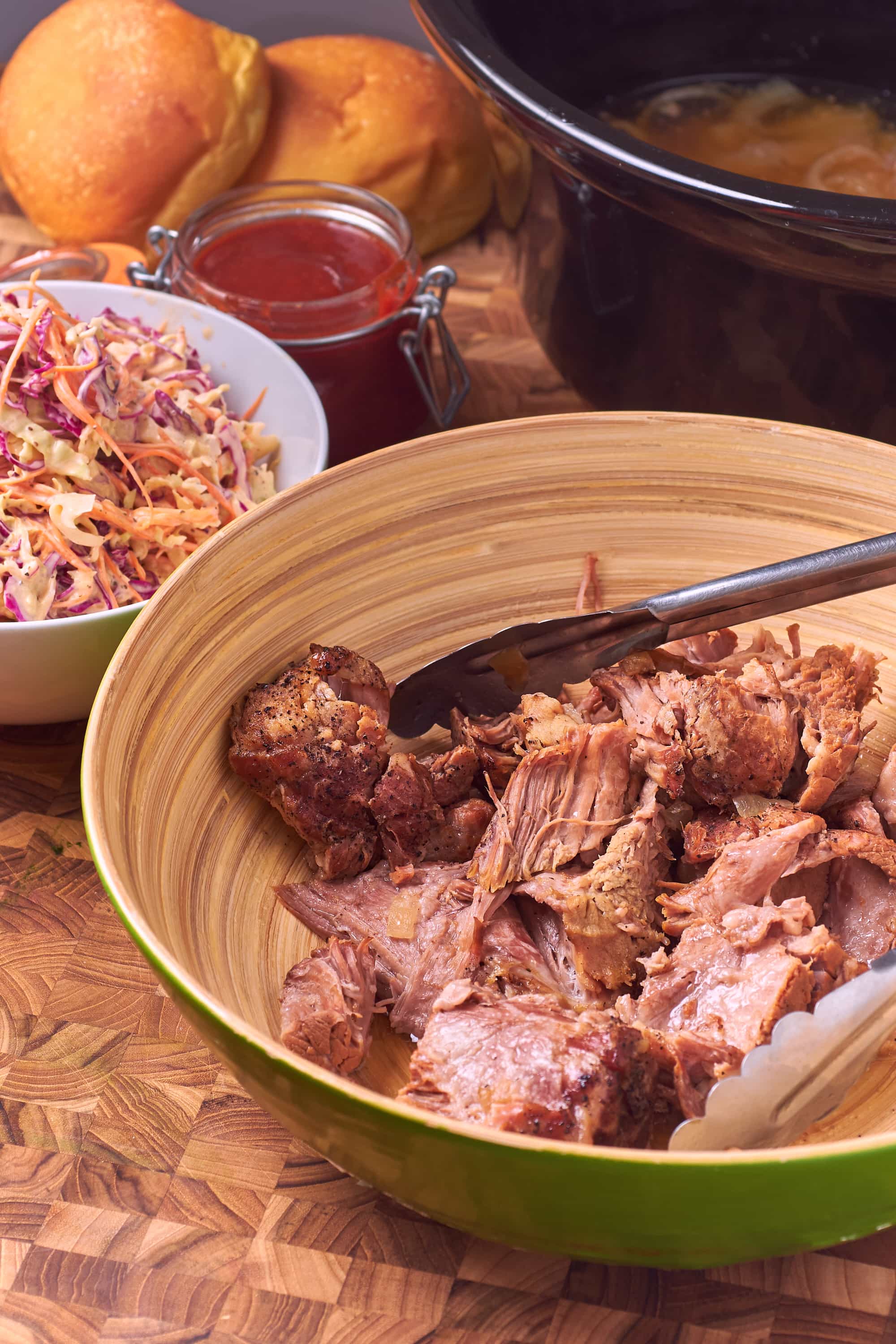 You can't have a pulled pork sandwich without the slaw! I'm sticking with a traditional-ish coleslaw for this recipe. I see most recipes online calling for a bag of coleslaw mix. Ehhh, I'm not gonna roll that way. Get yourself a small head of cabbage and a sharp knife or mandolin. I used a mandolin to prepare my cabbage and carrots. I realized later on that I probably shouldn't have gone super thin on the cabbage. Your cabbage should have some substance so it adds a nice crunch to the sandwich. I'm using sour cream as the base for the coleslaw sauce. If you'd prefer a mayonnaise base I have a recipe over here you could use to make it from scratch. Aside from the base I'm using vinegar, cider vinegar, yellow mustard, sugar, and of course the mandatory celery seeds. Pretty simple! Again, the coleslaw should add a nice crunch and also some sweetness and brightness to the sandwich. It's a key component.
I like to top my Pulled Pork with Coleslaw Sandwiches with Bread and Butter Pickles and / or Pickled Jalapeños. I can't think of anything better to serve along side it than some potato chips and a cold beer. Perhaps some potato salad would do.