This simple crispy Salmon Stir Fry with Bok Choy and shredded Carrots is amazing. With just a light dusting of corn starch on some beautiful fatty salmon you can elevate this stir fry to something really special.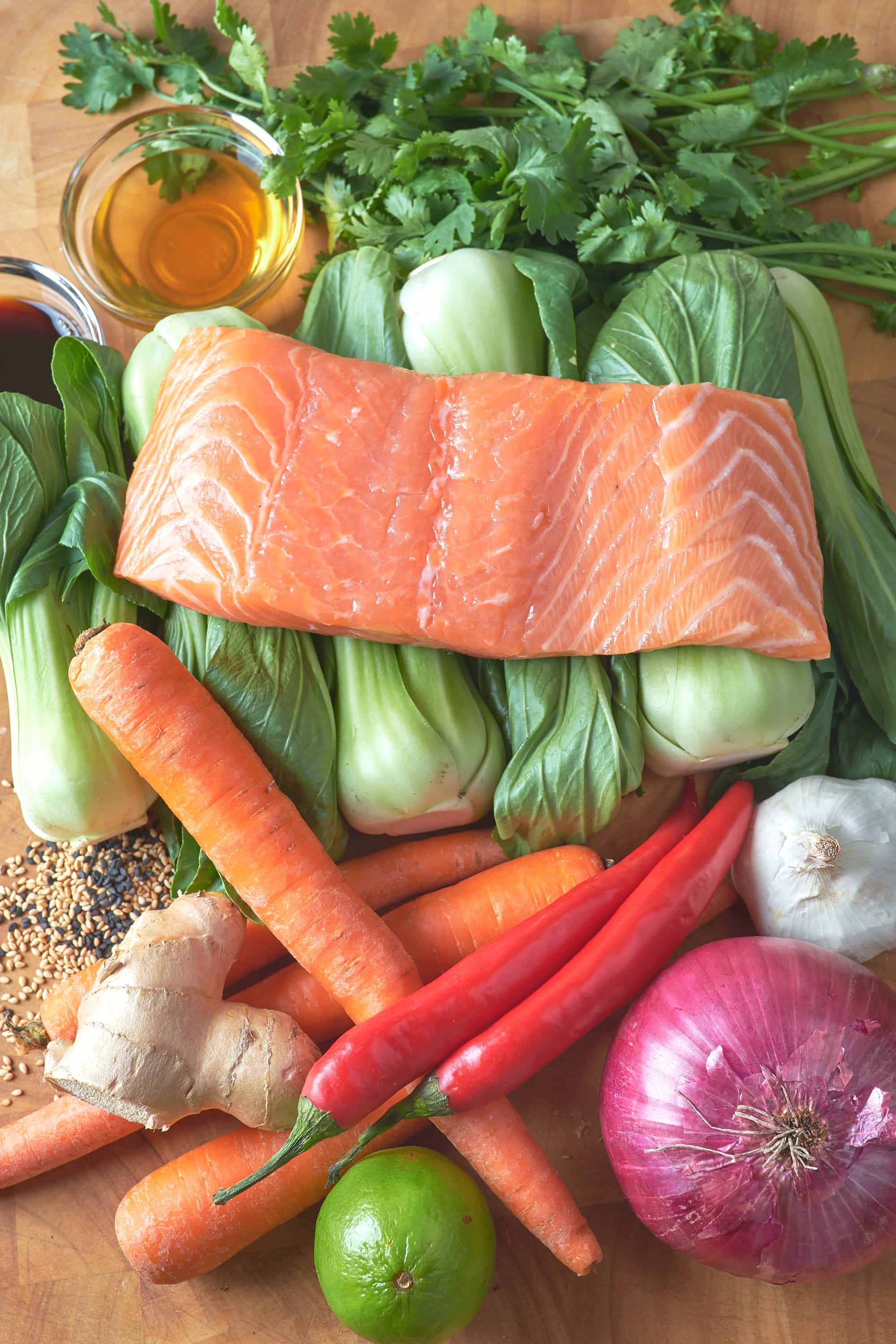 I bought this gorgeous Norwegian salmon from John Yi Fish Market in Reading Terminal Market the other day. Typically I like to just bake or broil my salmon with some ginger, soy, and orange juice. It's such a simple clean way to enjoy salmon. I have this food blog though so I need to be a little more creative for the sake of my loyal readers. So, as much as I hesitated to experiment by pan frying a twenty dollar piece of fish, I have to say it might be my new favorite way to eat salmon.
To prepare the salmon I removed the skin and sliced the filet in to roughly 3/8″ pieces. Then I just gave the salmon a little dusting of fine Himalayan salt and some corn starch. A fine mesh strainer was perfect to evenly dust the corn starch. I dropped 4-5 pieces of salmon in a few tablespoons of hot vegetable oil and fried them on one side for about 90 seconds. While they're frying I just basted the top side in oil so I didn't have to flip and cook the other side. Transfer the cooked salmon to paper towel and finish frying the rest in batches.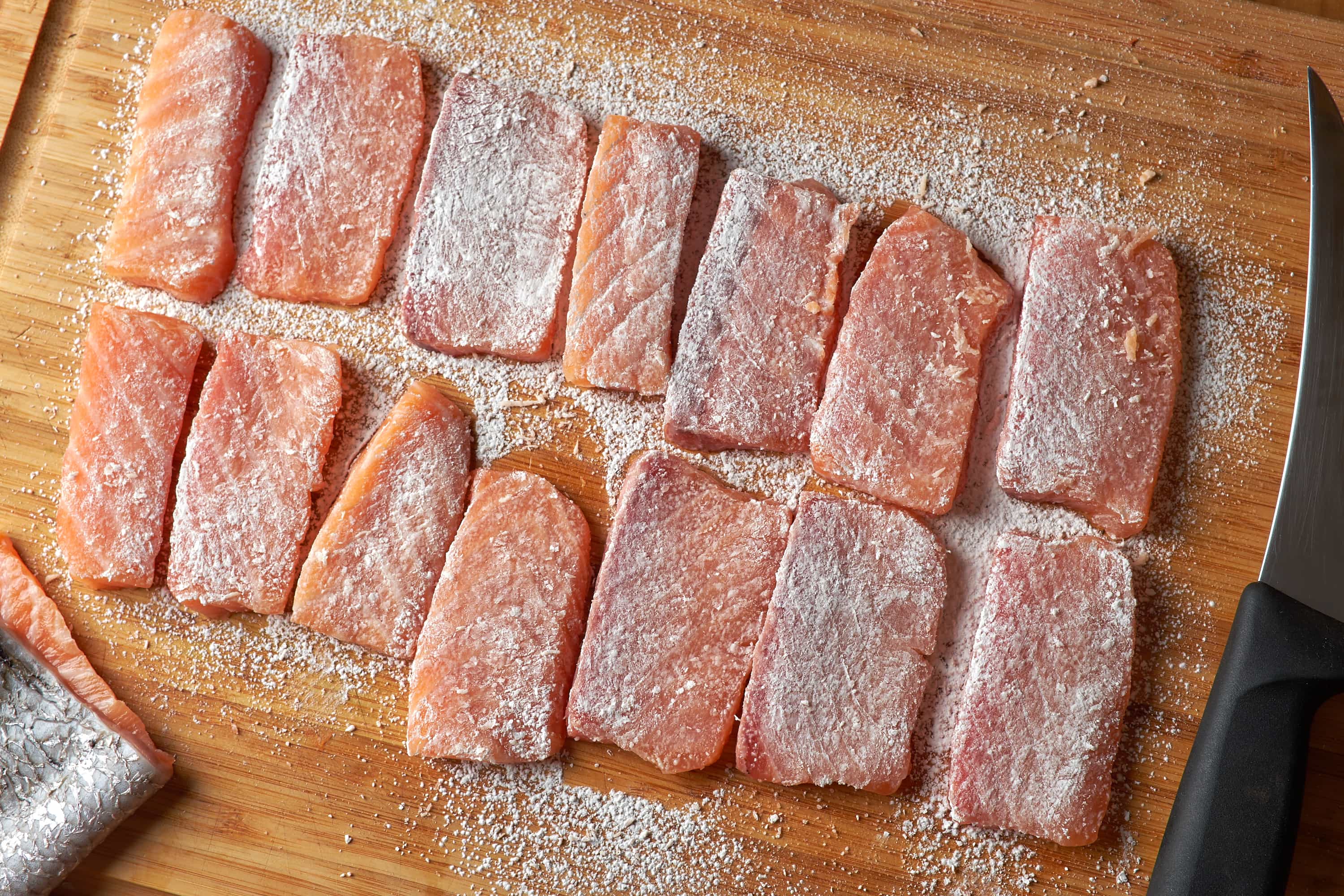 Think about fried bacon – most bacon is over 50% fat. Salmon has a high fat content as well. So basically we're frying fish bacon here. You end up with this decedent crispy fatty piece of fish. It's really delicious. Although it wouldn't be difficult to eat an entire pound of fried salmon all on it's own, maybe with little soy or black vinegar for dipping, we might want to serve this over a quick healthy stir fry.
Stir fry is all about prepping your ingredients and getting your station ready. There's a lot of things happening in a short period of time. Once you get your food prepped you should be plating your meal in less than five minutes.
For the stir fry sauce I used a pretty standard base of minced garlic, grated ginger, chopped red chilis, honey, and soy sauce. I like my stir fry sauce to be salty, sweet and tangy. There's so many different ingredients you can use. Instead of honey you could use agave or sugar. Instead of soy sauce you could use miso or just salt. For the acidic tangy element I used lime juice. You could use lemon, orange, rice wine vinegar, white vinegar, mirin – so many things.
Having spent enough time frying the salmon, I kept the rest of the stir fry simple. Carrots were peeled then grated lengthwise on a box grater. Bok Choy was washed and drained then cut in to quarters. Half a red onion was thinly sliced. I always feel like washing vegetables is the worst part of any recipe. You spend more time getting your food clean than you do cutting and cooking it. Washing bok choy and peeling carrots is probably the biggest time suck of this recipe.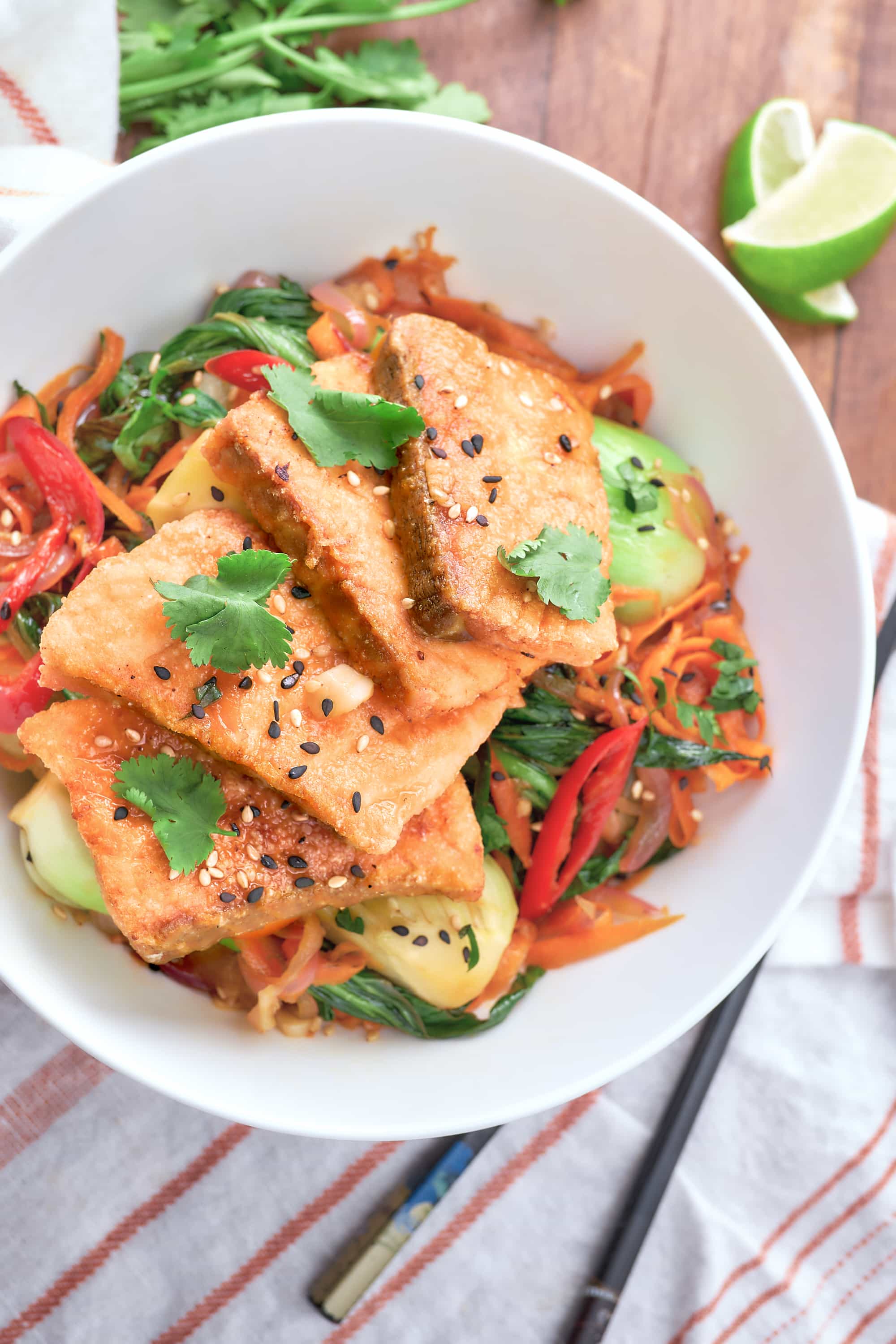 I like to start my stir fries by infusing the oil with a lot of flavor. Add a coupe tablespoons of vegetable oil to a cold pan along with half the ginger, garlic and chilis. Slowly heat the pan to medium heat – occasionally stirring the pan so nothing sticks. As the aromatics just start to get some color, 3-4 minutes, you want to remove them from the pan with a slotted spoon. Add the remaining garlic, ginger, and chilis along with the sliced onions. Stir fry for 30 seconds then add the bok choy. Bok choy should take another 30-45 seconds and then you can add the carrots.
Add honey, soy sauce, lime juice, a teaspoon of minced cilantro, and a teaspoon of sesame seeds then toss for a minute or so. The liquid will lower the heat of your pan so you have a little time here to relax. In a couple minutes the liquid will have reduced and you'll be ready to plate. Transfer the stir fry to a plate or bowl with tongs or a slotted spoon. Reserve the liquid in the pan to drizzle over the salmon as you place it on top of the vegetables. Garnish with more cilantro and sesame seeds.