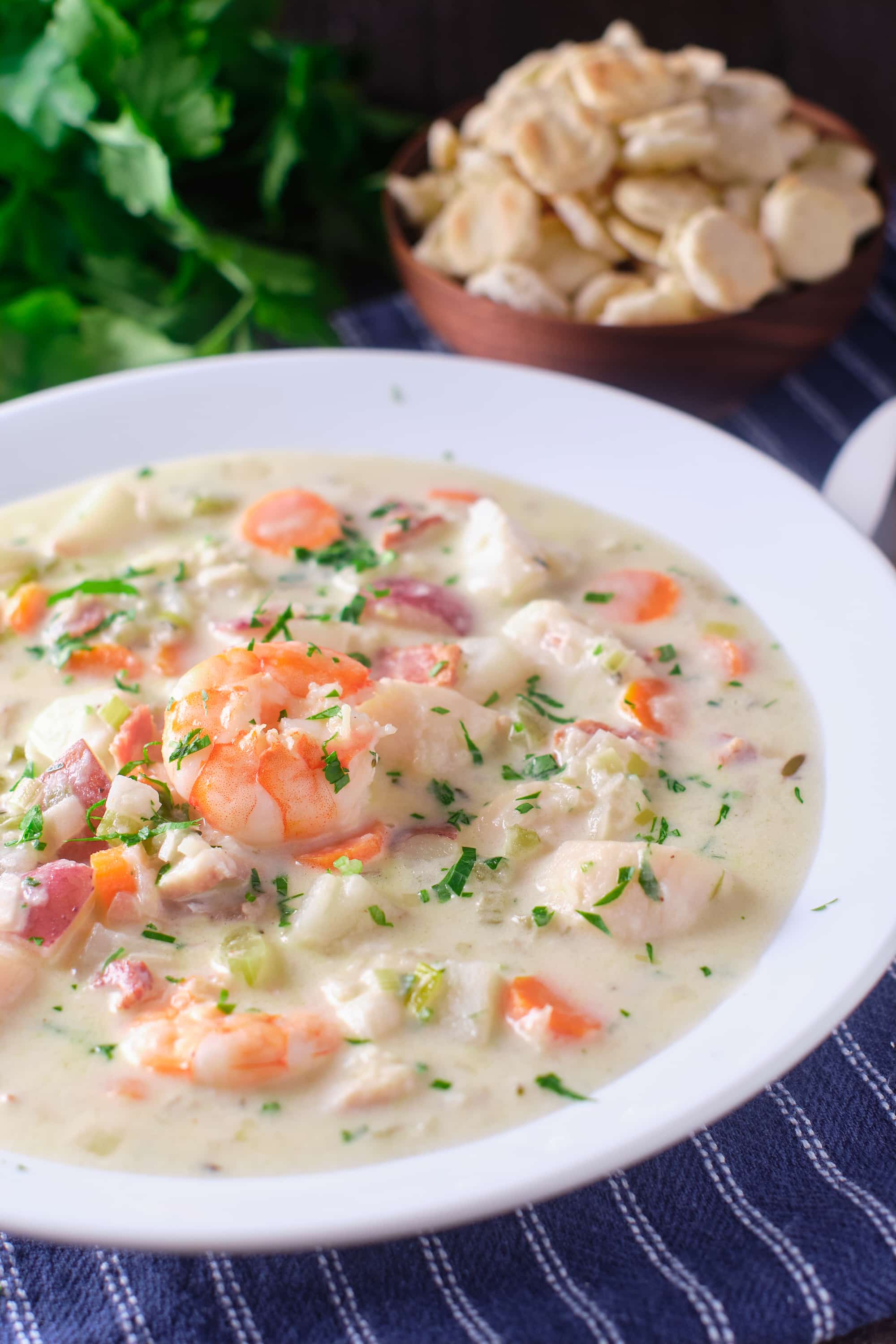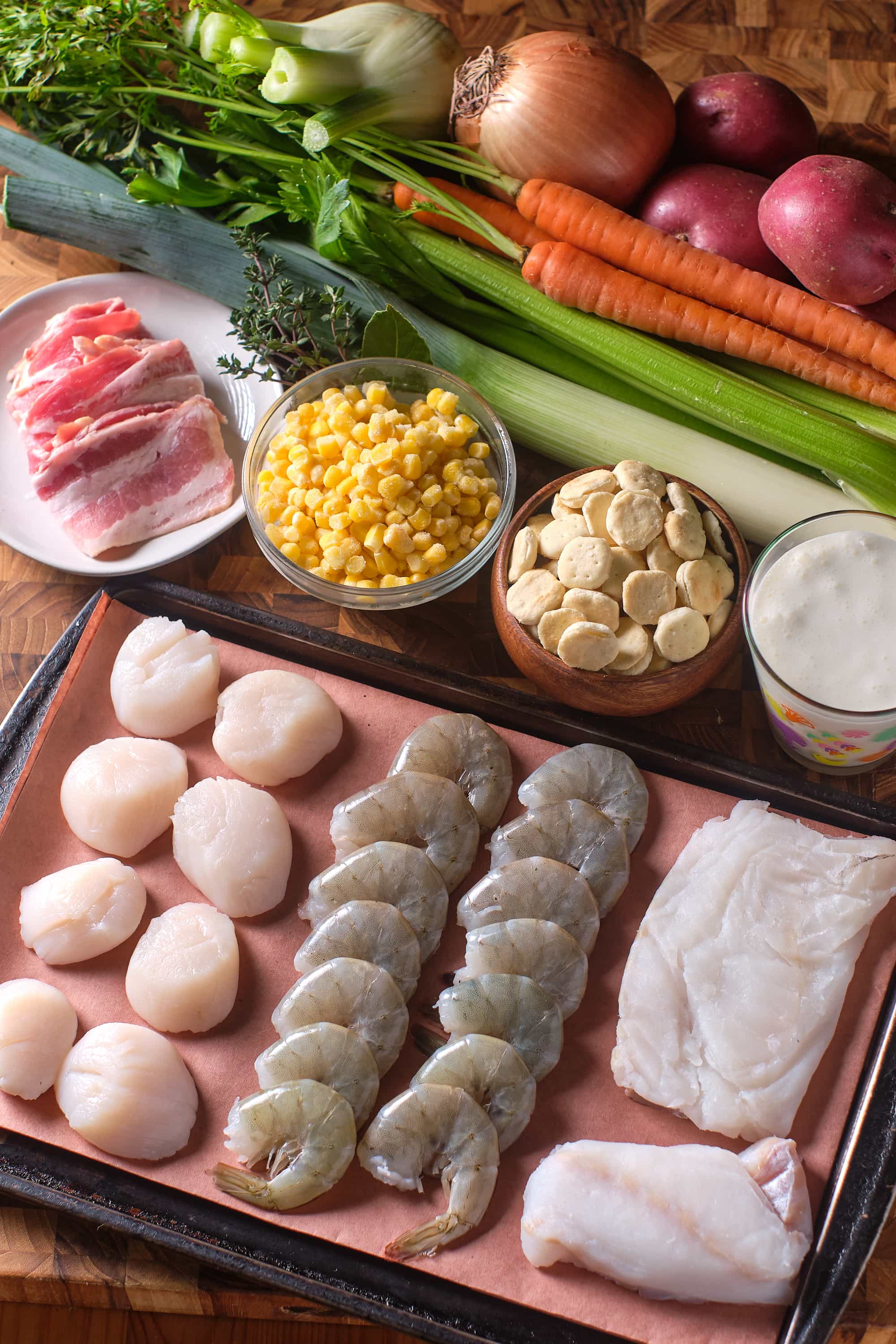 This Seafood Chowder is fairly traditional and super delicious. It's loaded with shrimp, scallop, and cod and thickened with crackers instead of flour. If you're looking for prime-cold-weather soup, here's a great Chowder to keep you warm!
A foundation of flavor.
Great soups are made with one common, under-appreciated ingredient – TIME. You could absolutely make Seafood Chowder in a half hour by throwing everything into a pot and cooking it until it's hot. The problem with this 30-minute soup, though, is that you're not really developing the most flavor your vegetables have to offer; especially if your knife skills aren't all that great.
The ability to control the size of your fresh ingredients will go a long way in developing layers of flavor. A finely diced onion will get tender in a shorter period of time than would a larger diced onion. A one-inch dice of potato is going to hold together in a simmering soup for longer than a half-inch dice of potato. Cooking is less about the recipe than it is controlling time, temp, and mass.
Allowing prepared ingredients to develop maximum flavor over a period of time isn't something that can easily be written into a recipe. Use your senses. Watch the onions as they sweat. Are the edges browning too quickly? Turn down the heat or even remove the pan from the stove. Listen to your food as it cooks. It should make some sizzling noises but it shouldn't be screaming. And, most importantly, taste as you go. This includes tasting vegetables before they even go in the pot.
What makes a chowder?
When I think of 'CHOWDER' I think of a semi-viscous white broth containing potatoes, bacon, corn, and probably seafood. The history of chowder suggests there really isn't a strict definition. Originally, chowder was simply a soup cooked in a chowder pot or cauldron. Many chowders are made with dairy and use some sort of flower or cracker for thickening. But then there's Manhattan and New Jersey clam chowder, among others, which have a tomato broth. So, who the heck knows!?
Seafood Chowder
This seafood chowder starts with a base of finely chopped vegetables softened for 30 minutes with crispy bacon and its rendered fat. You could buy clam juice for this chowder but I prefer to make a super quick shrimp stock from freshly peeled and deveined shrimp. Instead of a roux, this soup is thickened with crackers; either oyster crackers or saltines will work. The broth is finished with a cup of heavy cream for added richness and smoothness. Frozen corn added about five minutes before completion adds a sweet little pop of sweetness that I love. Finally, the seafood. You can use whatever you like here. I've used cod, shrimp, and scallops. They don't need much time to cook at all, less than 4 minutes total for all the fish.
This is a truly fantastic soup for the cold weather coming this winter (although, it's supposed to be nearly 70° in a couple days!). I'm really happy I tried the old school method of using crackers instead of roux. This gives you the option to thicken the soup a little more later in the cooking process. If you're looking to become a better home cook, I really recommend focusing on your knife skills and understanding how everything cooks when you add it to the pot. Layer that flavor!
> Eat Up!