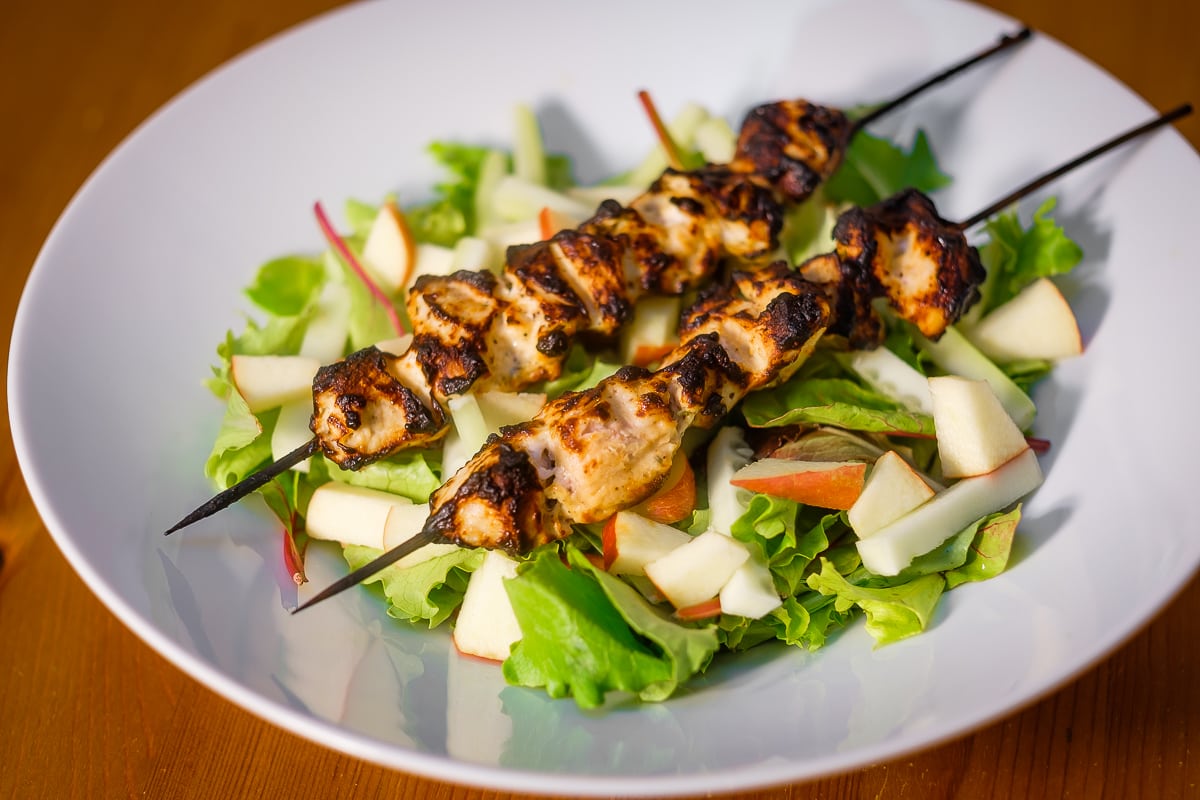 Shout out to my friend Catherine for telling me about Shish Taouk.  Shish Taouk is, from what I've gathered, skewered chicken with a wide variety of marinades and accompaniments depending on what part of the world you're in.  As Catherine and I discussed, this particular preparation contains sumac, a wonderful spice I purchased online. 
Sumac is a tart, lemony spice typically used in Middle Eastern cuisines.  It can be used in dressings, marinades, dry rubs, added to rice or hummus, or just sprinkled overtop grilled vegetables and meats like chicken, fish, and lamb.  Although you could do without this hard-to-find spice for this recipe, you should really go buy some.  It's versatile and adds that little extra something you've been looking for to spice up your everyday dishes.  If you've ever used Za'atar, sumac is one of the key ingredients.  I'm really looking forward to grilling with it this summer!
Shish (skewer) taouk (chicken) is the general description of marinated chicken prepared on a skewer.  It's like "pizza".  You could have five different pizza places on a block and they all prepare it differently.  Same goes with shish taouk.  In fact, evidently the Montreal version of shish taouk is so dissimilar to middle eastern shish taouk, it's like calling a bread and tomato casserole found in Chicago a pizza.  I've prepared this with a yogurt marinade and spices I had around my home.
To serve with the shish taouk, I made a quick salad of mixed greens, julienned cucumbers, and diced apples soaked in apple cider vinegar.  If I had some tahini, that would have been the 'icing on the cake"!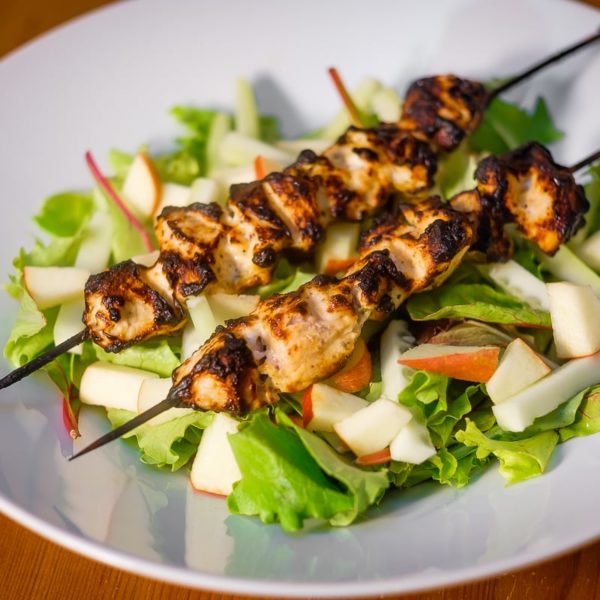 Shish Taouk
Shish taouk can be prepared in endless ways.  This recipe includes sumac, a tart lemony spice you should run out and add to your pantry.
Ingredients
1

boneless skinless chicken breast

1

cup

greek yogurt

1/4

cup

olive oil

1/4

cup

milk

if needed

1

tbs

lemon juice

1

tbs

sumac

1

tbs

minced garlic

1

tsp

salt / pepper

2

tsp

parsley

1

tbs

hot paprika

1

tbs

cumin
Salad
Mixed greens

julienned cucumber

diced apple soaked for 10 minutes in apple cider vinegar

tahini

dill
Instructions
Dice the chicken breast in to 1 inch cubes.

Combine all other ingredients in a bowl and marinated the chicken for at least 2 hours, up to 24.

Soak 5 bamboo skewers in water for at least 30 minutes.

Turn oven on to broil.

Prepare a sheet tray with aluminum foil twice the length of the pan.

Scrunch up the foil every half inch to create peaks for the chicken to rest, preventing it from sitting flat on the surface.

Divide chicken in fifths and spear on to the skewers. Remove excess marinade.

Place on foil and broil until it starts to get brown, about 10 minutes.  

Flip and repeat until corners and edges are charred.

Remove from skewers and dress with tahini.