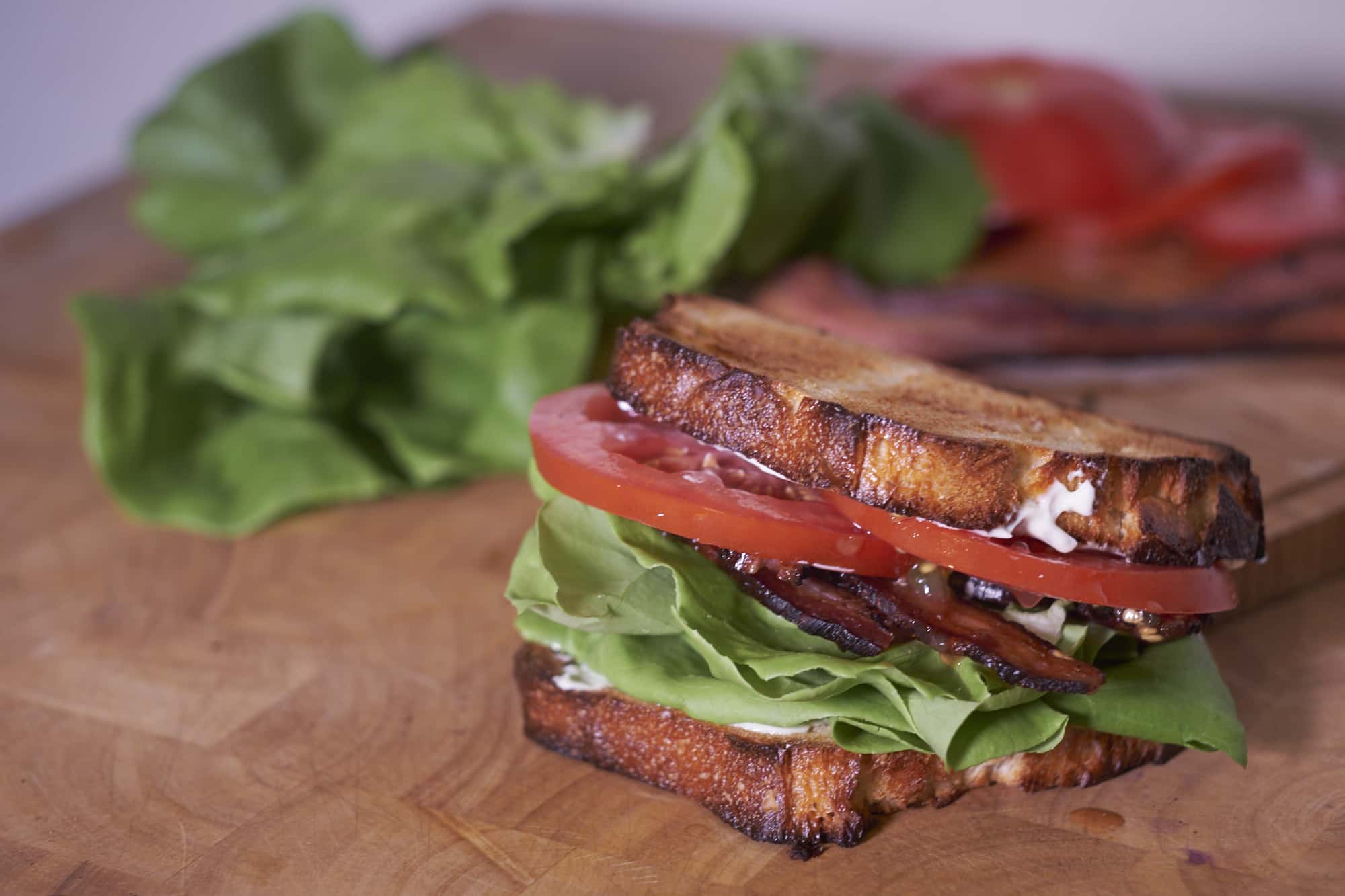 The classic, arguably perfect, BLT. Why mess with perfection? Preservatives, sodium, unknown sources, and flavor – that's why. When I think of a BLT I think of perfectly toasted Wonder Bread, Hellmann's Mayo, Oscar Mayer bacon, iceberg lettuce, and fresh NJ tomatoes. This BLT doesn't want to pull the rug out from under your childhood. It's about using fresh, local ingredients to treat yourself to something newly memorable.
I've always felt that the tomato was the star of the BLT.  Living in Philadelphia, I still have fresh New Jersey produce available at any grocery store I go to. It's true that NJ tomatoes are indeed the best. If you can get them for your BLT, make it happen. Always try to buy your tomatoes when they're in season. Once they're frozen, or if they've been traveling long distances in a refrigerated truck, they can get mealy and lose they're flavor.
I even found some NJ bib lettuce for this BLT. I don't necessarily want to poo poo on iceberg lettuce, but… there's just nothing to it. If you want some crunch, go with romain. If you want a lot of flavor, go with a baby arugula and spinach mix. I think bib lettuce is a nice balance of flavor and texture and it looks hella sexy on a sandwich.
On to the bacon. I swear, I've tried. I've bought so many different brands from so many different stores. They're all boring and flavorless. There's some that have a bit of flavor, or even a lot of flavor, but they're often chemically added flavors. You can tell not only by taste but by reading the package. Find some house-smoked bacon from a local farmer or butcher or seek out a trusted purveyor online. I'm a huge fan of the hickory smoked bacon at L. Halteman in Reading Terminal Market. They recently started selling on Amazon Fresh.
Today I phoned in the bread. I would typically make some myself but ya know, sometimes you've got a backlog of recipes to post and you lack the time to make bread. I toasted some fresh italian bread from Whole Foods in the oven. Yeah, I think I'm going to get rid of my toaster oven. Toasted bread in a 425°F oven actually comes out much better.
The mayonnaise on the other hand, that I made from scratch! Do you know how easy it is to make your own homemade, I know where all the ingredients came from, mayonnaise? One egg yolk, 1/4 tsp sea salt, 2 tsp lemon, 1 tsp wine vinegar – combine in a container. Slowly drizzle one cup of vegetable, canola, or safflower oil while blending with an immersion blender. It takes 3 minutes and you can add other flavors to make it your own! A little paprika here, a little cumin there, a dash of tabasco sauce, a pinch of granulated garlic, or even totaly a squirt of sririacha 😀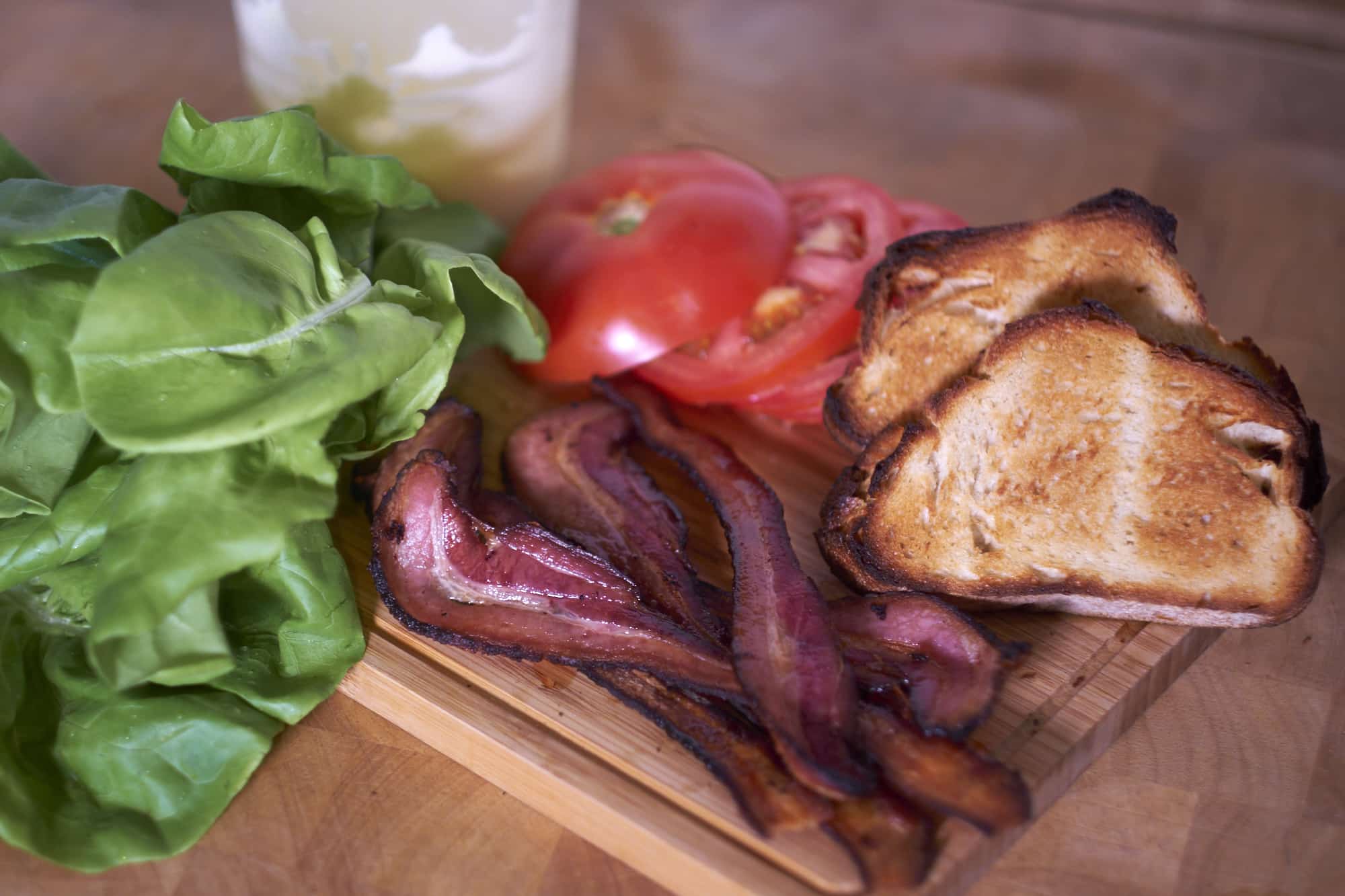 So there you go. A way too long story about the sandwich with the shortest name. Above all else, I hope you make any sort of BLT for yourself soon. The perfect mixture of the tomato and the mayonnaise, the freshness of the lettuce, the sweet salty smokiness of the bacon all in this golden toasty delivery system that fits in the palm of your hand. I hope you dig in gleefully finding yourself without a napkin to wipe the flavor-falls from your chin. That's called Eating Up!