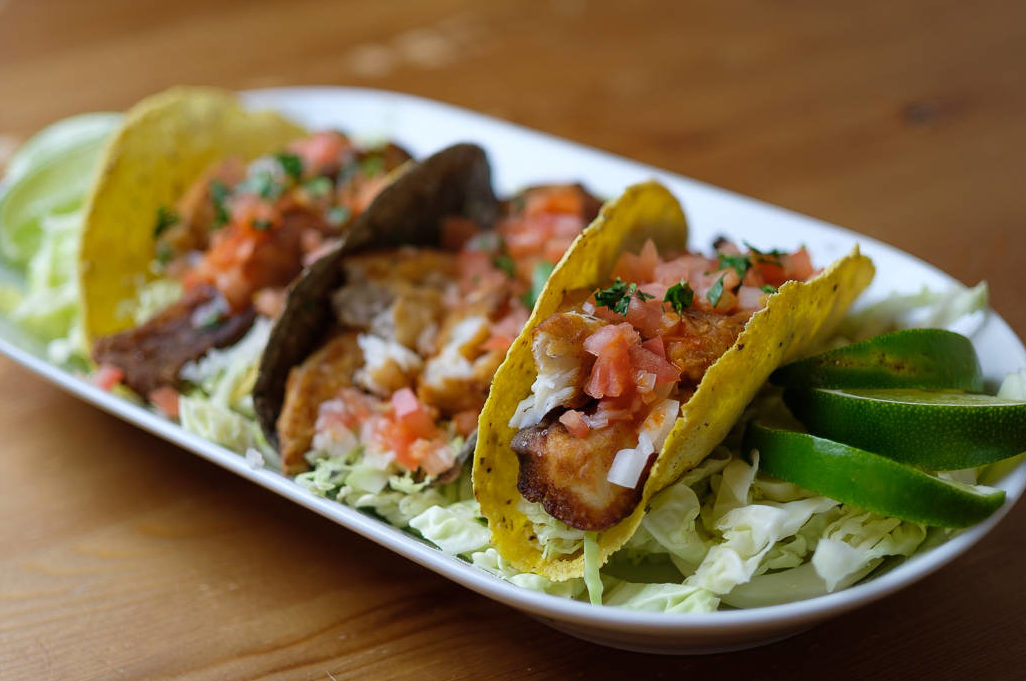 Tacos! What can't you do with the blank slate that is the corn tortilla? And who the heck doesn't love a taco?! I've lightly fried up some fish tacos for lunch today and, not only do they look pretty, they taste light and healthy.  I've left out heavy, overwhelming ingredients like crema and jalepeños to focus on a well seasoned fresh tilapia filet.  I'll go over some additions further down but to make this fast and fresh, I kept the ingredients to a minimum.I pulled this together in about 15 minutes. Fresh tilapia, napa cabbage, tomatoes, white onion, cilantro, lime, organic corn tortillas, hot sauce. DONE.  Honestly the hardest part about this is not eating it all before you plate it up.
First thing I do here is season the cabbage.  Shred it up nice and thin then put it in a bowl with some lime juice to marinade while you're prepping everything else. If you want to step it up a bit, add in some of the juice from a jar of pickled jalapeños.  Move on to finely dicing the tomatoes and onions and chopping the cilantro.  Again, this comes together fast so you want to have everything ready to go before you turn the burner on.  Heat up a pan on the stove and warm up your tortillas.  They'll taste better and they're more pliable this way.  Sometimes I'll add a few drops of water and cover the pan to amplify the effect.
For the tilapia, set out your filet and season it lightly with some sea salt.  Slice it up in to smaller pieces that fit nicely on to a taco, about 1 x 4 inches.  Season some AP flour with salt, black pepper, and cayenne.  Lightly dredge the fish in the flour and let it rest.  Heat up 1/4 inch of vegetable or canola oil in a cast iron or carbon steel pan over medium heat.  In batches, so as not to crowd the pan, fry up your filets for about two minutes on the first side and one minute on the other. I use chop sticks to turn the filets in the hot oil.  Set aside on paper towel while you prep your tacos.
Assuming you don't need help assembling your tacos, let's move on to the fun stuff.  I did make a point of this being a quick, easy, healthy taco but sometimes we want… more than healthy. But really though, what is healthy these days?  Just don't over do it, keep within moderation and you'll be fine. Eat Up! Right?
Some other ingredients I like on my fish tacos are:
Finely sliced jalepeños
Diced pineapple or mango
Sour cream with lime juice and pickled jalepeño juice
You could do a tai taco with a mix of fish sauce, soy sauce, sugar, peanuts, and lime
Pickled red onions
Pico de gallo
Radish
Avocado
Let me know what you like on yours in the comments below!