Oh yes! Boneless Skinless Chicken Breast can be delicious and juicy and prepared in under 30 minutes. This here is my go-to recipe for when I'm short on time, energy, and maybe brain cells.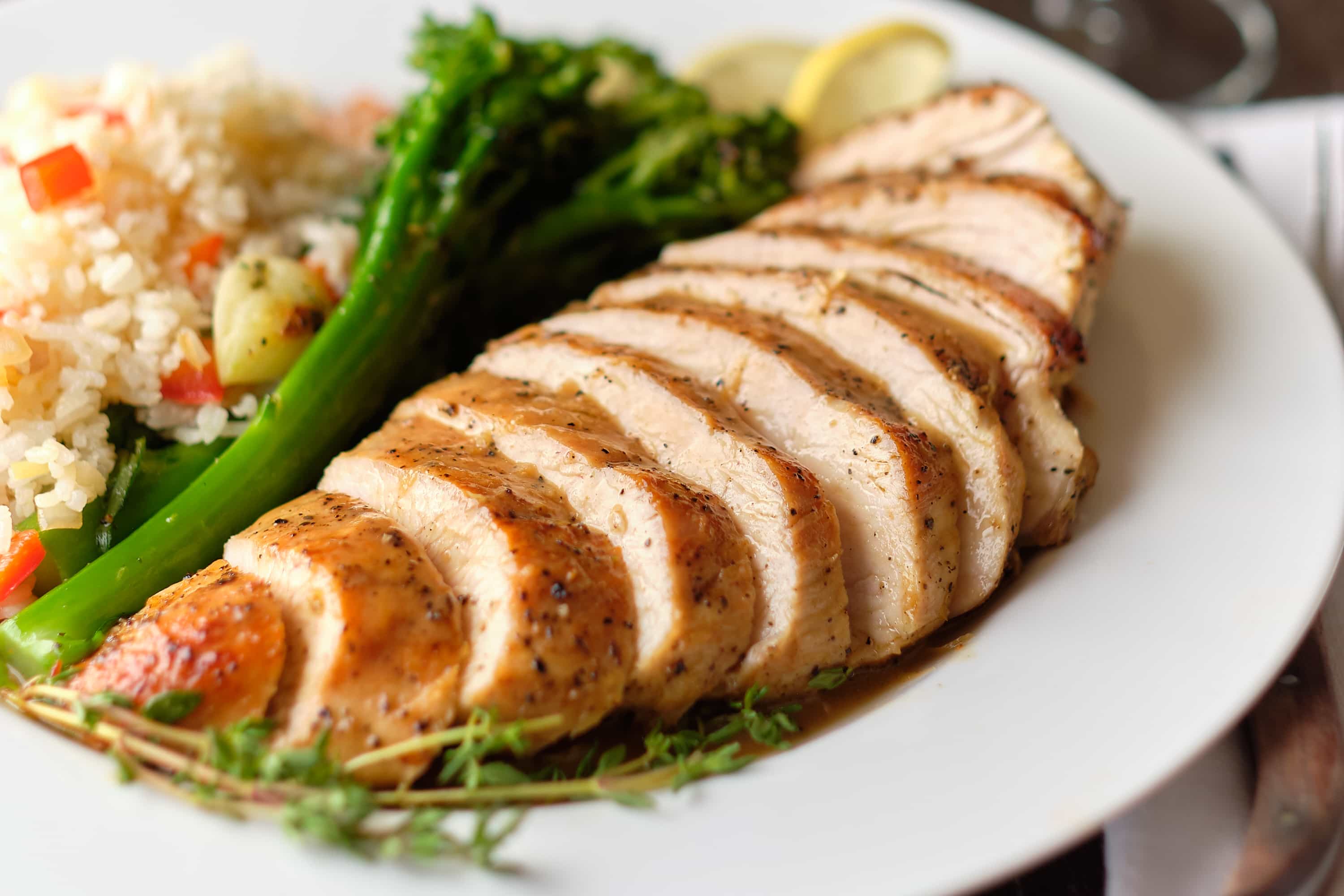 I'm sometimes so busy that by the end of the day my brain just doesn't want to function. That's when I reach for these staple kitchen ingredients and whip up some chicken super fast. All you need is chicken, salt, pepper, oil, white wine, butter, and flour. And a pan. And a stove and an oven. And a plate and some silverware and a glass. And maybe a couple of other ingredients if you wanna get fancy. And a napkin, you monster!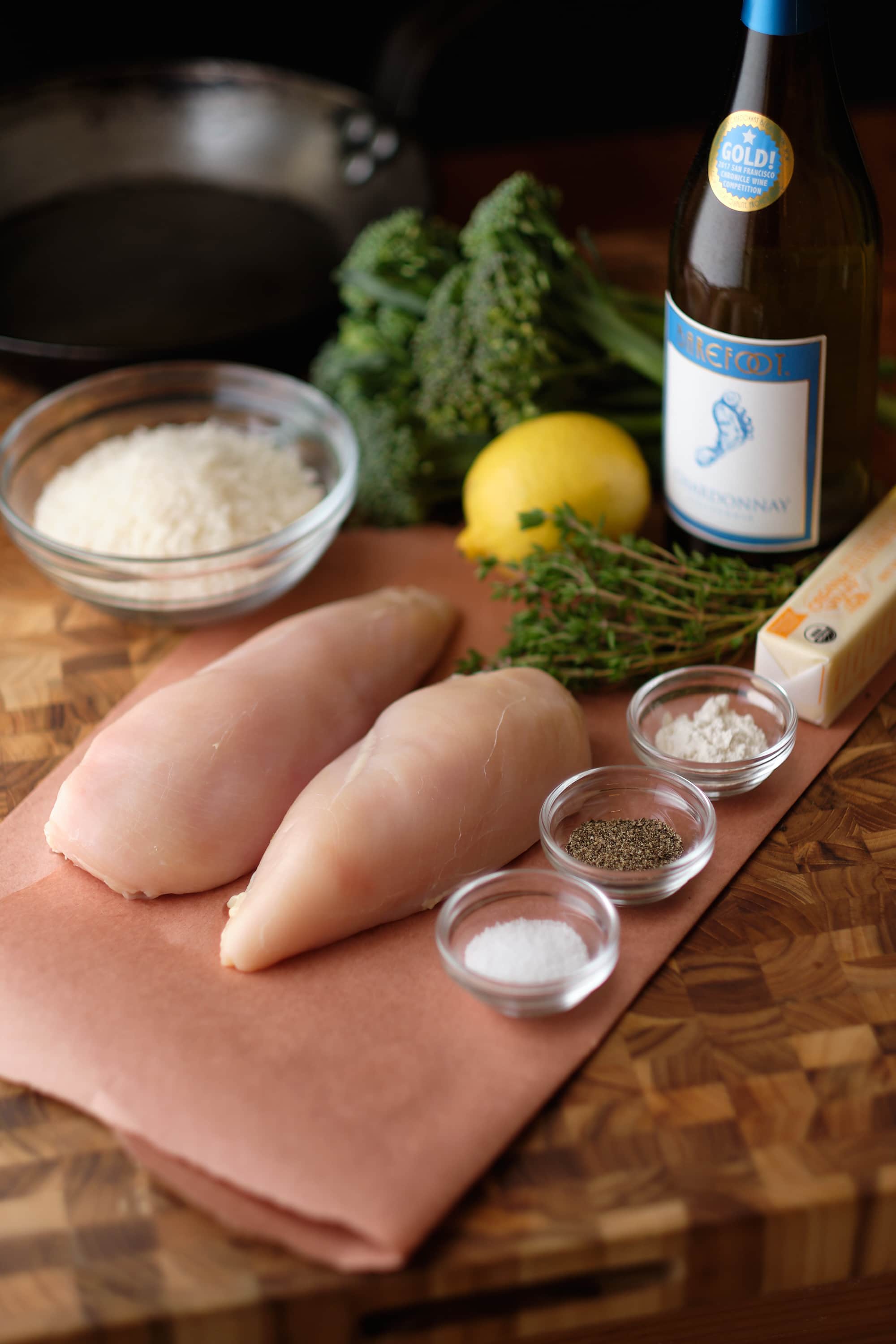 Set your pan over medium-high heat with enough oil to just lightly coat the bottom. Liberally season your chicken with salt and pepper then place them smooth side down in the hot oil. Your cooking time is going to depend on the thickness of your breasts. Breasts come in all shapes and sizes so adjust accordingly. After about 2 minutes, take a little peek to see if the bottom has browned. Mine took about 3 minutes. Flip your breasts and let them cook on the other side for about the same amount of time. Place the pan in a 350 degree oven until they reach an internal temp of 157 – 10-20 minutes. If you don't already have one, get yourself an instant-read thermometer to temp your breasts and all other sorts of meats and foods and liquids.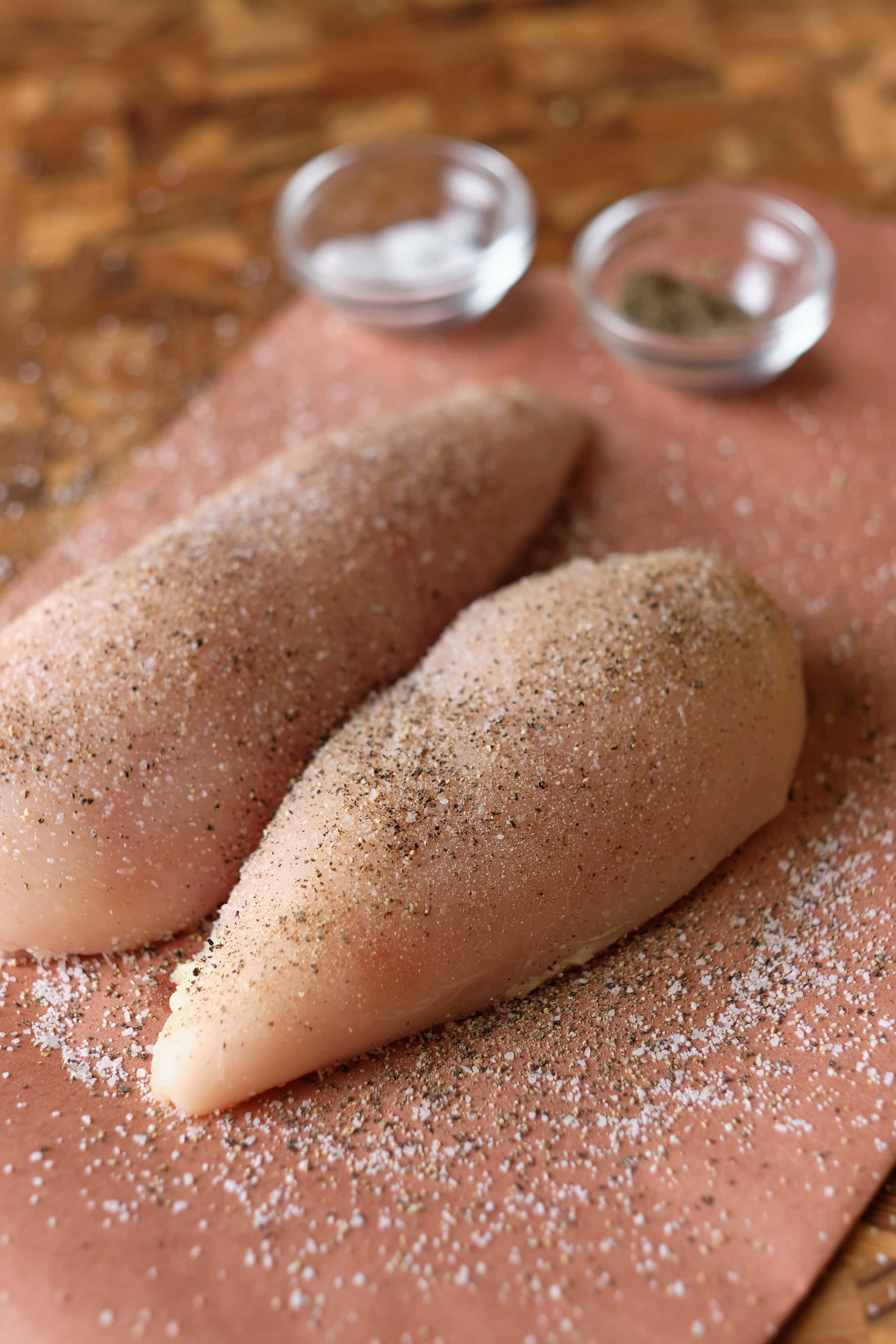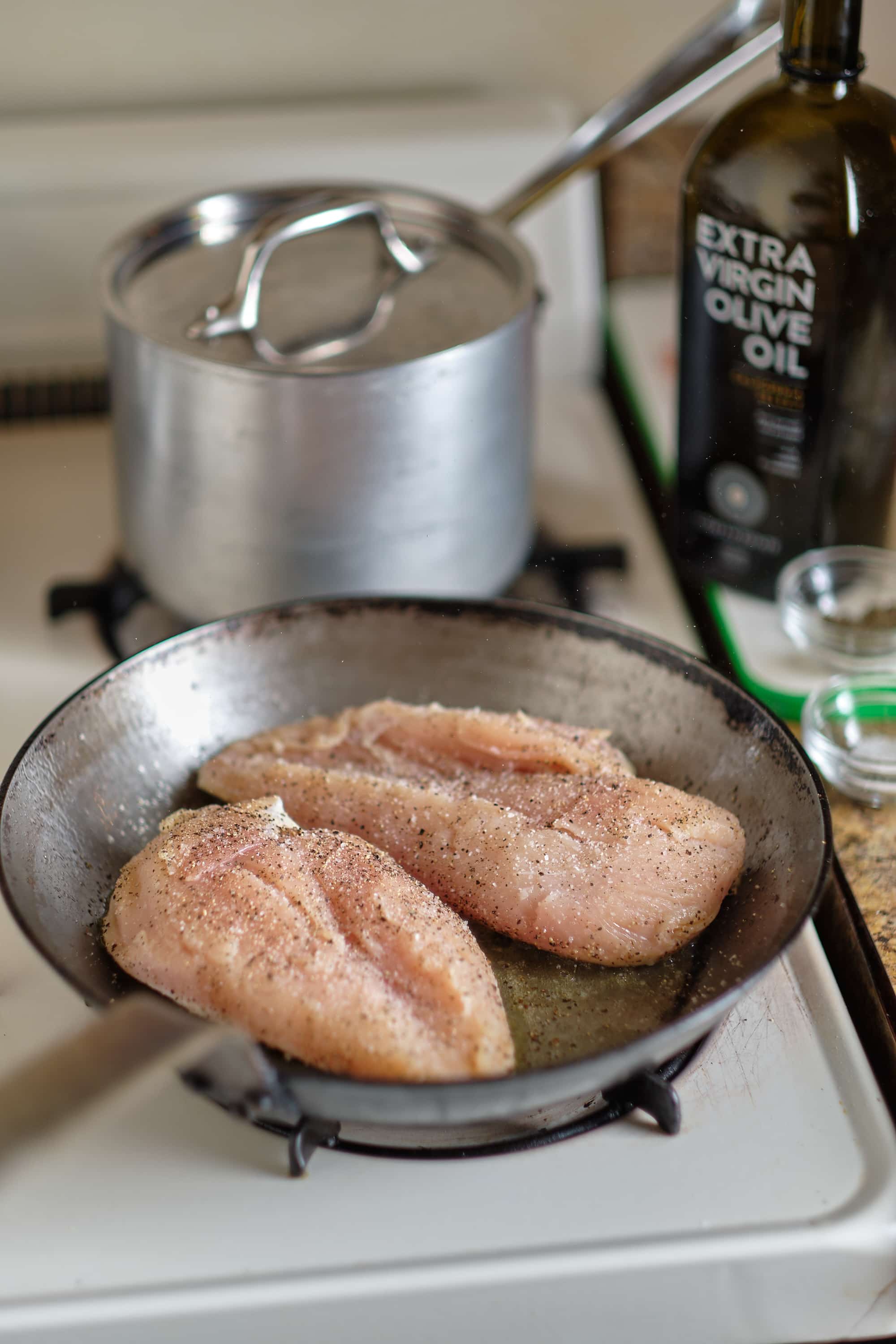 Pro move – leave your serving dish on top of the stove while the oven's on to keep it warm.
Use an oven mitt to remove the pan from the oven and place it on top of the stove. Leave the mitt on the oven-hot handle at all times. Transfer the chicken breasts to a dish to cool, uncovered. Heat the pan over medium heat and add a cup of white wine. If you have any woody herbs to use you can add them now. Use a wooden spoon to scrape all the bits off the bottom of the pan.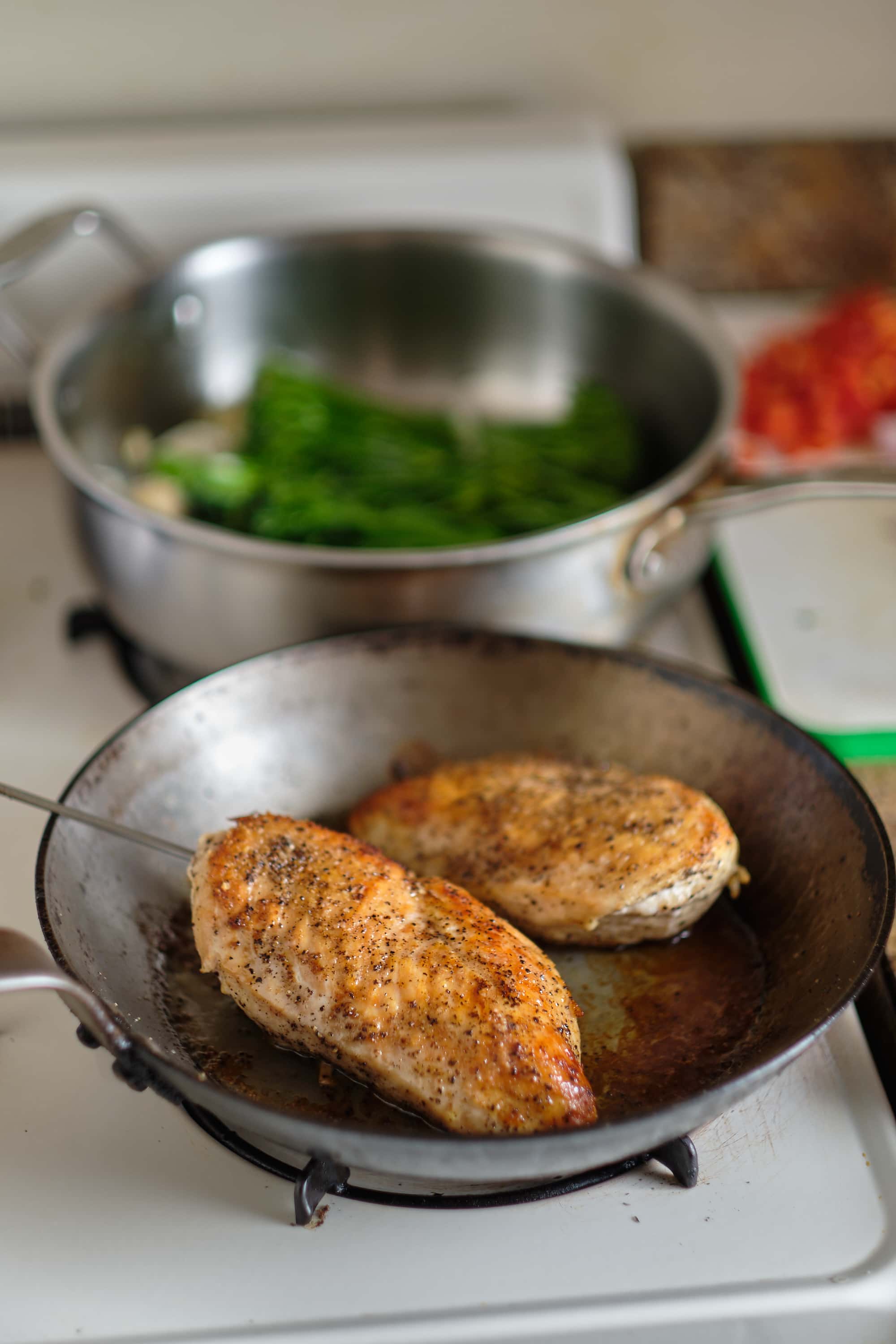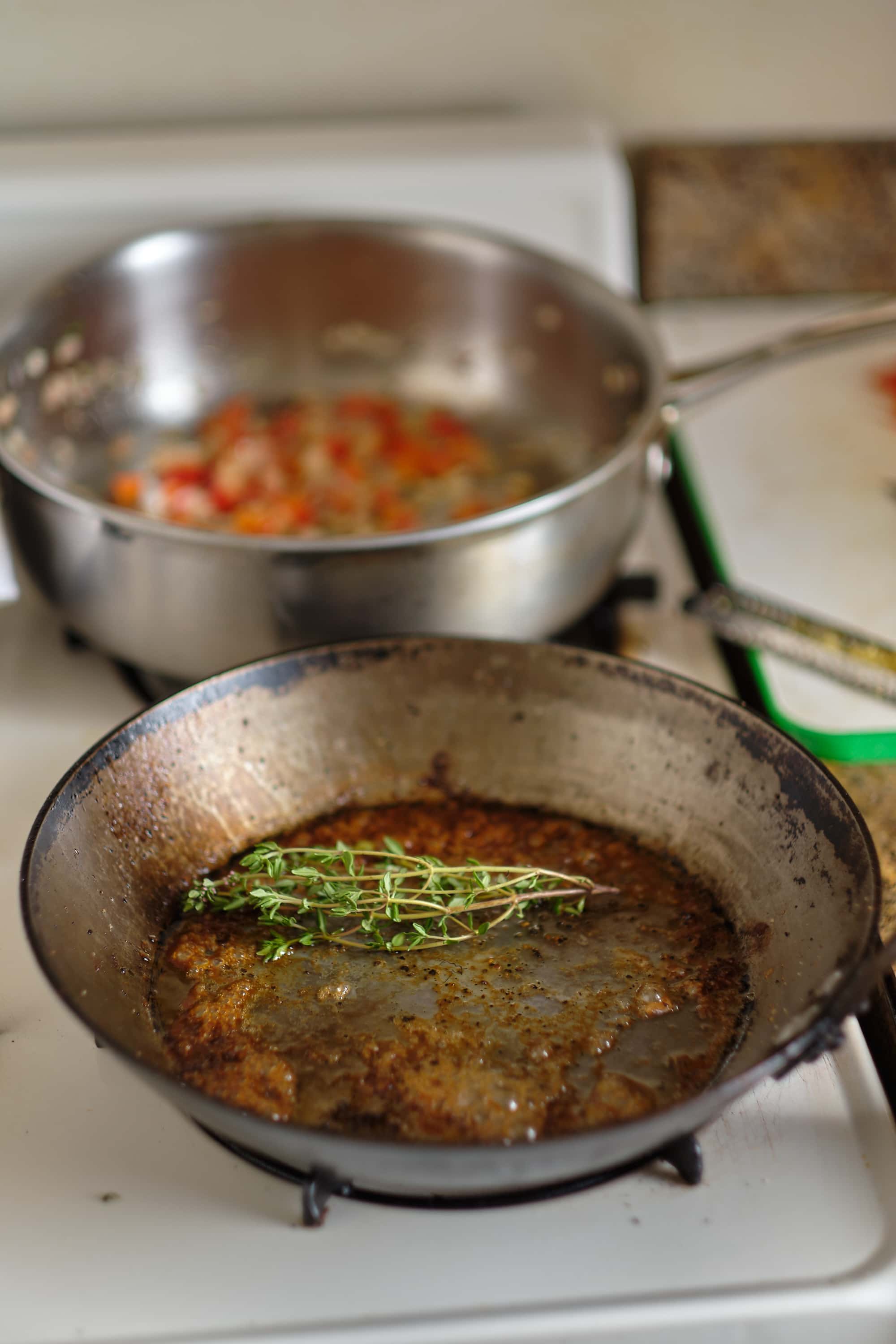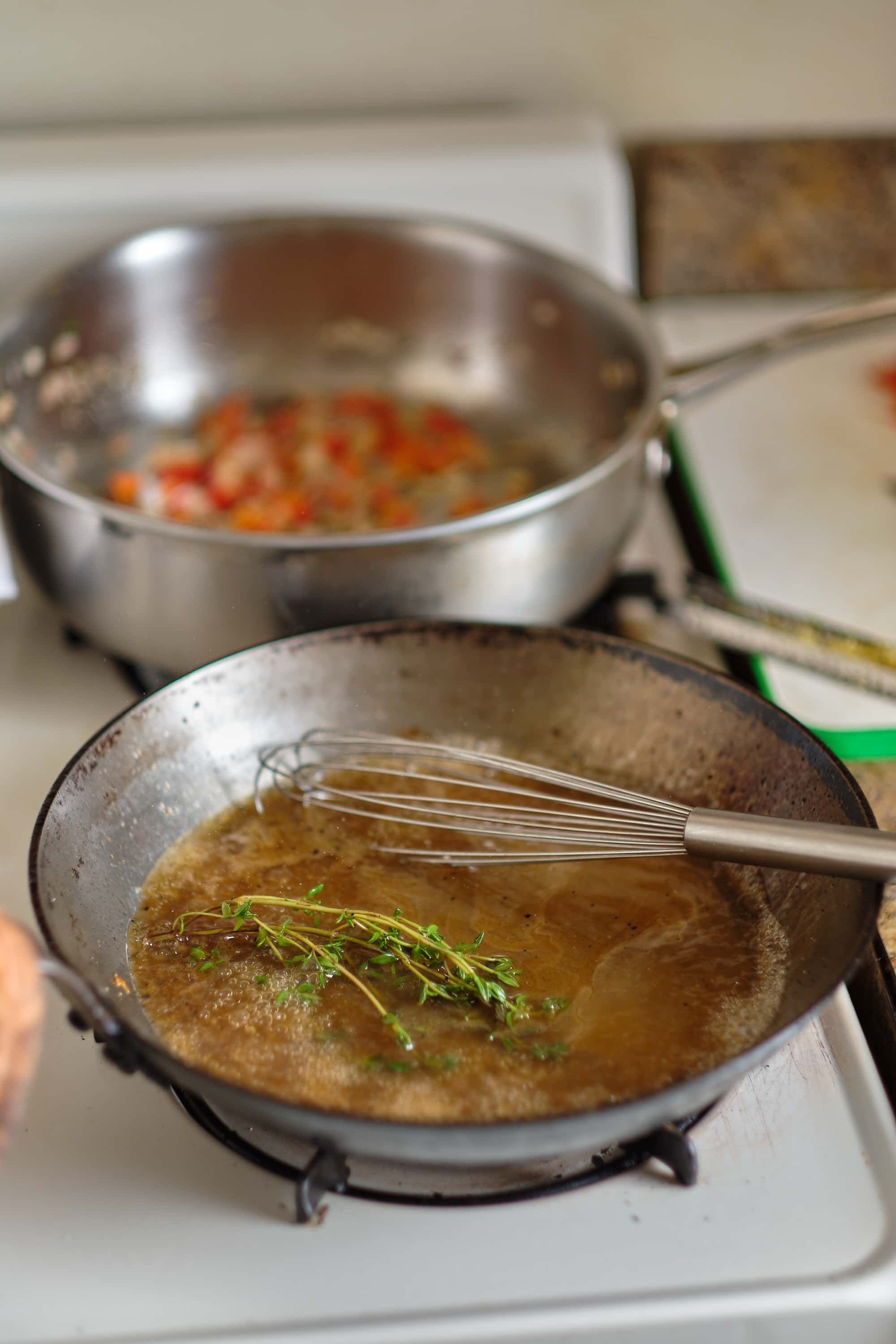 Allow the wine to reduce almost by half then turn off the heat. Whisk in a tablespoon or two of butter. I like to add some lemon zest here if I have any lemons. I always have lemons. To thicken the gravy, whisk in a half teaspoon of flour at a time for about a minute. You're better off with thin gravy than thick so take your time with the flour.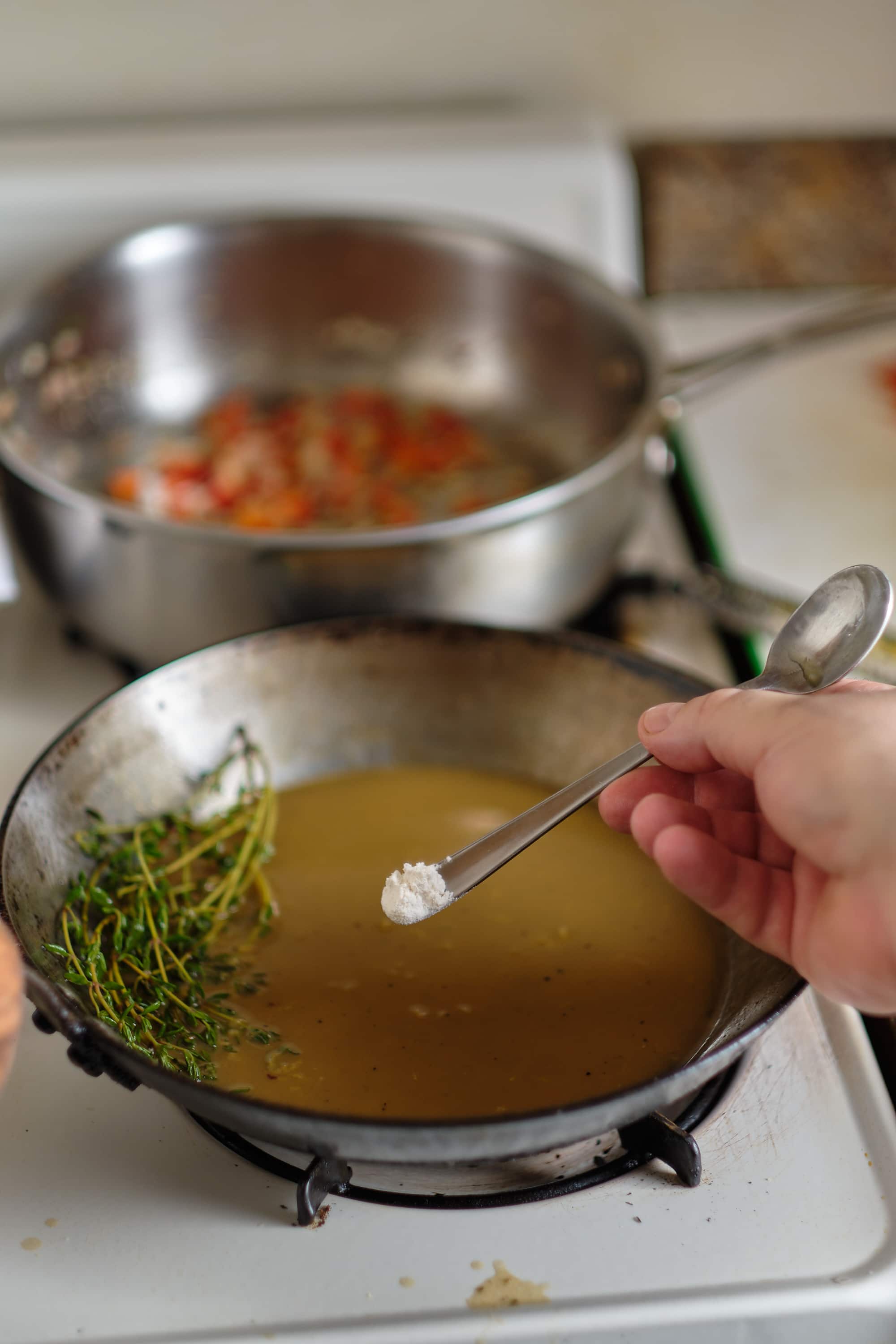 Serve the chicken with the most amazing, simple pan sauce you've ever made! And maybe some baby broccoli and rice. Quick recipes are below.
So, let me be real with you for a sec. I seriously make some version of this chicken every week. It might be just like these photos or maybe just chicken with salt and pepper. It's perfect to throw on top of a salad for lunch. If I don't have white wine I'll use chicken stock, diluted lemon juice, or even beer. No herbs? No problem. Improvise!
This dish is legit better than most restaurant food I've had. Yep – YOU can make restaurant quality food at home! Send me a message or leave a comment below if you have any questions. Then send me pictures of your amazing Weeknight Boneless Skinless Chicken Breast! I love pictures. 🙂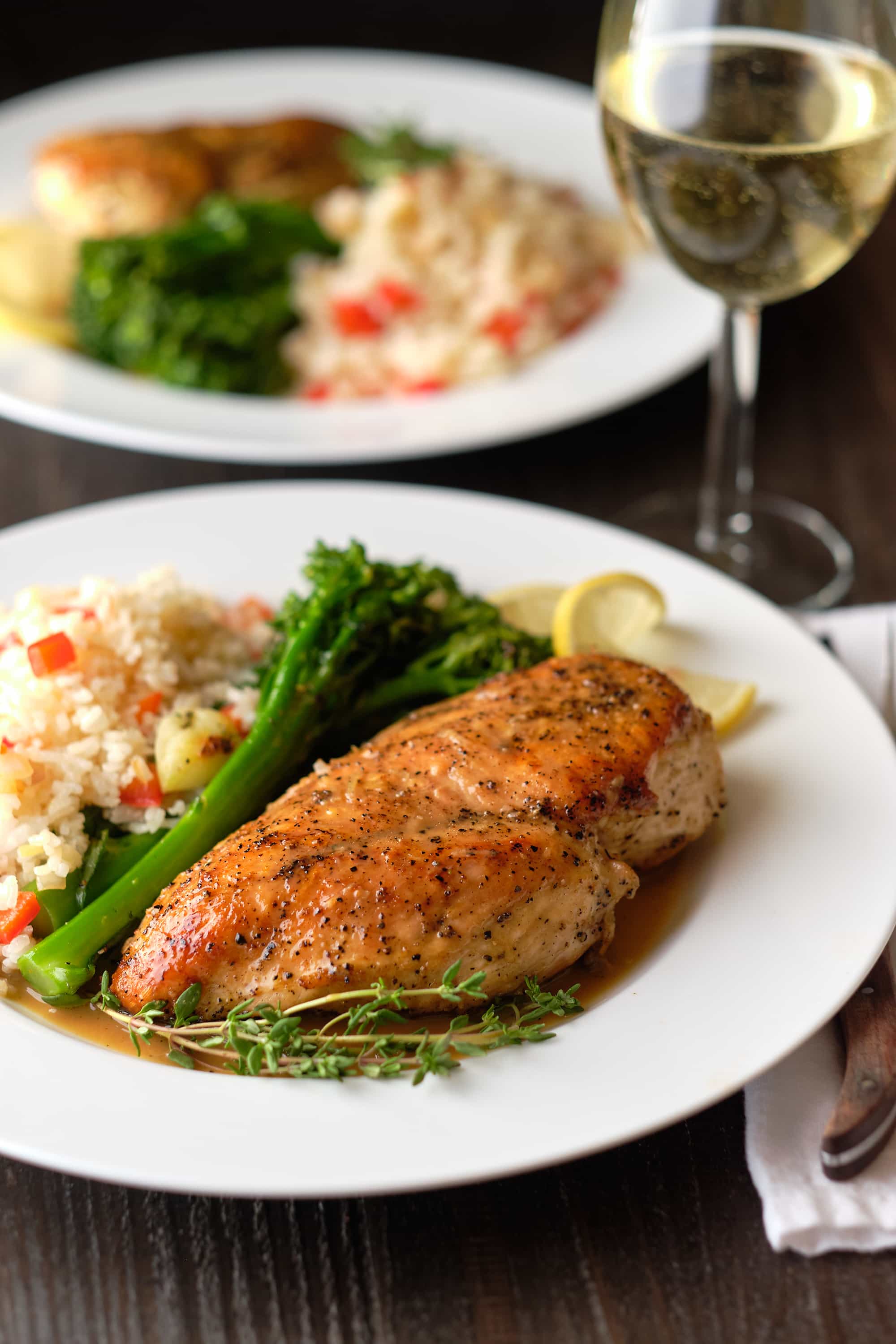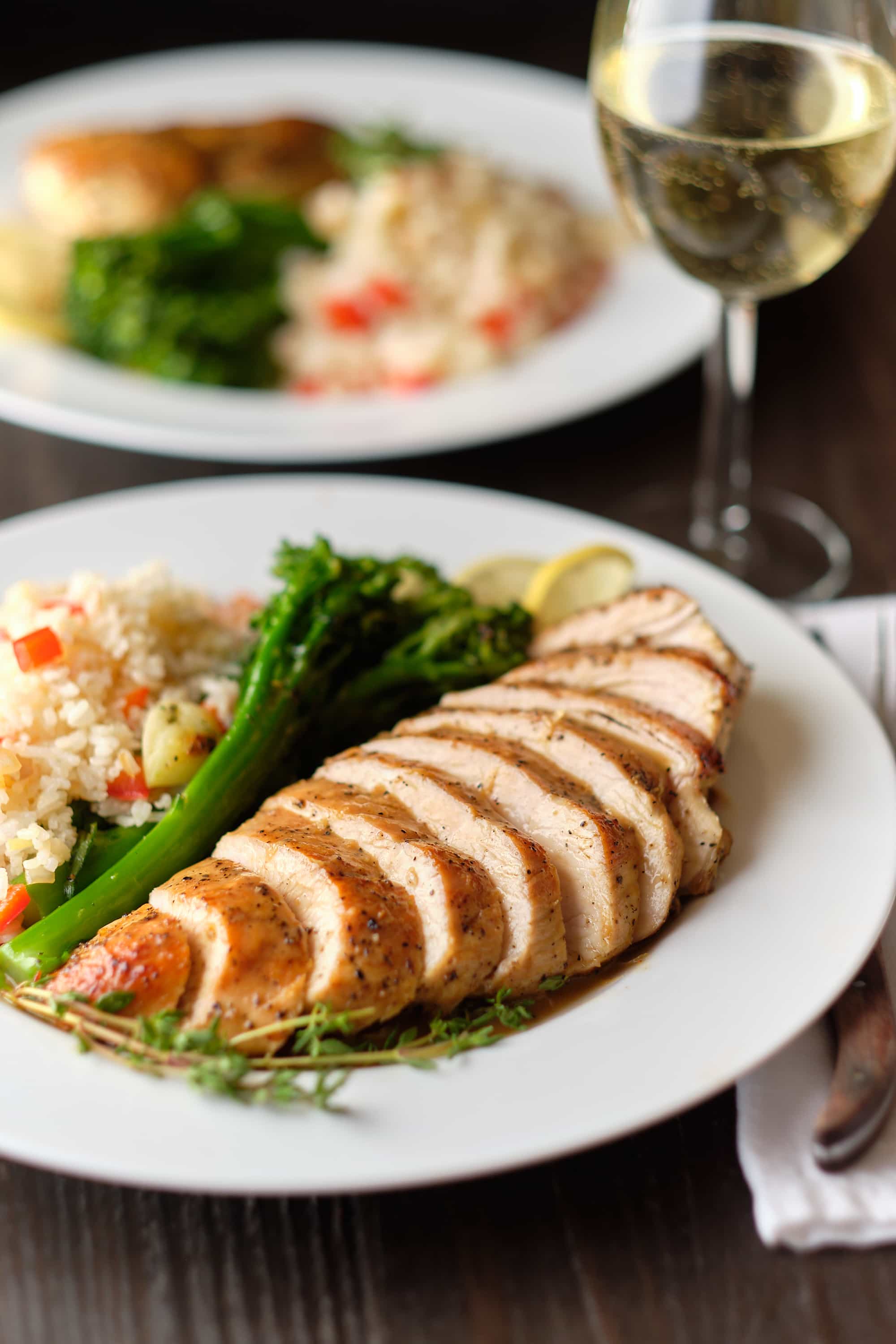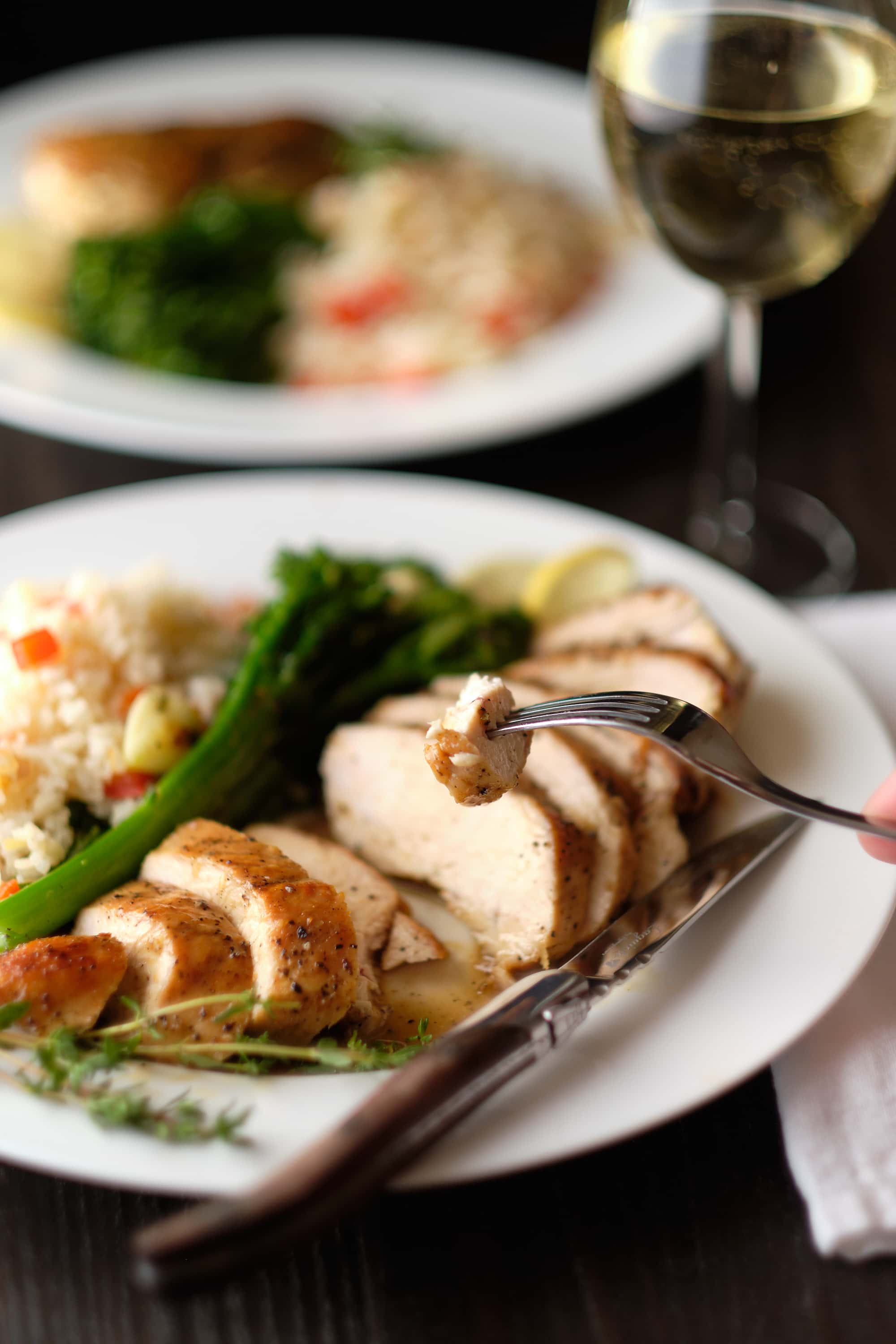 Side Dishes
Baby Broccoli and Garlic in Olive Oil
Blanch baby broccoli in salted water for 60 seconds then drain. Pat dry with paper towels. Heat a few tablespoons of olive oil in a large skillet. Add 6 crushed garlic cloves and swish around in the oil for a minute to get fragrant. Toss the broccoli in the oil then allow two sit for 2 minutes. Flip and let sit again. The broccoli should start to form a char on the edges. Serve the broccoli with the oil and garlic.
Rice with Shallots and Bell Pepper
For one cup of jasmine or basmati rice, bring 1 1/2 cups of water to a boil with 1/2 teaspoon of kosher salt. Add rice tot eh water and cover the pot with a tight-fitting lid. Cook over low heat for about 10 minutes. Remove from heat and fluff the rice with a fork. Then cover the pot with a towel and place the lid back on. Allow to sit for at least 10 minutes.
While the rice is cooking, heat 2 tablespoons of olive oil in a large skillet (reuse the one for the broccoli). Fry shallots and finely diced red pepper until tender. Remove the pan from the heat and add the fully cooked and tender rice. Use a fork to stir the rice in with the vegetables and to break up the rice.