This Chicken Taco Recipe is inspired with Asian flavors like Ginger, Garlic, Soy, Sesame, and Orange with a hint of sweet and spicy. This is one of my favorite go-to marinades for everything but today we're broiling skewered chicken for these Asian Chicken Tacos.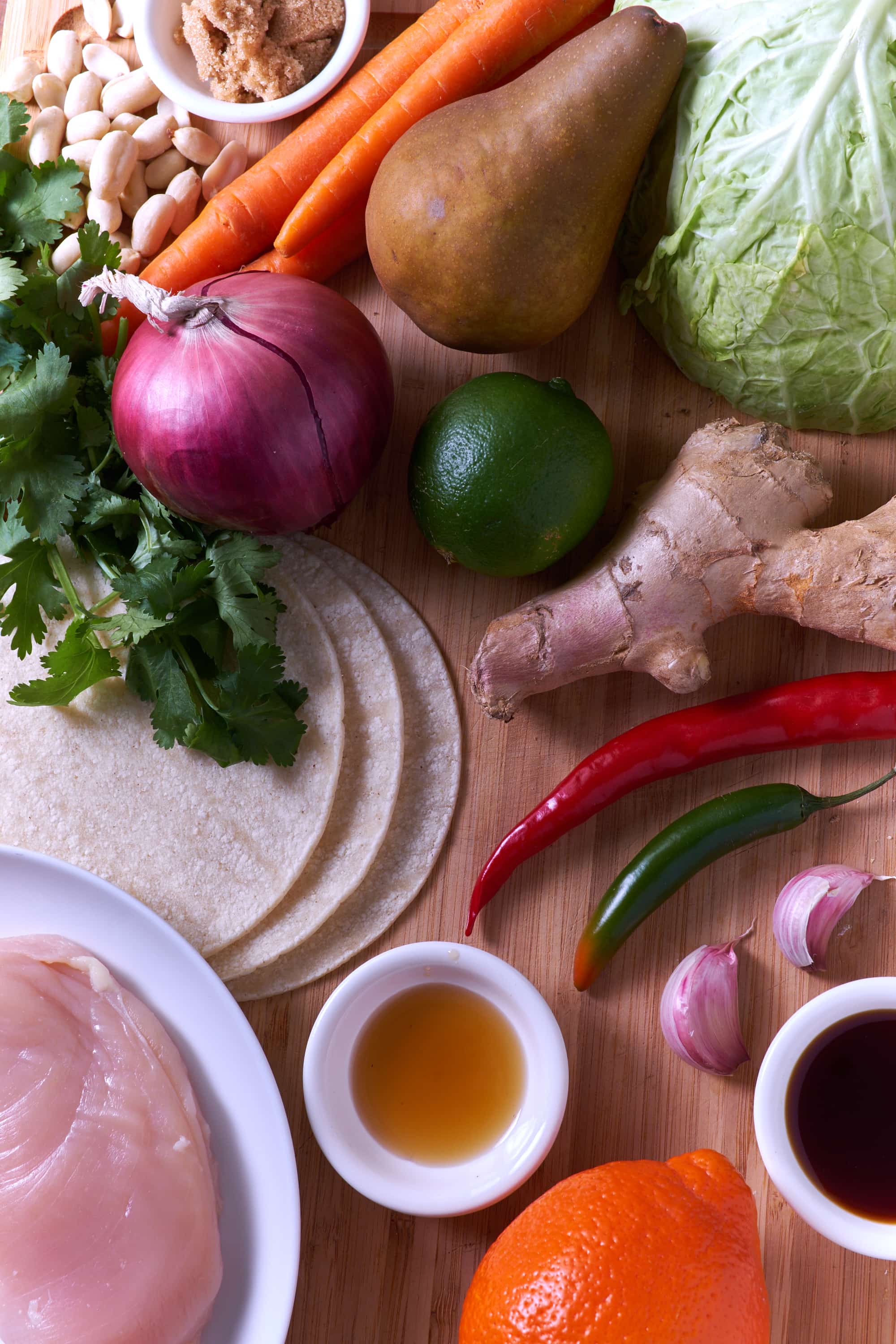 I literally use this marinade for everything from chicken, pork, beef, and fish – especially fish. I usually sort of eye ball the ingredients depending on what mood I'm in. Sometimes I want it to be more salty for beef so I use more soy sauce. Sometimes I want more citrus so I use more orange or add orange zest or lime juice. Other times, like for spare ribs, I like it extra sweet and spicy so I'll add more brown sugar and chili peppers. For Salmon and Tilapia I'll use Orange Blossom Honey instead of brown sugar. In my mind this story is more about marinades and textures than it is a 'taco' recipe.
Once we get the right ratio of ingredients for the chicken to marinade in for a couple hours we can move on to prepping the other parts of our taco. Sometimes a taco should just be a simple vehicle to deliver some deliciously marinaded meats to your face. Other times a taco is this gorgeous little celebration of everything that's great about food. The art of cooking is combining different flavors and textures so they compliment and contrast one another to create something greater than they are individually. Tacos are the perfect bite-size canvas for bringing these elements together.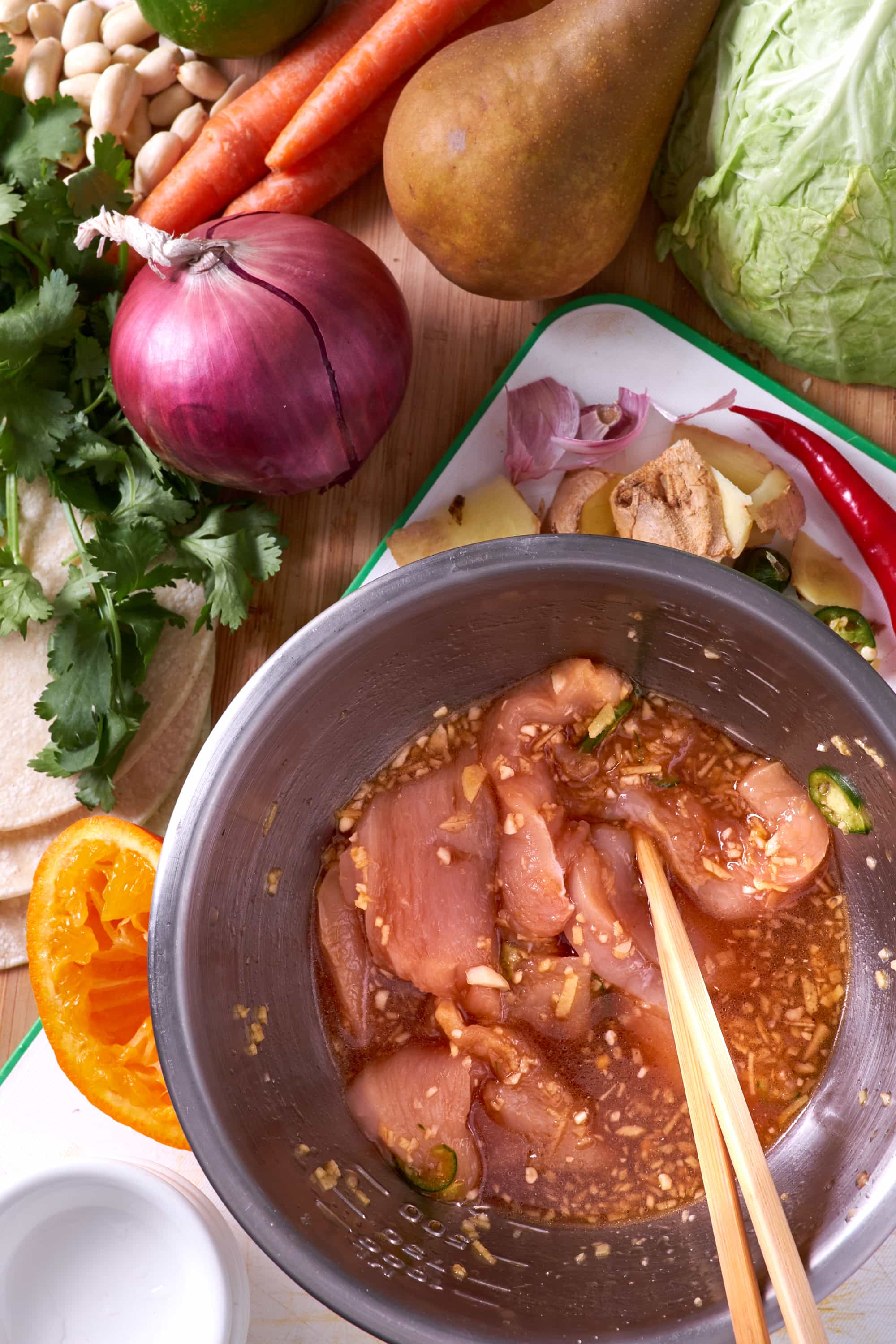 I've been on a little kick with the Carrots and Cilantro after my Banh Mi recipe the other week. To be honest my first version of this recipe was basically a Banh Mi Taco. In addition to the carrots and cilantro I went with some Savoy Cabbage, Pear (Asian Pear would be best), Red Onion, and Red Chili. All these ingredients have something different to bring to the Taco Table but I wasn't done.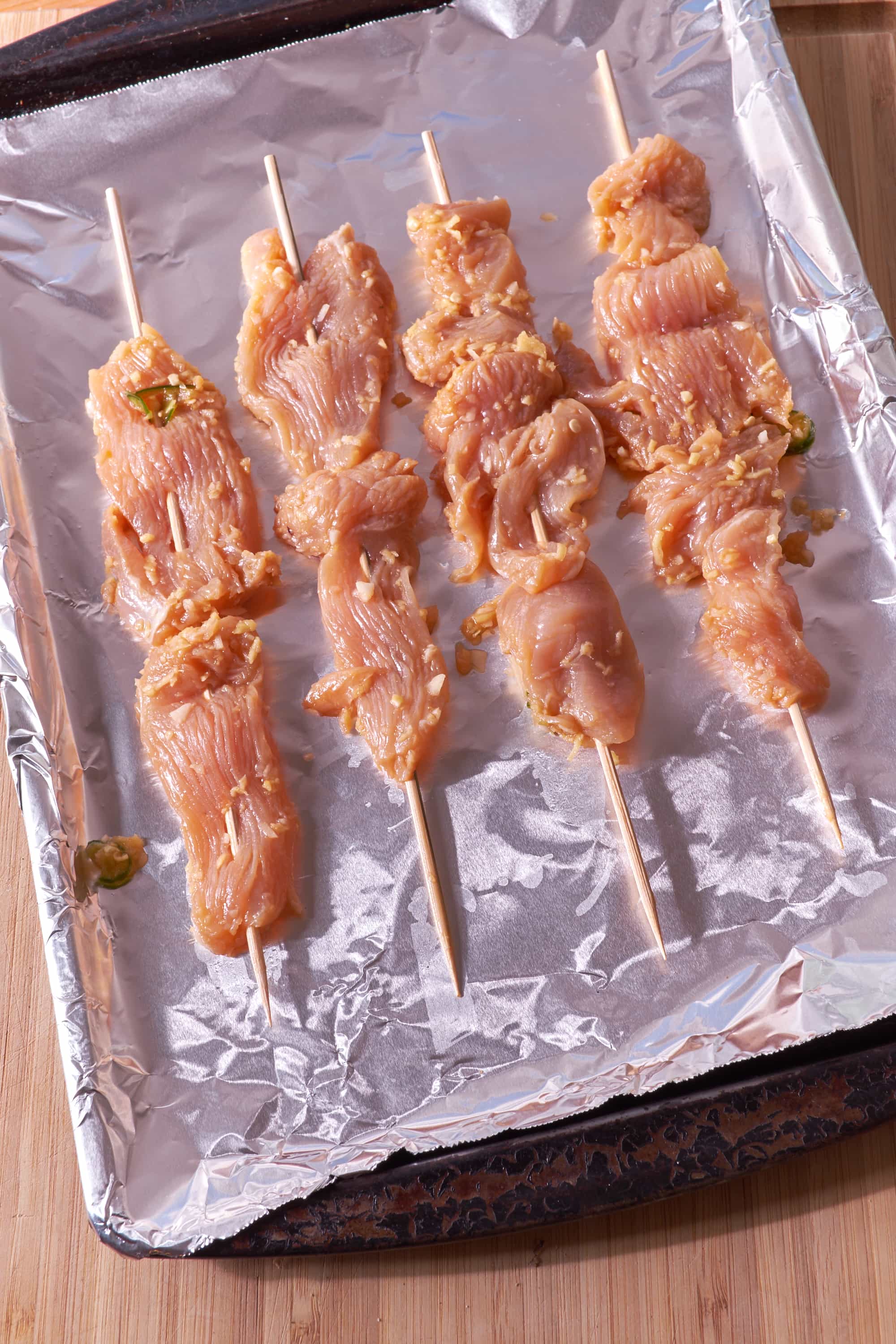 As crunchy as raw carrots, pear, and cabbage are, I crave more contrast. I quickly smashed some raw Peanuts in my Mortar along with Kosher Salt, White Sugar, and Korean Chili Flakes. Then I toasted this in a non stick skillet for a few minutes so the sugar could melt and coat the toasted peanuts. This little added sweet spicy salty crunchy topping totally elevates your home made tacos to better-than-street-truck quality.
While we're prepping the veggies and peanuts I like to get the tacos prepped. I just place a non stick skillet on the stove top over low heat and toss each corn taco in there for about two minutes per side. Once they're warmed up I wrap them up in a kitchen towel so they can continue to steam themselves. I happened to use these generic white corn tortillas today but they're kinda gross and lack flavor. Try to find organic yellow or blue corn tortillas for maximum flavor. Or make your own!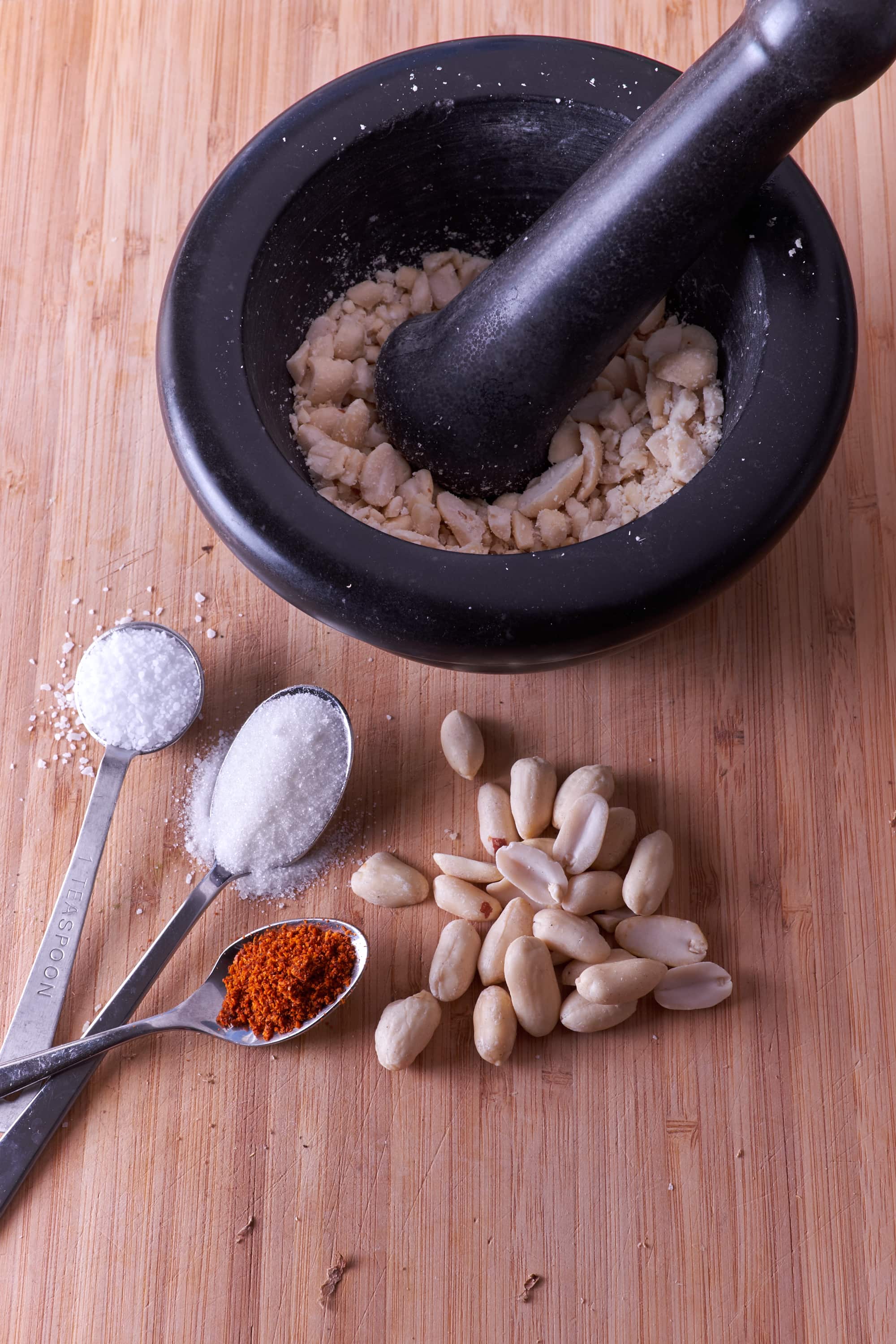 Now that our veggies are prepped, our peanuts are toasted, and our tortillas are warmed, we can broil or grill our marinated chicken. This only takes about two to three minutes per side so don't get distracted. If you only marinated the chicken for an hour or two, I would suggest making a glaze from the marinade. Skewer your chicken and set it aside. Strain the marinade in to a small pot and simmer over medium heat until it reduced and gets thick. Then brush the glaze over your chicken as it cooks. This is the same process I use for broiling fish and it's honestly better than anything I've had in a restaurant for $$$.
Obviously you can get creative with your tacos. Please let me know how you like yours in the comments below. I load up my Asian Chicken Taco with Pear, Cabbage, Carrots, and Chilis then top it with Sweet and Spicy Toasted Peanuts and a squirt of Sriracha and Lime Juice.
Happy #TacoTuesday!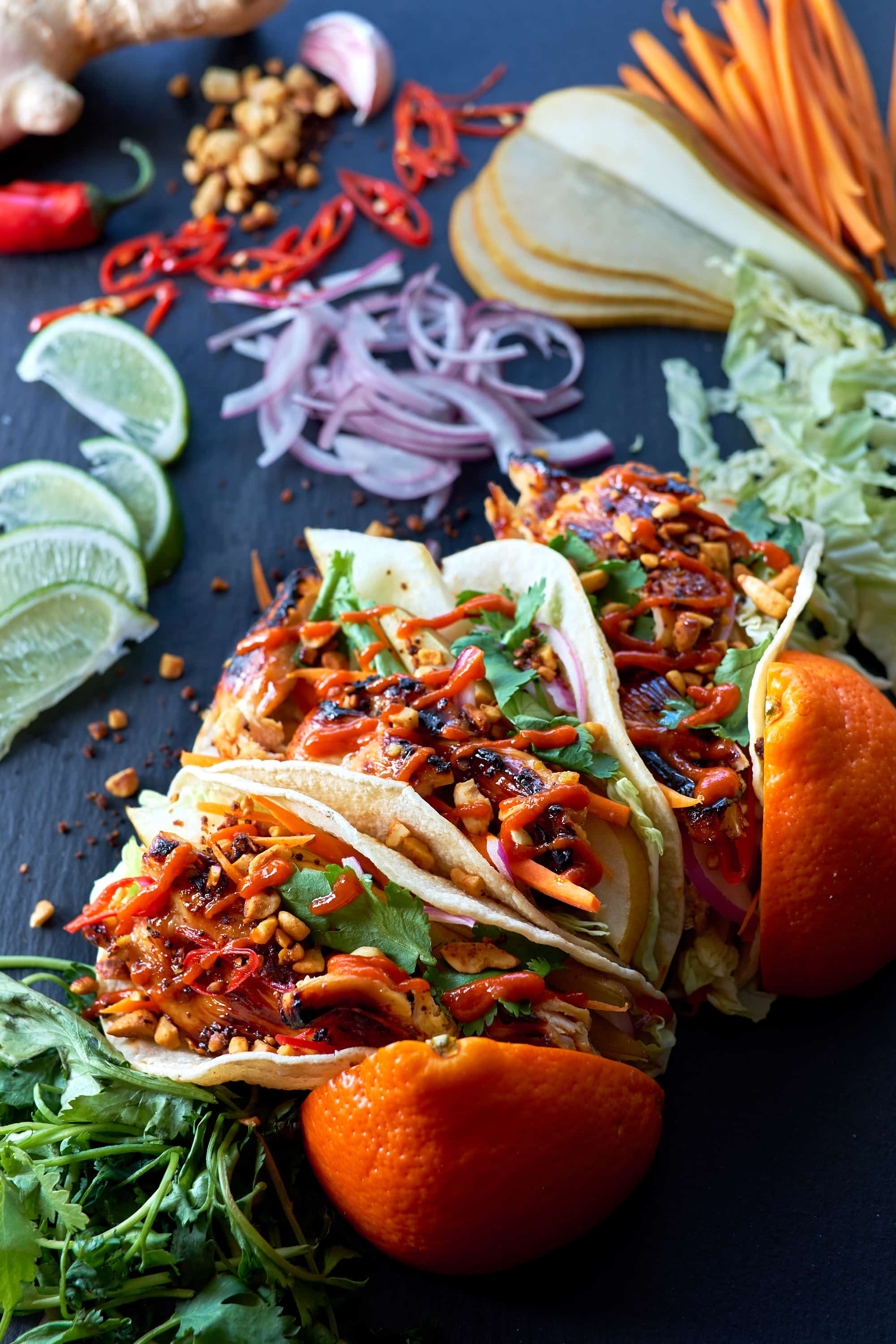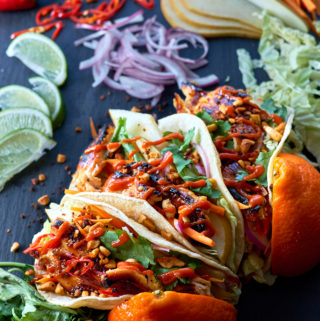 Asian Chicken Tacos
This Chicken Taco Recipe is inspired with Asian flavors like Ginger, Garlic, Soy, Sesame, and Orange with a hint of sweet and spicy. This is one of my favorite go-to marinades for everything but today we're broiling skewered chicken for these Asian Chicken Tacos.
Ingredients
3-6

Yellow Corn Tortillas
Orange Ginger Soy Chicken Marinade
1

Large Chicken Breast

sliced 1/4 thick

1

tbs

Ginger

minced

1

tbs

Garlic

minced

1

Orange

juiced

1

Lime

juiced

2

tbs

Low Sodium Soy Sauce

1

tsp

Toasted Sesame Oil

1

tbs

Light Brown Sugar

2

tsp

Serrano Chili

thinly sliced
Sweet Spicy Toasted Peanuts 
1/3

cup

Raw Peanuts 

1

tsp

Korean Chili Flakes

2

tsp

White Sugar

2

tsp

Kosher Salt
Taco Toppings
Asian Pear

Carrot

Savoy Cabbage

Red Onion

Lime Juice

Sriracha

Red Chili
Instructions
Orange Ginger Soy Chicken Marinade 
Slice a large chicken breast in to 1/4 inch thick slices good for skewing. 

Add all Marinade ingredients to a medium bowl and whisk until well combined. Add Chicken and marinate in refrigerator for at least 2 hours or overnight.
Sweet Spicy Toasted Peanuts
Add Peanuts to a Mortar and crush with Salt, Sugar and Chili Flakes. Alternatively use a spice mill or a zip top bag and smash the bottom of a heavy skillet or pot. 

Once peanuts and spices are combined, toast in a non-stick skillet for about 5 minutes stirring often. 
Taco Toppings
Thinly slice Asian Pear, Red Onion, Cabbage and Red Chili. Cut Carrots in to long match stick size pieces or shred with box grated.
Tortillas
Warm a medium size non stick skillet over medium-low heat. Heat each tortilla one at a time and keep warm in a kitchen towel to keep warm until needed. 
Grilled Chicken
Soak skewers in water for about 10 minutes before skewering to prevent burning. 

Skewer 2-3 pieces of chicken on each skewer then grill or broil for 2-3 minutes per side.

Optionally strain marinade and reduce to glaze prior to cooking chicken. Brush over chicken about once per minute while cooking. 
Notes
I've suggested this recipe makes 3 tacos. Depending on how much chicken or vegetables you add to your taco, and how large your large chicken breast is, this could easily be stretched to 6 tacos.