Banh Mi is one of the most amazing sandwiches on the face of the earth. It's one of those things that's greater than the sum of its individual parts. I love how the flavors of the cilantro, mayonnaise, and funky Maggi seasoning meld and transform as they gently warm between the baguette and meat. The key ingredients needed to make a decent Banh Mi are so simple that there's no reason not to make your own version right at home.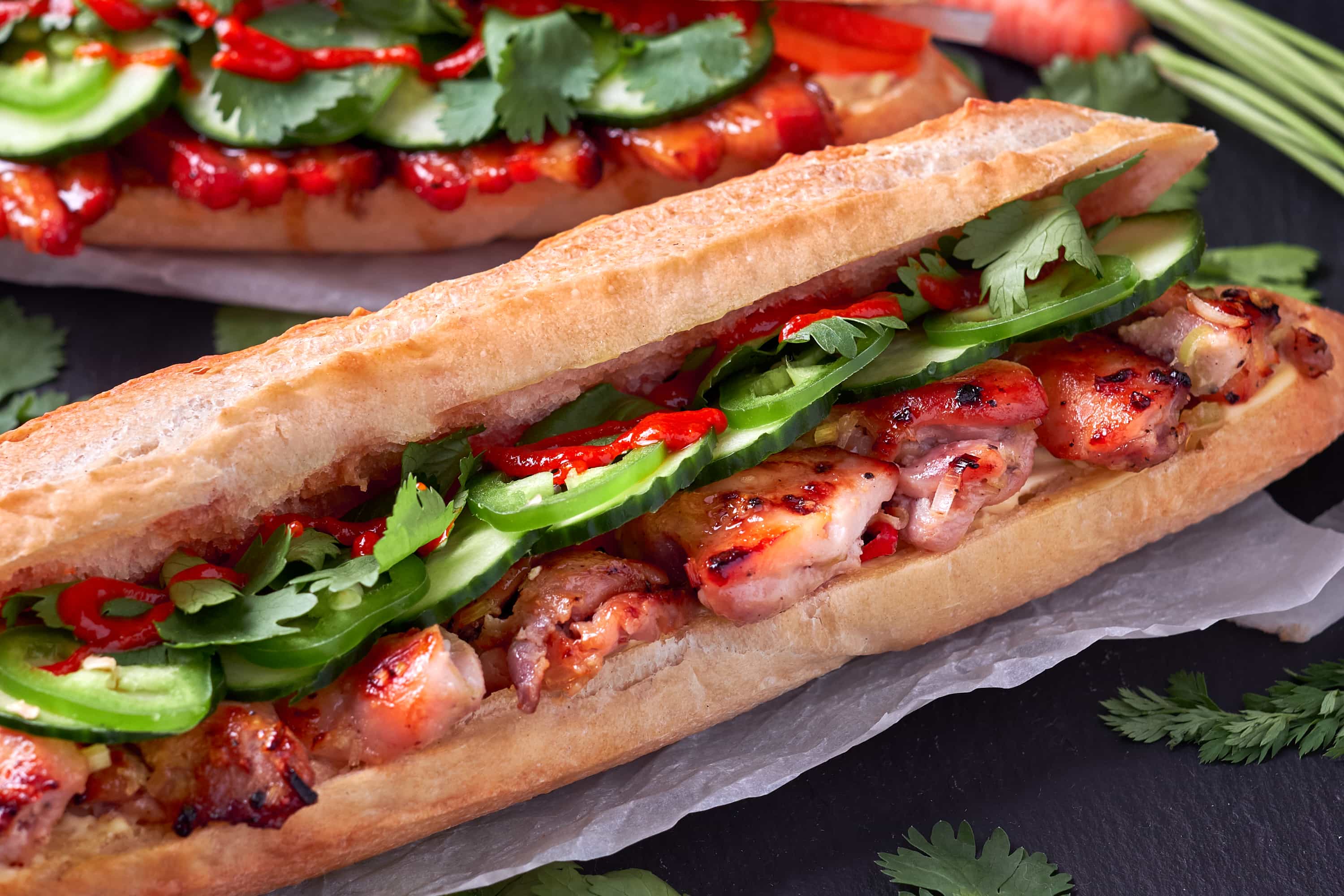 In this post I'm going to break down how you can make each of the Banh Mi ingredients on your own. You could pretty easily find most of them already prepared for you in the grocery store. Any meat or vegetarian filling will do. Below I've included recipes for Sweet Sambal Pork Belly and for Lemongrass Chicken.
Banh Mi is Vietnamese for Bread – we typically use the word to mean Vietnamese Sandwich. Banh Mi is made from a French baguette that's light and airy with a thin crackly crust. In my limited experience, Banh Mi usually consists of some sort of protein, cilantro, pickled vegetables, cucumber, jalapeños, Maggi seasoning and mayonnaise.
The bread is something quite special but don't let that scare you. If you don't have a Vietnamese bakery near you you can use any light and airy french baguette with a decent crust. Avoid thicker chewy breads and white fluffy buns. I get good results from letting the baguette sit out for a while then warming it up in the oven for a few minutes.
I've seen people skip the bread all together and just throw all the ingredients in a bowl. I've even experimented with Banh Mi Tacos and Banh Mi Pizza!
Today at Eat Up! Kitchen, were making our own Vietnamese Baguettes! I actually found this to be a simple recipe. The key to this baguette is rolling the dough to form the classic pointed shape as well as a high humidity oven. The later is what creates the crackly thin outer crust on the bread. Stay tuned for a dedicated post for the homemade Baguettes. For now you can find a written recipe down below.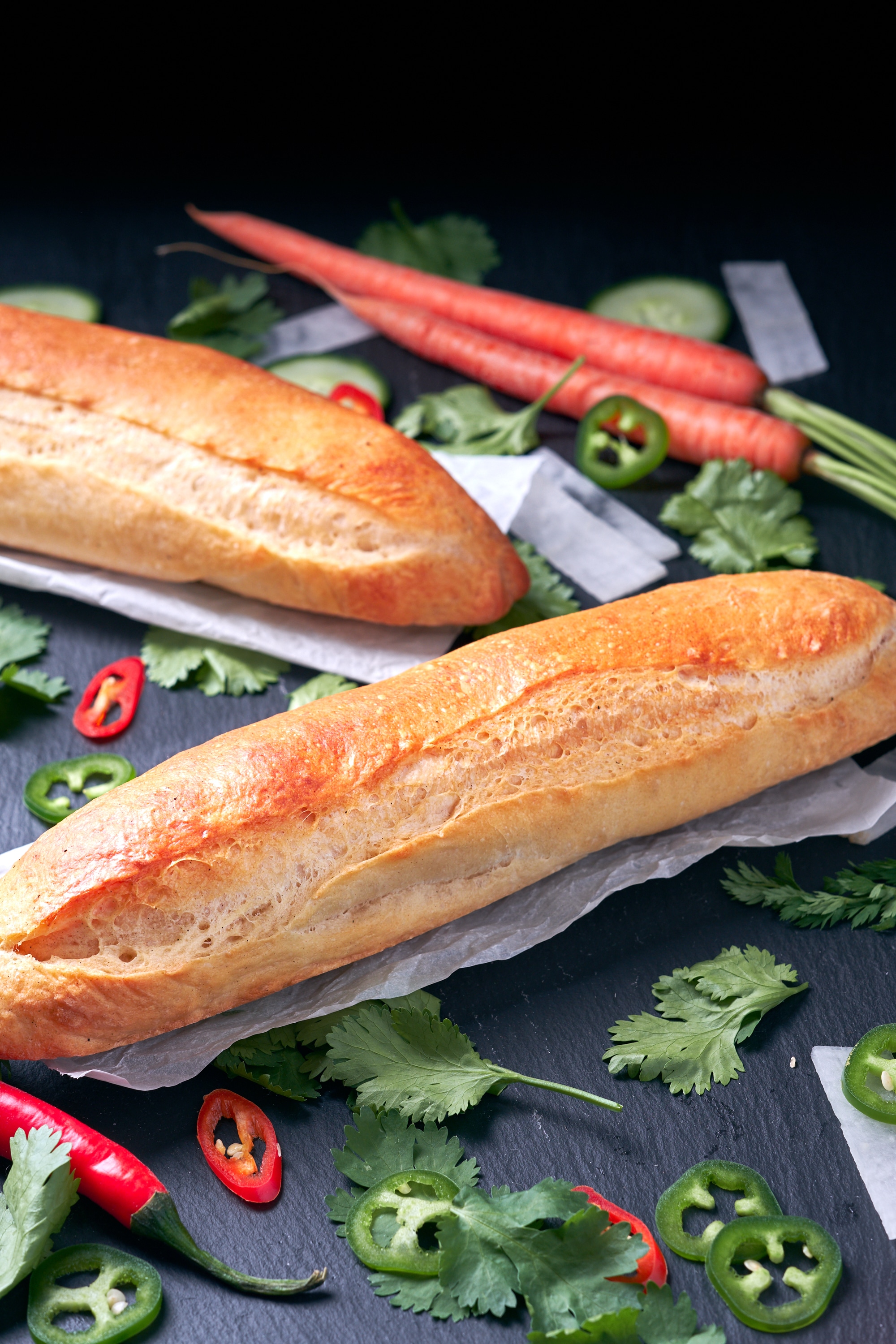 I'll take this moment to apologize for the lack of photos. On one hand, I had a lot going on with the bread baking, the marinating meats, pickling vegetables, and studio setup. On the other hand, pics of marinading meat aren't all that sexy.
The vegetables:
I'll argue that the vegetables are the most important part of the Banh Mi. I liken it to a Big Mac or a Whopper. In reality, the burger doesn't add as much as the vegetables and secret sauce do to the sandwich. You can not have a Banh Mi without cilantro and pickled carrots and daikon (daikon is just a big Japanese radish).
Pickling the carrots and daikon is super easy. Slice, julienne, grate, or mandolin your root veggies and let them chill out in some sweet salty vinegar for a couple hours. I recommend rice vinegar instead of white vinegar. Rice vinegar is a little sweeter and less acidic than white.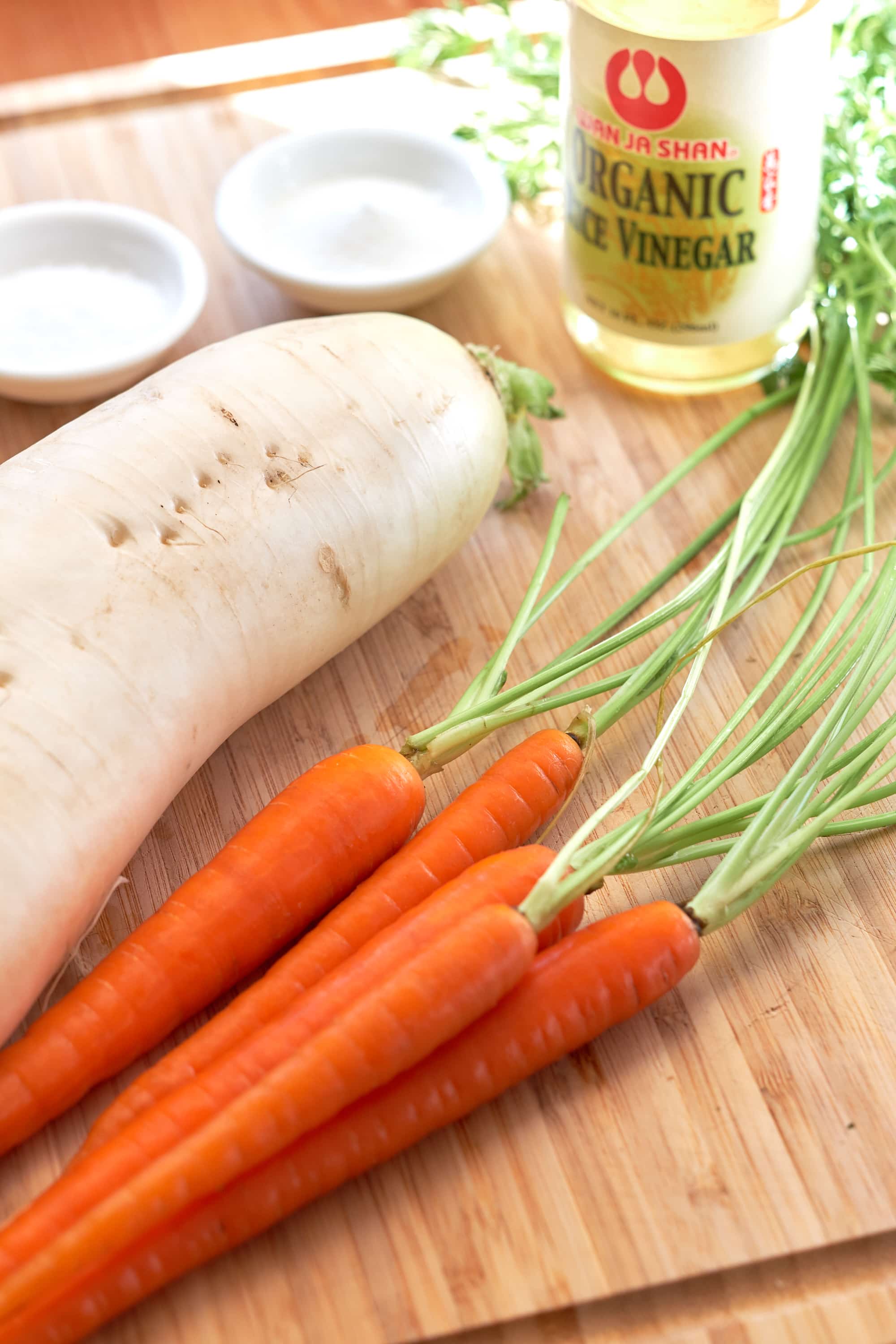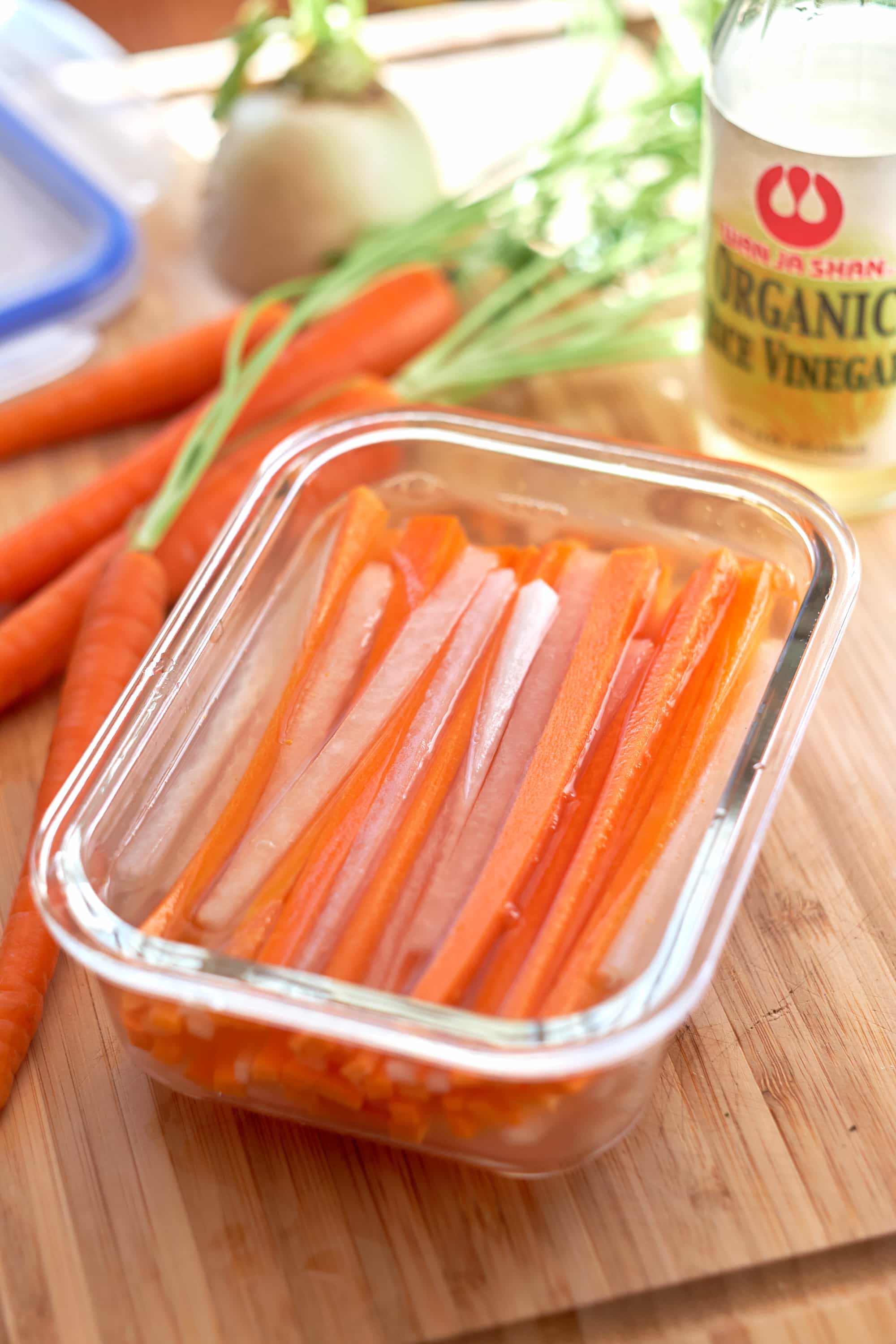 Optional but not optional are the cucumbers and jalapeños. For the sake of my food photo I sliced the cucumber in to thin rounds. I prefer my cucumber as thick sticks though to give even more crunch to the sandwich. If you're sensitive to spicy foods you could skip the jalapeños. I find that they blend right in with everything else and just add a hint of heat. Serrano chilis would be a great substitution for jalapeños.
The sauces:
Let's just get Sriracha out of the way here. I'll presume you're like me and put it on everything you used to put ketchup on as a kid.
That brings us to the Japanese Mayo. Kewpie mayonnaise may be the only Japanese mayo I've come across. It's not quite as thick as the American jarred stuff, it's a little more tangy, and a little more eggy. I recommend giving it a shot if you can find it (I had a hard time finding it in my Asian grocery store but it was there). I think I'd skip the mayo if Hellman's was all I had but some of those organic olive oil mayos might be a decent sub. Maggi seasoning is a new one to me. I didn't know about it until I started researching this recipe. Maggi tastes like an intense soy sauce with a dash of Worcestershire sauce and a drop of fish sauce. It absolutely adds a certain je ne se qua to a Banh Mi. Buy some!!
Lemongrass Chicken and Sweet Sambal Pork Belly:
There's the bread and vegetables that make up a Banh Mi, and then there's the meat (or tofu). Pork and chicken seem to be the most popular items to have on your Banh Mi. Steamed, grilled, meatballs, braised, lunch meats, roasted; do whatever you like. South East Asian foods tend to be a little sweet with a touch of acid, heat, and / or funkiness. Let that guide your way. Pâté often makes it's way to Banh Mi but I don't recall that I've had it that way. Traditional or not, pâté was not on my agenda for this recipe. I wanted to at least make mention of it though for any purists who scowl at my omission. Sorry!
The Lemongrass Chicken and Sweet Sambal Pork Belly I made for these Banh Mi are two quick marinades I came up with. They're both really delicious and worth pinning to use at any time.
Lemongrass Chicken
Chicken thighs are marinated for a few hours in lemongrass, garlic, honey, and chili. Then they're skewered and broiled for 12-15 minutes while the sweet lemony marinade is brushed on as it cooks. This gives the chicken some nicely browned tips and edges and a gorgeous glistening coating. This also works great on the grill.
Sweet Sambal Pork Belly
The pork belly is marinated in soy sauce, sambal, ginger, and brown sugar. The pork is roasted at 300 degrees while the marinade is reduced to a sweet and spicy syrupy sauce. Slice the pork then add it to the pot with the sauce. Add sliced pork belly to the Banh Mi and drizzle sauce reduction over top. This would be great to slow roast in the oven then glazed over a grill. Would definitely make tacos with this.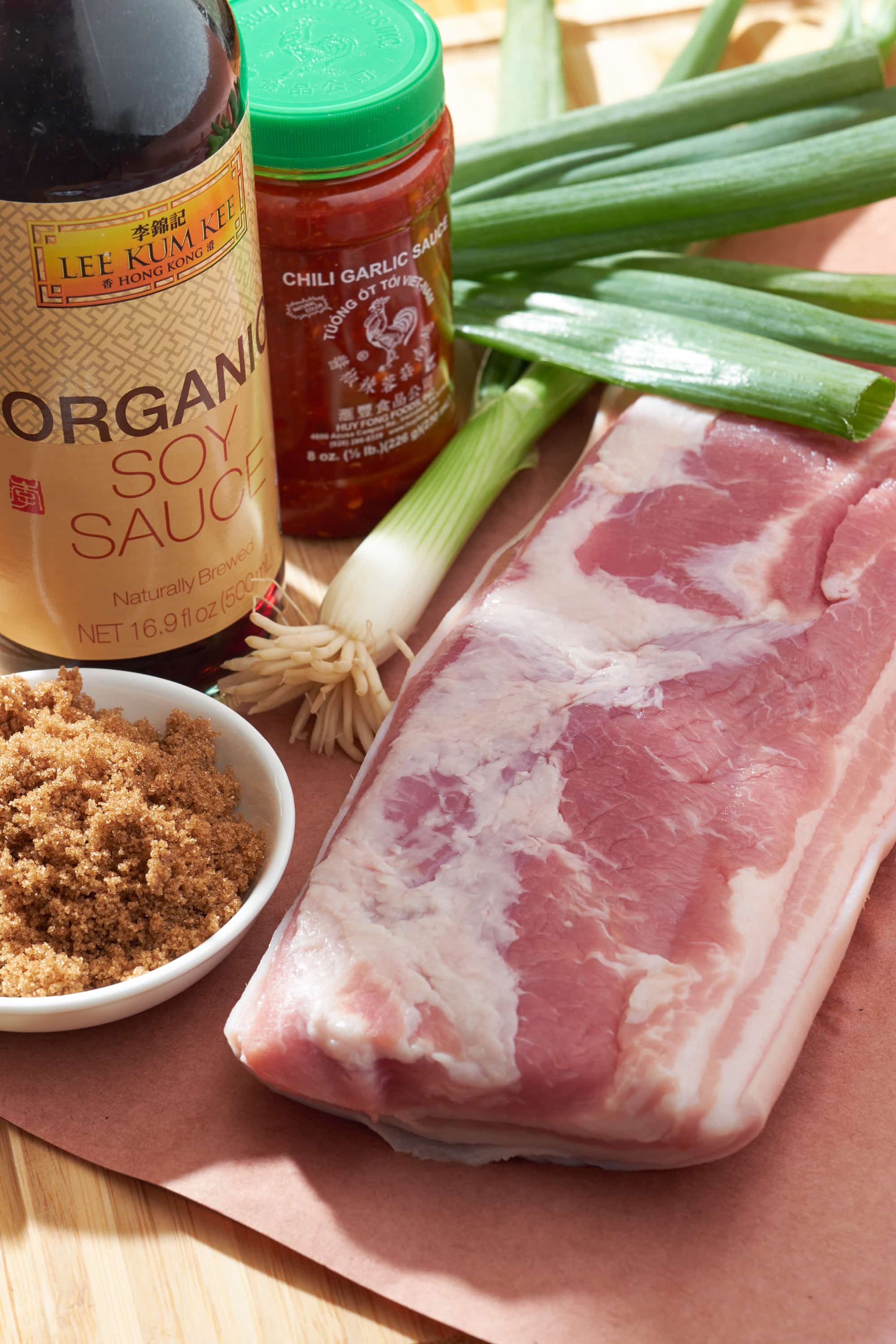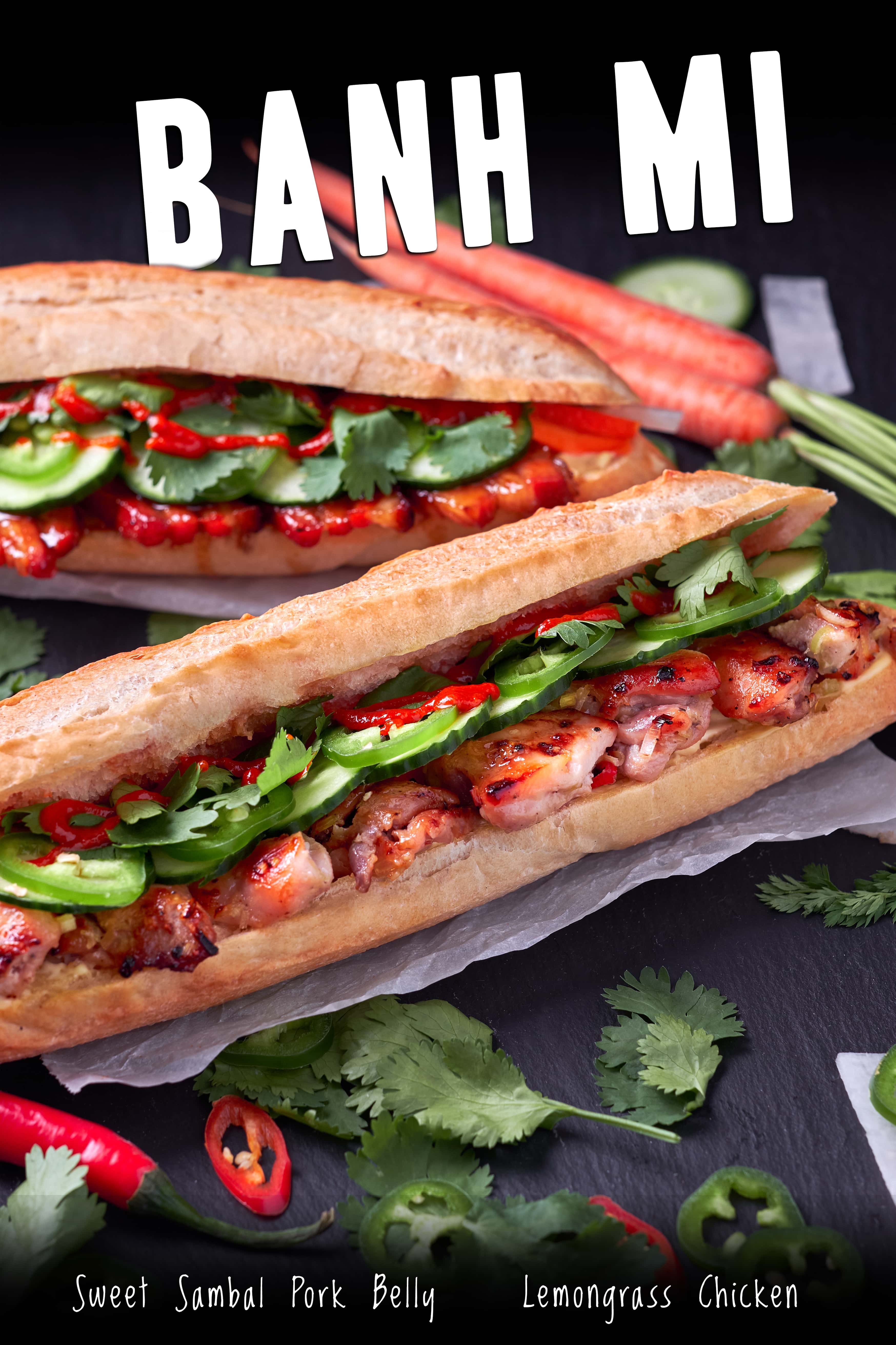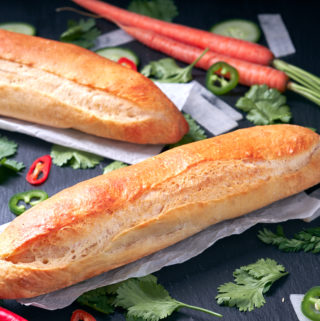 Banh Mi Baguette
Ingredients
250

g

bread flour

1

tsp

kosher salt

1 1/4

tsp

active yeast

175

g

warm water

1/2

tsp

sugar
Instructions
Place a roasting pan with three cups of water in the bottom of your oven. Heat oven to 200 degrees for 10 minutes then turn off. This creates a warm humid environment for the dough to rise.

In a small bowl, dissolve sugar in warm water and sprinkle yeast on top. Allow to proof for 10 minutes.


Combine salt and flour in the bowl of a stand mixer then add yeast mixture. Mix with a dough hook on speed 2 to combine then on 4 to knead for about 10 minutes. Stop occasionally to scrape sides if needed. Roll out to a lightly floured surface and knead for one minute to create a tight smooth dough ball. Transfer dough to a clean bowl lightly greased with vegetable oil. Cover with a damp towel and rise in the oven for about 1 1/2-2 hours or until doubled in size.


Divide and gently knead dough in to three equal size balls. Turn a sheet pan upside down, transfer the dough to the sheet pan and cover with damp towel. Rise in cool oven for 30-40 minutes.

Lightly coat a clean counter surface with vegetable oil. Slap dough ball down on the counter 3-4 times to deflate. Roll out with hands or small rolling pin to form a 6x8 rectangle. Gently roll the dough forward on itself like rolling up a carpet. Then use the outer parts of your hands to roll the dough stretching it out a bit and forming points on either side. Transfer dough to a baguette pan and cover with damp towel for 30-40 minutes in a cool oven.

Remove dough from oven and preheat to 475. Spray interior of oven using a water bottle. Spray baguettes with water then use a razor blade or sharp knife to score a 1/8 inch deep slash along the length of the dough. Bake for 10-12 minutes and roate baguette pan to bake evenly. Bake another 10-15 minutes until lightly golden brown. Allow to cool for at least ten minutes before cutting.
Notes
If bread is made more than one hour ahead of time, warm in 200 degree oven for 10 minutes before using.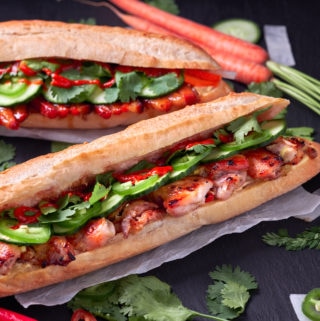 Sweet Sambal Roast Pork Belly
Sweet Sambal Roast Pork Belly is great for Ban Mi Sandwiches! Or tacos 😉
Ingredients
1 1/2

lbs

pork belly

skin removed

1/2

cup

light soy sauce

1

cup

water

1/2

cup

Samsal garlic chili paste

1/2

cup

brown sugar

1/4

cup

white sugar

3

scallions finely sliced

3

tbs

ginger finely sliced
Instructions
Combine marinade ingredients in a shallow baking dish. Add pork, tightly cover dish and marinade for 2 hours flipping every half hour.

Preheat oven to 300. Remove pork from dish and any brush off excess marinade. Transfer to a roasting pan and roast for 1 hour 45 minutes or until pork is tender.

Transfer marinade to a medium pot and simmer to reduce liquid until it thickens slightly – about 15 minutes. Add or remove liquid / water to adjust if needed. Use a fine mesh strainer to remove solids from marinade.

Remove pork from oven and allow to cool for 20 minutes. Cut 1/4 inch slices and transfer to marinade. Allow to simmer on low for 5-10 minutes.

Serve pork on Banh Mi and drizzle marinade over pork.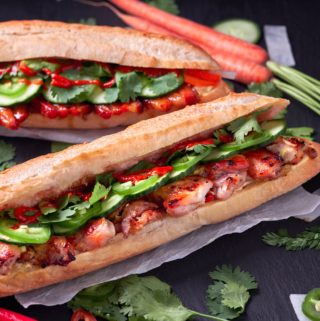 Lemongrass Chicken
Ingredients
1 1/2

lbs

chicken thighs

3

sticks lemon grass finely sliced

1

shallot finely sliced

2

garlic cloves finely minced

1

red chili finely sliced

2

tbs

honey

2

tbs

sugar

2

tbs

rice vinegar

1

tbs

kosher salt

1/4

cup

vegetable oil
Instructions
Combine marinade ingredients and set aside for at least 10 minutes.

Cut chicken thighs in to 1 inch pieces and marinade for 2 hours or over night.

Prep wooden skewers by placing in a shallow dish of water for at least 15 minutes.

Preheat broiler or grill. Place baking rack over baking sheet.

Remove chicken from marinade and remove as much excess as possible. Set a fine mesh strainer over a clean bowl and strain marinade.

Skewer chicken and place on baking rack. Brush with strained marinade. Broil for 5 minutes and flip, applying more marinade. Repeat until edges begin to brown.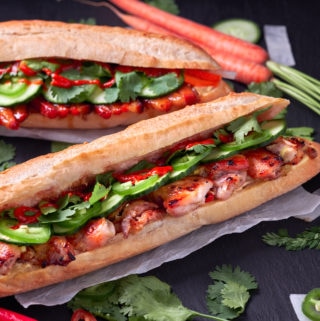 Pickled Carrots and Daikon
Ingredients
2

large carrots

1/2

lb

daikon

1

tbs

sugar

1

tbs

kosher salt

1

cup

Rice vinegar
Instructions
Add salt and sugar to glass container. Add 1/3 cup to start of rice vinegar. Cover container and shake vigorously to dissolve sugar and salt.

Julienne carrots and daikon in to 1/4 inch match sticks. Transfer to container and add vinegar to cover.

Chill for 2 hours to overnight before using.