This rich and meaty Bolognese is a classic Northern Italian meat sauce that goes great with Tagliatelle, Pappardelle, Rigatoni, and Spaghetti. It's also super great for Lasagna Bolognese!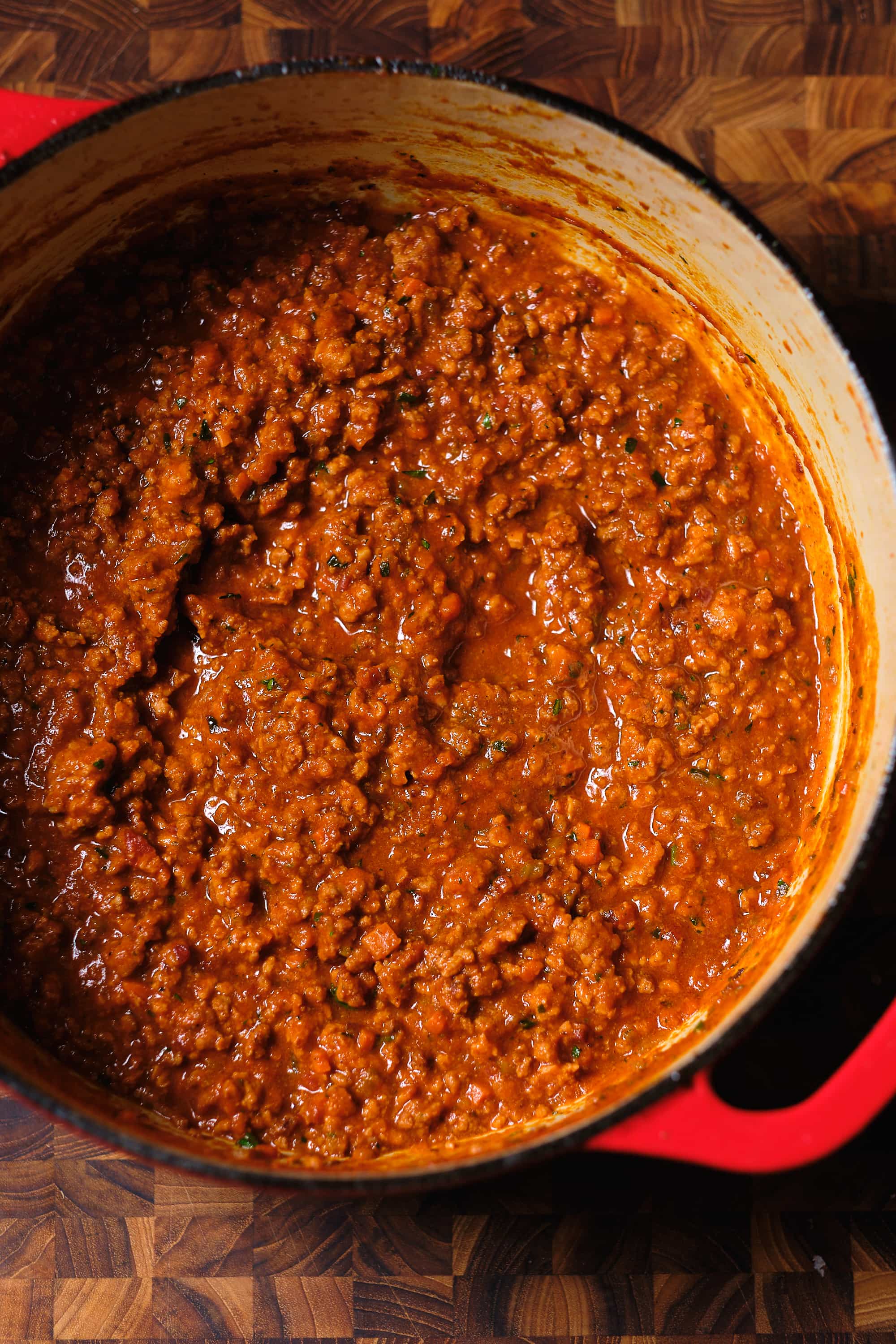 Don't make the mistake of thinking this is an Italian-American tomato sauce. Bolognese is a sauce of braised meat traditionally made with veal but more often a mix of beef and pork. It takes time but it's well worth the wait for the white wine, chicken stock, and milk tenderize the meat into a rich and savory sauce.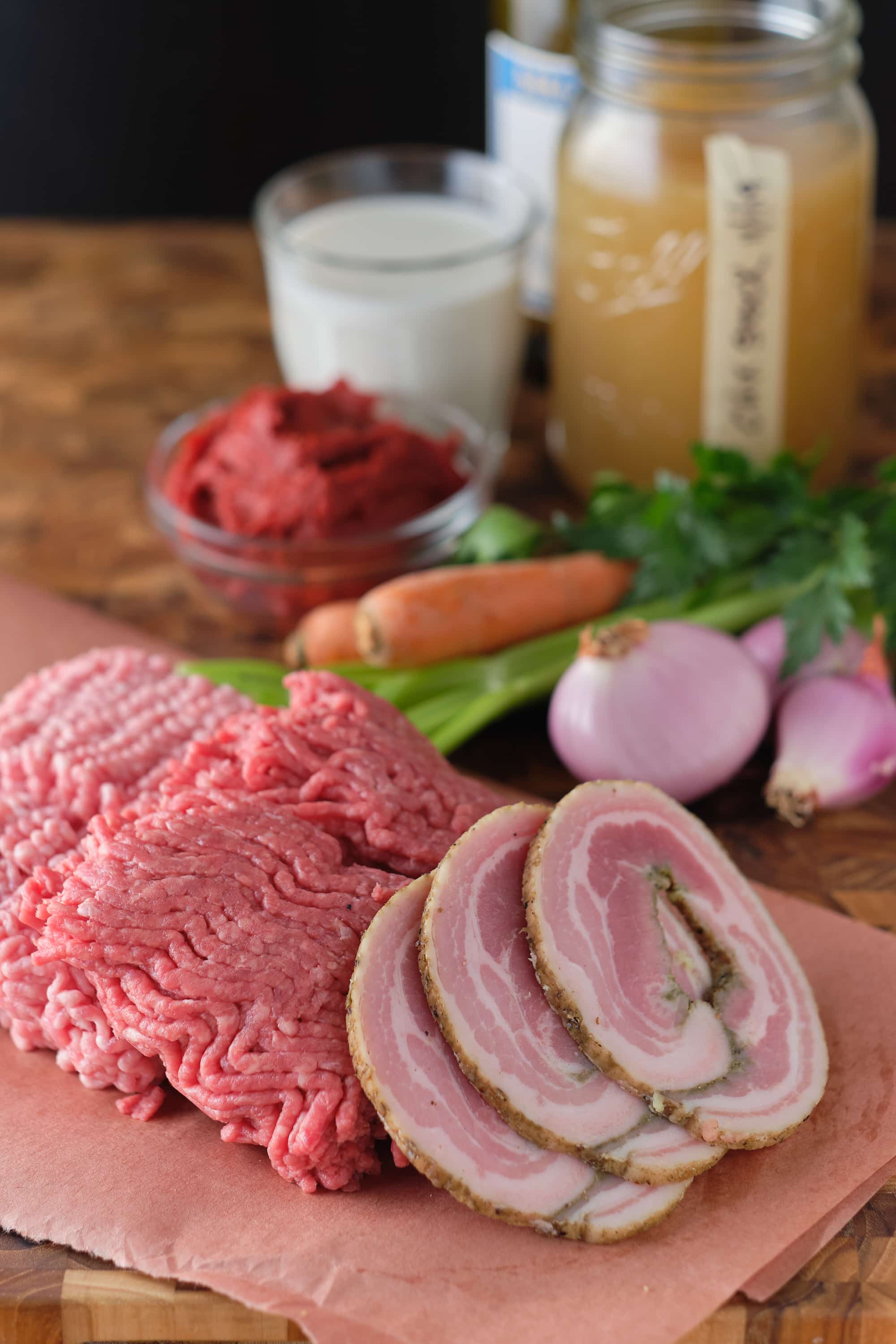 This is a fairly simple, straight-forward recipe any home cook could make over the course of a Saturday or Sunday afternoon. We're using store bought ground beef and pork here but, if you have the time and inclination, it would be even better with a much longer braise of whole parts of beef or veal.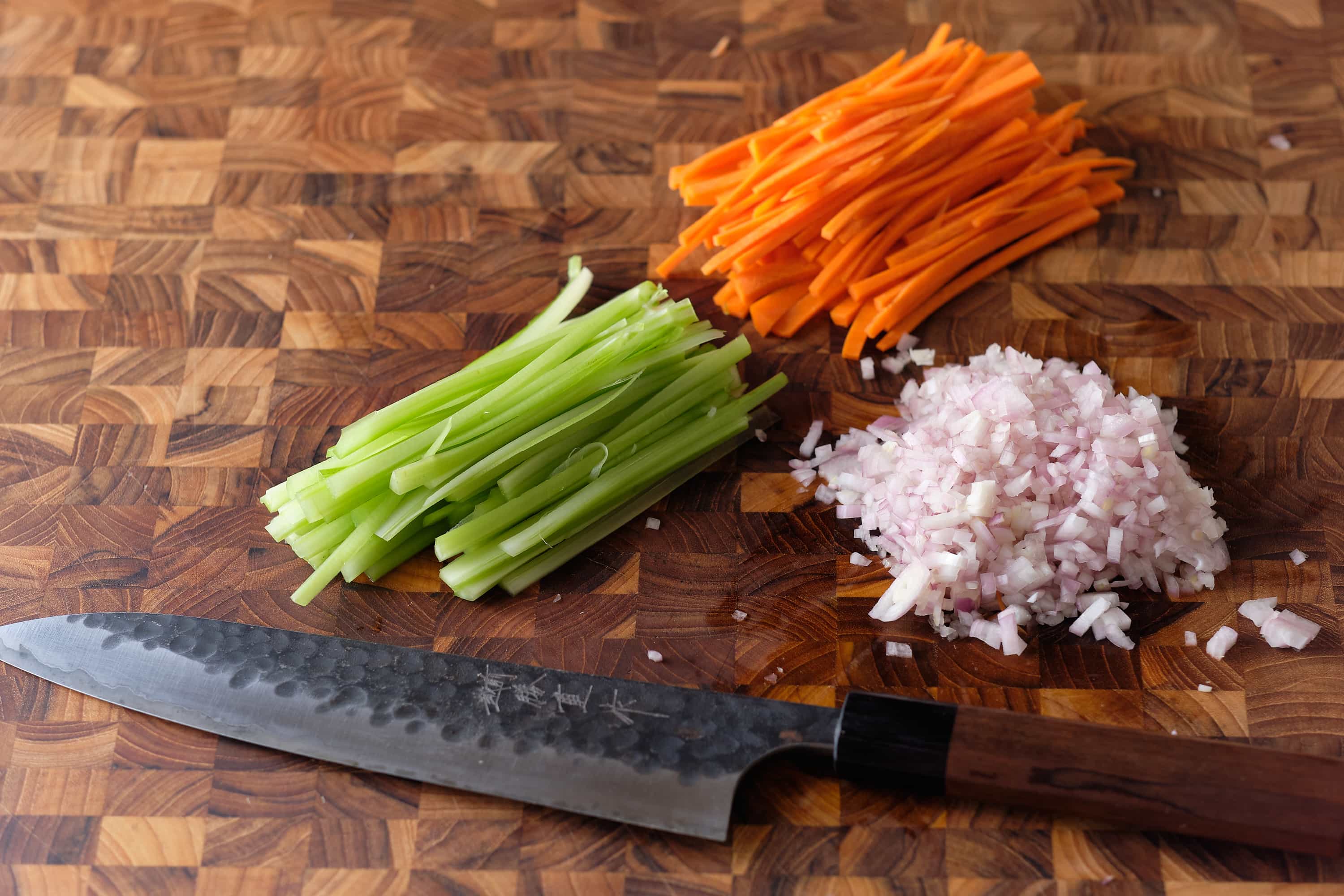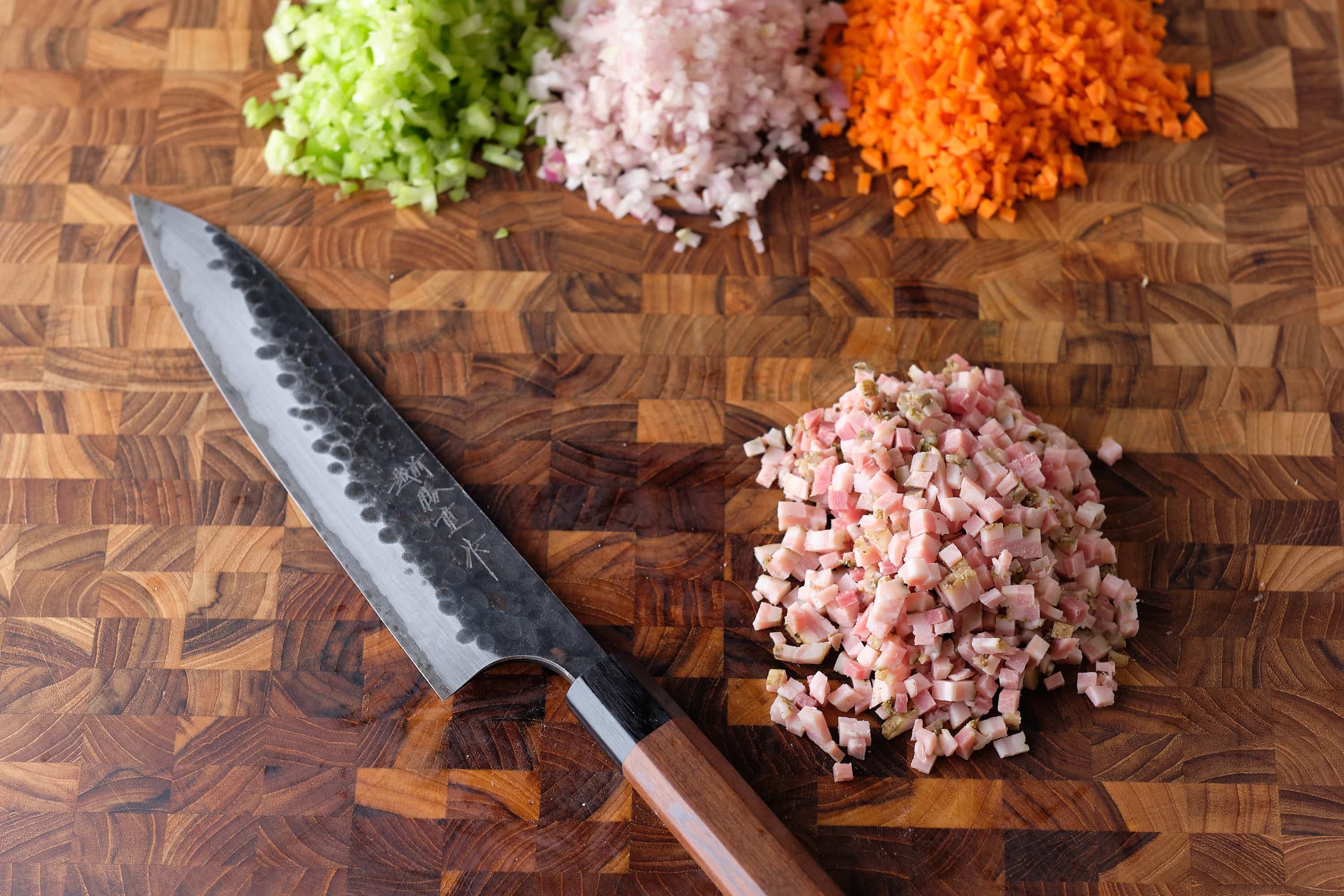 The Bolognese starts in a cold dutchoven or large stock pot. Coat the bottom with olive oil, add the diced pancetta, then turn on the heat to medium. Allow the fat to render while you sauté the pancetta until crispy. Add the mirepoix of shallots, carrots, and celery and stir occasionally. I'm using shallots here instead of onions because traditionally (I know you'll be surprised to hear this) bolognese does not include garlic. Shallots are a little stronger than onions so they lend well to this substitution. If all you have is onions then that's fine. Once the vegetables are sweated until tender, about 15 minutes, transfer everything from the pot to a clean bowl.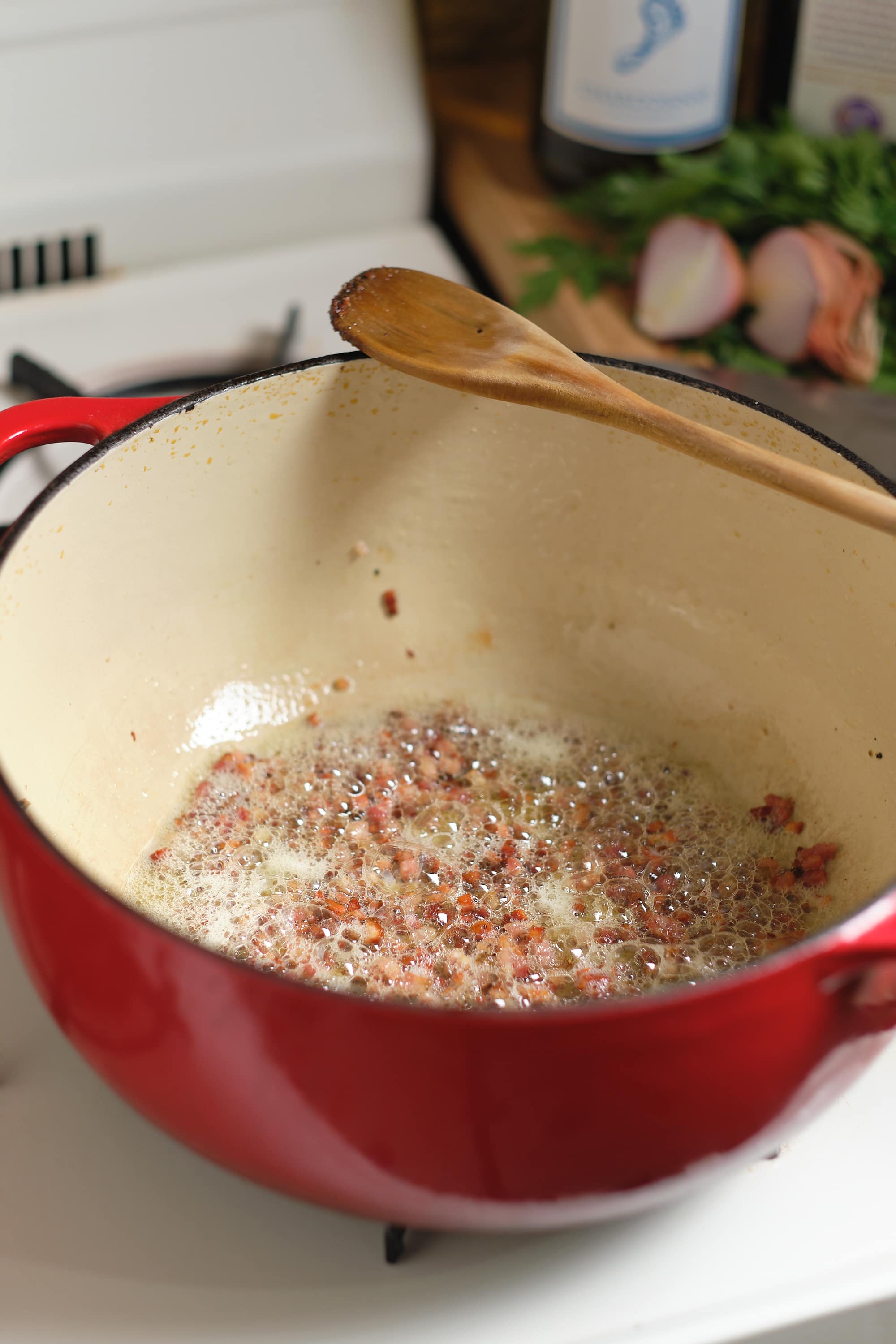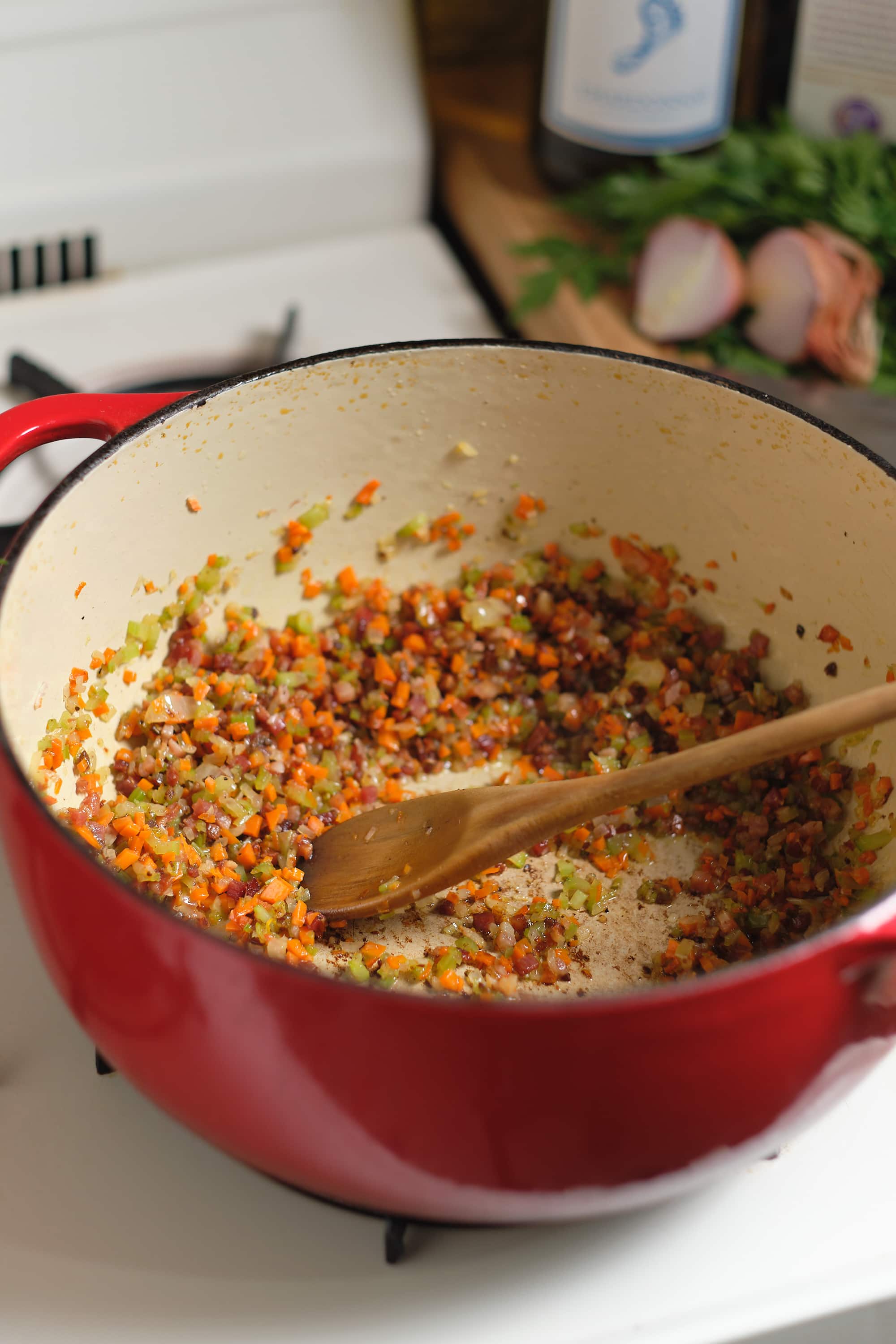 The second step is browning the meat. Increase the heat to high and brown the meat in smaller batches than you think. Overcrowding the pot with too much will render excess moisture causing the meat to steam instead of brown. Once the meat is added to the pot, let it cook, untouched, for about 60-90 seconds. Just brown one side (it'll cook through later on) then transfer with a slotted spoon to the bowl of cooked pancetta and vegetables.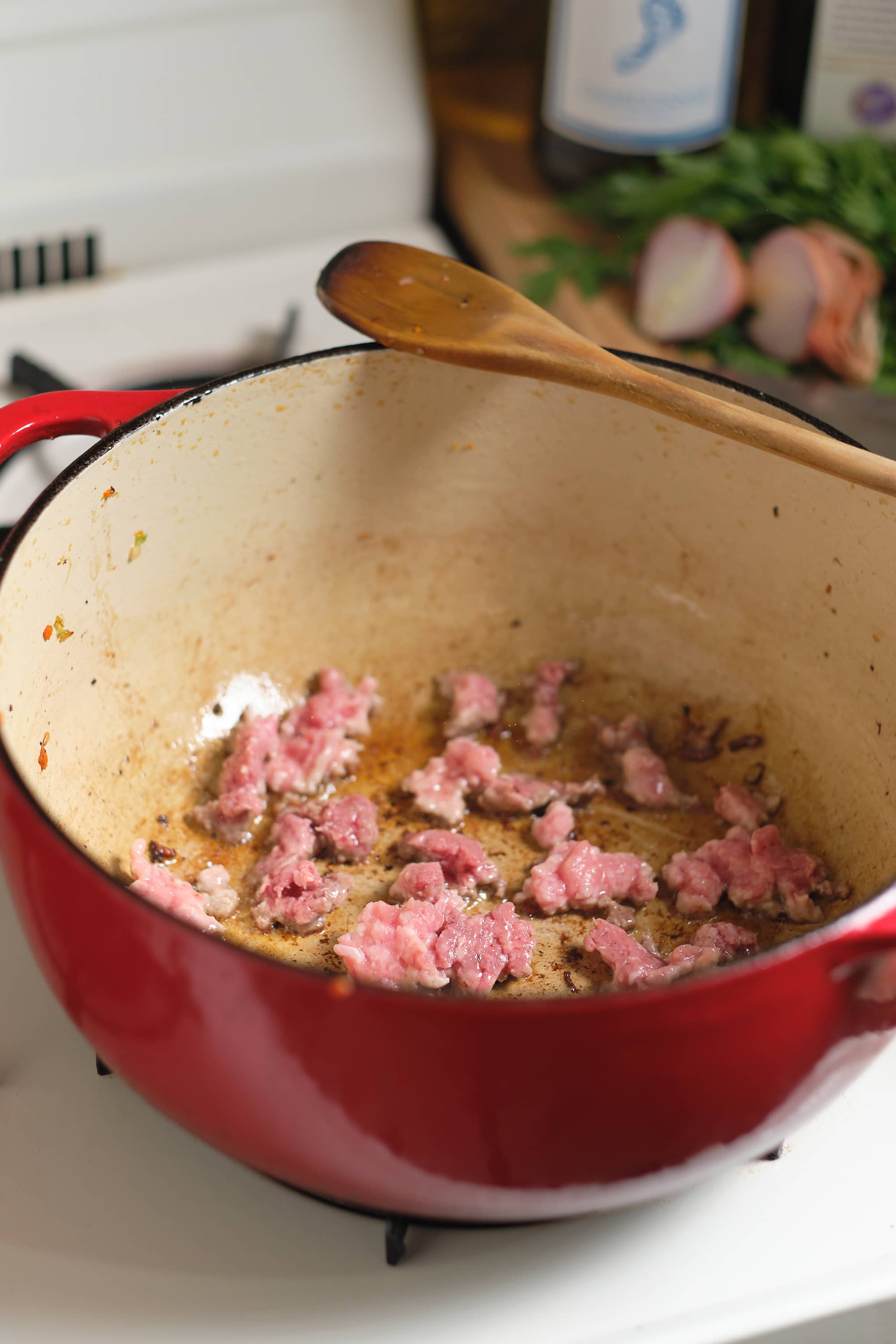 Once all the meat is browned it's time to start the braising liquid. Some recipes may use whole or crushed tomatoes here while I prefer tomato paste. Again, this is not a tomato sauce. Bolognese is all about building deep, rich, meaty, savory flavors. I don't think raw tomatoes belong in this sauce. I even go so far as to cook the tomato paste for a few minutes to cook off any raw or tin-y flavors. Once that's cooked for a bit, add the white wine, chicken stock, and milk. Stir everything to combine over medium heat.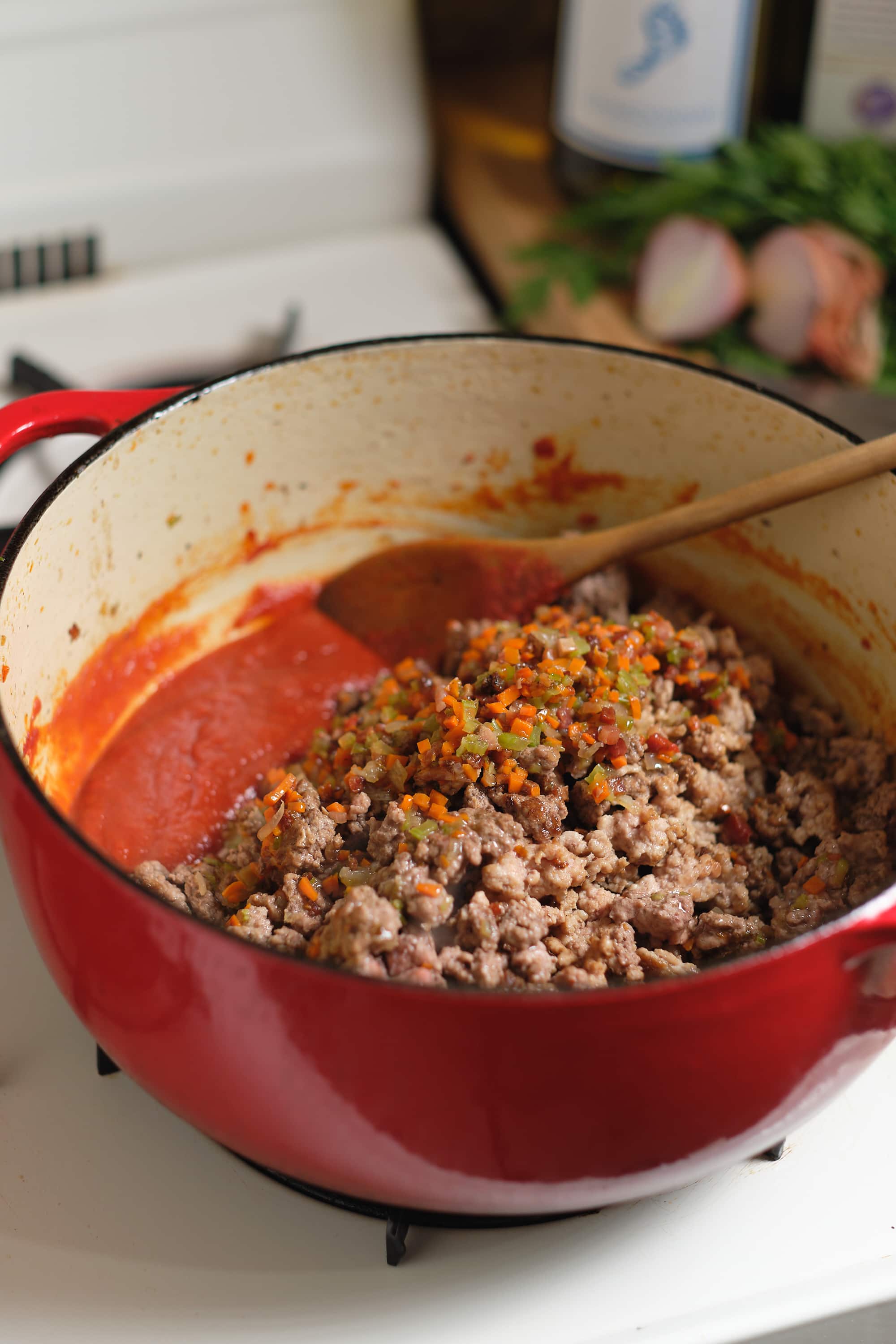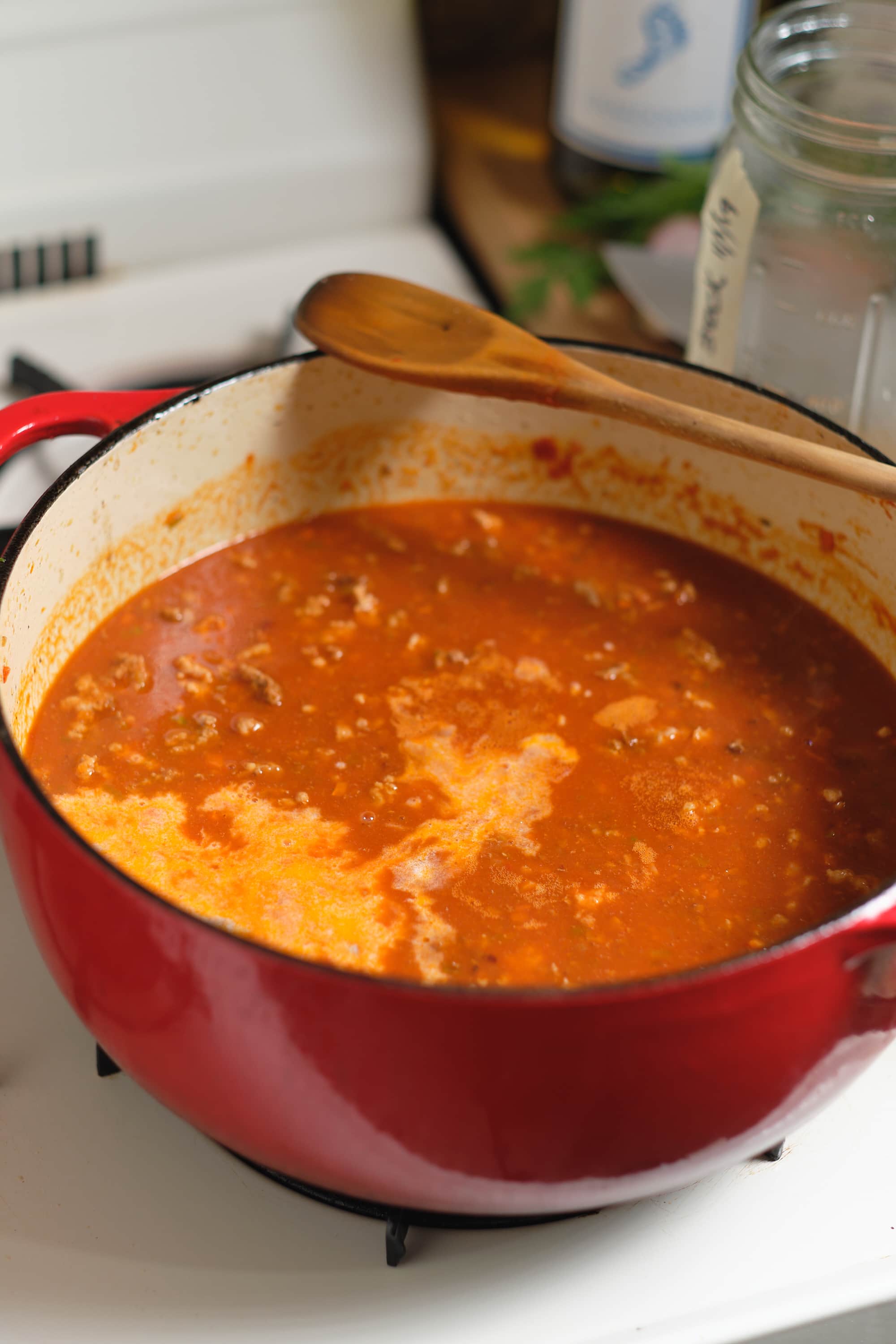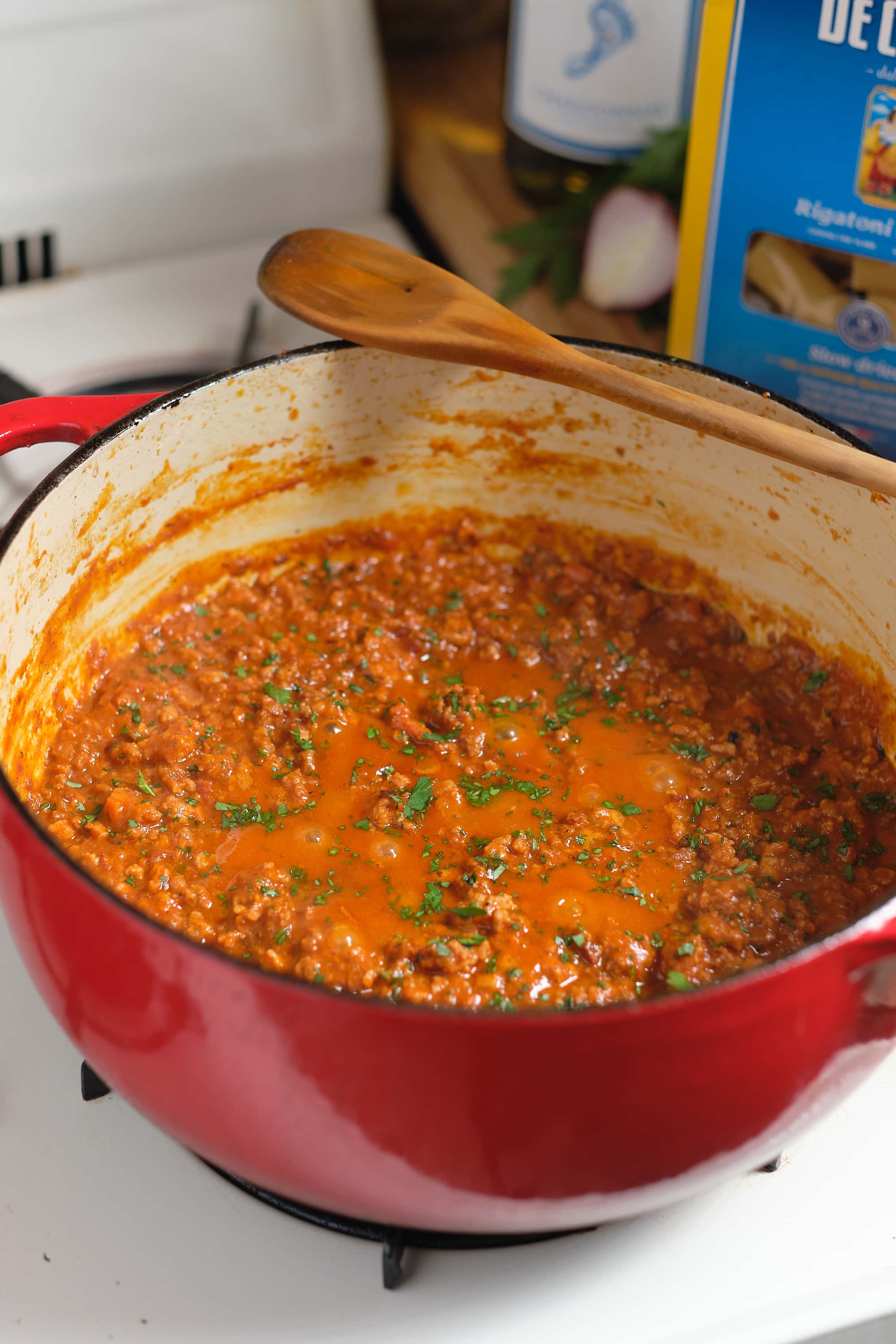 Add the cooked beef, pork, pancetta, shallots, carrots, and celery to the braising liquid. Set the heat to medium-low and let it simmer slowly over the next 3-4 hours, stirring occasionally. At about the 3 hour mark, you'll notice the meat takes a turn from a little tough to incredibly tender. This is when you know you've hit the jackpot.
This is a great moment to learn about properly seasoning your food as you're cooking. It's often said to 'season as you cook' but it's important to know when to do so. You're going to lose about a third of the liquid to evaporation over the course of three hours. Salt, fyi, does not evaporate. So, if you were to season 'to taste' at the beginning, you might be left with a salty sauce. Wait at least three hours to season your sauce. Add a teaspoon of kosher or sea salt – stir, taste, repeat. Taste test each time noticing how the flavor of the sauce changes with more salt. It should become less acidic, slightly sweeter, and more savory. Salt is magic.
If you're looking to make a big pot of something for the family to eat for a few days, Bolognese might be for you. It's great with pasta and could be used to make Lasagna Bolognese. It keeps in the fridge for a few days and tastes even better after reheating on day two or three. I like mine with rigatoni and a big dollop of ricotta.
> Eat Up!