Braised Short Ribs are super easy regardless of what recipe you use. This recipe was developed using what I had on hand – without wasting any valuable, drinkable booze. Instead of wine or beer, we'll use diced tomatoes, chicken stock, and dried shiitake mushrooms.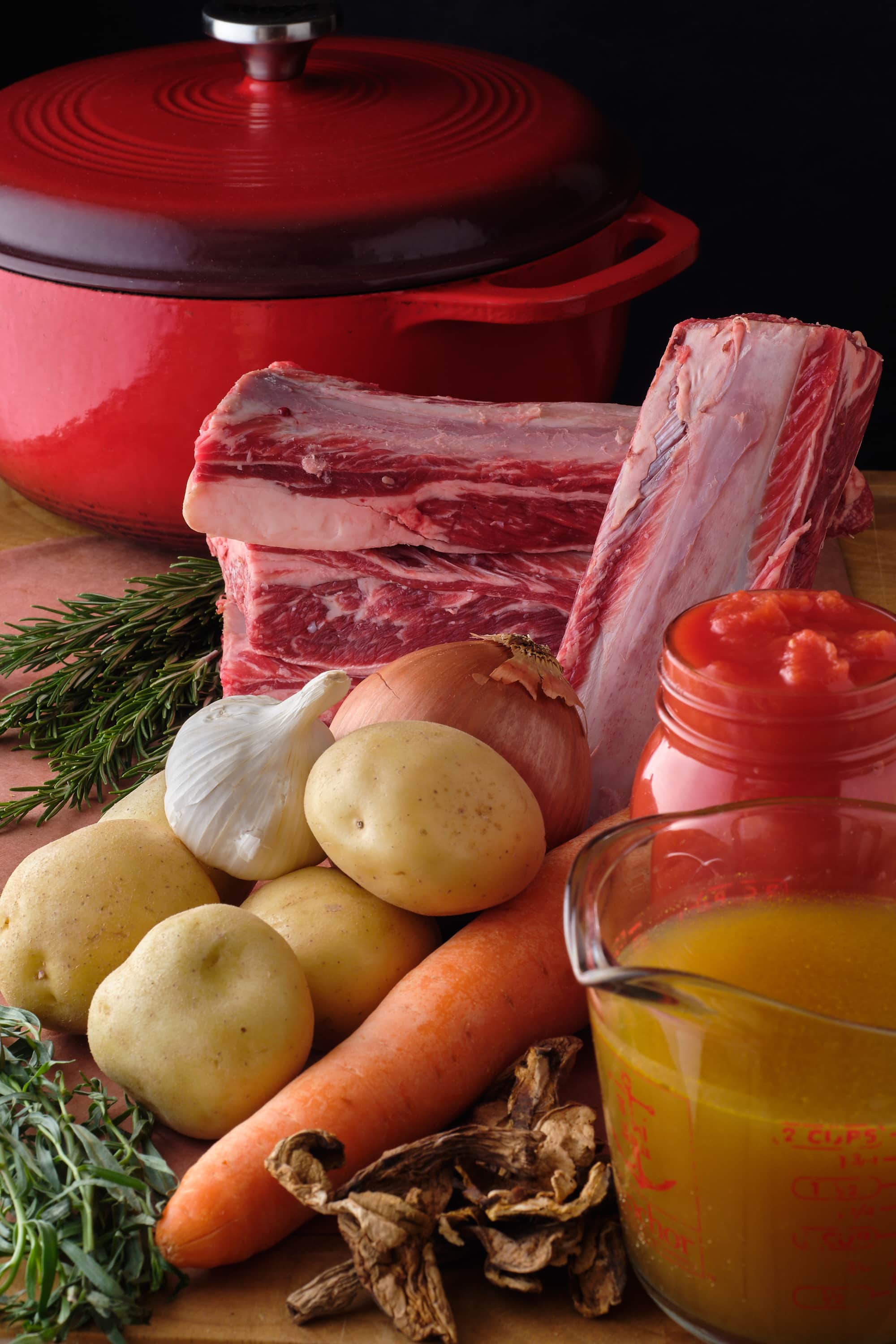 These short ribs were staring at me from the bottom of my fridge for a couple days. I knew I had to do something with them, stat. To my left was three cans of Love City Sylvie Stout – my favorite Stout which I was unwilling to cook with. To my right was a single glass of red wine – not quite enough for this braise. I considered ordering a bottle of wine from the QuickSipDelivery service run by the awesome folks at Hawthornes over at 11th and Fitzwater. But that just felt weird. So, what do you use to braise meat when you're out of (or unwilling to sacrifice your) alcohol?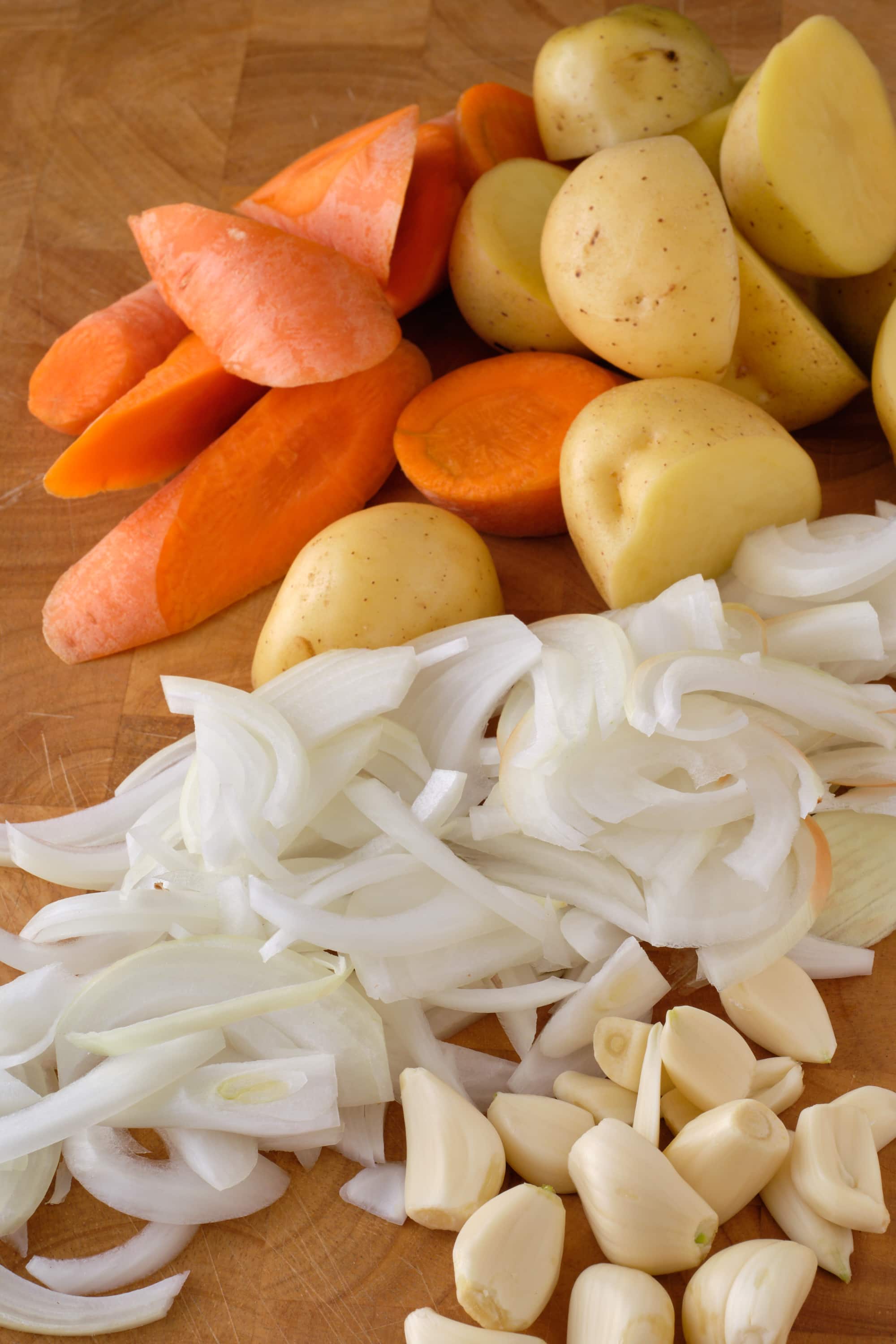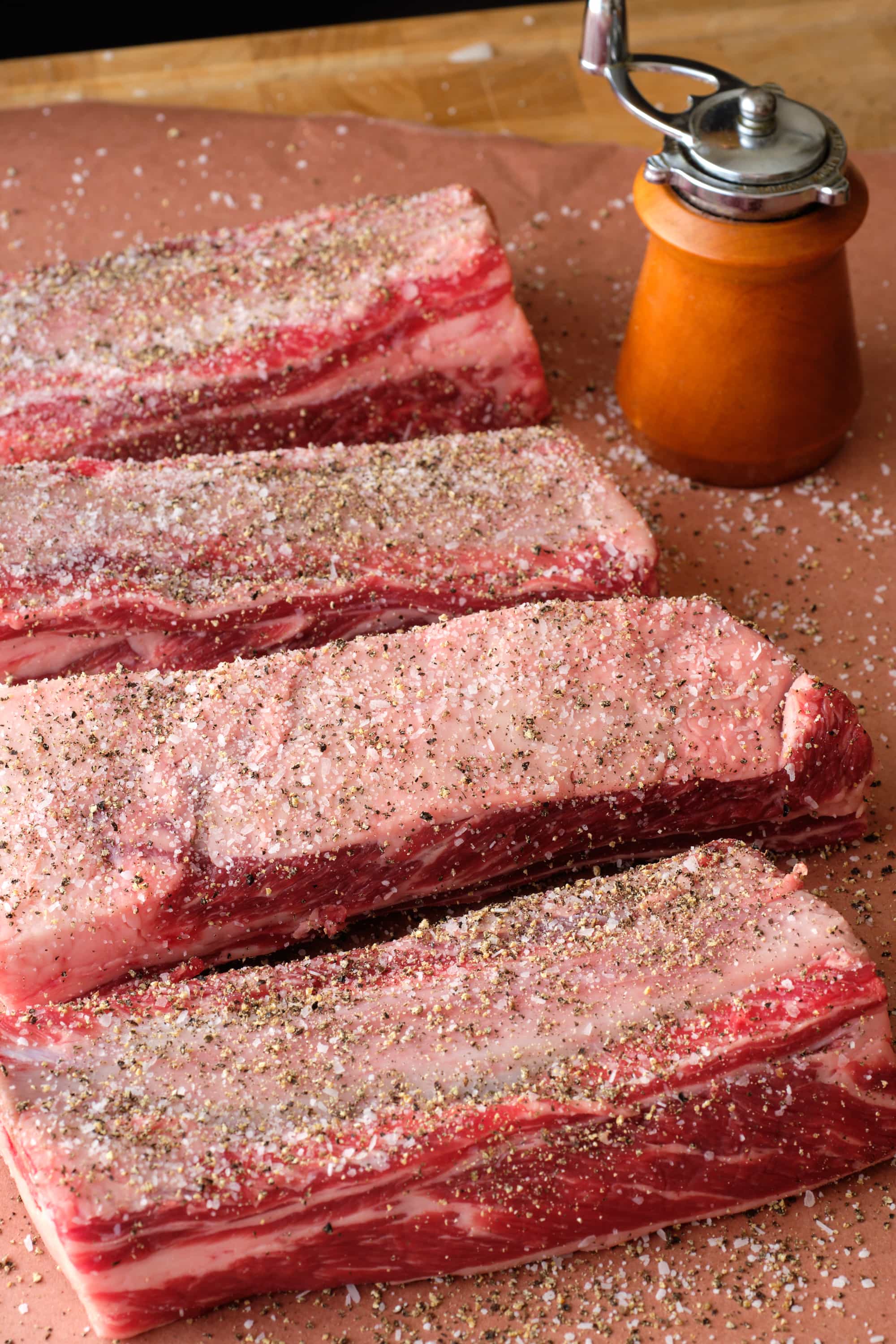 Braising is the method of partially submerging meat in liquid to break down the connective tissues over a period of time in low heat. Wine, in particular, is great for braising due to its acidic nature. Because I only had enough wine to drink while prepping this braise, we're using a can of diced tomatoes. A couple cups of chicken or beef broth is great for added liquid here. I'm partial to chicken broth as it gives you a little flexibility to add more flavor to the cooking liquid. In this case, I've added some fresh rosemary and tarragon along with dried shiitake mushrooms. Shiitake mushrooms are crazy umami bombs that I've been adding to a lot of things recently (like lentils and poached chicken).
You'll notice that this is a very simple braise when getting started. Most recipes call for searing the meat, removing the meat, cooking the veg, adding liquid to deglaze, then putting the meat back. All of that is truly unnecessary. There's a dump truck full of flavor here so we don't need the added fond produced from searing the meat. My kitchen certainly doesn't need extra meat particles coating my cabinets. Searing also produces a nice outer layer of darkened meat which contrasts nicely with the moist interior. To replicate this we can just take the lid off for the final hour of cooking in the oven. The exposed meat will roast in the oven giving us the same results as searing.
BTDubs- If you don't already have a dutch oven – you should realy take a look a this inexpensive Lodge Dutch Oven.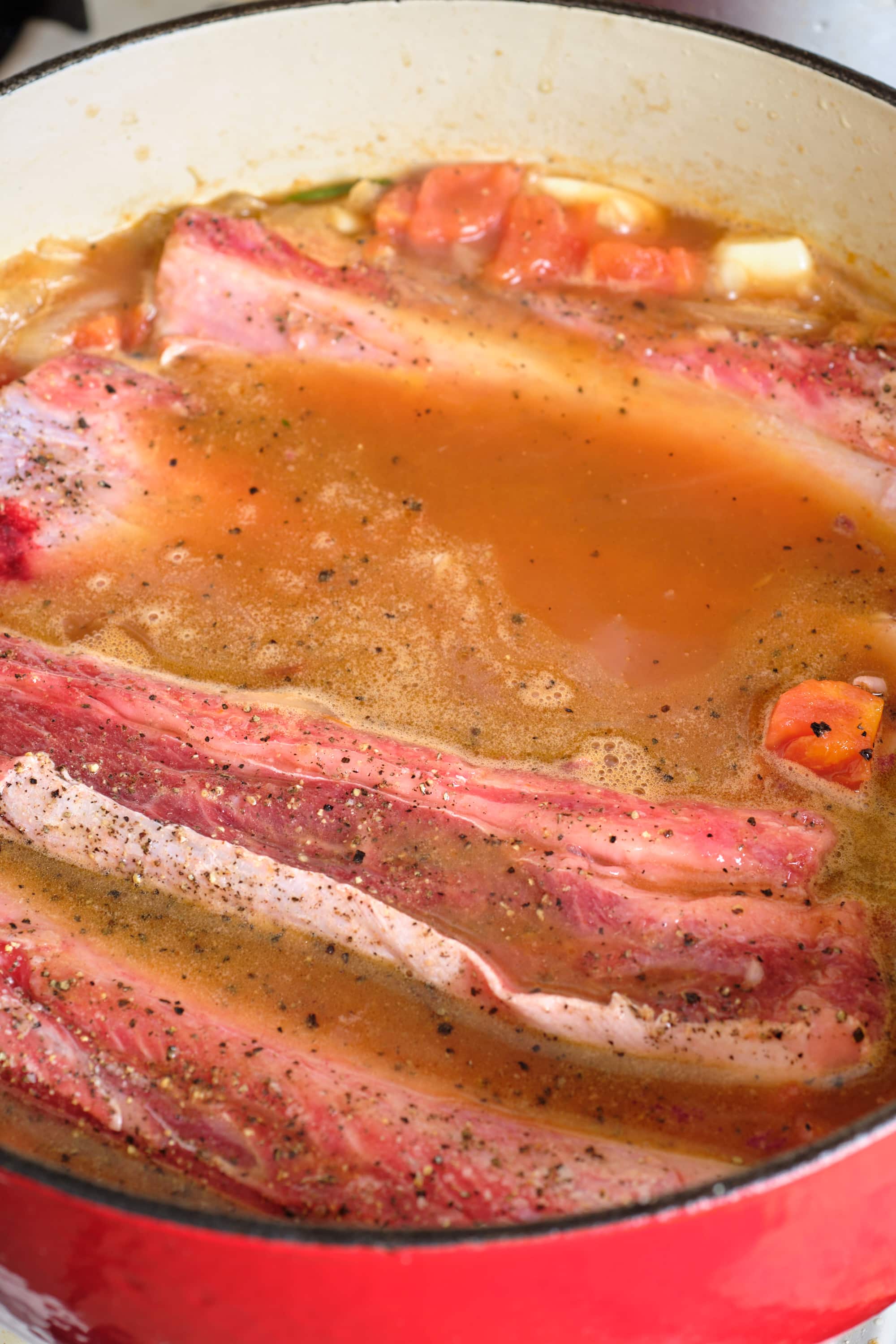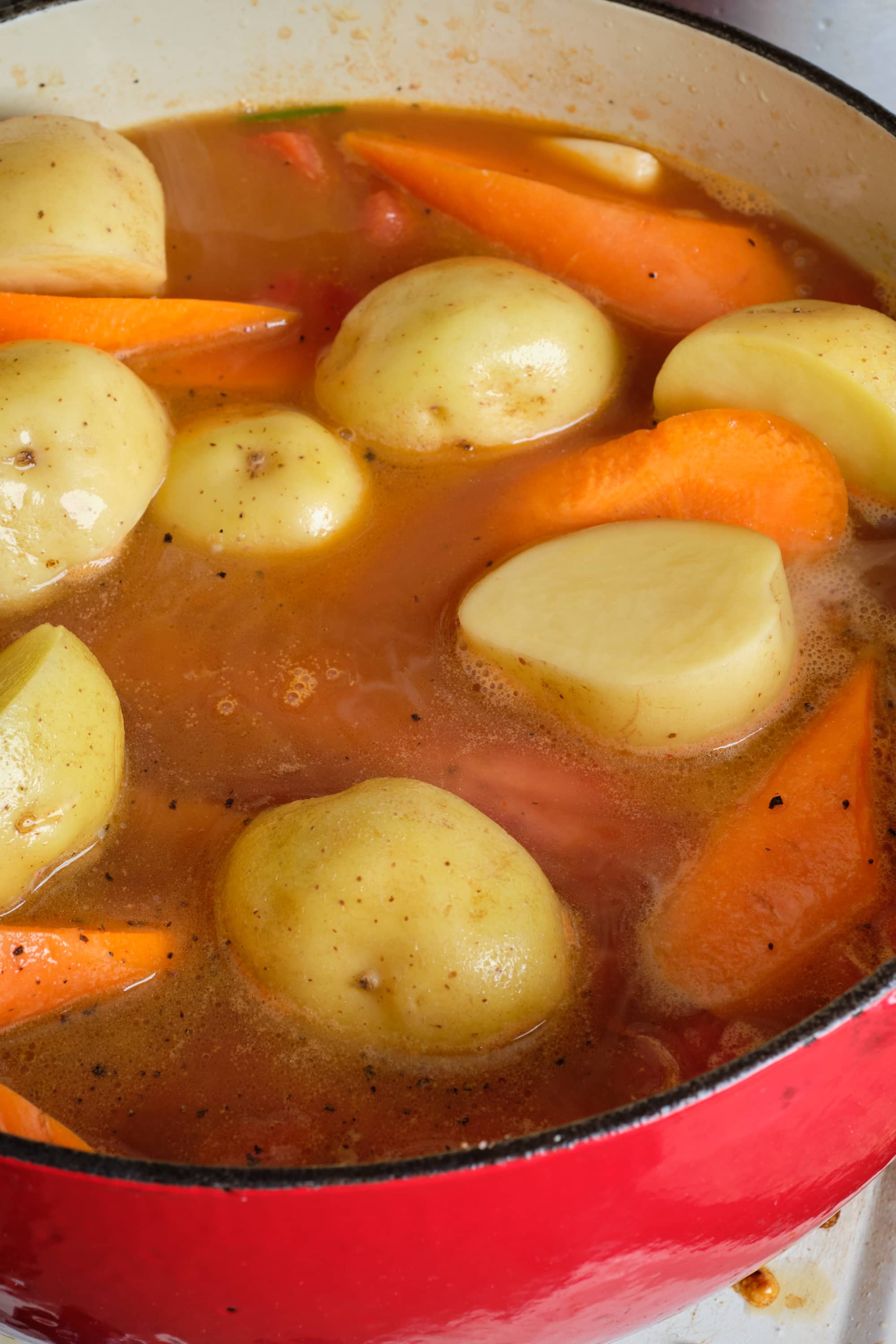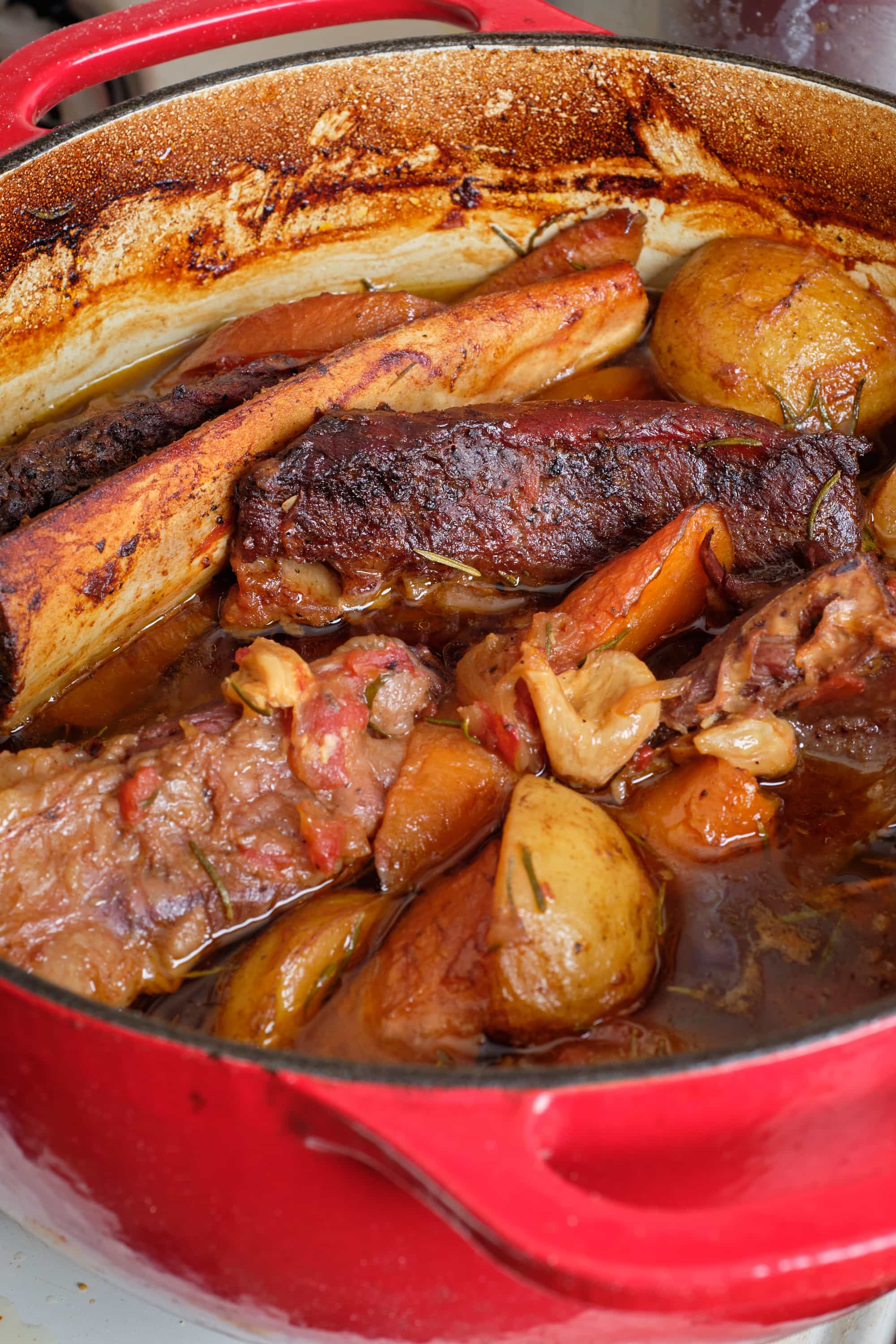 At 325 degrees, these braised short ribs take about 3 hours to cook. At which point you can serve the ribs hot with some fresh veg and Garlic Horseradish Mashed Cauliflower. What I like to do though is let them cool and then chill them overnight. By doing this I can easily get into the pot and remove as much solidified fat as possible. Fat is flavor, sure, but it's also kinda fatty. I'm sure you'd appreciate a little less liquid fat if you're serving the braise gravy on top of mashed veggies or you want to dunk some crusty bread in there. You could also pull out all the solids and transfer the gravy to a fat separator to quicker results.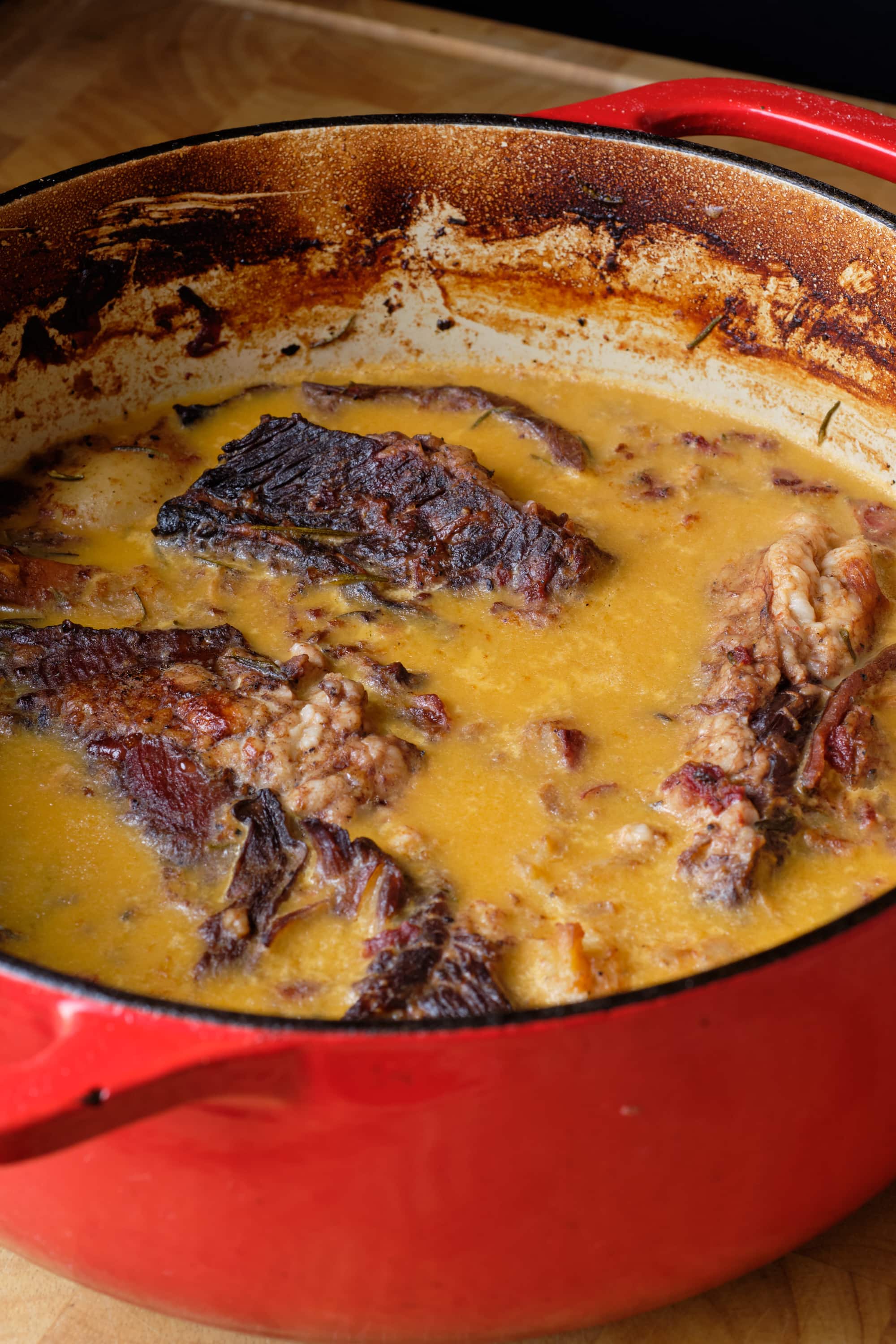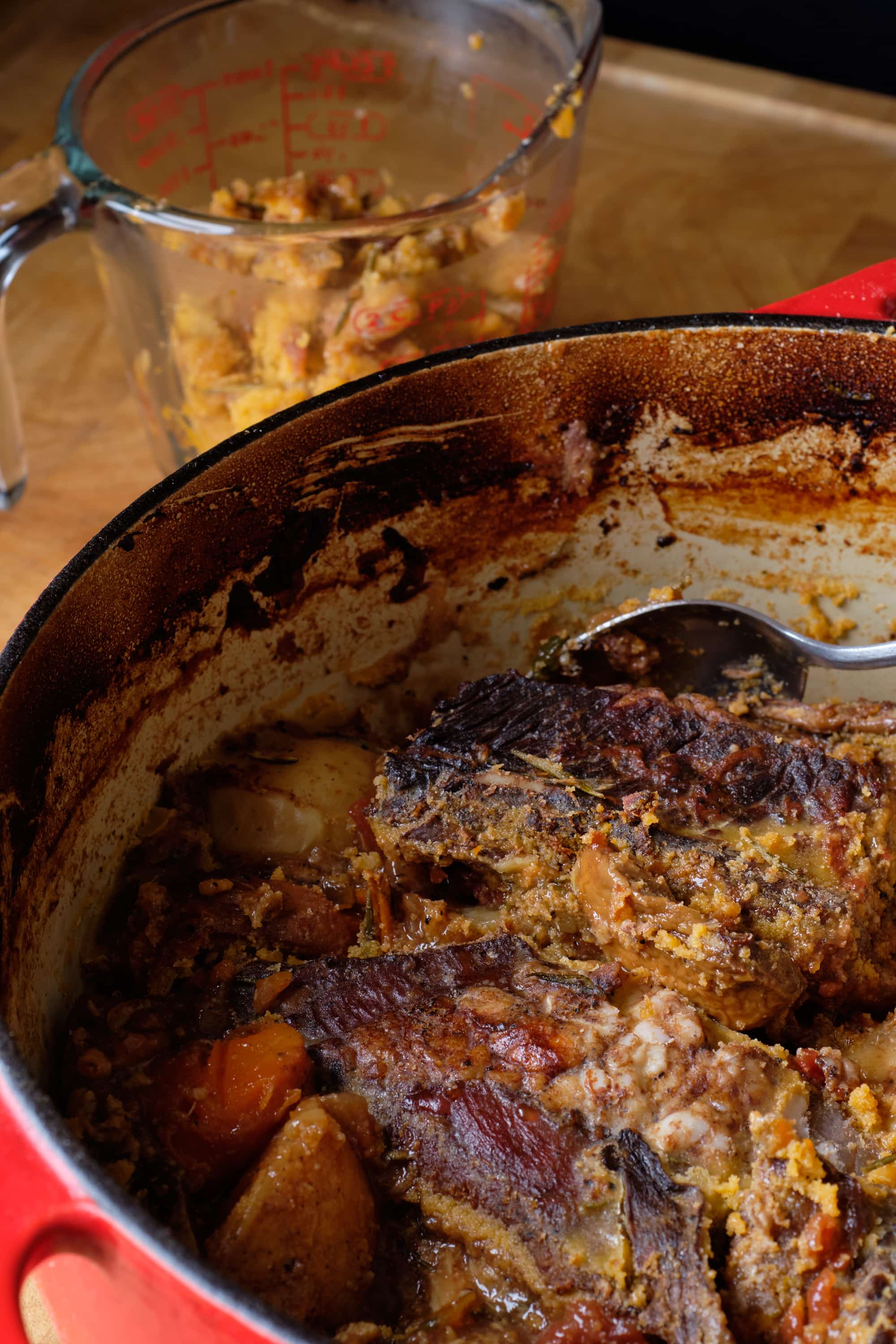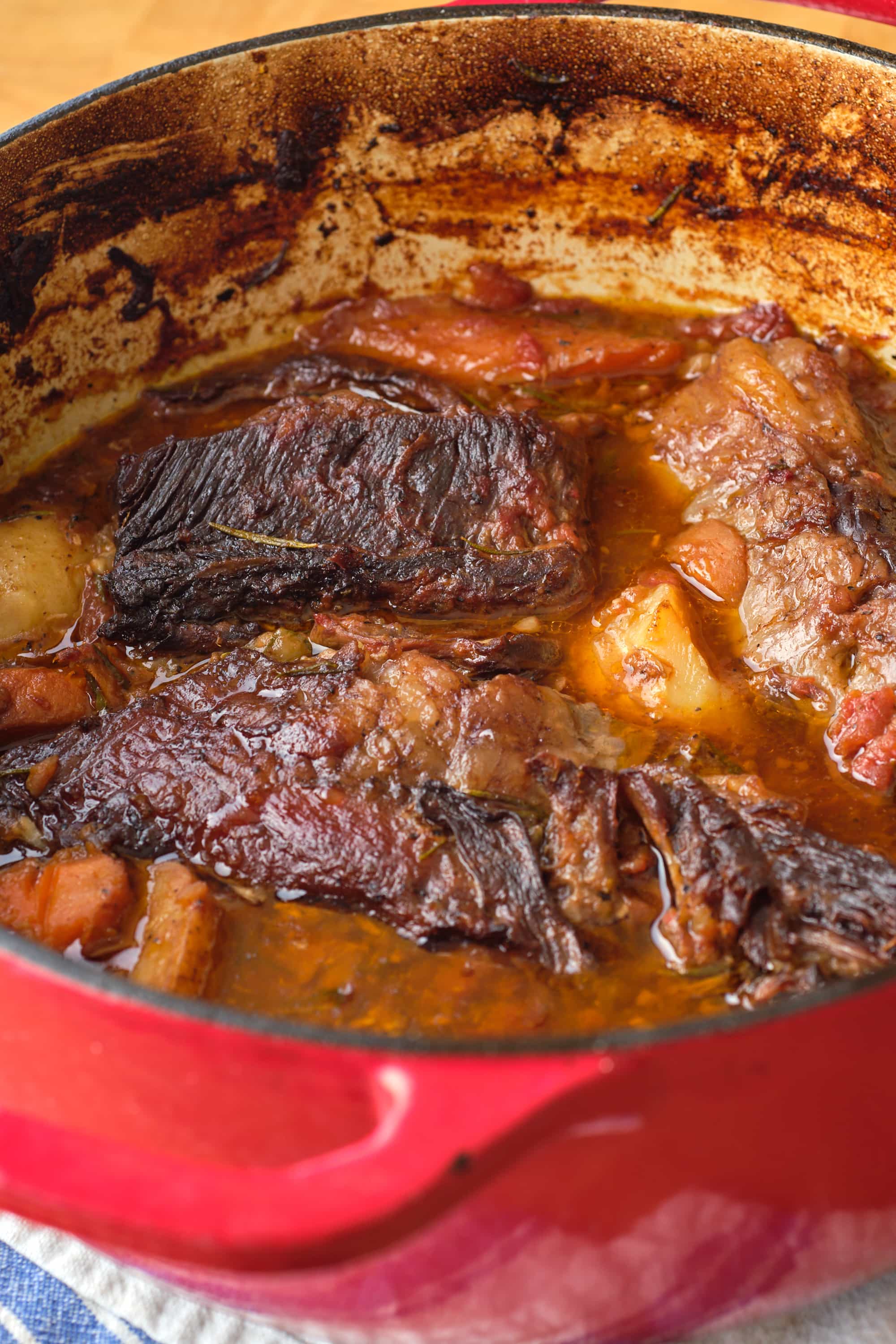 I served this with Garlic Horseradish Mashed Cauliflower and an Arugula salad with French Pears and a firm Goat Cheese. The bite of the horseradish and the bitterness of the arugula really cut through the richness of the braised short ribs. I also enjoyed the aforementioned Sylvie Stout with this as I had already drunk the remaining red wine.