Carnival Squash isn't just for decoration! Look at them – they're just screaming, EAT ME!
This Farm Share I've subscribed to is keeping me on my toes with all these squashes they're sending. I've made Acorn Squash Pizza, Sausage Stuffed Delicata Squash, and now Carnival Squash Chowder. Aaand, I've got a little pumpkin from Shady Brook Farm waiting for me to figure out what to do with him later this week (thanks for picking it, Sabine!). Oh mah gourd!
It's just starting to get a little chilly here in Philly so this lovely warming chowder really hit the spot. I've adapted this recipe from the Cooks Illustrated, Soups Stews & Chilis. I've found it to be one of my go tos for, umm, soups, stews, and chilis. This chowder only has 1/3 cup heavy cream so it's actually on the lighter side. Just before adding the cream (which you do off the heat before serving), I used a potato masher to selectively break down some of the squash. This helps thicken the soup and but you still have some nice chunks left.
The first steps here include mincing the cured ham and onions. I recommend using this time to practice your knife skills and get those bits as minced as possible. Unless you want a chunky soup… you do you, Captain Chunkamonk. I happen to like my chowder broth on the smooth and creamy side with minimal, yet critical chunks. The chunks here come from the previous mentioned par-smashed squash as well as some diced porcini mushrooms. I picked up some dried porcini from the market with I reconstituted with some hot water for 20 minutes. They bring an earthy, autumness to this chowder. As does the fresh sage and thyme. There's some serious autumn happening here.
When it comes to dealing with the squashes, bust out your vegetable peeler and a big sharp chef's knife. Take your time and peel the tough skin of the Carnival Squash. Then cut a small amount from the bottom of the squash so it can safely sit flat on your cutting board. Place the middle of your knife on the top of the squash and firmly press down with both hands – you might have to give it a little rock. Or, if you're handy with a meat cleaver, now's the time to go Gallagher on your squash. You should now have two equal portions of squash that you'll need to scoop the seeds out of. Now lay the squash down with the flattest part on the board and slice half-inch slices. I got about 5 slices from my gourds. Divide each of these slices in to half-inch cubes.
I've yet to put this to the test but I've read that you should never freeze dairy. If you're planning on making this ahead, you can make the soup without adding the cream.  Just reheat and add a couple tablespoons to each portion as you prepare the meal. A little crème fraîche or sour cream would be a pretty fancy substitution!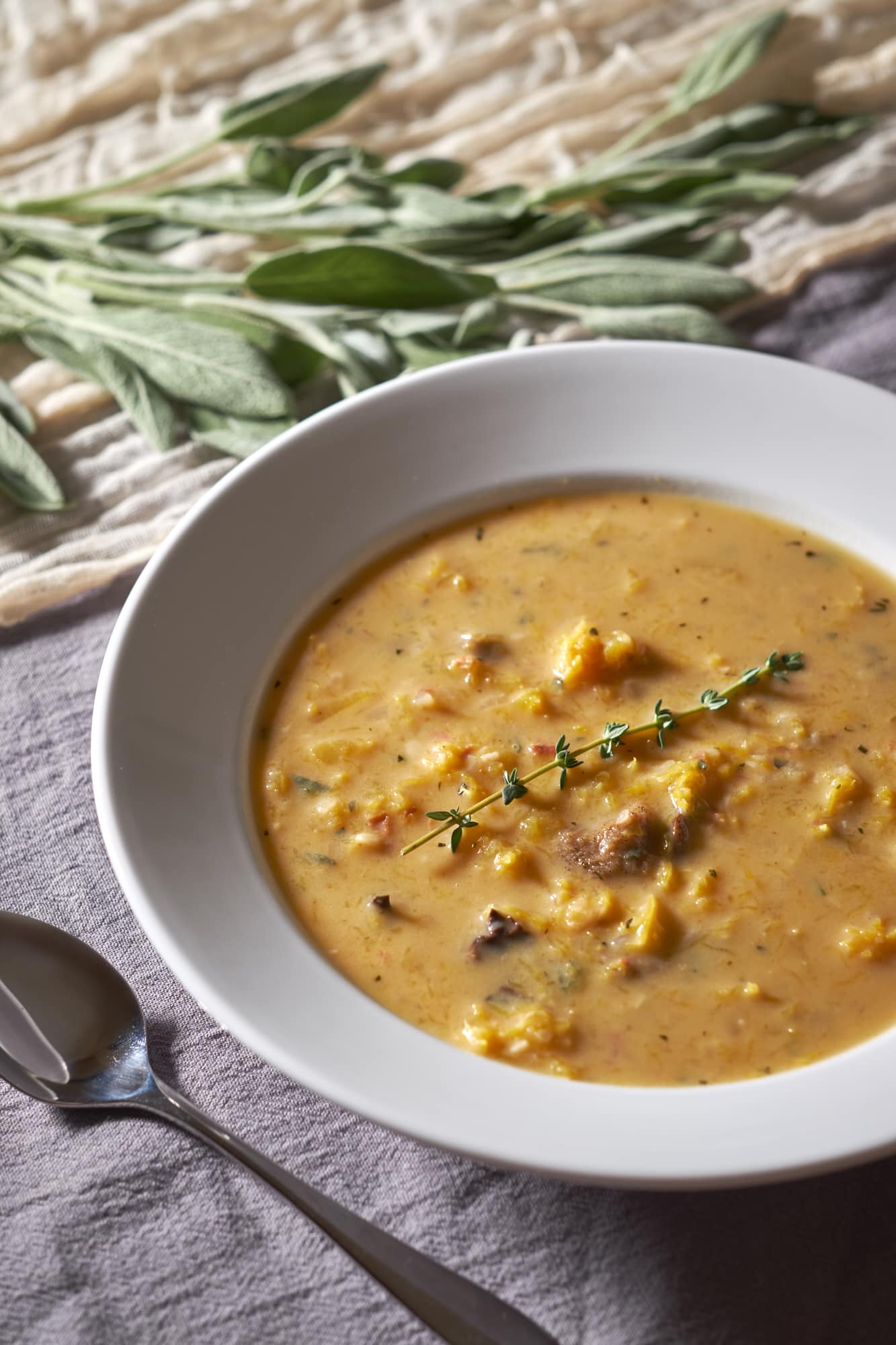 Carnival Squash Chowder
This Carnival Squash Chowder is loaded with autumn flavors like sweet squash, rehydrated porcini mushrooms, sage, thyme, and nutmeg. Minimal cream is used for this recipe which means you can eat all that much more as the weather starts to cool.
Ingredients
3

lbs

Carnival Squash

peeled and diced

2

oz

jamon or prosciutto

finely minced

1

medium onion

finely minced

2

gloves garlic

minced

1

tsp

fresh thyme

minced

2

tbs

unsalted butter

1/3

cup

ap flour

pinch

nutmeg

1

bay leaf

3

cups

vegetable broth

4

cups

chicken broth

0.5

oz

dried porcini mushrooms

rehydrated and chopped

1

tbs

fresh sage

minced 

1/2

cup

heavy cream
Instructions
Peal and dice the squash in to half inch cubes. Finely mince the ham, onions, and garlic. 

In a large stock pot or dutch oven, brown the ham for 5-7 minutes over medium-low heat. Add butter and onions and sauté for 5 minutes until tender. Add the garlic, nutmeg, and thyme and cook for 30 seconds. Add the flour and stir in with the other ingredients for 2 minutes.

Slowly whisk in the vegetable and chicken broth an bring to a simmer. Add the bay leaf and porcini mushrooms and simmer until the squash is fork tender, about 15 minutes.

Once the squash is fork tender, remove the pot from the stove and turn off the heat. Use a potato masher to smash some of the squash leaving some larger chunks. Incorporate the freshly minced sage and vigorously whisk the chowder. Whisk in the cream just before serving.