London Broil is not a cut of meat. It's a method of preparation to make tough cuts of meat more tender. It's marinated for several hours and always cut against the muscle fibers. And maybe you can broil it – just not in London.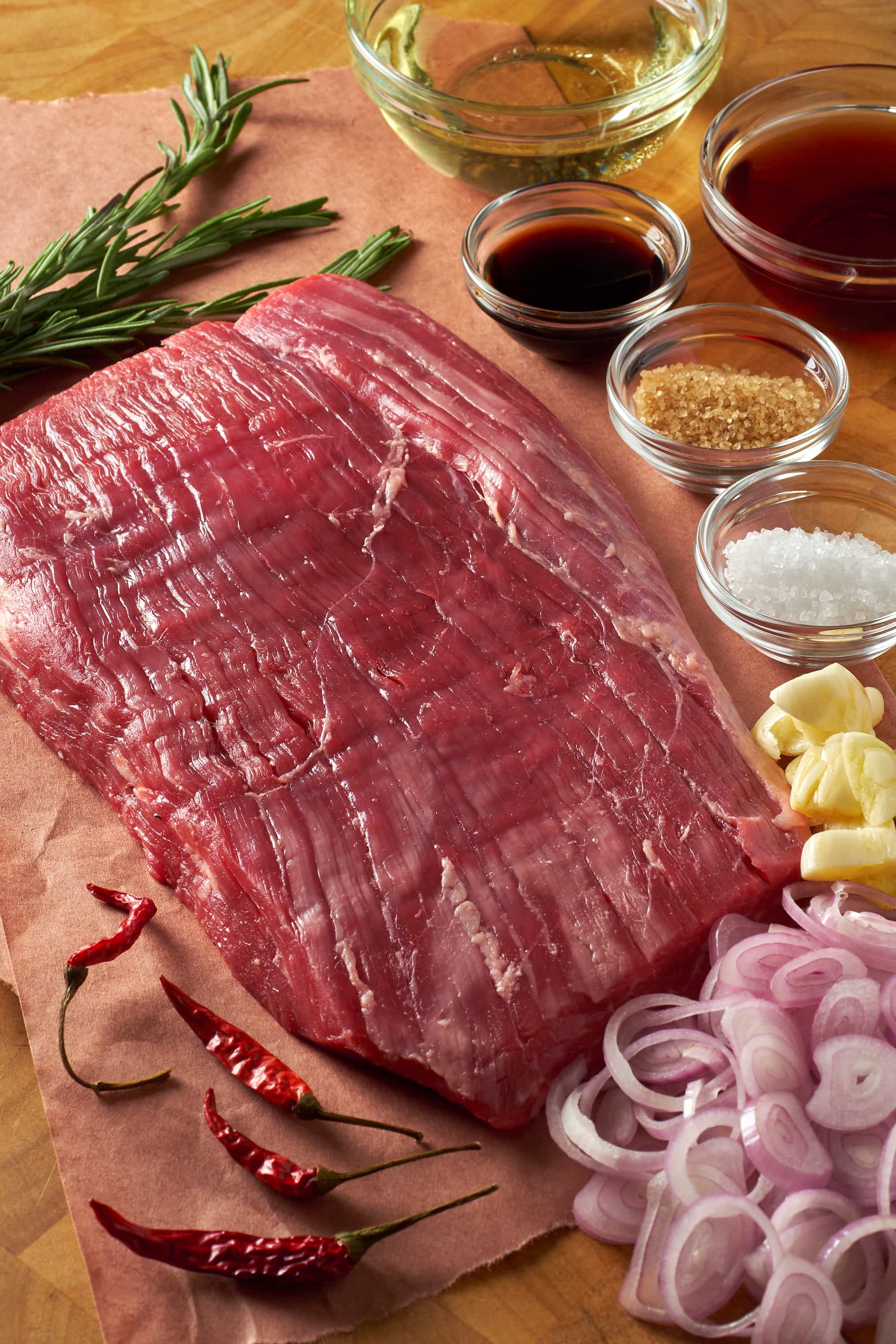 I'm sure we've all seen London Broil at the grocery store, right? I was probably a teenager by the time I realize that London Broil didn't belong in the same category as NY Strip, Ribeye, or Brisket. But it wasn't until later in life that I realized it was specifically a way to prepare, cook, and serve tough cuts of meat. You'll usually find Top Round steaks labeled as London Broil but traditionally it should be made with Flank Steak. Also, according to James Beard, London Broil originated in Philadelphia.
London Broil is not English at all, it is North American. The technique first appeared in print as "London Broil" in the US in 1931; James Beard thought that Philadelphia was the actual city of origin. It is true that originally Flank Steak was suggested as the meat to use. – cooksinfo.com, Randal Oulton.
Yeah. London Broil is basically South Philly Cheesesteak's cousin who lives in Society Hill.
I generally prefer to use minimal ingredients and good technique to bring out the natural flavor of whatever I'm cooking. So on one hand I feel like marinading steak is nearly as bad as putting ketchup on it. You're just covering up all the natural flavor! An animal died for that! On the other hand… dang – you have any more of that ketchup for my dead cow?
What makes London Broil so good (timeless?) is that it is a classic cooking technique. When you have a fibers cut of meat that doesn't have much fat or calogen it's going to be difficult to tenderize. We can use a marinade with salt, oil, and acid to break down some of those muscle fibers. We can cook the meat to a proper medium rare to preserve some tenderness. Most importantly, we can cut across the grain of the muscle fibers so it's easier to chew. These three methods are tenderizing the meat before, during, and after the cooking process. That's really cool that you can learn so much about cooking from one piece of meat!!
To marinate London Broil you'll need a half cup of oil, a quarter cup each of red wine vinegar and soy sauce, a tablespoon each of of salt and sugar, plus a bunch of garlic and shallots. I like to score some crosses in the meat so the marinade can penetrate the meat and so there's more surface area for charring in the broiler. Oh, you're going to need a broiler too! This isn't going to work if you don't have direct fire about an inch from the steak. Of course this works perfectly fine on a grill too. Combine the marinade in a zip top bag and add the steak. Give it a loving marinade massage and let it chill in the fridge for at least four hours.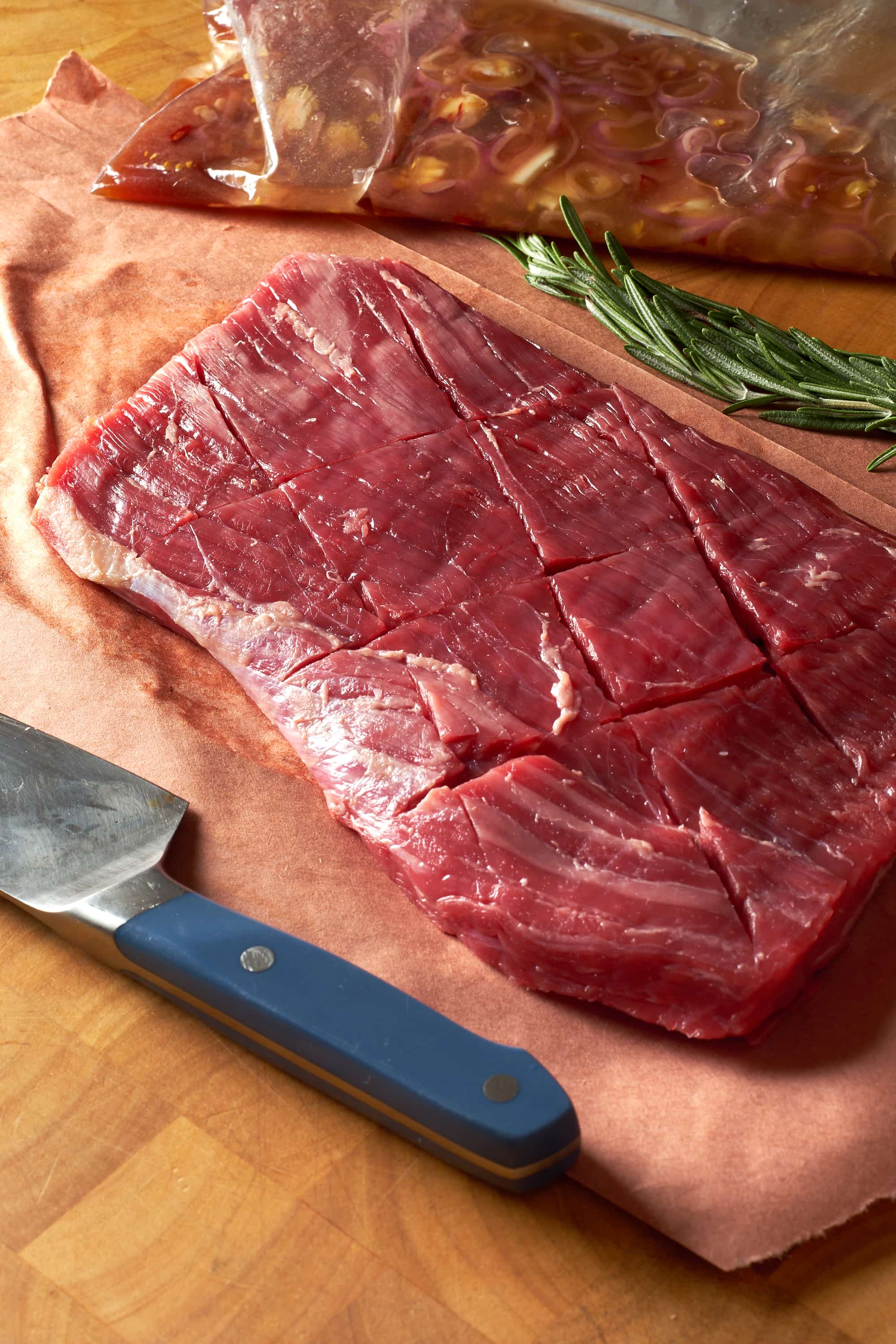 If you don't have a grill outside, here's the best way to broil a London Broil inside. When you remove it from the marinade place it on a whole bunch of paper towels. You want to get the steak as completely dry as possible. Wet food does not brown – it steams. So get it really dry. Place a cooling rack on top of a sheet pan. We'll cook the steak on the cooling rack so there's plenty of air circulation beneath it. If you place it right on a flat surface you're going to promote more of that steaming we don't want. Preheat the broiler and cook the steak for 2-3 minutes per side. Use an instant read thermometer and take it out when it hits 122-125 degrees.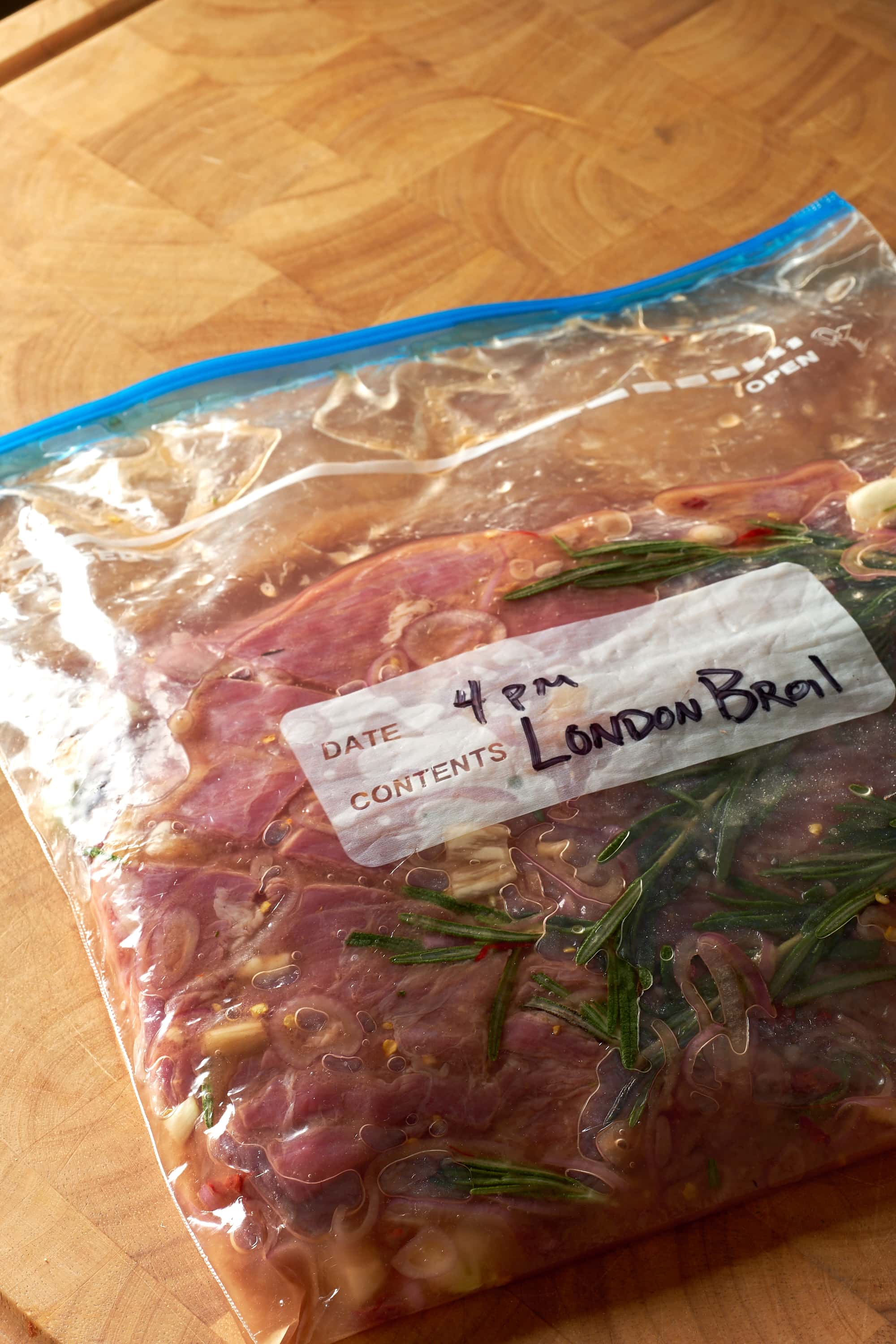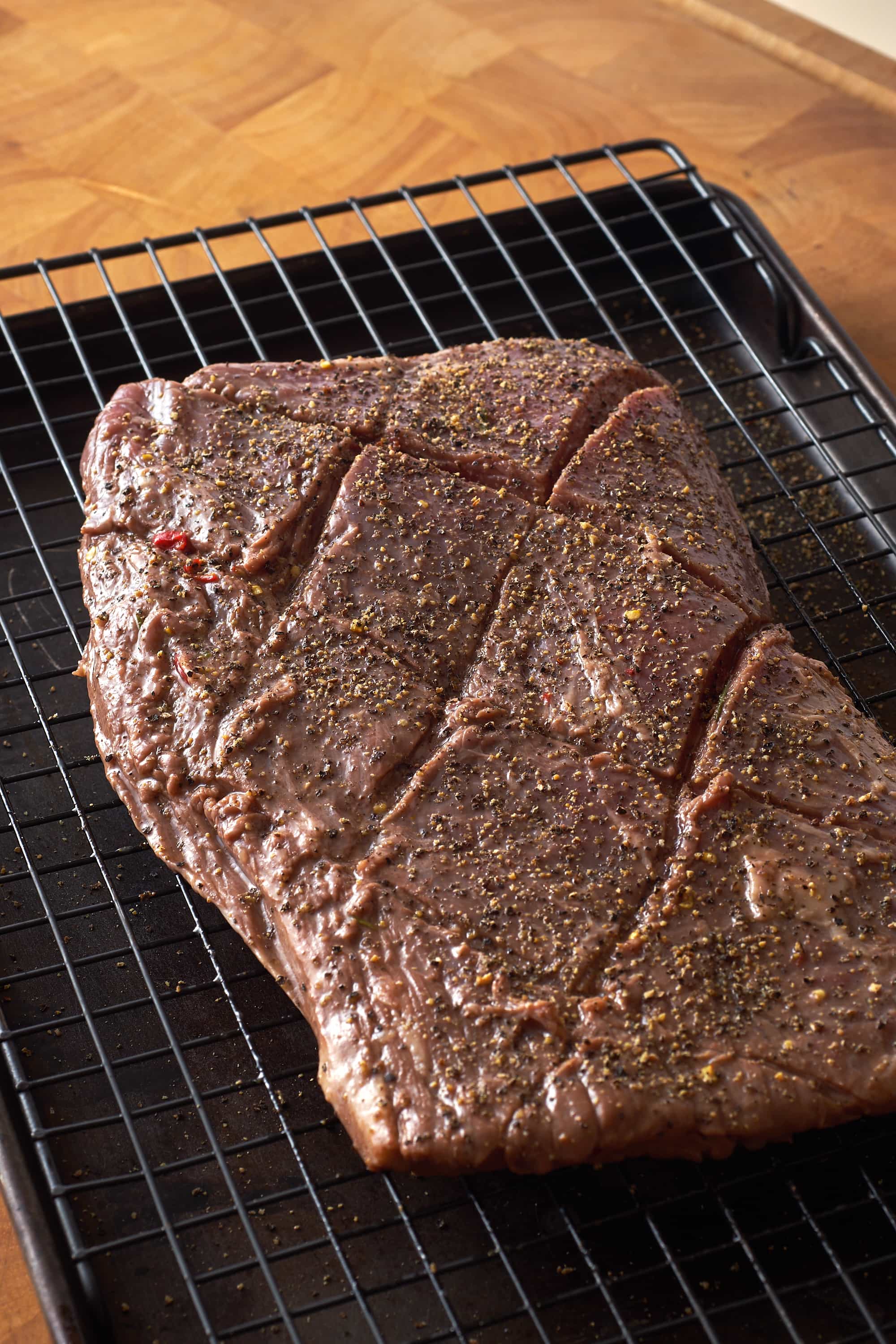 Allow the steak to cool for a good 10 minutes before you slice it. Get the sharpest knife you have and thinly slice across the grain. Congratulations. You've just turned one of the toughest cuts of meat in to one of the most tender and delicious!! Don't thank me. Thank science! And give yourself a pat on the back while you're at it.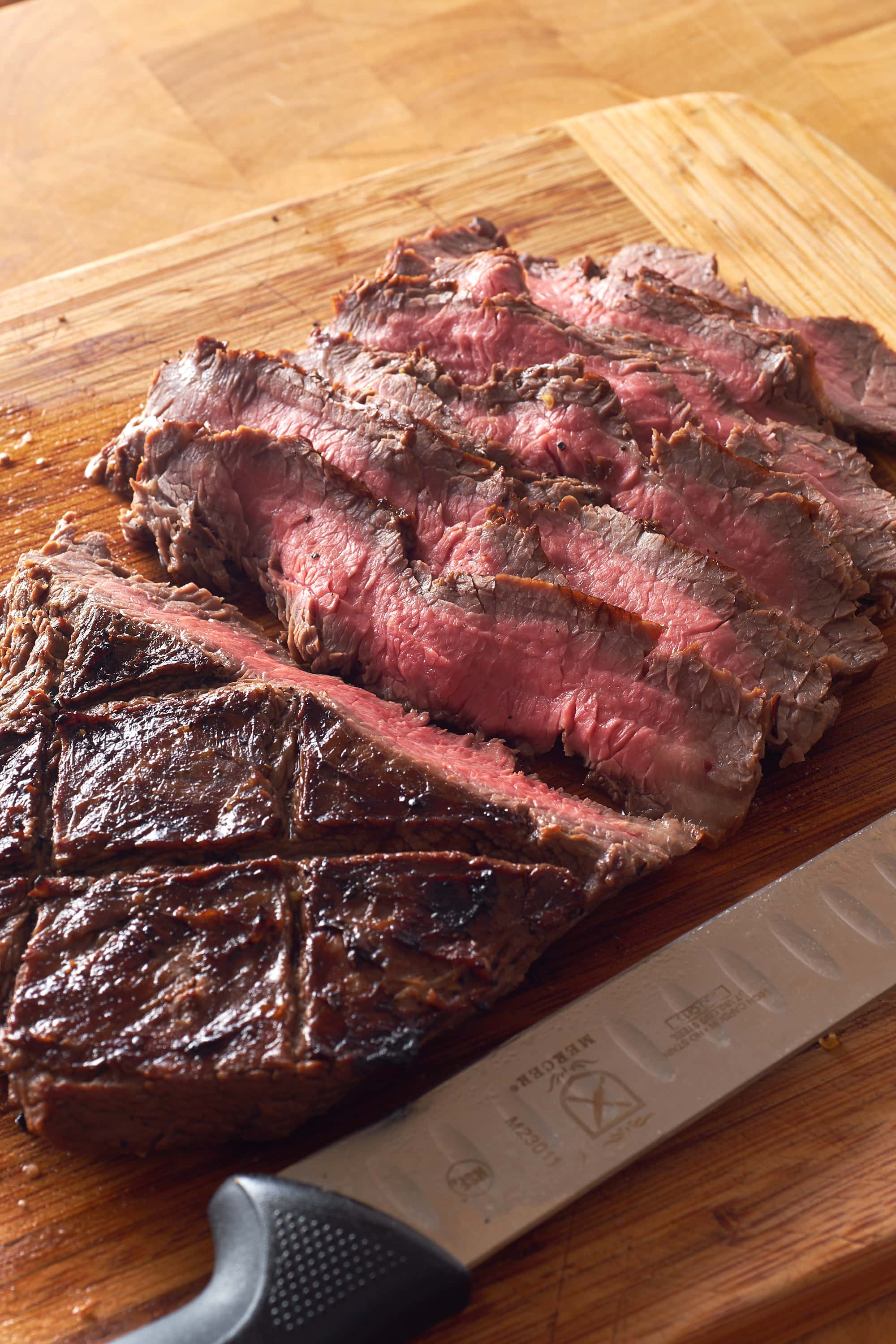 I've been having a craving for this Italian style London Broil on Focaccia sandwich lately. I loaded this sandwich up with Roasted Long Hots, Garlic Aioli, Pickled Red Onions, and some grated Asiago. You could do some really fun combinations with London Broil and Focaccia. Enough to make Cousin South Philly Cheesesteak jealous.