This recipe for Salmon Burgers plays off the classic flavors of Bagel and Lox. Hand chopped wild Salmon gets blended with capers, shallots, and lemon zest then topped with red onion, slices of cucumber, and a schmear of scratch made tartar sauce.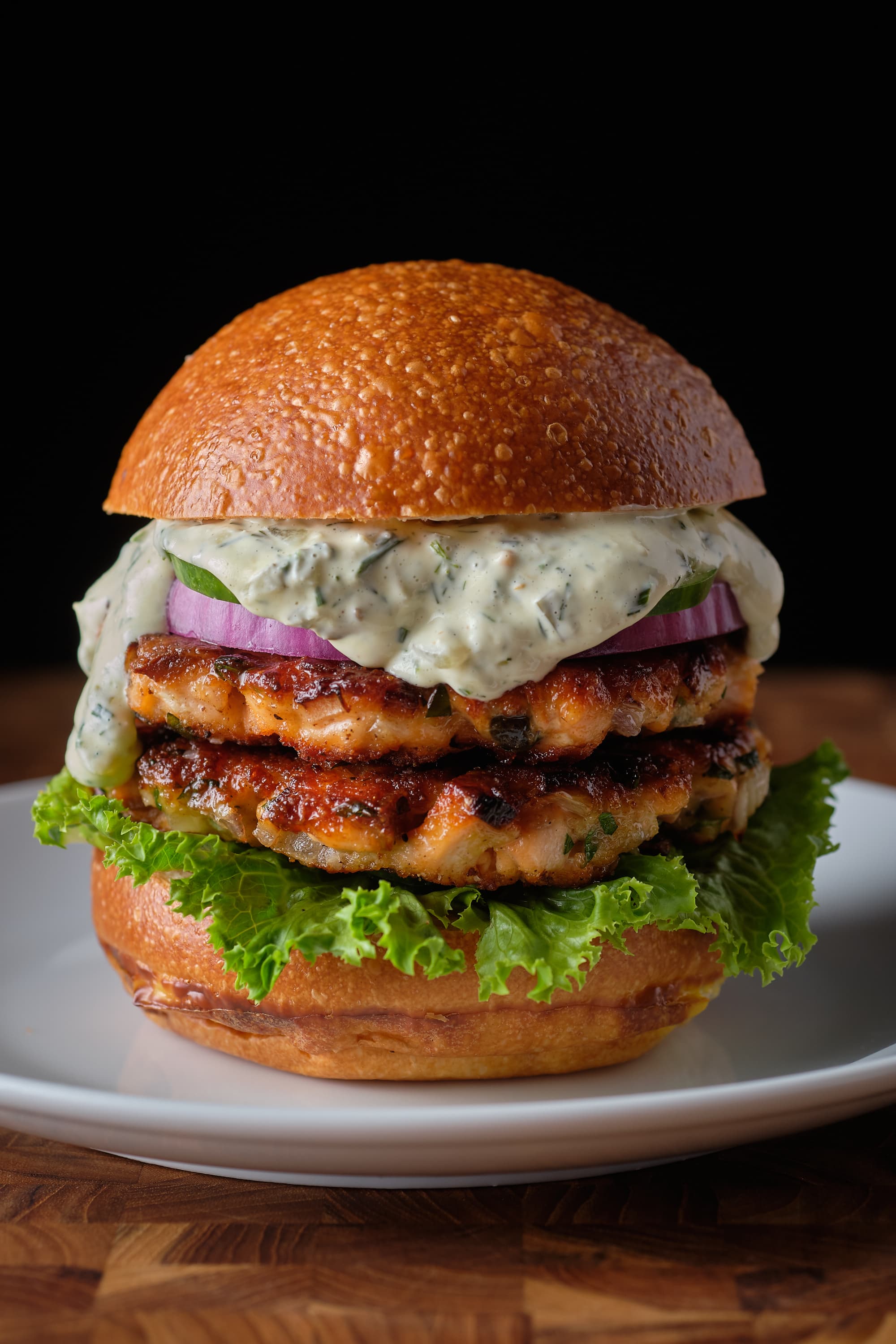 Scratch Made Tartar Sauce and Mayonnaise
Scratch made tartar sauce? Yep! You could start with store bought mayo but the homemade stuff is far superior and worth the small amount of effort. Besides, it's good to know how to make it in case you run out. Mayonnaise is just eggs, oil, and acid (lemon and / or vinegar) so you probably have that stuff anyway. Sometimes I use a whisk if I'm making a small amount but an immersion blender is really the best tool for the job.
To turn homemade mayonnaise into tartar sauce we're going to add fresh dill and chives plus horseradish and sweet relish. I know you can buy this stuff in the store for $2.39 but we're here to Eat Up! It's so much more gratifying to learn how things are made and choosing to avoid factory processed foods. Spend your money on quality ingredients and reap the rewards of saying "I MADE THIS".
You can find the recipes for Homemade Mayo here and Tartar Sauce here.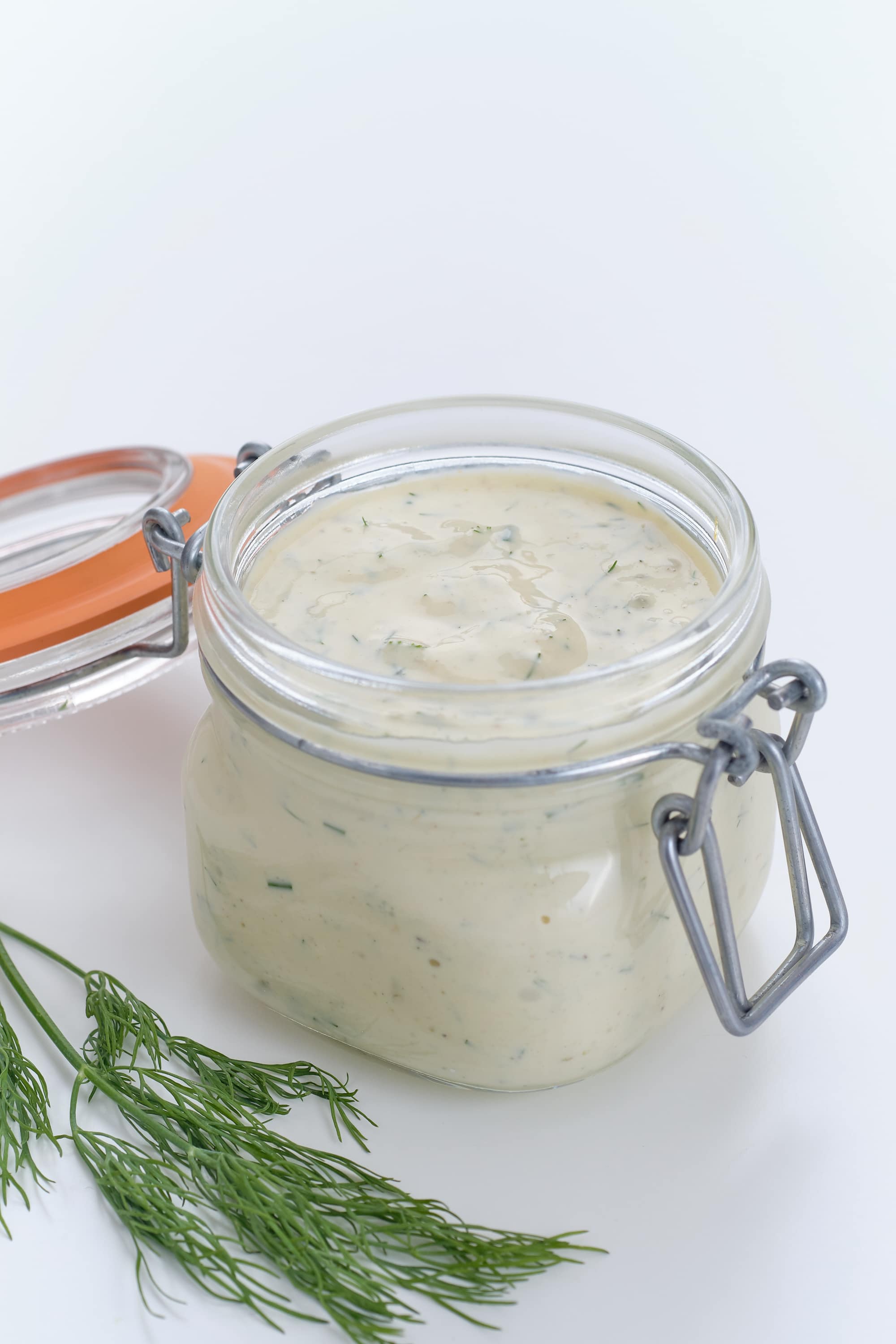 Salmon Burger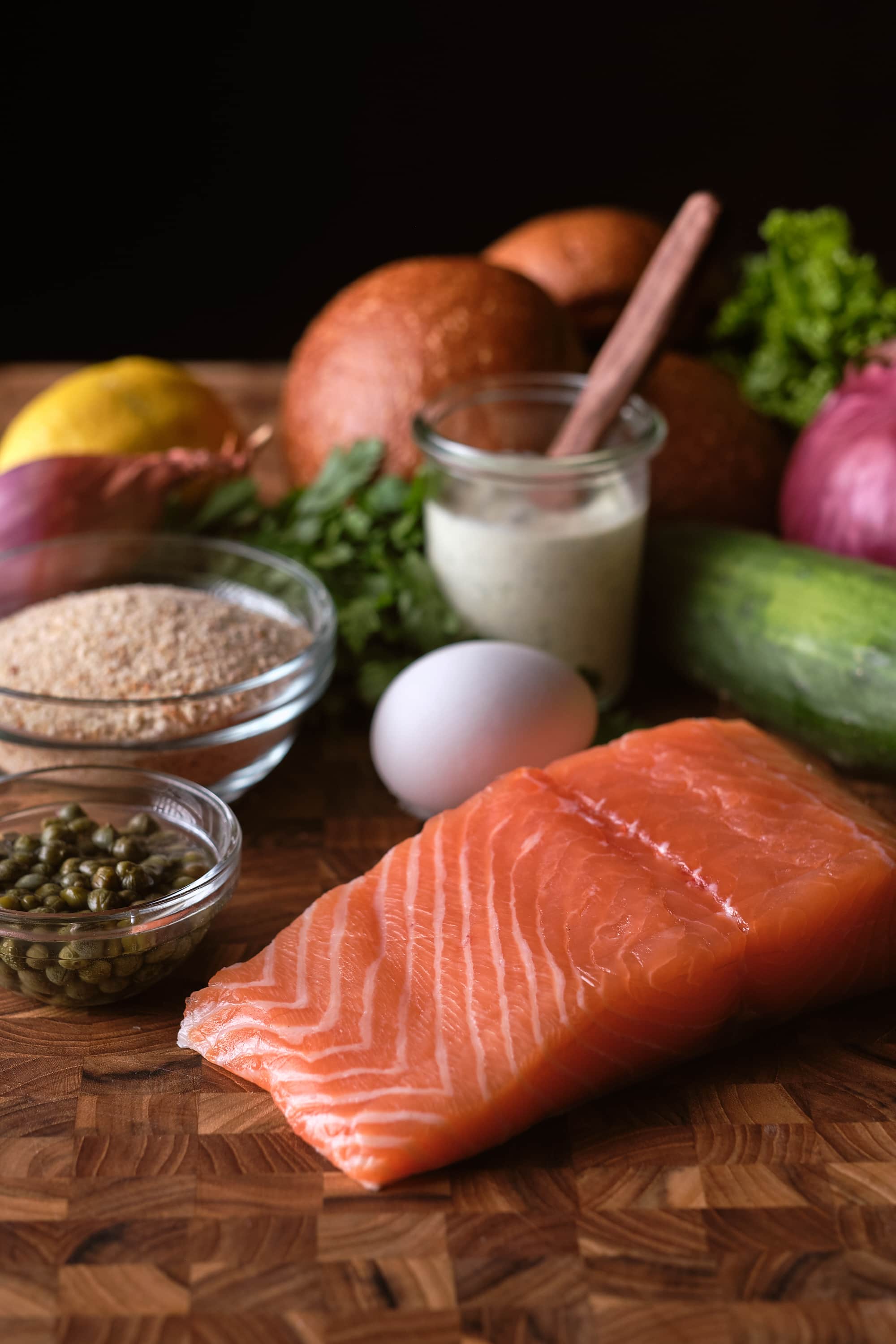 When it came to researching different salmon burger recipes I have to say I was a little disappointed. Many of the recipes simply used the salmon as a vehicle to deliver other flavor profiles. I wanted to elevate the salmon flavor and let it be known that, without question, you're eating a Salmon Burger. As I experimented with different ingredients I realized I was subconsciously moving towards bagel and lox. What a 'duh' moment.
This is what every salmon burger should taste like.
I tried three different kinds of salmon. Canned, frozen, and fresh. I also tried one recipe that said to steam the salmon first before mixing it into a burger patty. They all worked perfectly fine but I preferred the fresh organic wild salmon from Scotland that I picked up at John Yi's in Reading Terminal Market. Yeah, it was a $20/pound salmon but it was worth it. I bought two pounds. One for the burgers and one pound to bake with salt, pepper, and lemon juice. I made some really great salmon sandwiches with the leftovers.
You'll need to chop your salmon by hand for this recipe. This is going to result in a better texture and allow for less filler and binding ingredients. Do not use a food processor. Use a sharp chef's knife to chop the salmon into 3/8 to 1/2 inch chunks. Then take one third of the chopped salmon and chop it even finer – almost into a paste. You could probably just take this salmon and form it into burgers but I do enjoy the addition of an egg and a small amount of breadcrumbs. Mix them together with the chopped salmon along with finely chopped parsley, capers, and lemon zest. Cover the mixture with plastic wrap and refrigerate for at least a half hour for the flavors to combine.
One pound of fresh wild salmon should make three to five burgers. I made five thinner burgers that only needed be pan fried for 60-90 seconds per side. You can make yours a little thicker and cook them a little longer. Or, if you like yours rare / medium rare cook them accordingly.
In addition to the capers in the burger mix, a bagel and lox inspired salmon burger wouldn't be complete without red onion and cucumber. I used a brioche bun from Metropolitan Bakery but you can use whatever bun you like. Or you could just serve this over a bed of mixed greens too. It would be fantastic served as a 'deconstructed' burger over greens using the tartar sauce as the dressing.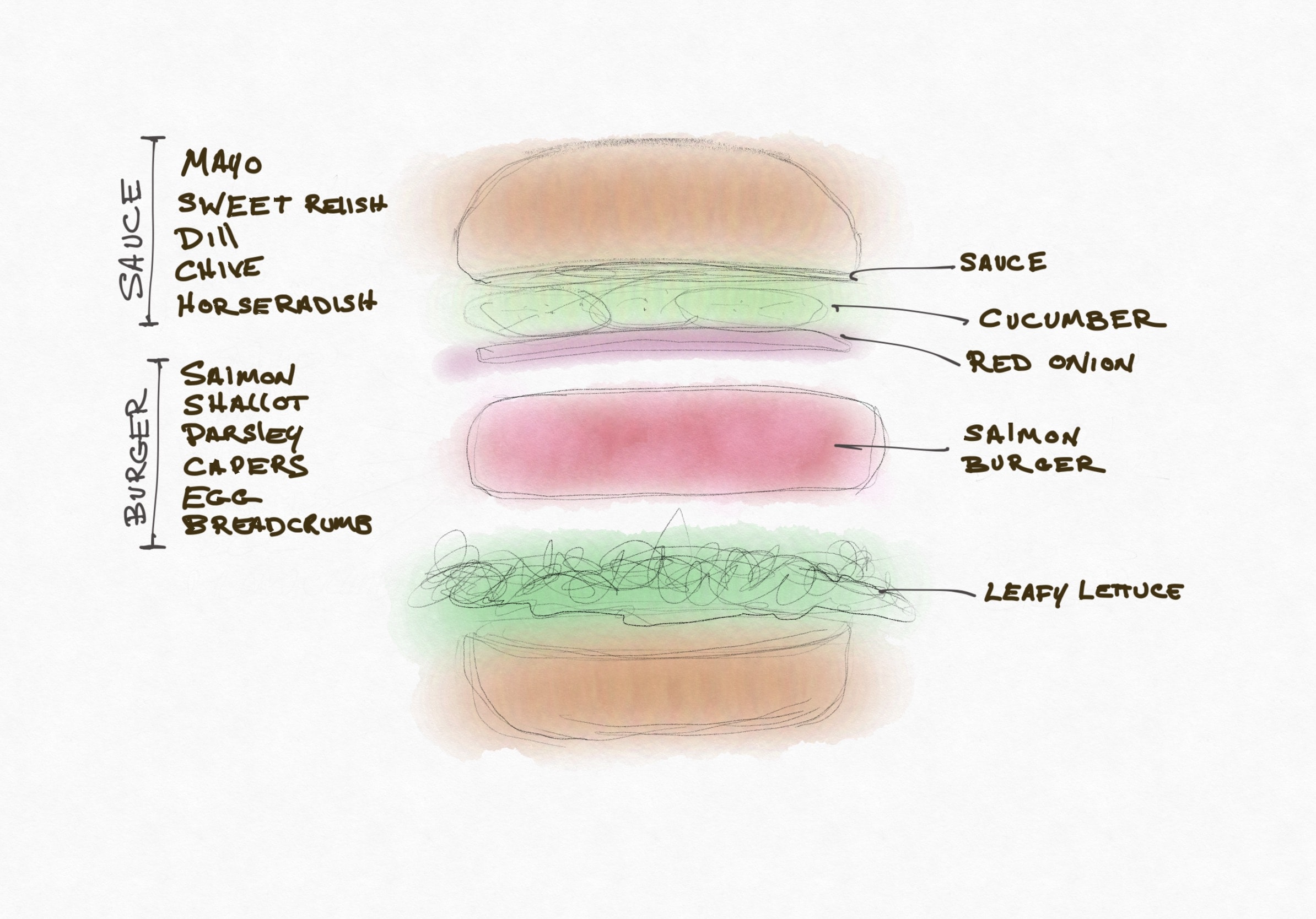 There's a good amount of ingredients in these recipes for Salmon Burgers and Scratch Made Tartar Sauce but there's not really a lot of work to do. Make the tartar sauce first so it has time to chill in the fridge while you're making the burgers. You should be enjoying salmon burgers in under an hour!
– Eat Up!