This Shrimp and Andouille Gumbo recipe is one you'll want to keep in the ole recipe box. Everything is made from scratch but you'll find it's quite an easy recipe!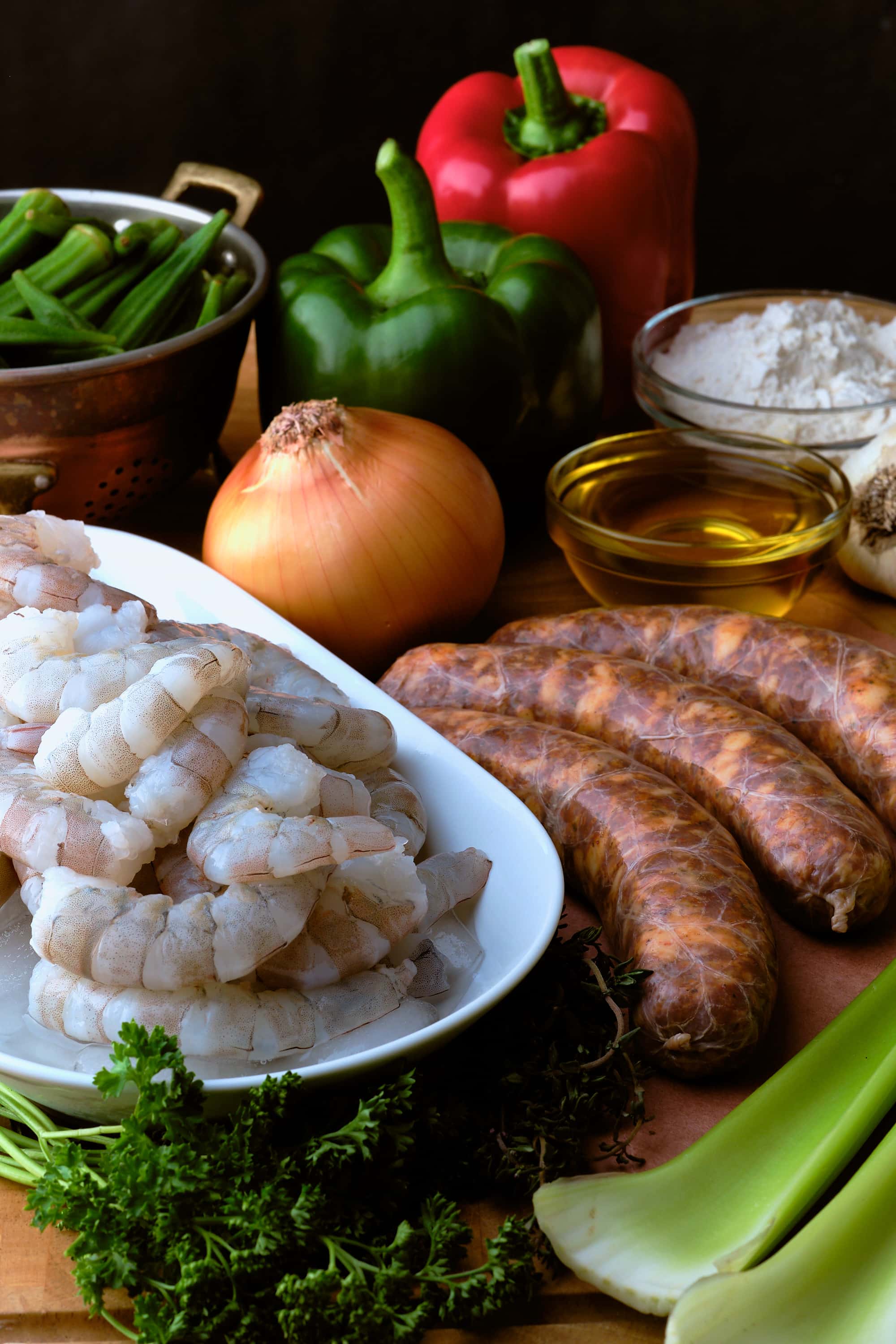 Let's break this recipe down to Four easy steps.
Step One – The Roux
I feel like roux for gumbo is a fabled creature whom many speak of but few encounter. There's stories of constant whisking for hours while whispers of hands-off oven-roux seem too good to be true. Let me tell you friends of a new trick to save you time and agony – toasted flour. Yep – if you just add the flour to a dry dutch oven over medium heat, whisk it for about 8 minutes then add the oil, you'll end up halfway to Rouxville. Placed a lid on the dutch oven and transfer it to a 400°F oven for 45 minutes; checking on it after 30 minutes. If it's not perfect milk chocolate colored after 45 minutes you might need to finish it on top of the stove for another 5-10 minutes. Still about an hour but there's far less whisking. Which gives you time for food prep.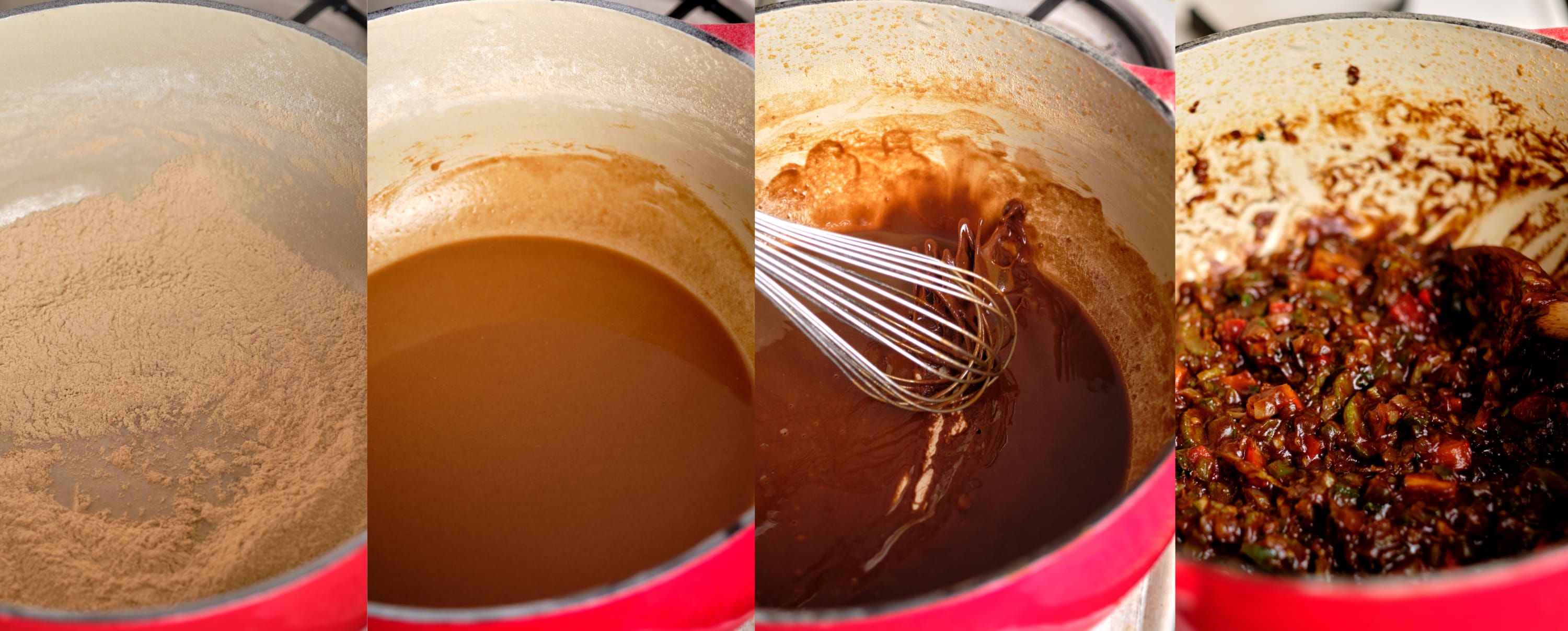 Step Two – Food Prep
I'd go as far to say that Homemade Shrimp Stock is the single most important part of this recipe. Buy two pounds of the best uncooked shrimp you can find – wild caught Gulf of Mexico Shrimp with heads is ideal. Place the peels and heads in a medium pot and set the shrimp aside. Add celery, onion, black peppercorns, a bay leaf, and 7 cups of water to the pot. Bring to a boil then reduce to a simmer for 20 minutes. Strain reserving broth and discarding everything else.
While the shrimp stock is stocking, prep your other ingredients. Finely dice celery, bell pepper, and onions. Slice the Andouille Sausage and Okra. That's about it!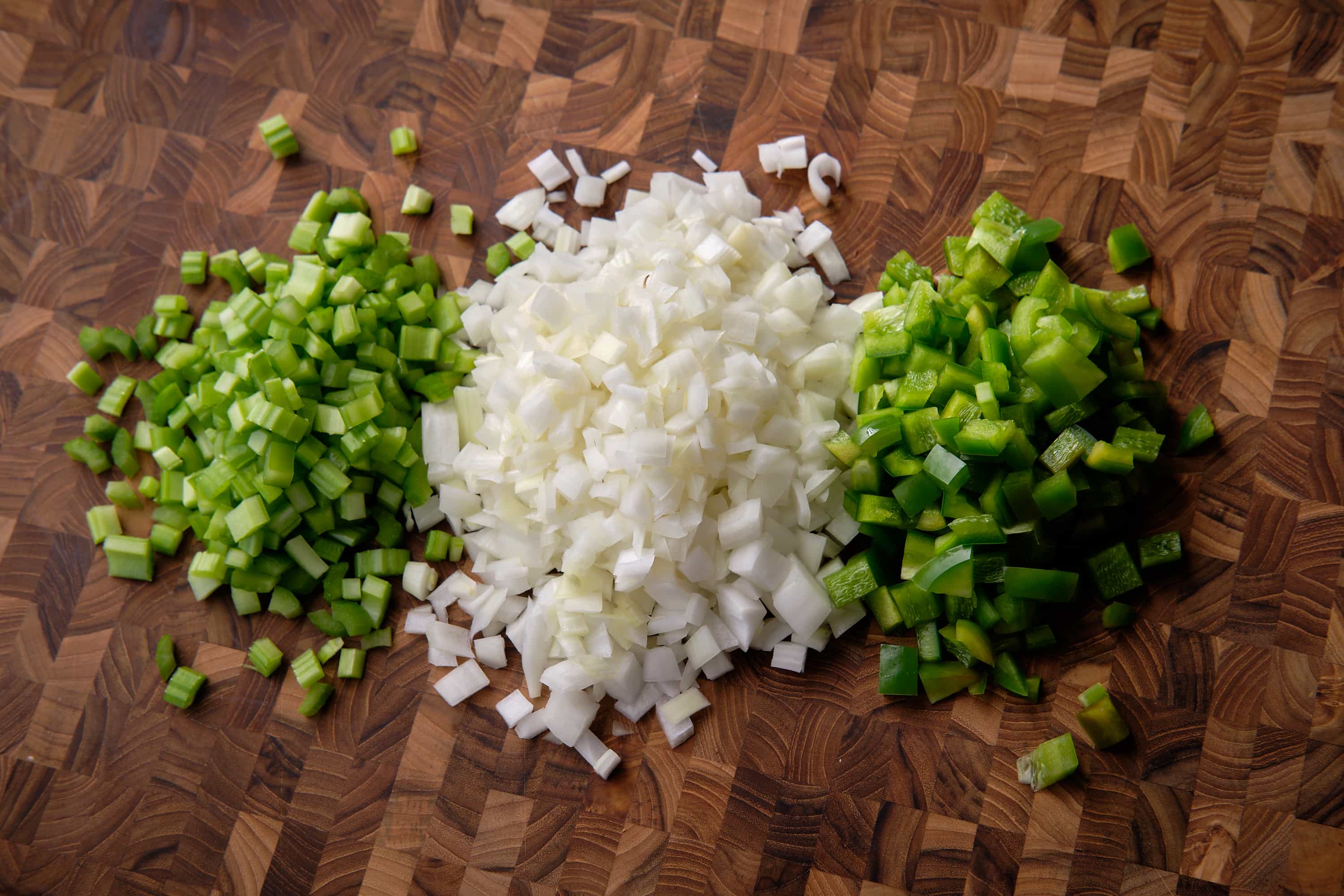 Note – In about an hour you've already made the best roux ever, shrimp stock from scratch, and prepped all your ingredients. Give yourself a high five! This recipe plays out really well. It would be great to cook with someone else or while entertaining guests.
Step Three – Make Gumbo
On your stove top you have a dutch oven with super hot roux (seriously, this stuff is lava) and homemade shrimp stock over low heat to keep warm. On your counter you have all your other ingredients prepped and ready for the gumbo. Add the celery, peppers, onion, and bay leaf to the roux and stir over medium heat until softened – about 20 minutes. Once the vegetables are softened add the aromatics, 5 cups of shrimp stock, and two cups of crushed tomatoes. Bring the sauce up to a low simmer then add the andouille and sliced okra. Heat this for another 20 minutes or so. If you're serving all the gumbo right away you can add the shrimp about 5 minutes before serving. Otherwise, just add enough shrimp for each serving when you reheat it.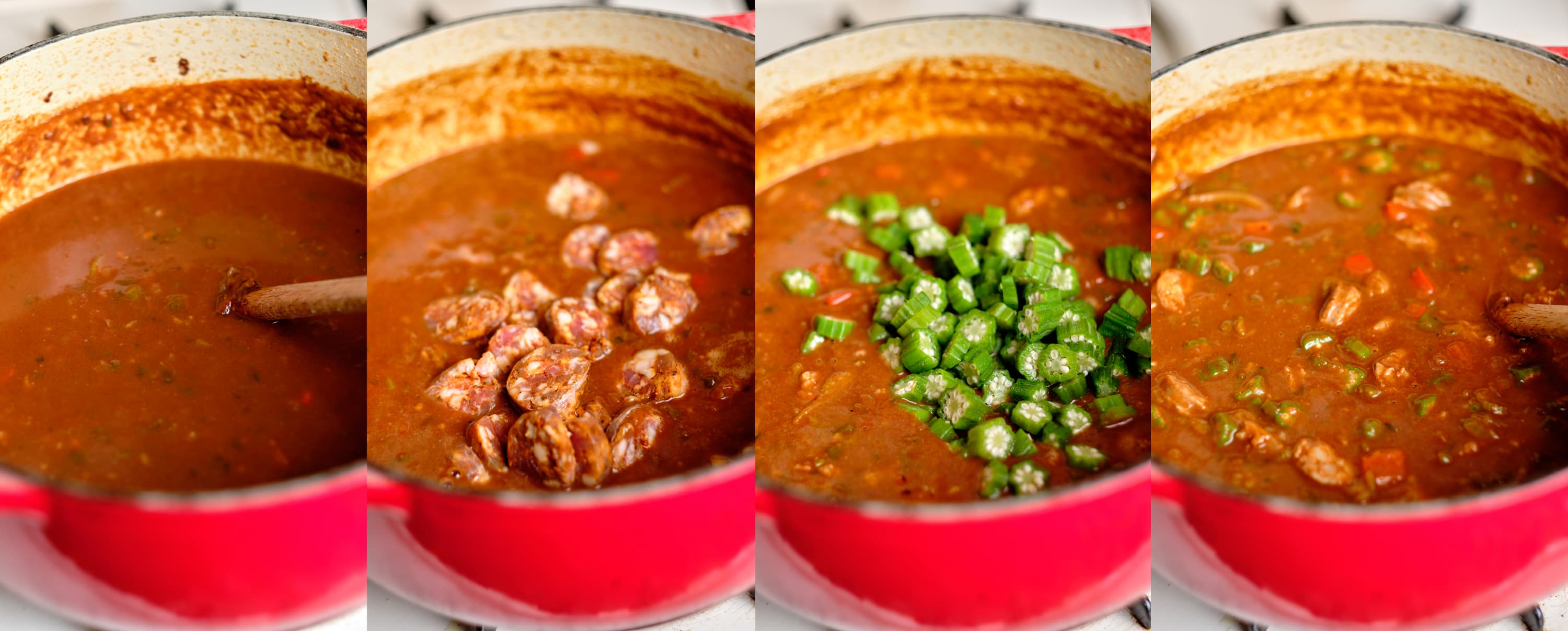 Step Four – There is no Step Four
I lied. Don't forget the rice! While not actually part of this Gumbo recipe, I'd be remiss to exclude the rice. Rice is prepared with one part long grain rice, one and a half parts water, and a pinch of salt. RINSE the rice several times in cold water until it runs clear. Add rice, water, and salt to a pot and bring to a boil. Cover tightly and simmer on low heat for ten minutes or until rice is tender. Remove from heat, fluffy with fork, keep covered for ten minutes.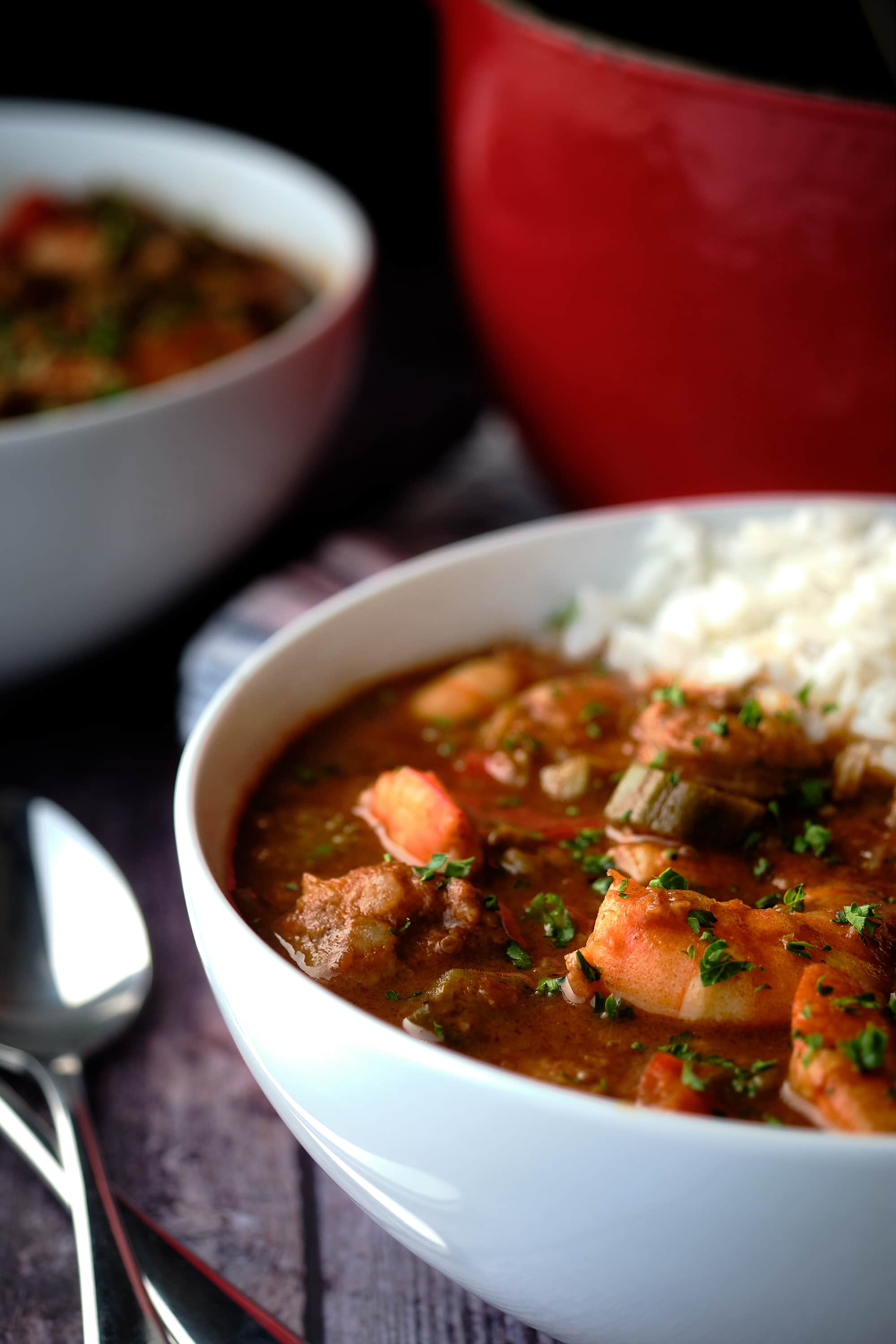 What is Gumbo?
I don't know about you guys but I haven't aways been clear on a few things surrounding 'gumbo'. What's the difference between Creole and Cajun? Is Okra mandatory? What about Jambalaya? In researching recipes for gumbo, I came across some answers I thought I'd share with you.
Creole vs. Cajun – Both Creole and Cajun gumbo generally have sausage and shrimp. Creole gumbo is mostly seafood with tomatoes. Cajun gumbo will generally have chicken in addition to shrimp.
A very simplified break down of the history – Creoles are people from French and Spanish colonization prior to the Louisiana purchase. Creoles also include other people native-born to Louisiana. Cajuns are the descendants of 17th century French speaking settlers of the area near Nova Scotia formally called Acadia. Acadians were expelled in the mid 18th century during France's colonization of Canada.
This Shrimp and Andouille Gumbo is Creole-style.
Okra – There are three ways to thicken your gumbo; Okra, Filé, and Roux.
Roux is a primary ingredient to gumbo. It should be as dark as possible, a few shades from burnt.
Filé (fee-lay) is a powder of ground sassafras leaves added to gumbo just before serving. It's used as a thickener and to add earthiness to gumbo. "Kombo" is the Choctaw Indian word for filé and may be where the work Gumbo comes from. If filé is added too soon it becomes ropey and stringy. Filé also means 'to become ropey' in French.
Okra is also sometimes called Gumbo. In parts of Africa, "ki ngombo" is the word used to describe okra. But, the word you're more likely interested in using to describe okra is mucilaginous. This gooeyness is what makes it a great thickener for gumbo.
Generally, either Filé or Roux are added to Gumbo as thickeners.
Jambalaya – In gumbo you make a roux, add the trinity, then stock followed by the meat. Gumbo is served with or over rice. Jambalaya is made by cooking the meat with the trinity then adding stock and rice to cook all in the same pot. Think of it more like a jamboree of everyone partying together!