Spaghetti Squash and Clams steamed in White Wine – who says you need pasta?! The light fruitiness of the spaghetti squash is a surprisingly great pairing with white wine and clams. For anyone steering away from gluten or just trying to eat a little healthier, this is an awesome alternative to regular spaghetti.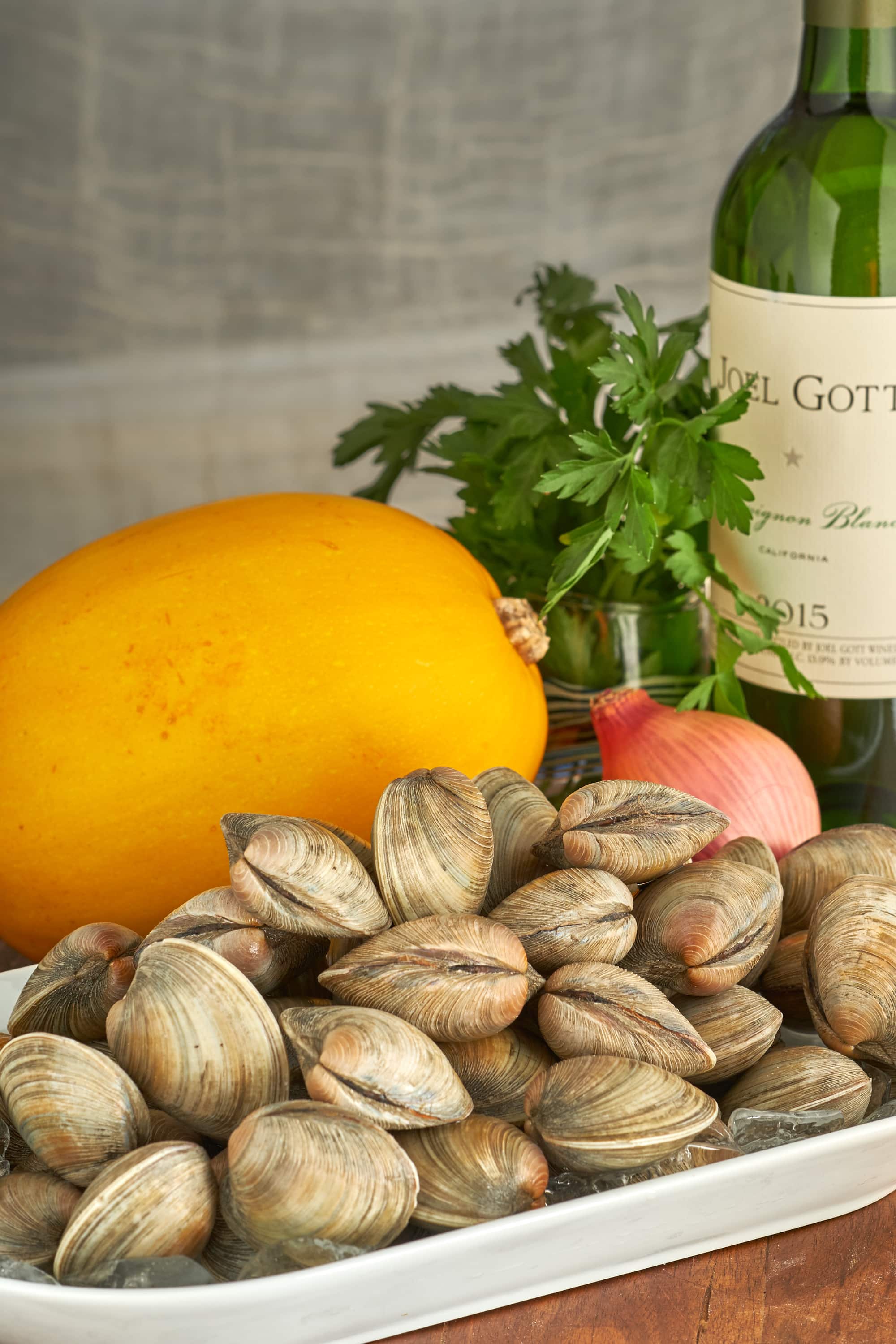 I really love recipes that use whole foods and limited ingredients. It must be my Italian side. Aside from oil, butter and salt, this dish only takes five ingredients to make a full healthy and delicious dinner you won't want to stop eating. The best part about any dish including clams steamed in white wine is the briny white wine sauce left in the pan. Well, the clams are pretty awesome too. But really you want something to sop up all that delicious juice the clams and wine left over. My preference is to forego any noodle like food at all and go straight to a hearty French baguette with a slight smear of butter. I already ate one whole baguette the day before so the squash is looking pretty good right about now.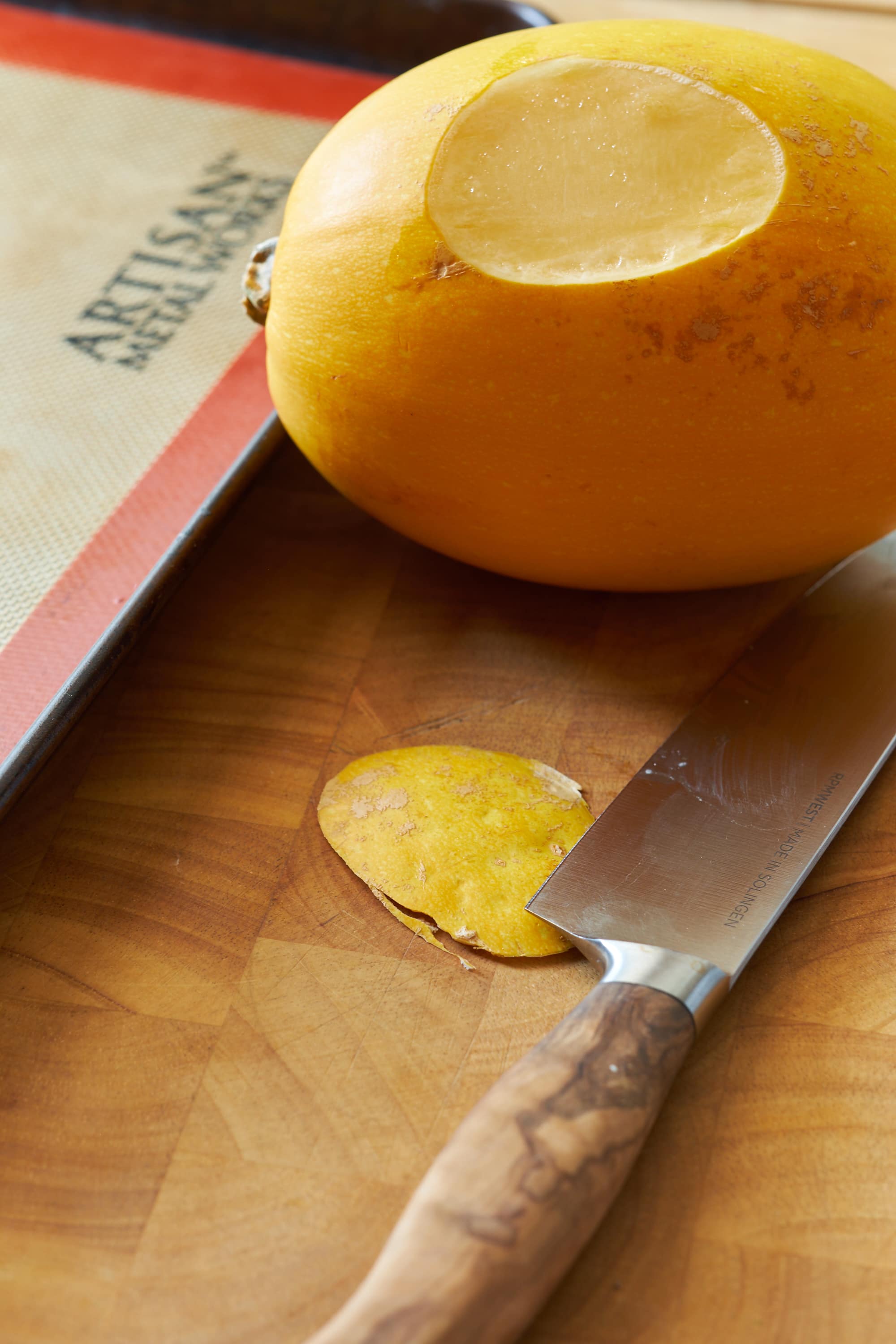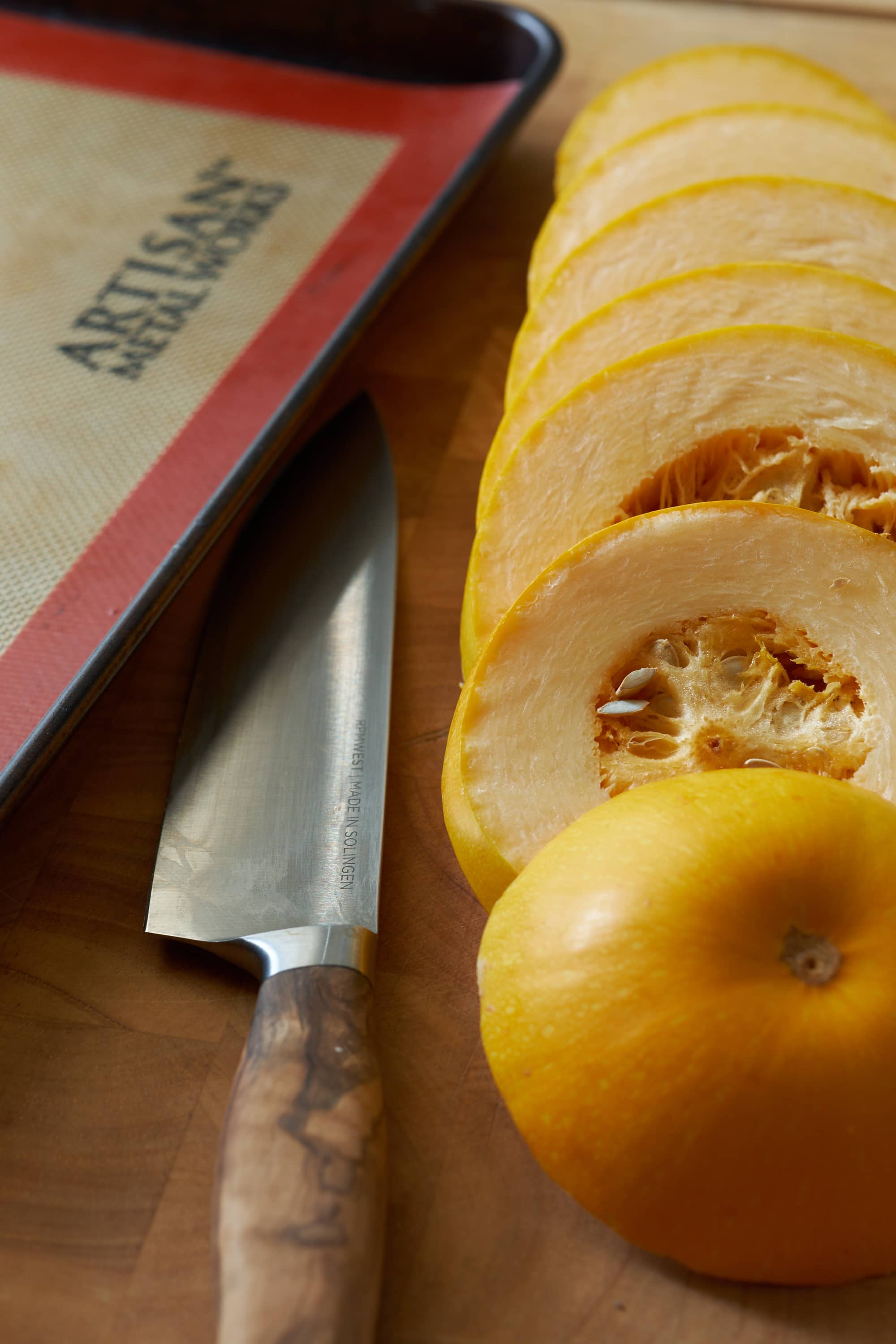 To prep the Spaghetti Squash, grab a sharp knife (by the handle, please!) and slice a small round off the bottom. This is going to hold the squash still on your cutting board. Rather than cutting lengthwise, we're going to cut across the squash. There's two equally important reasons for this. Cutting a rolly polly thick skinned football like shape is much easier and safer when making shorter cuts. You can pretty easily just place the edge of your blade across the squash and gently rock it straight through. When you make these cuts across the squash you're actually going to end up with longer strands of 'spaghetti'. If you take a close look at some of my photos you'll see that the squash grows in a circular pattern like the wheel on a car. Once it's cooked you can remove the butter skin and start to shred longer lengths of squash with a couple forks.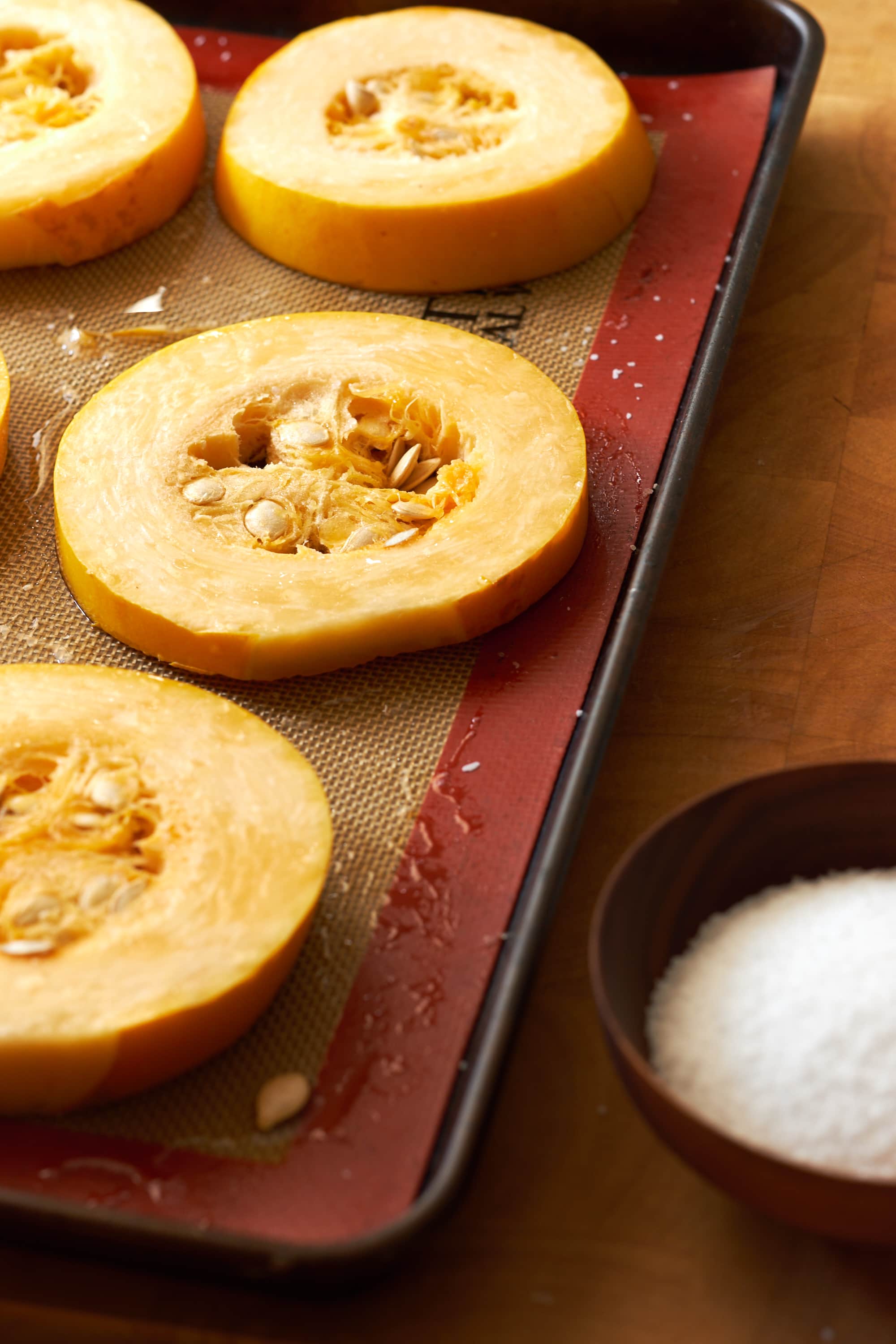 Okay, so now you have some rounds o' squash. Assuming you've already preheated your oven to 400°F because you read the actual recipe below, you jus thee to line a sheet pan and drizzle some vegetable oil on it. Lightly salt the squash on both sides and bake for about 45 minutes flipping occasionally until they start to brown on the edges. Remove the seeds and the skin then use a couple forks to shred the squash in to 'spaghetti'.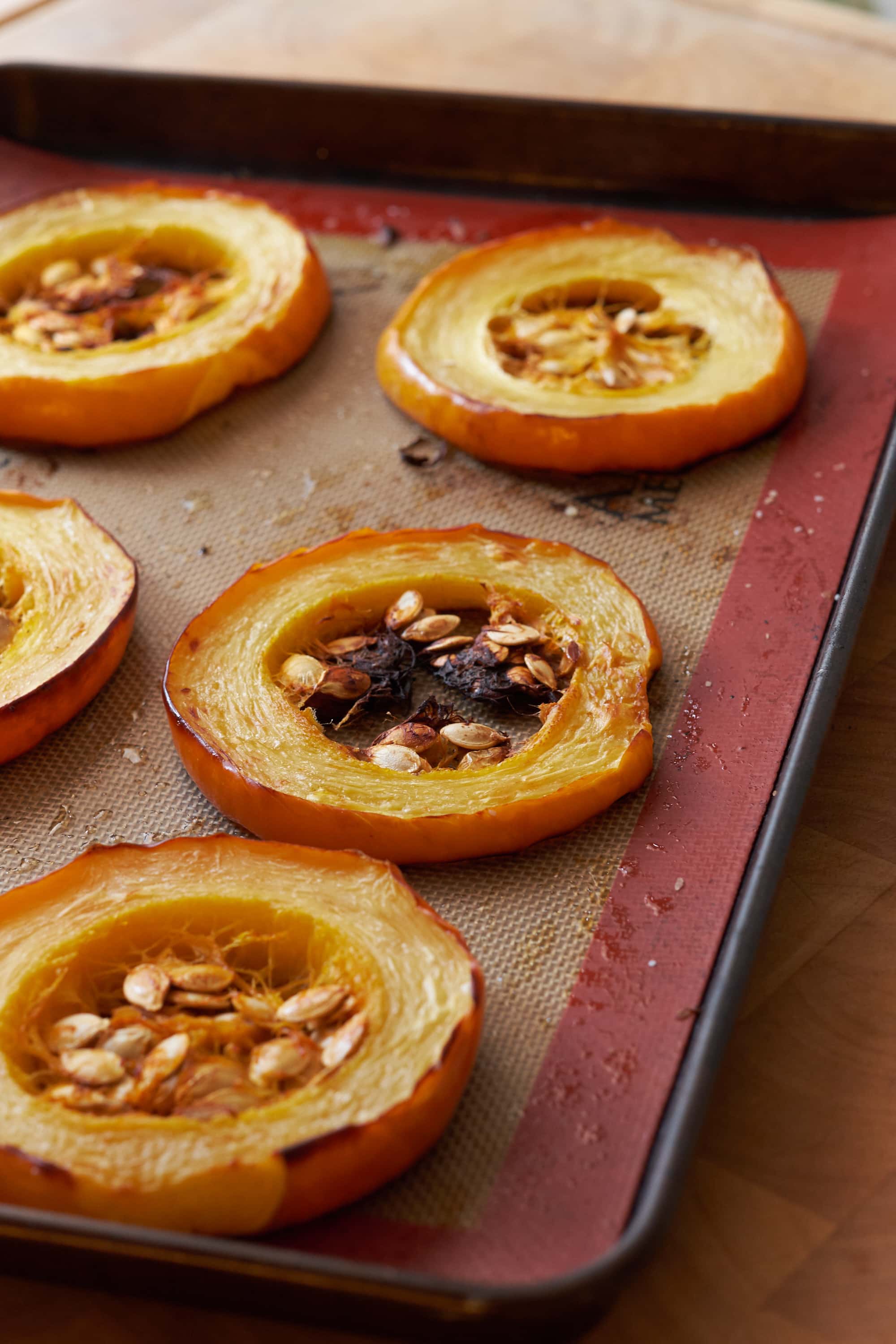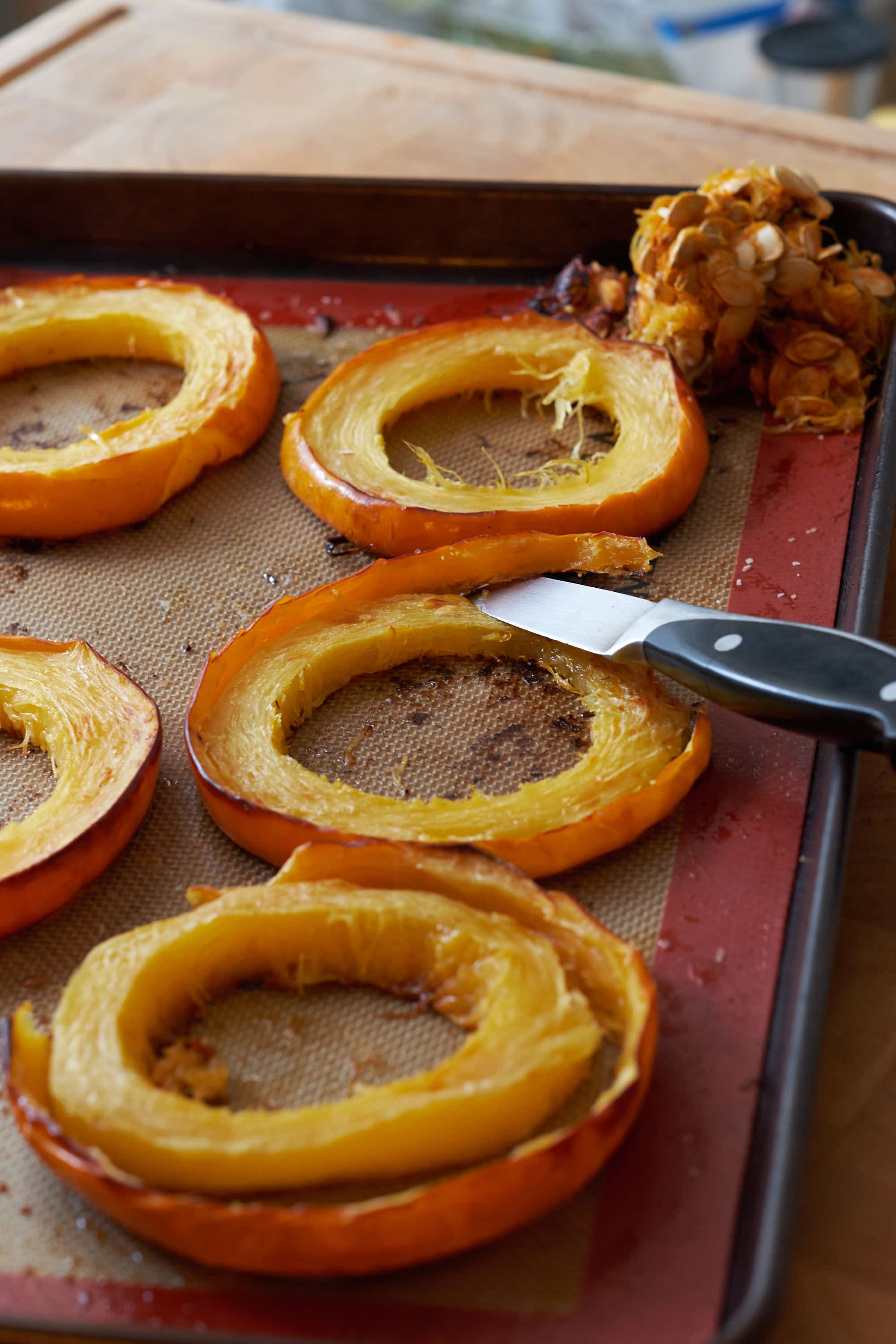 While the squash is cooking you can prep the clams. I've made the mistake of not scrubbing clams before. If you're going to make a sauce or broth with whole clams you MUST scrub them in cold water. Otherwise you'll end up with sand in your broth. Not gonna lie – this part sucks. Let me know in the comments below if you have a good tip on quickly scrubbing clams. Once they're scrubbed, you can finely slice about a half cup of shallots, chop a 1/4 cup parsley, and pour out 1 cup of white wine.
In a large skillet or pot with a tight fitting lid add 1 tablespoon butter, 1 tablespoon of olive oil, and the shallots. Cook over medium heat until tender then add the parsley and white wine. Bring up to a simmer then dump in the clams and cover for 10-15 minutes. Give them a few shakes while they're cooking to get the broth and shallots all over them. Don't over cook them. The clams are done when they're fully open.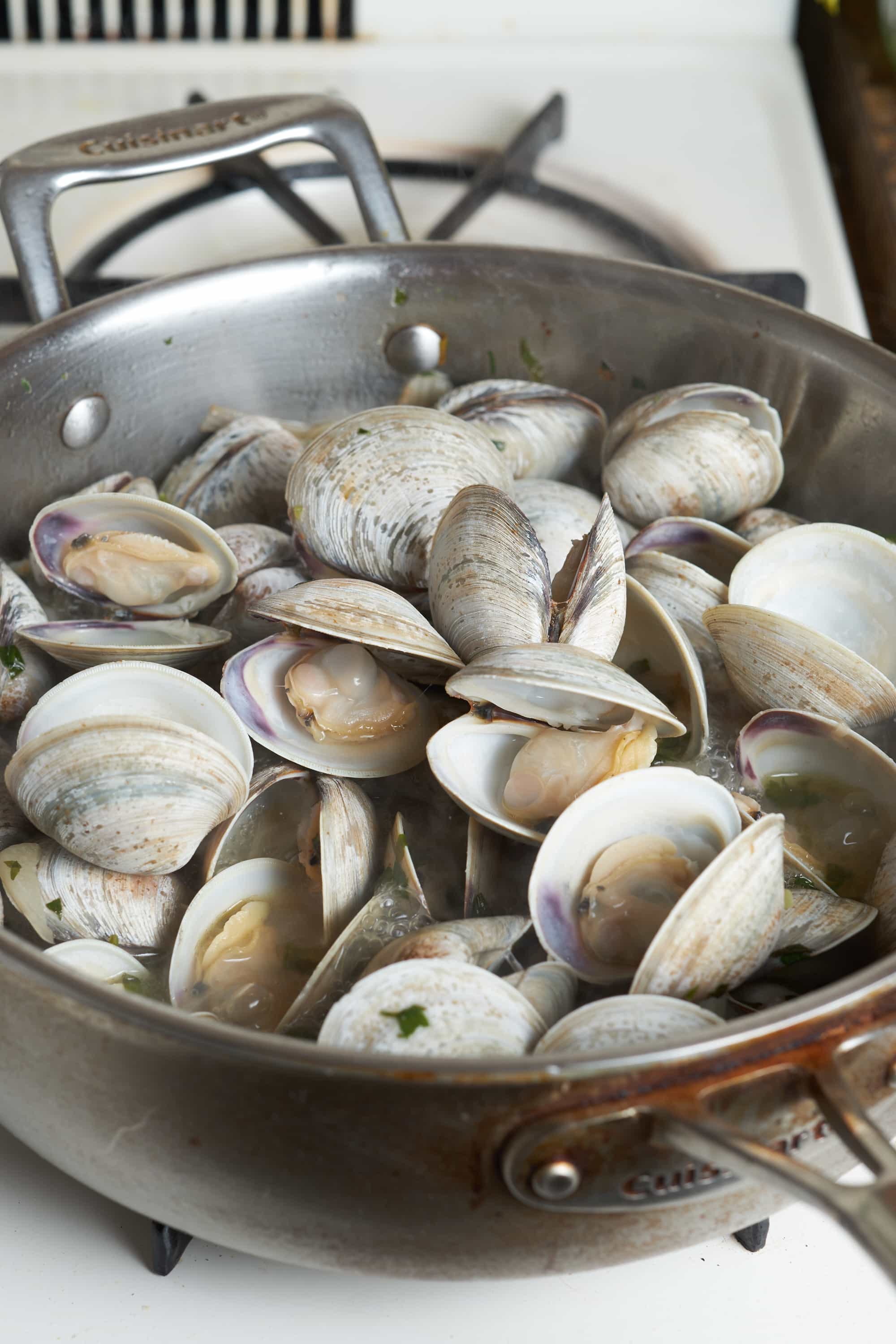 To serve, portion spaghetti squash to a bowl and ladle clam broth over top with some freshly chopped parsley. I like to add a lot of broth and treat it almost like a soup. Portion out some clams for yourself and go to town! Don't let that pan go too far. There's a lot of flavor swimming around the bottom of it!
I don't think I can personally eat this without bread to sop up the juice. But, the spaghetti squash does do a better job than pasta – maybe not as good as angel hair but angel hair is stupid anyway. So I think this is a really awesome alternative for a healthier version of Spaghetti with Clams. Of course this means I'll have to have a pasta and clams recipe ready to go in a few weeks. Probably with parmesan and pancetta.