Homemade ravioli is one of those home cooked meals you just have to make at some point.  It doesn't take a lot of work, it's a ton of fun, and you can use all sorts of fillings! I'm using pancetta and asparagus in a brown butter sage sauce.
Now that spring is here, I wanted to use some fresh asparagus in this ravioli.  A quick blanche of spring-fresh organic asparagus is A-MAZ-ing. I ended up eating more of it alone than I put in the ravioli.  We want about a half cup of minced asparagus here so I used about 20 thin stalks (use the thicker stalks for roasting and grilling).  Just bring some salted water to a boil and blanche them for 3 minutes.  Drain the water from the pan and fill with cold tap water a few times to stop the cooking.  Let the asparagus drain on paper towel before mincing.
I thought the asparagus would pair nicely with pancetta and a bit of parmigiano reggiano.  I didn't want crispy pancetta inside a crispy butter-fried ravioli so I just let it melt over low heat for about 15 minutes.  If it started to brown, I'd remove it from the heat and stir in a few drops of water. Once the pancetta was nearly cooked, I added some black pepper and the minced asparagus.  Taste for salt and stir this occasionally for a few minutes.  Set this aside in a small bowl in the refrigerator.
I'll tell you something about homemade pasta; there's practically just as many ways to make the pasta dough as there are sauces to put on top of it.  This simple dough is made with ap flour, two eggs, a teaspoon of olive oil, and a pinch of salt.  It's hearty and dry so it holds up to a good amount of filling and being pan-fried in sage butter.  I made this by hand to show that you don't need many tools to make this happen. You could really do this with just a rolling pin and a knife but I did utilize my ravioli mold. If you have a pasta machine and / or a food processor, you may get better results. Although, I'm not so sure anything with 'machine' or 'processor' has much love in it.
Making pasta dough is easy enough but it can take a little practice to get the feel for your dough.  You want the flour to be incorporated and the dough to feel smooth and just shy of tacky.  On a clean surface, form a well in the flour to add two eggs, salt, and the olive oil.  Whisk with a fork as you slowly incorporate the dry flour in to the eggs.  As the dough starts coming together, use your hand to knead the dough over the dry flour.  I always end up with a 1/4 cup of flour left over which I use for the roll out.  You could add a few drops of water to the dough if you want to use up all the flour.  I'm fine with not watering down my pasta.
Raviolis can be made a few different ways.  There's a bunch of different molds you can find on Amazon that are all very affordable.  I made a couple without the mold just using a few little cordial glasses I have.  You could also do them completely by hand but I'm gonna say that's reserved for the masters.  Please, stop by and show me how to do this if you can!  With a mold or otherwise, just make sure you don't over stuff your pasta and use a little bit of water along the edges to seal the two pieces together.
Once the raviolis are formed, cook them as normal in salted boiling water.  You could very easily stop right here and eat them with some olive oil and salt and pepper or with your homemade tomato sauce (for the love of god, please don't ever use store bought!).  I had fresh sage on hand so I broke some up to put in a pan of hot butter to quick fry the ravioli.  (Sorry, apparently I didn't take a photo of that).  Once the butter is bubbling, add a handful of ravioli at a time to brown on both sides.  Baste with a spoon to spread the buttery sage love.  Serve with parmigiano reggiano.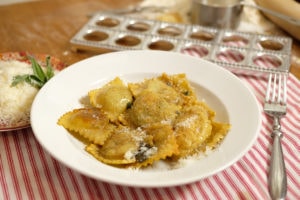 Print
Homemade Ravioli with Pancetta and Asparagus
Homemade ravioli is one of those home cooked meals you just have to make at some point.  It doesn't take a lot of work, it's a ton of fun, and you can use all sorts of fillings! I'm using pancetta and asparagus in a brown butter sage sauce.
Ingredients
2 ounces pancetta, minced
1/2 cup minced asparagus, blanched 
1 cup parmigiano reggiano
1 3/4 cup ap flour
2 large eggs
1 tsp olive oil
1 pinch salt
4 tbsp butter
small handful fresh sage
Instructions
Pancetta and Asparagus Filling
Blanche 18-24 small asparagus stalks in salted boiling water.
Remove and drain after 3-4 minutes and add cold tap water to stop the cooking.
Set aside and drain on paper towel until cool enough to handle.
Mince Asparagus.
Add minced pancetta to a pan over low heat.  Allow to 'melt' for 10-15 minutes. If pancetta begins to brown, remove from heat and stir in a few drops of water.
Add minced asparagus and stir to combine.  Taste for seasoning.  Cook for 2-3 minutes, stirring occasionally.
Place mixture in a bowl and set aside in refrigerator to cool.
Once cooled, just before adding to ravioli, add 1/2 cup parmigiano reggiano.
Ravioli Dough
On a clean surface, form a well in the center of 1 3/4 cups ap flour. 
Crack two eggs in well and add 1 tsp olive oil and a pinch of salt.  Whisk to combine, slowly incorporating the flour until a solid mass forms.
Knead the solid mass of dough with your hand for 10 minutes until most of the flour is incorporated and the dough is just shy of tacky.  Add 1-2 drops of water if needed.
Form dough in to ball and wrap with plastic wrap for 40 minutes.
Roll out dough in to a thin rectangular shape and cut in to pieces that fit the ravioli mold.
Place a sheet of dough on to the mold and use the mold press to press dough down in to mold.  Add filling then use your finger to apply water to all edges of the dough.
Add top layer of dough and use rolling pin to firmly press and cut the dough into the mold.  Remove raviolis from mold.
Add raviolis to boiling salted water to cook for 6 minutes, stirring occasionally.
Remove and drain thoroughly. 
Brown Butter Sage
Add 4 tablespoons unsalted butter to a skillet over medium high heat.  Add small hand full of fresh sage and swirl in pan to incorporate.  
One batch at a time, add the ravioli to the pan to fry in butter for 4-5 minutes.
Serve immediately with parmigiano reggiano.  
Courses Dinner
Cuisine Italian
Did you make a recipe?
Tag @eatupkitchen on Instagram and hashtag it #eatupkitchen.