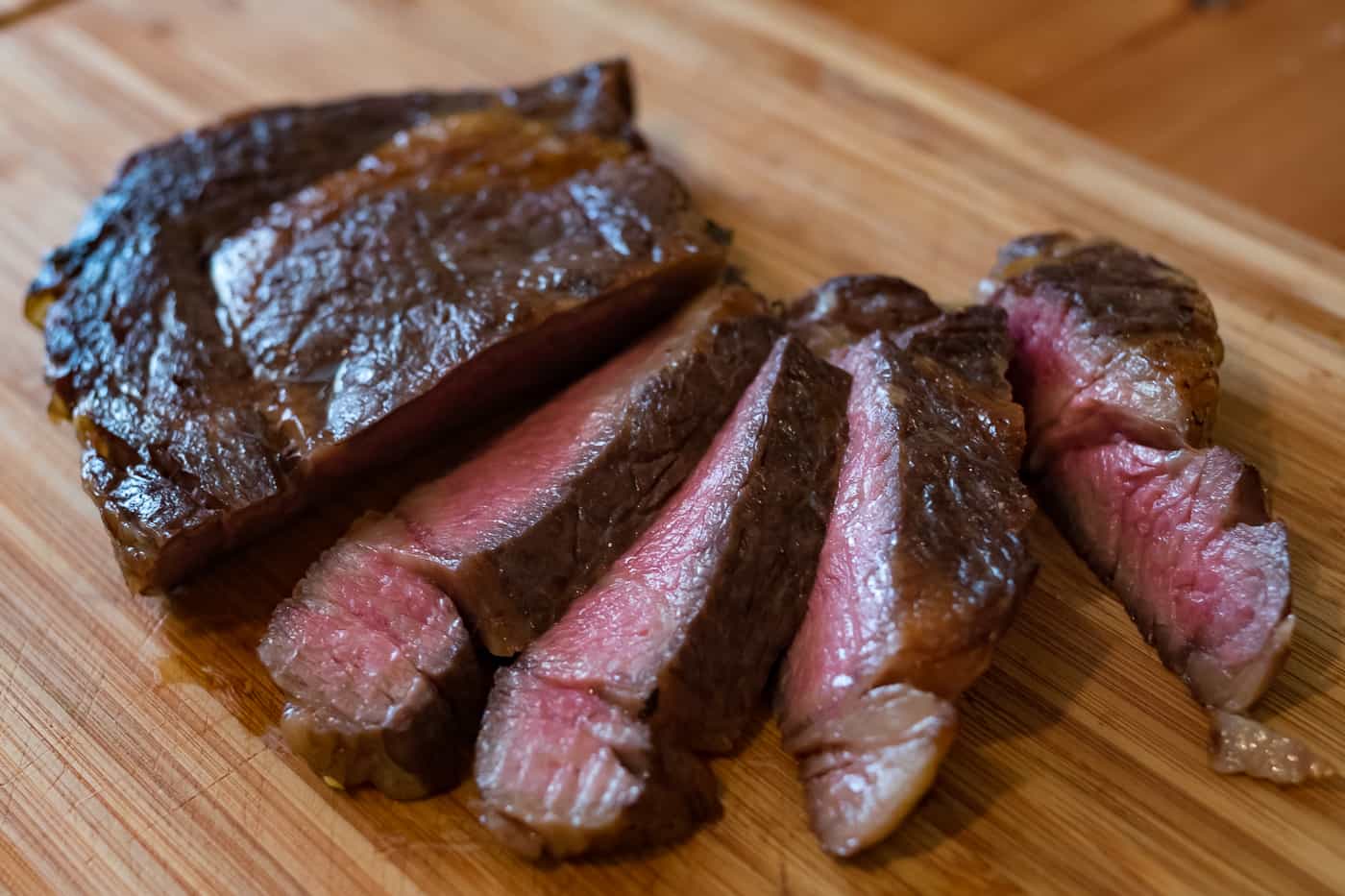 Shout out to one of my favorite places to spend money – food or otherwise.  There's a consensus in Philly that Halteman's in Reading Terminal Market has the best beef in the city. They regularly have dry aged rib eye and usually wagu, all for reasonable prices.  They're stocked on all sorts of poultry, beef and pork.  Once you've had their bacon (they have beef bacon too!), all other's taste like a weird rubber-spam-like substitute.  They people who work there are incredibly awesome too!  I need to reach out to them and post a proper profile.
I picked up a couple of these dry aged rib eyes not too long ago to sous-vide. 132° for 2 hours then seared in a cast iron skillet. Ugh – heavenly!
I have to tell you, when I first moved to Philadelphia in 2006 and started going to the farmer's markets, I instantly learned the difference between grocery stores and farmers' markets with my first chicken.  Grocery store meat doesn't have any flavor.  When you buy fresh foods, meats, produce, bread, etc., you don't need to add anything to add flavor.  You'll find that the majority of the recipes I post are going to be simple ingredients with moderate preparation.  There's a not-so-surprising correlation there.
L. Halteman Family Country Foods

Family owned and operated Pennsylvania Dutch store specializing in farm raised ducks, geese, beef, and pork.  Also selling homemade sausages, locally made jams and jellies, honey and Lancaster County produce.

Hours:
Monday-Wednesday: 8:00am-4:00pm
Thursday-Saturday: 8:00am-5:00pm

Tel: (215) 925-3206
Facebook: https://www.facebook.com/lhaltemanfamilycountryfoods/

Products: Fresh beef, pork, poultry, and seasonal Lancaster County produce

Accepted payment methods: All mjaor credit cards, cash, EBT & RTM gift card